roots
Hermann Dill and Frédéric Brunner know what the future tastes like: vegan, fruity and sometimes as calorific as a Big Mac – but healthier.
A chef and a mechanical engineer have worked together to cook up a formula for healthy eating. The result is roots, a two-year-old, popular vegan Mecca near the main station. Every day, Hermann Dill and Frédéric Brunner produce fresh food free from animal products. They deliberately avoid labelling themselves as vegan.
We all know that food has become a social and political issue. People's eating habits are no longer a private matter, but are constantly discussed by friends and acquaintances. Whether carnivore, vegetarian, flexitarian or vegan – no matter how different the culinary camps are in their basic tenets, they often have one thing in common: a tendency to the dogmatic.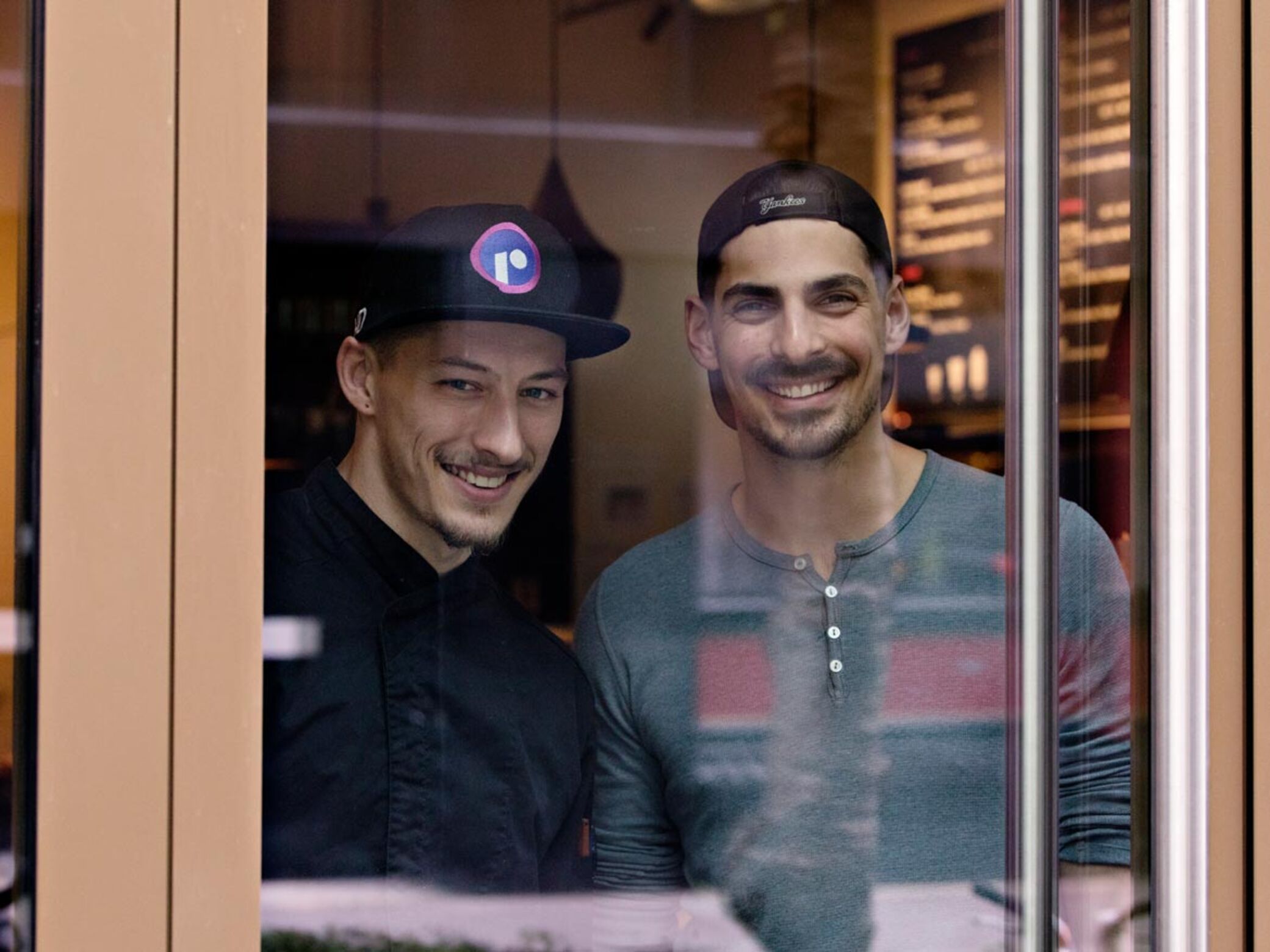 This is not the case in the vegan takeaway roots. When I arrange to meet Frédéric (on the right) and Hermann (left), I catch myself thinking how I can best justify my meat consumption if they ask. But it never comes up, because openness and tolerance are the order of the day at roots. 'We are trying to link our nutritional philosophy with positive associations, rather than relating it primarily to giving something up,' explains Frédéric while I'm enjoying my Immune Booster – a refreshing juice made with carrots, lemon, ginger, orange and turmeric.
The vegan label has been intentionally left out.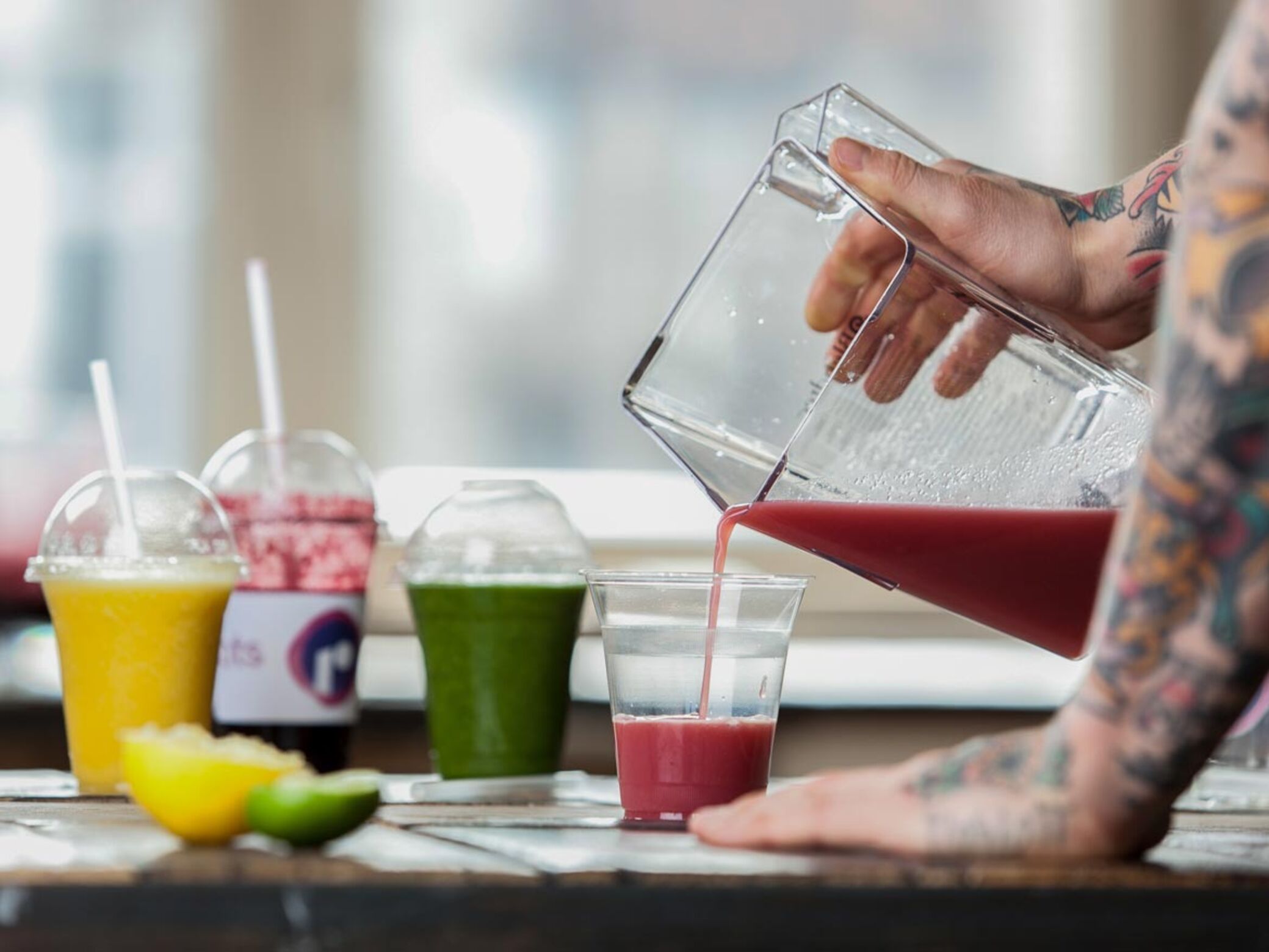 roots' menu is full of unfamiliar names and witty wordplay: there's a Walk of Shame juice, a Million Dollar Shake, and a Sugarmama bowl – a sweet treat made from bananas, raspberries, almond milk and the superfruit pomegranate. Even the Greeks were said to have sworn by its rejuvenating effect.
You quickly realise that nothing is left to chance in roots. From the product names to the active ingredients, everything has been thought through. And I notice something else: none of the dishes on the menu are labelled as vegan. The vegan label has been intentionally left out: 'We're not looking to convert anyone. For us, the most important thing is to sell products that we're proud of,' says Frédéric. 'Live and let live,' adds Hermann.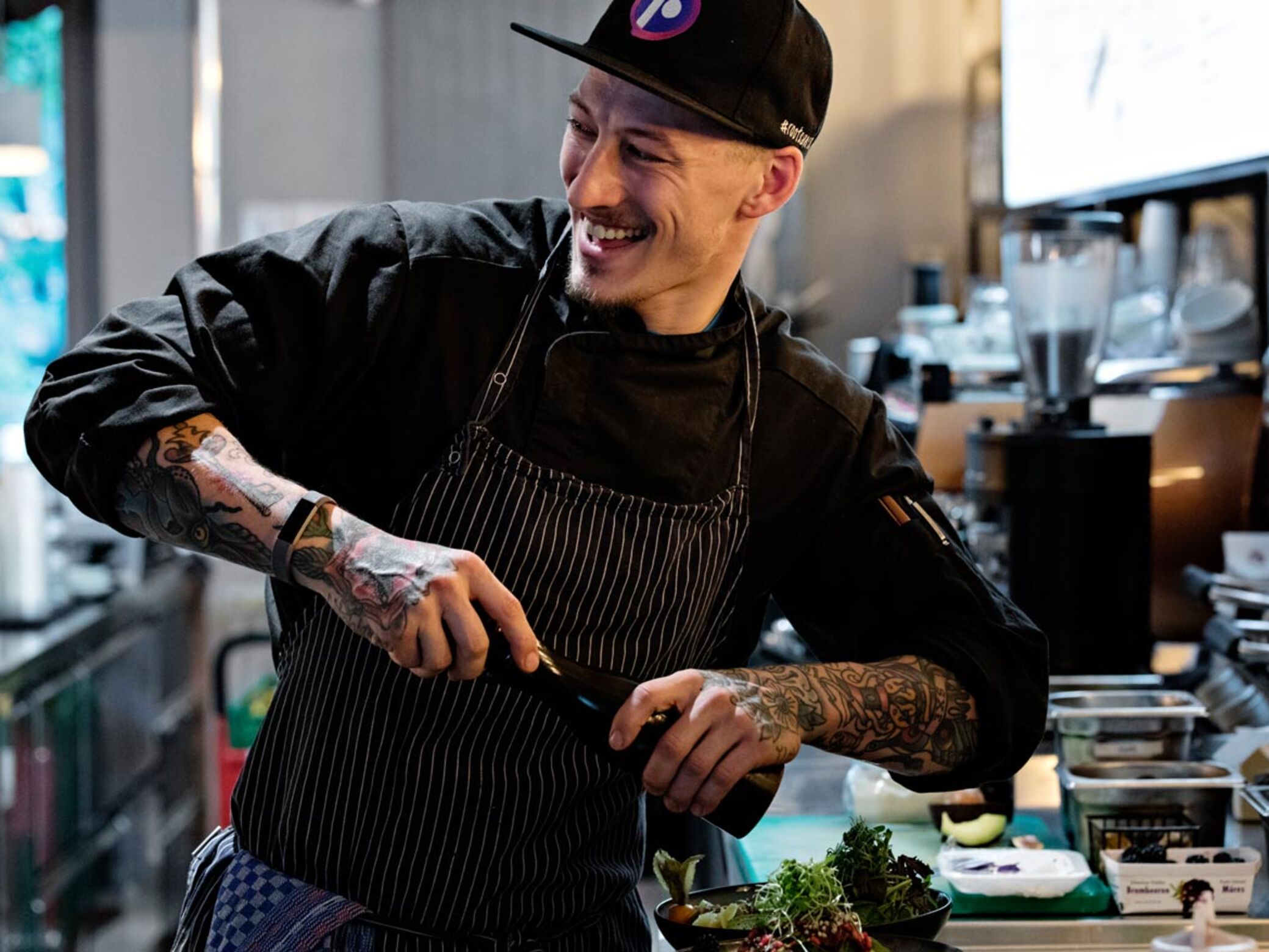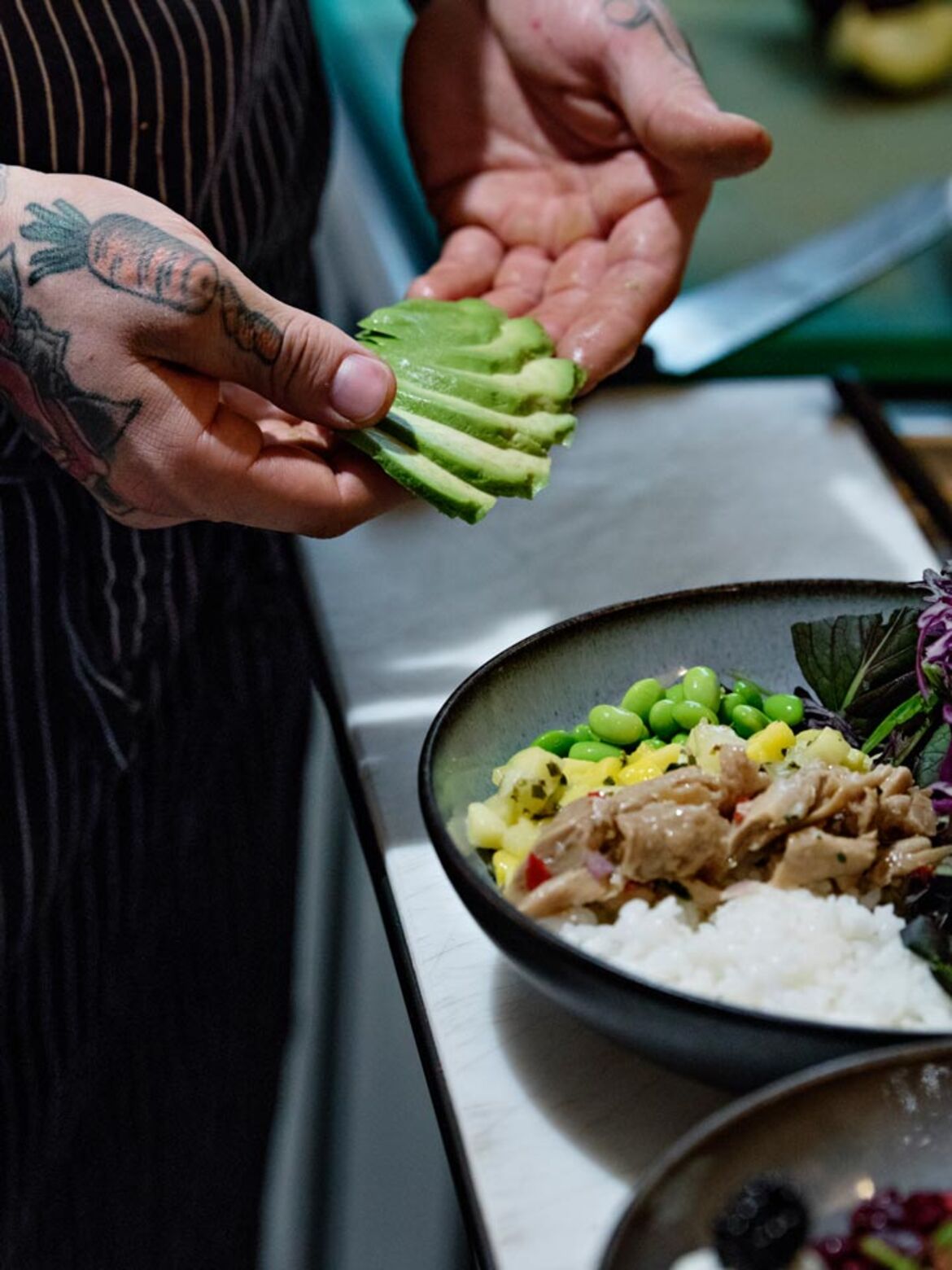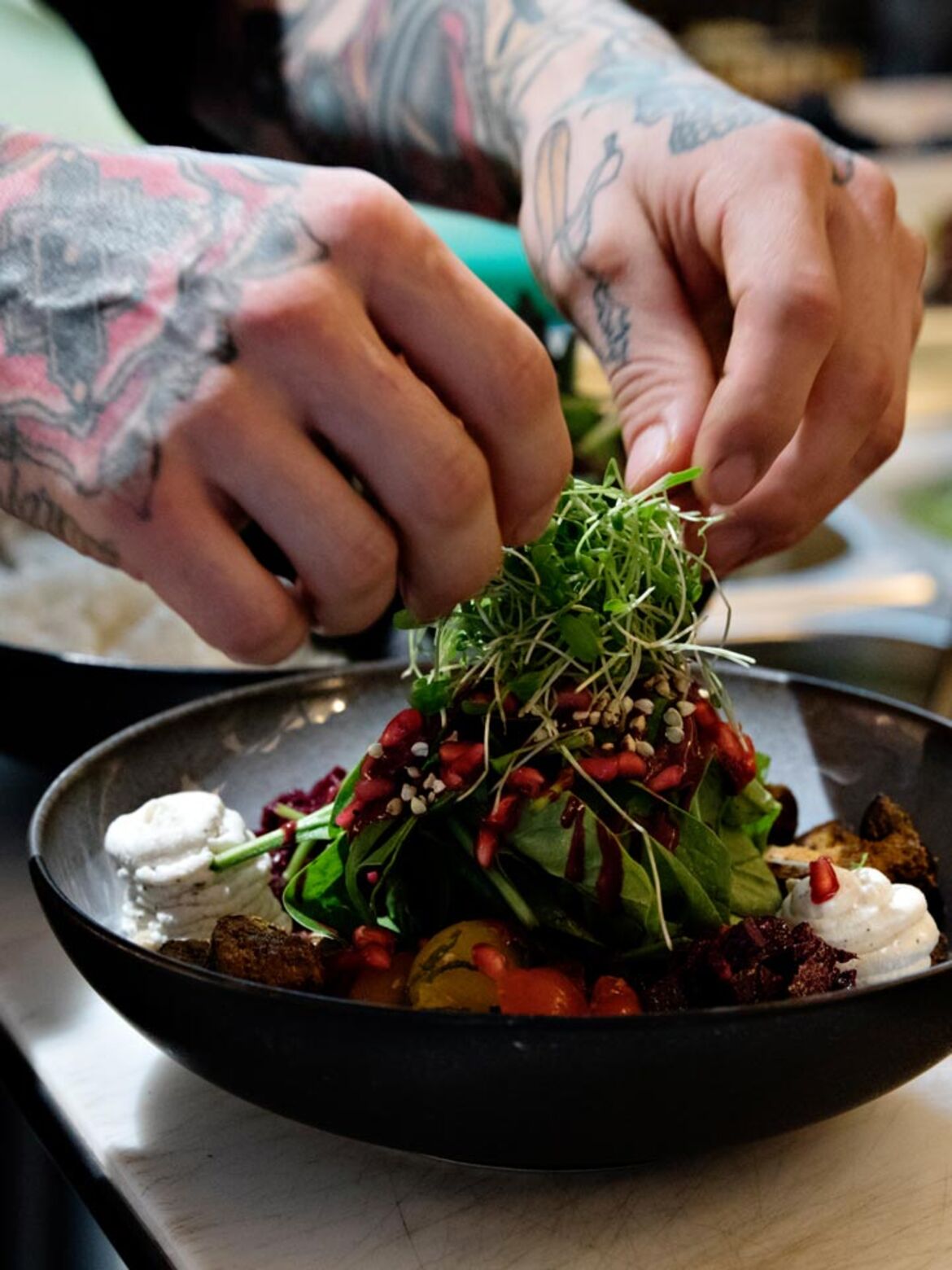 Frédéric, originally an engineer, and Hermann, an experienced chef, are the brains behind the concept of roots, which opened two years ago. Their recipe for success is vegan food, made fresh every day. They don't use any convenience products here; everything is hand-processed. And freshness isn't just a buzzword here – it's a promise. roots' nutritious bowls, juices and smoothies all beam up at me in light green, yellow and orange. Lining up all the dishes and drinks from the menu, you'd end up with something that looked like a multicoloured LSD trip.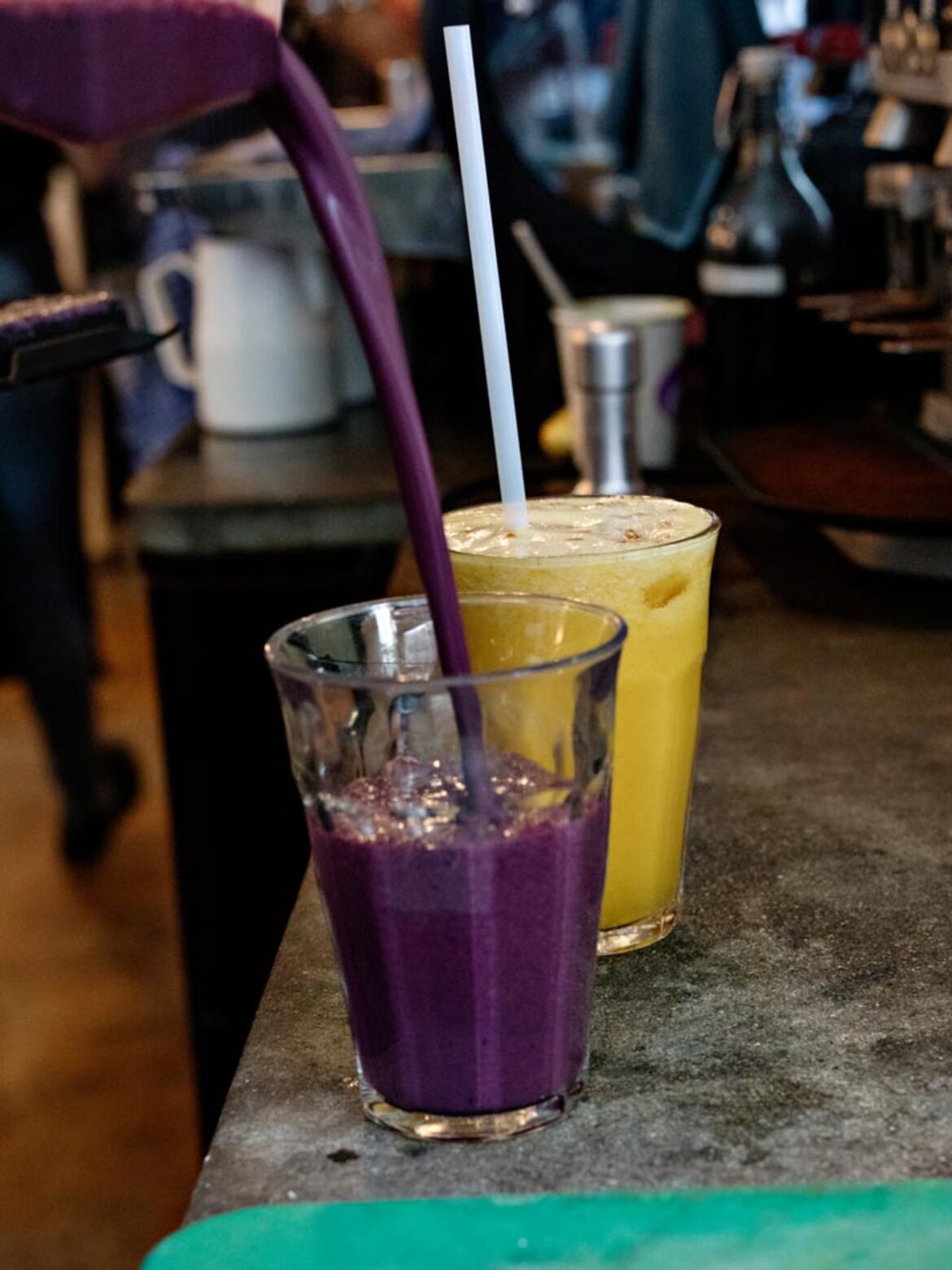 Because the roots juices are so colourful, cheerful and delicious, I can't help ordering a second one. While I stand at the bar and watch the barman Denny prepare my Bulletproof (with pineapple, apple, lime, turmeric, cayenne and passionfruit), an older woman walks past me and casually orders 'the usual'. Denny hardly needs to think about it. I never discover which smoothie it is – perhaps a secret special creation?
Frédéric and Hermann are always ready to listen to their guests' wishes and suggestions. One customer enjoys what amounts to an Immune Booster subscription – because he always comes and collects his immune-strengthening juice booster at the same time every morning, Hermann and Frédéric set him up with a subscription.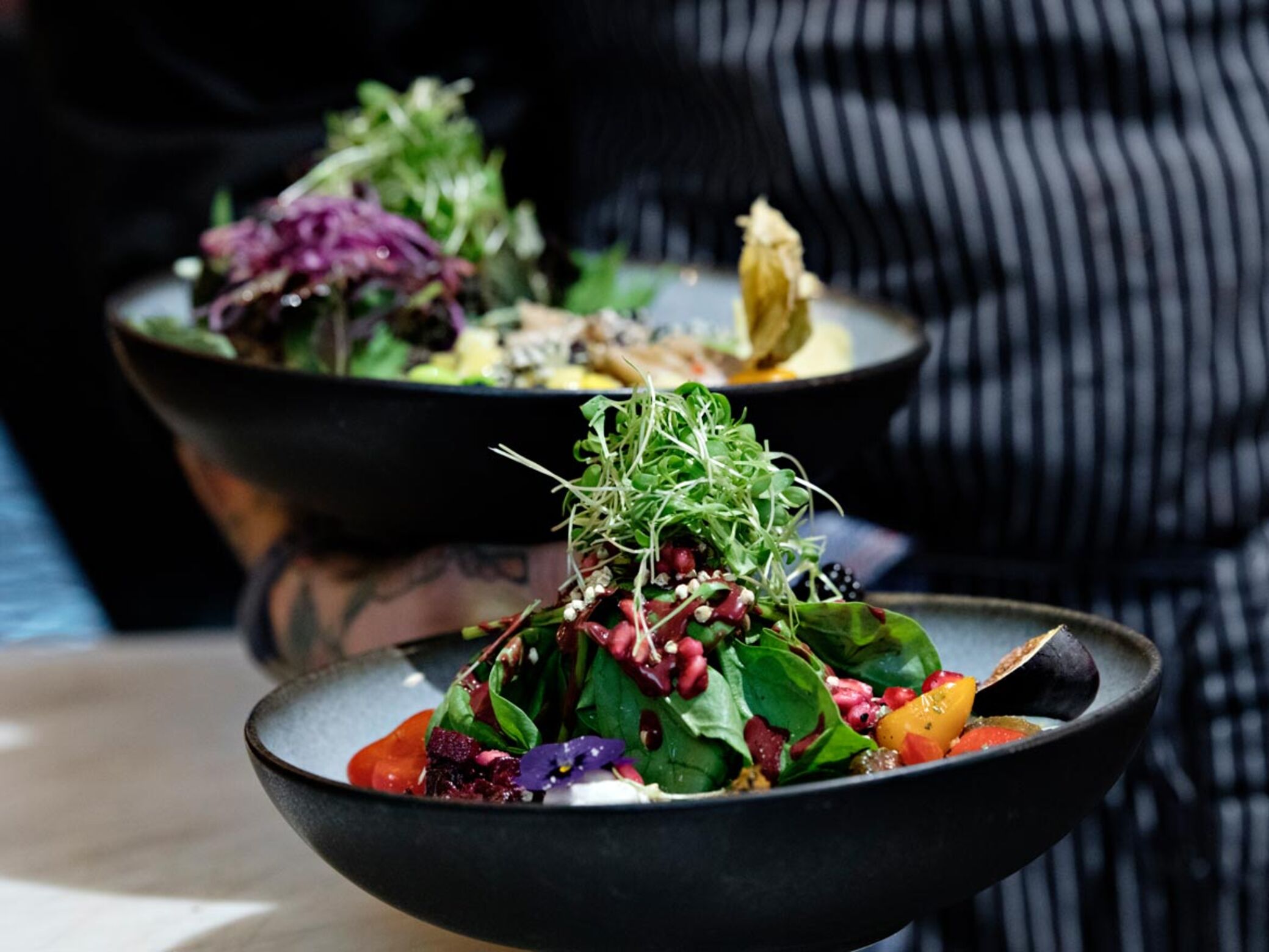 If you spend a bit of time in the simply and stylishly designed roots, you quickly notice the homely atmosphere. The regulars wander in and out, greeting each other. Many of them are vegans, but the takeaway is no longer an insider tip: roots and the newer roots @ balboa have started to attract a broad clientele. 'Some people probably don't realise they're eating vegan food,' says Frédéric. And as far as calories are concerned, there's no difference. The Protein Bowl, for example, contains 700 calories – about the same as a Big Mac, except that this will really keep you full all day.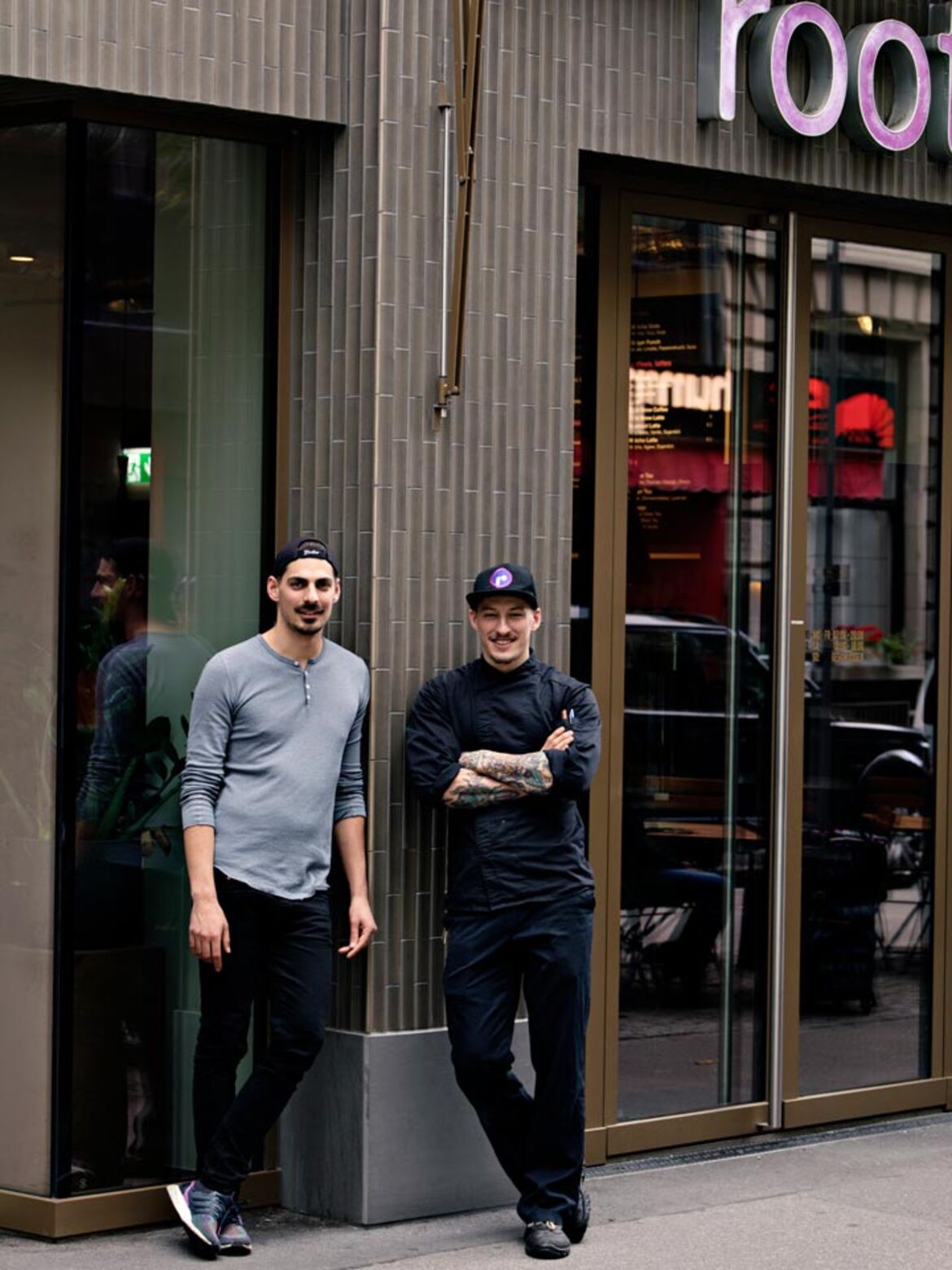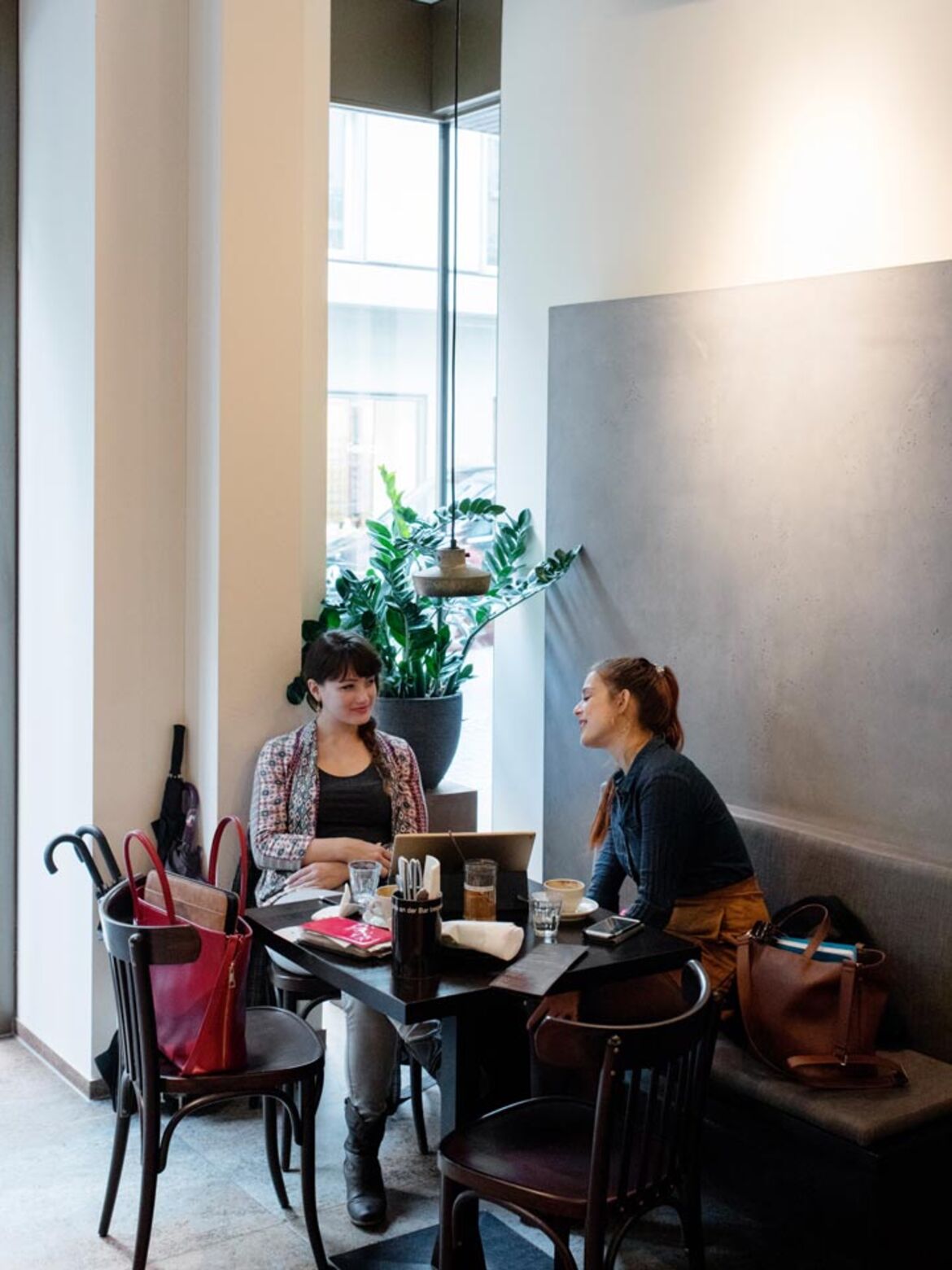 When I look at Frédéric and Hermann, I find it impossible to imagine them suffering from a protein deficiency.
When I look at Frédéric and Hermann, I find it impossible to imagine them suffering from a protein deficiency. Athletic and muscular, they completely contradict the stereotype of the undernourished vegan. 'Fitness is very important and fulfilling for us,' says Hermann, confirming my impression. 'It also affects what we offer. Our dishes are balanced and functional.' That means that every ingredient fulfils a very specific task within the body. My eyes wander to my super-delicious – if somewhat unusual-tasting – fruit juice. 'Turmeric, for example, is anti-inflammatory and is good against free radicals,' says Hermann of my choice. The head chef knows what he's talking about. Through the Animal Rights Switzerland Project, he also advises people who want to try a vegan diet.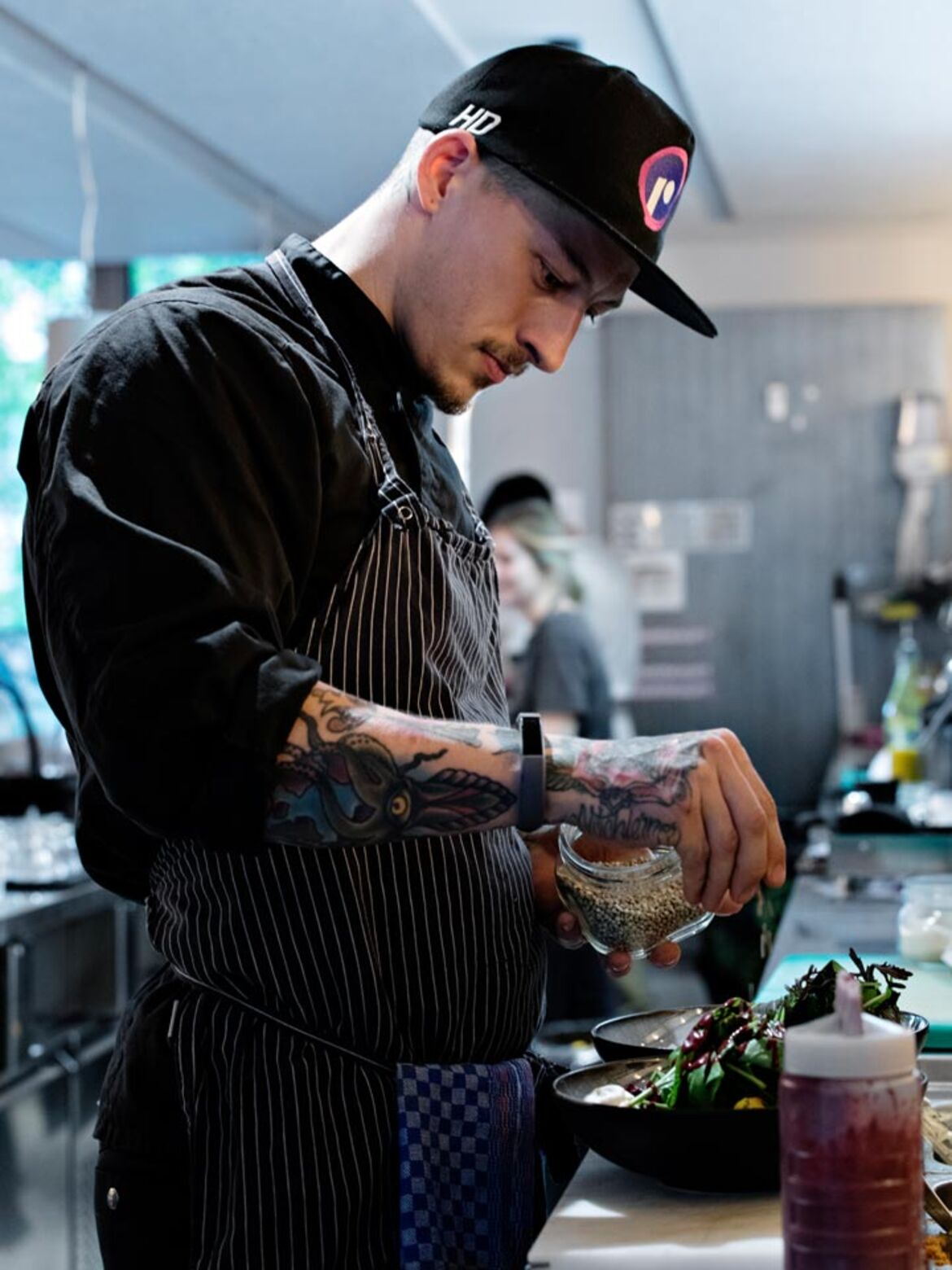 Frédéric can easily imagine that in the future, roots will also offer cookery courses and will continue to expand its value chain. 'My dream would be for us to grow our own vegetables at some point.' The two of them are firmly convinced that their model reflects the diet of the future.
View posts by interests, or use the proximity search and additional filters.
Try it out
.
Save posts as favourites – simply click on the heart symbol in the upper right corner of the post.