Placart
Once mass produced, now collectors' items: Tomas Rabara's gallery sells old advertising posters.
One of Zurich's most unusual galleries can be found squeezed between Bahnhofstrasse and the Limmat. Some of the posters that Tomas Rabara sells at his gallery Placart are 130 years old. He calls them 'witnesses to history'.
Tomas Rabara is no ordinary art dealer. Alongside works by Le Corbusier, he sells original posters from the last two centuries at his gallery, Placart. 'At first, people don't understand how a piece of paper can be worth thousands of francs,' says Tomas. Although the posters were originally mass produced, they are now rarities.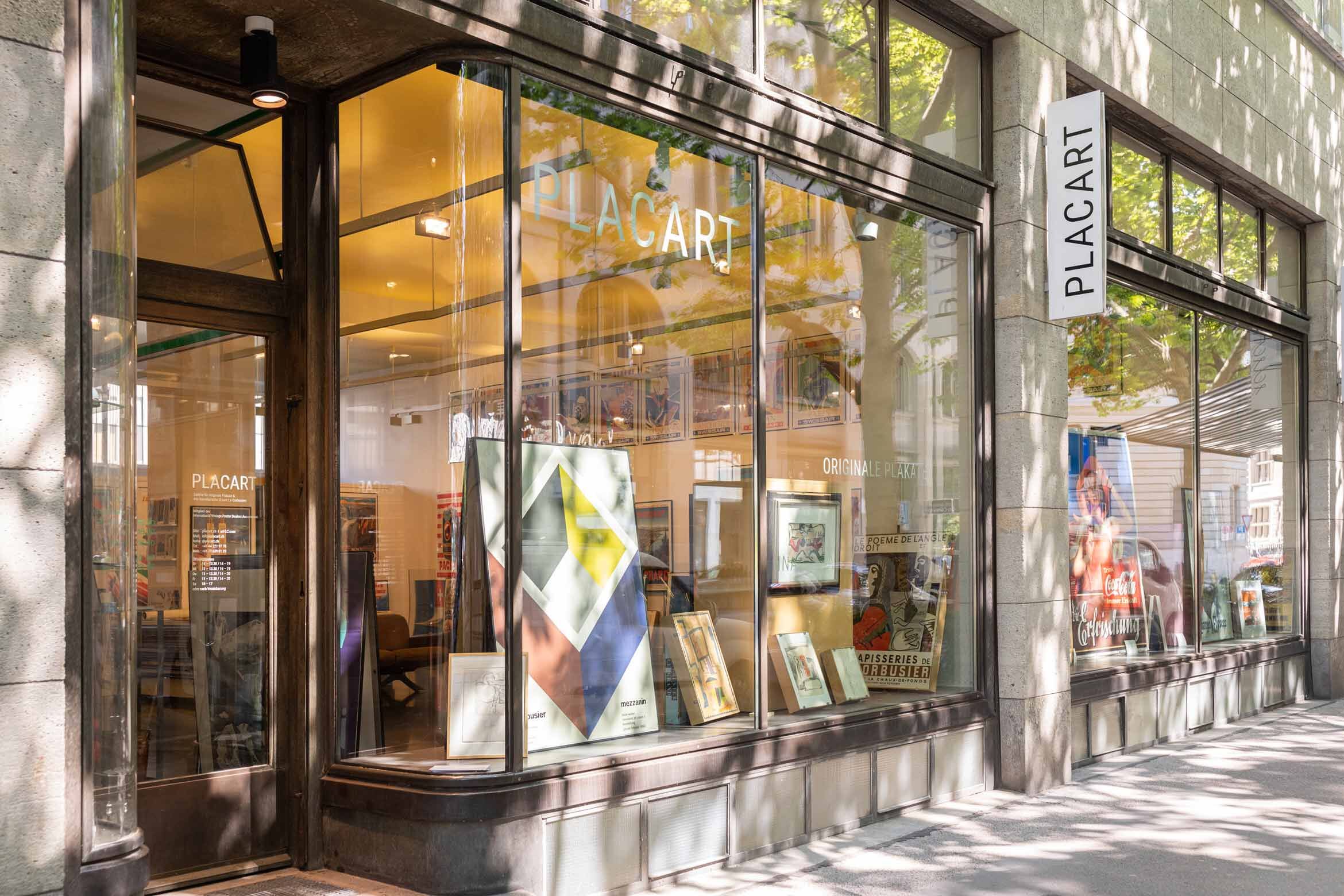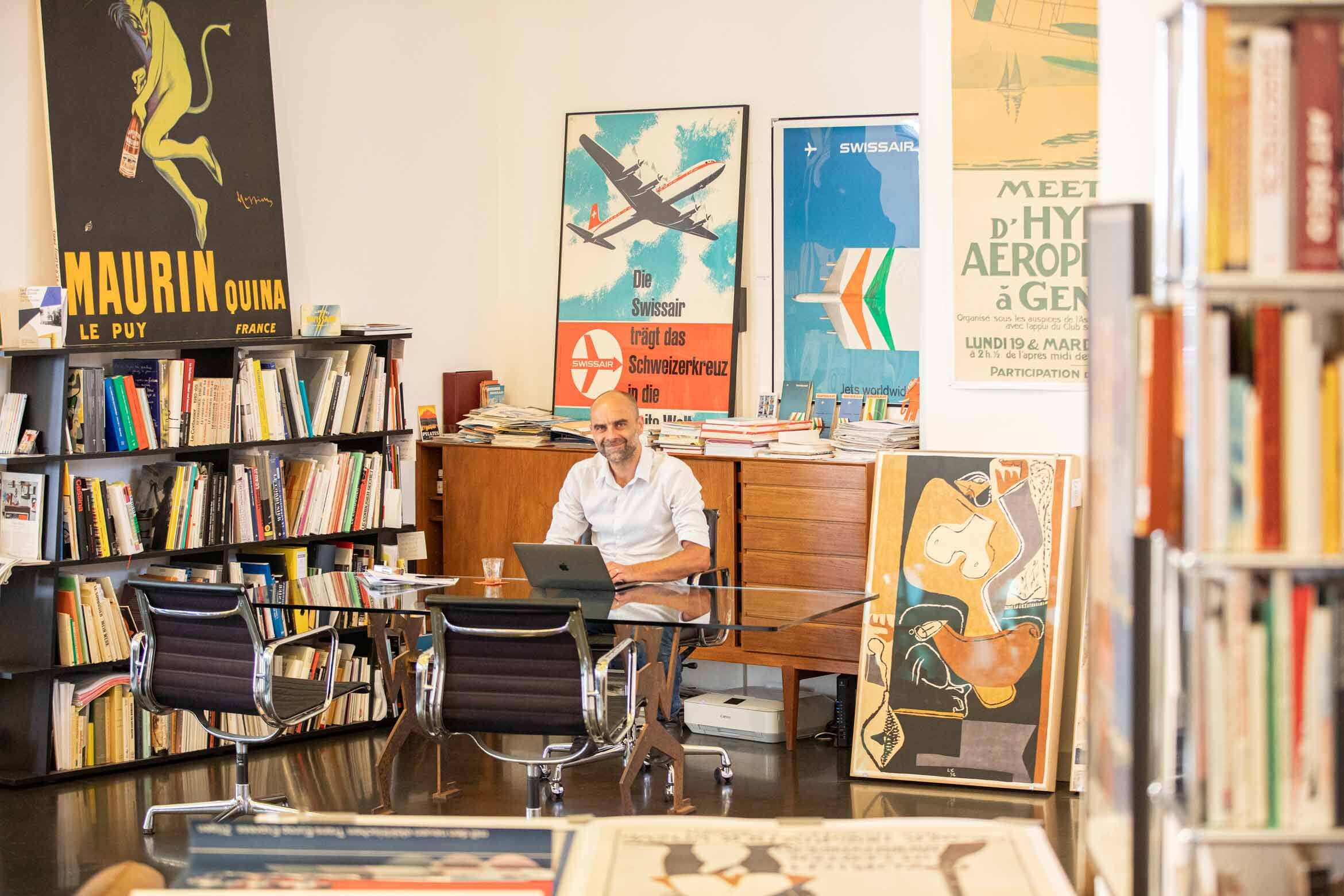 'I was really fascinated.'
Tomas Rabara
Most of them were destroyed through being pasted over or torn down. 'It's only by chance that any posters have survived at all,' says Tomas. Even posters by renowned artists such as Max Bill or Ferdinand Hodler are hard to find these days, which makes them valuable collectors' items.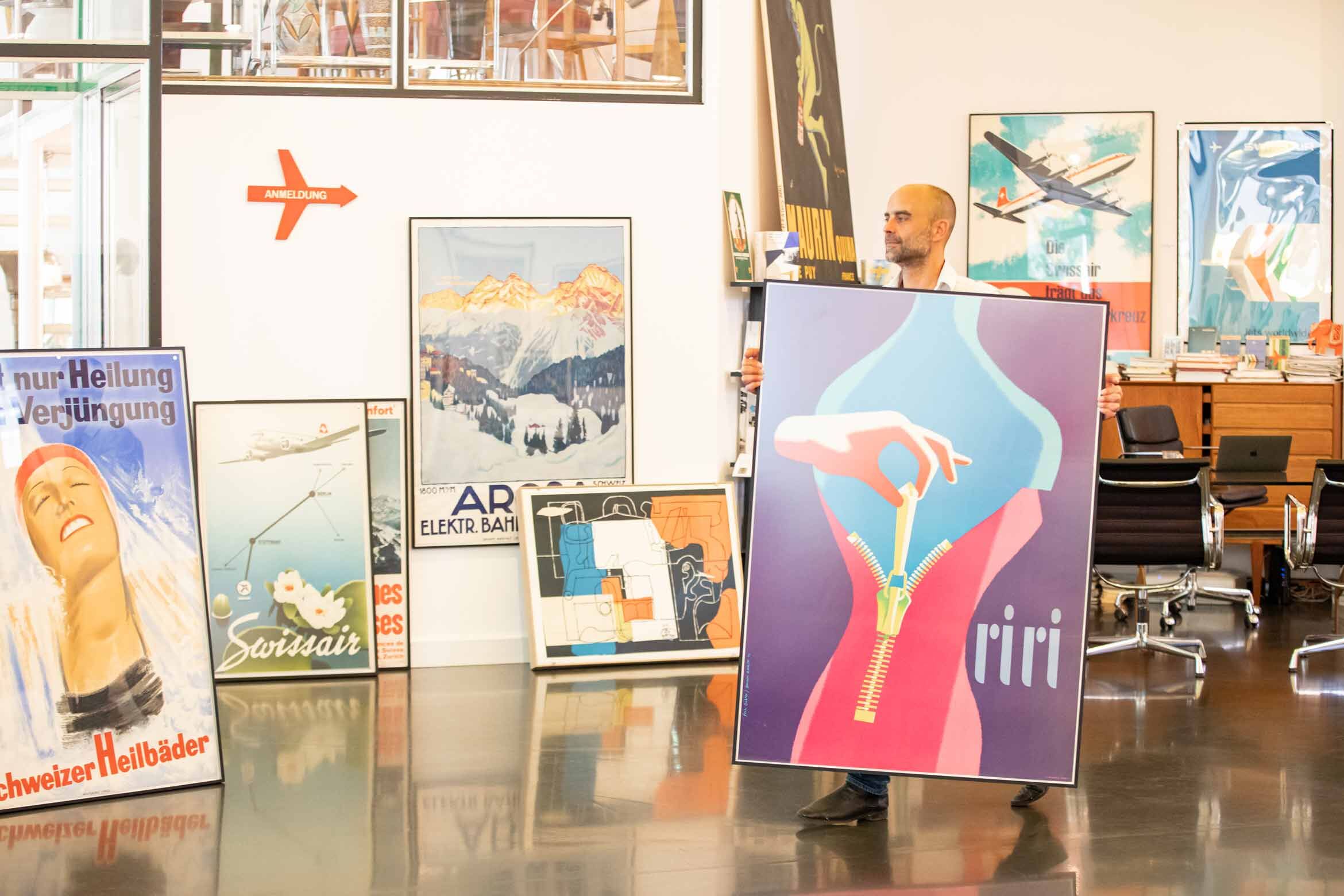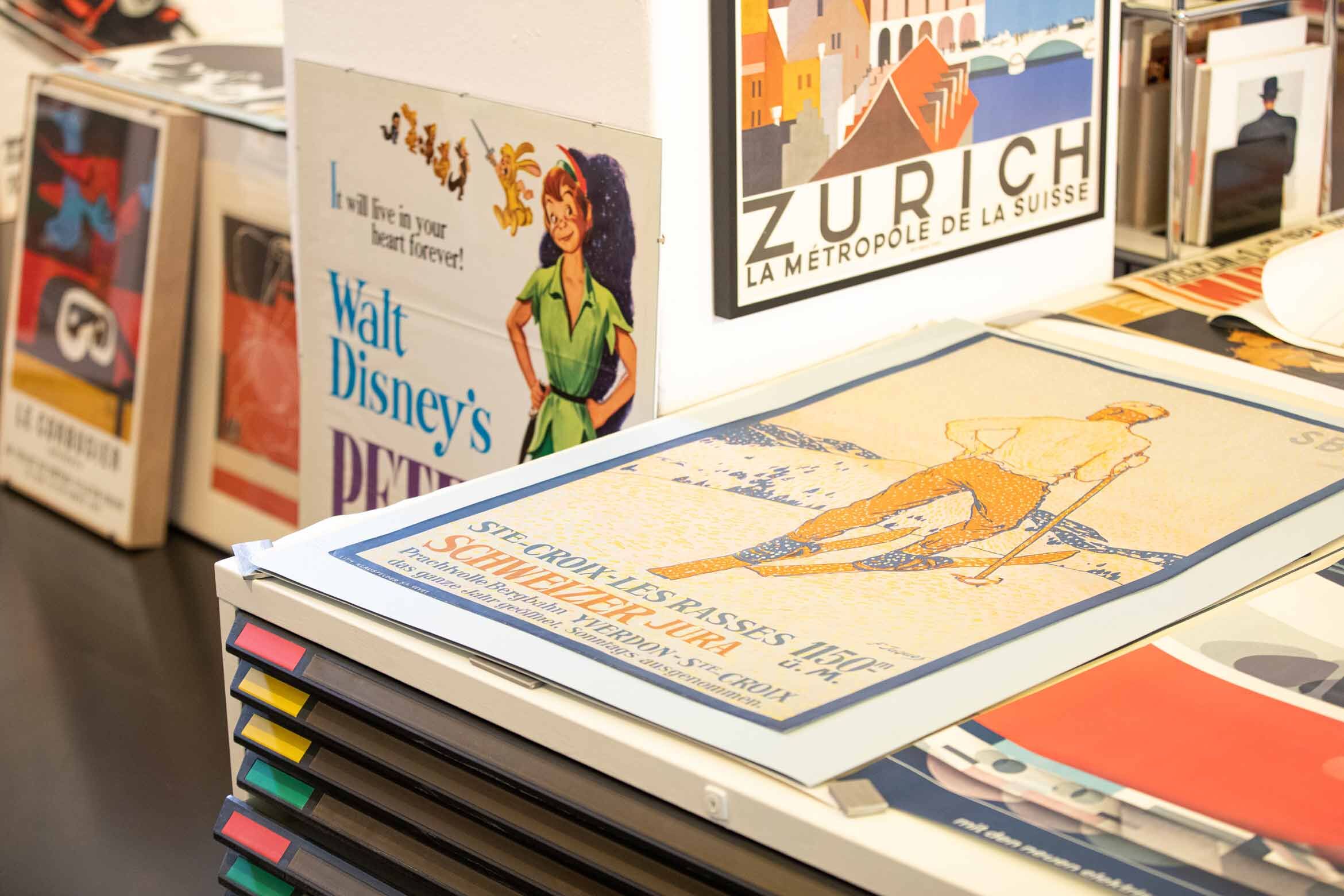 Very few posters are in perfect condition.
'But of course I also sell posters for a few hundred francs,' says Tomas. A poster's price is not only determined by the artist and its rarity, but also by its subject matter and condition. Tomas tells us that most posters have minor tears because they were printed on cheap, thin paper: 'After all, they were only meant to last a few weeks.'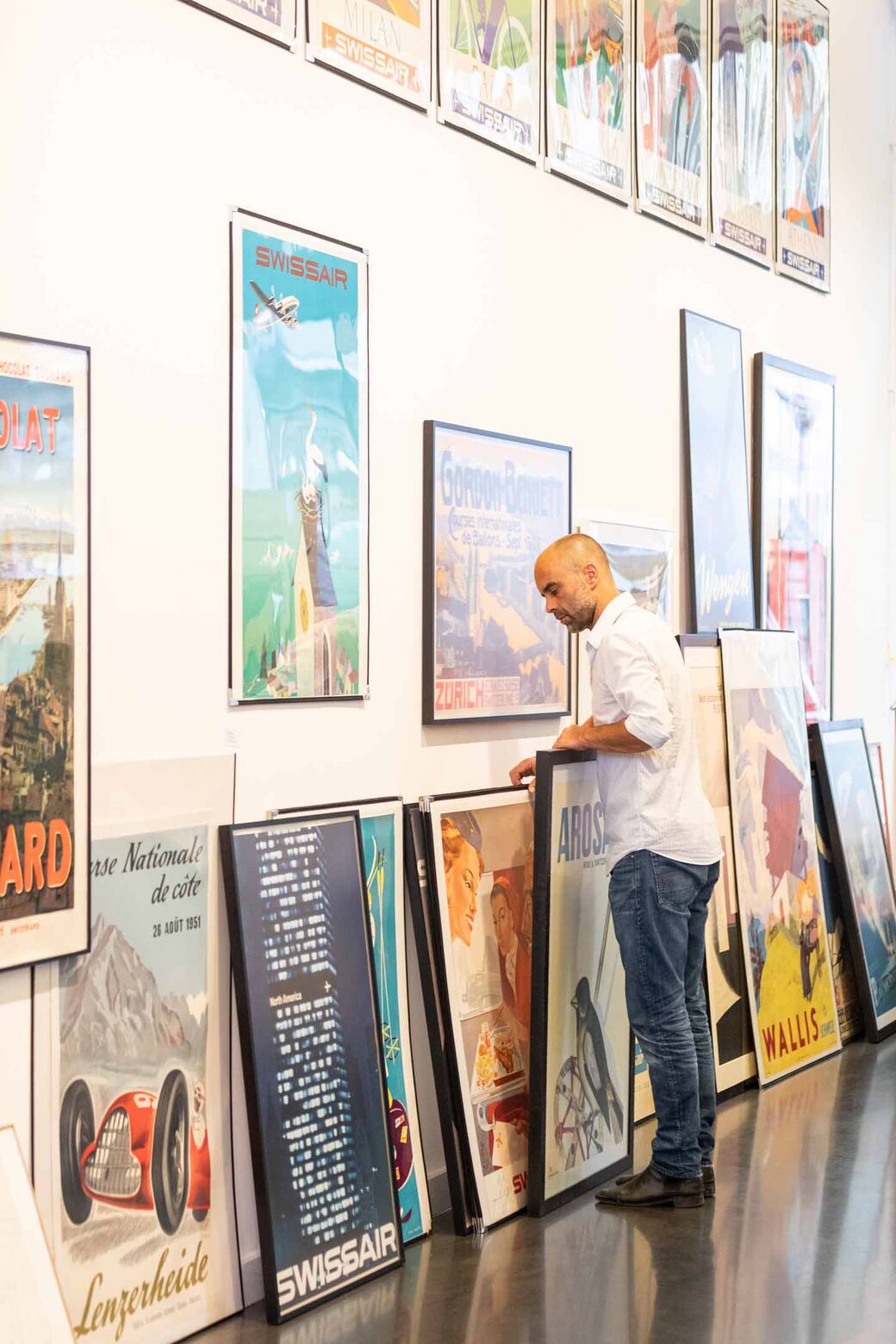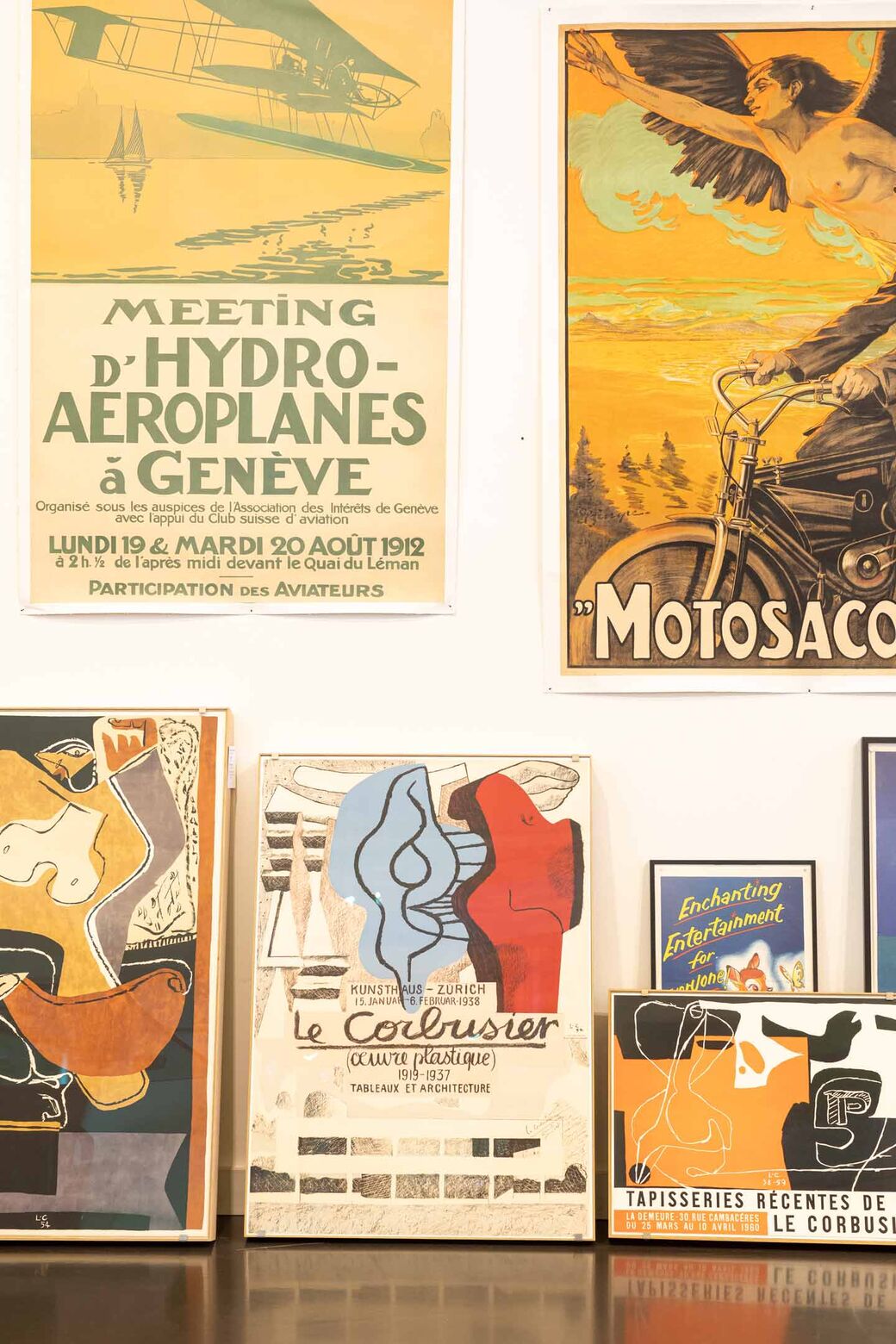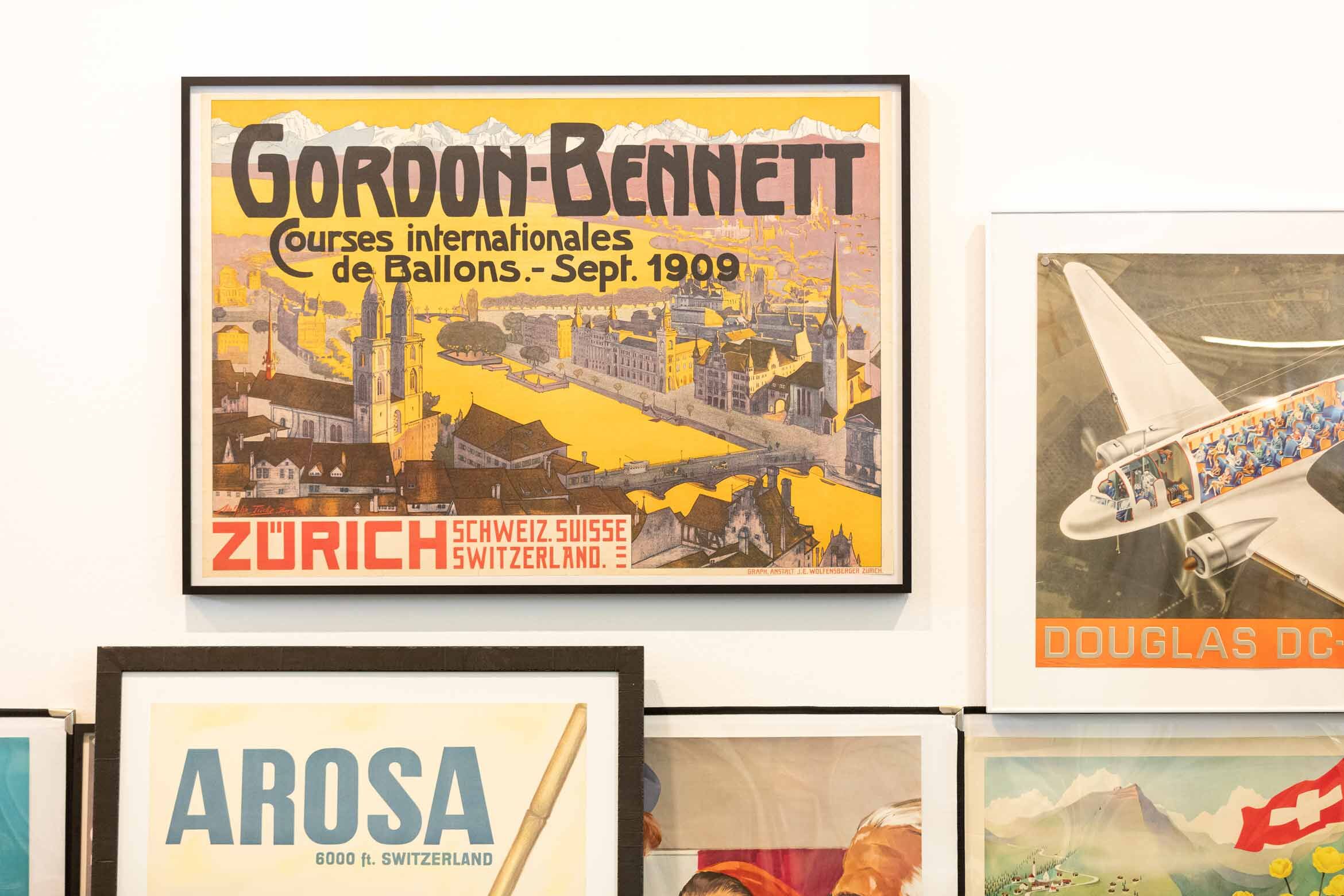 Tomas knows the story behind many of his posters.
For years they have been used to advertise products, tourist destinations, exhibitions and services: 'They provide a snapshot of their time.' He likes to research the story behind the posters. For example, the one with the words 'Gordon Bennett' was an advertisement for the 1909 edition of the famous international balloon race that is still going strong. In 1909 the balloons were launched from Zurich for the fourth time. 'It was a major spectacle,' says Tomas, 'tens of thousands of people flocked to the launch site at the gasworks in Schlieren.'
Tourist posters are particularly popular: 'They have a very special aura.' Tomas is still on the hunt for a 1928 poster advertising the Gornergrat-Bahn: 'This picture was on the first postcard ever sent to me by my wife-to-be.' At that time, Tomas was working in the media: 'There was no suggestion that I would have a gallery one day!'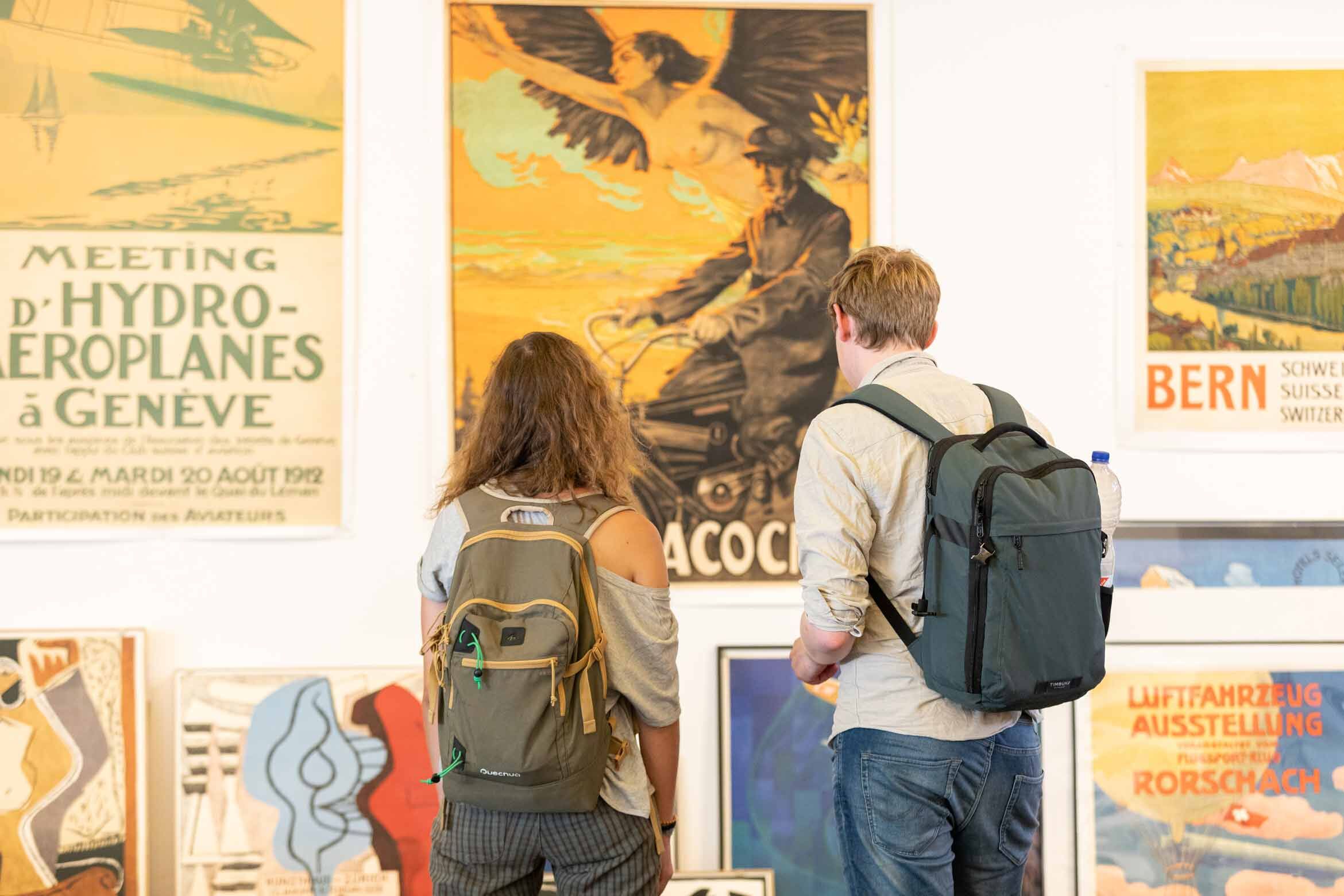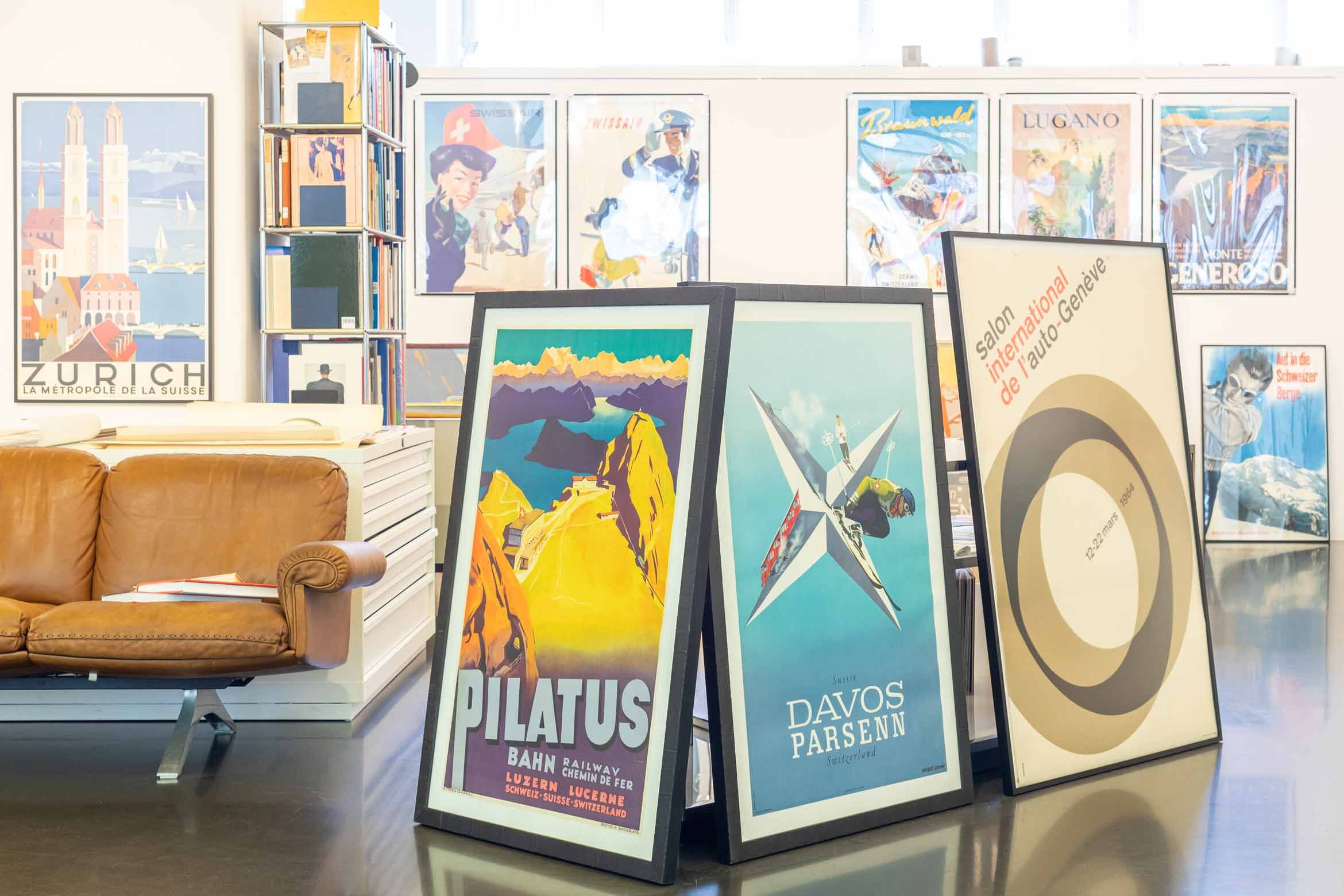 In 2006, Tomas wanted to give his wife something to mark the birth of their first child. 'She's a huge Le Corbusier fan,' he says, 'but I soon realised I couldn't afford a drawing.' So he decided to buy a signed original print. He spent many hours studying the life and work of Le Corbusier before he found the right one. 'I was really fascinated.' He began buying and selling lithographs as a hobby, including some posters that Le Corbusier designed for his own exhibitions. In 2010 Tomas and his wife opened a gallery in Schaffhausen. Once the children were a little older, he moved the business to Zurich and opened Placart in 2018, right next to Bahnhofstrasse: 'The location is a real stroke of luck,' he says.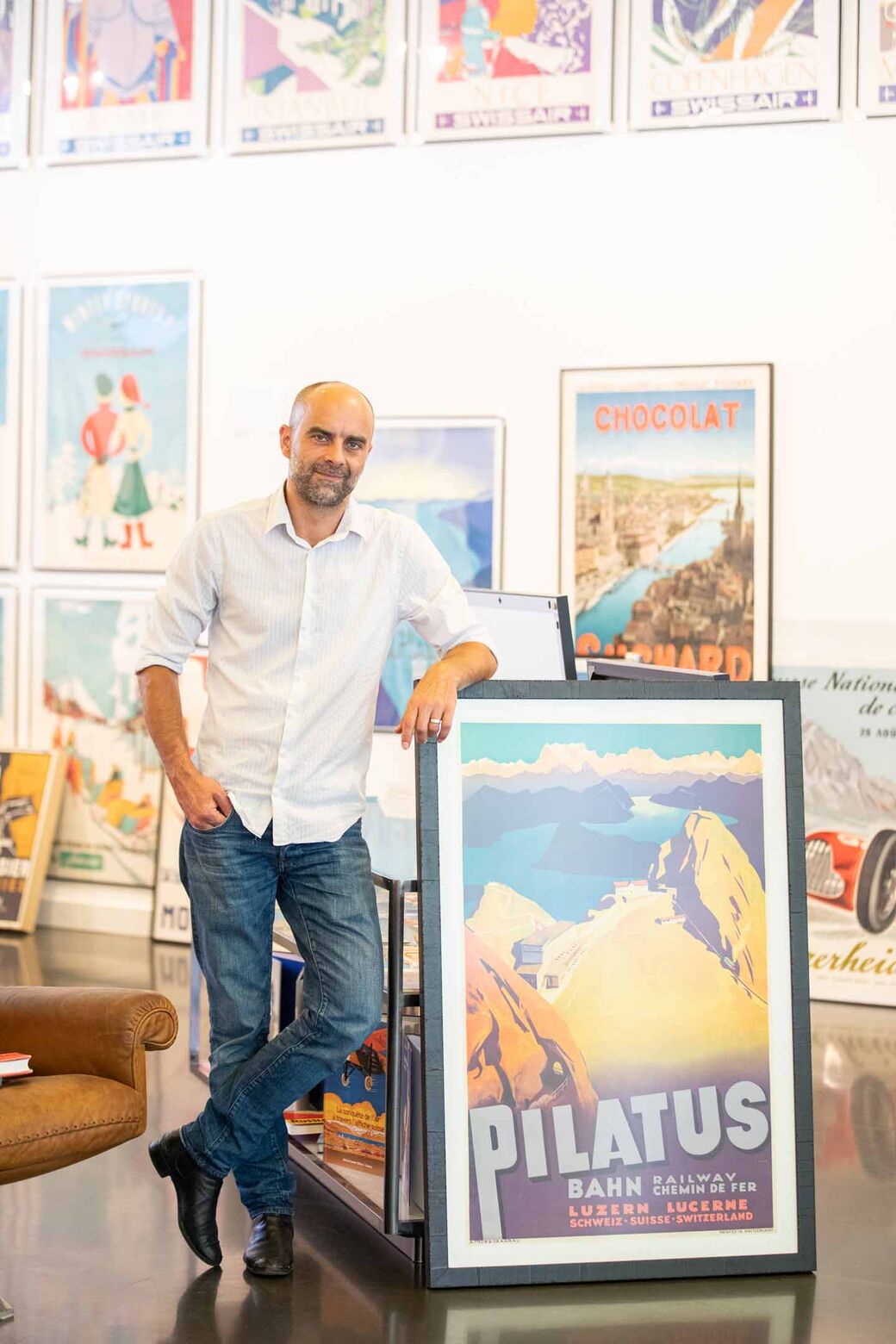 Tomas is one of the youngest poster dealers in the world: 'Most of them are well over 60.' Tomas believes that future generations will continue to be interested in original posters. Exhibitions and books about posters are still popular all over the world. Just recently, he received a request to contribute to a book series. 'And we shouldn't forget that posters can be a good investment.'
This article is not free to read.

hellozurich stands for a diverse and tolerant city. We tell stories about the people and places that shape Zurich. But all this costs money. As an independent magazine we rely on your help.

Become a member from just 8 francs a month and, as a supporter, receive the hellozurichPass. In conjunction with our partners, this gives you access to more than 200 exclusive deals and discounts.
Address
Placart
Werdmühlestrasse 5
8001 Zurich
+41 44 221 97 78
Website
Opening hours
Tuesday and Wednesday, 11 am – 1:30 pm, 2 pm – 7 pm
Thursday and Friday, 11 am – 1:30 pm, 2 pm – 8 pm
Saturday, 10 am – 5 pm
View posts by interests, or use the proximity search and additional filters.
Try it out
.
Save posts as favourites – simply click on the heart symbol in the upper right corner of the post.