Gelateria Oro
Ice cream and aperitivo like at home in Puglia: Here you quickly feel like you are on the Italian coast.
At Gelateria Oro by Tiffany and Mirko Ciccone on Löwenstrasse, mysterious ice-cold and southern Mediterranean delights come together in a small space - pure Italianità, right in the middle of Zurich.
Gelateria Oro sits unassumingly at Löwenstrasse 40, and if you were to wander past, you might not even notice it was even there. That's because the young owners, Tiffany Ciccone-Pampanini and Mirko Ciccone, share the place with a women's clothes shop. 'Finding an affordable property in Zurich isn't that easy,' confesses Mirko. Having the gelateria in the shop is a good compromise to start off. It's also a good reflection of the Italian way of doing things, being a bit more laid back. 'What isn't right can be made right,' says Mirko, laughing.
'When you taste the ice cream, it catapults you straight away to Italy.'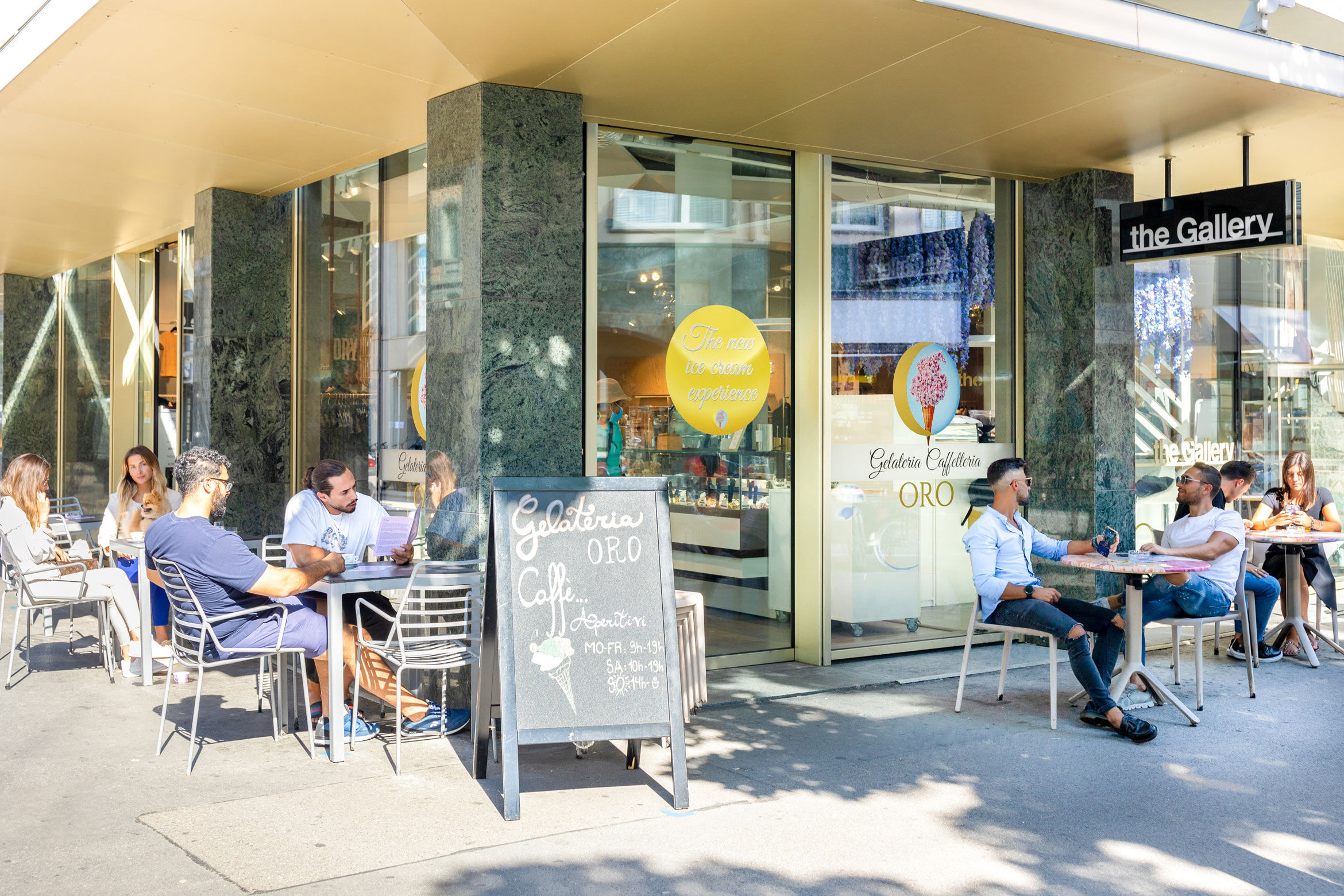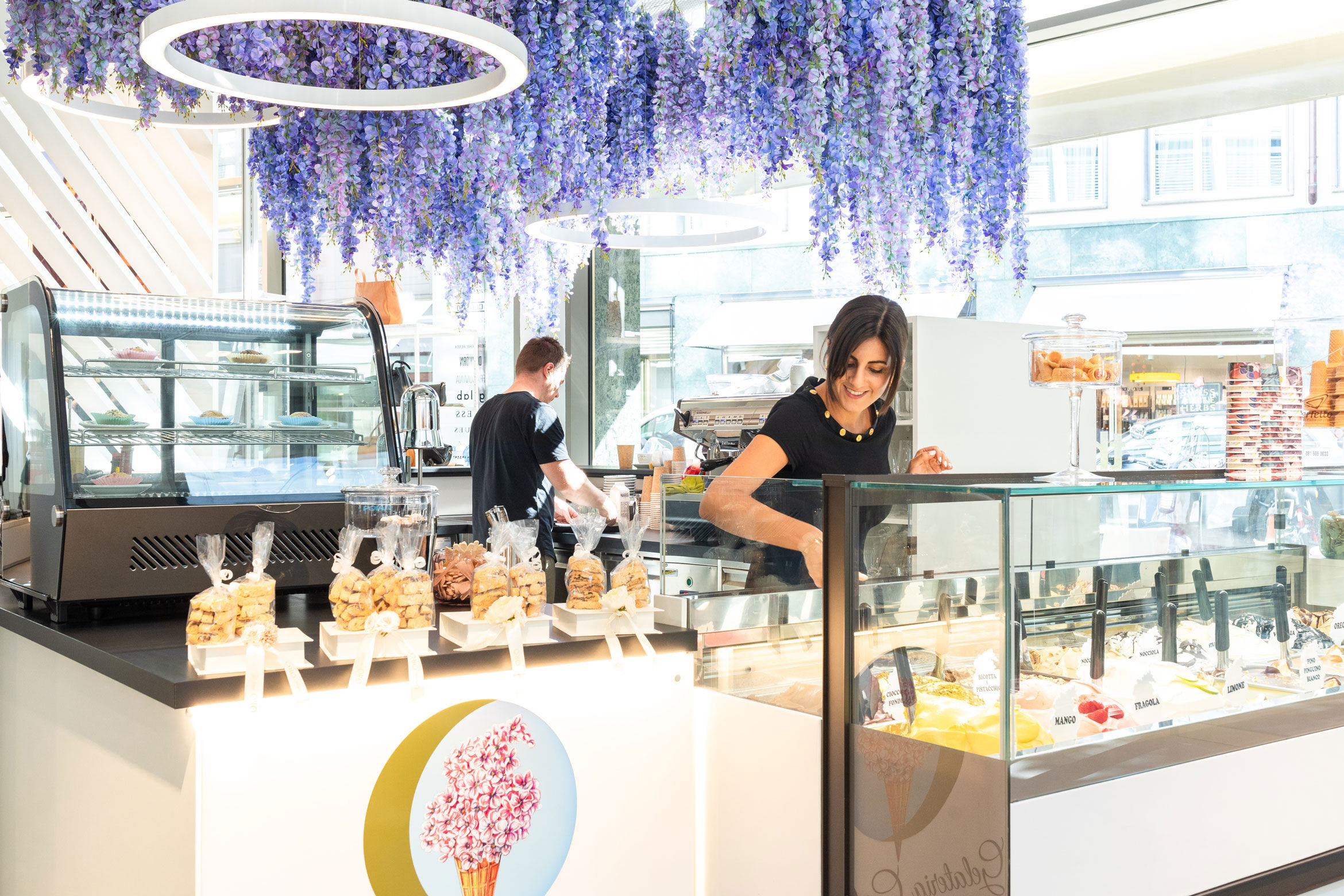 Anyone who stops and goes to the counter of the gelateria, which serves other Italian specialities in addition to fresh ice cream, will soon feel as though they've been whisked away to somewhere else entirely. There are dozens of different flavours of ice cream stacked up in the display, the aroma of coffee is tantalising on the nose, taralli (traditional Apulian snacks like crackers) are stored in large glass jars and two strange-looking machines – filled with dark and green liquid – stand alongside. 'We use them to inject chocolate and pistachio cream into our brioches. Typically Italian,' explains Tiffany. The clothes shop quickly fades into the background. It feels much more like you're somewhere on the Italian coast. 'And when you taste the ice cream, it catapults you straight away to Italy, to the sunshine and the beach,' says Tiffany.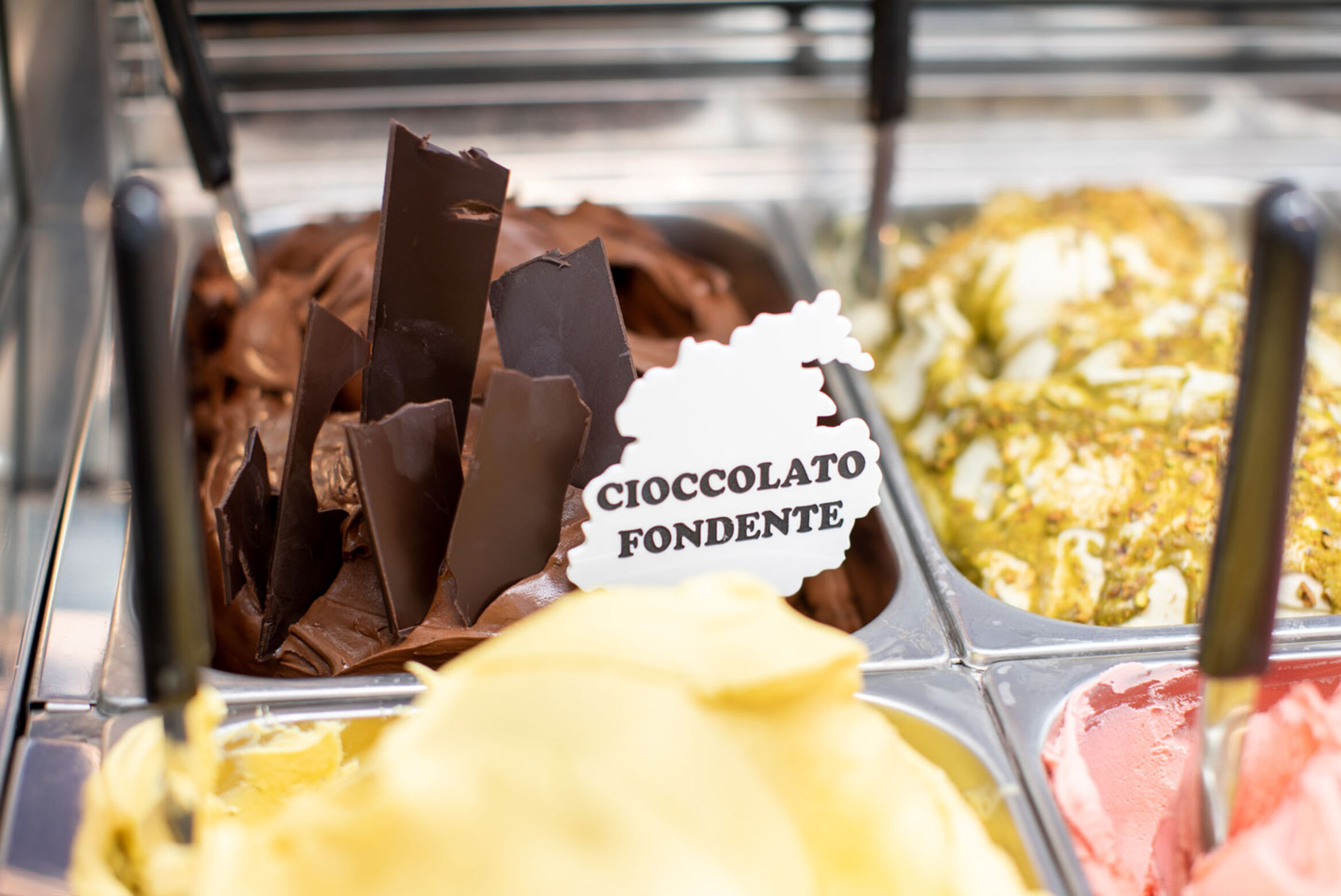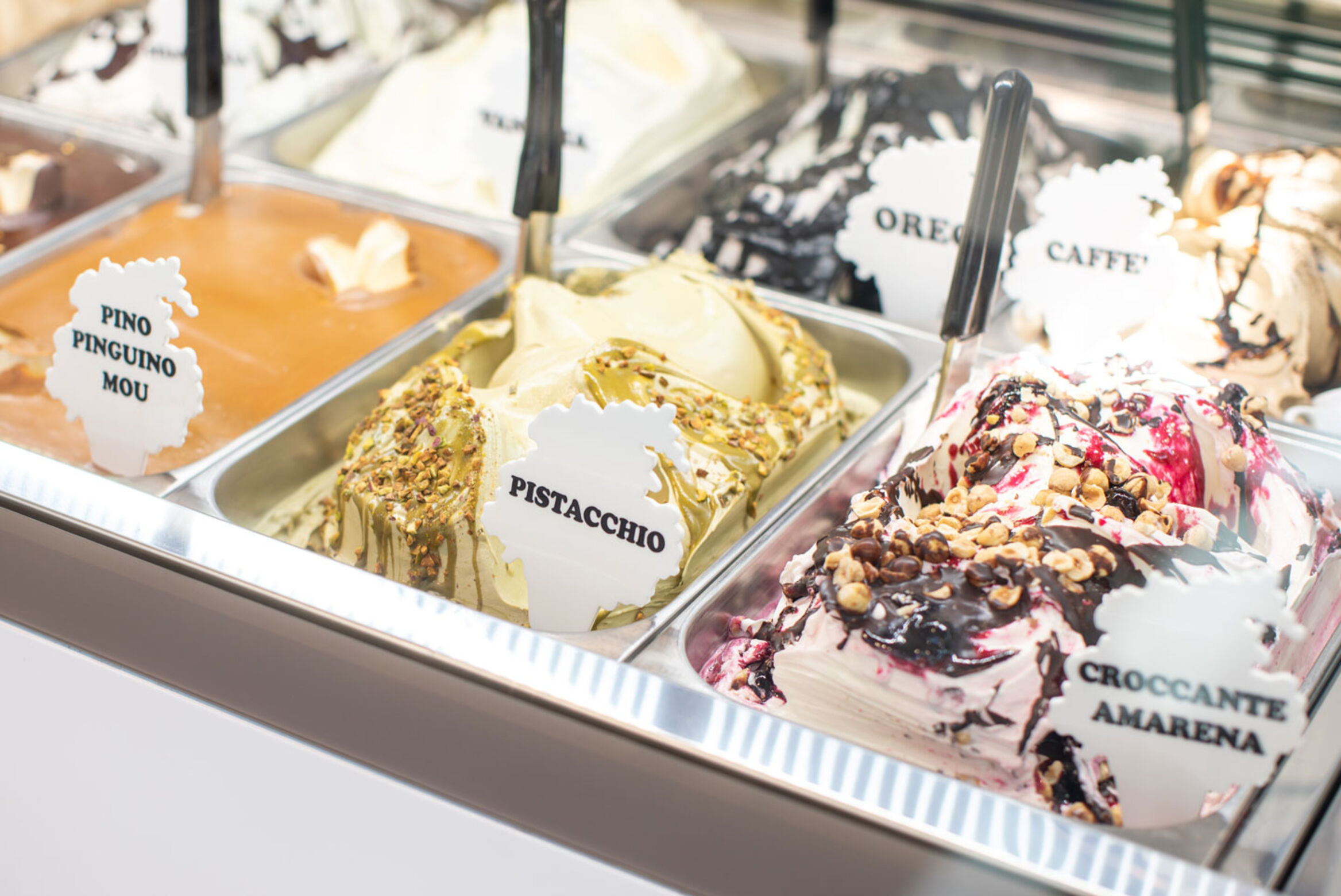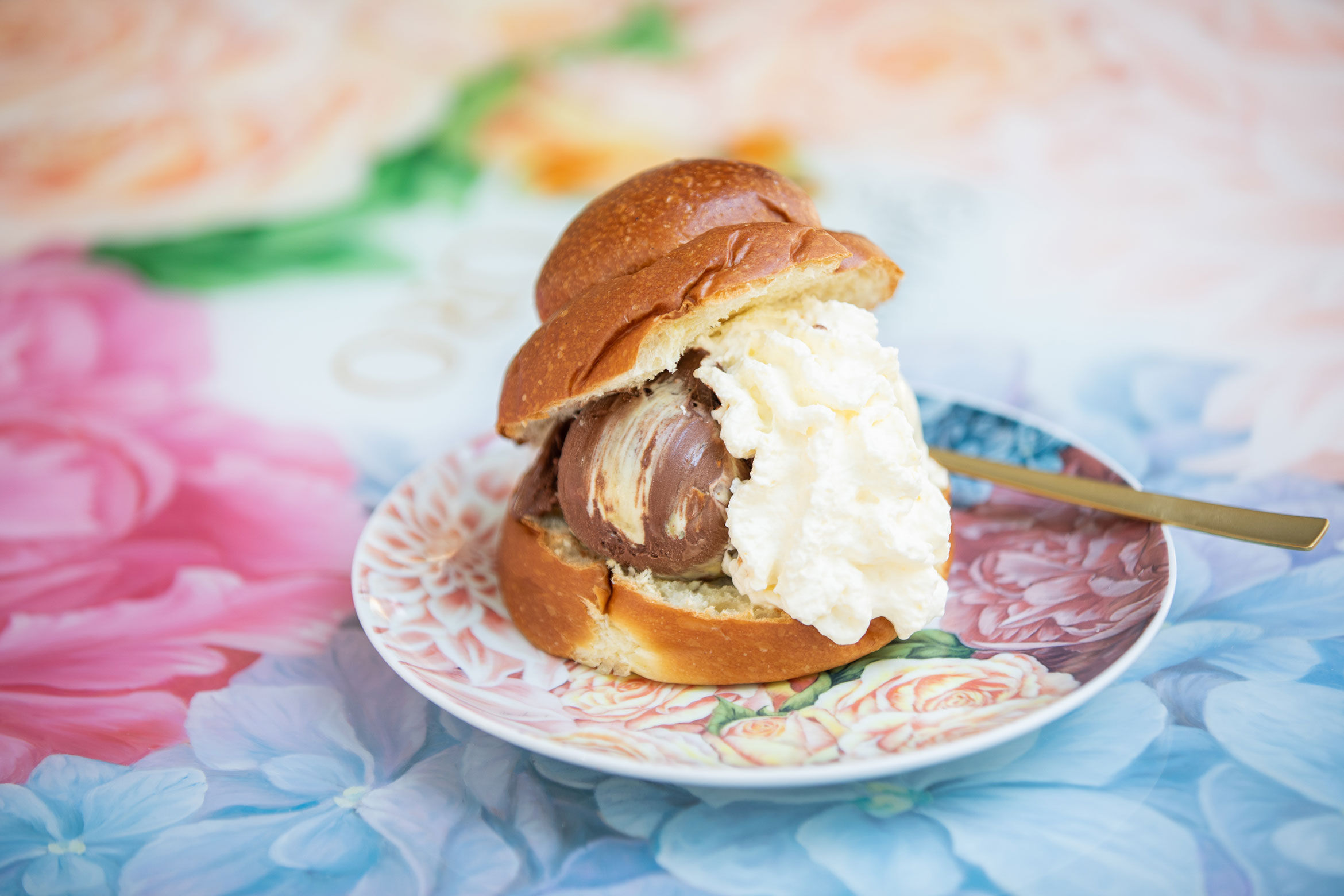 She and her husband Mirko have been running Gelateria Oro here on Löwenstrasse since April 2021. 'I've had this dream of opening my own gelateria for years,' says Tiffany, whose mother actually comes from Apulia. 'And when I used to go to Apulia every summer on holiday, there was only one place to go for gelato: Lucarelli.' This gelateria can be found in the Taranto area and is popular far and wide. Their ice cream is the best Tiffany has ever had, so she wanted to impress her husband Mirko with it as well. 'So I flew to Apulia to taste an ice cream. And I've been just as enthralled as Tiffany ever since,' explains Mirko. The couple went into partnership with Gelateria Lucarelli and have since been able to use their secret recipe.
But it's not just the recipes for the ice cream that come from Italy. 'Many of the ingredients, such as berries, walnuts and pistachios, also come from my home country,' Tiffany explains. They're then prepared according to the secret recipe. 'When it's finished, the ice cream really does taste as good as in Apulia,' she assures us.
In the gelateria, you can see Tiffany's flair for flowers.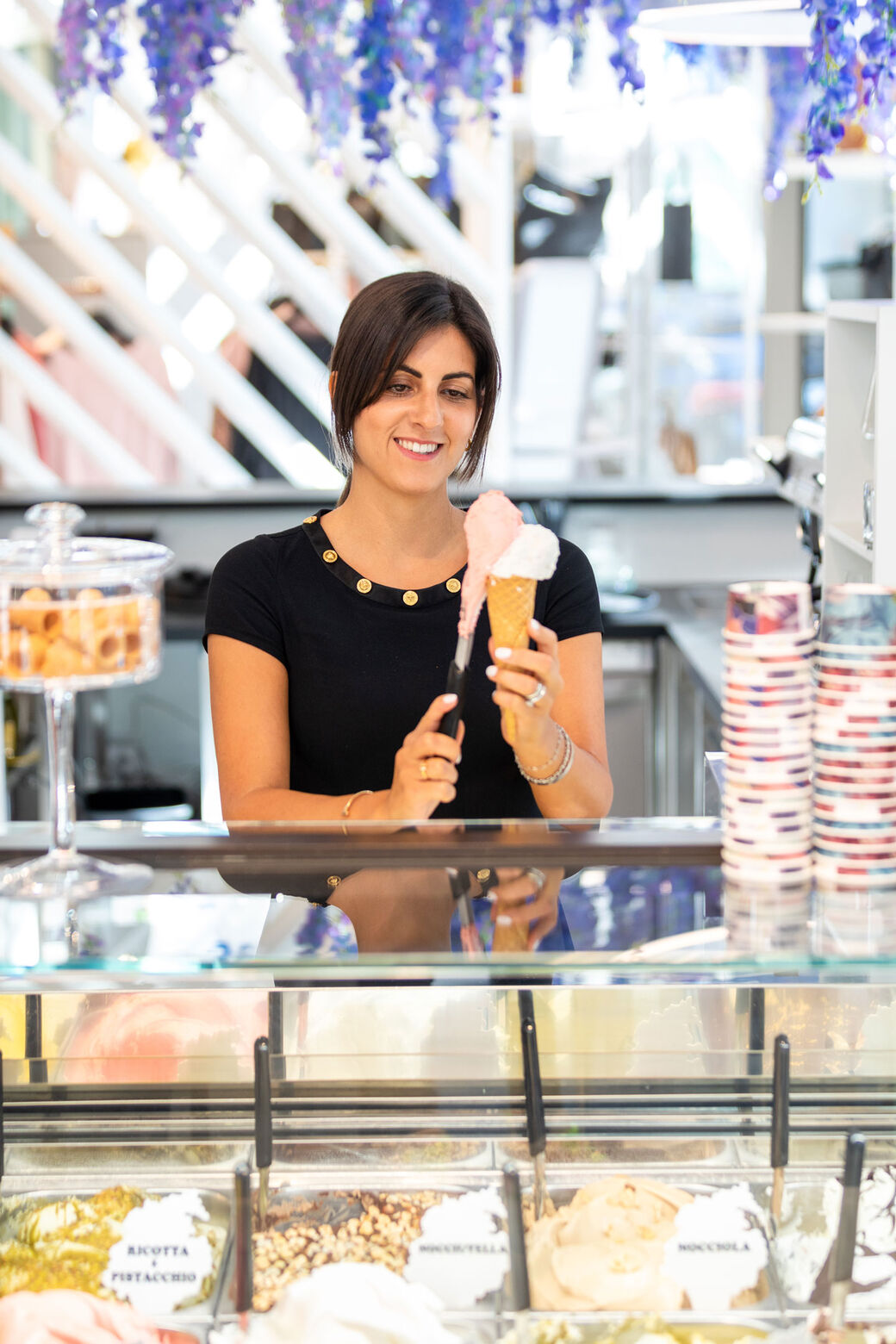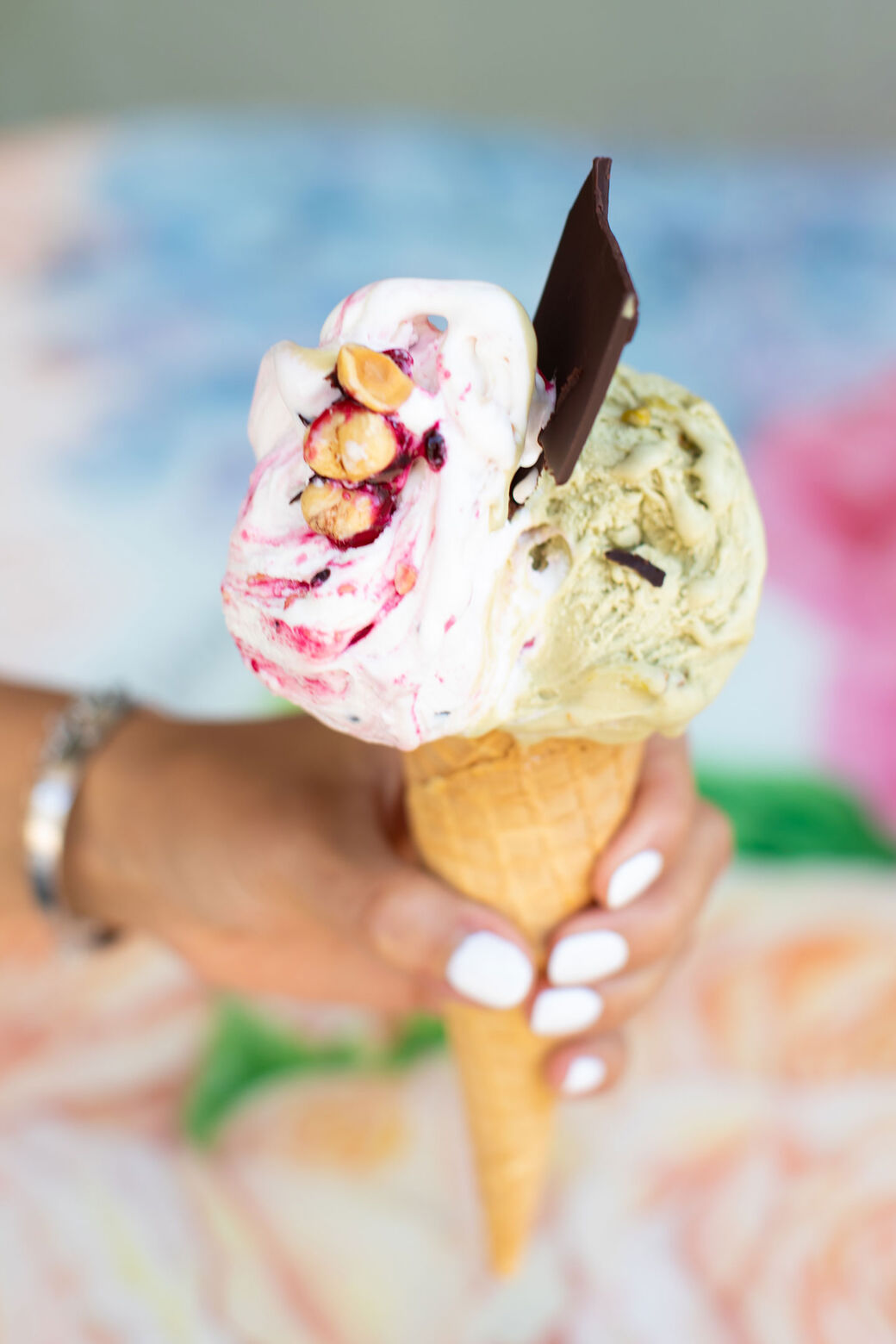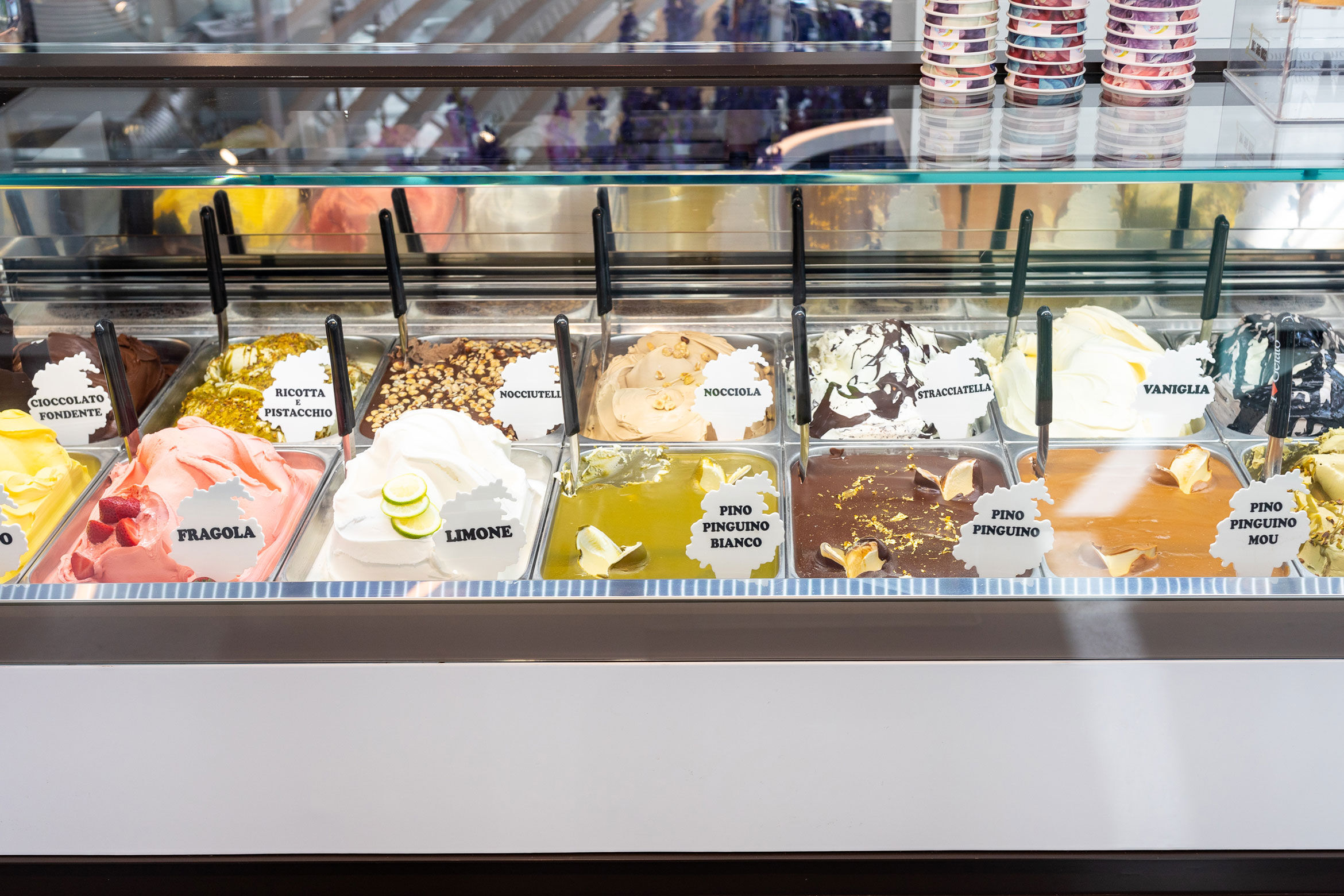 For Tiffany, the gelateria is a matter of the heart that she pursues alongside her job as a florist. Her flair for flowers and plants can also be seen quite quickly in Gelateria Oro. There are vibrant floral patterns on the ice cream tubs, the tables are decorated with colourful blooms and purple plants hang from the ceiling. Even the Gelateria Oro logo depicts a waffle cone containing pink flowers. 'I was in charge of the décor. We're particularly proud of the tables. Each one is unique and was painted by an artist we've become friends with,' explains Tiffany.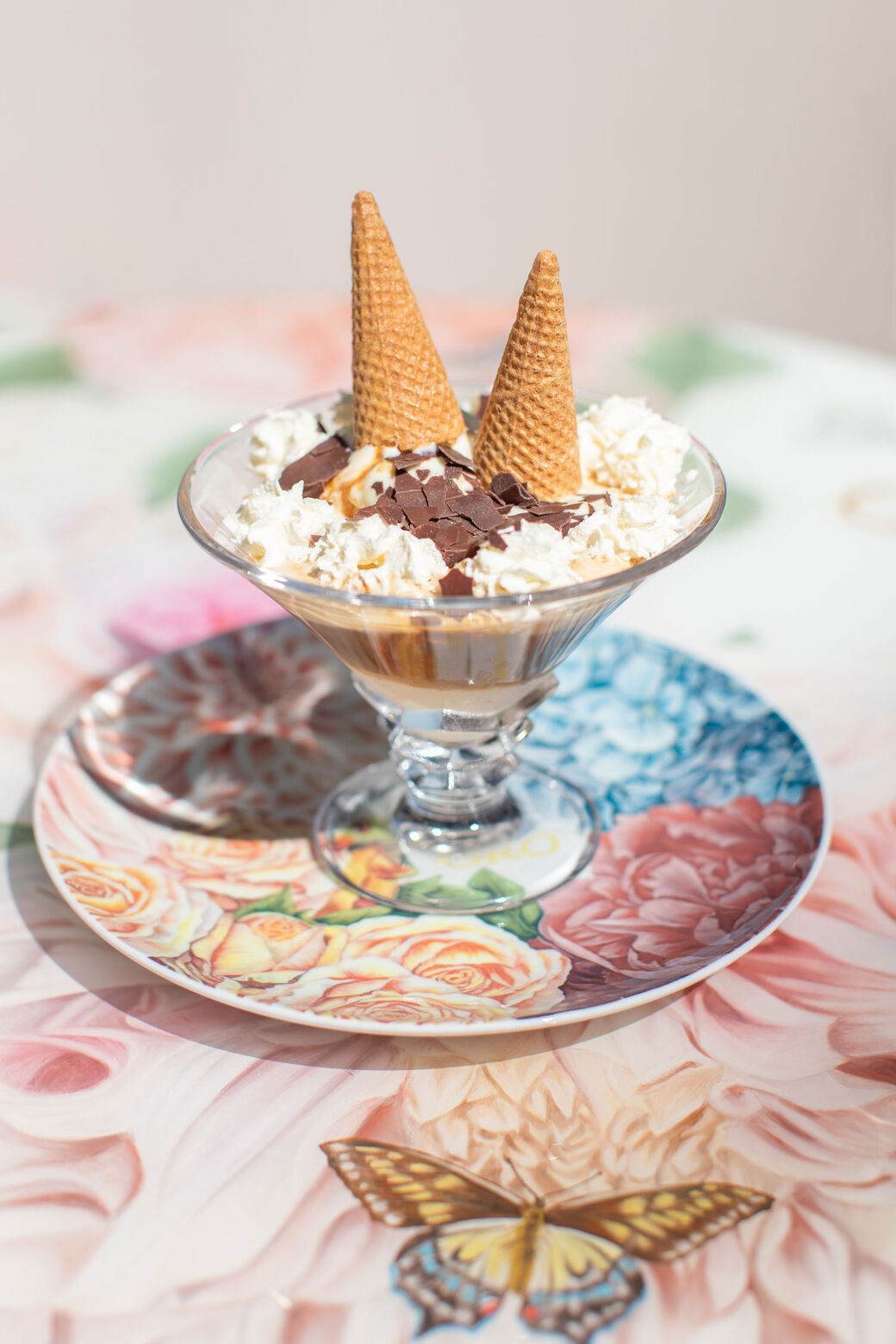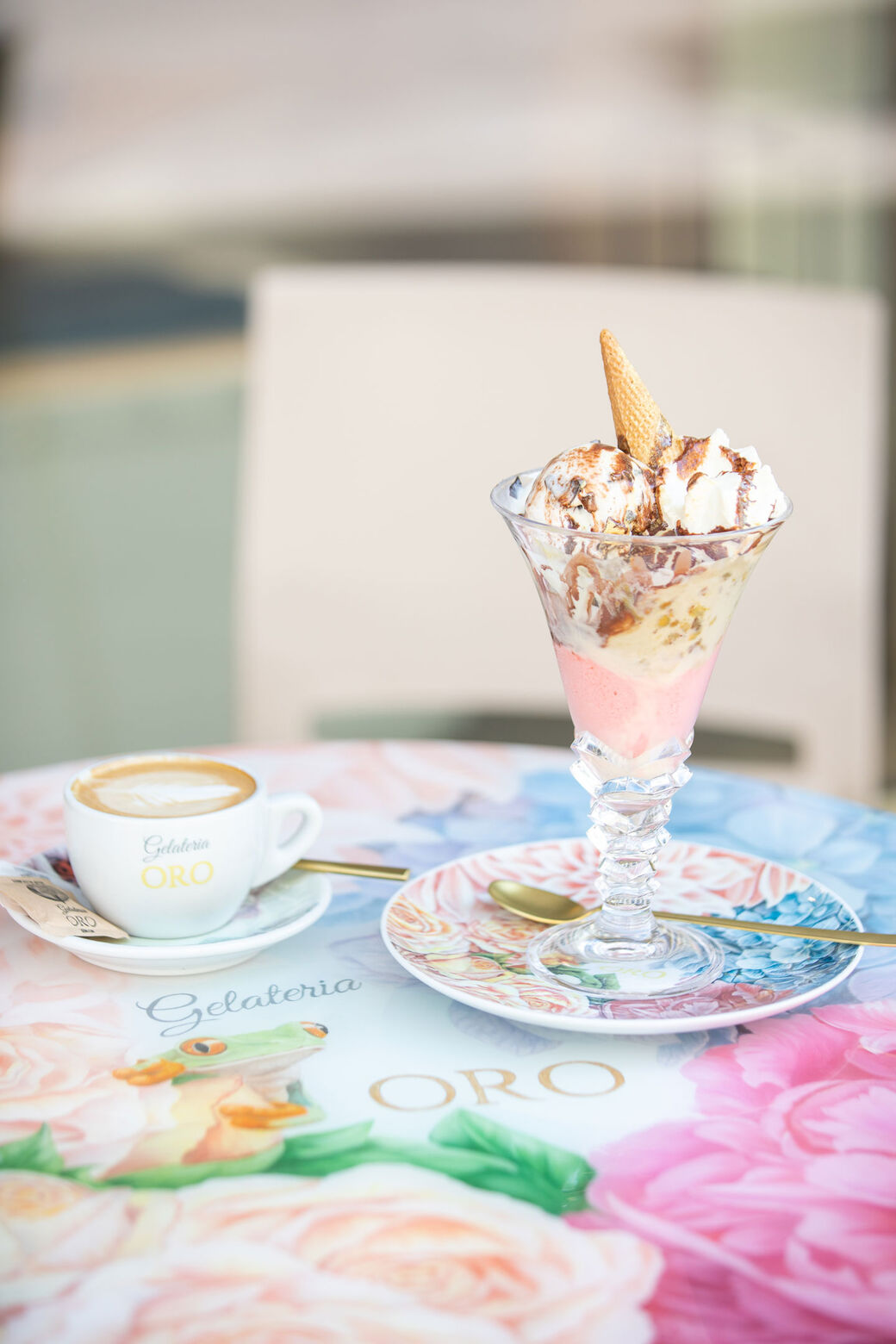 Mirko, on the other hand, works for his family business in the construction industry. The pair's families have supported the young couple enormously with setting up their own gelateria. 'We help each other. We're one big family.' With Gelateria Oro, they want to bring a slice of Italy to Zurich. And not just with the help of ice cream. 'We also serve things like classic Italian aperitifs,' says Mirko. What that really means is that anyone who orders a drink here in the evening will not only get taralli to go with it, but also mortadella, stuffed olives, sun-dried tomatoes, small mozzarelline and other Italian appetisers. 'It's better than a bag of crisps, which is what you're served so often in Zurich with an aperitif,' jokes Mirko.
The gelateria wants to inspire with Italian specialities.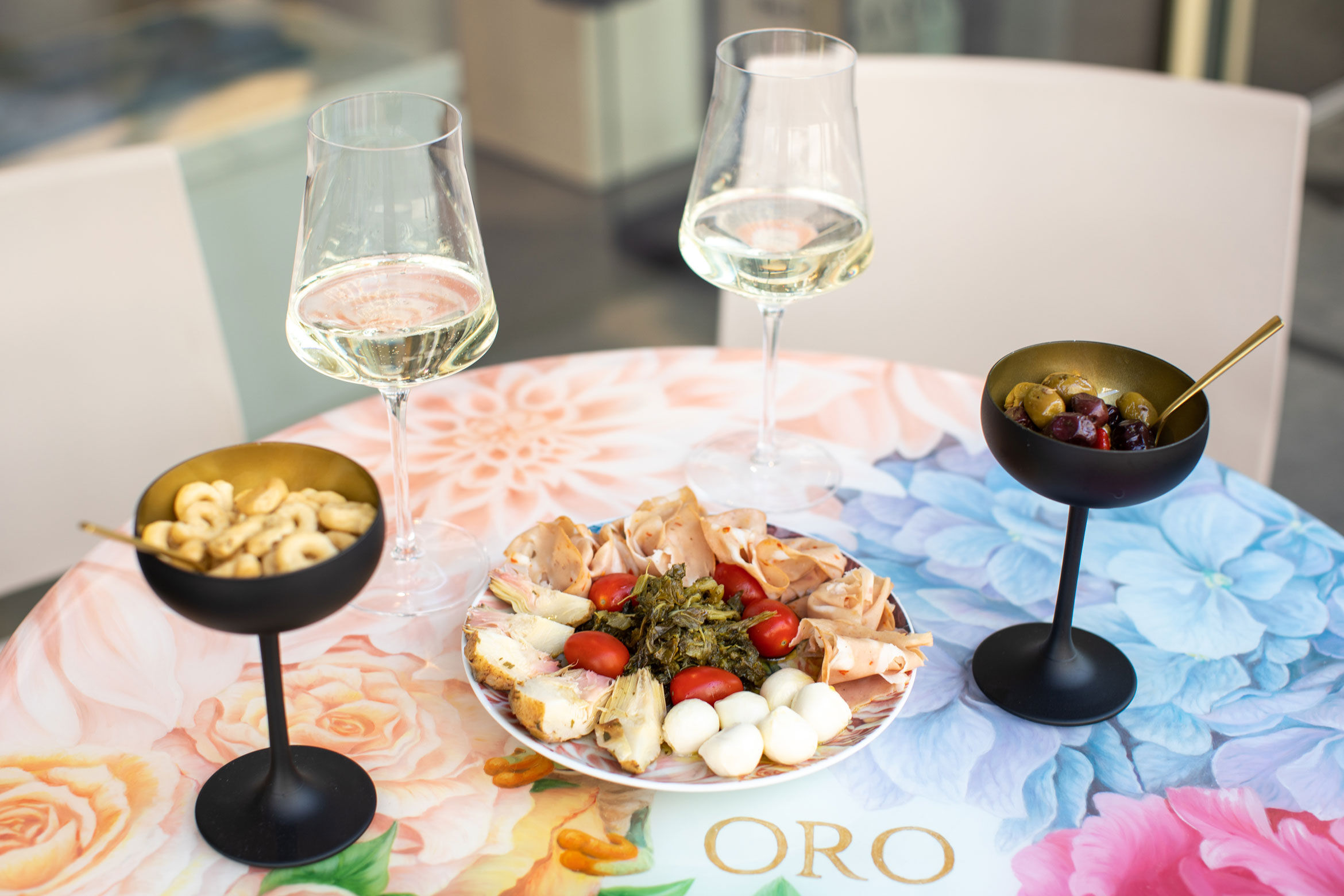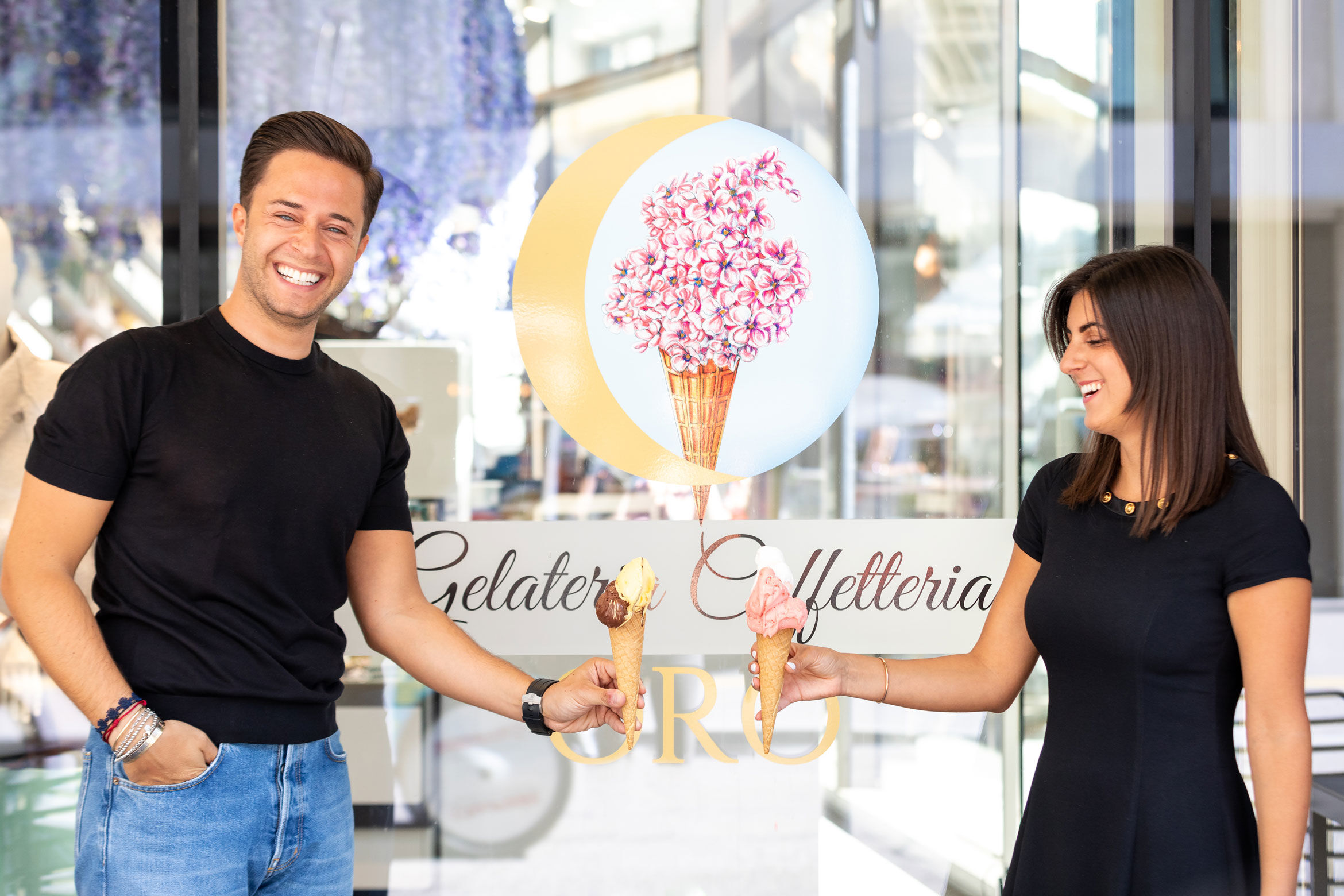 Gelateria Oro, which has made the couple's dream a reality, is a place for anyone who loves not just ice cream, but all the other Italian specialities as well. 'Whether you're from Zurich or you're a tourist. This is where I can feel good about bringing my friends from Apulia and they will think they're back at home,' says Tiffany.
Address
Gelateria Oro
Bahnhofstrasse 32
8001 Zurich
+41 75 495 00 00
Website
Opening hours
Monday to Friday, 9 am – 7 pm
Saturday, 10 am – 7 pm
Sunday, 2 pm – 7 pm
View posts by interests, or use the proximity search and additional filters.
Try it out
.
Save posts as favourites – simply click on the heart symbol in the upper right corner of the post.