'We should live in grand hotels'
Nearly 300 people live in the Kalkbreite Cooperative. Among these is Fred Frohofer. He rents a cluster apartment, meaning he shares a living room with his neighbours – and sometimes also the wok.
'A new part of town': as part of this concept, a handful of neighbourhood residents – many of whom were squatters – and professionals designed the Kalkbreite complex. They were granted the land from the city in 2006 under building laws. This meant the housing visionaries had to comply with several conditions, one of them being that the development should also include shops and restaurants in the plans.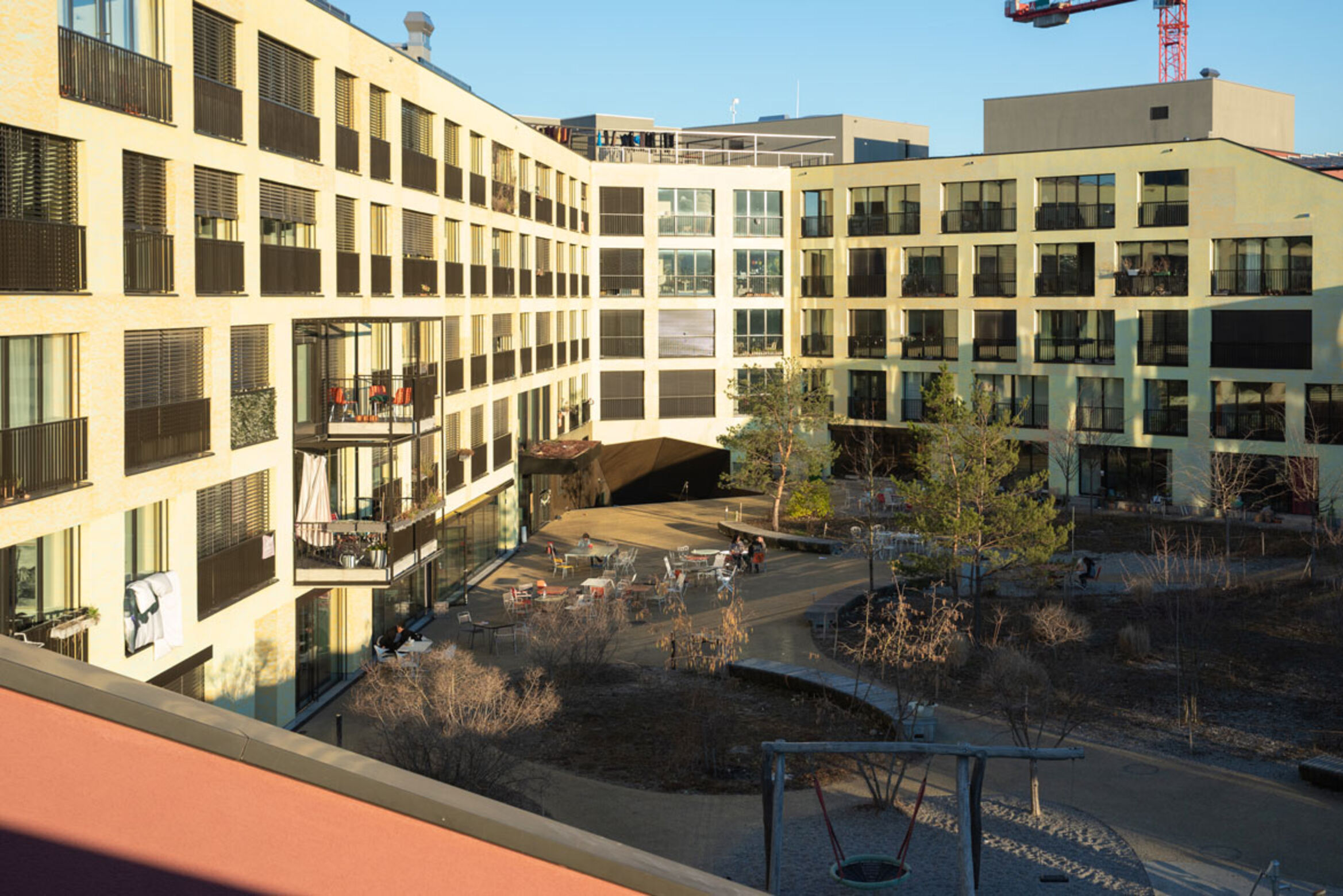 In 2014, residents of the Kalkbreite Cooperative moved in under the watchful eye of the public and the media.
In 2014, residents of the Kalkbreite Cooperative moved in under the watchful eye of the public and the media. The Tages-Anzeiger newspaper wrote: 'In the new Kalkbreite development, 250 residents and as many workers are living cheek by jowl with one another: a social experiment with an open exit.' The Landbote newspaper published the following: 'With the Kalkbreite development, the utopian ideas of 1980s' Zurich have been brought back to life.' The NZZ am Sonntag went with: 'Living in a modern, urban and compact way means less mobility and space. The Kalkbreite development in Zurich allows you to explore the future of living.'
Five years on, private individuals and journalists are as interested as ever in Kalkbreite. Resident Fred Frohofer regularly shows those who are interested around the development, most recently a reporter from the German weekly newspaper Die Zeit.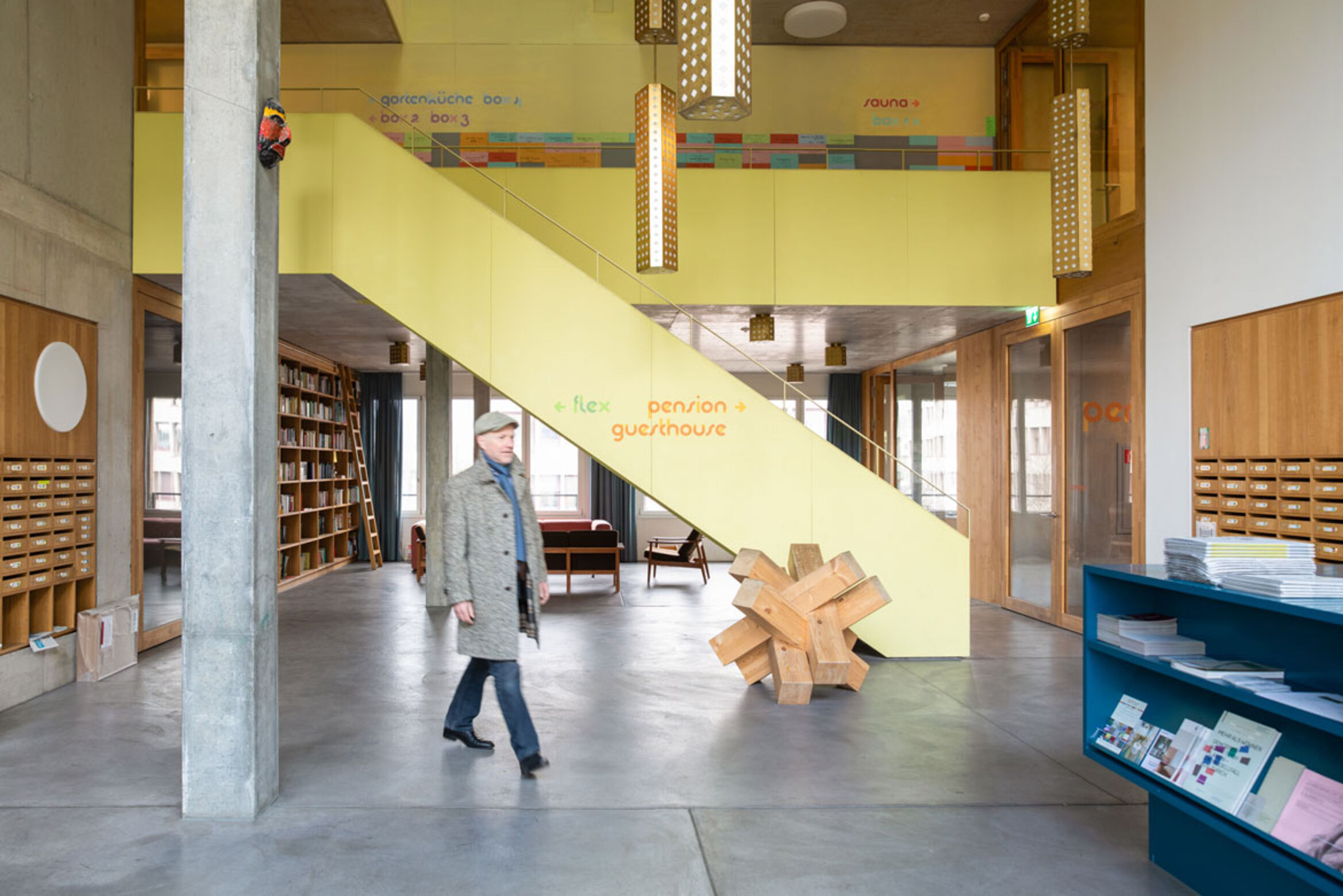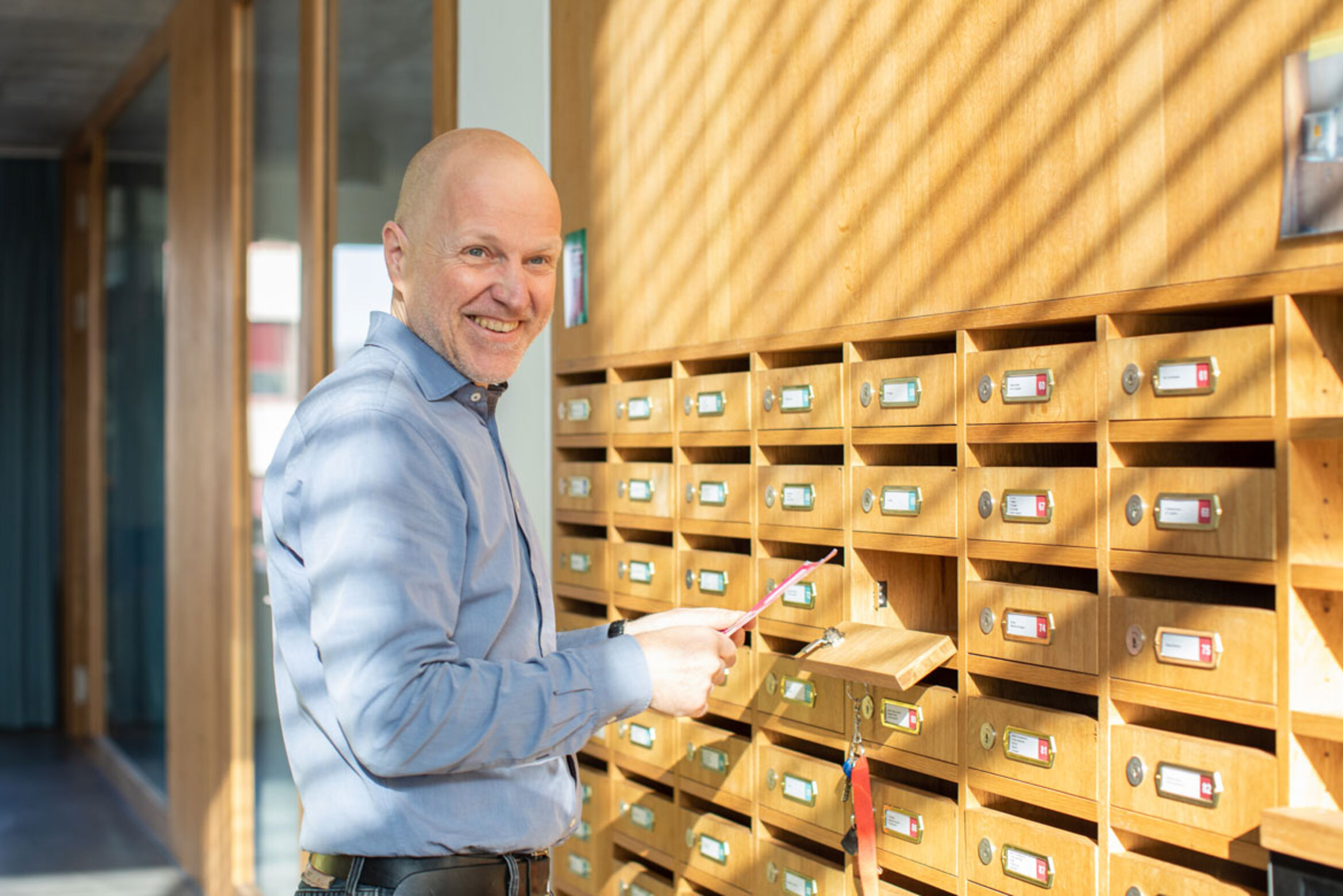 Fred lives in a cluster apartment. He has a 38-square-metre studio with its own bathroom and kitchenette. He shares a further room with the other residents in the cluster. Does he maintain close contact with them? 'It depends on my mood.' But Fred thinks it's great that he knows many of the Kalkbreite residents by name.
Fred lives in a cluster apartment.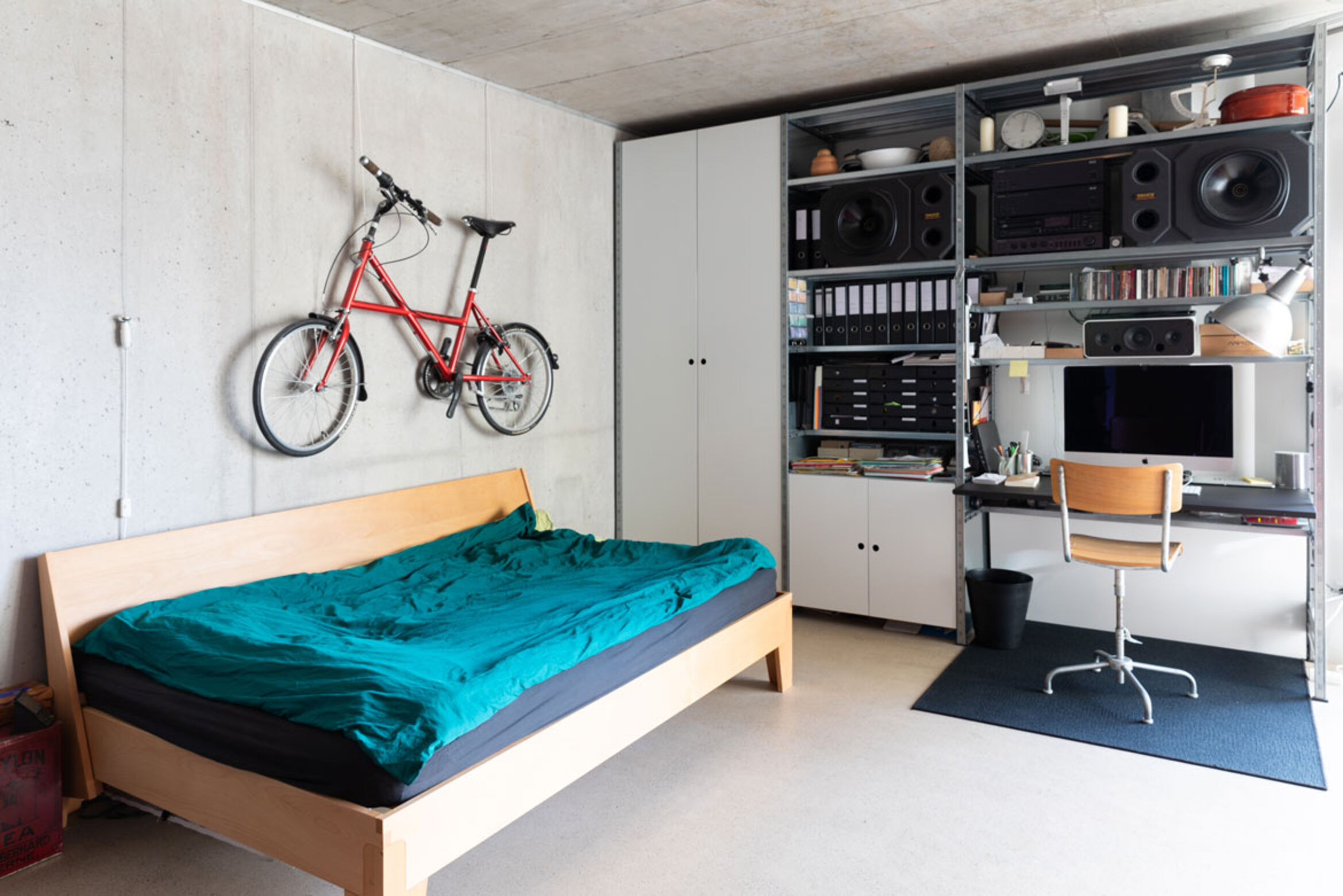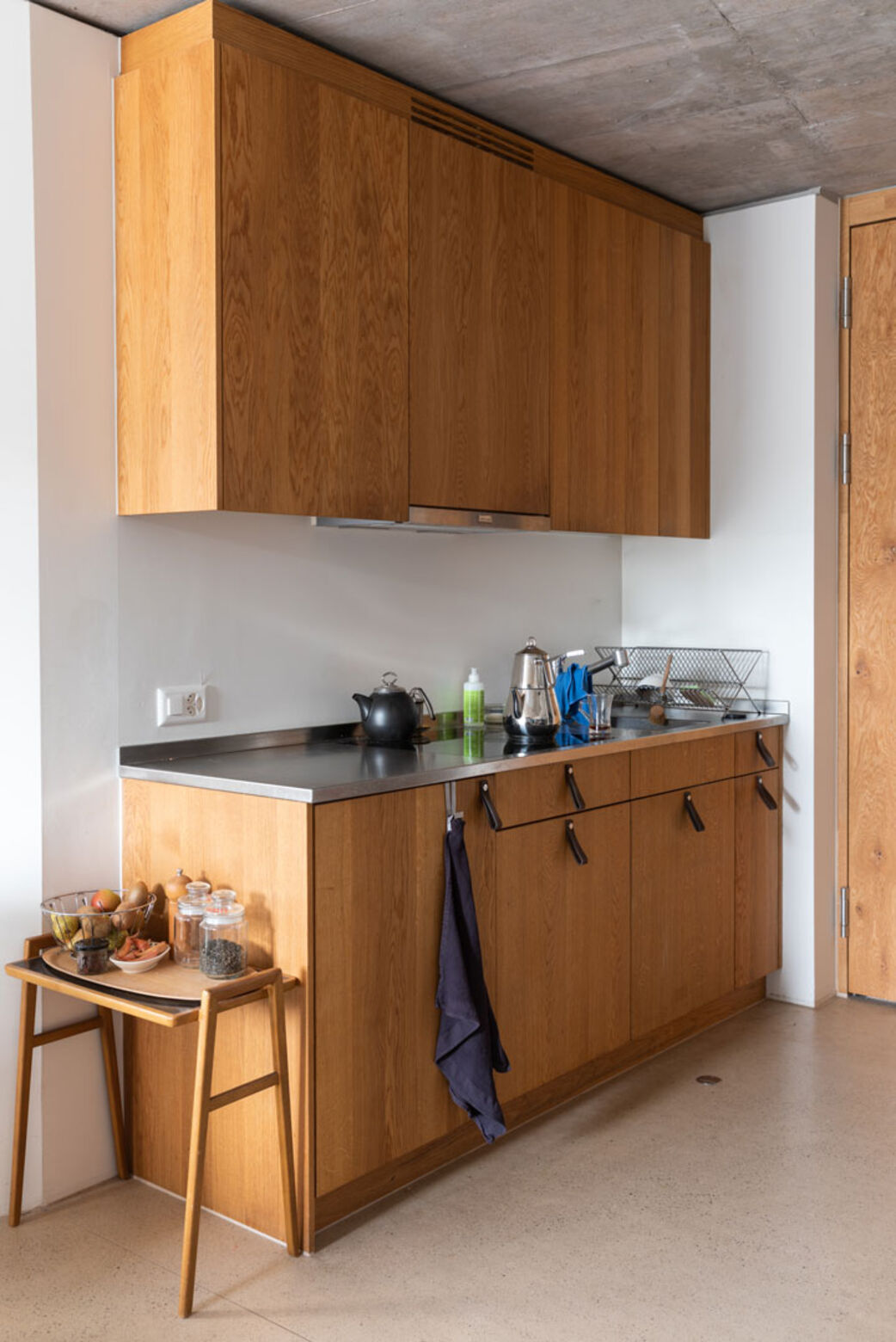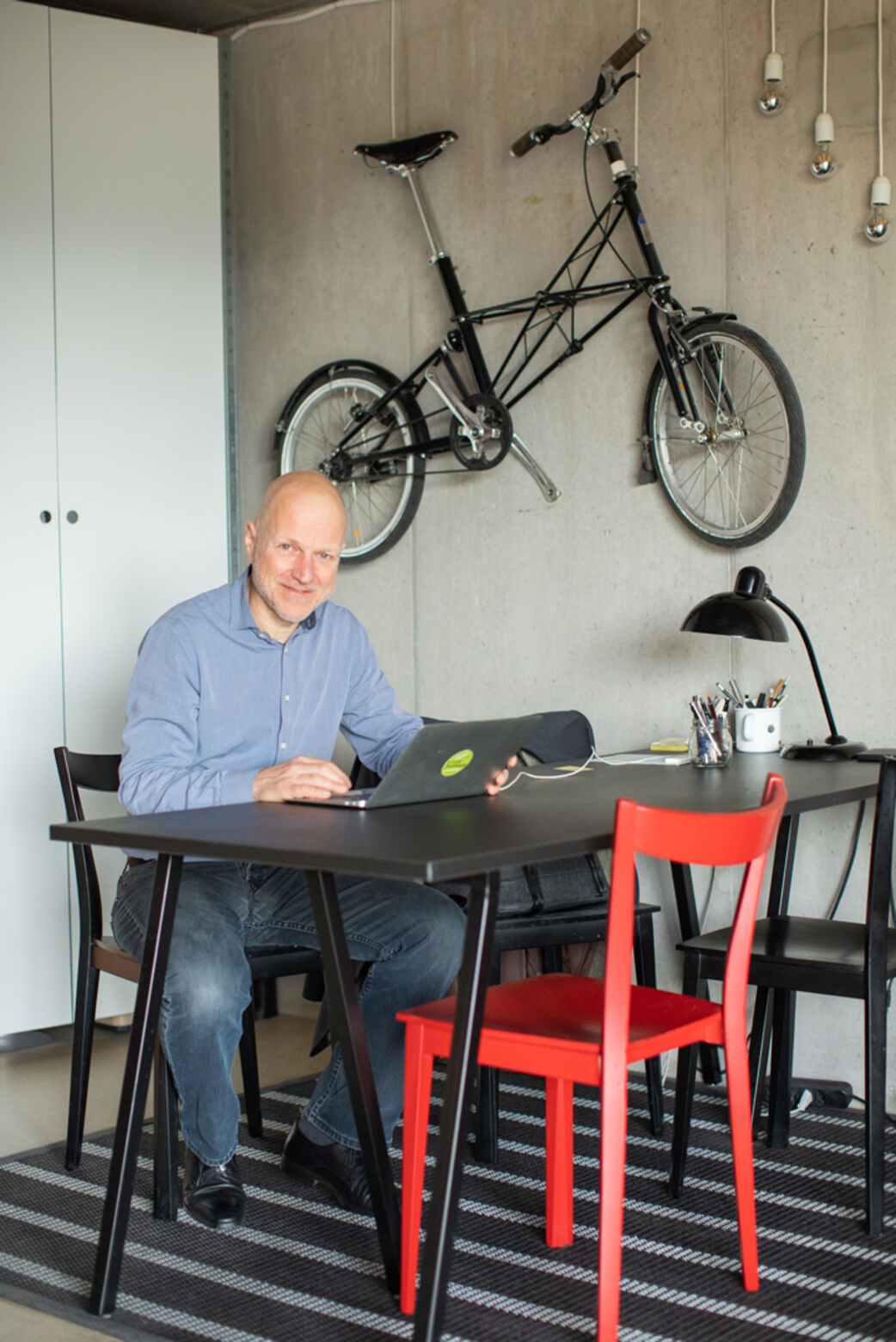 Before moving into Kalkbreite, Fred lived near Bar 63 in a two-room apartment. 'Completely normal,' says Fred. He's much happier in Kalkbreite, even if he does have less space – his previous accommodation had an awkward layout and the ceilings were low. His current studio is bright and airy, with a large window looking out onto the bustling courtyard.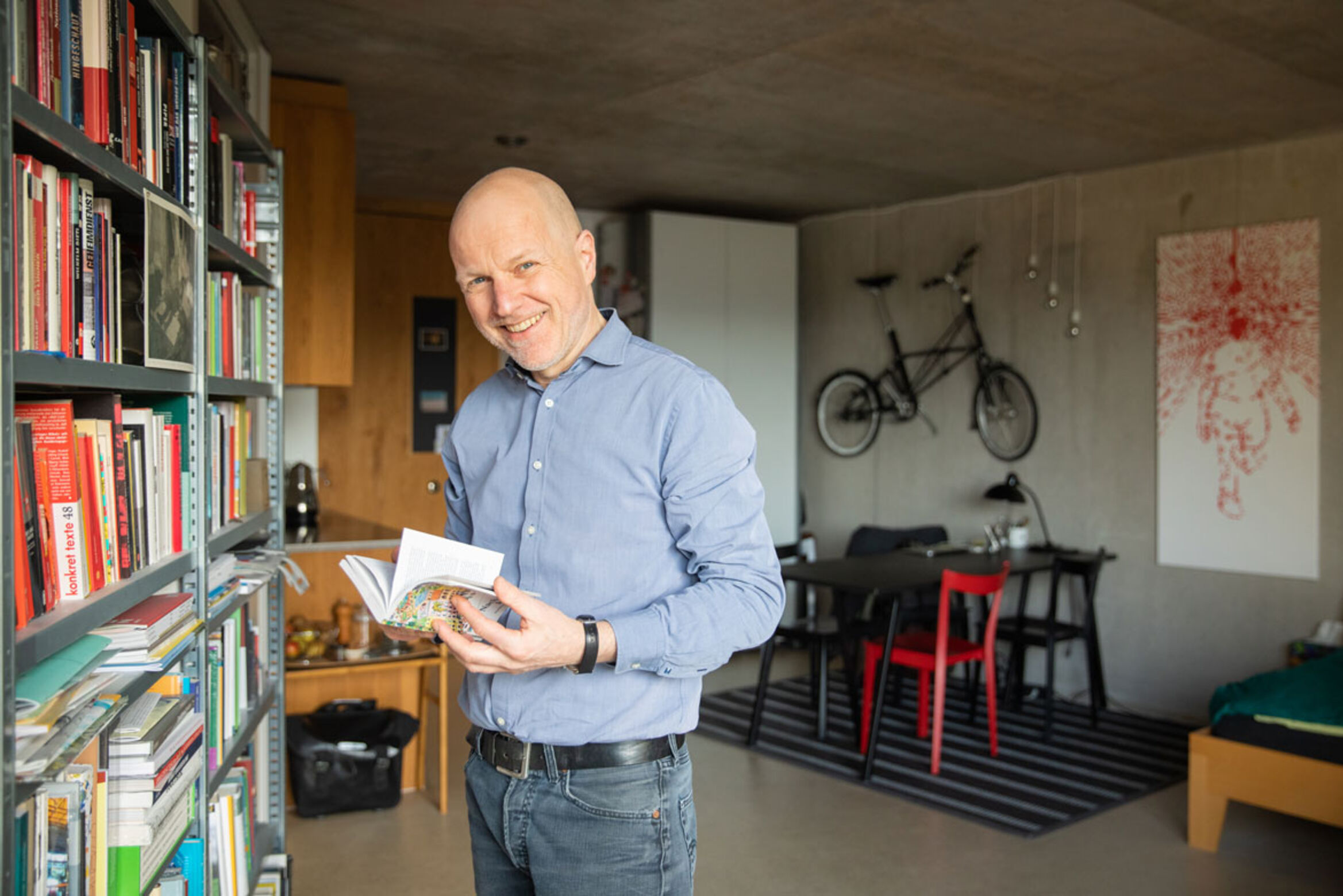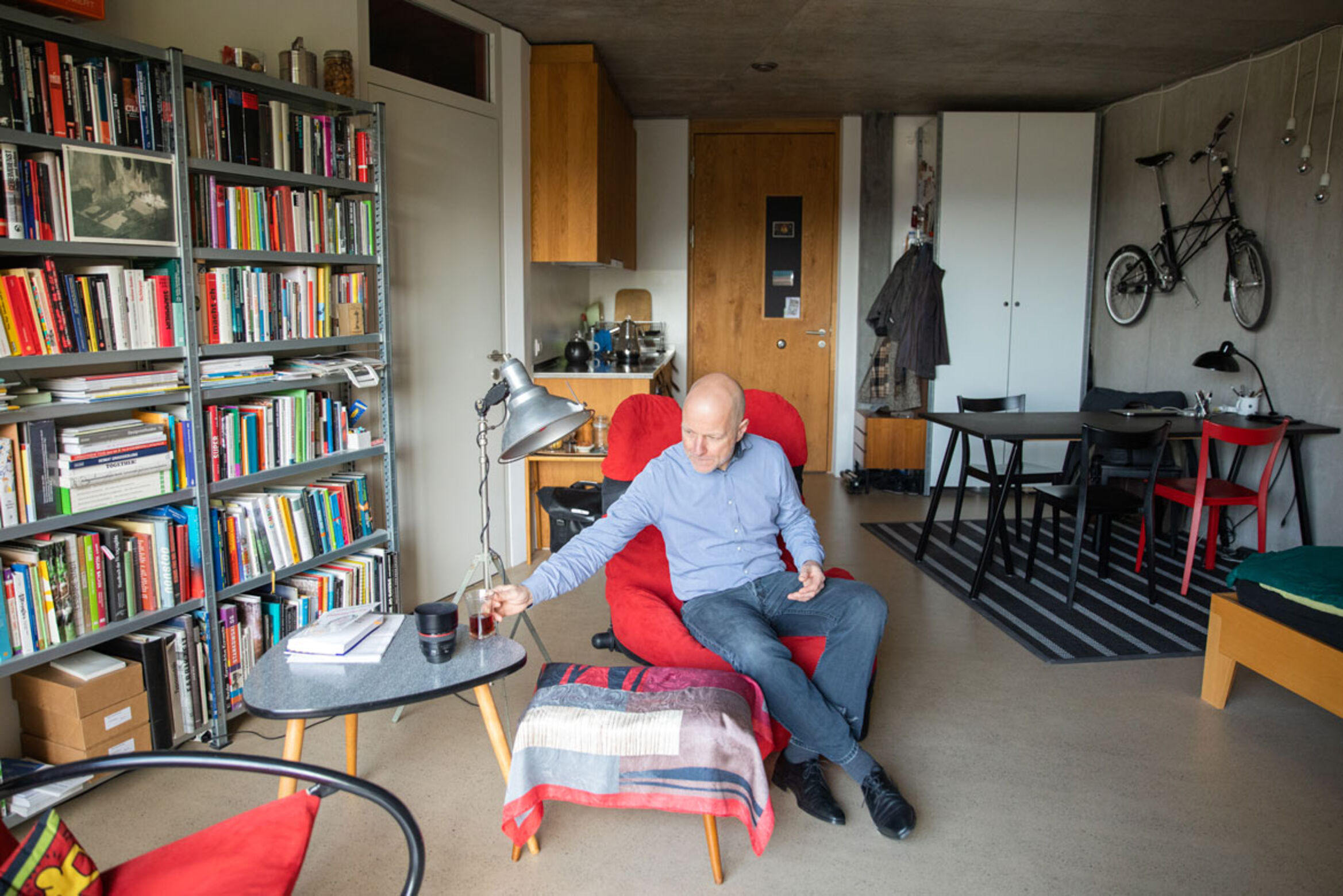 Each Kalkbreite resident has an average of 31.2 square metres of private living space. By comparison, the Swiss average is 45 square metres, with Zurich's figure six square metres below that. 'Individuals mostly think that because of the smaller apartments they'll have less space,' says Fred. 'But that's not the case.' All Kalkbreite residents have ample communal space available to them. 'Because of this, life in this supposedly limited space is great.' Lots of things at Kalkbreite are simply outsourced – even visiting. Those who want to stay for a short period can book a room in the cooperative's own guesthouse. For guests looking to stay a little longer, there are so-called residential jokers – rooms with a bathroom that can be rented for up to four years.
There are also several flat-sharing communities at Kalkbreite. These usually work out better than typical flat shares with just two or three people. 'In those situations, if one person's an idiot it poisons the whole atmosphere. When there are more people it doesn't have as much of an impact,' says Fred, laughing.
All Kalkbreite residents have ample communal space available to them.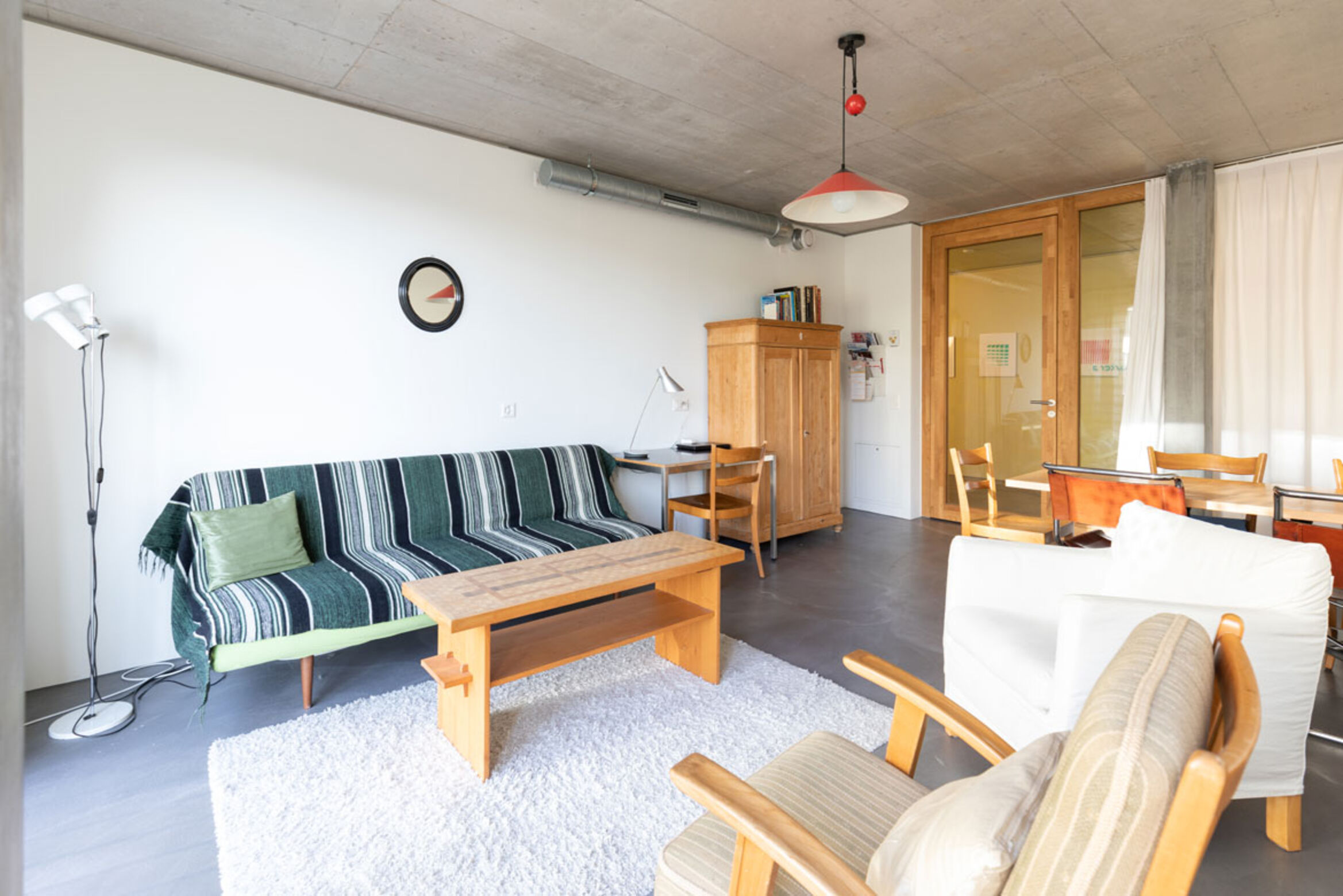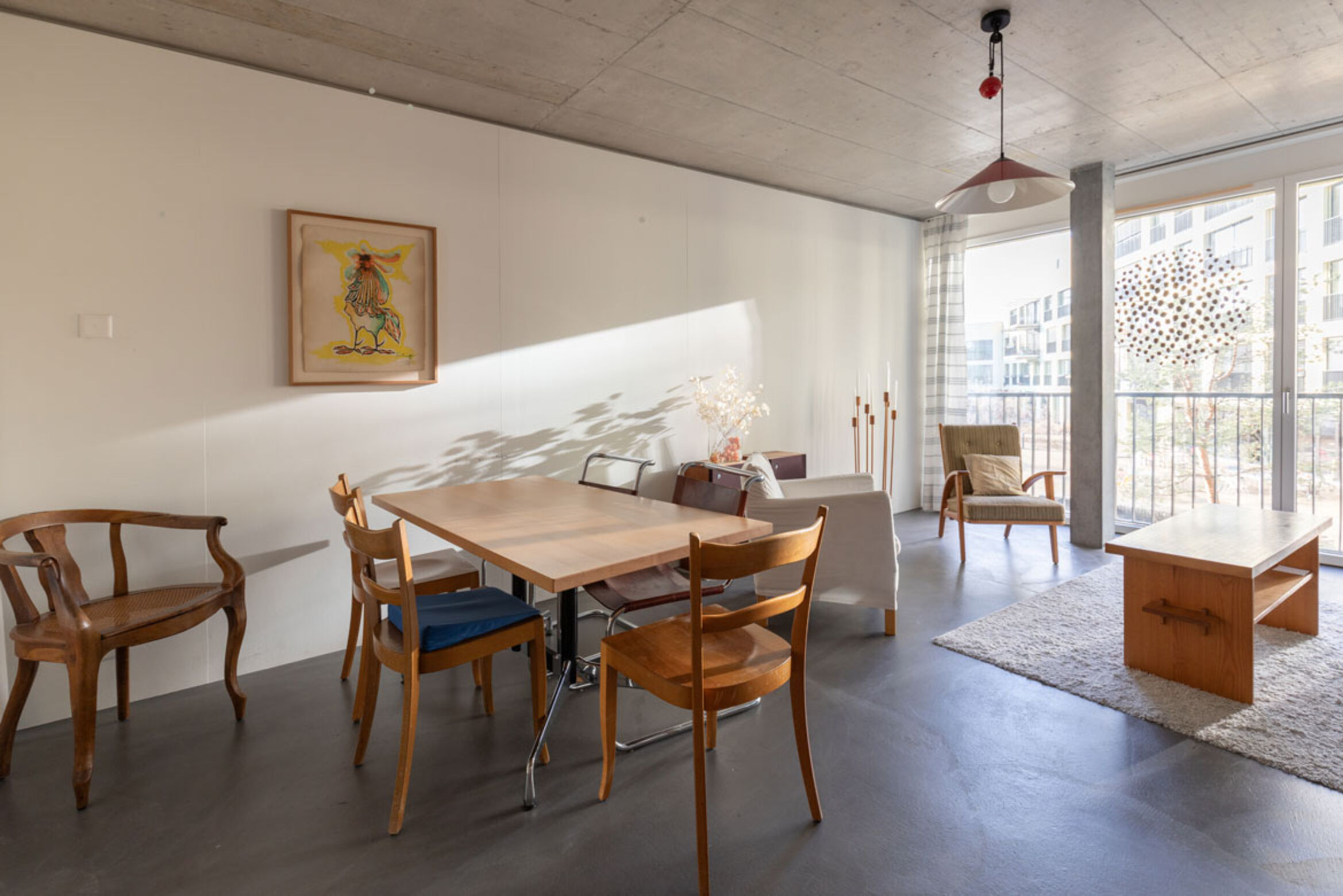 'Actually, instead of an apartment we should live in grand hotels that we maintain ourselves,' explains Fred. Lobby, spa, restaurants and the like would all be available to residents. 'If you ran everything yourselves, it wouldn't be anywhere near as expensive.' The Kalkbreite concept works in a similar way. Whoever lives here can rent a sauna, enjoy a splendid dinner in the on-site restaurant and help themselves in the cafeteria.
Four multifunctional rooms can be used according to individual requirements – from the start, there has been a sewing and ironing workshop, a yoga studio and a craft room. The painting studio was empty more often than not, and now belongs to the teenagers on the development. For Fred it's quite clear: living arrangements like Kalkbreite are the future. He is even working on housing models that go further and in which residents are self-sufficient.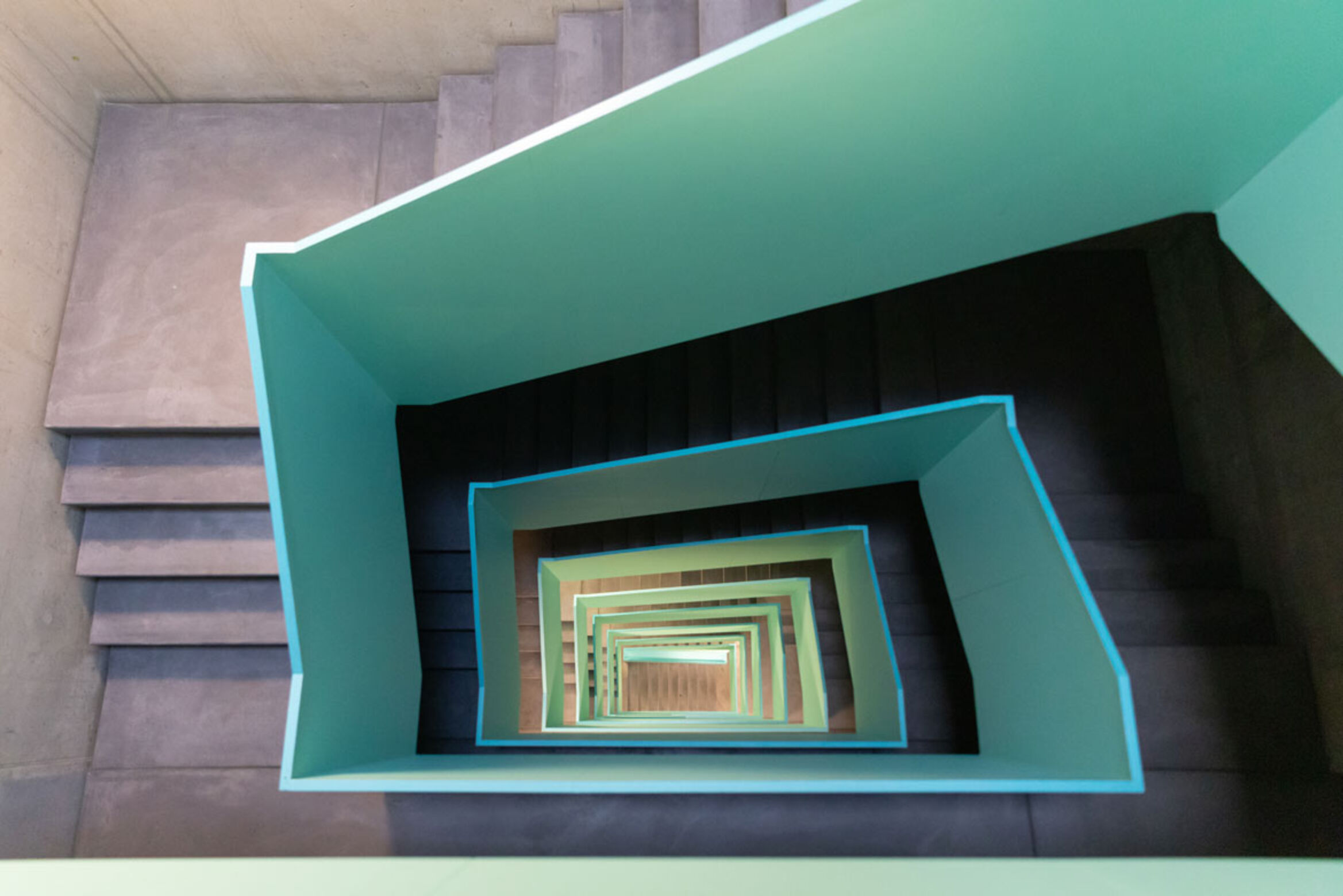 Fred is a member of the Leicht Leben (Simple Living) work group, which tries to minimise the Kalkbreite residents' environmental footprint. 'One of our achievements is that we have replaced all of the shower heads,' says Fred. By doing this, the development can cut its hot water usage by up to half. According to Fred, 'Those who want to do something about climate change have to start with themselves.' Two-thirds of emissions come from the production of food, private transport and our homes.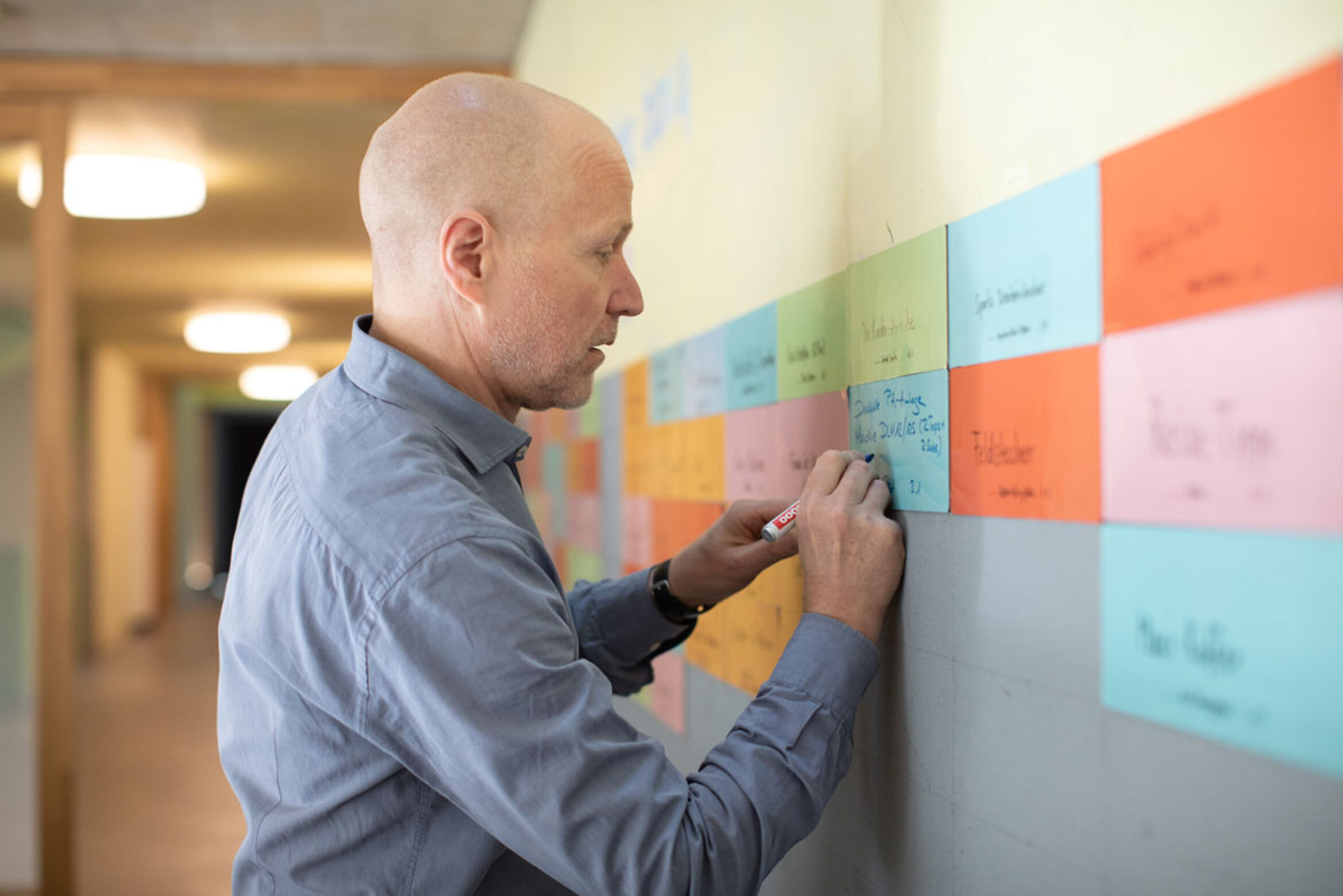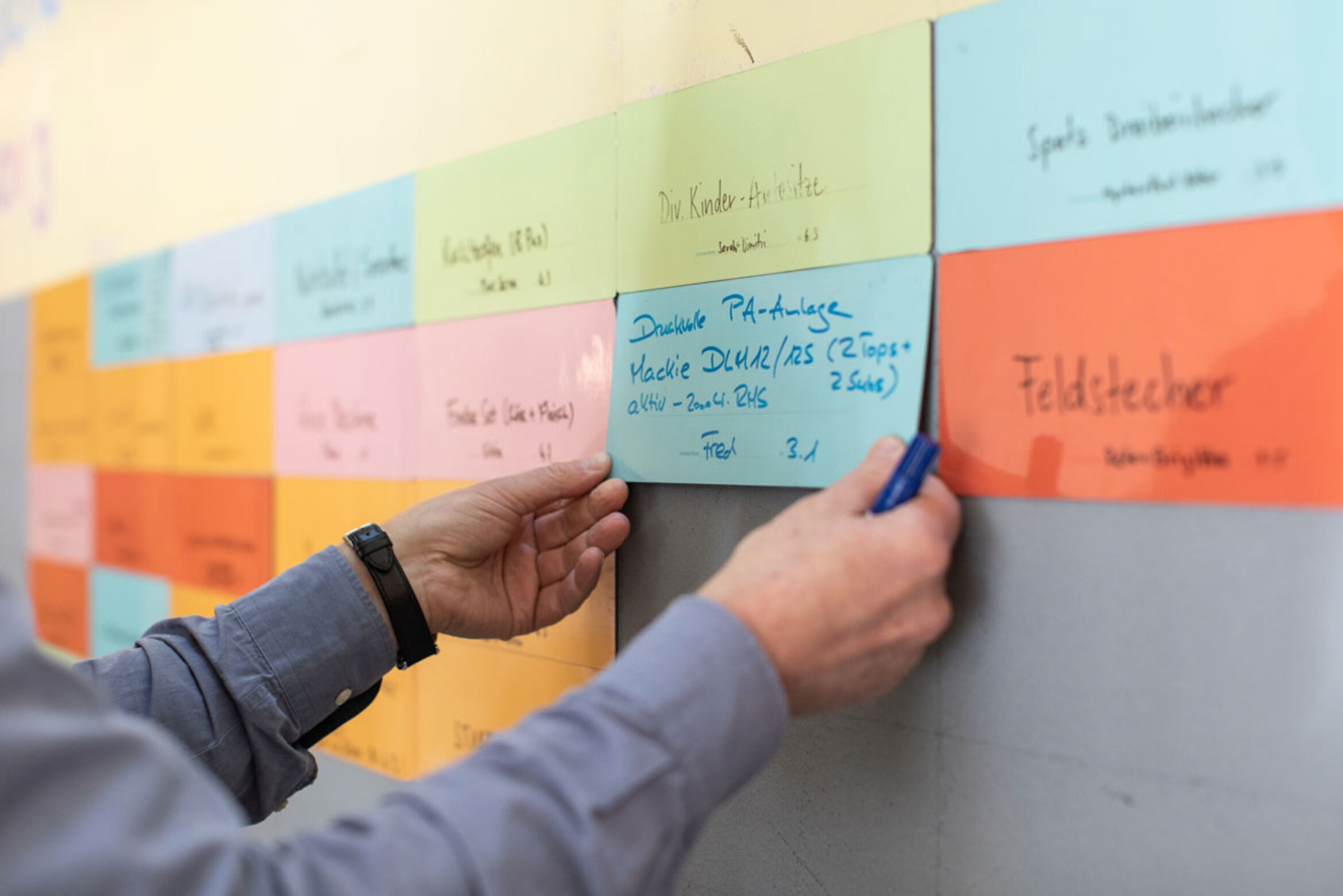 Colourful cards hang in the entrance hall, upon which residents write down what they can lend to their neighbours: 'pressure cooker', 'DVD player', 'buggy'… Does Fred ever take up these offers? 'I give more help than I take.' He values this community greatly – and the fact that he pretty much never has to leave Kalkbreite.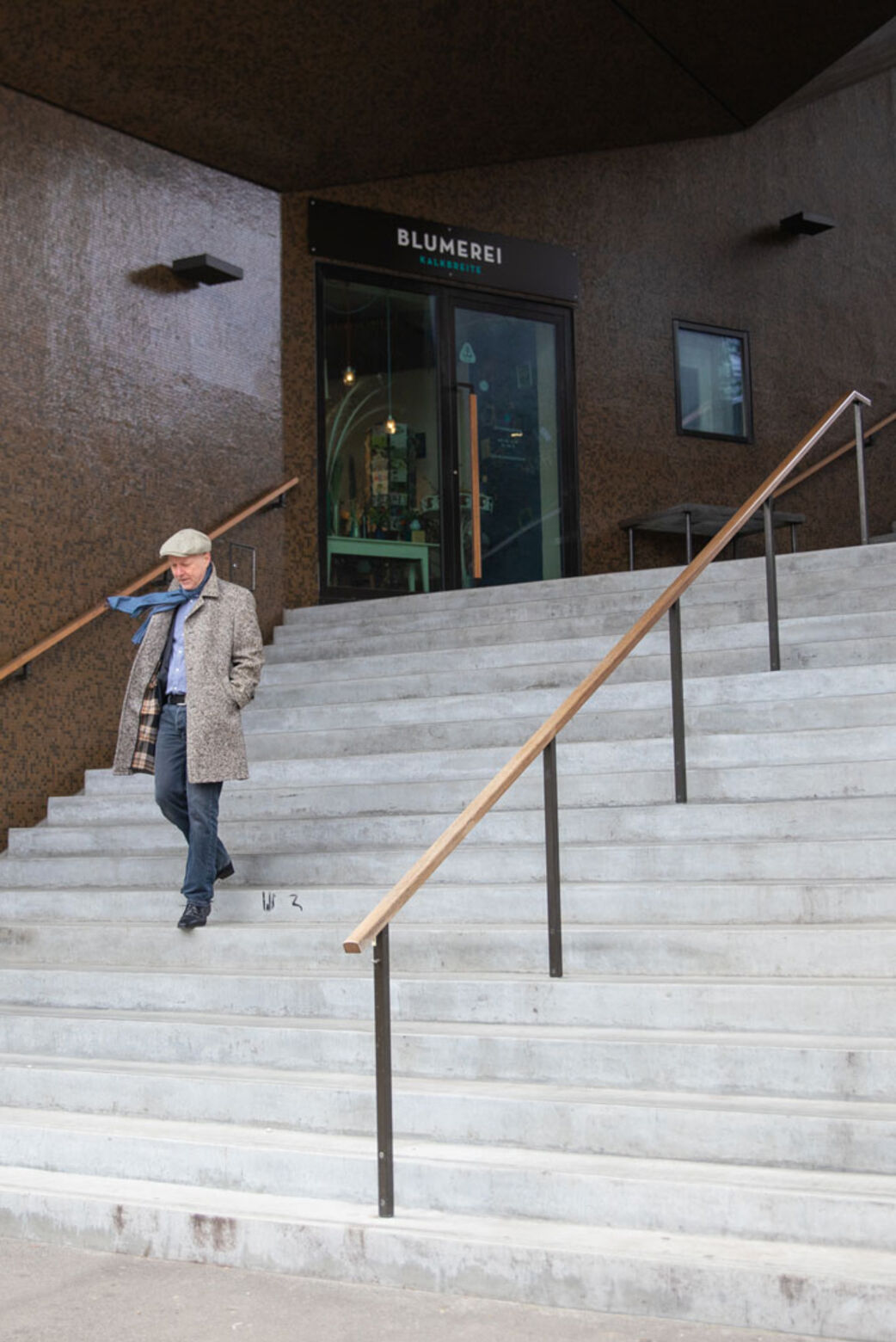 Fred often works within the development, and enjoys dining and entertainment in its restaurants and shops. 'I even celebrated my last birthday in the Felix Bar.' So, is he totally content? 'No, the oven drives me mad! It often refuses to work then keeps beeping!' Fred replies, and laughs.
Address
Genossenschaft Kalkbreite
Kalkbreitestrasse 2
8003 Zurich
View posts by interests, or use the proximity search and additional filters.
Try it out
.
Save posts as favourites – simply click on the heart symbol in the upper right corner of the post.