'The apartment is a real gem'
Robert Lenz lives with his partner and son in Zurich's District 7. Diagonally opposite the apartment is 'Bliss modern antiques', a showroom with a workshop where Robert sells furniture from the 1950s and 1960s, but the furnishings in his own apartment are also devoted to these decades.
'This is my very own pine forest,' says Robert Lenz. He is standing on his balcony and pointing to a basin. It contains several fir trees that are only about 30 centimetres tall. These aren't the only mini-trees on Robert's balcony. Bonsai trees have been a passion of his since he discovered them in a garden centre as a teenager. They were still a rarity in the 1980s. 'I was fascinated by the cute miniature tree right away,' recalls Robert. He wanted to find out more and finally found a small book about them. 'I absolutely devoured this book.'
'I was fascinated by the cute miniature tree right away.'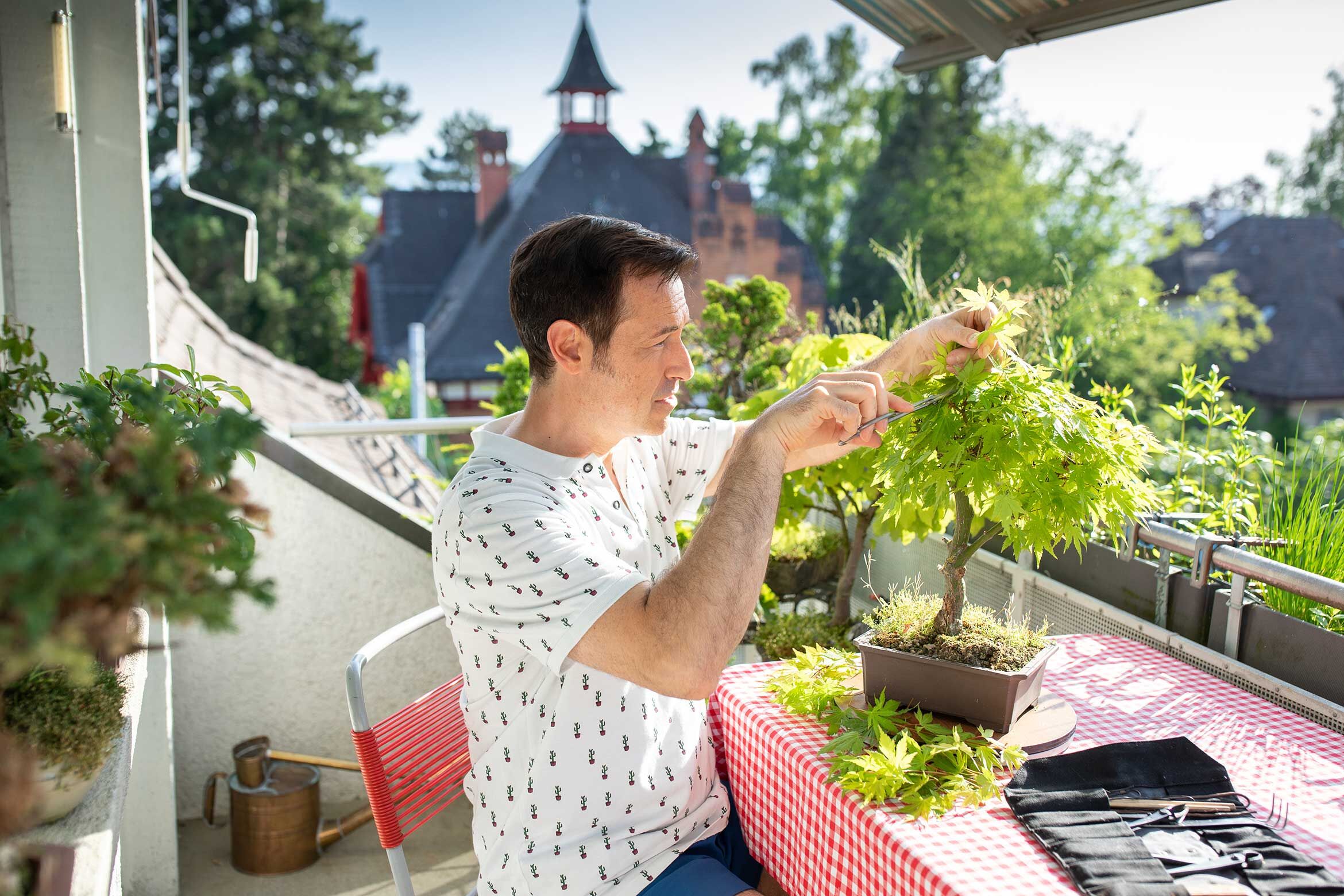 Ever since then he has dedicated his spare time to looking after these little trees. Some he has grown himself and others he has bought. When Robert talks about them, his eyes light up: 'Bonsai trees are a homage to nature and one of the highest cultural assets in Japan.' But how did a Swiss man born in Bern become a Bonsai expert? 'Once your interest has been piqued, the rest is just a matter of perseverance,' explains Robert. This doesn't just apply to trimming trees, but also to restoring modern antiques. Robert has also acquired a lot of knowledge and expertise in this area.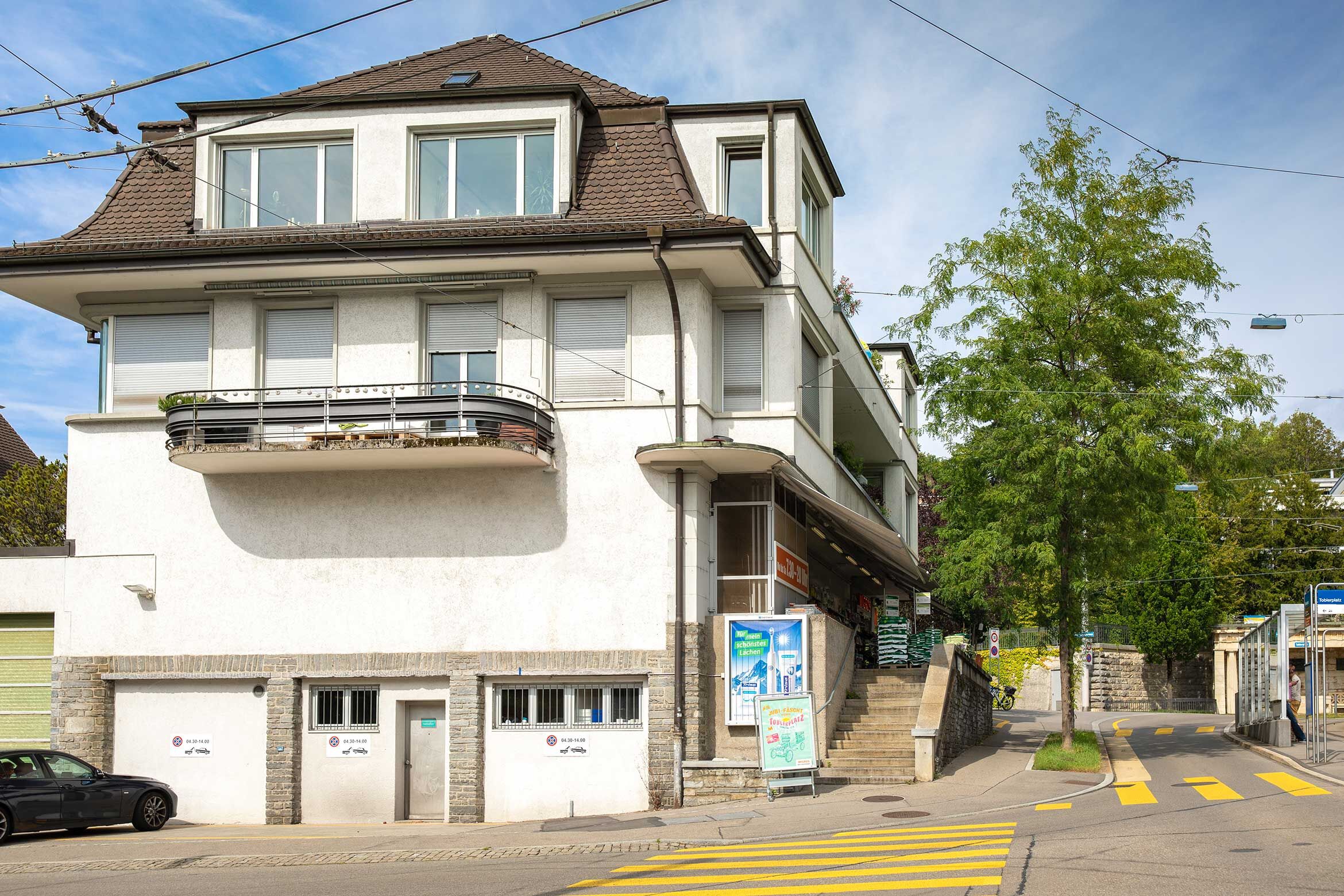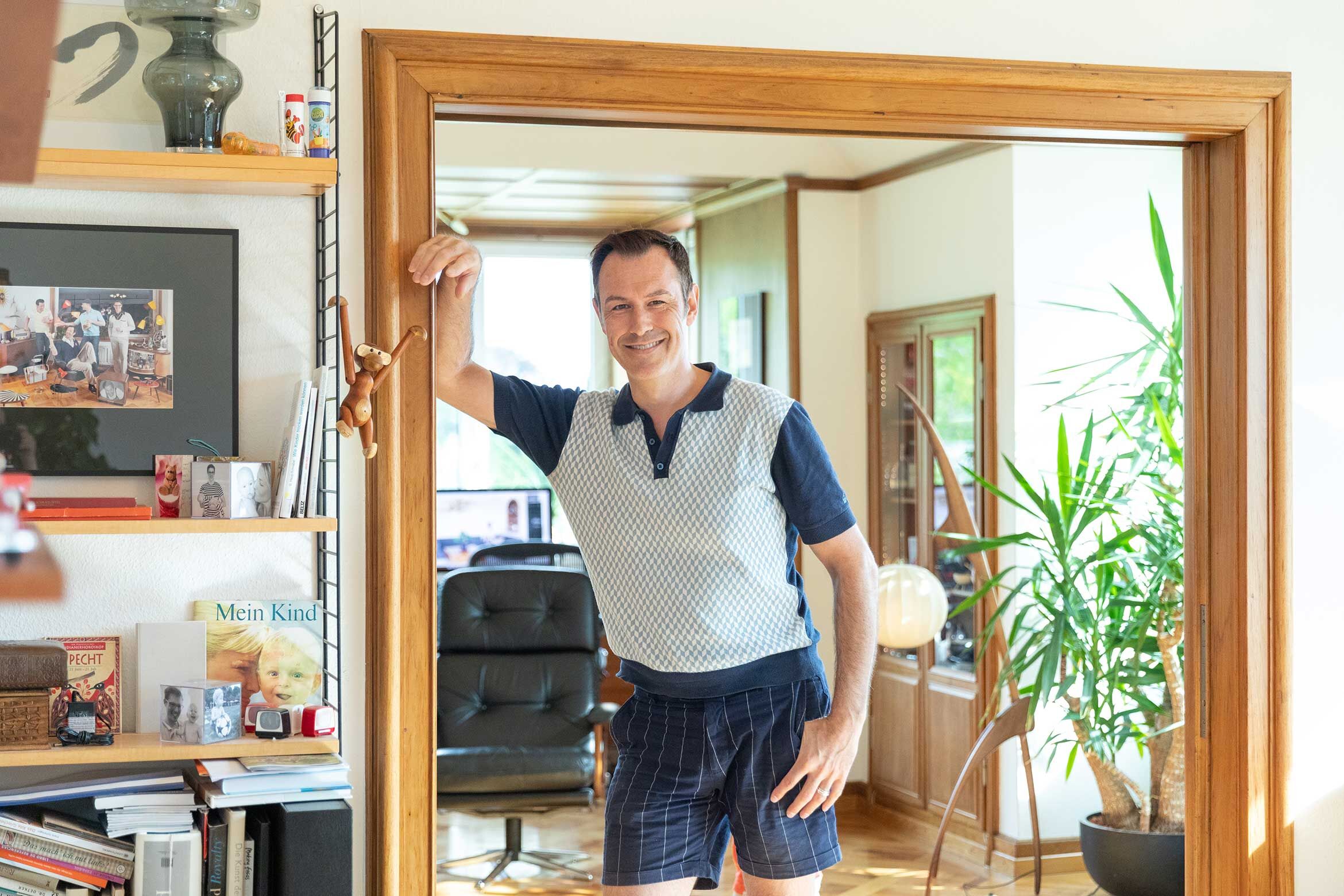 Robert has managed Bliss together with his partner since 2009. The showroom and workshop for furniture from the 1950s and 1960s is over the road from the apartment they share on Toblerplatz. Their main shop is in District 4. Every antique for sale has been restored by Robert himself. 'There's not much that I can't patch up,' says Robert. He also often transforms heirloom pieces that customers bring to him. 'If a piece of furniture has belonged to a family for generations, a lot is resting on my shoulders,' says Robert.
Robert discovered his love for vintage furniture in the late noughties. His parents had entrusted him and his three siblings with a holiday home in Lenk and they decided to renovate it. The chalet had been built in 1959. The siblings wanted to preserve the spirit of this era. 'I loved the simple designs from this decade right away,' says Robert. The furnishings also reminded him of his childhood: 'I watched a lot of films from the 1950s with my mother.'
As a teenager he also experienced a revival of this decade – although it was more to do with fashion than furniture. 'For example, it became fashionable to wear petticoats again thanks to people like Madonna.' Furniture, on the other hand, became chunky and was cheaply made. 'At that time, more and more furniture discount retailers were opening. Quality was decreasing.'
'All of this goes well with our 1950s and 1960s furniture.'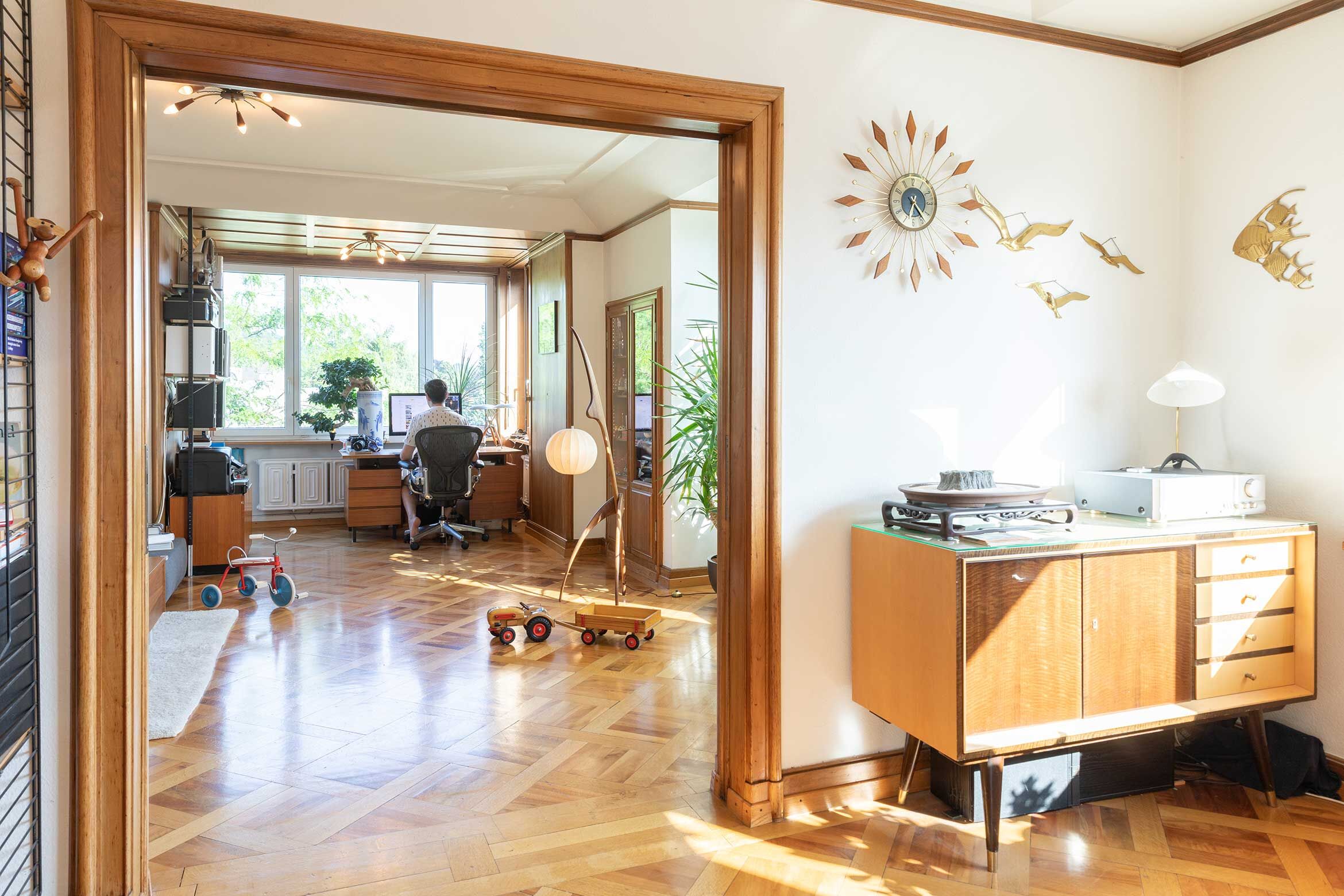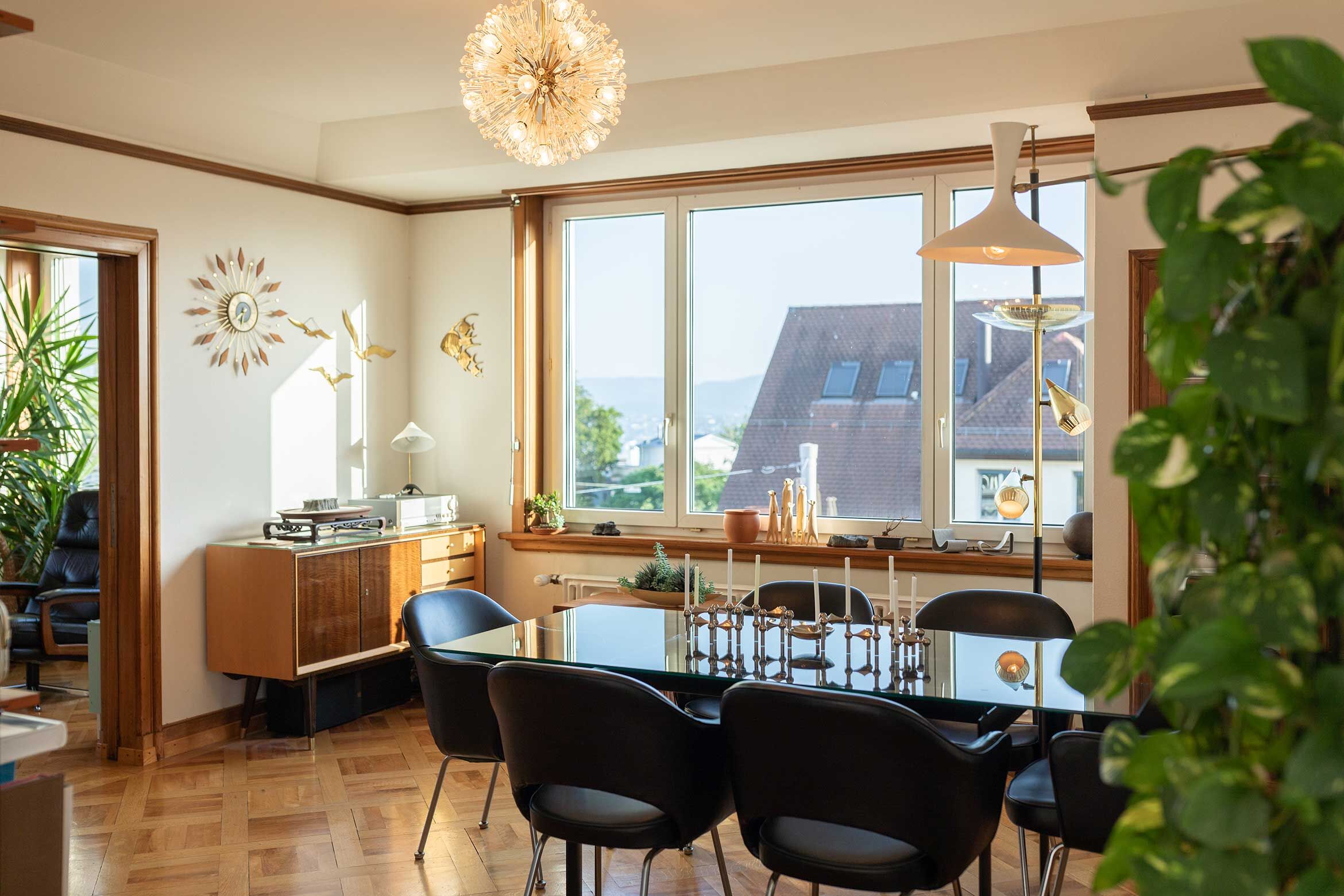 Once the family's holiday home had been completely renovated and furnished, Robert carried on his hunt for furniture from this decade. 'Once our apartment was full too, my boyfriend said I needed to find a solution for the space problem.' The couple set up an online shop. The showroom was their own apartment in Bern. But even in their first apartment in Zurich, their own furnishings changed with every sale. 'This became arduous over time,' says Robert.
Today they rarely change their own private collection of furniture. Robert refers to his home as 'a real gem'. The bright and spacious 4.5-bedroom apartment was built in the 1920s and is brimming with beautiful details: various fitted display cabinets provide storage space, the radiators are patterned, the ceiling has a stucco design. 'All of this goes well with our 1950s and 1960s furniture,' says Robert. The only modern furniture are the wardrobes – 'the old ones are much too small!' – and the sofa: 'These days you want to be able to laze around on the couch,' says Robert. 'Older models aren't as good for this.'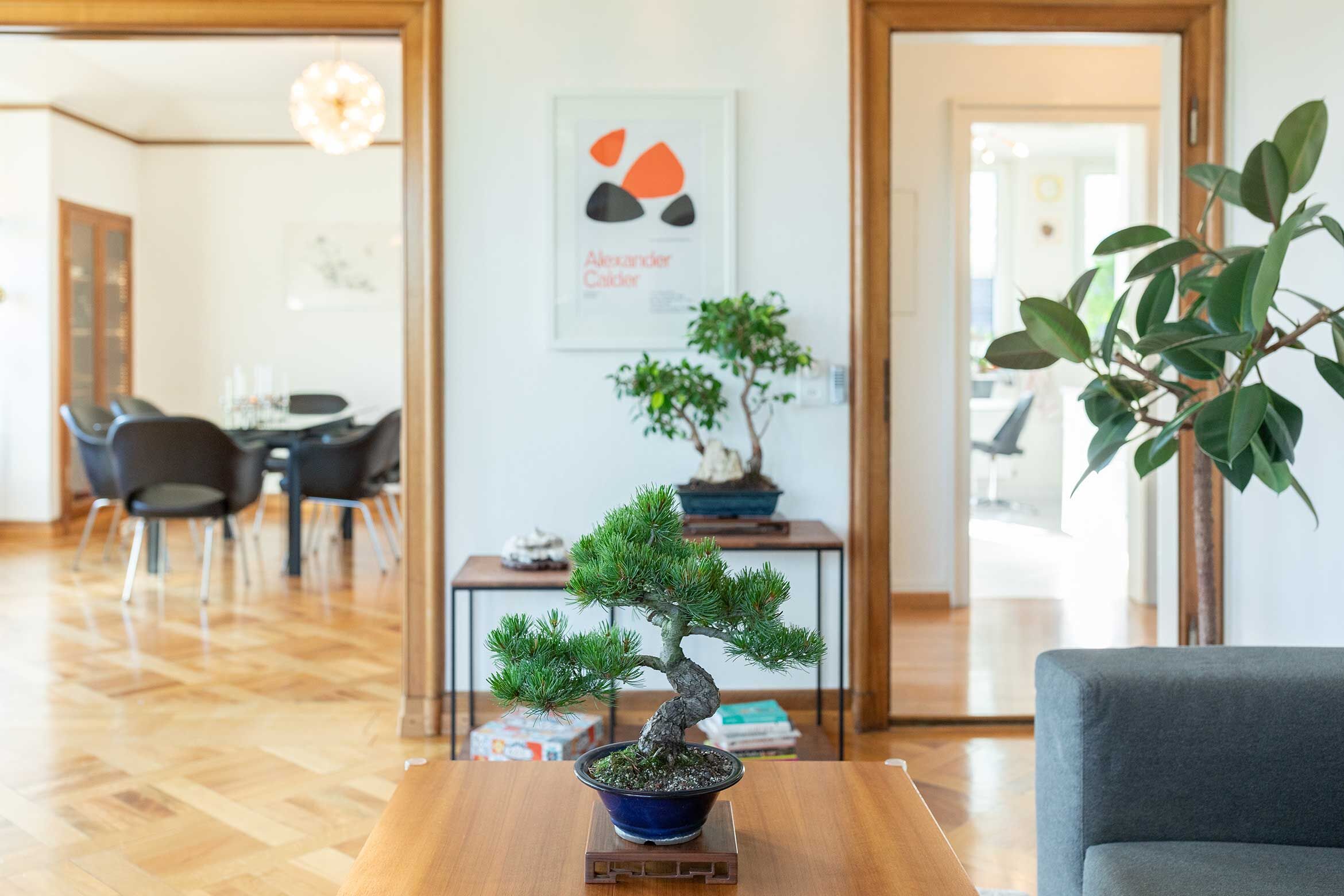 This is why he mainly sells 1960s sofas that are more suitable for offices at Bliss. The old beds are also too short now. Only his son Elias sleeps in a vintage model. The two-and-a-half-year-old spends half of his time with his fathers. Has he inherited a love of old designs? 'I'm not sure,' says Robert. 'But it's not unusual for kids to have different tastes from their parents.' Just like Robert never really liked the heavy Biedermeier furniture his parents owned.
Robert doesn't worry about having a toddler around his designer furniture.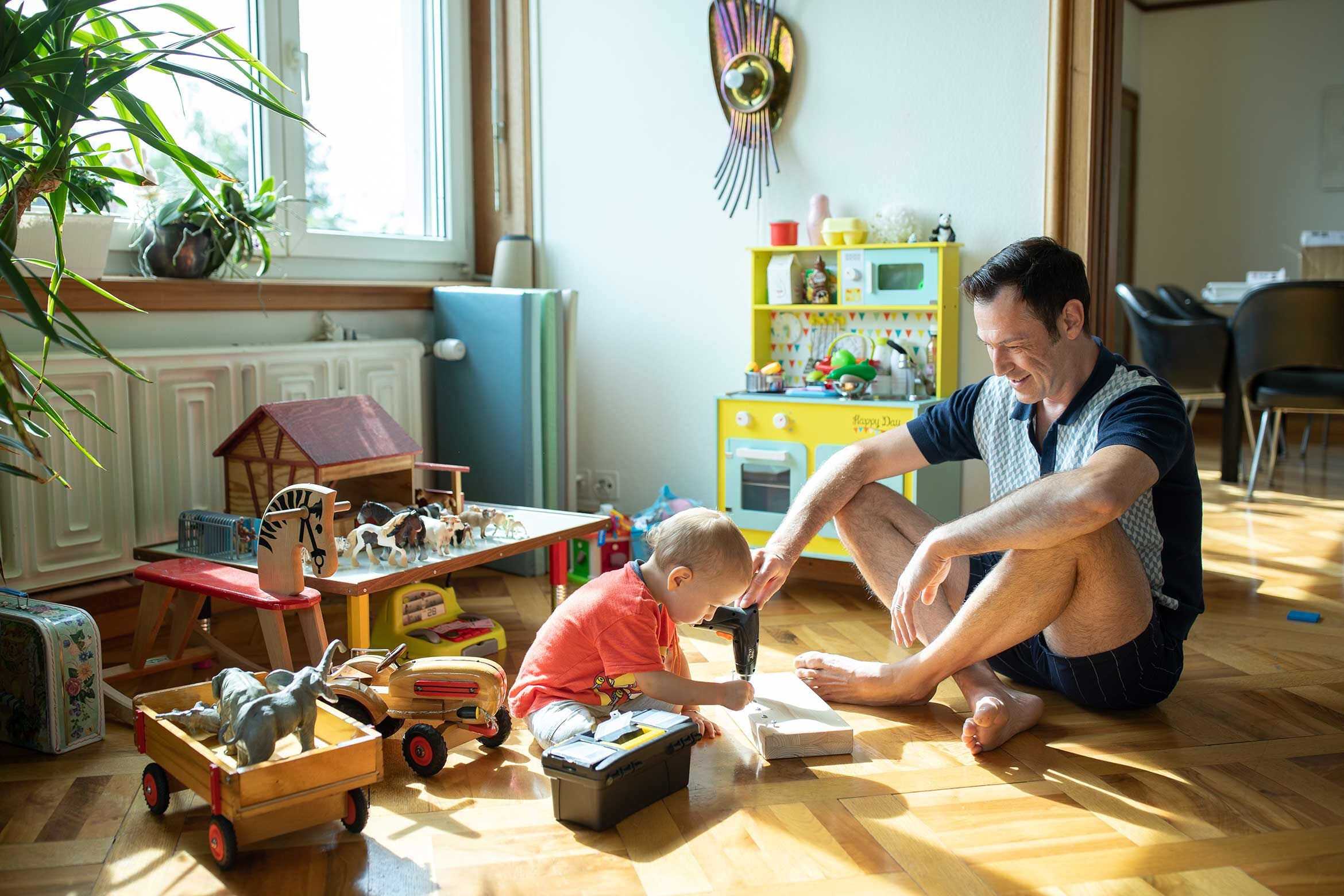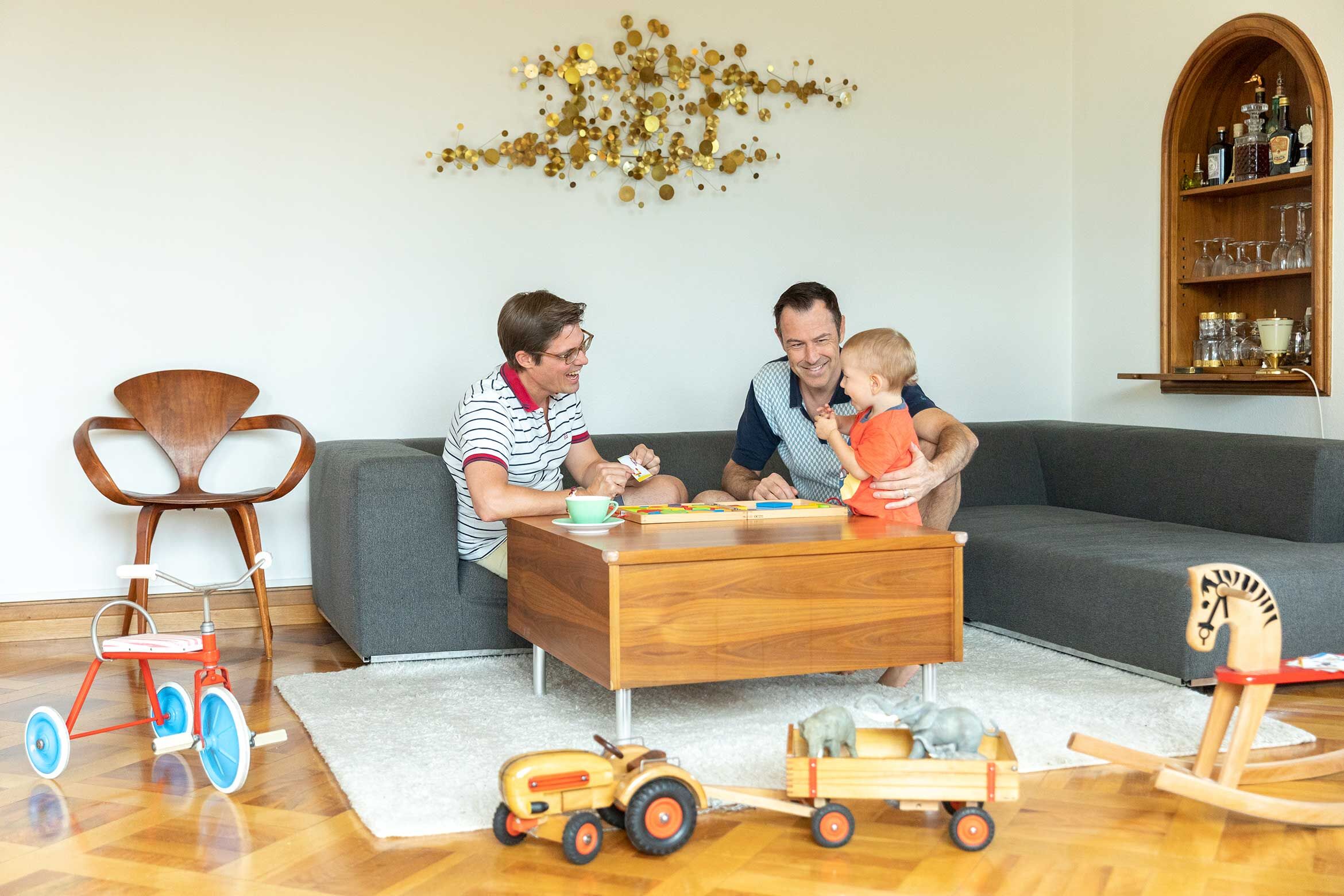 The little one is still very much enjoying playing with his vintage toys at the moment. Robert restored many of them himself. He worked with the children's items from this era even before his son was born – and he discovered lots of classic pieces. 'The quality of these items is really great too,' says Robert. 'But if something breaks, I can fix it.' This is why he doesn't worry about having a toddler around his designer furniture. 'Except for the coffee table. Elias sometimes likes to bash things on it,' says Robert. So, he decided to give Elias this particular piece of furniture. 'It's better for my nerves this way.'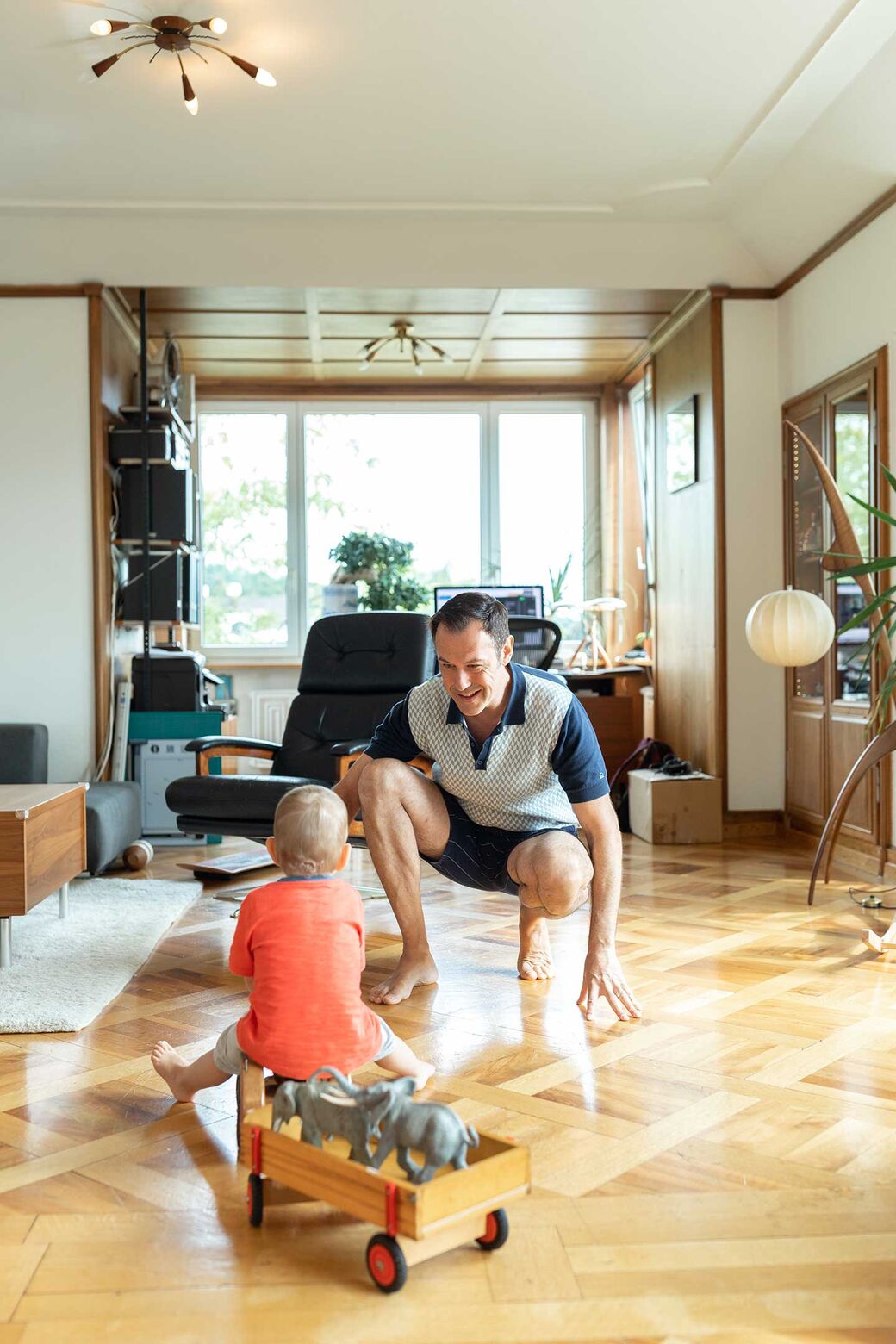 Robert mentions how much he loves urban family life. 'Before I probably would have thought: "That poor kid!"' But now he knows better – not least because of the apartment's location on Toblerplatz. 'It's more like living in a big village. Everywhere is green.' And the zoo is nearby. And if Robert and Elias want to experience more of city life, they go into the centre. 'This is helping to prepare him for when we visit Tokyo together one day.'
View posts by interests, or use the proximity search and additional filters.
Try it out
.
Save posts as favourites – simply click on the heart symbol in the upper right corner of the post.