Schön & Recht
Social workers Nina Salzgeber and Stefanie Wirz have recently opened a shop for beautiful designer goods in the Geroldsareal.
It's the place to find colourful shower curtains by Kollektiv Vier of Lucerne, sleek bags by Atelier S&R, and hand-made, sustainable tableware by Elementar Keramik of Winterthur. That's because the owners of Schön & Recht have offered Zurich-based and other Swiss labels an opportunity to open concessions in their 400-square-metre store.
Nina Salzgeber explains why she and Stefanie Wirz came up with the shop-in-shop idea: 'Cost pressures mean that small brands are often restricted to selling their products online. We wanted to change that.' At Schön & Recht, the labels are given their own retail space, which they can organise how they wish. In return they pay rent and a small commission on their sales.
'We're about much more than just shopping,' says Nina.
Stefanie and Nina opened Schön & Recht in spring 2019 when they took over the premises of Bogen 33, an antique furniture store. 'At first, people were taken aback when they came in and found the products were totally different,' says Stefanie with a laugh. But nobody was disappointed: 'They liked our products, too.' At the end of the day, Schön & Recht appeals to a similar clientele as Bogen 33. According to the two shop-owners, they tend to be urban thirty-somethings with an interest in design.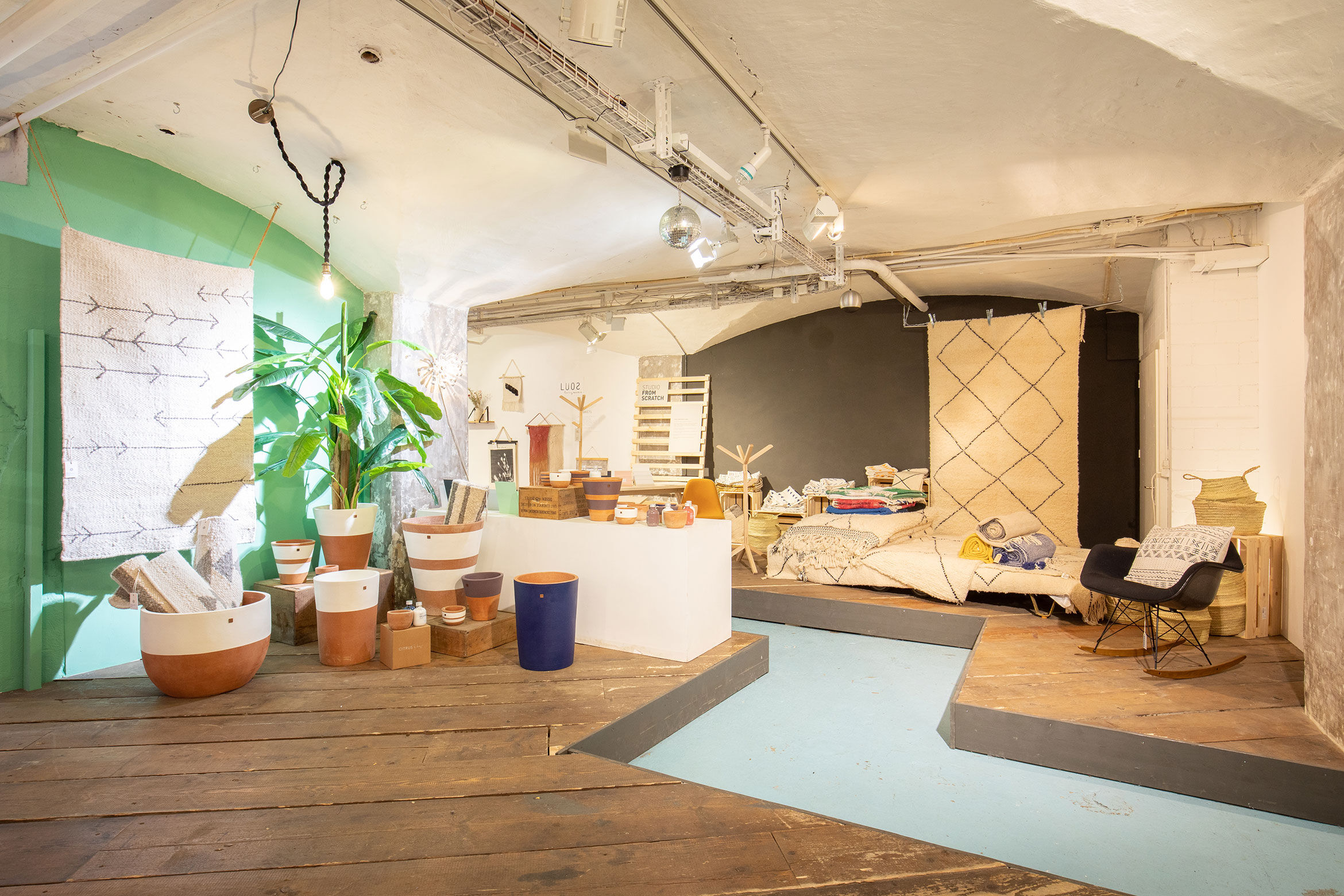 The labels have to avoid mass production.
'We're about much more than just shopping,' says Nina. She and her business partner are trying to provide a whole customer experience at Schön & Recht. That's why the labels organise regular in-store events – whether it's product launches or workshops, anything is possible. For example, Karin Böckmann from Elementar decided to give a live demonstration of how she makes her ceramics. 'After that, I had so much more respect for her products,' says Stefanie.
Nina and Stefanie have a clear set of guidelines for labels that have concessions at Schön & Recht. They have to be based in Zurich or elsewhere in Switzerland, adopt sustainable manufacturing processes and avoid mass production. 'All our labels are committed to sustainable manufacturing, even though it can be difficult with the small quantities involved,' says Nina.
The Geroldsareal attracts plenty of tourists.
Nina and Stefanie are actually social workers, and they both miss their former work. That's why the women behind Schön & Recht are keen to offer jobs to young people seeking to integrate into Swiss society. 'We want to fill a gap,' says Stefanie. There is currently a shortage of opportunities for young adults who are not yet ready to take up a training place or enter the labour market, perhaps because they lack the necessary language skills.
But Schön & Recht needs to establish itself before Stefanie and Nina can start on this project. The two shop owners are optimistic: 'This is actually a popular shopping area,' says Nina, pointing to the nearby viaduct arches and the Geroldsareal, which attracts plenty of tourists: 'They often call in looking for a really nice, special souvenir,' says Nina. She and Stefanie are on hand to help them find the perfect item. 'We would happily have every one of these products in our own homes!' says Stefanie with a laugh.
Adresse
Schön & Recht
Geroldstrasse 31
8005 Zurich
+41 44 700 00 75
Website
Opening hours
Tuesday to Friday, 12 noon – 6:30 pm
Saturday, 10 am – 6 pm
View posts by interests, or use the proximity search and additional filters.
Try it out
.
Save posts as favourites – simply click on the heart symbol in the upper right corner of the post.