Marktküche
A hearty cauliflower trumps a measly little sausage: Tobias Hoesli celebrates plant-based cuisine in his restaurant Marktküche.
Restaurateur Tobias Hoesli was in his mid-twenties when he opened a restaurant – a restaurant that soon earned itself 15 Gault Millau points, without using any meat, eggs or milk. Marktküche exclusively serves gourmet vegan food.
'I like it when critical people come to eat here,' explains Tobias Hoesli. 'One time we had an elderly couple come in. The man came up to me grumbling that we needed to change our toilet signs, declaring that ladies aren't "little girls".' Tobias grins. He has only just turned 30 and this is reflected in his restaurant: the tables at Marktküche are elegantly set and stylish food photography hangs on the walls; and yet, the service is not just competent, but also friendly; the atmosphere is not just sophisticated, but also relaxed. This is what makes Marktküche special. Even though some old gentleman may shake his head over the fact that the toilets are indicated by signs for the 'little boys' and 'little girls' room.
The atmosphere is not just sophisticated, but also relaxed.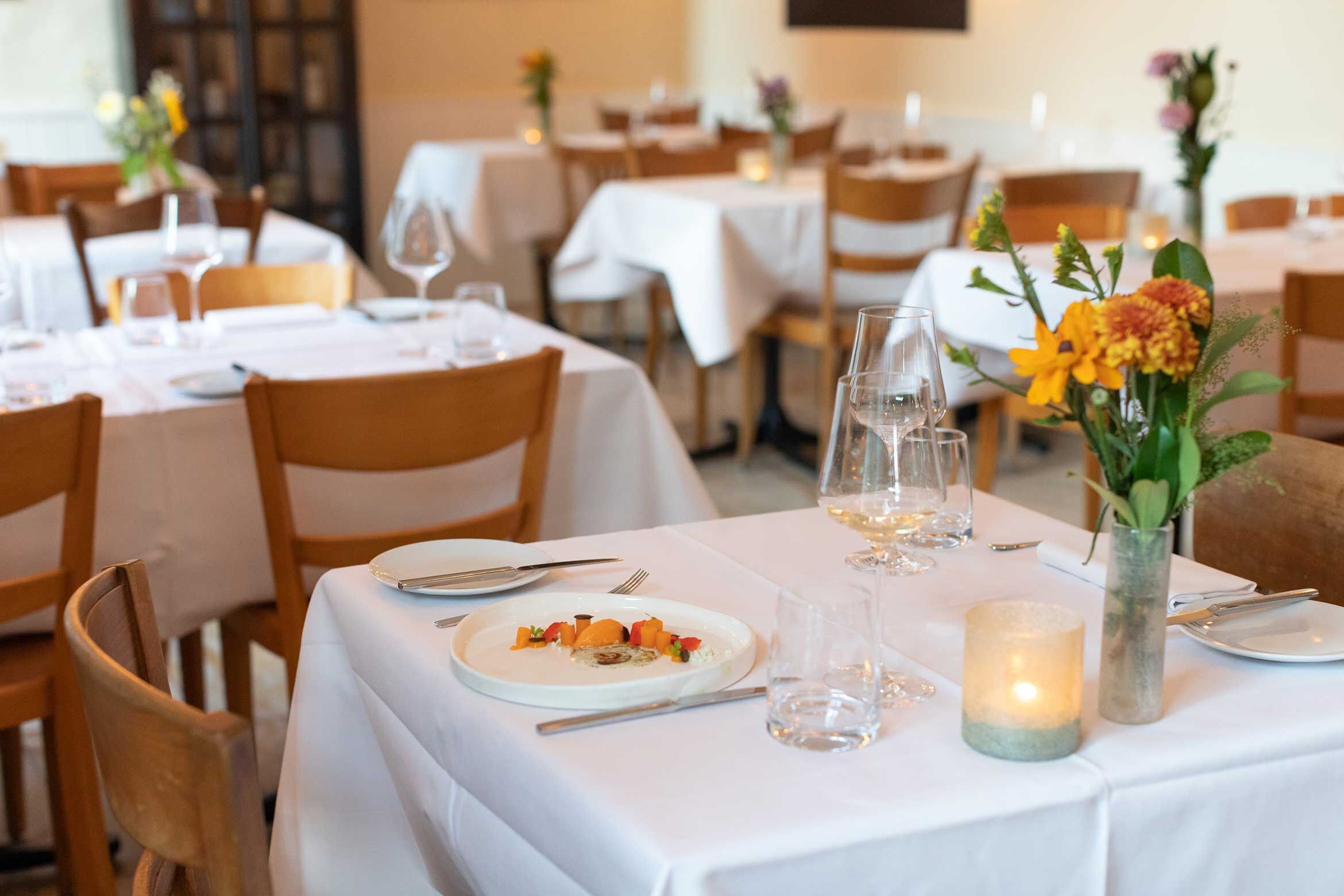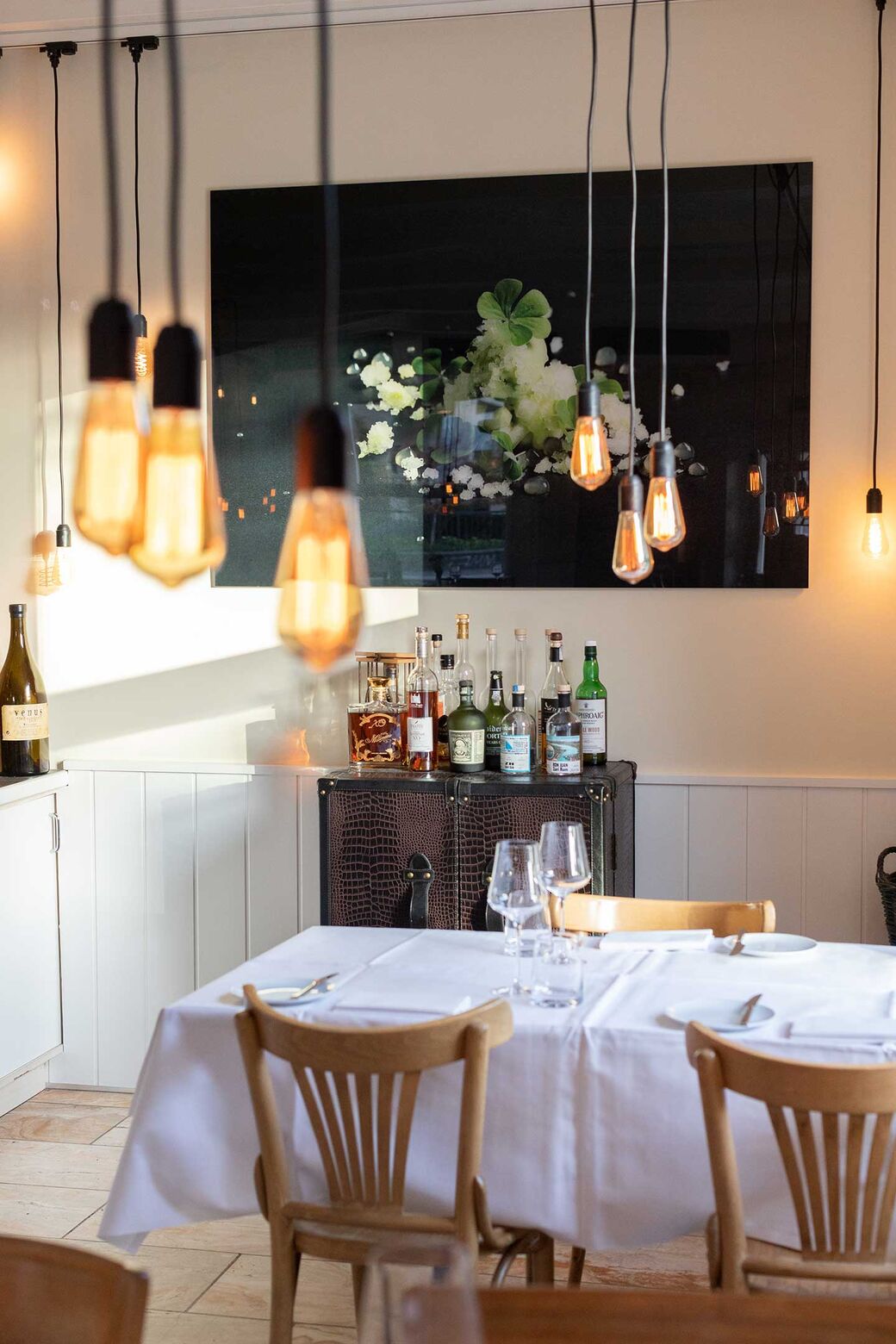 In fact, Marktküche is much more likely to cause upset for a different reason. The restaurant near the Bäckeranlage park is a celebration of gourmet cuisine for those with the most restrictive of diets – vegans. '"What do you even eat then?" – this is something almost every vegan will have heard at some point,' says Tobias. He became a vegetarian once he had finished his training to be a chef, and later he decided to eat only plant-based food. 'It was like suddenly falling off a cliff edge: vegetarian food is easy to find, but there's a really limited choice when you are vegan,' he recalls. He searched for plant-based fine dining in vain: 'It's especially difficult to find food that isn't solely based on recreating classic dishes and replacing the meat, but rather dishes that establish and celebrate vegetable-based cuisine in its own right.'
'"What do you even eat then?" – this is something almost every vegan will have heard at some point.'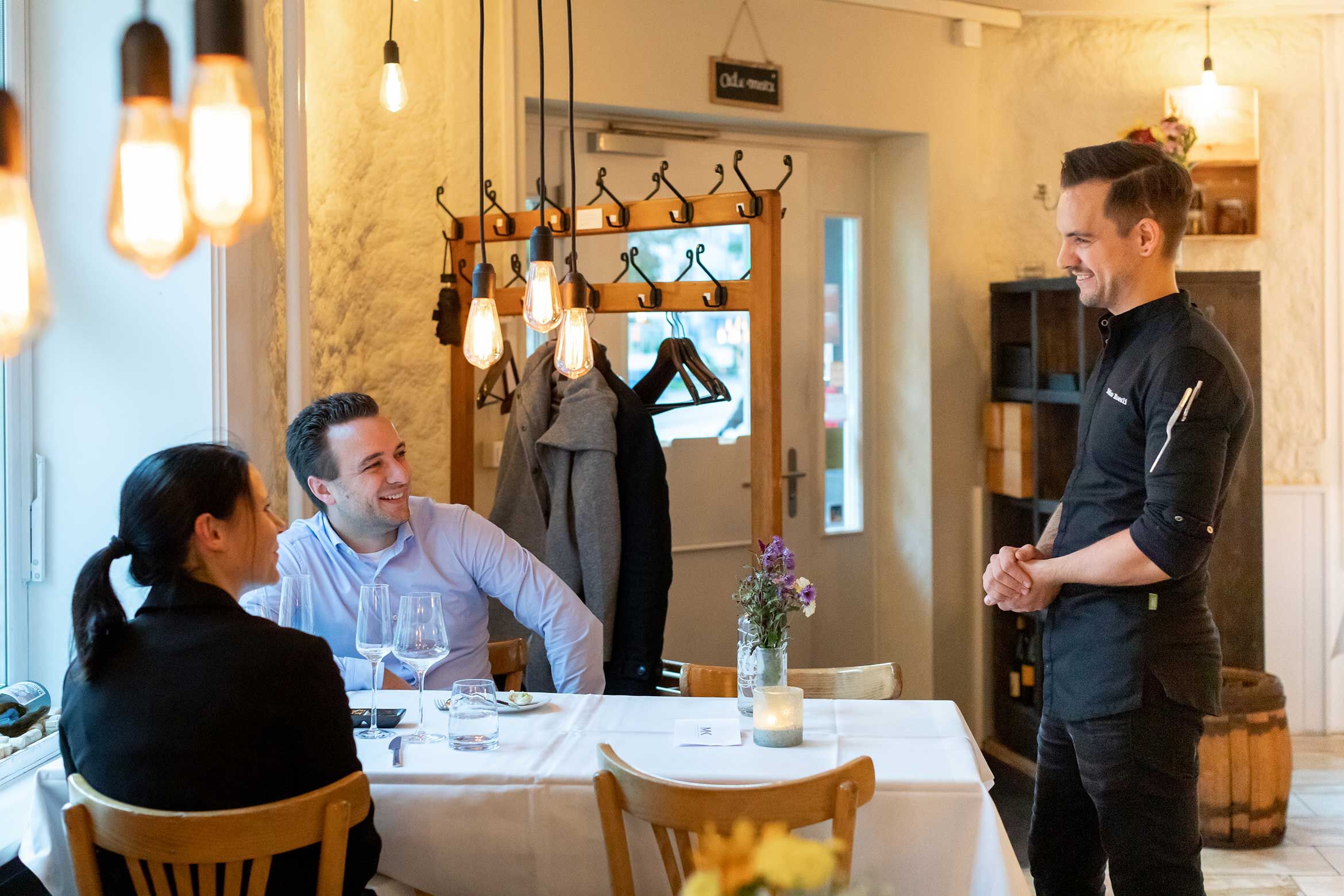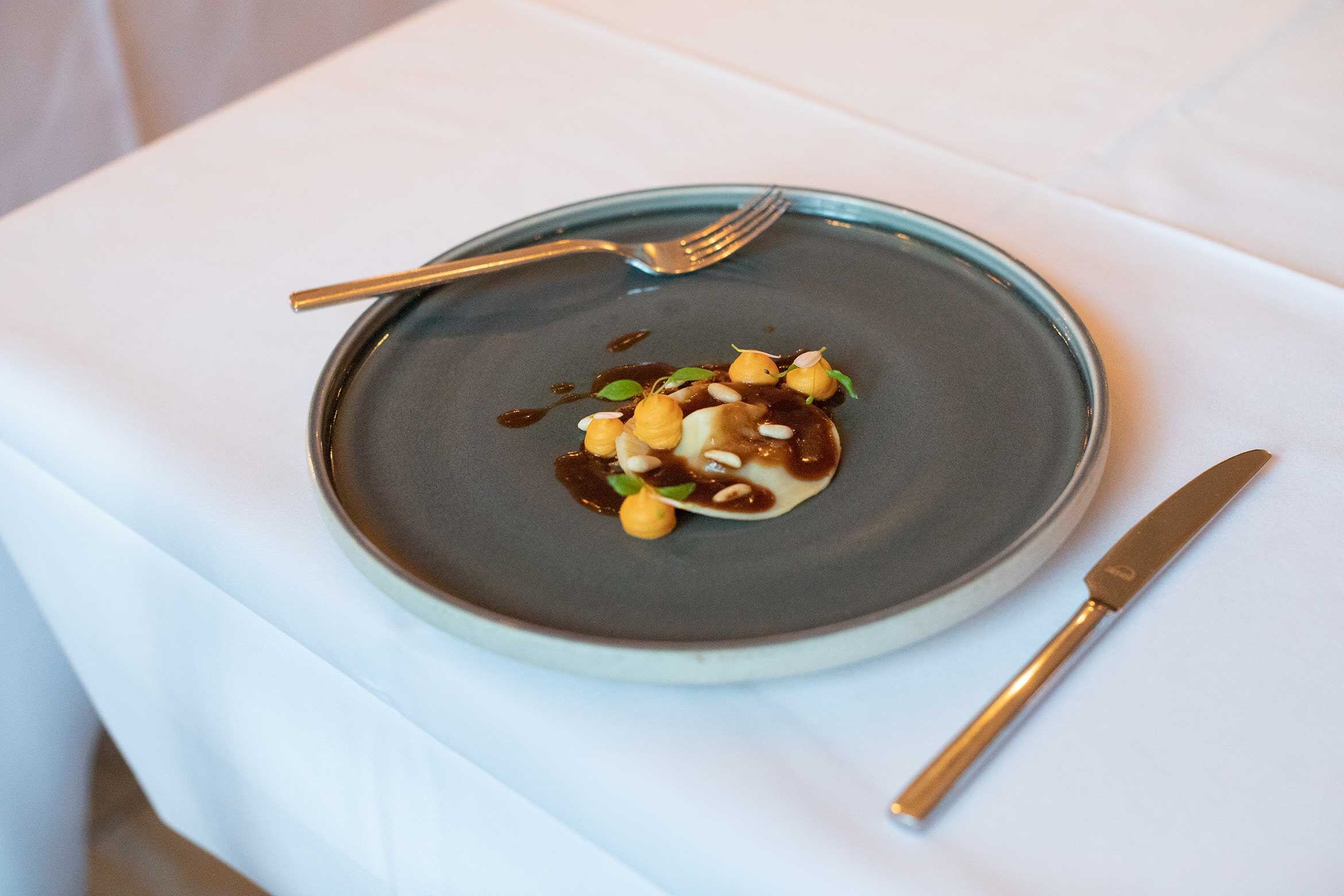 So, Tobias decided to do it himself. It started out as just a thought, a bit of fun: wouldn't it be cool to have my own restaurant. Then his career took a change of direction and he switched from the kitchen to service – to take some time to reflect on his idea: his desire to run his own restaurant with an emphasis on dishes made from delicious and versatile plants. 'The idea had been in the back of my mind for years, but now it had matured,' he says. A bit like a good wine. It had buried itself deep within his heart.
He had already received his restaurateur licence and completed a long management training course. Tobias gave up his day job and took some time to work out a business plan. 'I said to myself: "When I find a good location, I'll take the plunge. No risk, no fun."' The centrally located restaurant in district 4, which seats 30 to 40 guests, did the job. Looking back on it, the owner has to laugh at the risk he took: 'I was 24 and in retrospect, a certain amount of blind courage pushed me to do it.' But this courage was his strength. 'I fell down a few times that first year, but I kept picking myself back up again. For example, when I discovered how expensive an electricity bill for a restaurant can be!' Marktküche has now celebrated its 5-year anniversary. What started out as a bistro with simple dishes has joined the world of high-end gastronomy: the restaurant has been awarded 15 Gault Millau points and is considered the best vegan restaurant in the German-speaking region.
The restaurant has been awarded 15 Gault Millau points.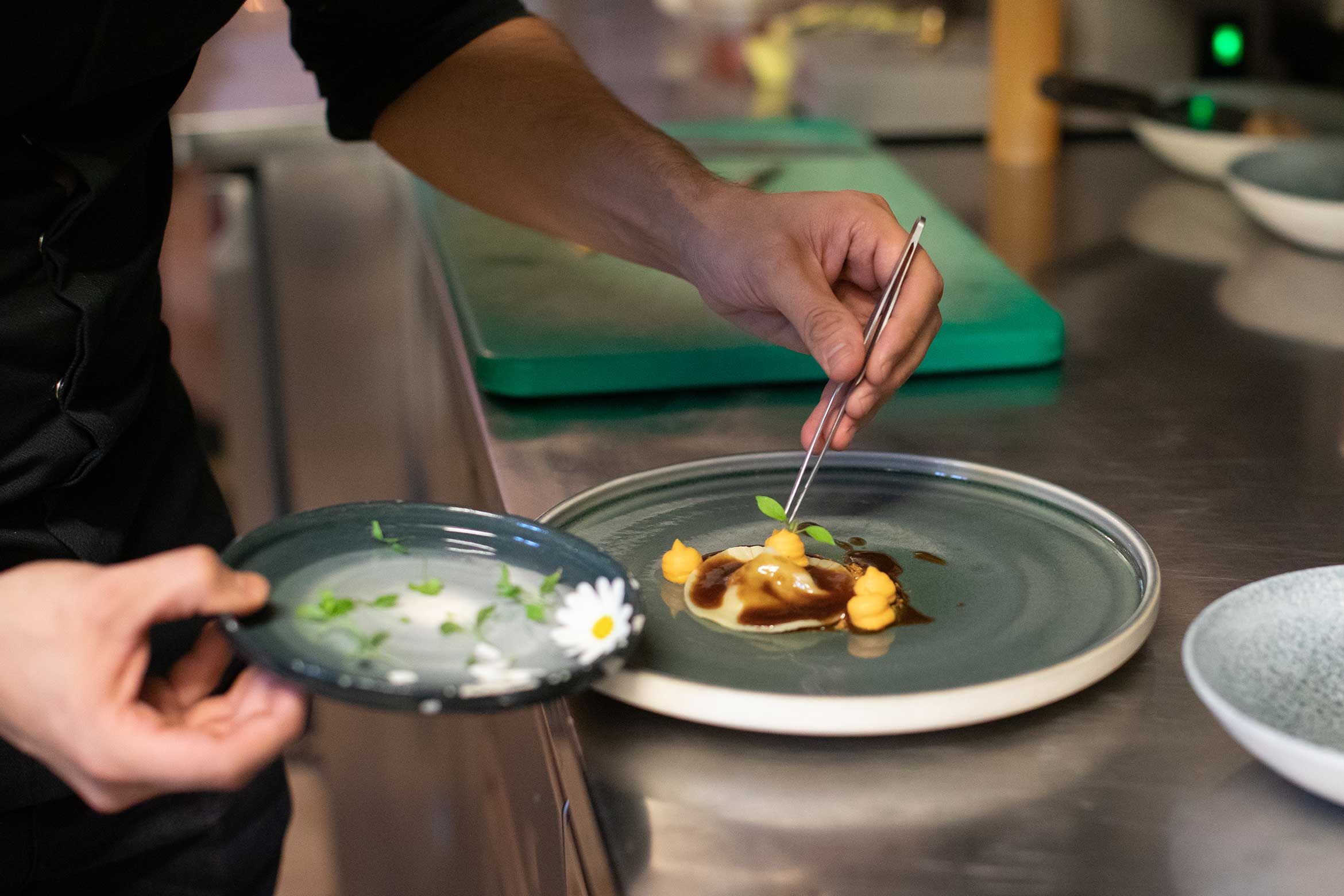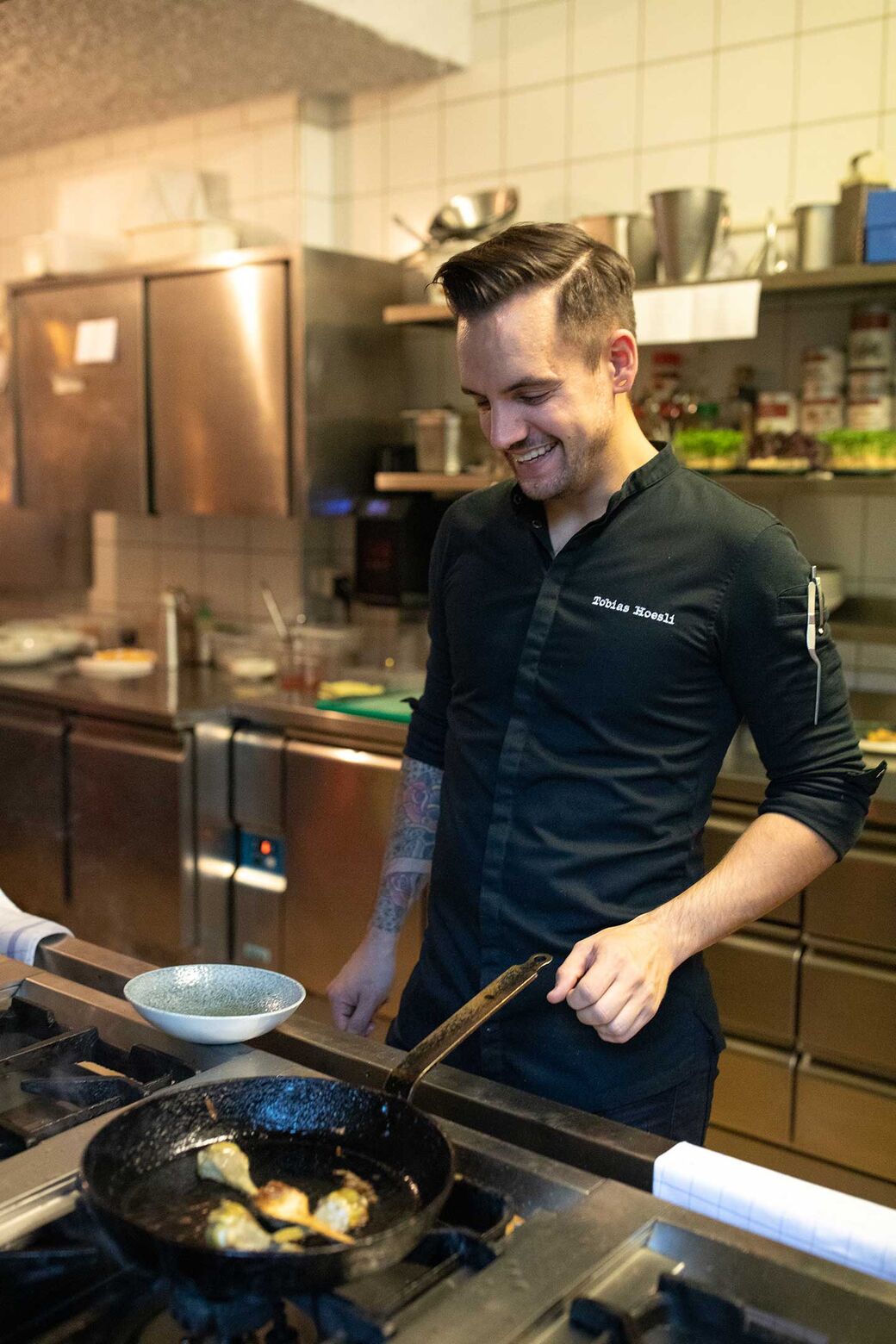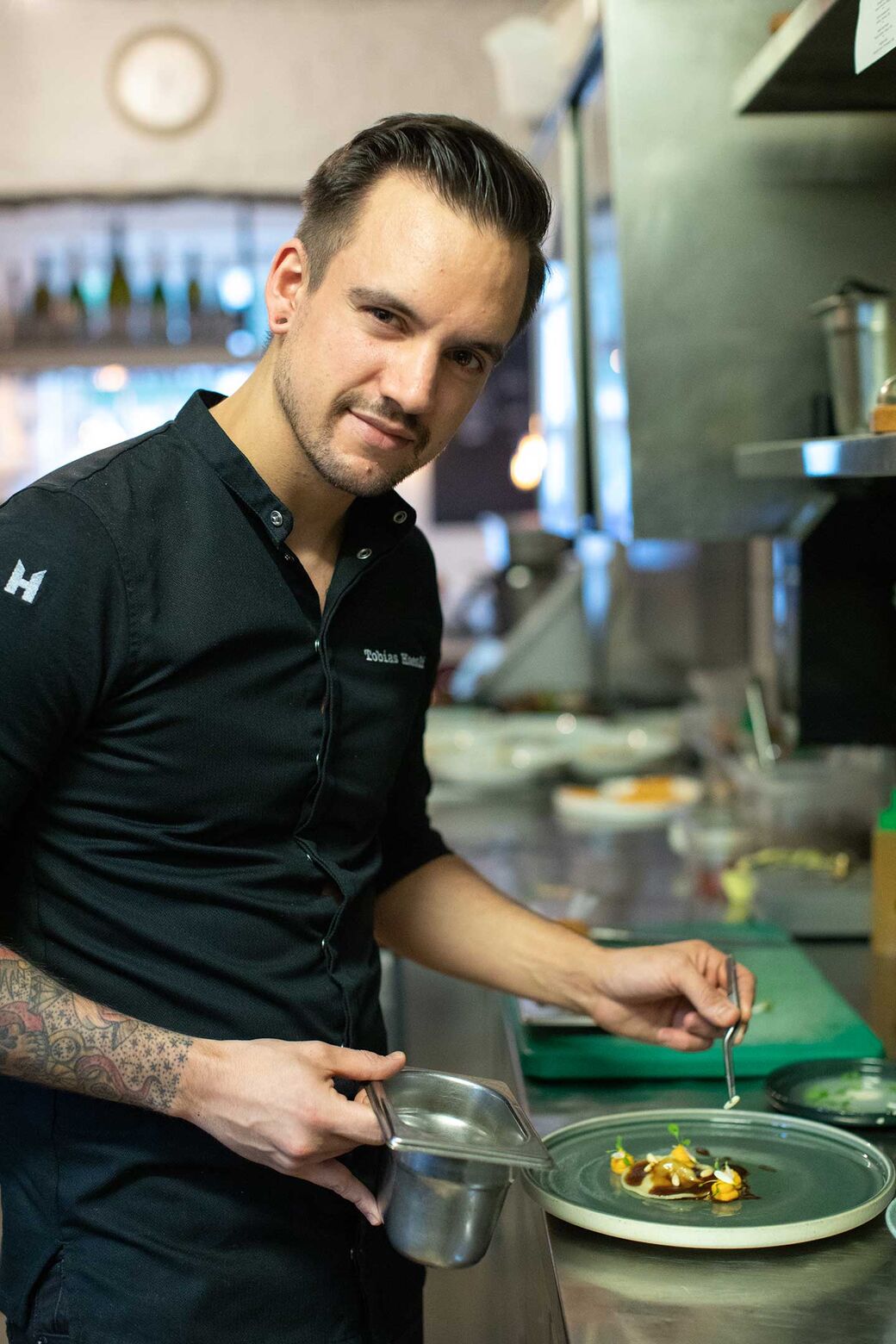 But Tobias doesn't really talk about the points. He talks about cooking. From intricately composed courses to strategic portion sizes and creatively crafted edible plants. How much ravioli maintains the right texture for the dish? Which particularly intense flavours go with which course? What can you do with a carrot, a mushroom, a cauliflower?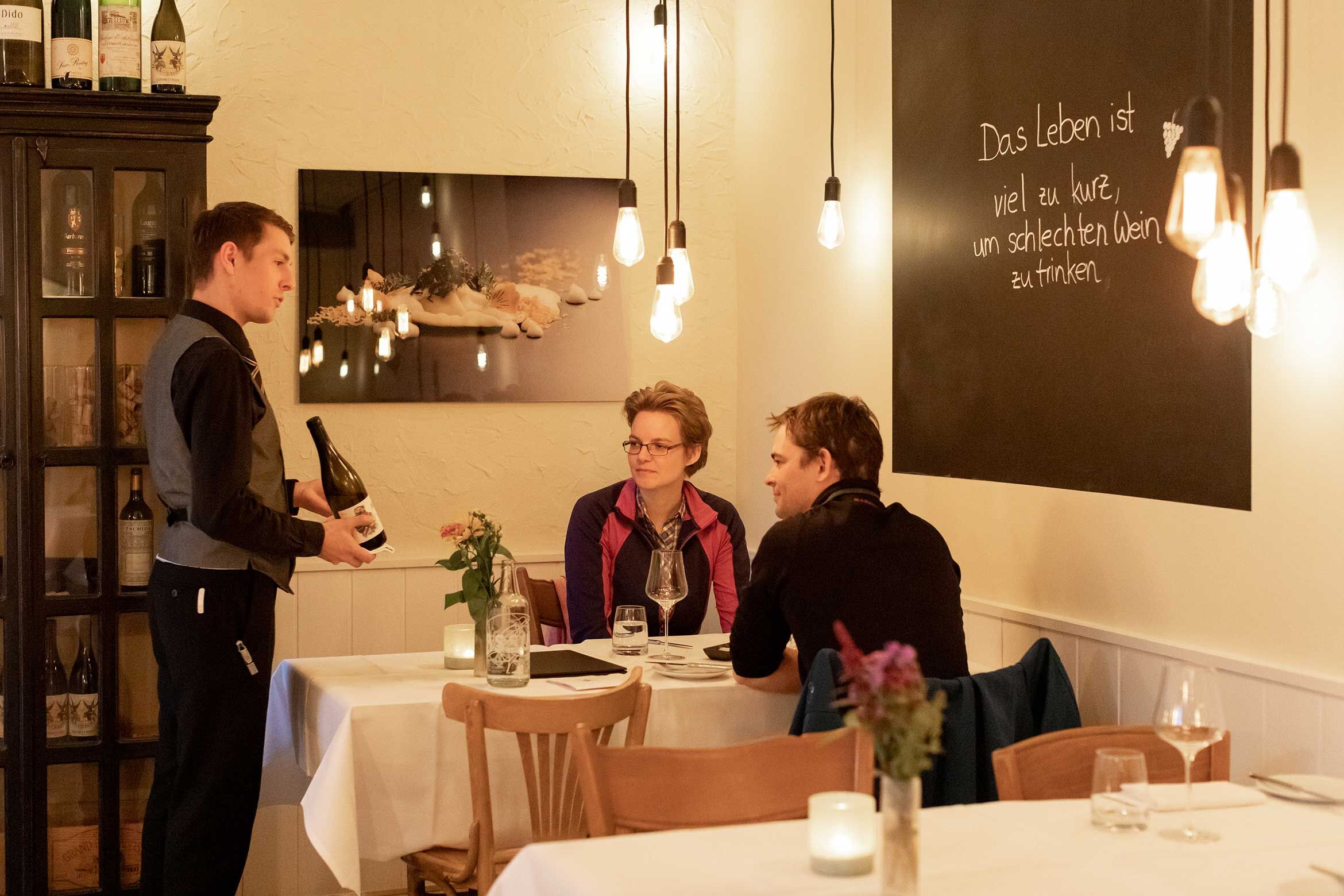 Similar considerations went into the decision to only offer full dining experience menus – the biggest change in Marktküche's short history. Guests do not order à la carte, but instead choose a menu of between four and eight courses. The menu changes every month to ensure all ingredients are local and seasonal, and on the last Friday of every month there is a surprise lunch menu. Tobias himself is a fan of surprise menus. Whenever he goes out to eat on his Mondays off, he loves to order a surprise.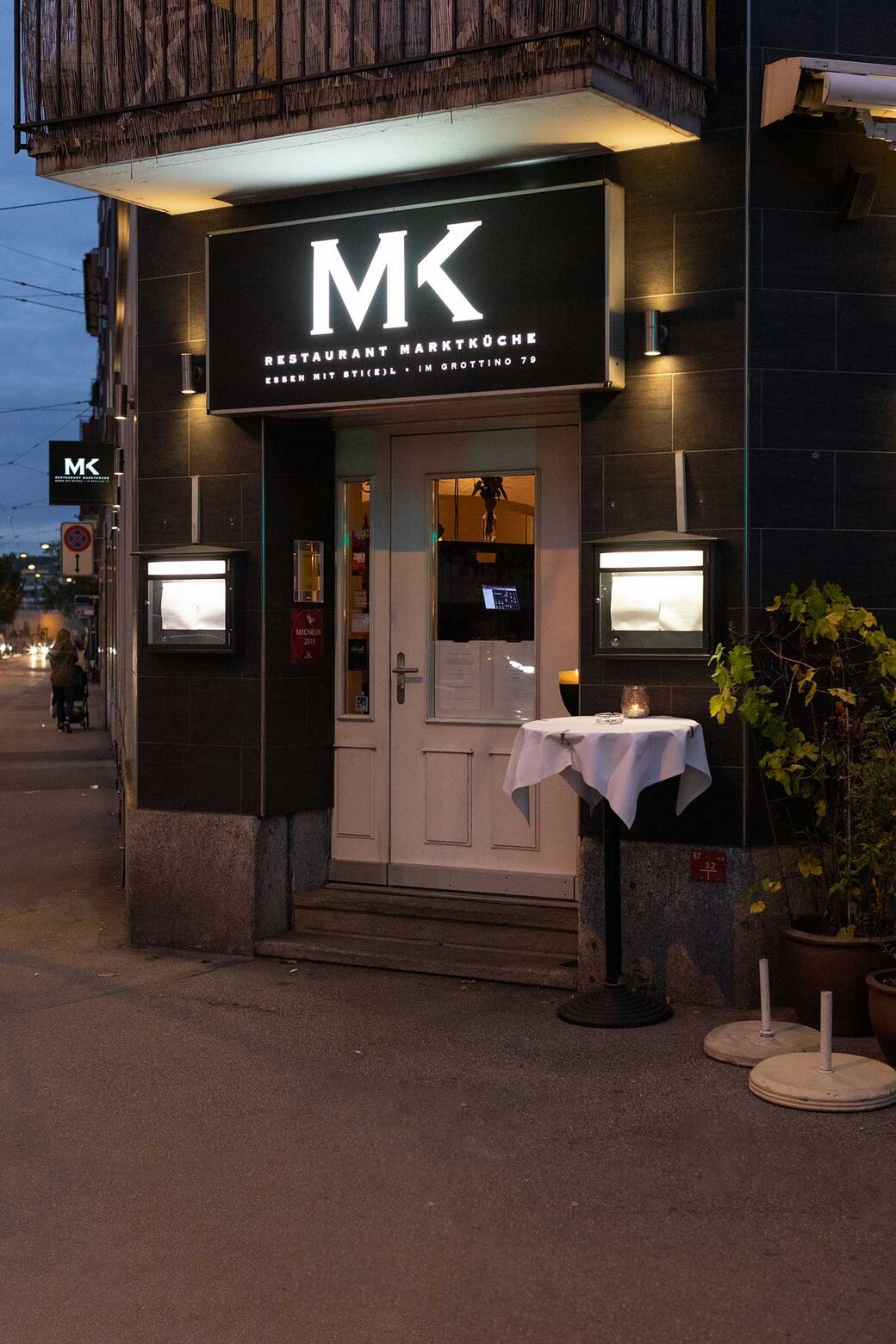 The Marktküche team wants to preserve the playfulness and charm of the restaurant alongside all the points and fancy cuisine. 'It's not a one-man job,' says Tobias, 'everyone has to pull in the same direction.' And after you've finished your haute cuisine meal at Marktküche, the sign with a cheery Swiss farewell reminds you of its true character: 'Ade, merci' is handwritten above the door.
Address
Restaurant Marktküche
Feldstrasse 98
8004 Zurich
+41 44 211 22 11
Website
Opening hours
Tuesday to Friday, 5:30 pm – 11:30 pm
Every second last Friday of the month: lunch menu (reservation recommended)
View posts by interests, or use the proximity search and additional filters.
Try it out
.
Save posts as favourites – simply click on the heart symbol in the upper right corner of the post.