Gelati am See
Zurich native Daniel Kissling has been serving Italian ice cream at Riesbach harbour for two decades.
Daniel Kissling has been selling ice cream at his chic retro stand Gelati am See for more than twenty years. It's the perfect setup for Zurich residents, tourists and Daniel himself: 'I couldn't imagine enjoying a job more than this one.'
In Summer, the whole of Zurich decamps to the water. Between Bellevue and the Chinese Garden, sports enthusiasts, street artists and people out for a walk throng the promenade. Families, friends and couples in the throes of love enjoy picnics and go swimming. 'The lakefront is now a place for everybody to enjoy,' says Daniel Kissling. 'It used to be a place where laws didn't exactly apply.' Gentrification of the Seefeld quarter led the lakefront promenade to become more civilised. 'If nothing else, it's been good for my business,' says Daniel. He has been running his ice cream stand – called Gelati am See – at Riesbach harbour since 1998. Between March and October, he sells sorbet, ice cream and frozen yoghurt from midday until sunset.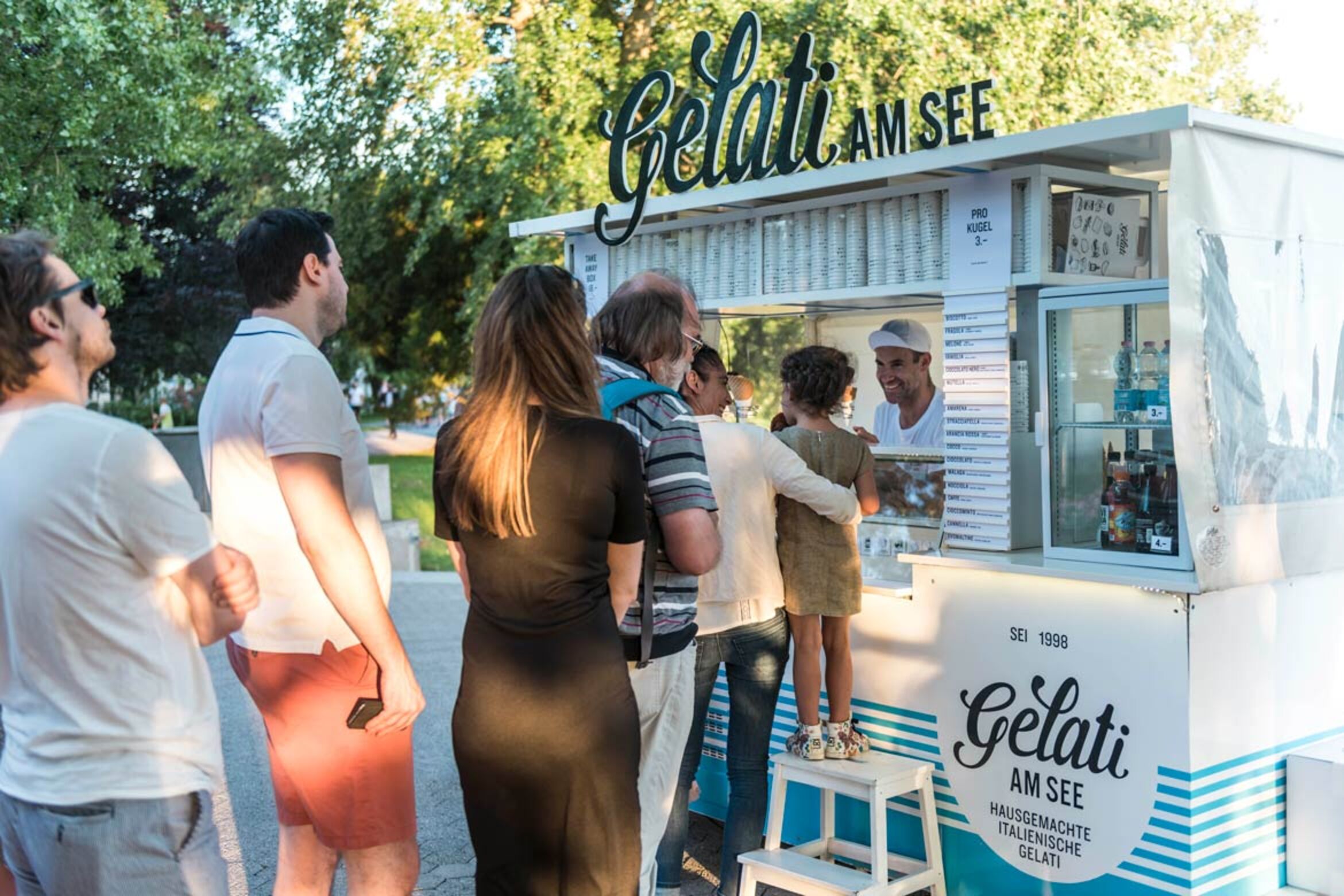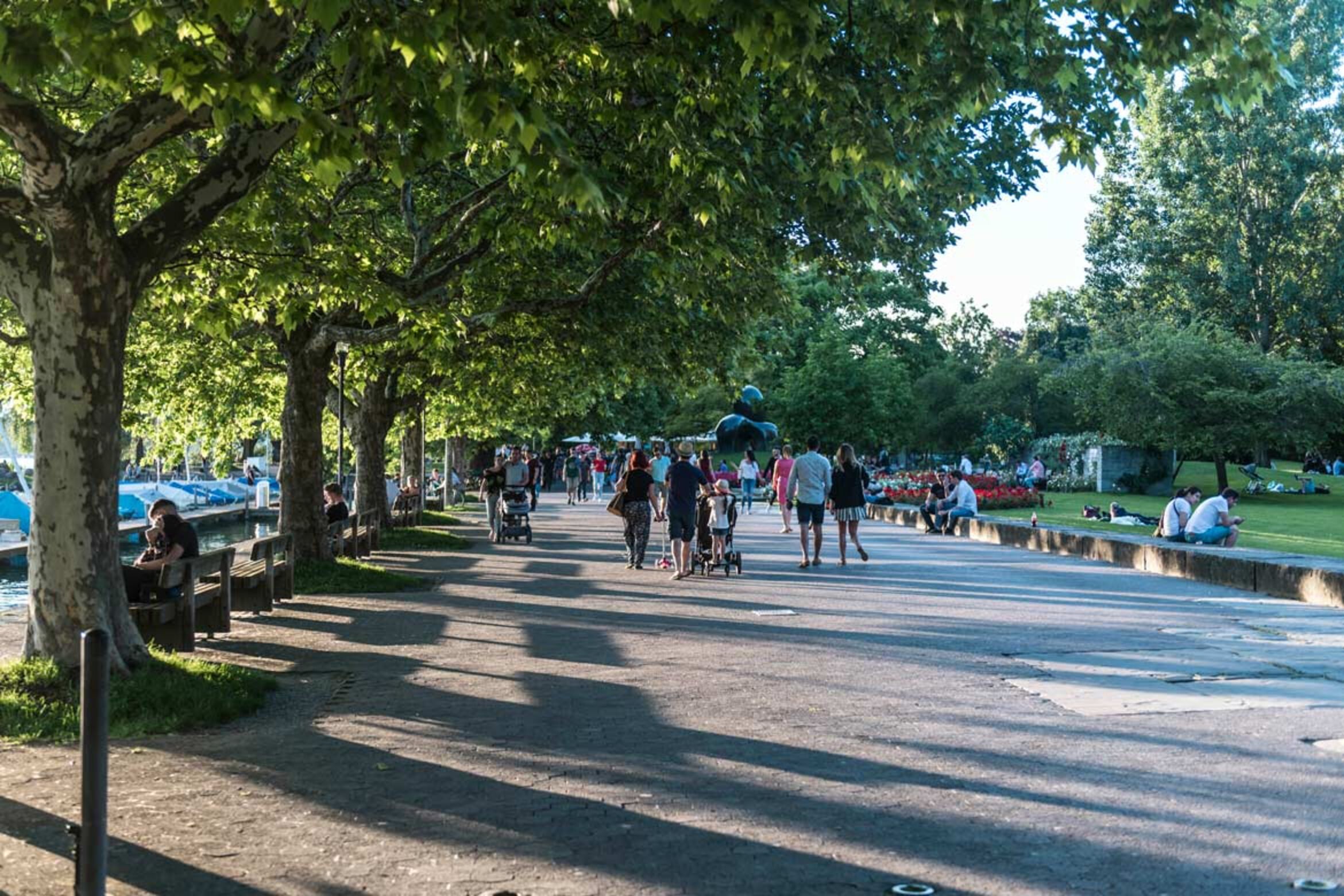 'I barely even notice all the hustle and bustle around me,' says Daniel. 'I'm too busy focusing on my work.' He serves his customers quickly, but in a friendly manner. 'I'm like a good-natured ice cream scooping machine. Nobody should have to wait longer than 15 minutes.' As a little bonus, children receive a plastic animal, while adults can have a taste of something they'd like to try out.
'Nobody should have to wait longer than 15 minutes.'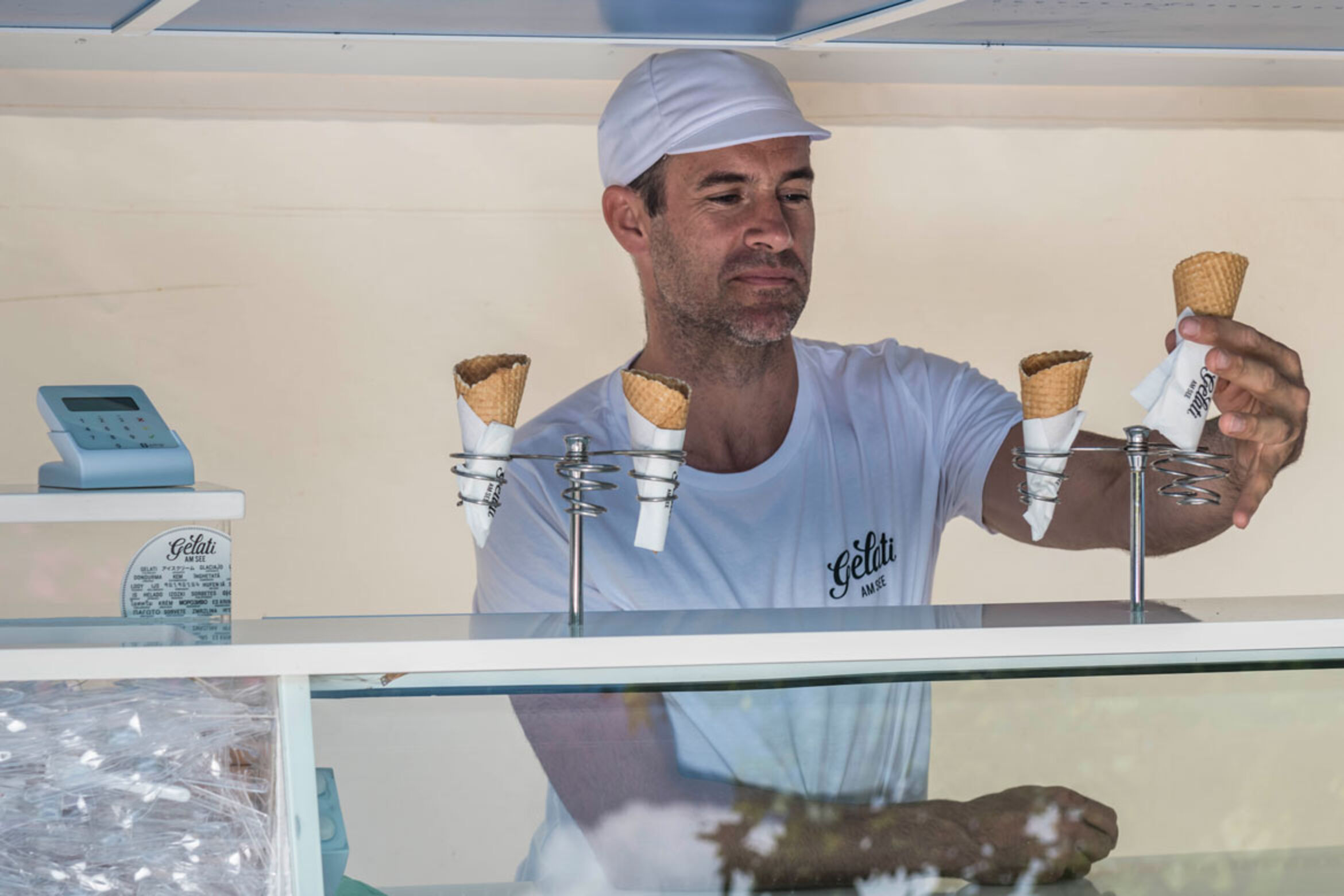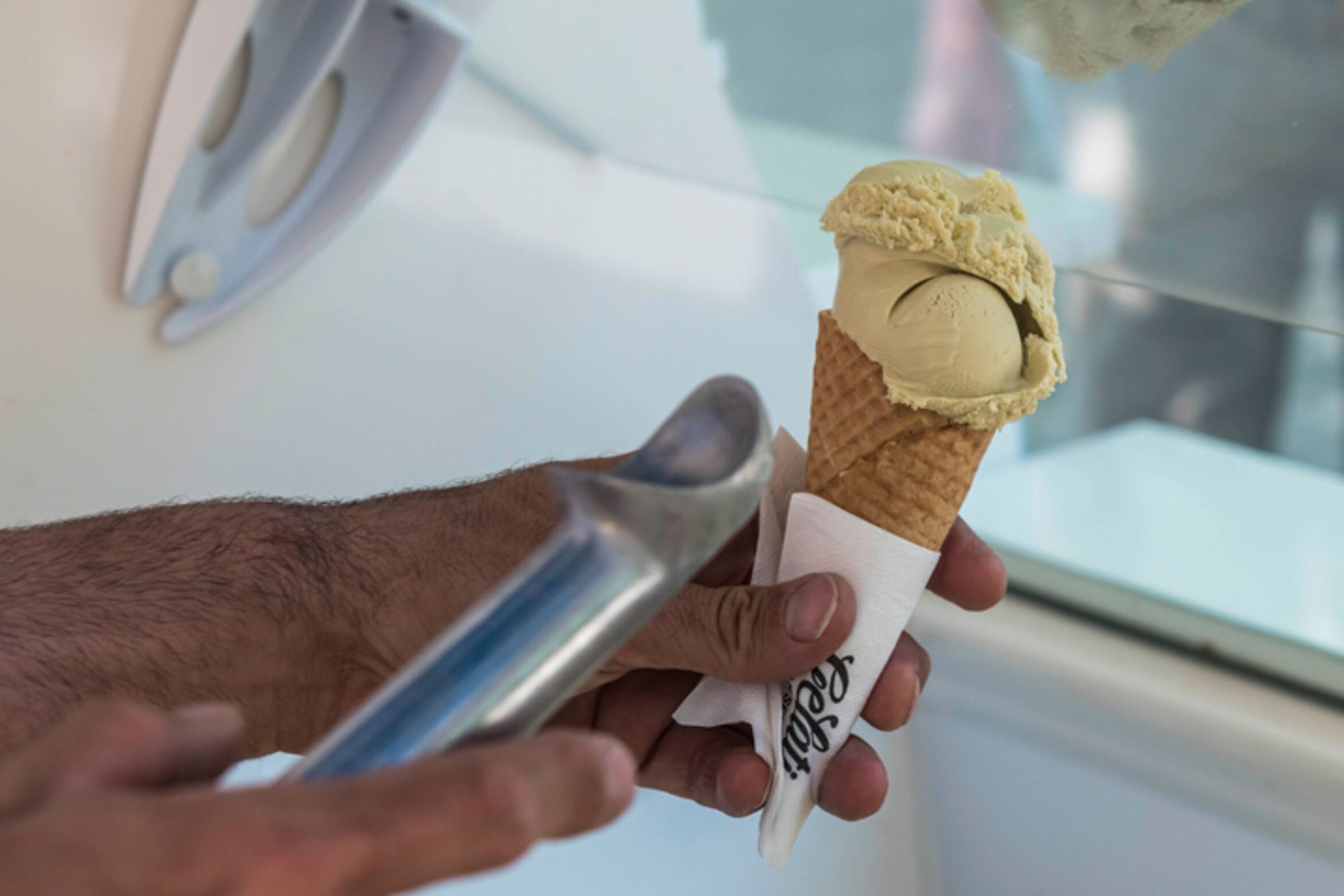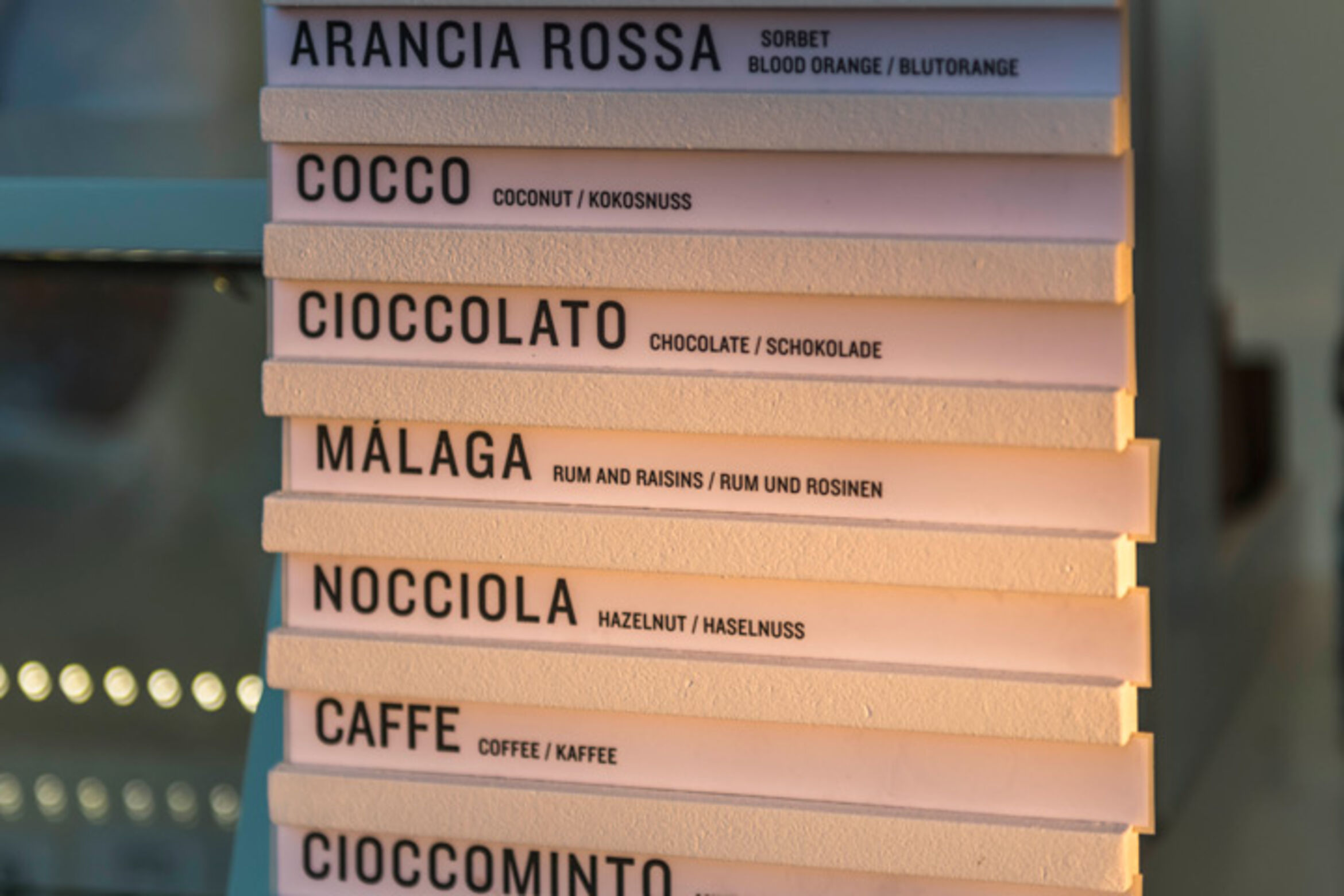 Daniel isn't sure exactly how many portions he serves up on any given summer's day. 'But it's a lot.' He has to refill the most popular flavours twice a day. This naturally includes the clear favourite among Daniel's customers: chocolate sorbet. 'Many people love the taste, and it's suitable for everybody, including vegans and people with lactose intolerance,' explains Daniel. 'Personally, I find it too sweet. After one scoop, I can't have another lick.' His favourite flavour is blackberry yoghurt with Ovaltine ice cream, and mango sorbet with natural yoghurt. 'It tastes a bit like a mango lassi.'
He has to refill the most popular flavours twice a day.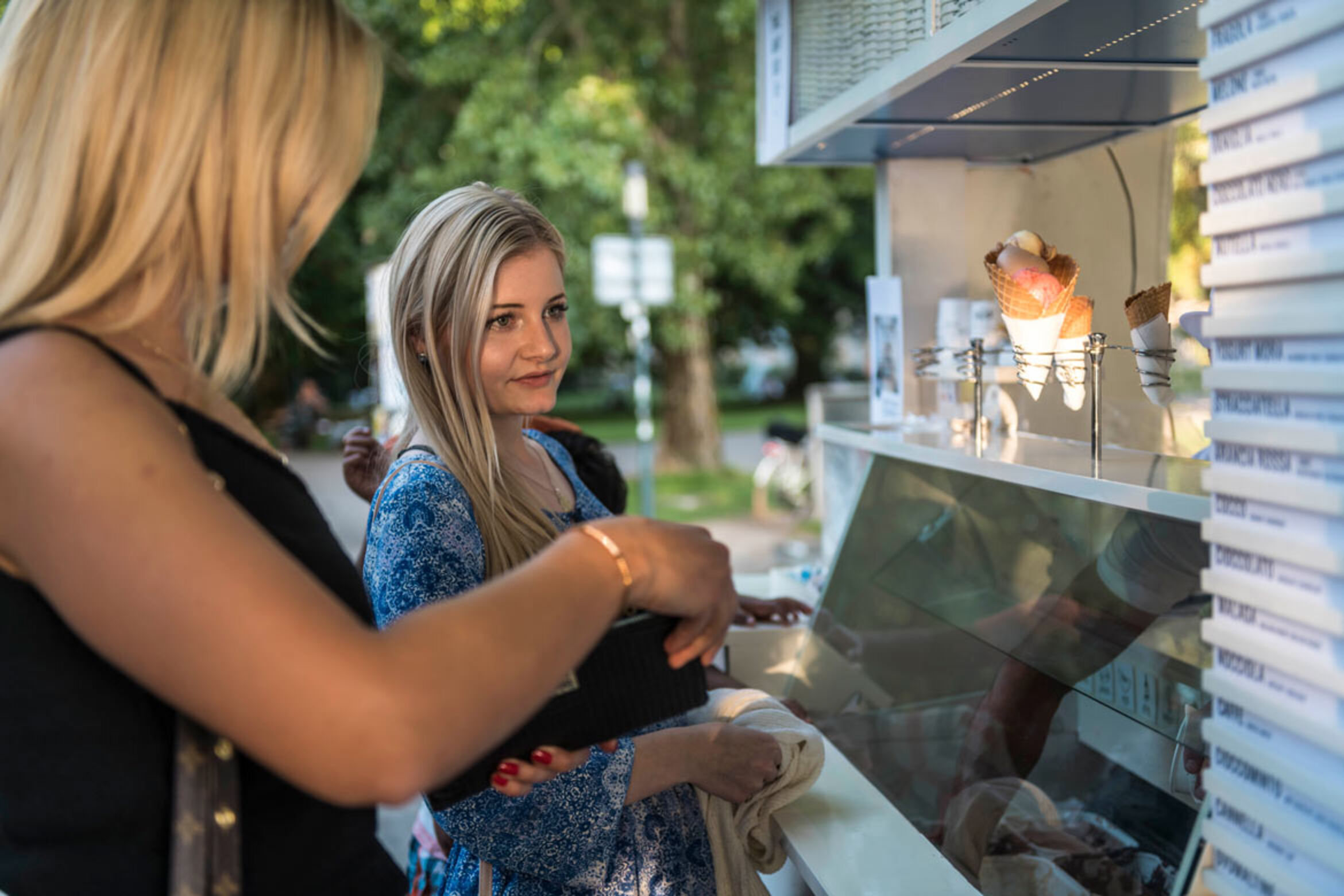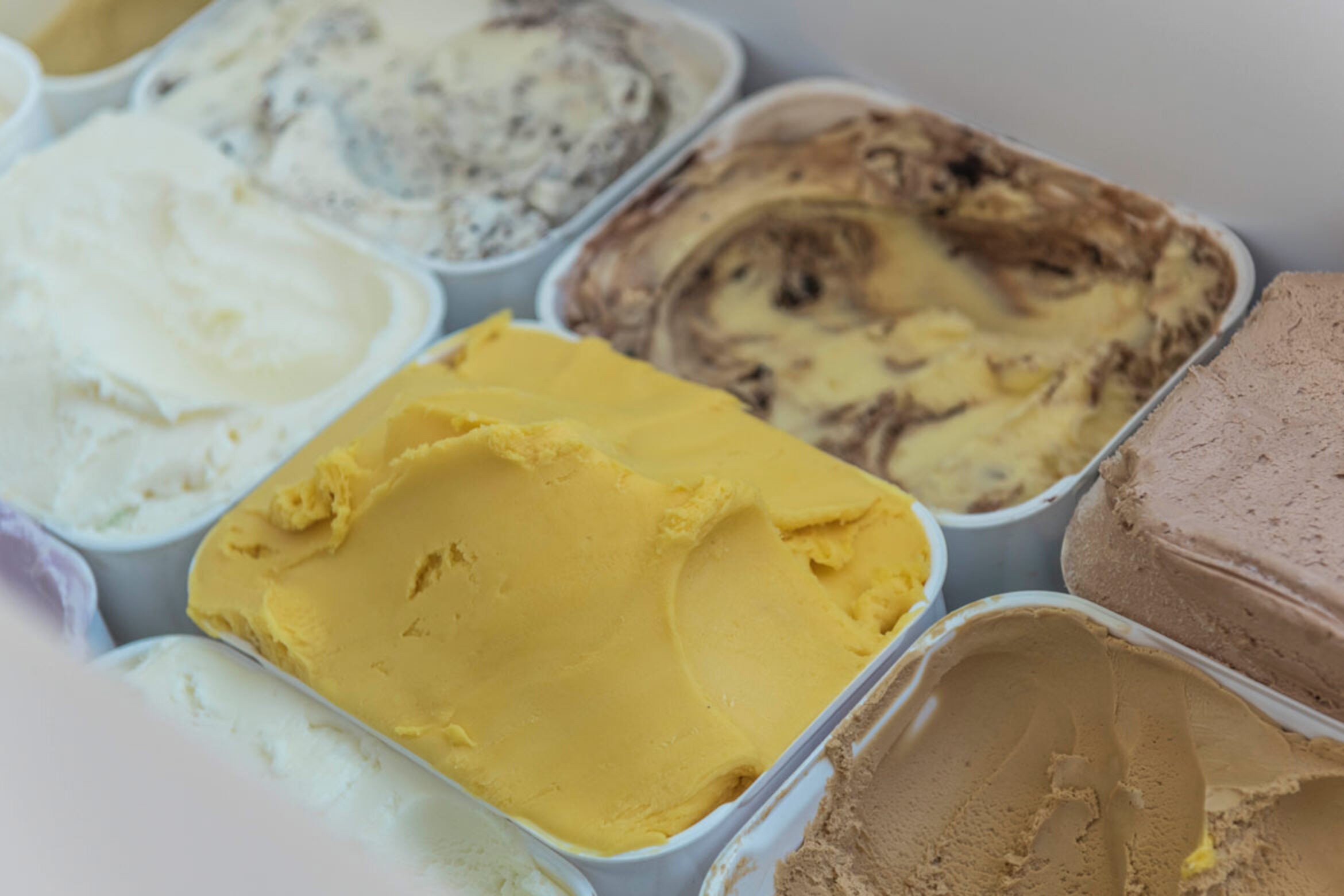 Daniel orders his ice cream from Paulo Palumbo, who is based in the Zürcher Unterland. Paulo is originally from southern Italy, and ran an ice cream parlour on Central public square in the mid-1990s. 'I really liked Paulo's ice cream,' recalls Daniel. Back then, he spent his time attending preparatory classes in design. But after not being able to decide on a specialist course, he decided to find a job. 'I wanted as much freedom in my work as possible.' During the summer months, he started to sell Paulo's ice cream at the lake. In winter, he either went travelling or worked as a decorator and stagehand at Zurich Opera House. Daniel still keeps in touch with his former colleagues. They helped him to build his ice cream stand with its retro façade.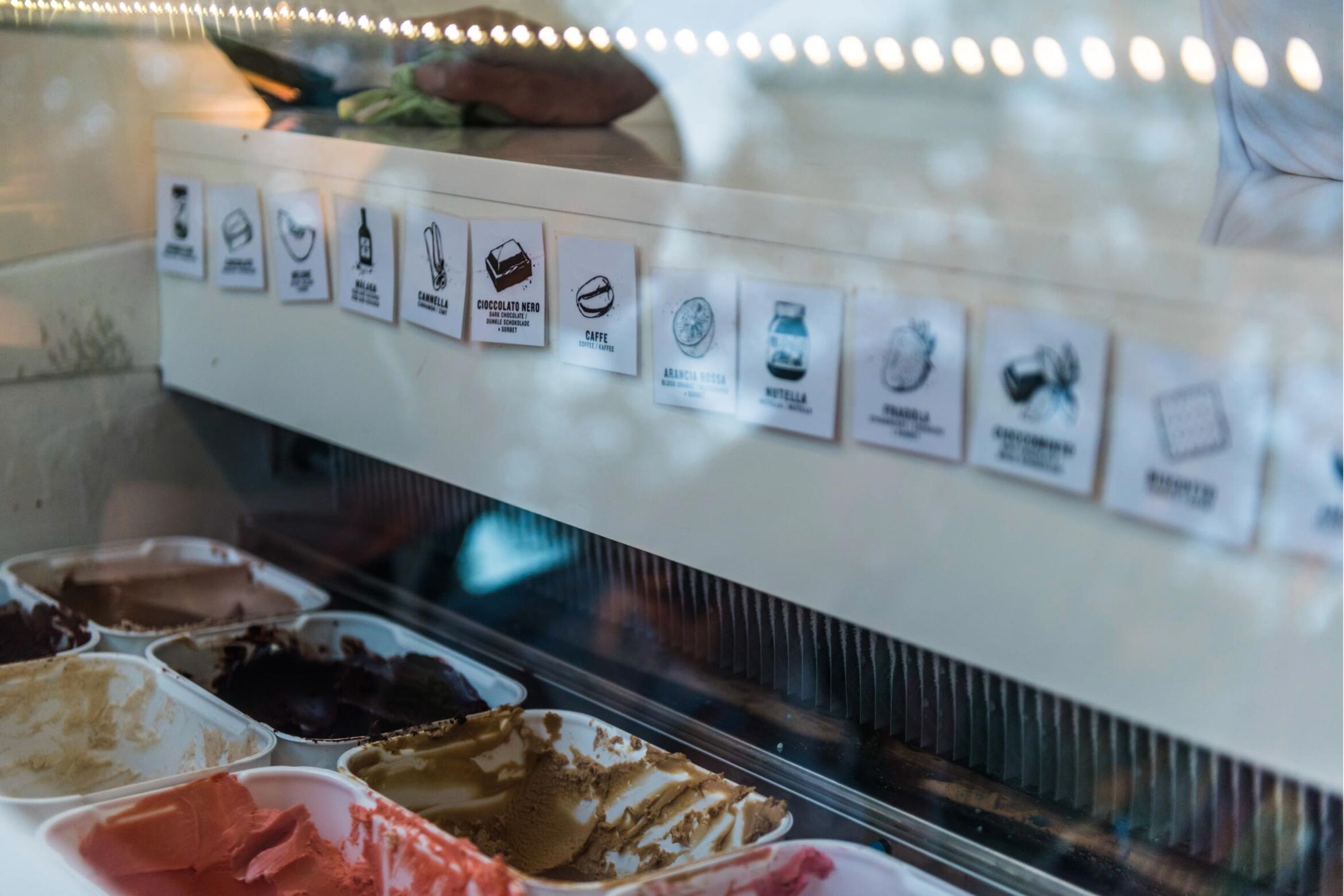 Daniel has been serving Italian ice cream at Riesbach harbour for two decades.
'Paulo still supplies me with ice cream under the same conditions we shook on so long ago,' reveals Daniel. In winter, the two men work on developing new varieties. They don't rush things either: it takes at least three days to find the perfect taste and the right consistency. They recently designed a flavour called 'black sesame' in collaboration with a Japanese chef. 'It's a little less bitter than the original that you get in Japan.'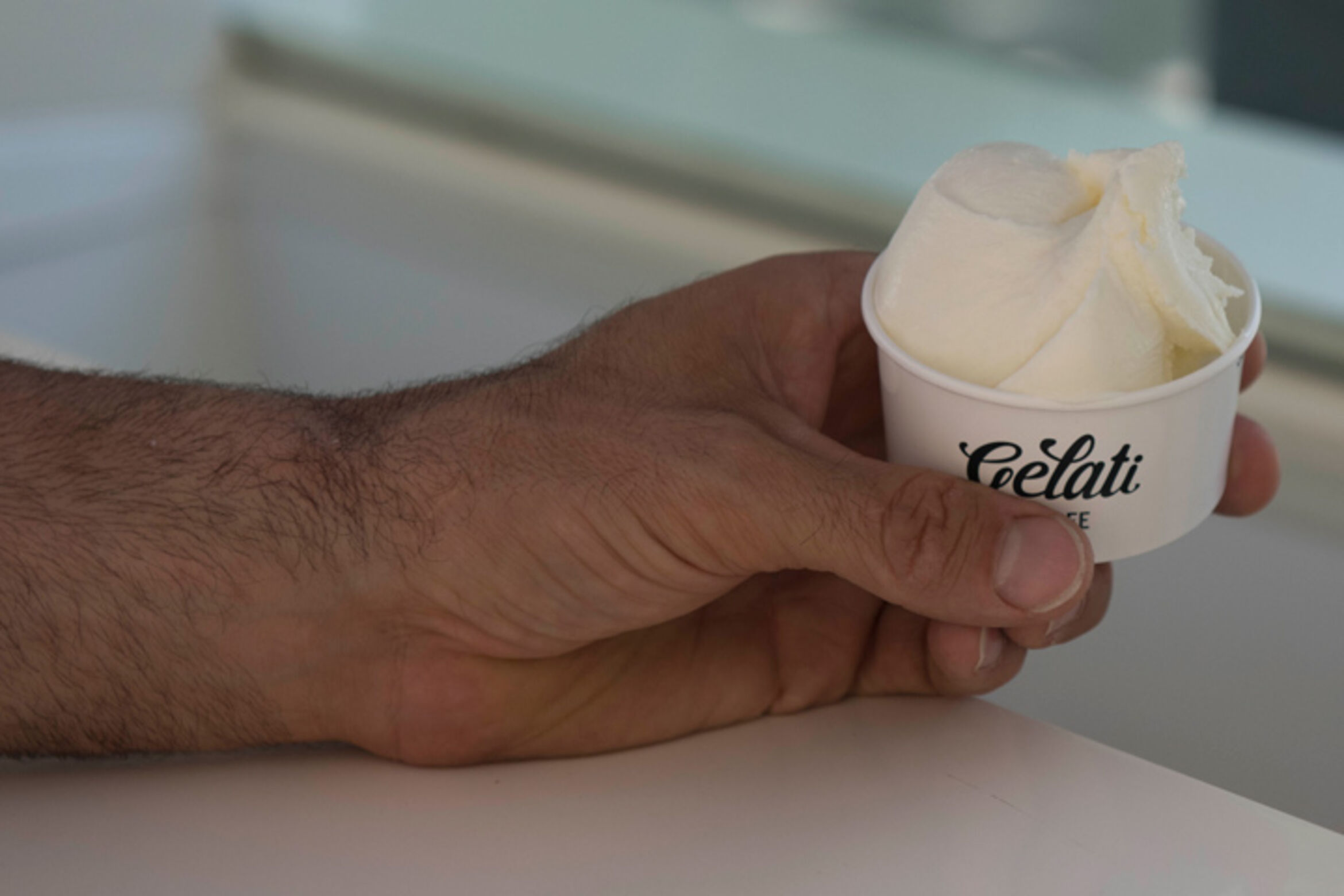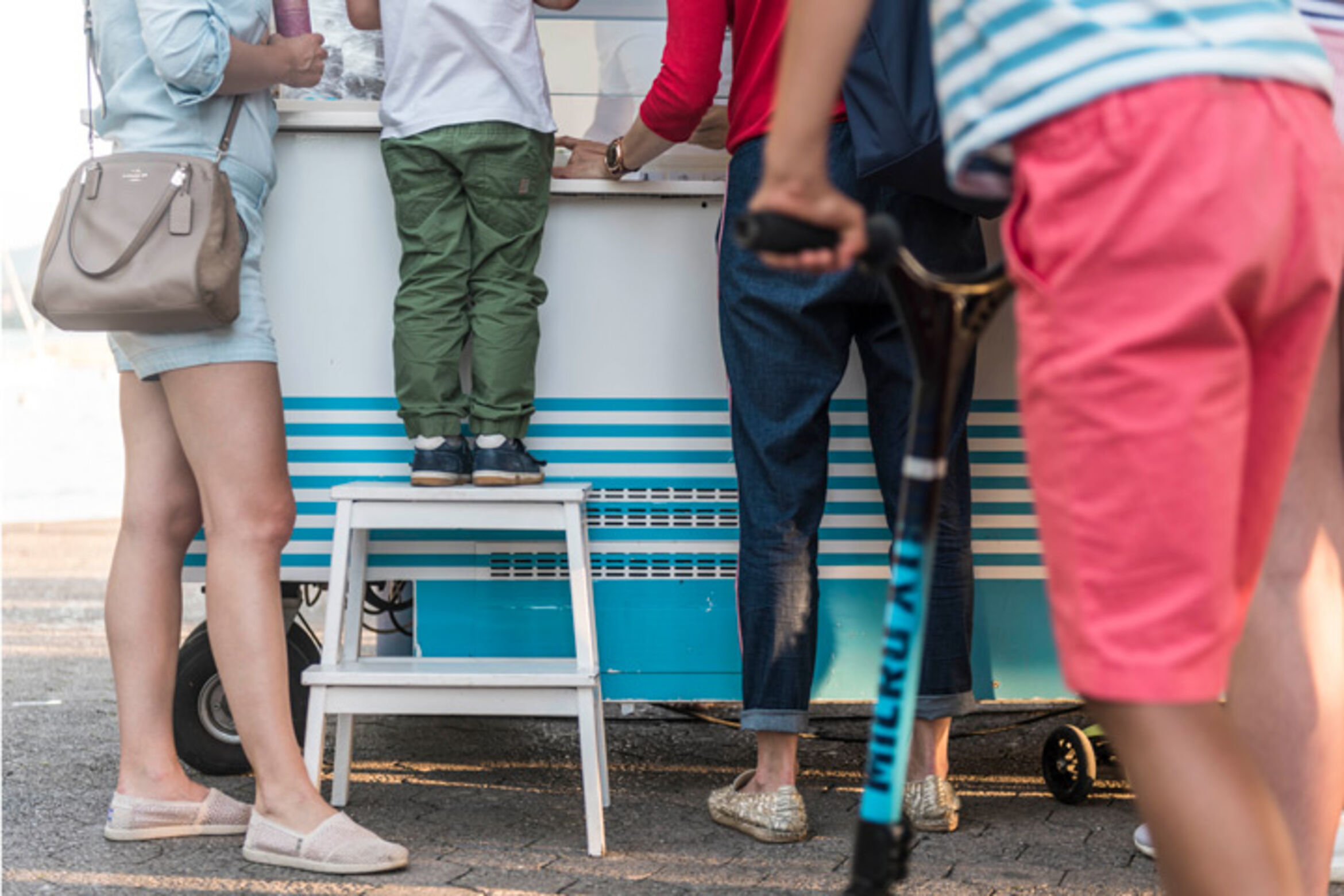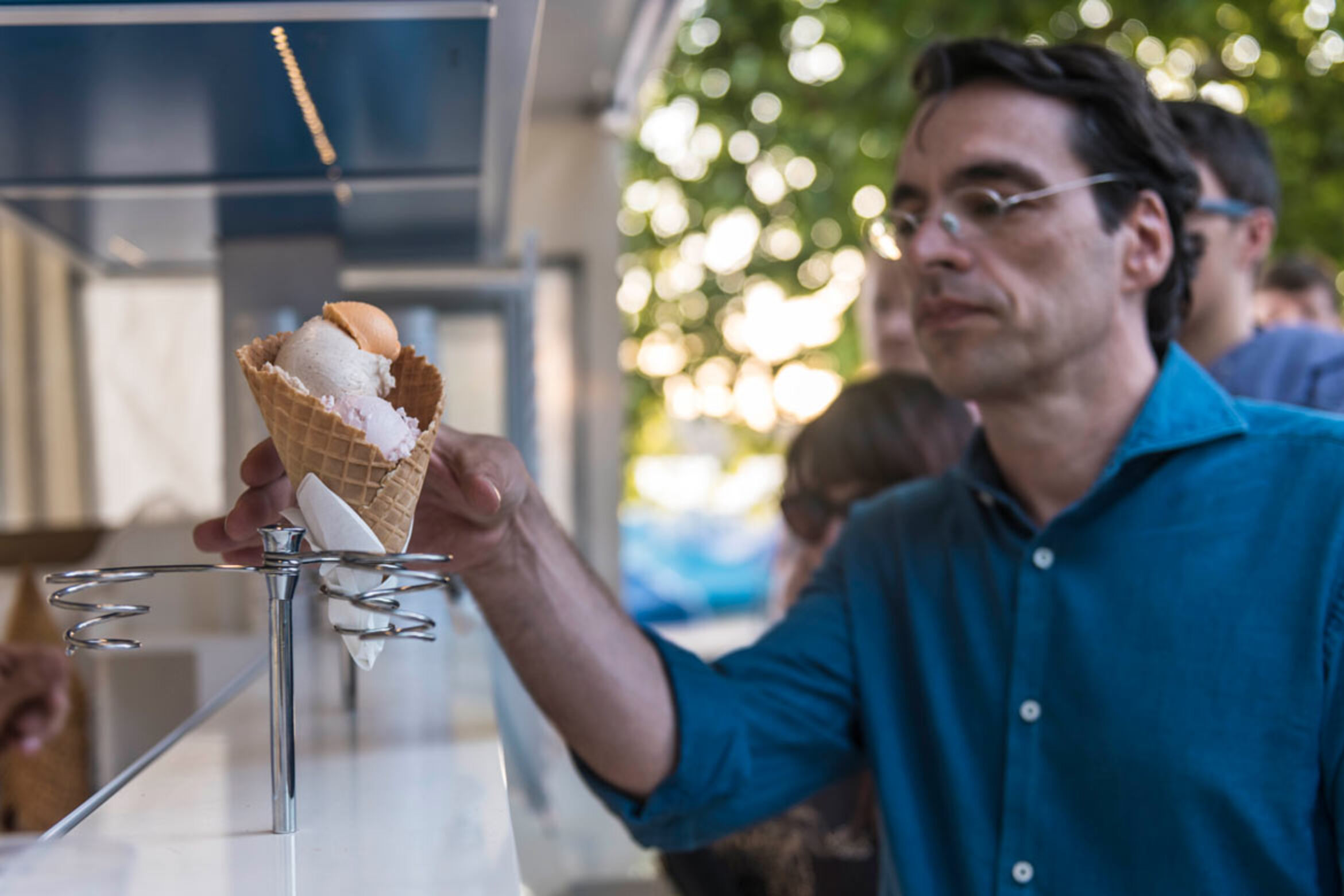 In 2017, Daniel and his sister opened a new parlour called 'Gelati Tellhof' in Aussersihl (district 4). 'This is the realisation of a dream that we've harboured for years.' The ice cream parlour is having more choice than the stand by the harbour. It's no coincidence that many tourists also end up coming to Daniel's stand for an ice cream – it is a top pick in a host of travel guides.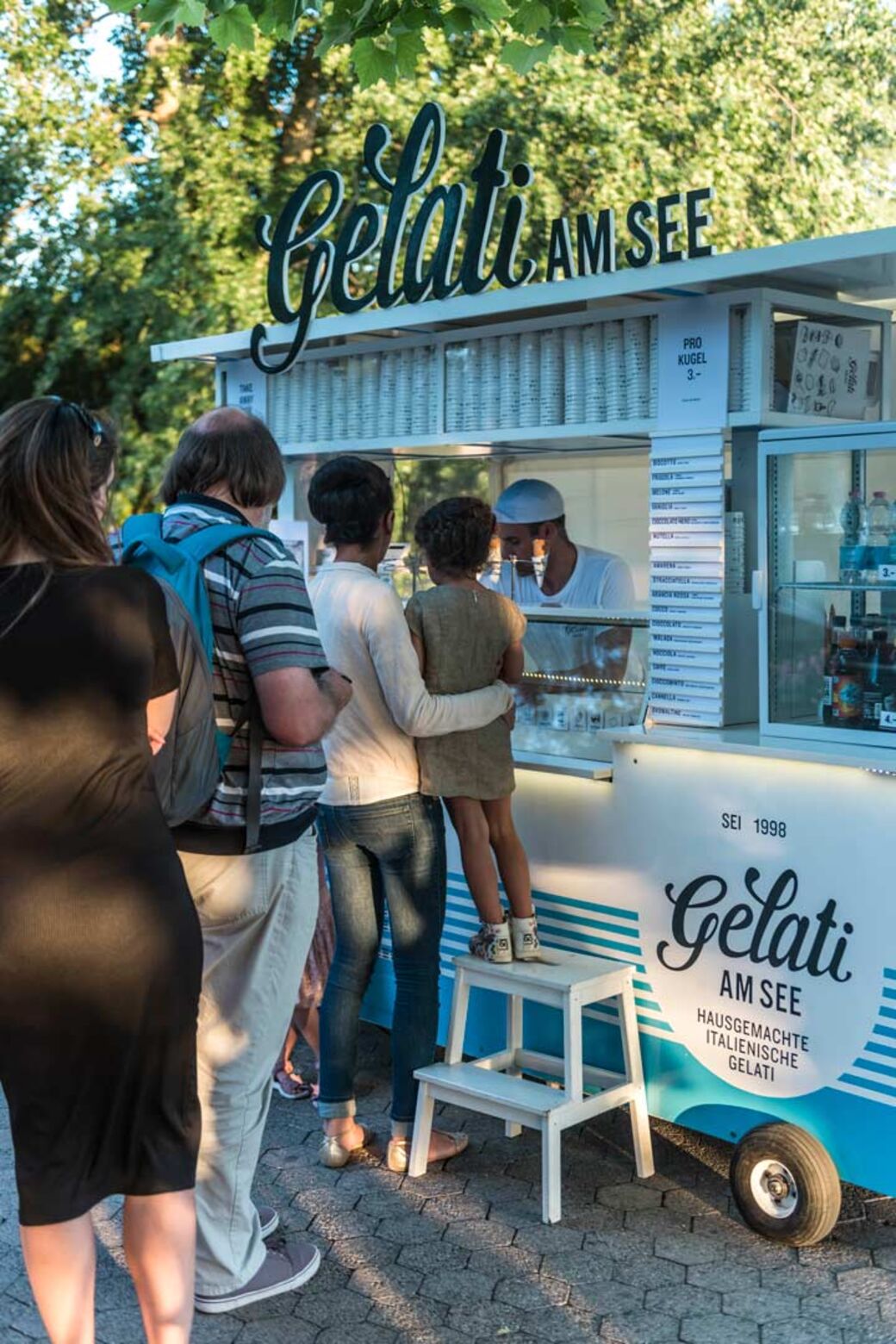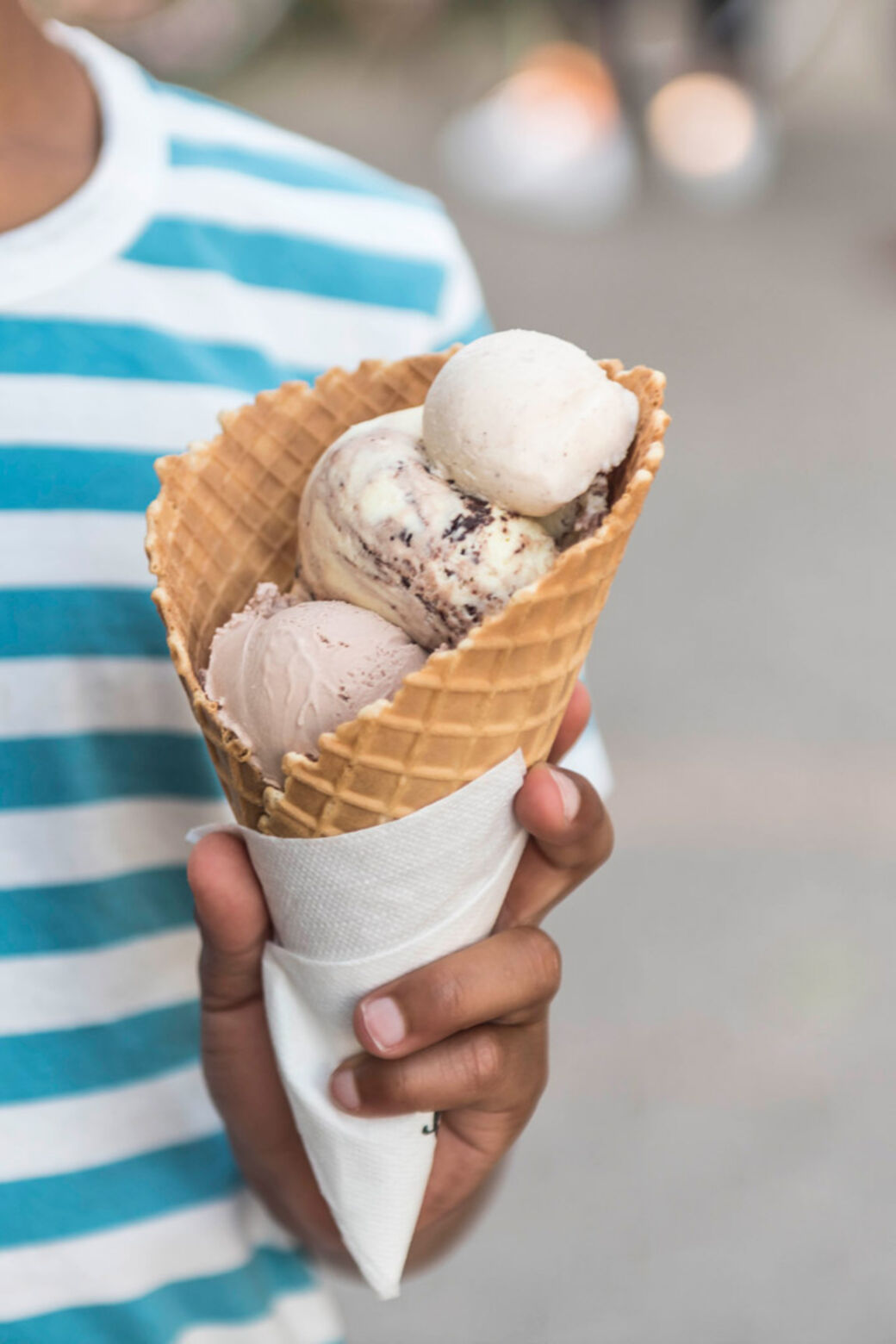 Daniel isn't troubled by the fact that several new ice cream parlours have opened in Zurich in the past few years. 'Competition is good for business,' he asserts. The only thing that bothers him is how this is reported on in the media. 'Journalists sometimes write as though Zurich never used to have any places where people could eat ice cream. Everybody knows that isn't even remotely true.'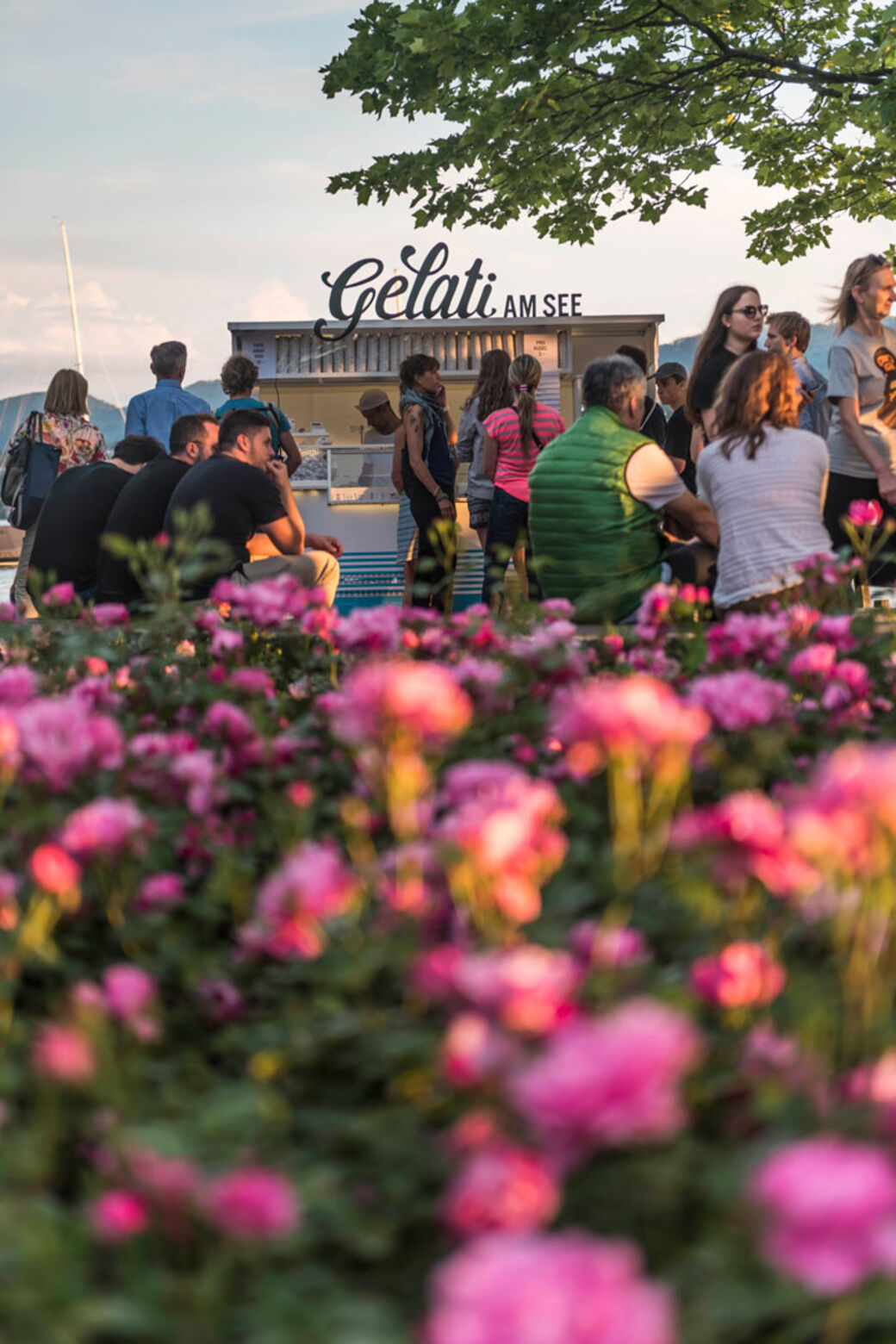 After twenty years, Daniel is still pleased to be part of the catering industry. 'I love my work. For me, it's much more than just a job.' It is only during the long school holiday in August that the father of four takes a break from the business. 'It gives me the chance to experience summer from different perspectives,' he says. 'Even if the best way to enjoy it is actually from my ice cream stand.'
Address
Gelati am See
At Riesbach harbour
8008 Zürich
+41 79 440 22 12
Website
Opening times
March to October
Monday to Sunday, 1 pm to sunset
Closed in the event of rain and on some holidays
Info
One scoop costs CHF 3.50.
Daniel has also been running a new spot, 'Gelati Tellhof', since summer 2017. This parlour serves thirty types of home-made ice cream and sorbet (along with sundaes and frappés).
View posts by interests, or use the proximity search and additional filters.
Try it out
.
Save posts as favourites – simply click on the heart symbol in the upper right corner of the post.