Bellevue Marroni
From October to March, Anna Otz and Severin Rutishauser can be found roasting chestnuts in Bellevueplatz.
Pavol Visnovsky opened his maroni stall in the mid-eighties. Today, it is run by his daughter Anna Otz and her partner Severin Rutishauser – to the delight of their regulars, some of whom buy a bag of hot chestnuts every single day.
As soon as the days start drawing in, the maroni stalls of Zurich open up. Some have stood in the same spot for years, such as the stall between Coop City and the watch shop on Bellevueplatz. Pavol Visnovsky began roasting chestnuts here in the autumn of 1985. His daughter, Anna Otz, comments: 'Even when I was a child, I thought: when I grow up I want to do that too.'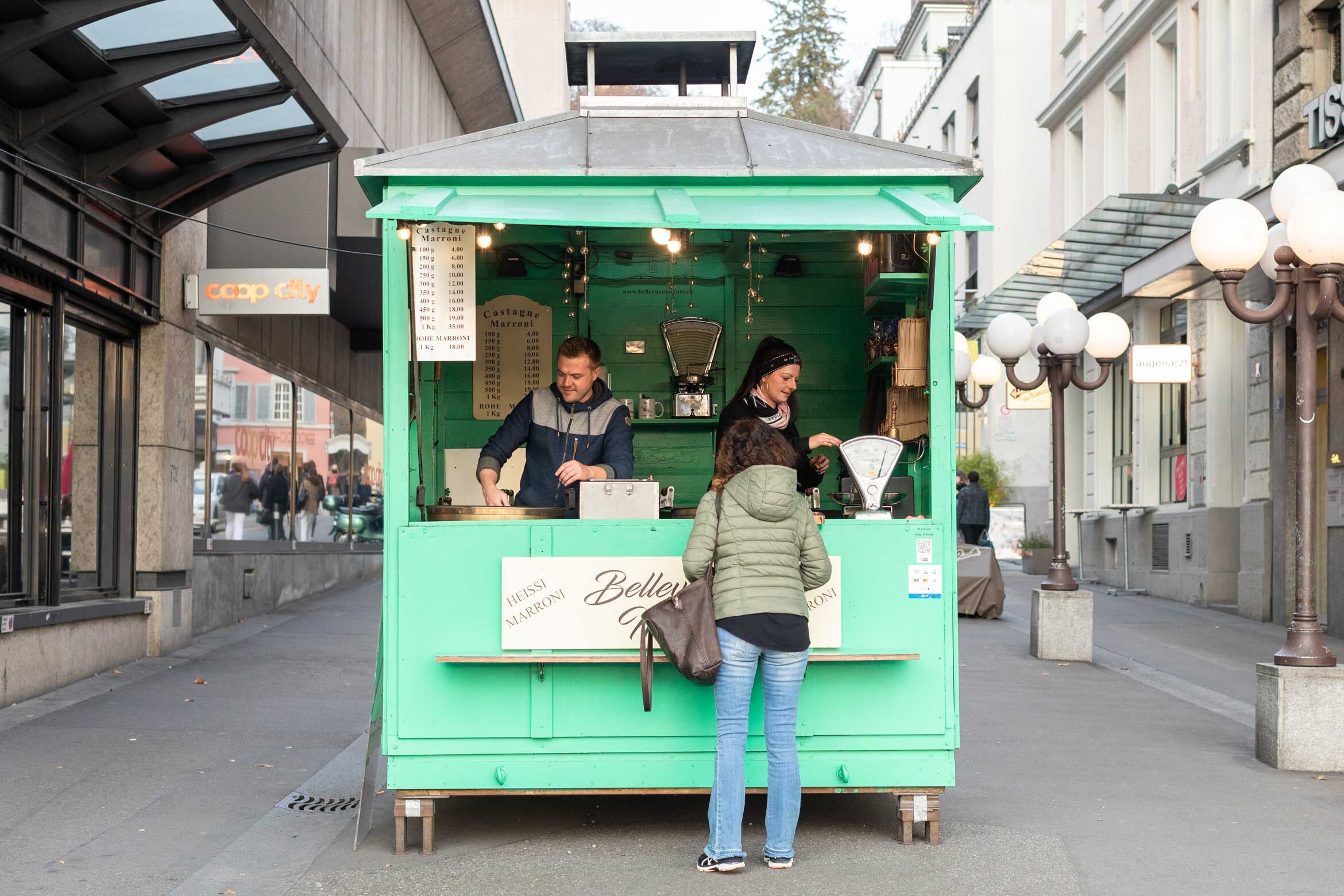 Now Severin and Anna are their own bosses.
Pavol died suddenly in 2018: 'We had to make a fast decision about whether to continue with the stall.' Until then, Anna and her partner Severin Rutishauser had just helped out at weekends. But after Pavol's death, the couple decided to quit their desk jobs.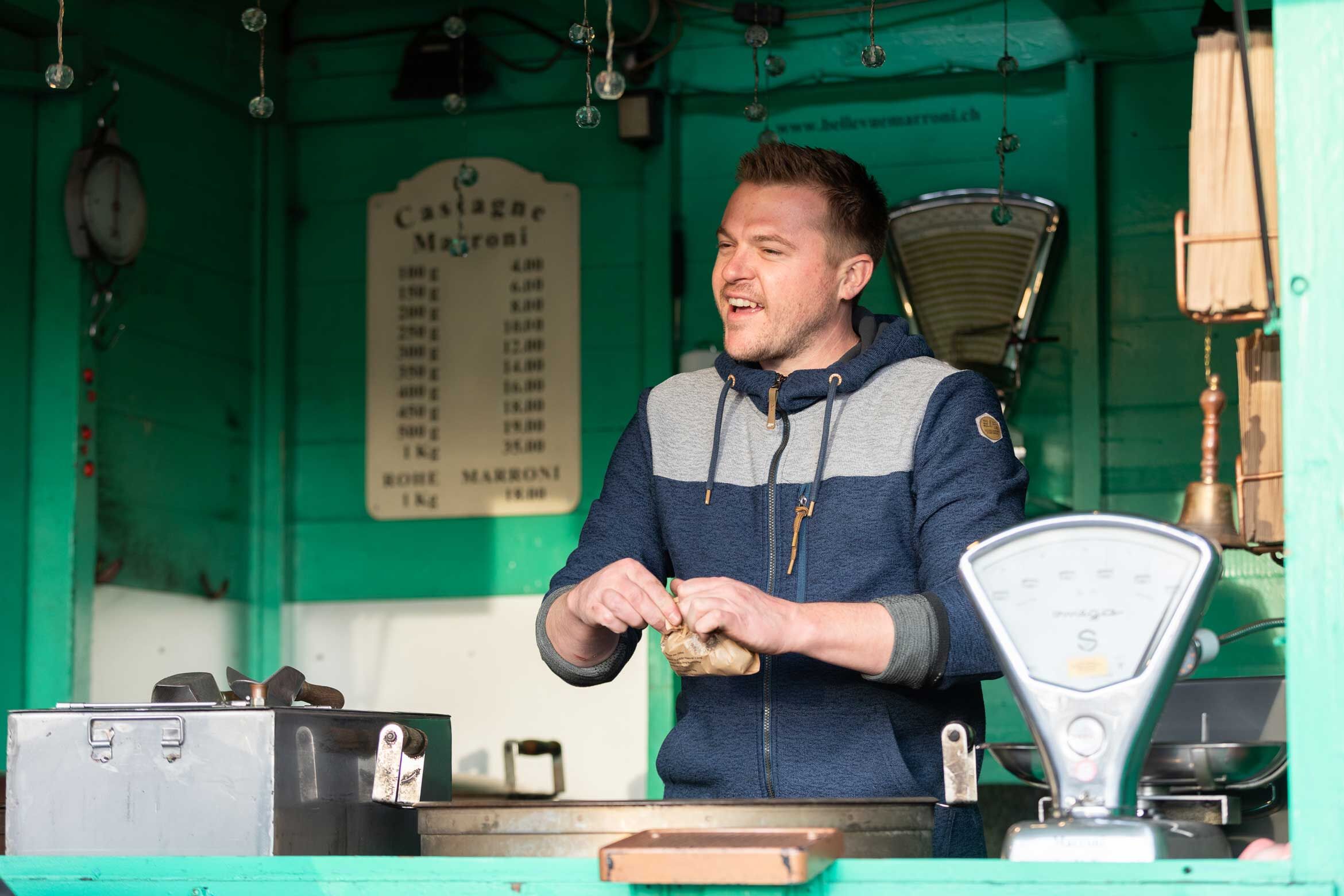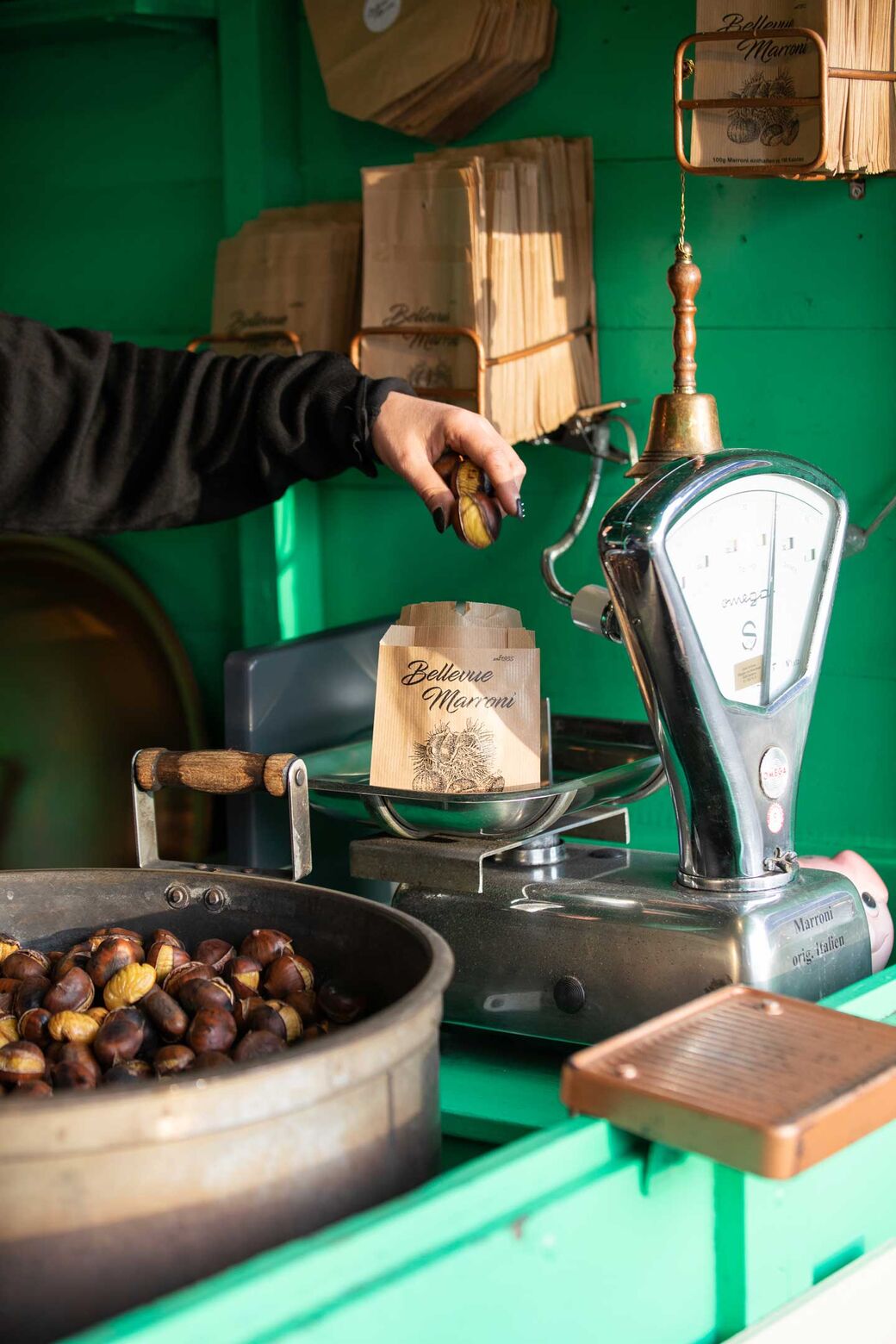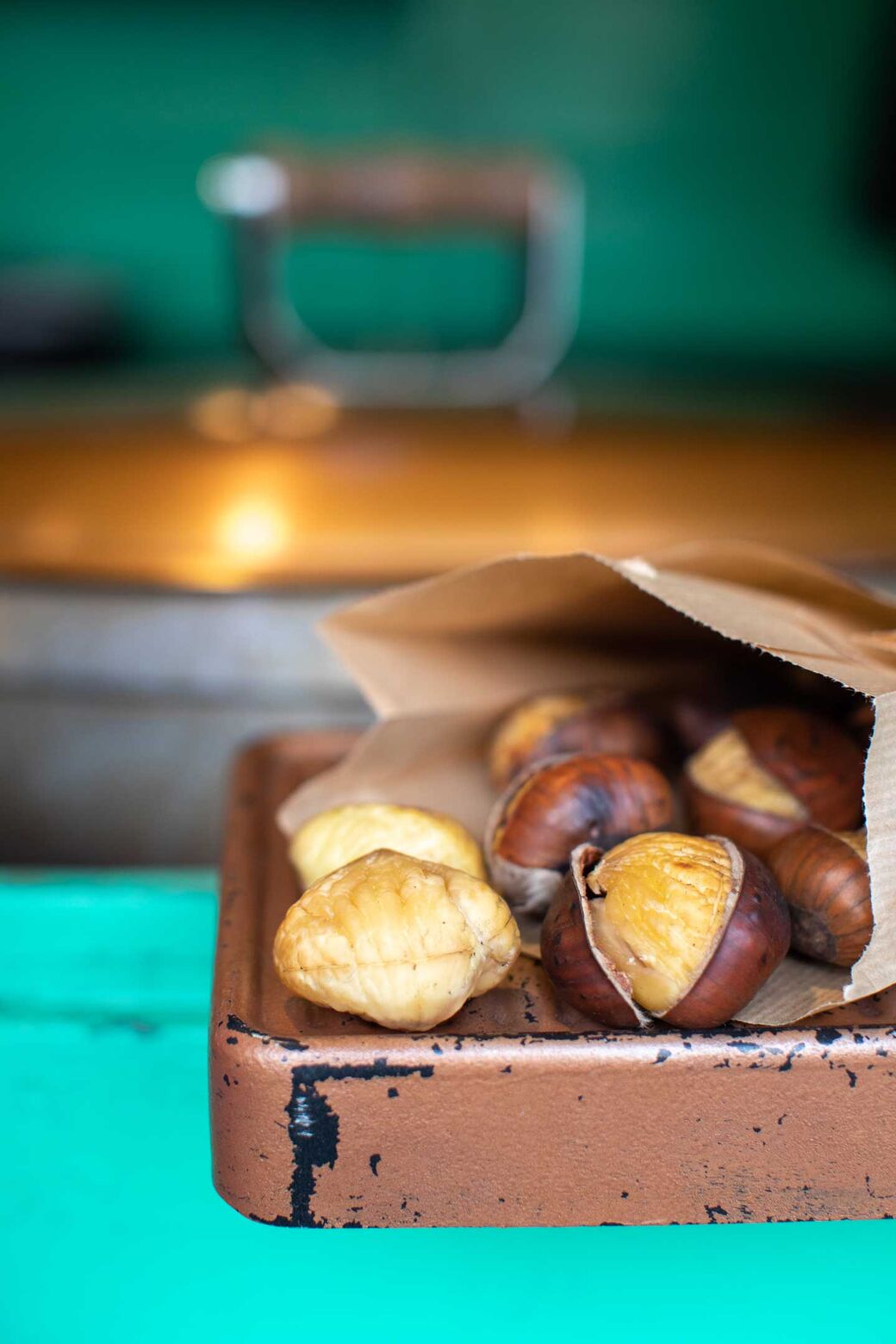 'Of course, it was a big change, but I have never regretted our decision,' says Severin. Anna adds: 'I just wish we'd done it much earlier.' She likes being her own boss.
Anna and Severin work on the maroni stall from October to March. Then they enjoy the summer in their 'rustico', a simple cottage in Ticino. 'It's pretty much a dream job – even though the days are long and tiring,' says Anna. But she knows most people see it differently. 'Chestnut roasters aren't generally held in high esteem.'
The chestnuts grow in a forest in Italy.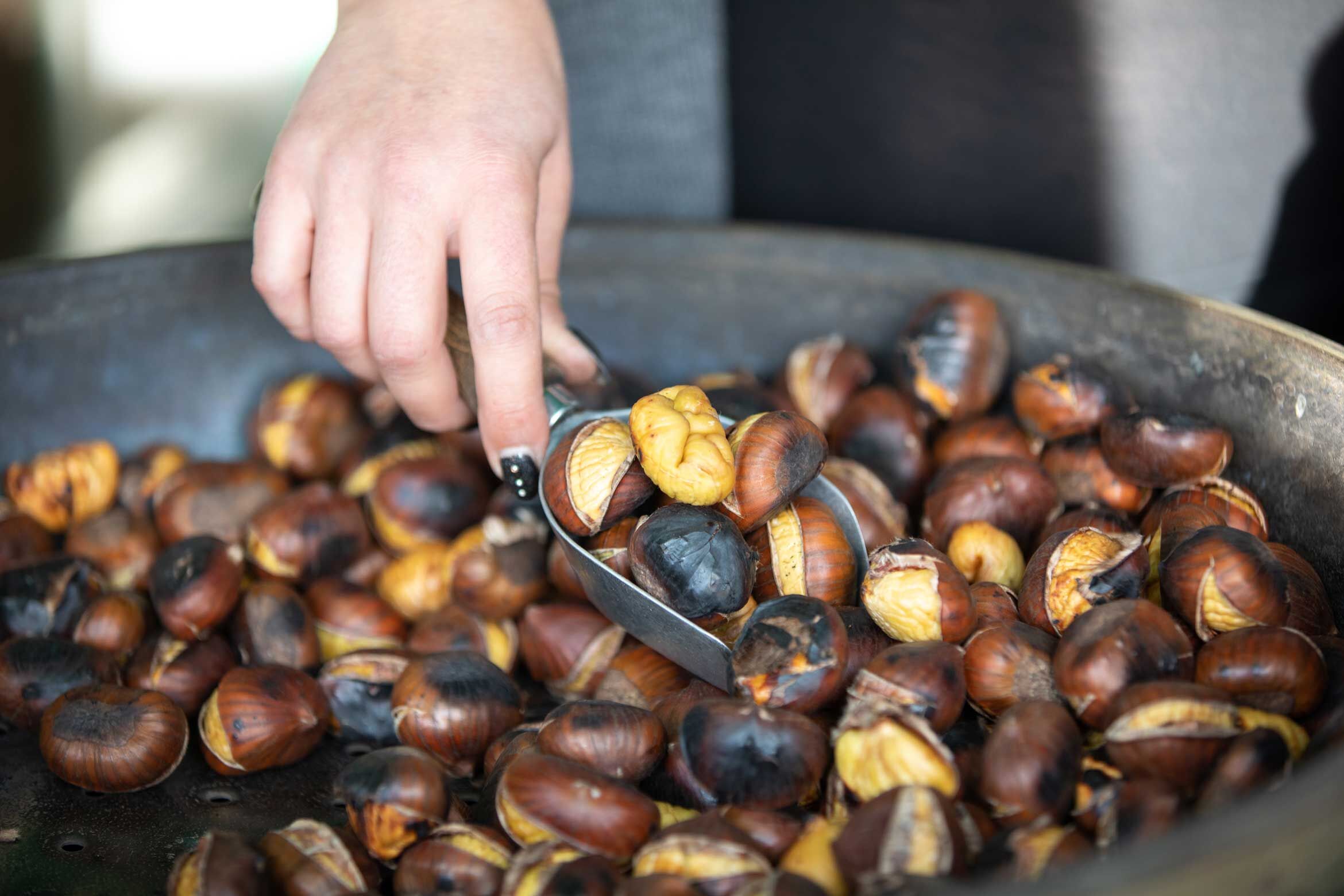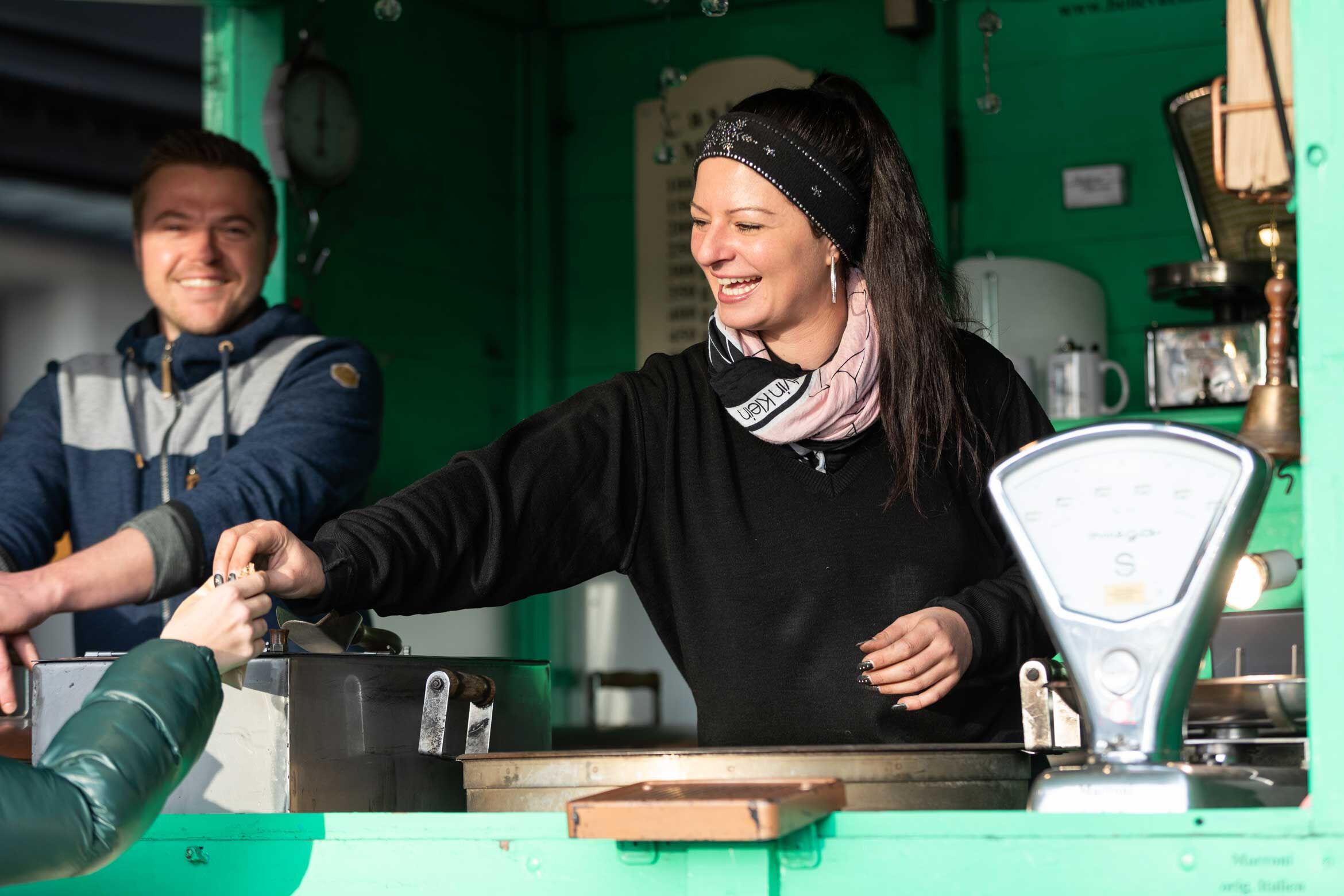 There's no official training to become a chestnut roaster: 'Most people just take over the family stall,' says Anna. She and Severin learned the art of chestnut roasting from Pavol Visnovsky, including how to cut them properly. 'Many of our competitors order their nuts pre-cut by machines,' says Anna
But this makes them more difficult to peel. 'When you cut them by hand, the cuts are more even and spread across the whole "belly" of the chestnut.' Unlike most maroni sellers in Zurich, the couple buy their chestnuts directly from Italy rather than through a middleman: 'We have visited the forest near Bologna,' says Severin.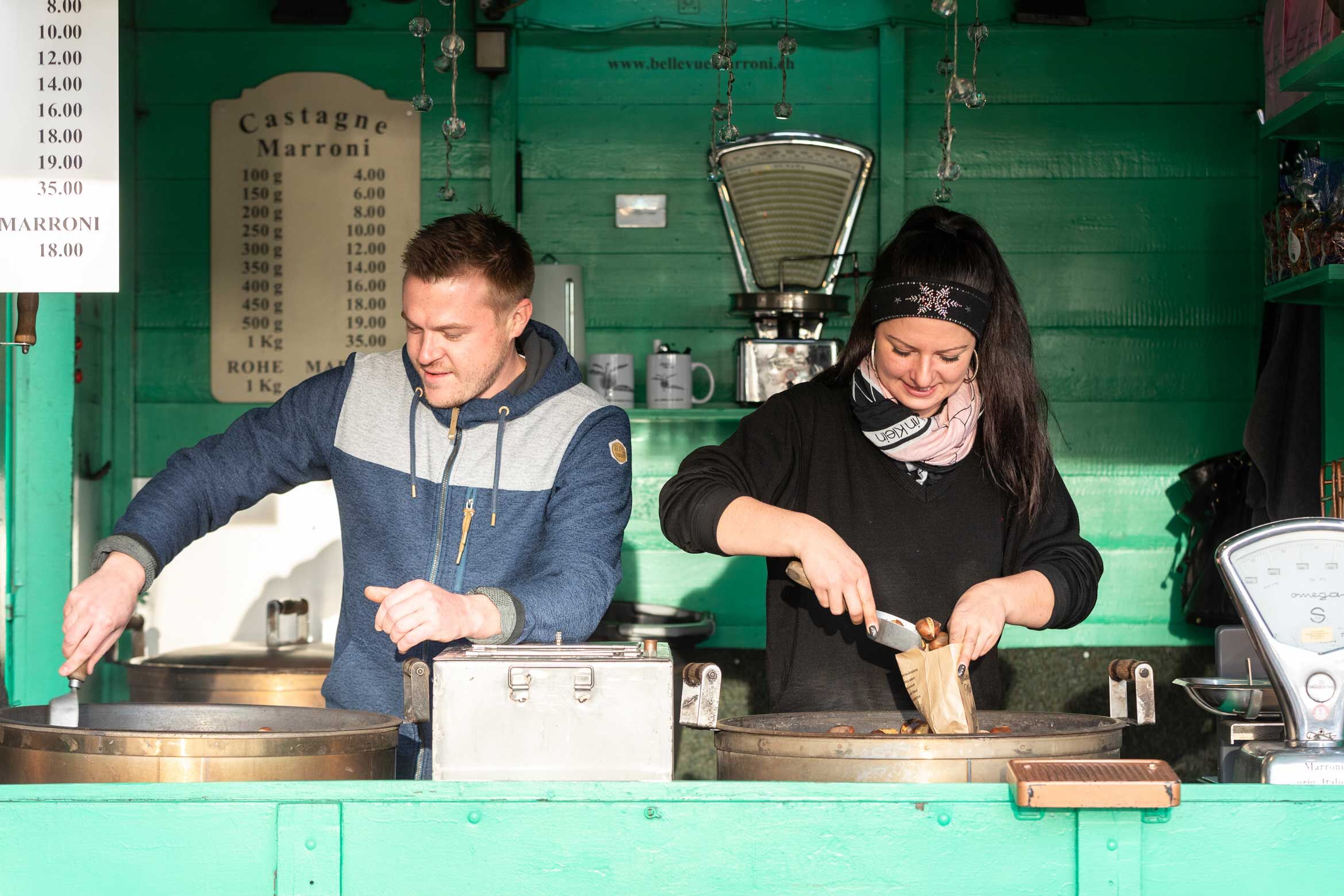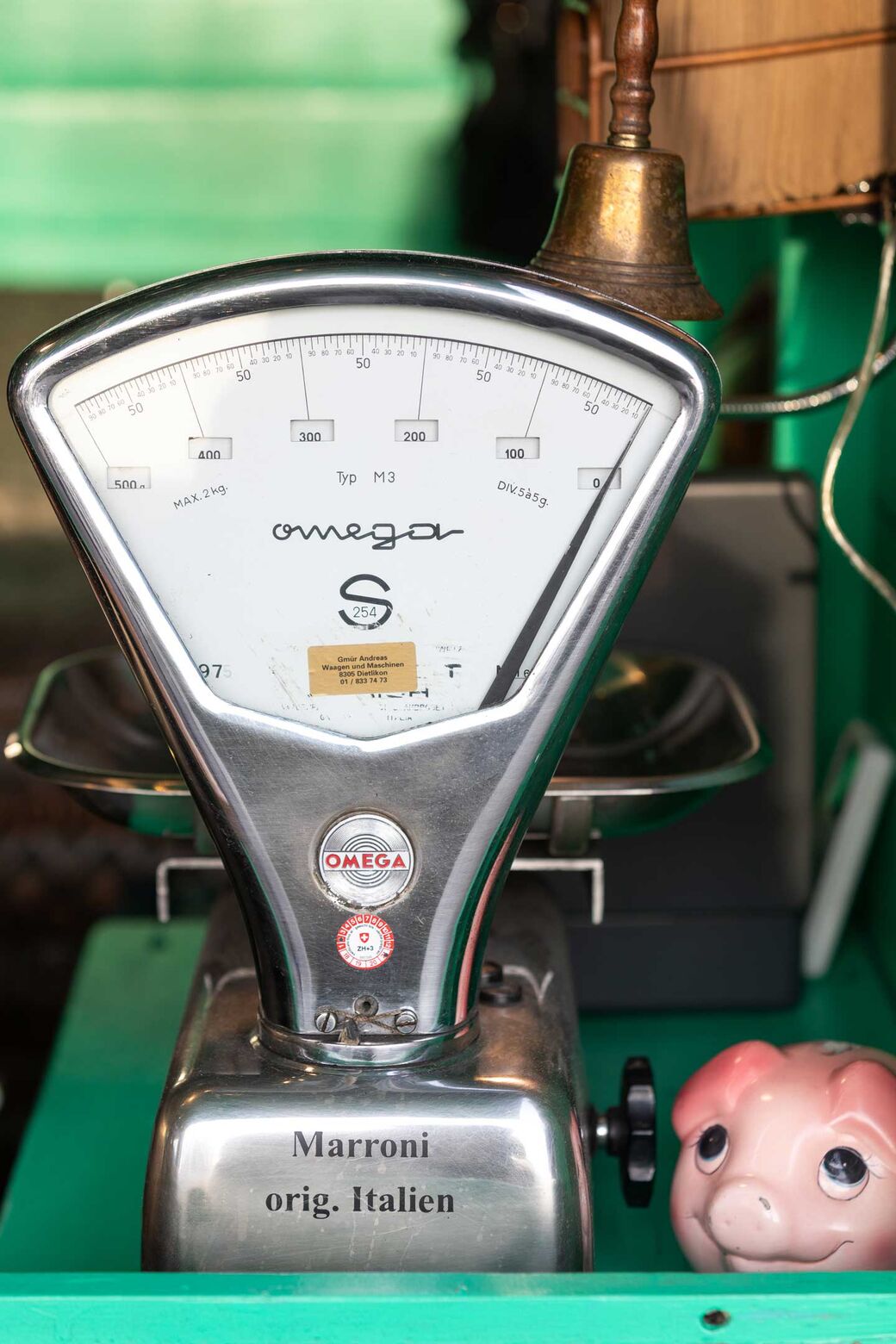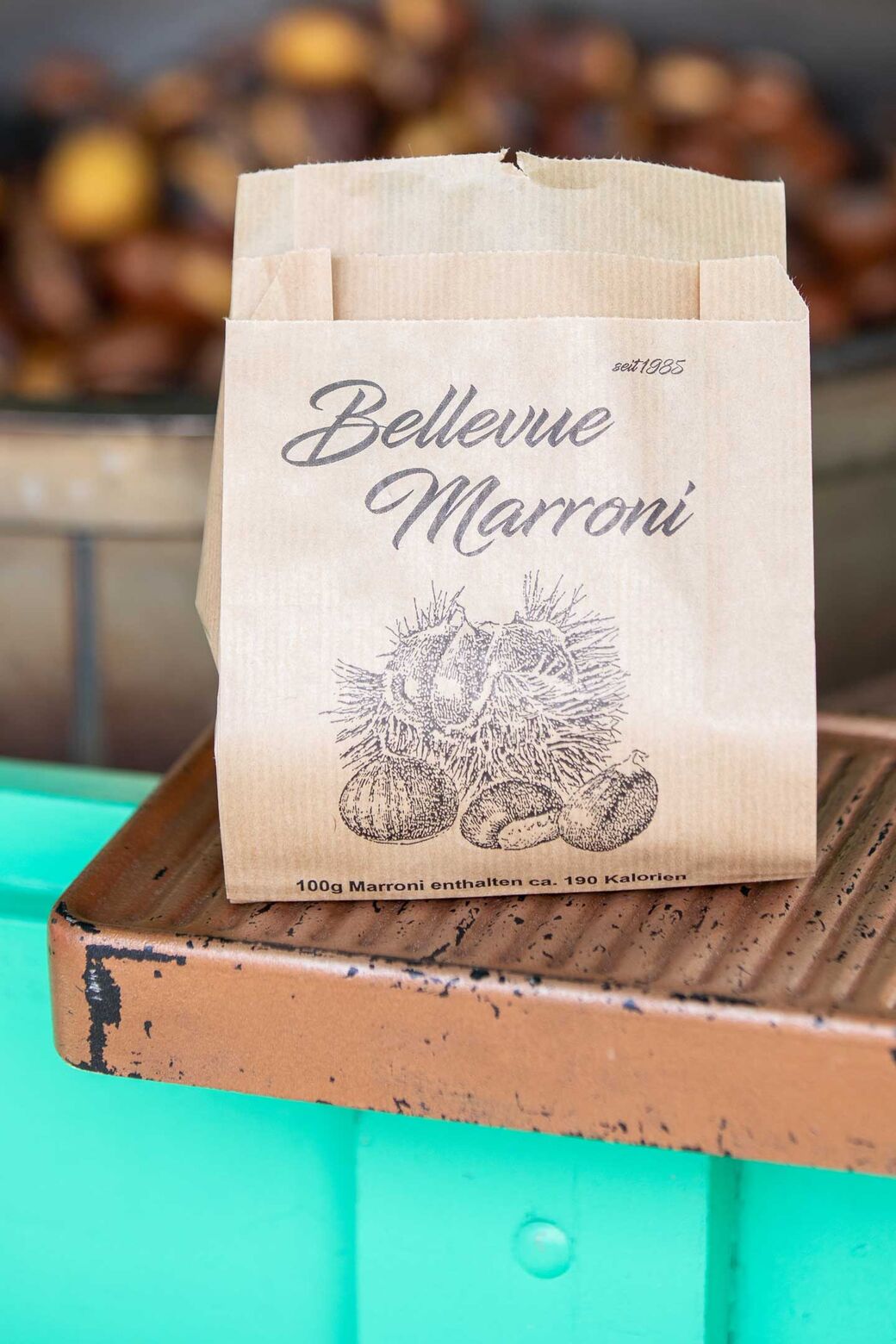 Chestnuts make the perfect snack.
The couple sell up to 50 kilos of chestnuts a day, mainly at lunchtime and in the evenings. 'Some customers in their seventies have been shopping with us since the early days,' says Anna. But younger customers love maroni too: 'At the moment our two best customers are two-and-a-half and 18 months old!' says Anna with a laugh. Some of the little ones love the stall so much that they make thank-you cards: 'Most children love chestnuts,' says Severin. They are extremely healthy: 'They make the perfect snack because they're packed with vitamins and nutrients.' Every day, he and Anna eat 200 grams of chestnuts each: 'We're always sampling them.'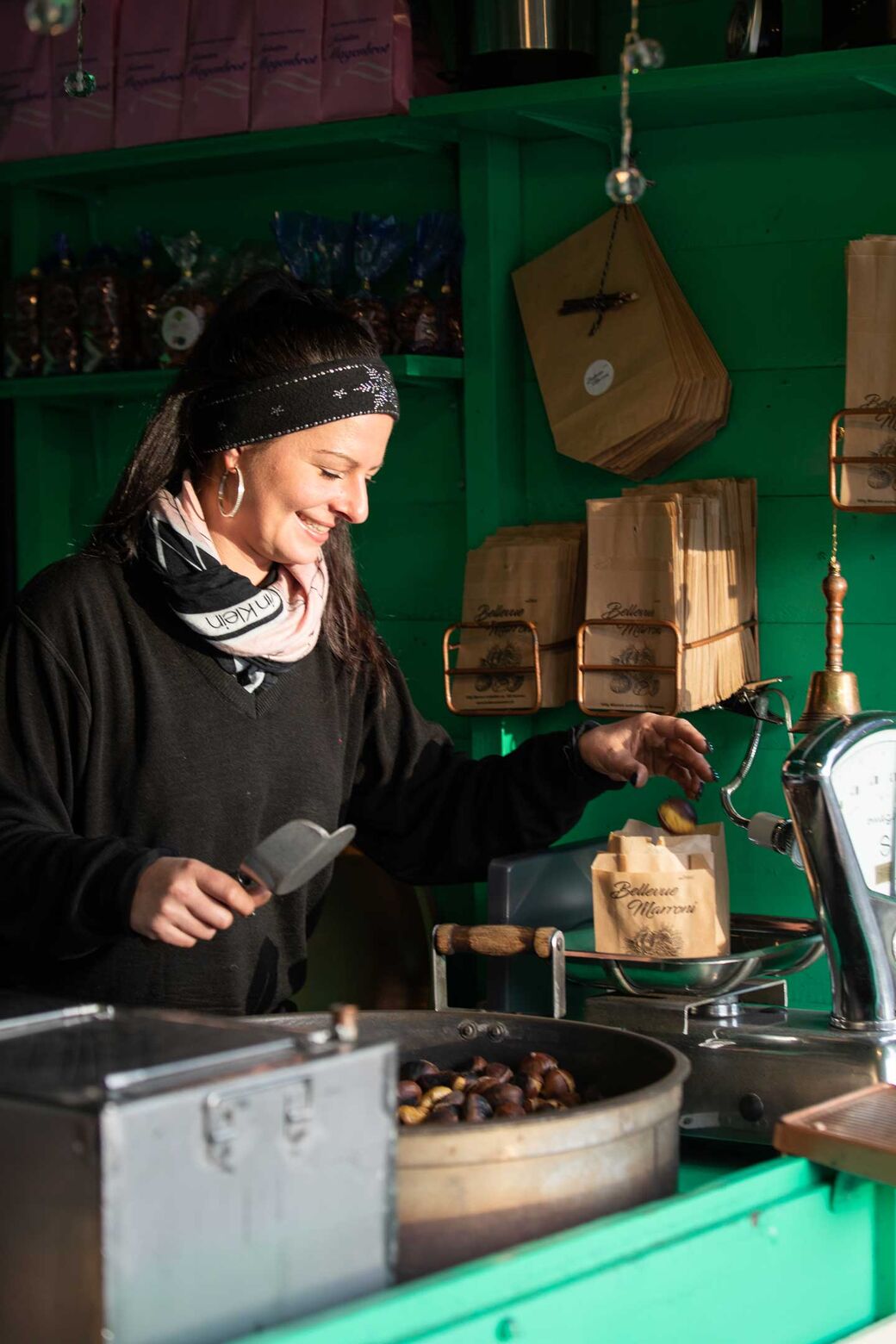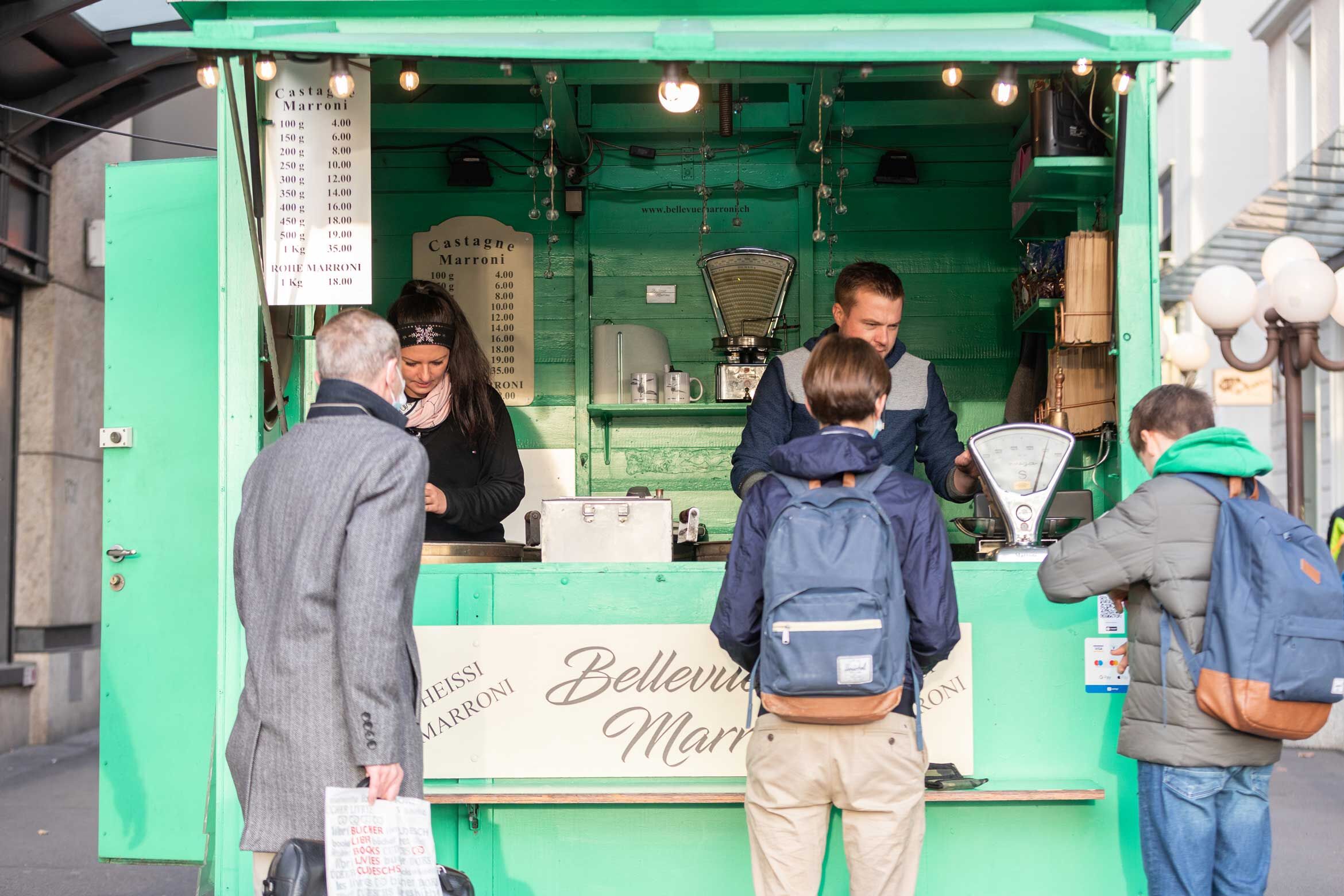 You can also buy raw chestnuts at Bellevue Marroni. 'They're easy to roast in the oven,' says Anna. 'But one thing is important – never cut the chestnuts crosswise!' There's also no need to add extra liquid: 'On the stall we never add water to the pans.'
Address
Bellevue Marroni
Theaterstrasse / Urbangasse
8001 Zurich
Website
Opening hours
October to March
Monday to Saturday, 11 am – 7 pm Sunday, 11:30 am – 6 pm
Opening hours may vary depending on the weather.
View posts by interests, or use the proximity search and additional filters.
Try it out
.
Save posts as favourites – simply click on the heart symbol in the upper right corner of the post.