Fein & Dein
Old furniture and everyday objects have a story to tell. Interior designer and carpenter Ayal Haneman gives them a voice.
Located in Zurich's Kreis 3, Ayal Haneman's Fein & Dein shop sells furniture he has restored himself, along with glasses, vases, crockery, objets d'art and a whole range of other items he's discovered on his rambles. 'The objects I come across used to be a part of someone's everyday life,' says Ayal. 'I want to give them back that sense of belonging.' Ayal also believes that the perfect table should be complemented by high-quality foods. He's been importing delicacies from his native Israel for many years.
When I walk into Ayal Haneman's shop on Sihlfeldstrasse on a brisk morning, shivering, I say, 'You must really miss Israel.' Ayal gazes out into the rain and smiles. On the contrary, he says, he picked Zurich very much on purpose. The city is a good match for him, and he's a good match for it.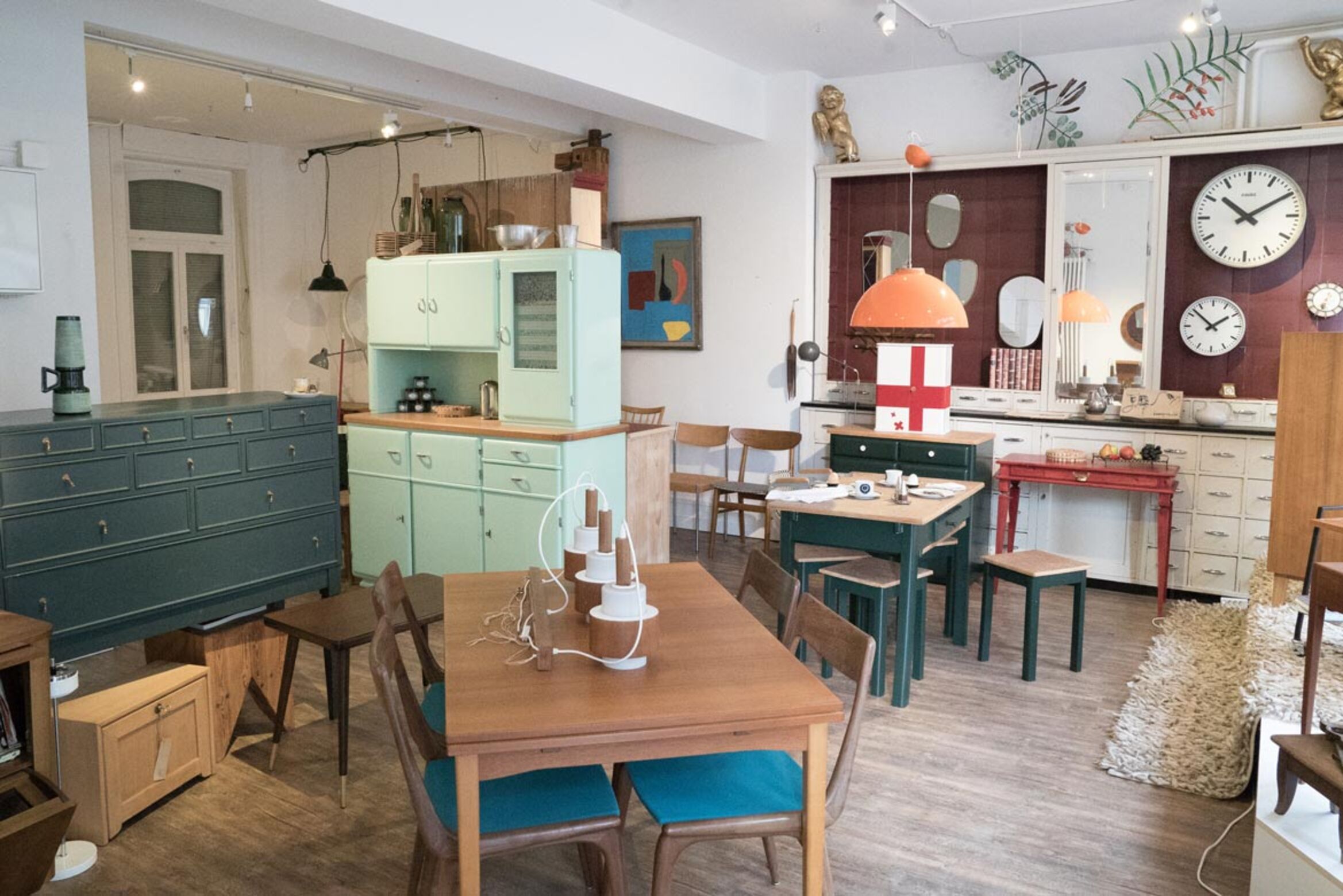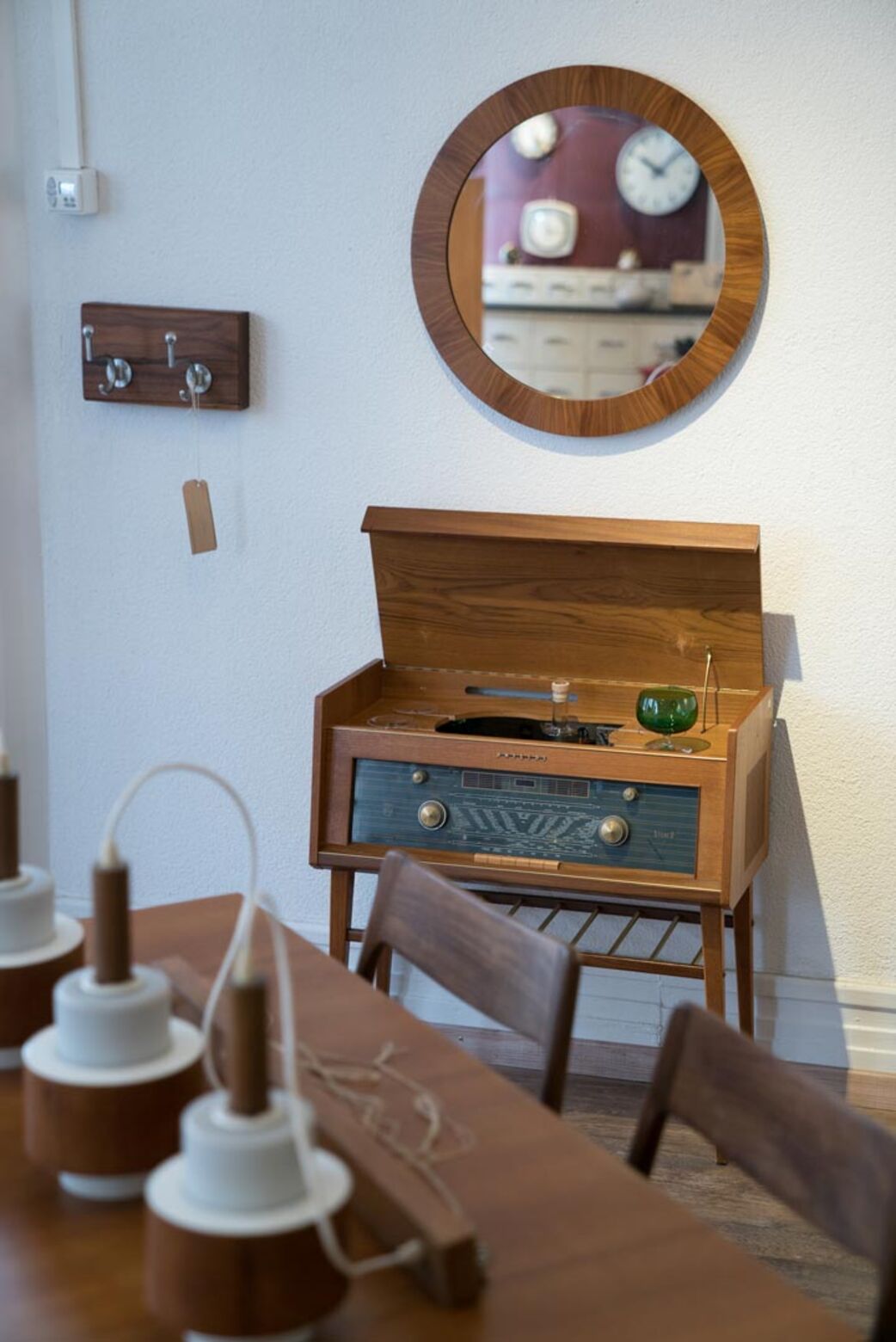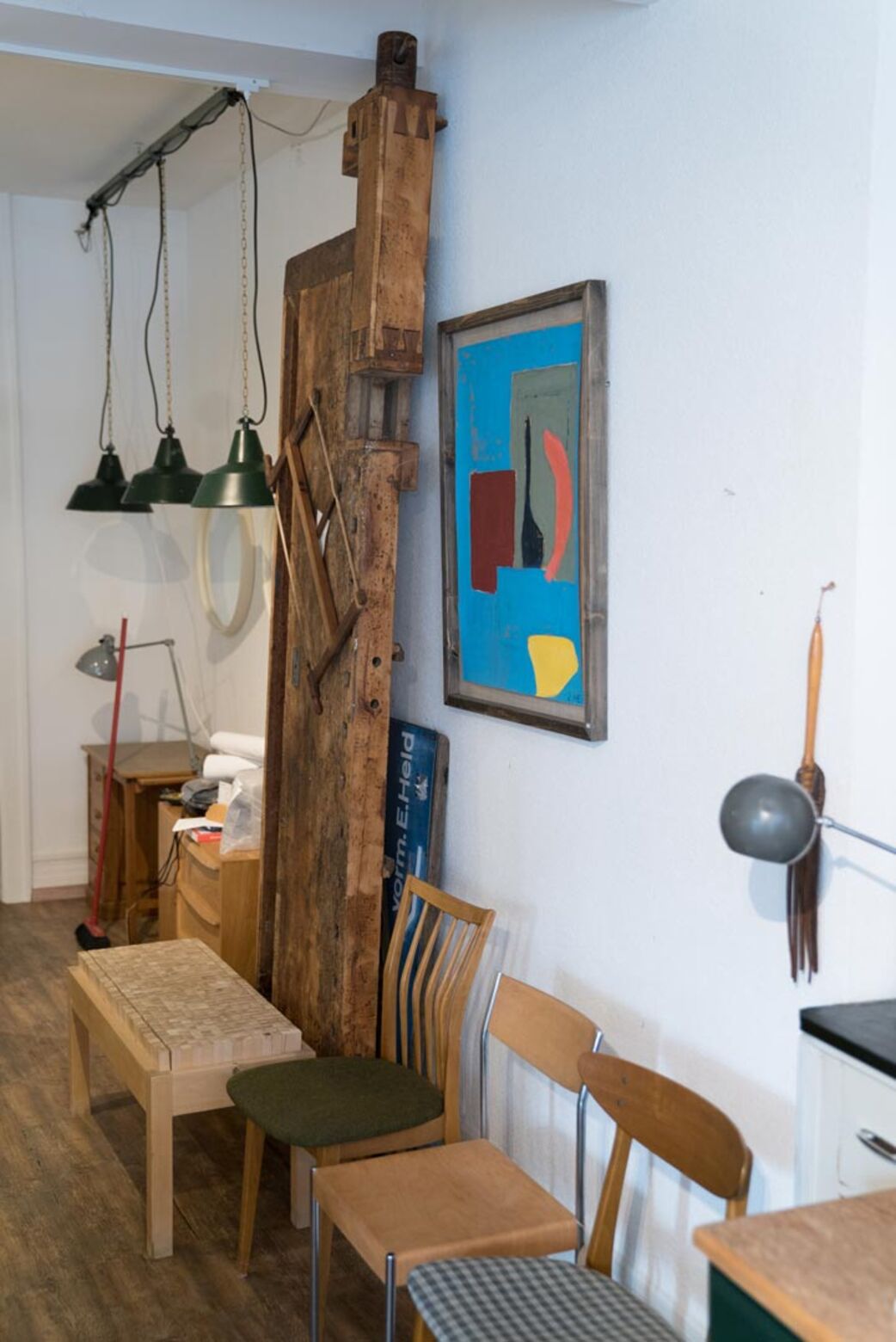 He's been living in Zurich for nine years and running Fein & Dein in Kreis 3 together with his wife Judith since 2014. The neighbourhood has changed in recent years. Since through-traffic restrictions were implemented, the streets have become much livelier – at least during the warmer months – more like those Ayal is accustomed to from Israel. Cafés, restaurants and bars with small terraces have opened up.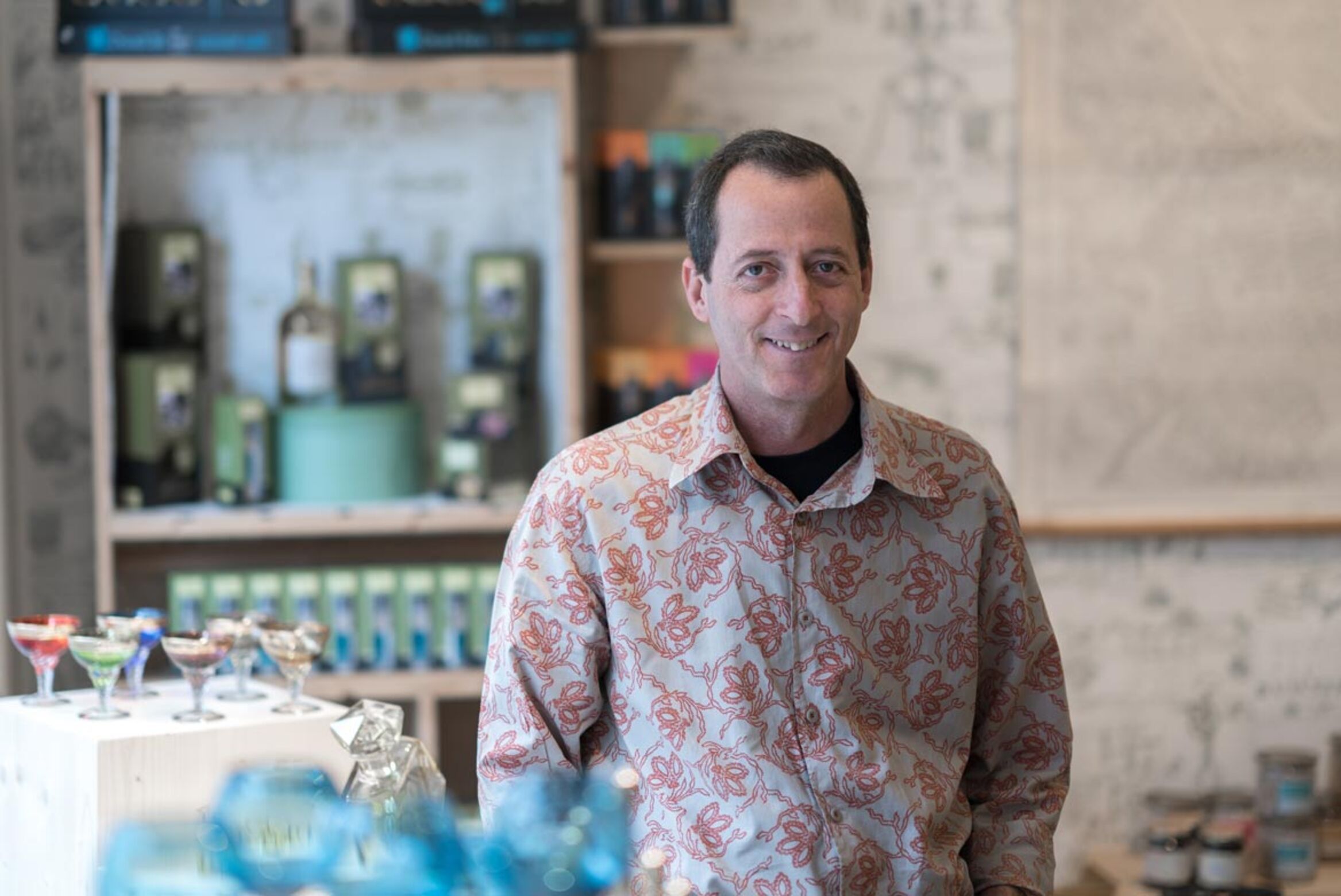 To generate publicity, he built a doll's house-sized wooden chalet, which he mounted on a bicycle trailer.
Fein & Dein started out as a pop-up store next to Café Piazza, located at the bustling Idaplatz. It was there that Ayal tested out his store concept. To generate publicity for the shop, he built a doll's house-sized wooden chalet, which he mounted on a bicycle trailer. He parked the chalet at various locations around the neighbourhood. Children played with it; adults inspected it curiously. The chalet and, later, the pop-up store quickly became the topic of conversation in the neighbourhood. It was clear to Ayal that it was time to turn the idea into something more permanent.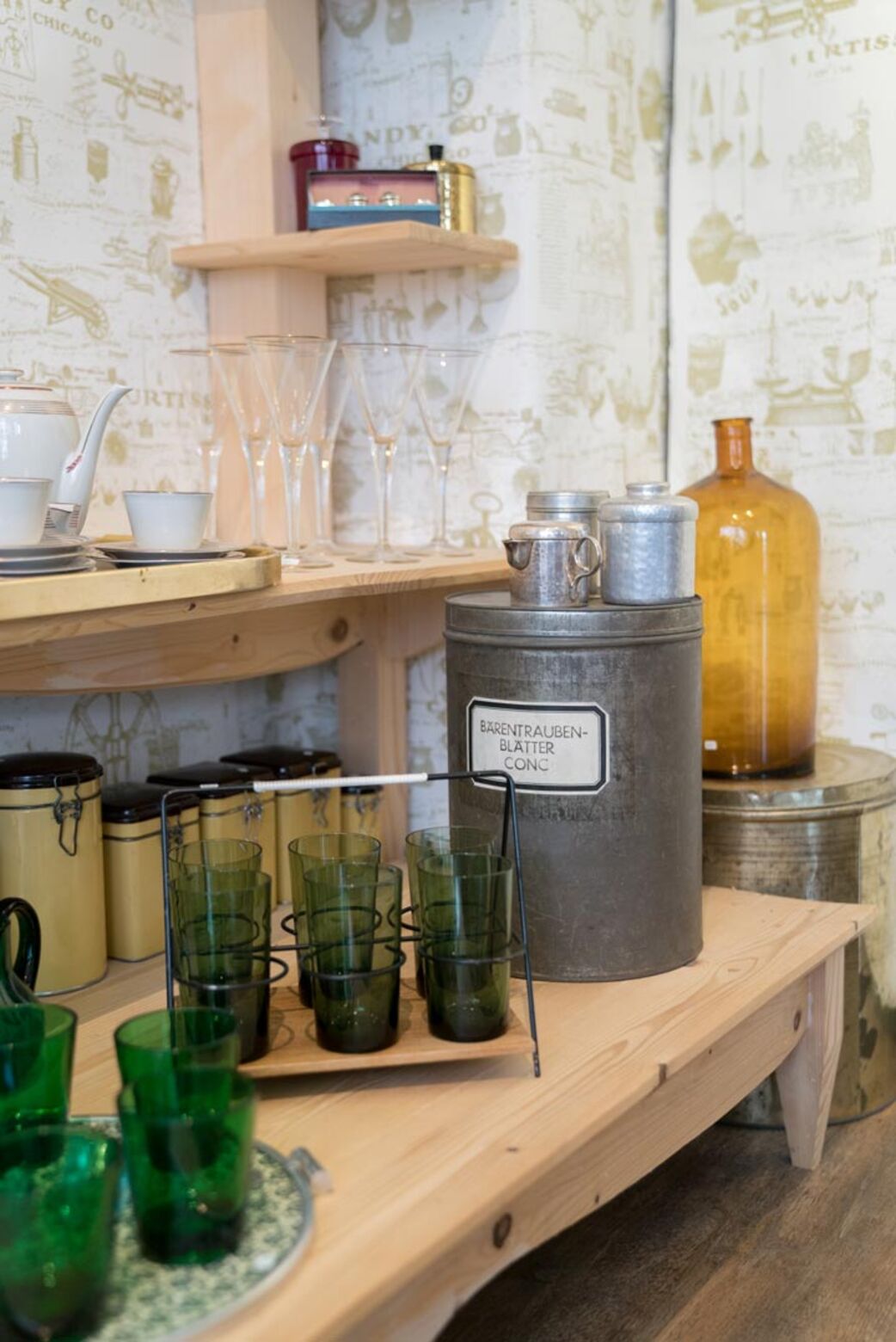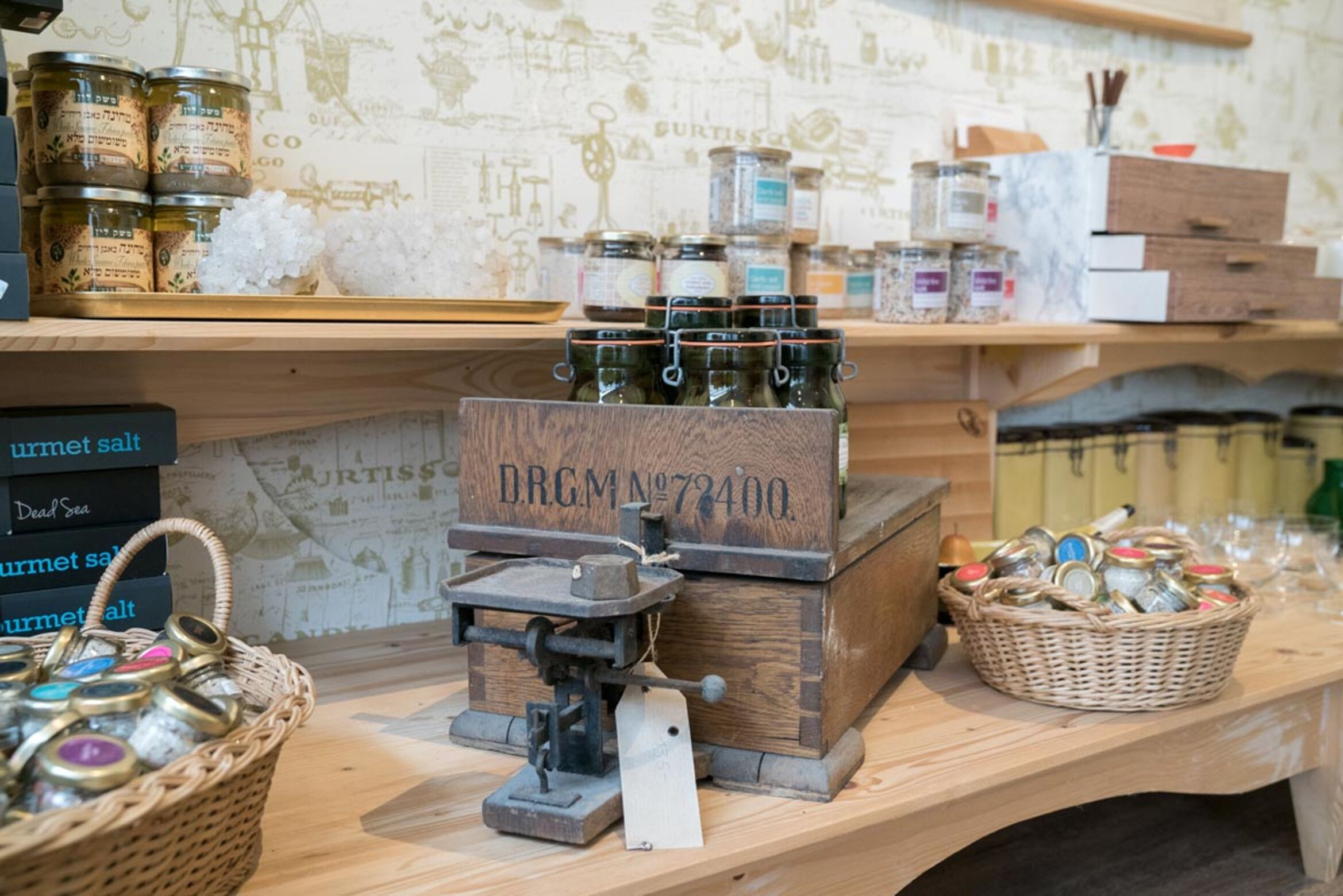 From the very beginning, Ayal wanted to offer more than just refurbished furniture and everyday household objects. He also wanted to sell culinary delights from the Middle East. For generations, his family has grown olives in the sunny climate of Galilee. But Ayal imports more than just olives and olive oil; you'll also find date honey from the Jordan Valley, tahini from Nazareth and a selection of Dead Sea salts. The products have been so popular that Ayal and his wife will start offering cooking classes in March. 'There's so much you can do with it all. We want to show people what they can make with what we sell.' Time and again, he asks customers whether they know, for example, what to do with sesame paste. Many tell him that they simply spread the tahini directly on flatbread. 'No,' says Ayal, shaking his head and smiling. 'You have to mix the paste with water, garlic, lemon juice and paprika. Mmm...'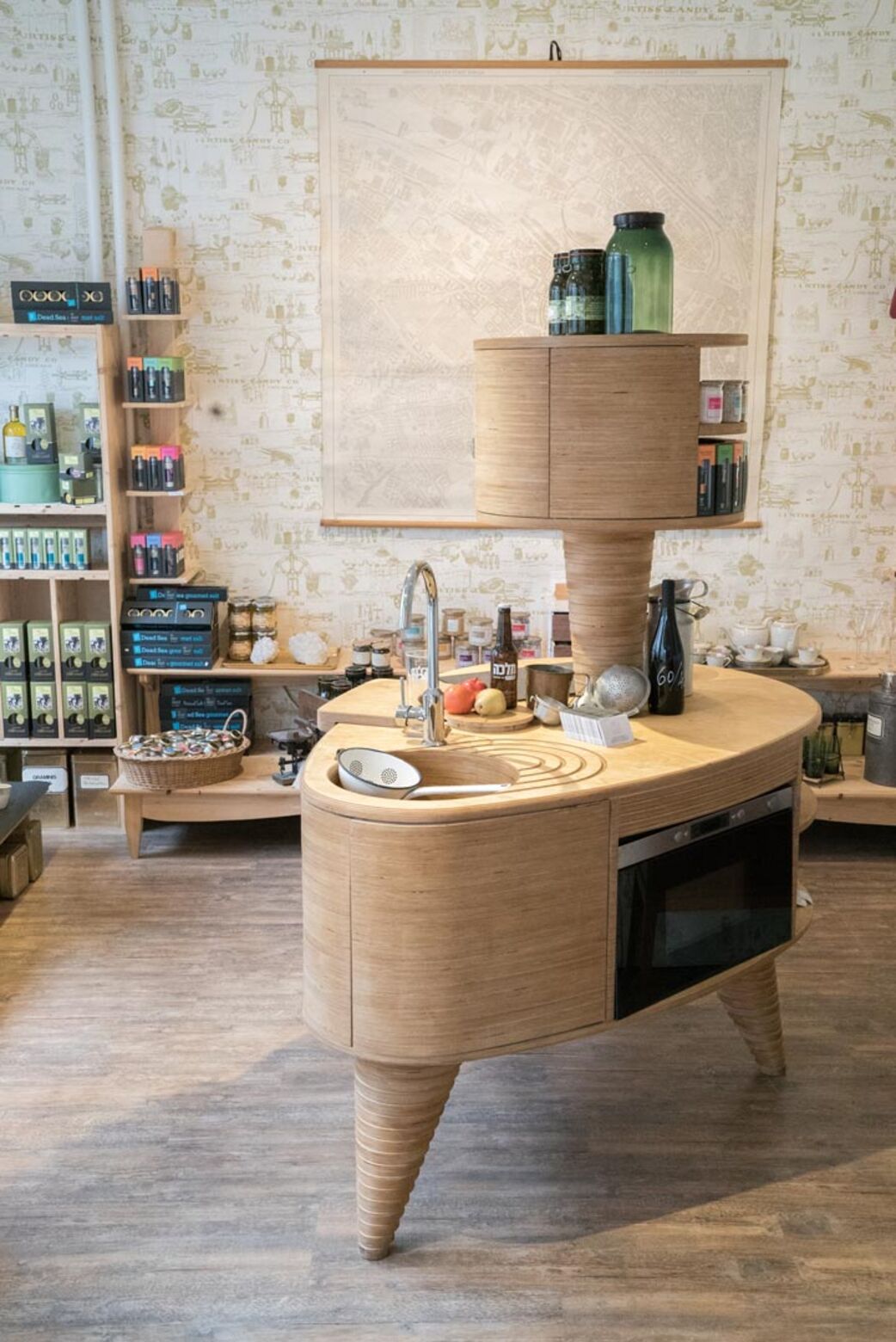 Anyone interested in taking a cooking class from Ayal will have the pleasure of seeing the kitchen that he himself designed. It's made of wood and very round. There's an integrated hob, oven, sink, and even an extractor hood. In contrast to most kitchen furniture, however, cooks won't have to turn their back on their guests when preparing something. No, Ayal's kitchen is an island at the centre of the room, which encourages others to be active participants.
'Each owner gives the furniture a bit of their spirit. I want to make this spirit visible.'
He was inspired by an old piece of kitchen furniture from the forties – compact, practical and yet a real eye-catcher. Ayal shows me the kitchen buffet, which he has painstakingly restored and painted in mint tones. 'You know,' he says quietly, as he runs his hand along the smooth surface of the wood countertop, 'this buffet used to be in the kitchen of a woman who spent hours there every day, preparing food for her family.'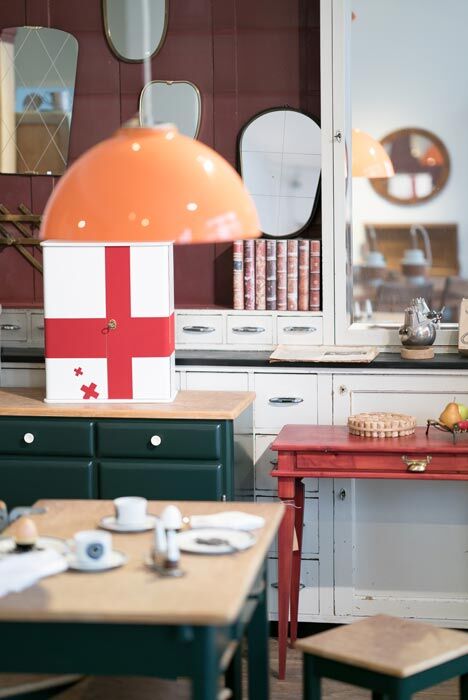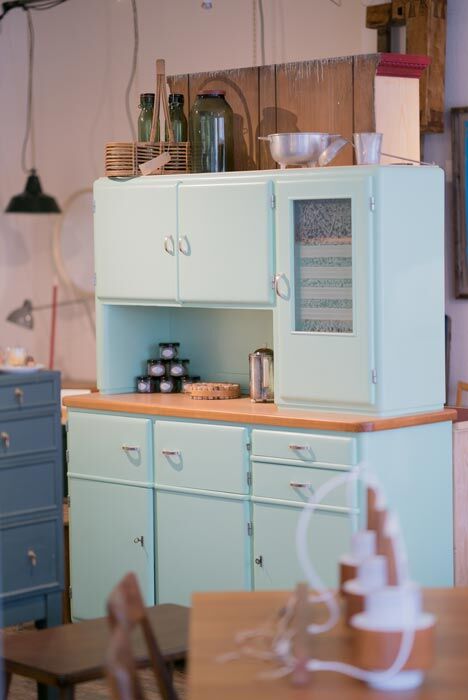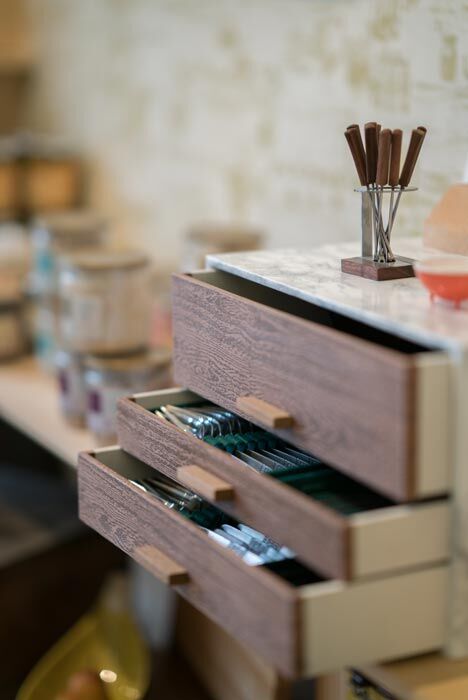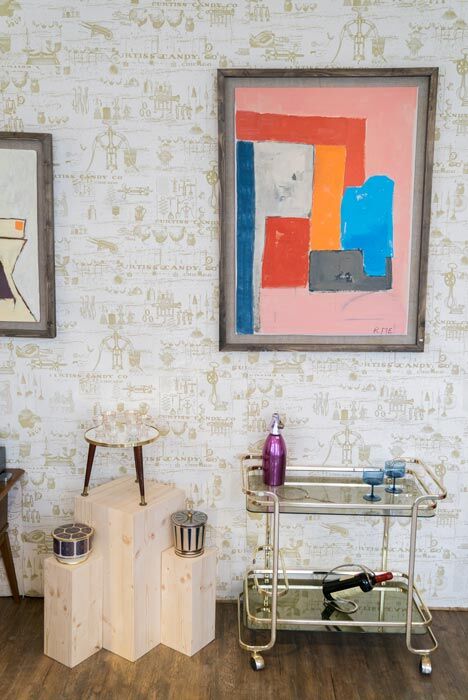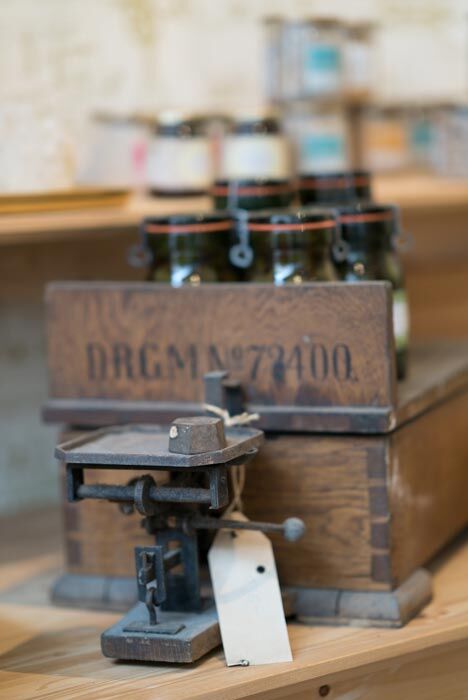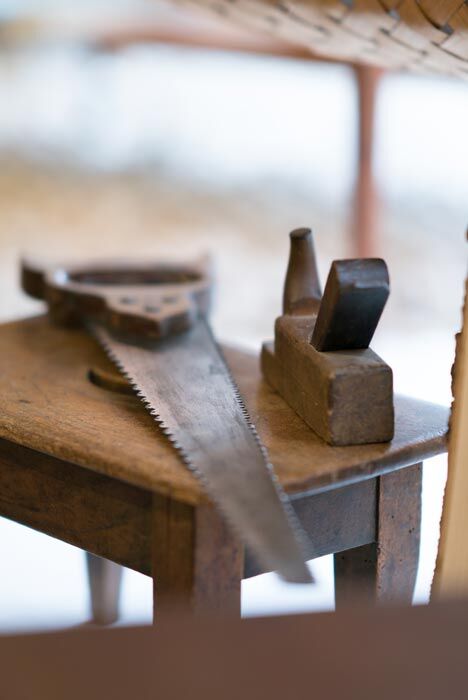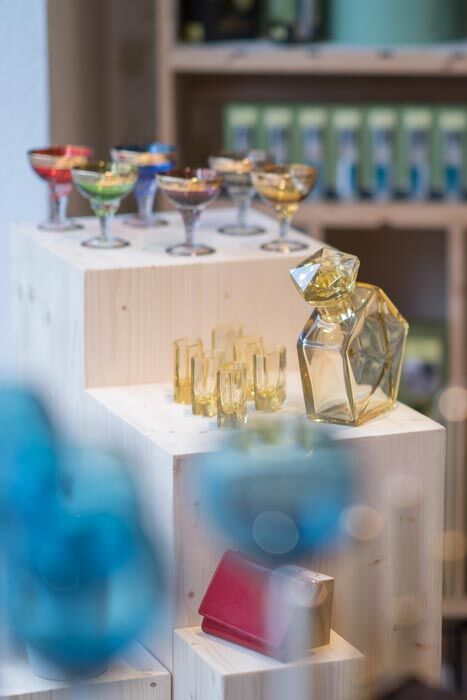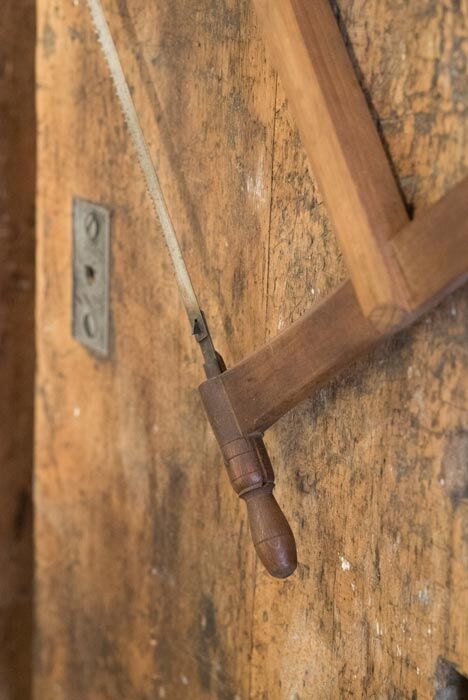 Suddenly, a somewhat sappy chanson resounds throughout the quiet shop – the whispery vocals of Mike Brant, an Israeli star from the seventies singing Laisse moi t'aimer. The music is coming from a record player built into a piece of stylish sixties-era furniture. Ayal has also taken an old wooden radio from the fifties and repurposed it into a little bar – with matching glasses and carafes, of course. All that's missing is the Cinzano with ice and lemon. 'Each owner gives the furniture a bit of their spirit,' says Ayal as he taps his foot to the beat. 'I want to make this spirit visible. Before I get my hands on them, these things have often been sitting in cellars or attics for years, forgotten. Now it's time to bring them back to life.'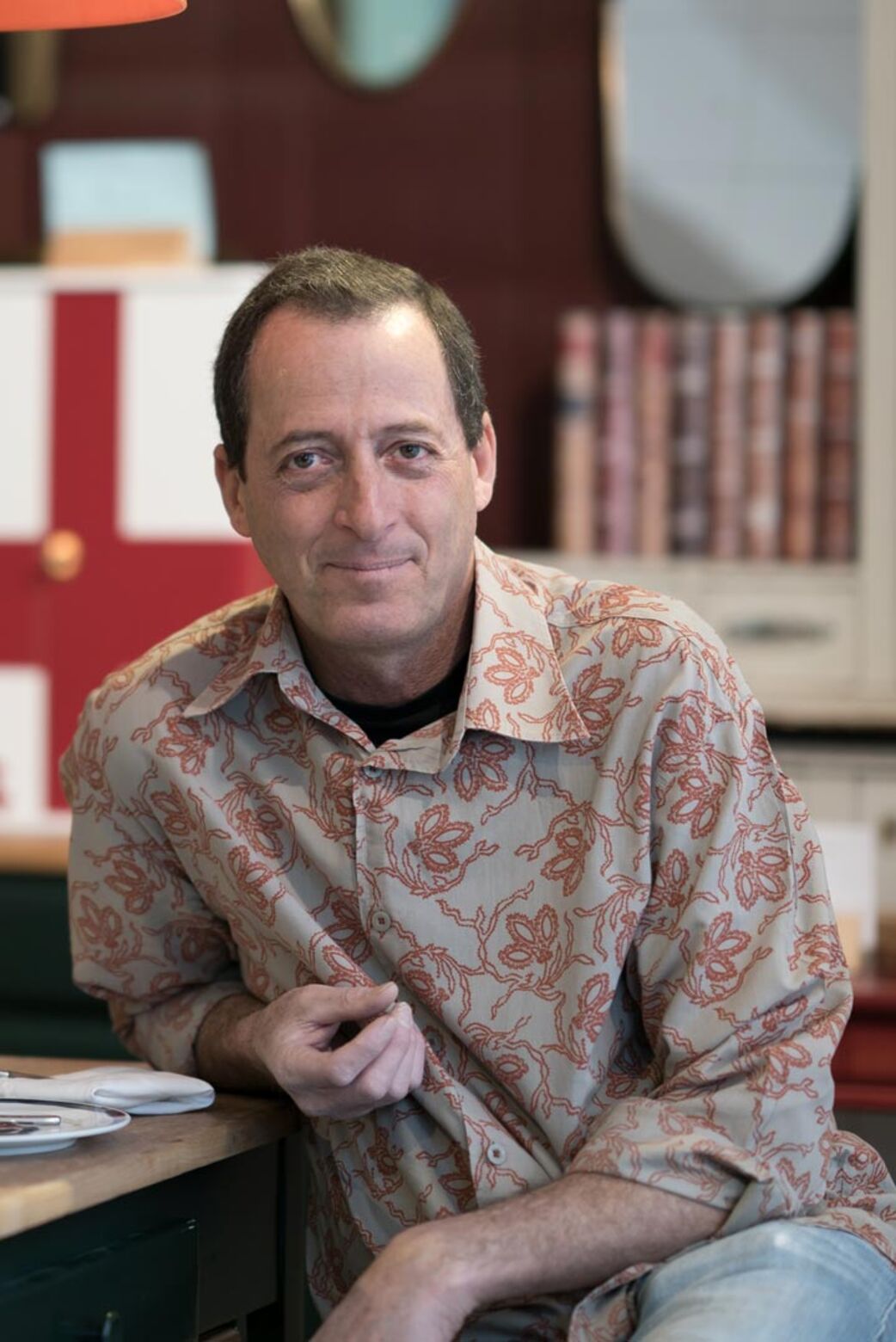 Does he have a hard time parting from the furniture he has discovered and restored when he sells it? 'No,' says Ayal as he looks around his shop. 'I spend a lot of time with the things, in the workshop and then here. Once they've found a new owner, our time together is over.'
View posts by interests, or use the proximity search and additional filters.
Try it out
.
Save posts as favourites – simply click on the heart symbol in the upper right corner of the post.