Enzian bakery
At the Enzian bakery, Daniela Treichler sells favourites like chocolate cookies, sandwiches and poppy seed slices – but all in a vegan version.
Enzian vegan bakery is located behind Oerlikon station. Daniela Treichler and her committed team work hard to come up with new recipes. And it's not only Zurich's vegans who love them.
Enzian bakery can be found on a street corner behind Oerlikon station. At first glance, it looks just like any other bakery. Peering through the large window, you spy a couple of tables. Sandwiches are displayed in the glass counter, along with piles of pastries and cakes, from chocolate croissants to marble cake and jammy dodgers. There's also vegetable quiche, nutty bread and a lunch menu. A shelf displays jams and sweet drinks, along with cloth bags bearing the words: 'yes - ve - gan'.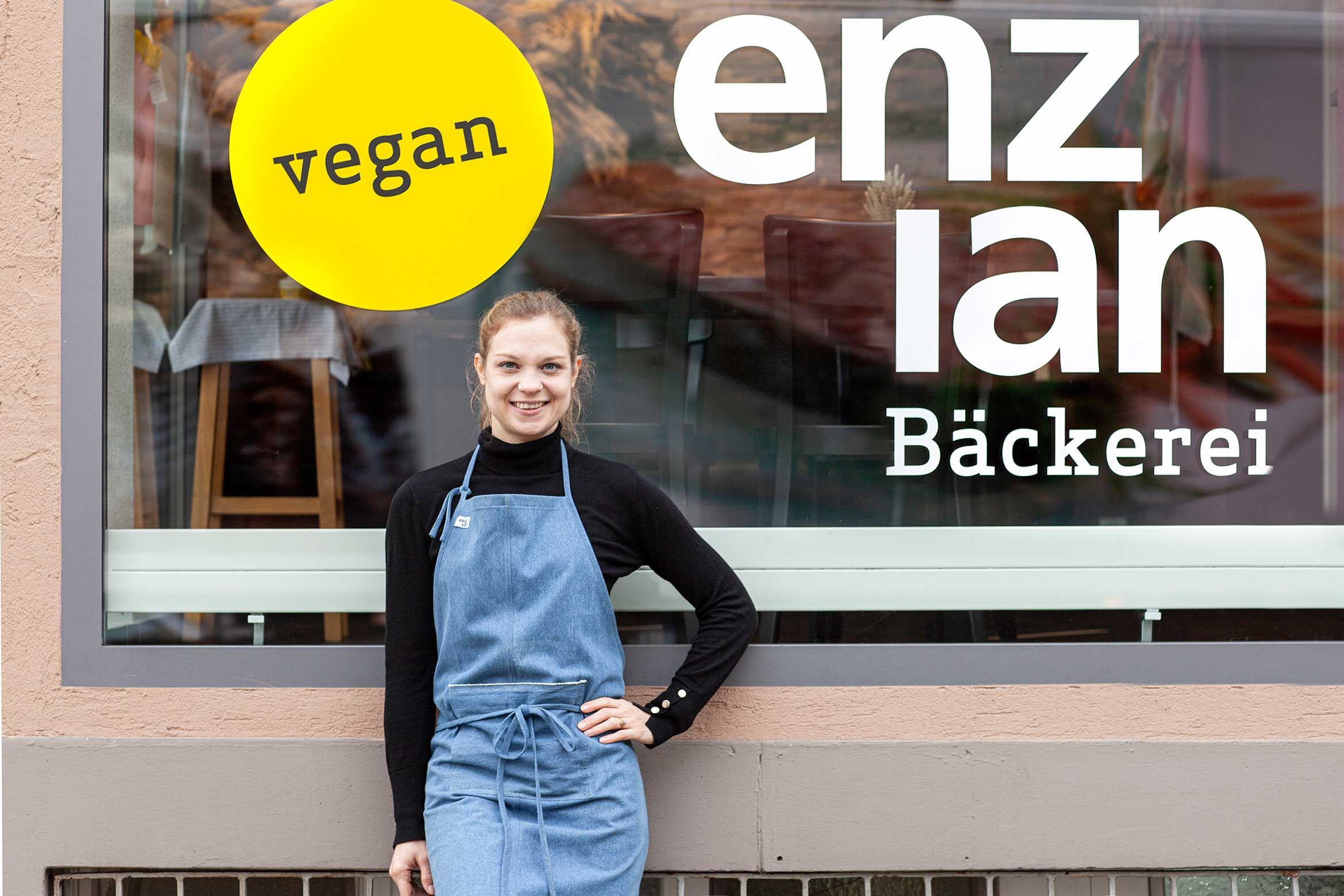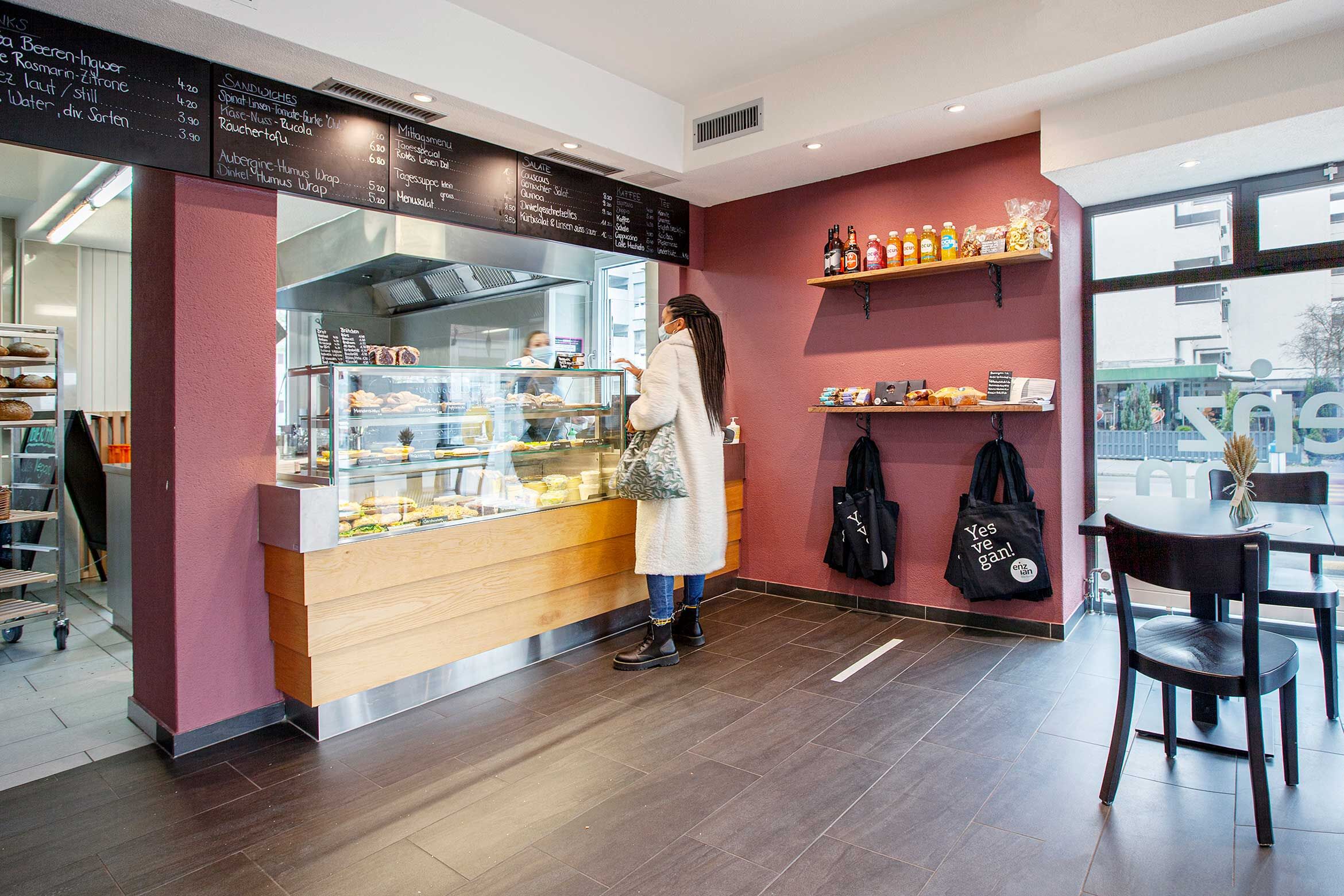 Enzian is a 100% vegan bakery. Here, products that normally involve lots of egg, milk and maybe little bits of ham are made with purely plant-based ingredients. 'The foundation decided it was worth a shot, and we're open to trying new things,' says Daniela Treichler, the manager of Enzian bakery. The bakery is run by a foundation of the same name.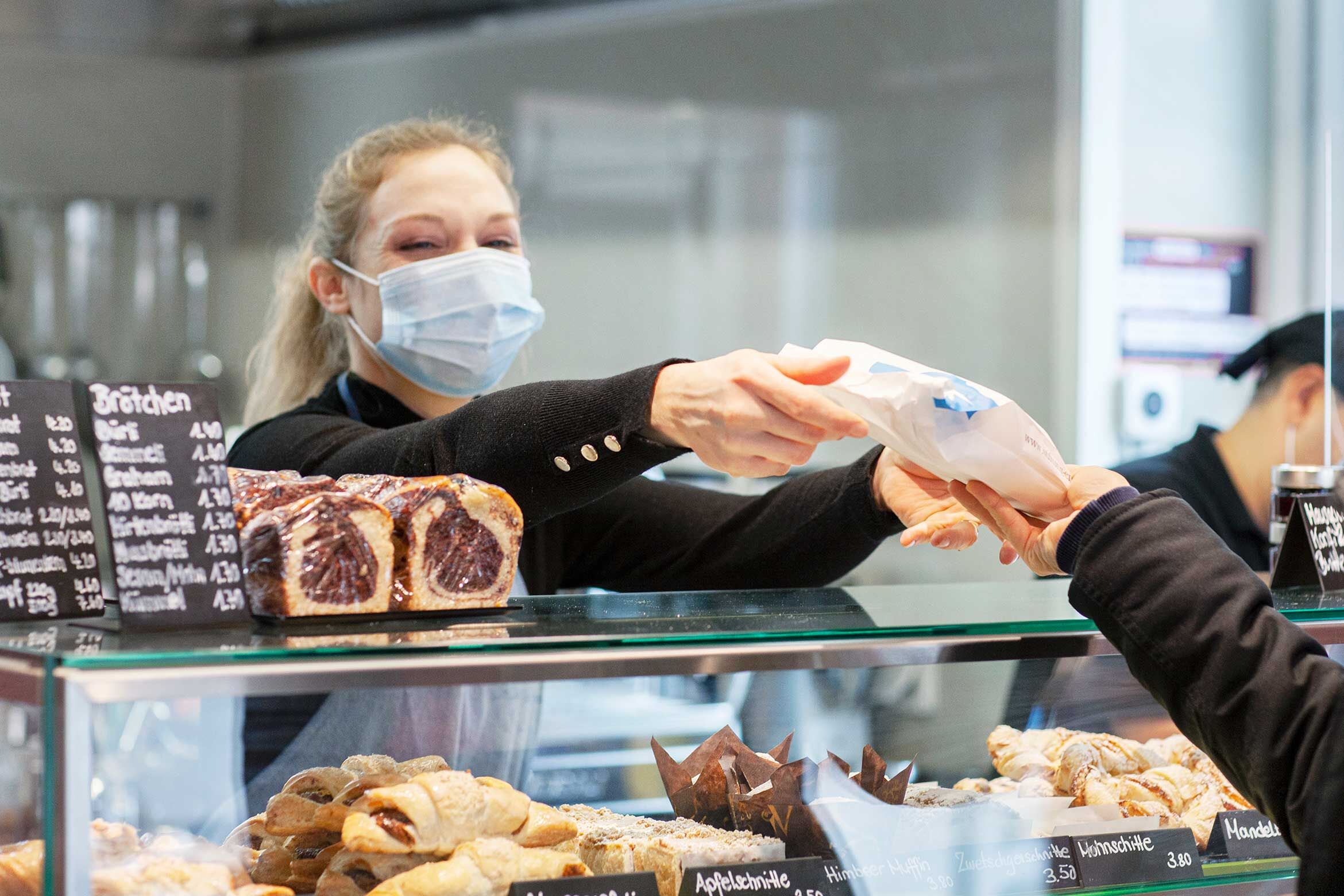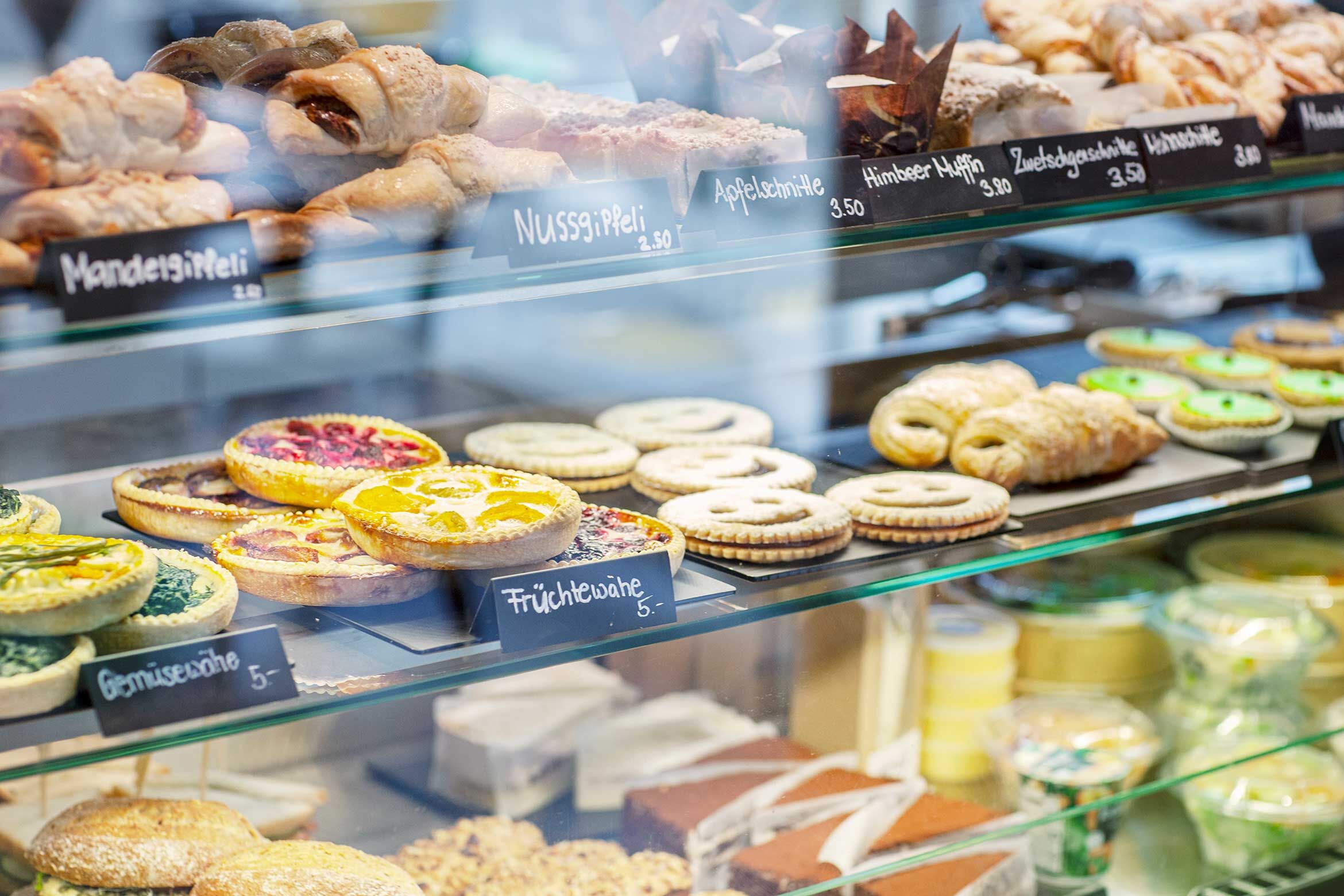 Enzian's baked goods are made with local, sustainable ingredients.
'Zurich is a real vegan stronghold,' says Daniela with a laugh. Her team quickly realised that the city has a close-knit vegan community. 'The feedback is really positive – and there's loads of it,' says Daniela. 'Sometimes we see photos and videos of the bakery that we didn't even know were being taken.' Nowadays, products like vegan yogurt can be found in mainstream supermarkets, but vegan patisserie is less common.
What do Enzian's customers love the most? 'They're always talking about our poppy seed slices. The Linzer torte is also very popular.' And what are your own favourites, Daniela? She looks longingly at the counter: 'The almond pretzel because the almond filling goes all the way through. And the chocolate cookie... and the Räucher sandwich!'
Daniela's personal favourites are the almond pretzels and chocolate cookies.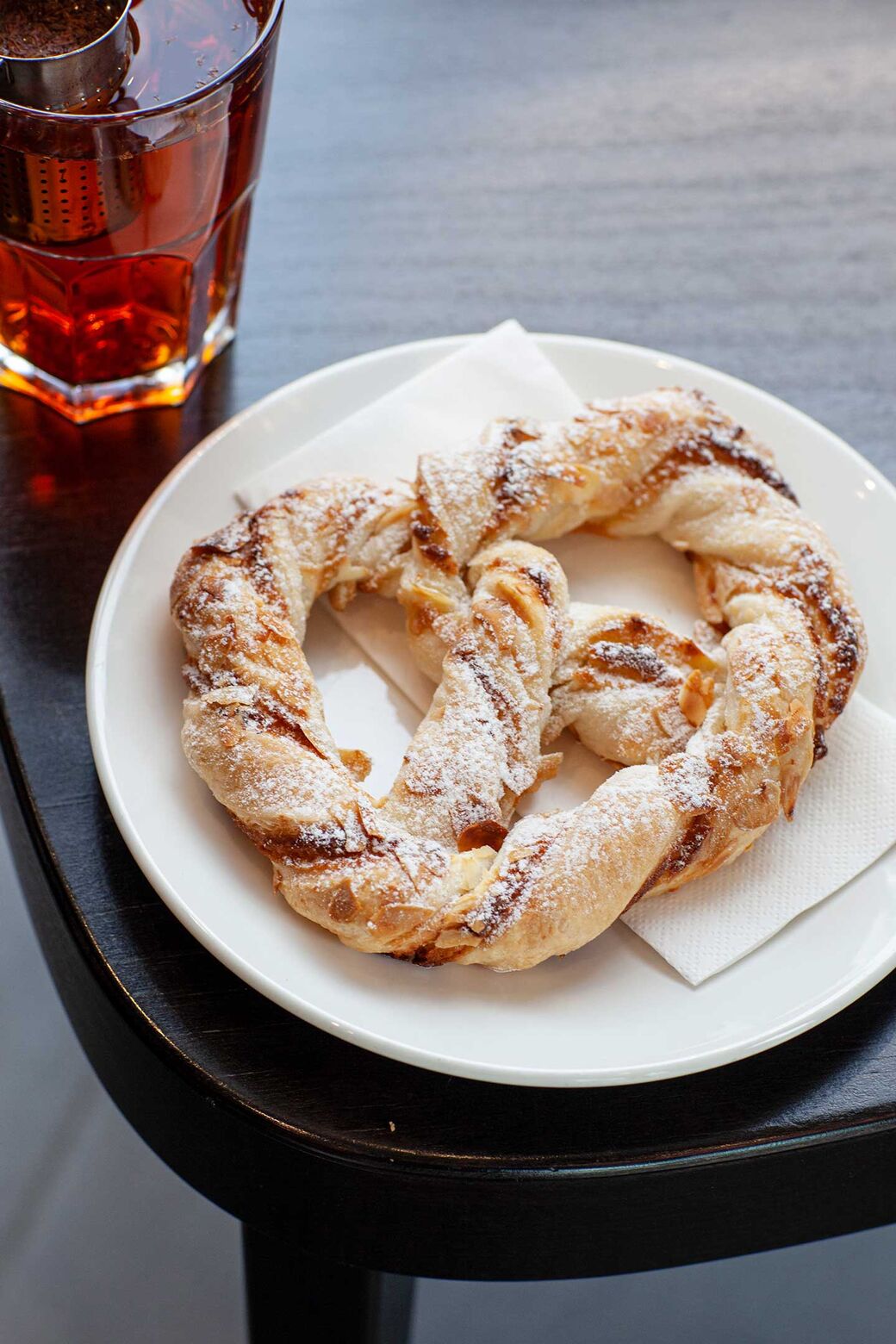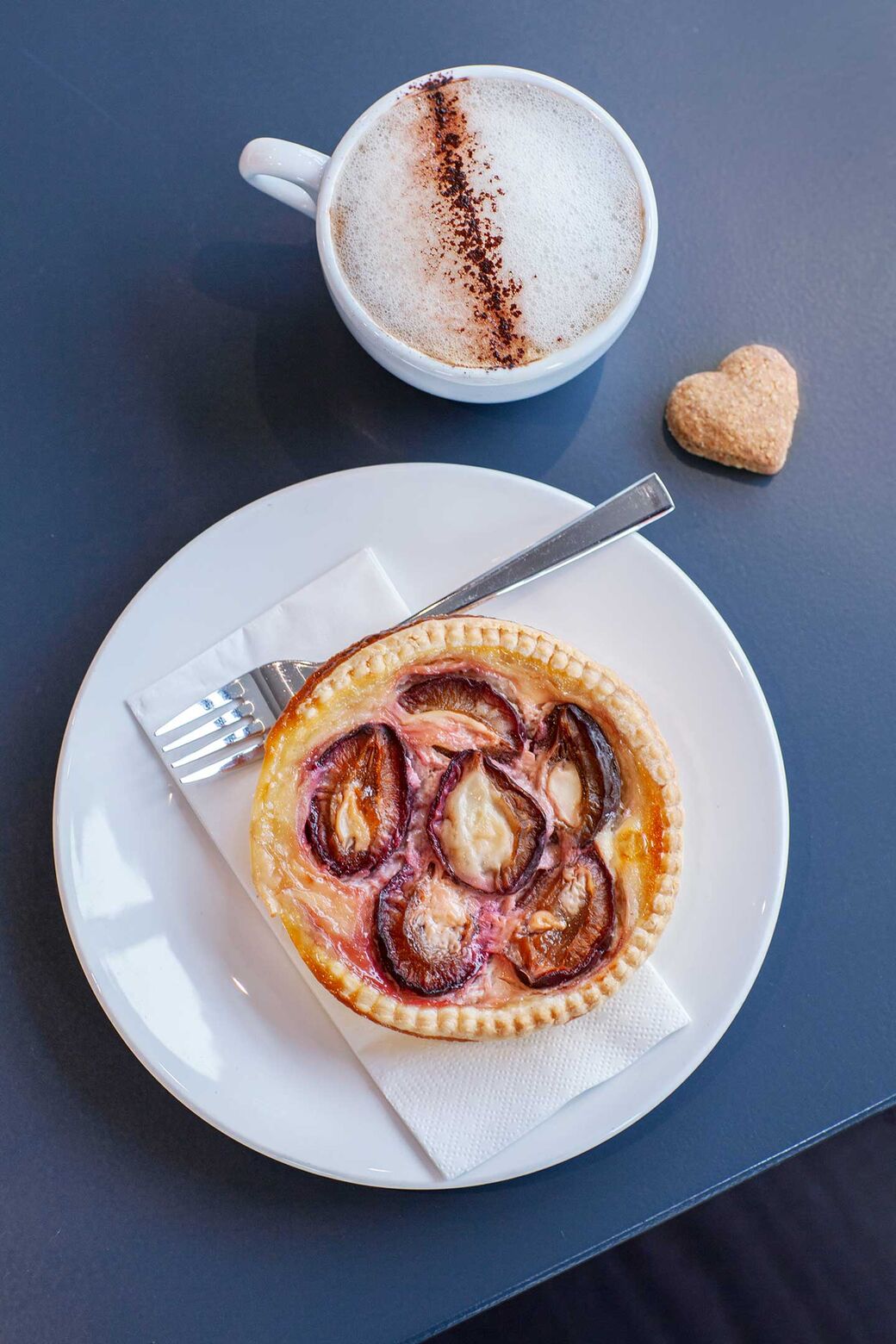 Some products sold by traditional bakeries, such as certain breads, are mostly vegan. But the team had to work hard to come up with alternatives to other products. Enzian doesn't yet sell every single item that you would find in a normal bakery. Many products are still in the pipeline being tested and developed.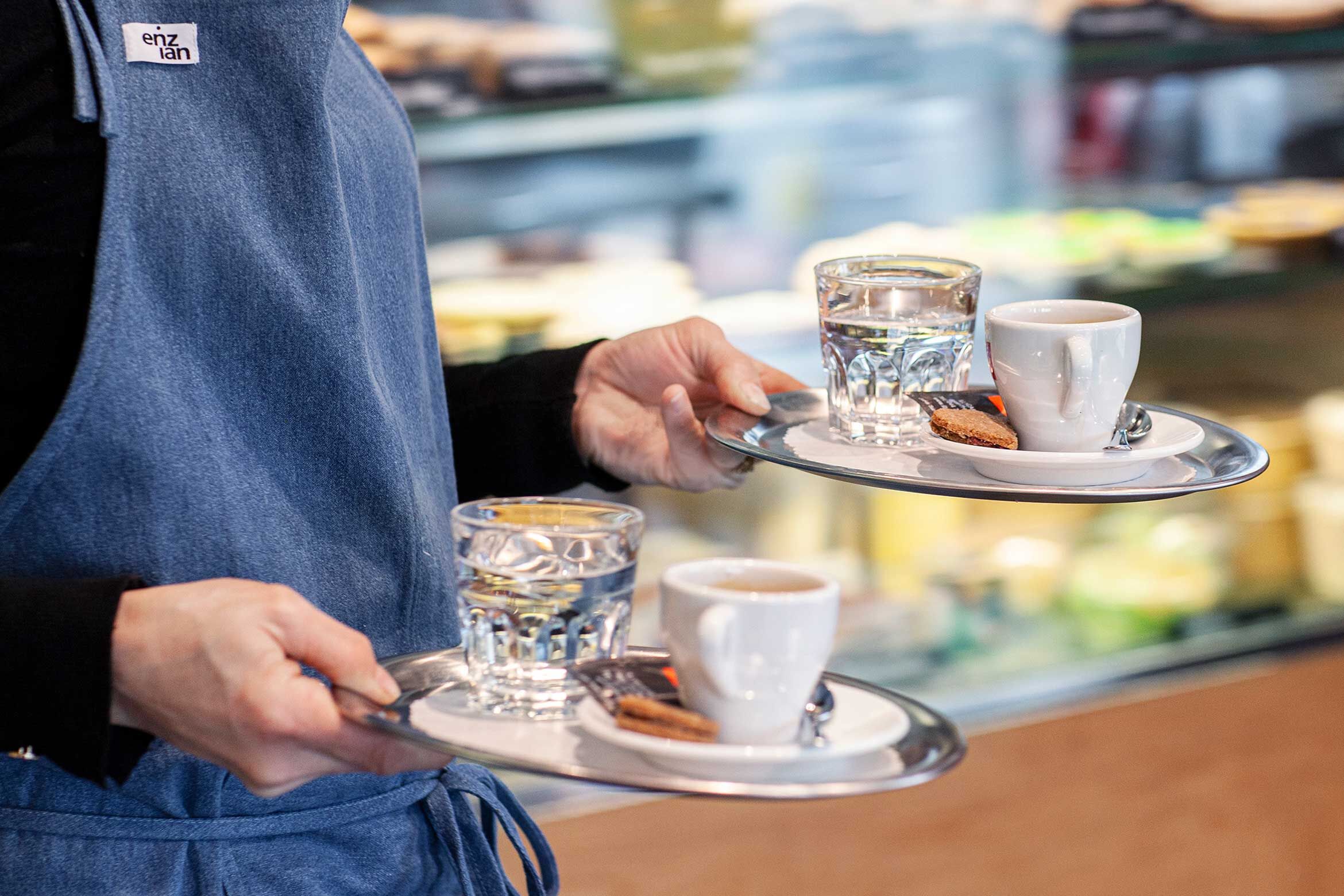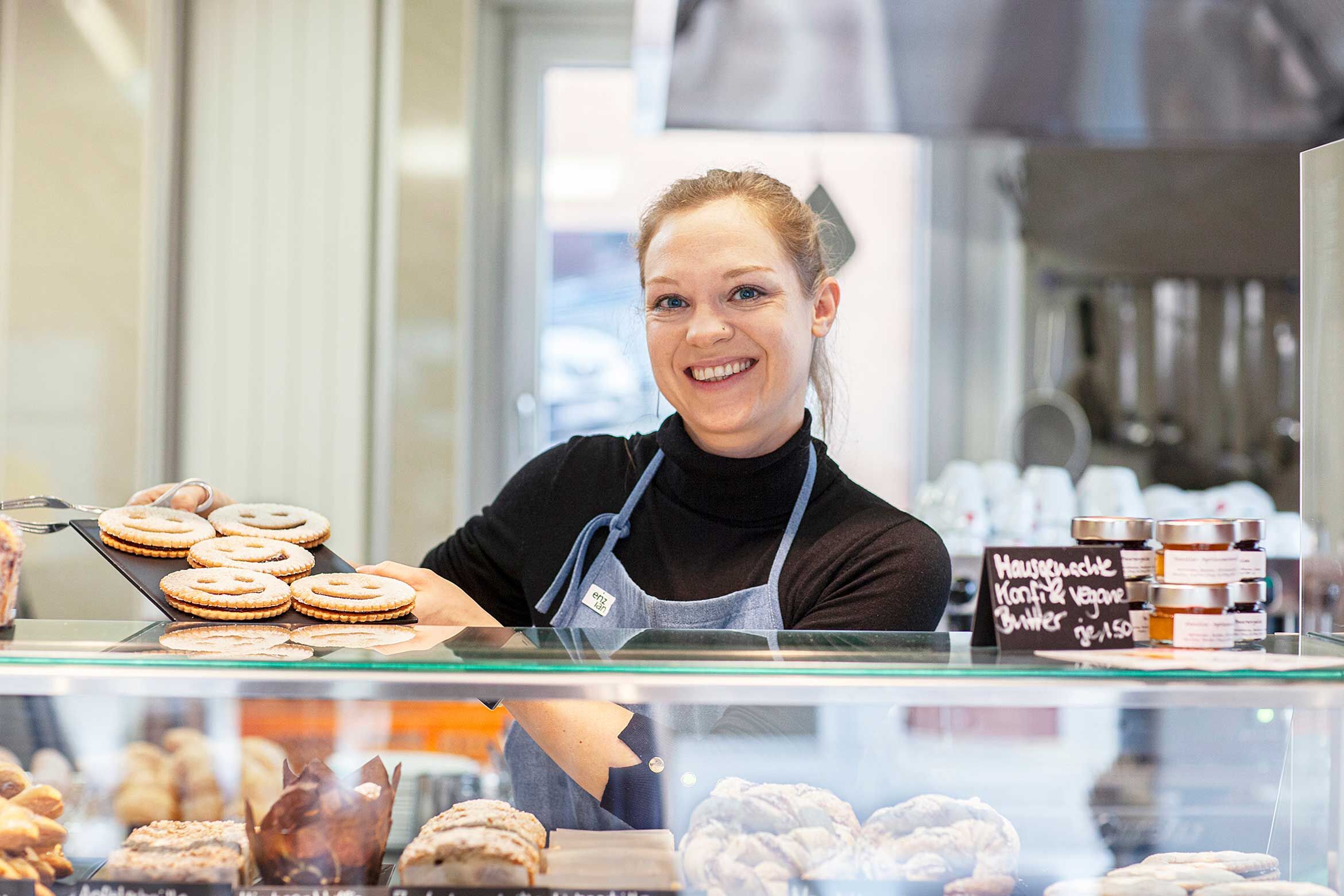 'Zurich is a real vegan stronghold.'
Daniela Treichler
A vegan shop is a new departure for the foundation that runs the bakery. The actual bakehouse is located in the basement of the small shop. This is where baked goods and pastries are produced for the vegan bakery and for other businesses run by the foundation. Most, but not all, are plant-based. Vegan and non-vegan products are kept strictly separate.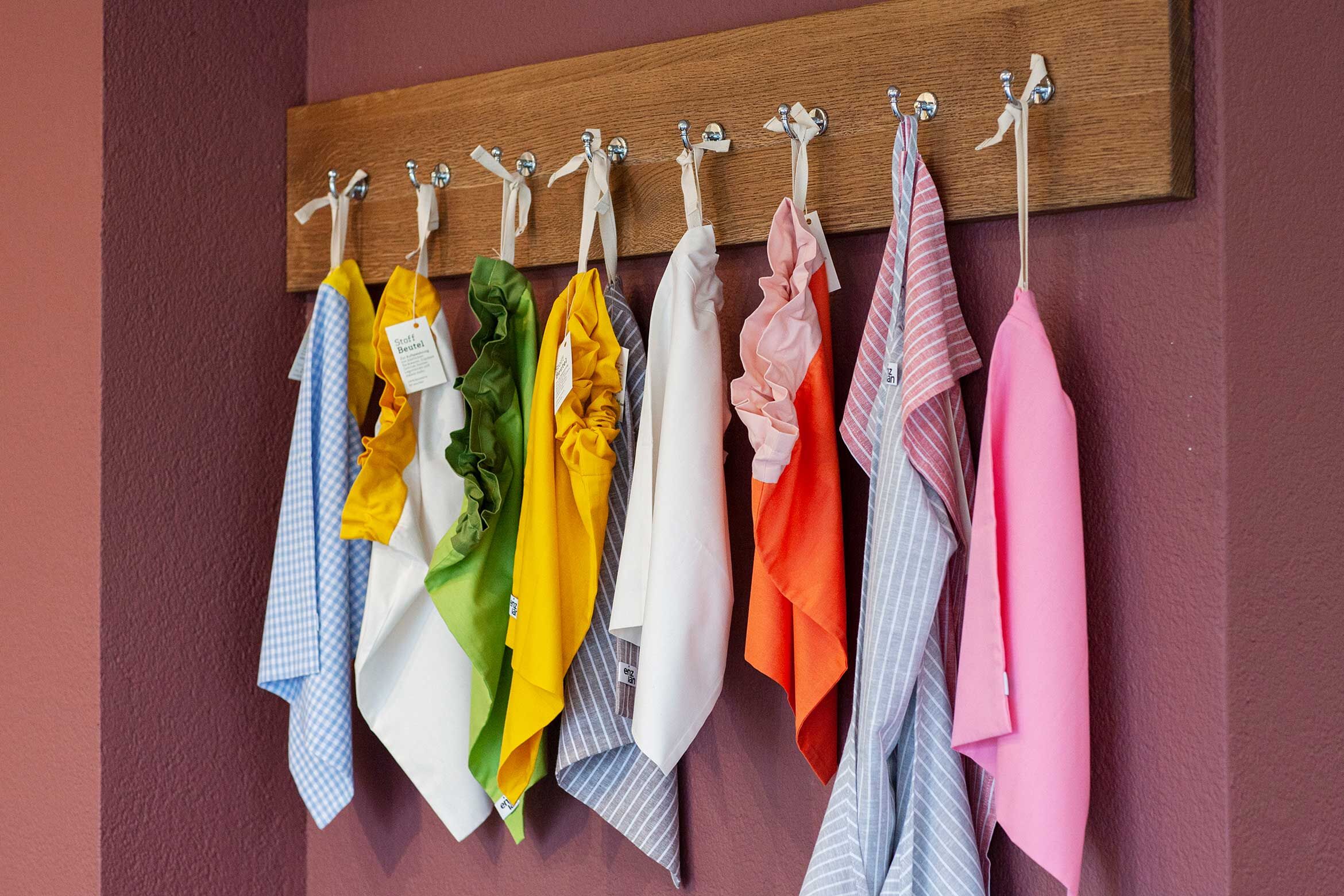 The Enzian vegan bakery opened in autumn 2020, but the foundation of the same name has been around since 2002. Its mission is to help people who have difficulty gaining a foothold in the labour market due to health problems or learning difficulties. Its operations cover more than a dozen interrelated areas.
The bakery's lunch menus come from the foundation's own kitchen in Schwamendingen. The floral decorations come from its organic nursery, and the 'yes - ve -gan' bags from its textile studio. Many bakeries buy in ready-made products, but this is not the case at the Enzian bakery because of its commitment to providing training. That's why things like puff pastry are made from scratch using local, sustainable ingredients.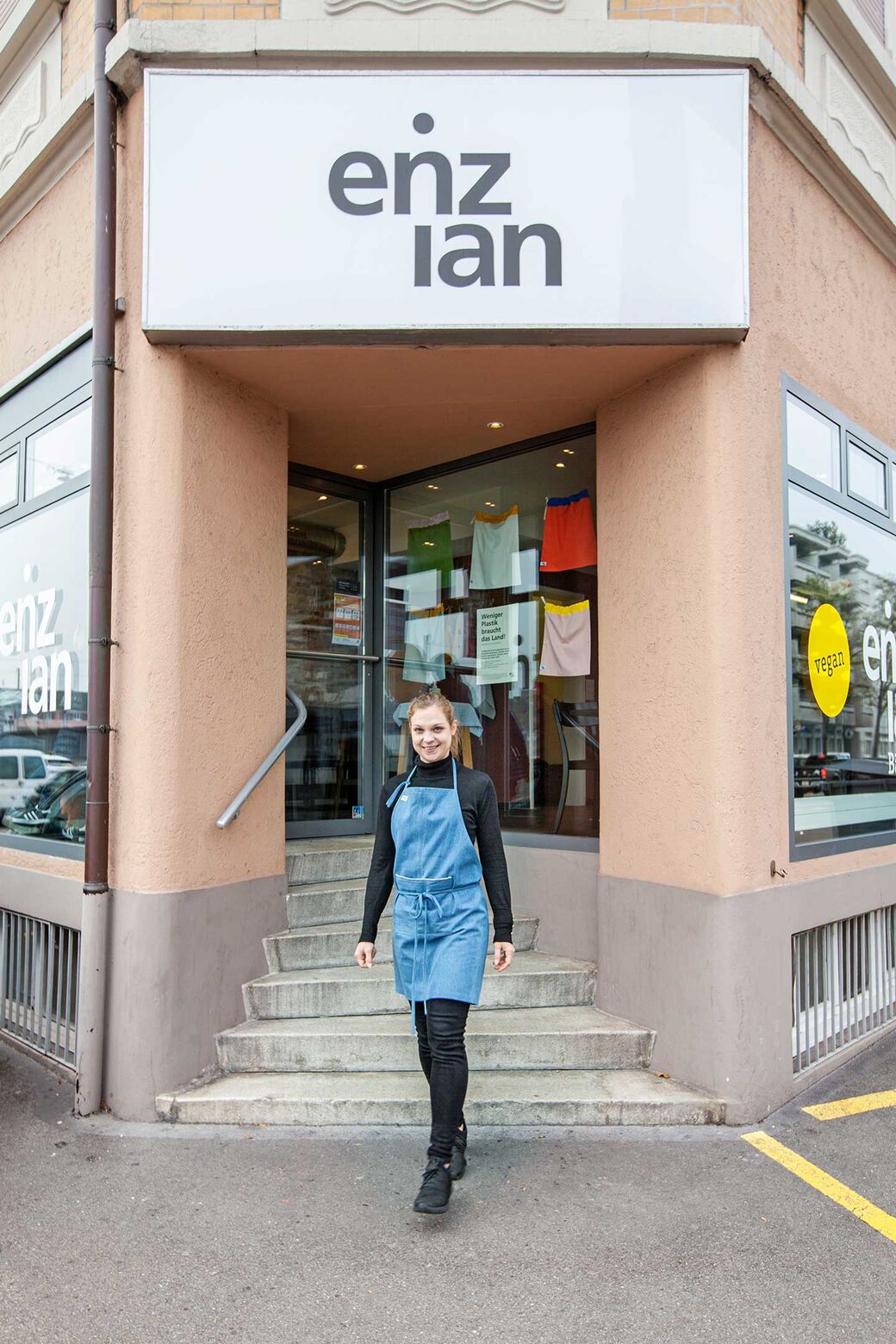 The small bakery in Oerlikon proved so popular in its first few weeks that the foundation promptly decided to open a second vegan bakery in Zurich Niederdorf. Daniela says: 'You can tell that people love these plant-based alternatives, particularly the traditional braided loaf for the weekend!' The Enzian bakery is clearly on the up and up. The foundation's willingness to try something new has really paid off.
Address
Enzian Bäckerei
Binzmühlestrasse 41
8050 Zurich
+41 43 333 55 45
Website
Opening hours
Monday – Friday, 7 am – 6 pm
Saturday, 9 am – 4 pm
View posts by interests, or use the proximity search and additional filters.
Try it out
.
Save posts as favourites – simply click on the heart symbol in the upper right corner of the post.