Anna & Juan
From workshops to sustainable wool, Josefina Eliggi and Luzius Schnellmann offer knitting enthusiasts everything they need at Anna & Juan.
Dyeing, knitting, crocheting, weaving, embroidering... there's very little that textile designer Josefina Eliggi and graphic designer Luzius Schnellmann can't do with natural materials. And they like to share their expertise by running more than 50 courses a year at their shop Anna & Juan, where they also sell sustainable wool and other products.
Anna & Juan is the brainchild of Josefina Eliggi, a textile designer from Argentina, and Luzius Schnellmann, a Swiss graphic designer and illustrator. Along with their creative work, they are concerned with questions such as: Where do the products we buy come from? What happens when we don't want them any more? And how does society deal with products from the creative sector? Back in 2010, it was these questions that inspired them to travel to Germany from their homes in Argentina and Switzerland to attend a summer academy on sustainability and design. This was the beginning of the couple's story.
In summer 2019, the couple opened a new shop in Oerlikon.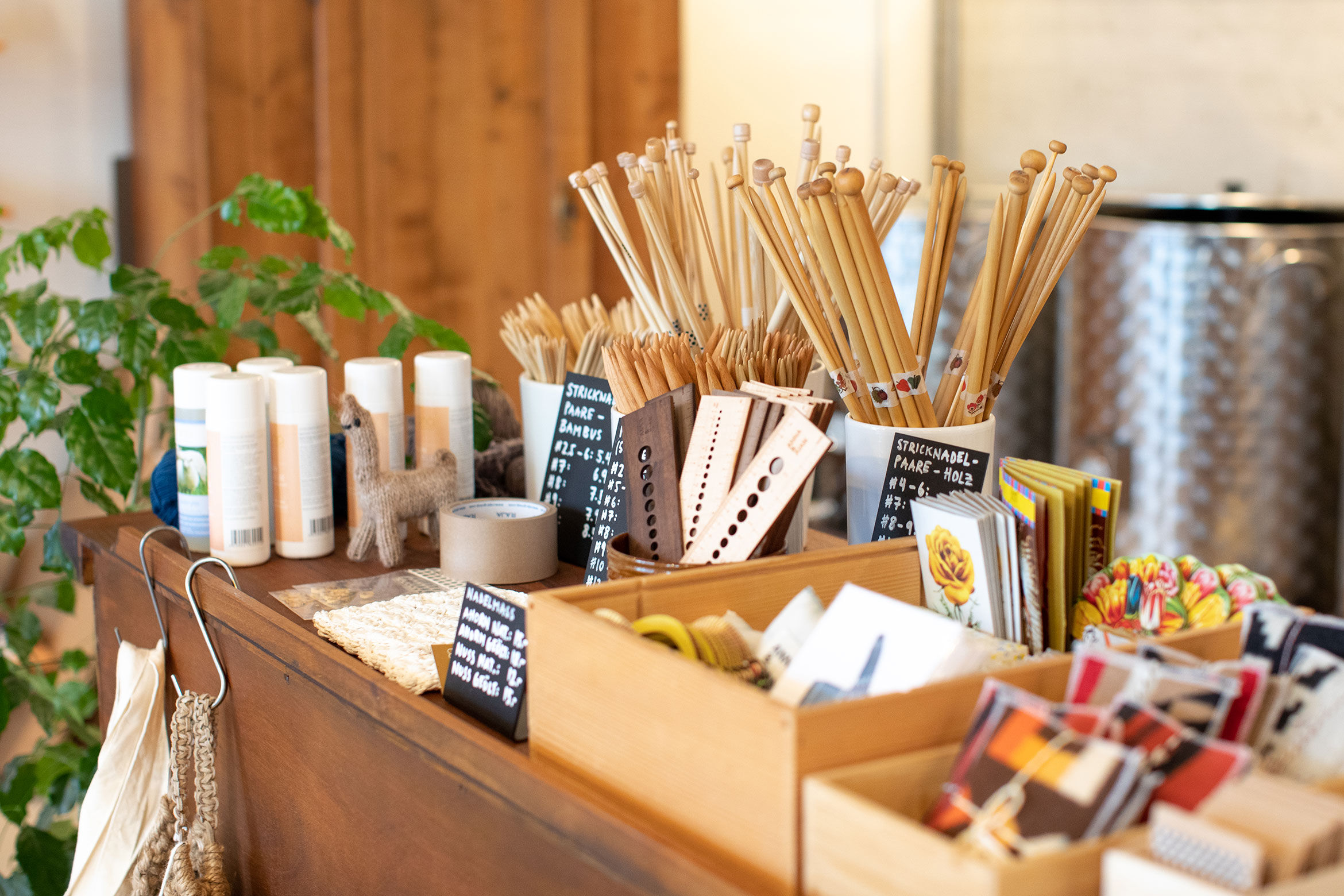 Josefina moved to Switzerland to be with Luzius and studied art and design in Lucerne. For her final project, she was keen to work with natural textiles and dyes, but her supervisor advised against it. Josefina recalls: 'She said it wouldn't work in Switzerland because here it's all about innovation and new technology.' But she went ahead anyway. This was the start of Anna & Juan. Today it is a shop in Oerlikon where you can buy naturally dyed wool and textile products and attend courses on a range of textile processing methods such as knitting, dyeing, embroidery, crocheting and weaving.
the 50 or so courses that they run every year at Anna & Juan attract plenty of interest.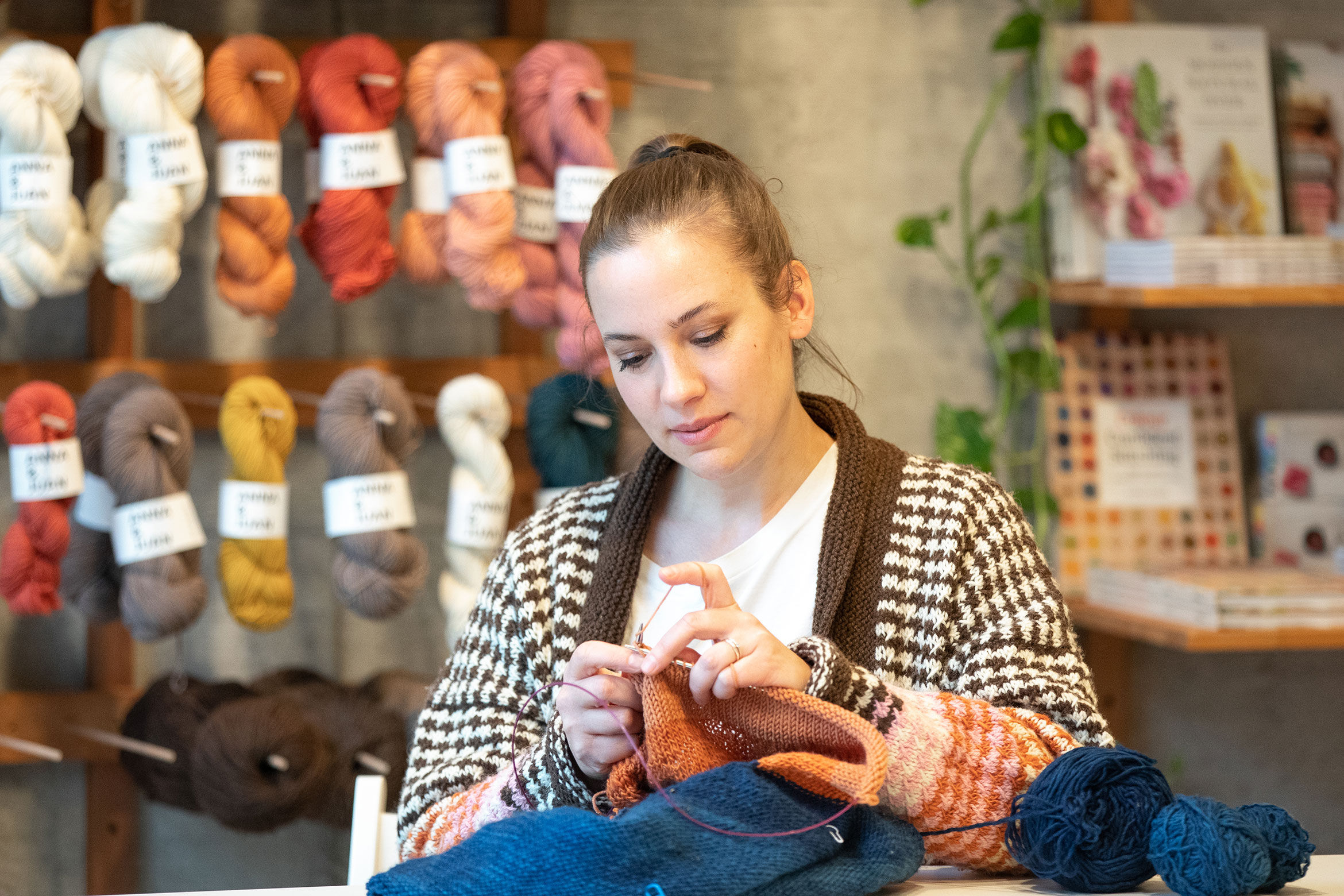 Josefina and Luzius did a great deal of research and experimentation before opening Anna & Juan. They wanted to use local materials wherever possible, but wool from Swiss sheep is very scratchy and not suitable for textiles. On top of that, the shearers' wages tend to be more than the value of the wool they cut off. 'In the end we decided to buy wool from South America because this is where Josefina comes from and because farmers don't practise mulesing. This cruel practice still occurs in places like Australia,' says Luzius. Mulesing is when skin is removed from around the sheep's tail area without anaesthetic in order to prevent flystrike.
The dyes also presented a challenge: 'At first we tried to use substances from Switzerland, but a lot of plants that you'd think could be used, like red cabbage, berries and beetroot, don't produce stable dyes.' This means the colour can vary depending on the pH of the water and it fades in just a few days when in contact with sunlight. Yellows and browns work well from locally sourced substances, such as bark and birch leaves. 'But we had to expand our radius.' The blue dye is now made from imported indigo and the red comes from madder root. This is primarily a Mediterranean plant, but it also grows in the Valais. The end products are 100% natural. 'We could throw them in the compost – but of course we don't,' says Luzius with a smile.
'At first we tried to use substances from Switzerland.'
Luzius Schnellmann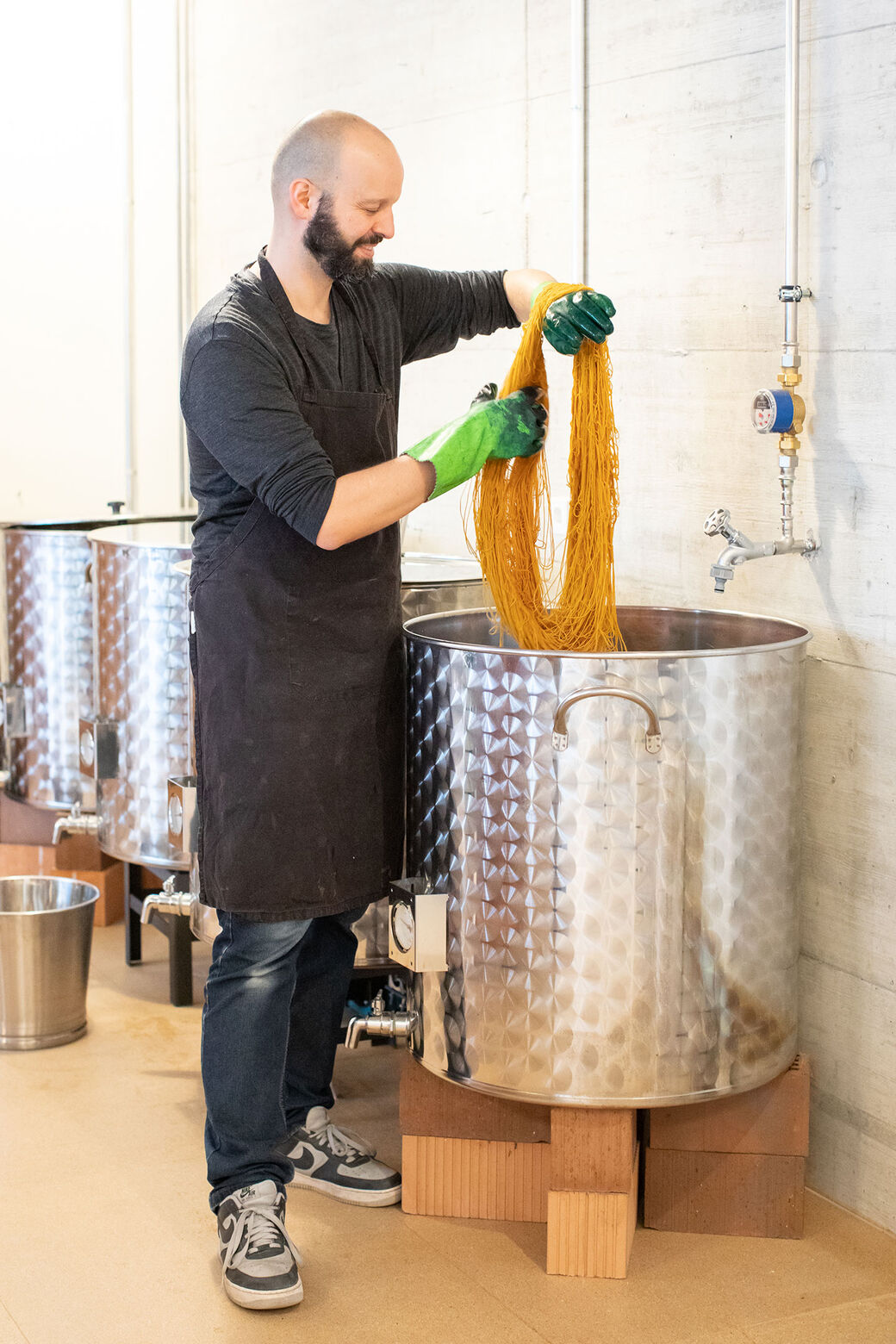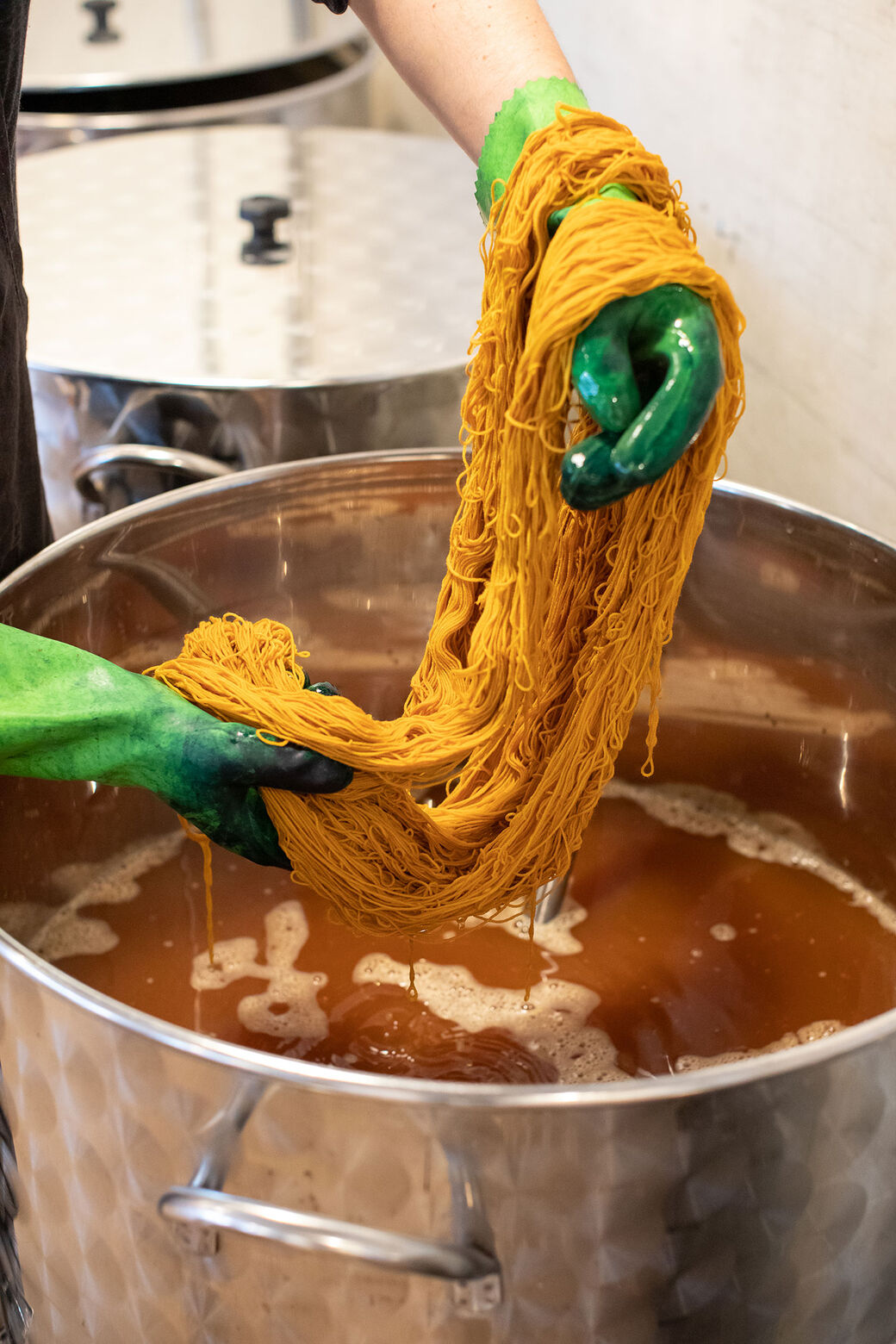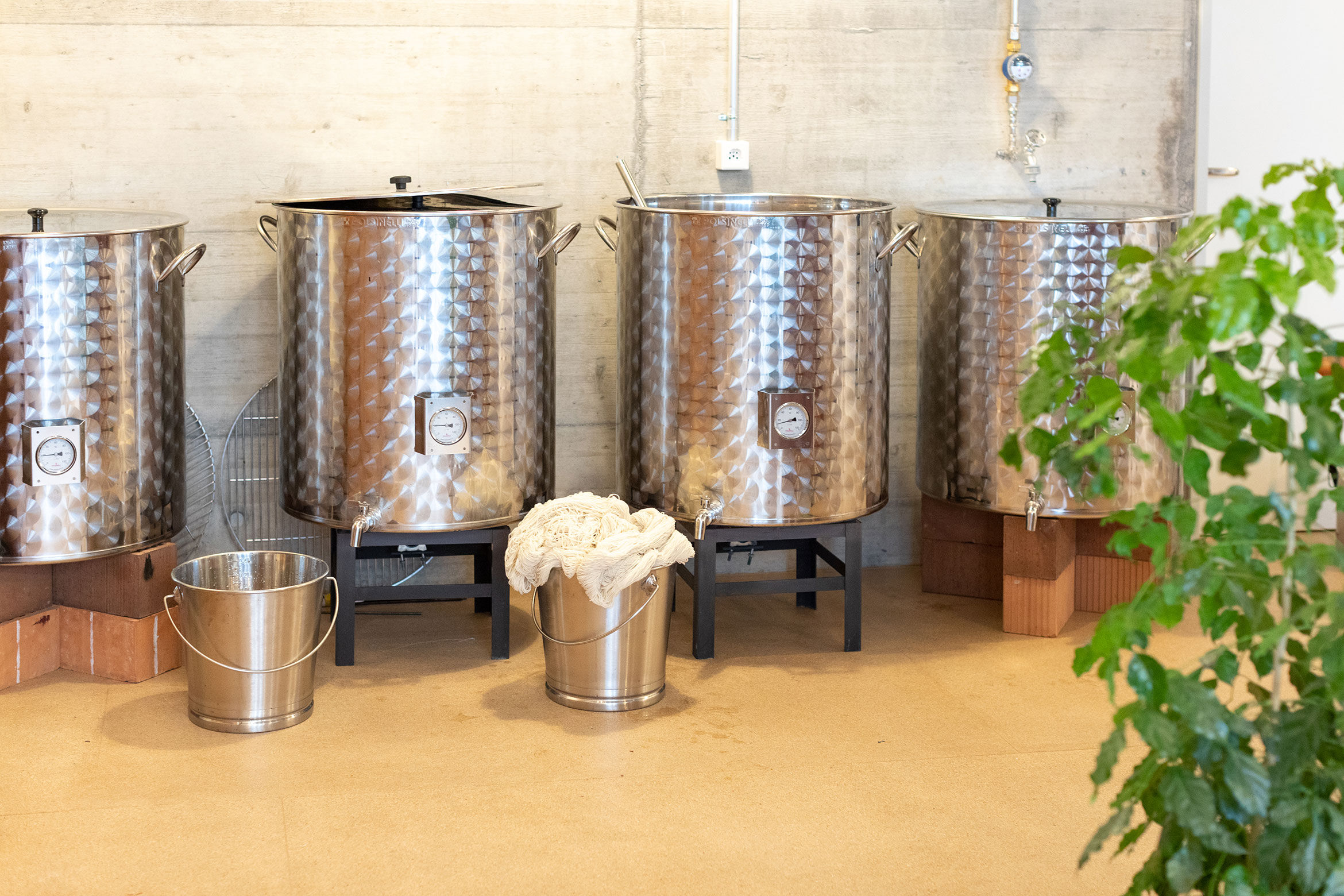 Once the wool has been dyed, it has to be processed for everyday use: 'The textile industry has a rich tradition in Switzerland, but these days people know very little about how textiles are made,' says Josefina. Despite this, the 50 or so courses that they run every year at Anna & Juan attract plenty of interest: 'As the participants learn more about textile techniques, they realise how complex this work is.'
The end products are 100% natural.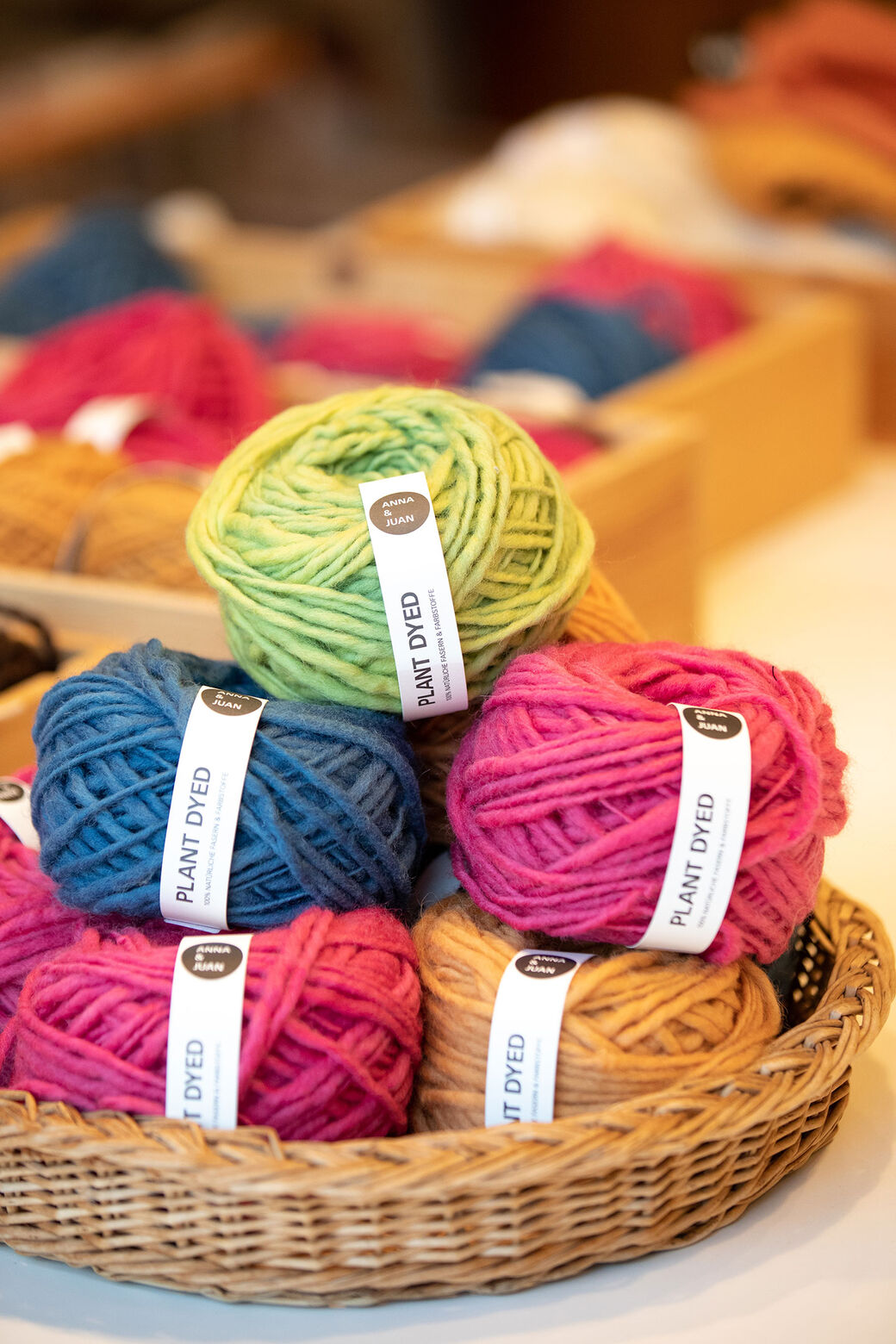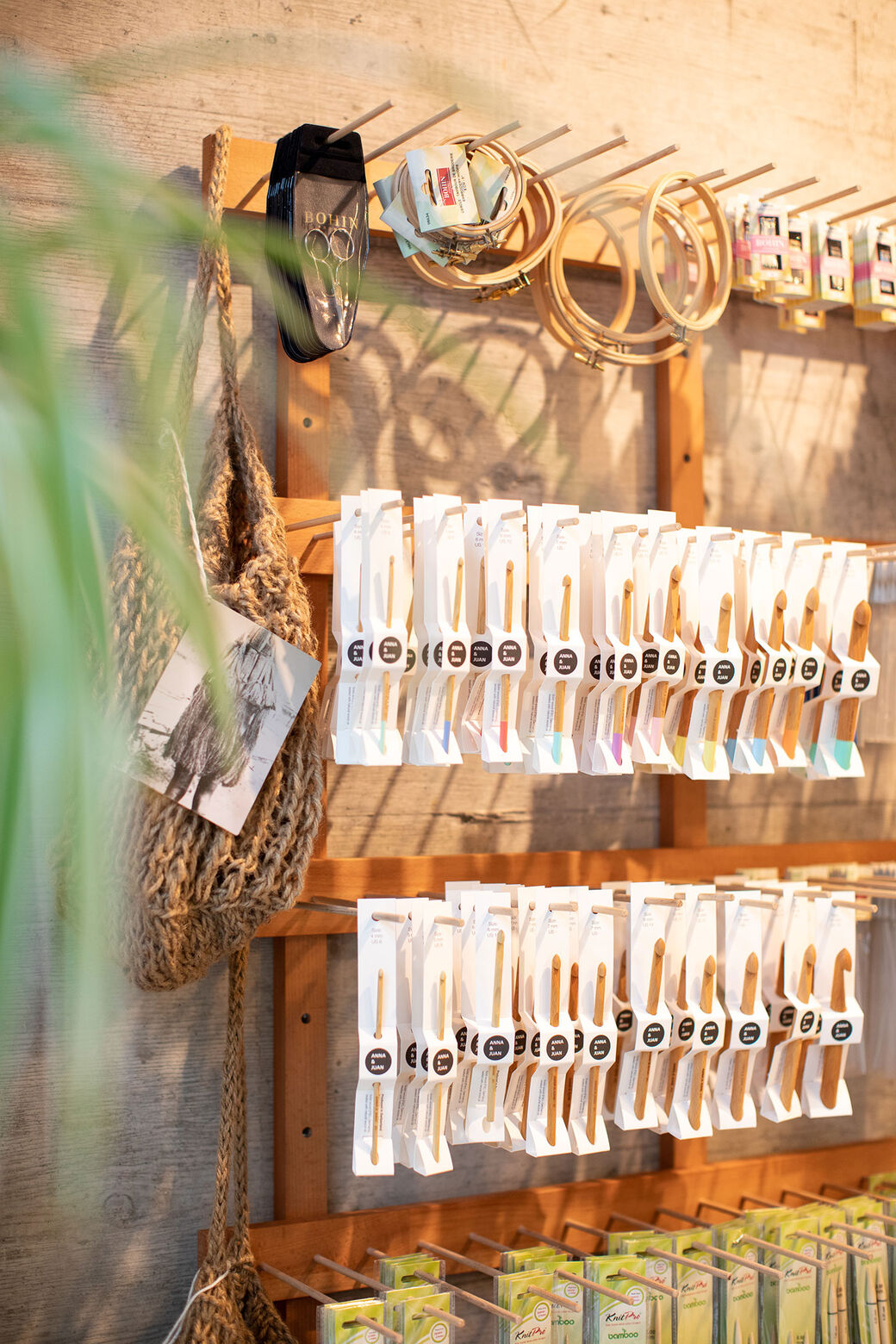 Of course, the pair don't expect everyone to make their own clothes, but they feel it is good to make people more aware of the value of textile products. It's also useful for people to know how to mend clothes: 'On the embroidery courses, it's always great to see people's pride when they've taken an old garment and made it not only wearable again but also fashionable by covering a hole with beautiful embroidery.'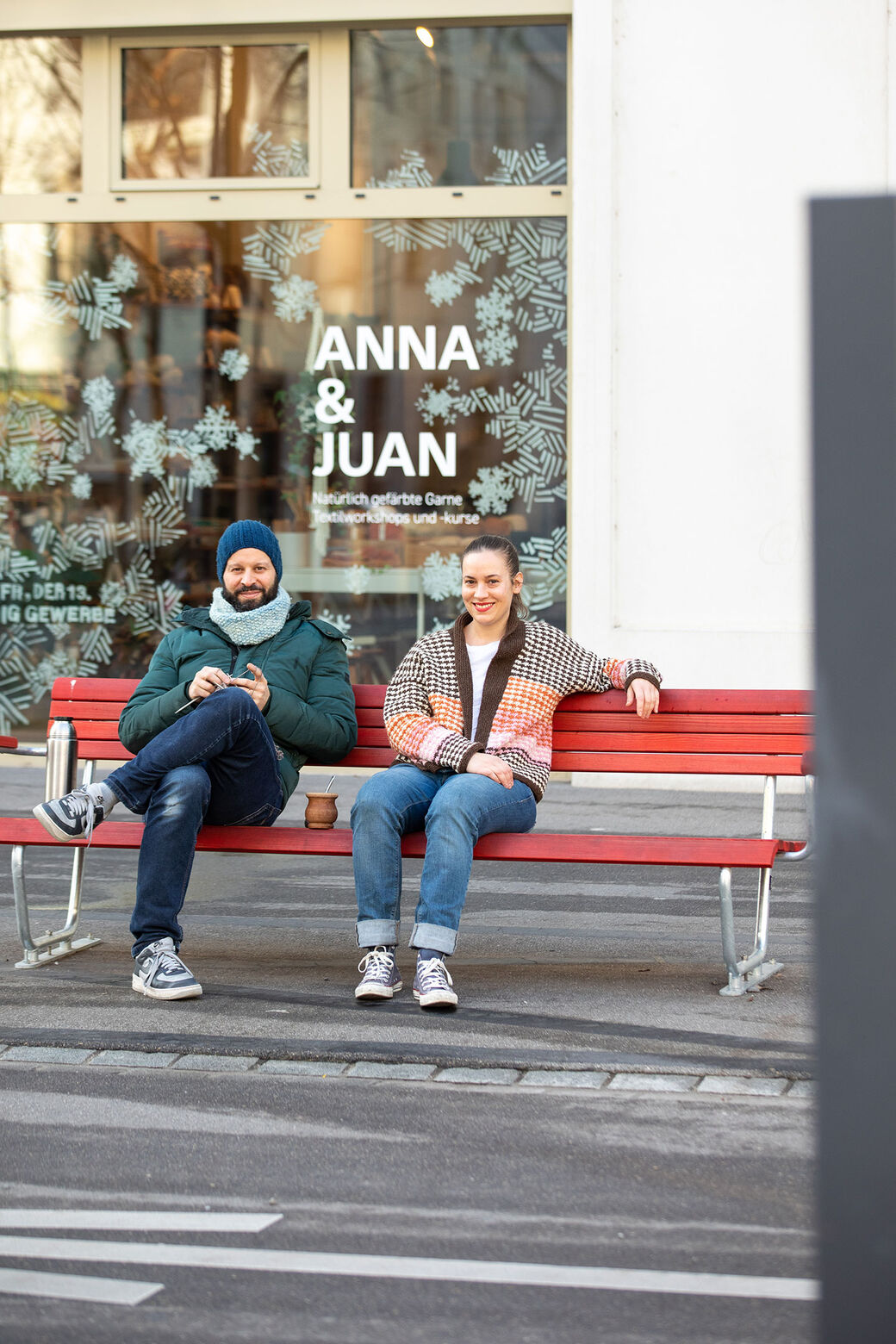 In summer 2019, the couple opened a new shop in Oerlikon in Mehr als wohnen, the cooperative where they also live. For the past few years they have had to run their courses in external premises, so this move has been a blessing for them. Sometimes it's hard to keep their work and leisure time separate, but Luzius is proud to say he has found a solution: 'I have finally gone back to a hobby that I find really relaxing. After a break of more than four years, I've started knitting again.' Isn't that a great example of work-life balance?
Addresse
Anna & Juan
Dialogweg 7
8050 Zurich
+41 44 558 38 83
Website
Opening hours
Monday, Wednesday, Thursday and Saturday: By appointment
Friday, 10 am – 6:30 pm
View posts by interests, or use the proximity search and additional filters.
Try it out
.
Save posts as favourites – simply click on the heart symbol in the upper right corner of the post.