Veganitas
Mirko Lupatini and Giuseppe Moranda want to change the world – by selling vegan pitas from a food truck.
Childhood friends Mirko Lupatini and Giuseppe Moranda actually studied at the ETH, far removed from the restaurant trade. But a documentary changed their plans. The pair from Ticino decided there was a need for vegan fast food. They started from scratch – and now own a food truck.
It all began in 2019, at a vegan food festival in downtown Zurich. It was the perfect opportunity for Mirko Lupatini and Giuseppe Moranda to try out the idea they had been tossing around for months. 'Looking back, we were probably a bit naïve,' Giuseppe admits. 'There were just four of us and we had no experience whatsoever.'
The two friends had registered their new food truck and planned to sell their new kind of filled pitas. They called their new project Veganitas, a blend of 'vegan' and 'pitas'. What could go wrong? It all went well on the first night of the food festival. Too well, in fact.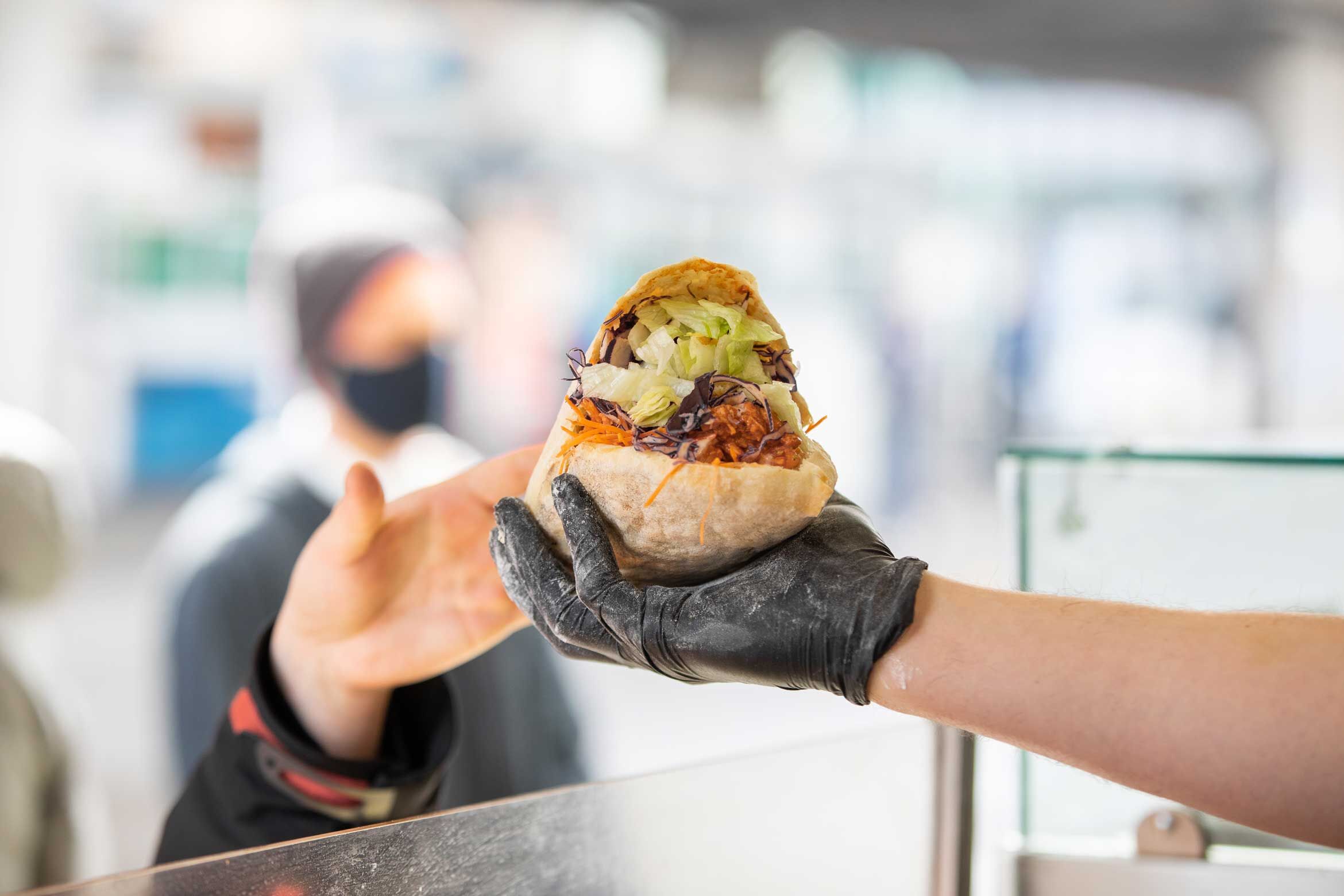 Veganitas is a blend of 'vegan' and 'pitas'.
'We had to make the pitas quickly to serve lots of people,' Mirko recalls. 'The queue got longer and longer, and the more people who stood in line, the more other festival-goers thought we must be serving something really good!' Giuseppe and Mirko can't help but laugh: 'We had to ask our parents to come over from Ticino to help us over the next few days. And friends who came by to try our pitas ended up staying to help out.'
The original plan was to try out veganism for one month.
That's how the Veganitas story began – or at least the part of the story where Mirko and Giuseppe sell pitas from their food truck. But the story actually began 18 months earlier. Mirko was doing his doctorate in physics at the ETH, while Giuseppe had already graduated and was working as a civil engineer. They had no experience with food, let alone veganism. 'I ate meat every day,' says Giuseppe. 'Then I saw the documentary Cowspiracy and started thinking about the impact of meat on the environment and our health.' He decided to try going vegan for a month. Mirko had just moved into Giuseppe's flat in Affoltern and was taken aback by this about-face. But when his old friend explained the reasons behind it, he also decided to give it a try.
The experiment wasn't so easy, because it was difficult to find a good selection of plant-based products in the shops. And above all, there was a lack of fast food, even sandwiches. The guys thought to themselves: 'It shouldn't be so difficult.' That was when an idea began to take hold. Every evening, they experimented with the flatbreads known as pitas. For six months, they devoted their free time to creating pitas and fillings without any animal products.
But Mirko and Giuseppe had never worked in hospitality and couldn't afford to rent permanent premises in Zurich. That's why they decided to start out with a food truck: 'There was a kebab truck for sale in Affoltern,' says Giuseppe, 'so we bought it and took it back home to Ticino.' From then on, their weekends were dedicated to converting the truck. 'Our friends helped out, and our families – they were happy that we came home more often.'
The experiment escalated.
The support of their family and friends is very important to Mirko and Giuseppe in their new project. 'Working in a food truck after studying at the ETH wasn't what they expected,' says Giuseppe, who now works full-time for Veganitas. 'But our families trust us and support the whole idea.'
Now the food truck is parked at the Schiffbau tram stop twice a week and can be found in Lucerne old town on Saturdays. Giuseppe is in the process of acquiring his licence from Gastrosuisse so that they can move to a permanent location. Mirko has also rediscovered his passion for tempeh. The Veganitas team now makes this Indonesian fermented product in Ticino and sell it from the food truck.
You could say the month-long experiment with veganism that began around 2018 has now escalated – to the delight of these two friends, who love nothing more than making pitas. 'We've become quite good at it,' says Mirko with a grin, 'but when it comes to cooking other things, we're not particularly versatile yet.' Not yet. For now, they're sticking with stuffed pitas and tempeh – and attracting the crowds.
Address
Veganitas Food Truck
Schiffbau tram stop
Hardstrasse 243
8005 Zurich
+41 79 640 54 91
Website
Opening hours
Monday, 11:30 am – 8:30 pm
Thursday, 5:30 pm – 8:30 pm
View posts by interests, or use the proximity search and additional filters.
Try it out
.
Save posts as favourites – simply click on the heart symbol in the upper right corner of the post.