Most people who visit Zurich take a stroll through the Niederdorf district. But the old town is also popular with Zurich's residents, many of whom live and work here. One of them is carpenter Thomas Heuberger.
The carpenter's home and workshop are both located in an inner courtyard at Rindermarkt 17. His workshop is in the basement, and he lives on the top floor. Thomas has lived here since 1995, and his wife Karin moved in five years later. The apartment in the roof was originally converted for Thomas's father, but now the couple have adapted it to suit their own needs, including removing some walls. Thomas says: 'The flat is the perfect size for us, even though we lose some living space because of the sloping ceilings.'
Thomas has watched Niederdorf change over the years.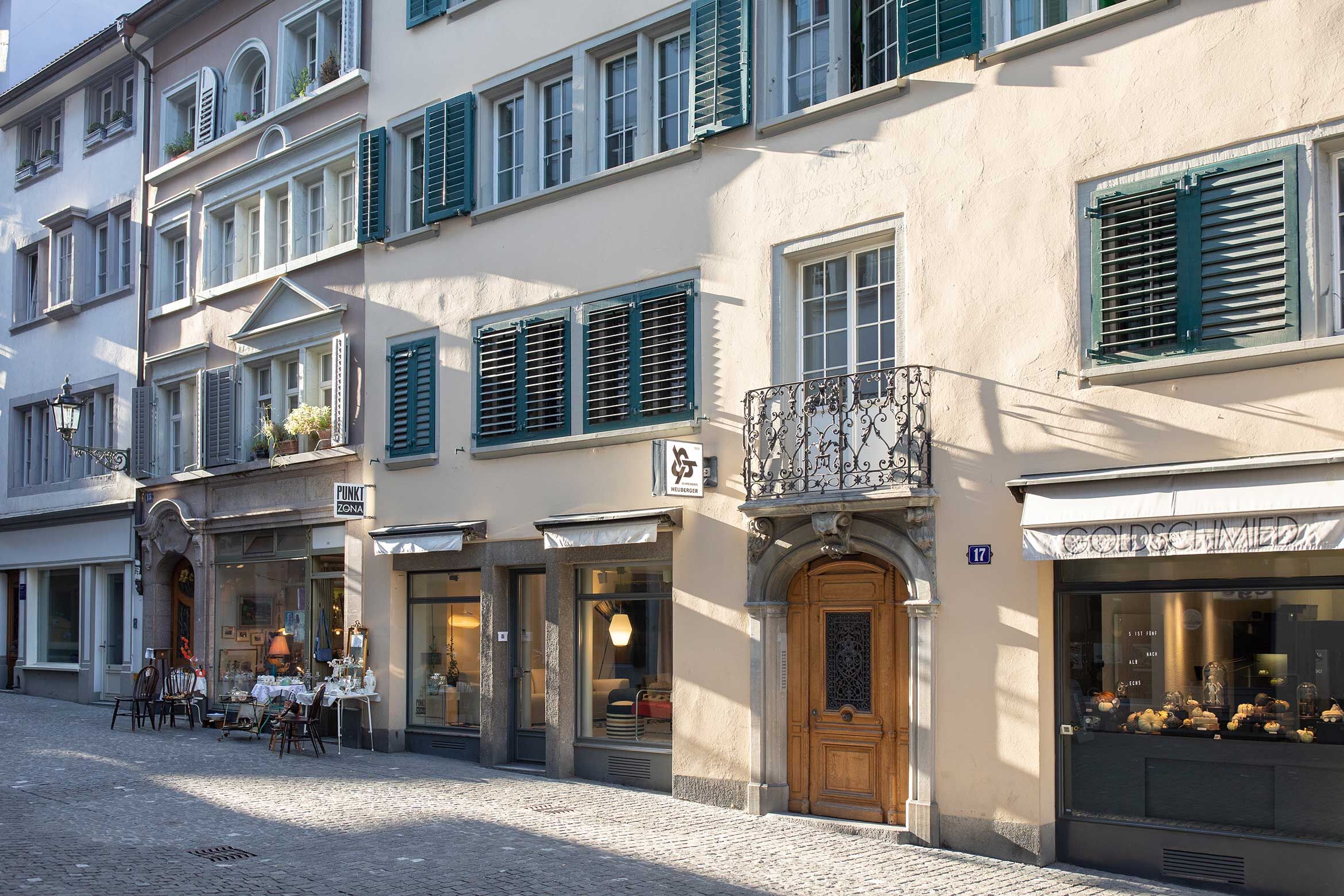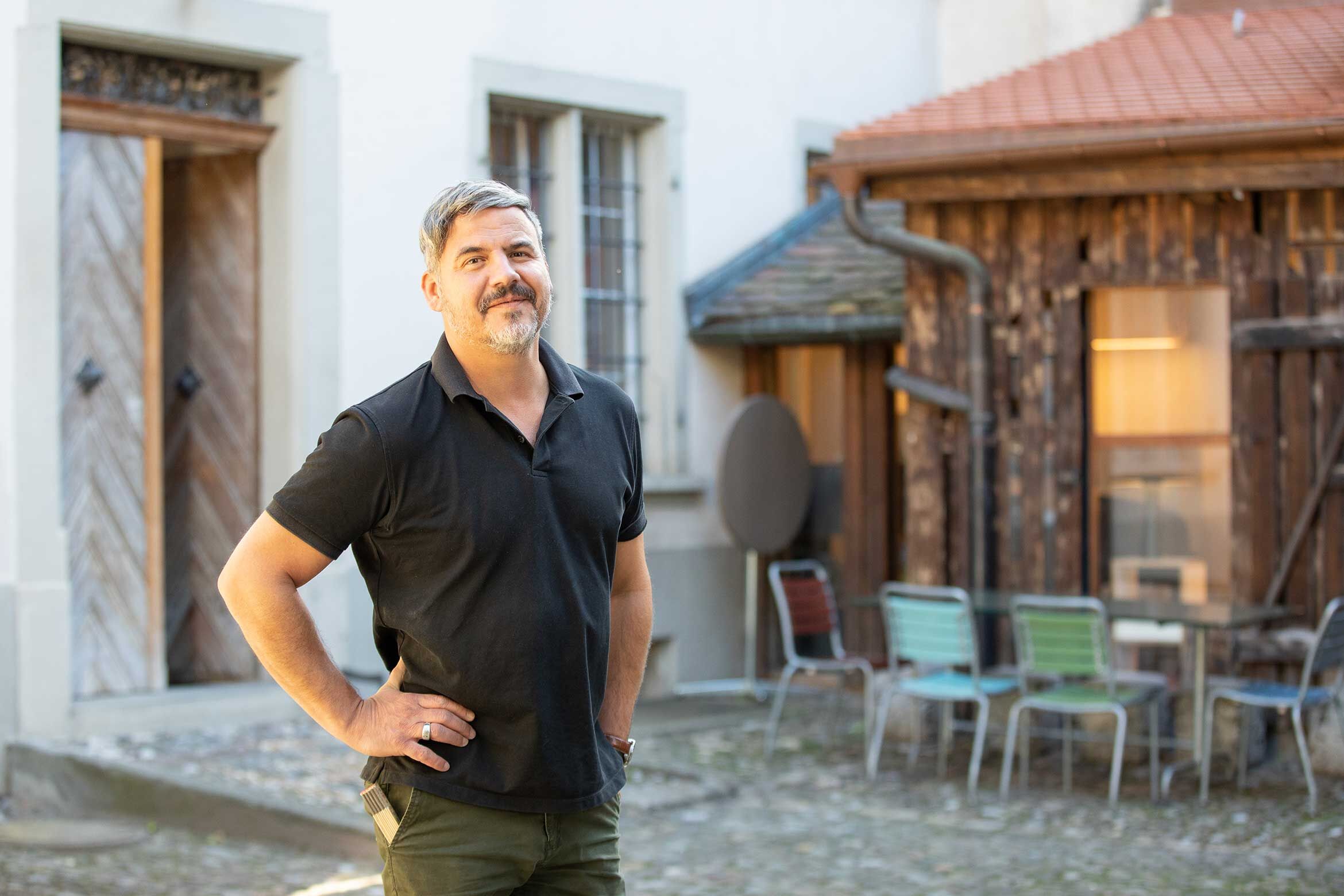 Inside, it's an eclectic mix of old and new. Next to the sofa is a lamp by an unknown designer – 'I think it's from Italy. Next to it stands an amethyst. 'We don't like the apartment to look too cluttered,' says Thomas. The couple have bought one or two pieces of furniture in Niederdorf, such as the little coffee tables that they recently spotted in a local antiques shop.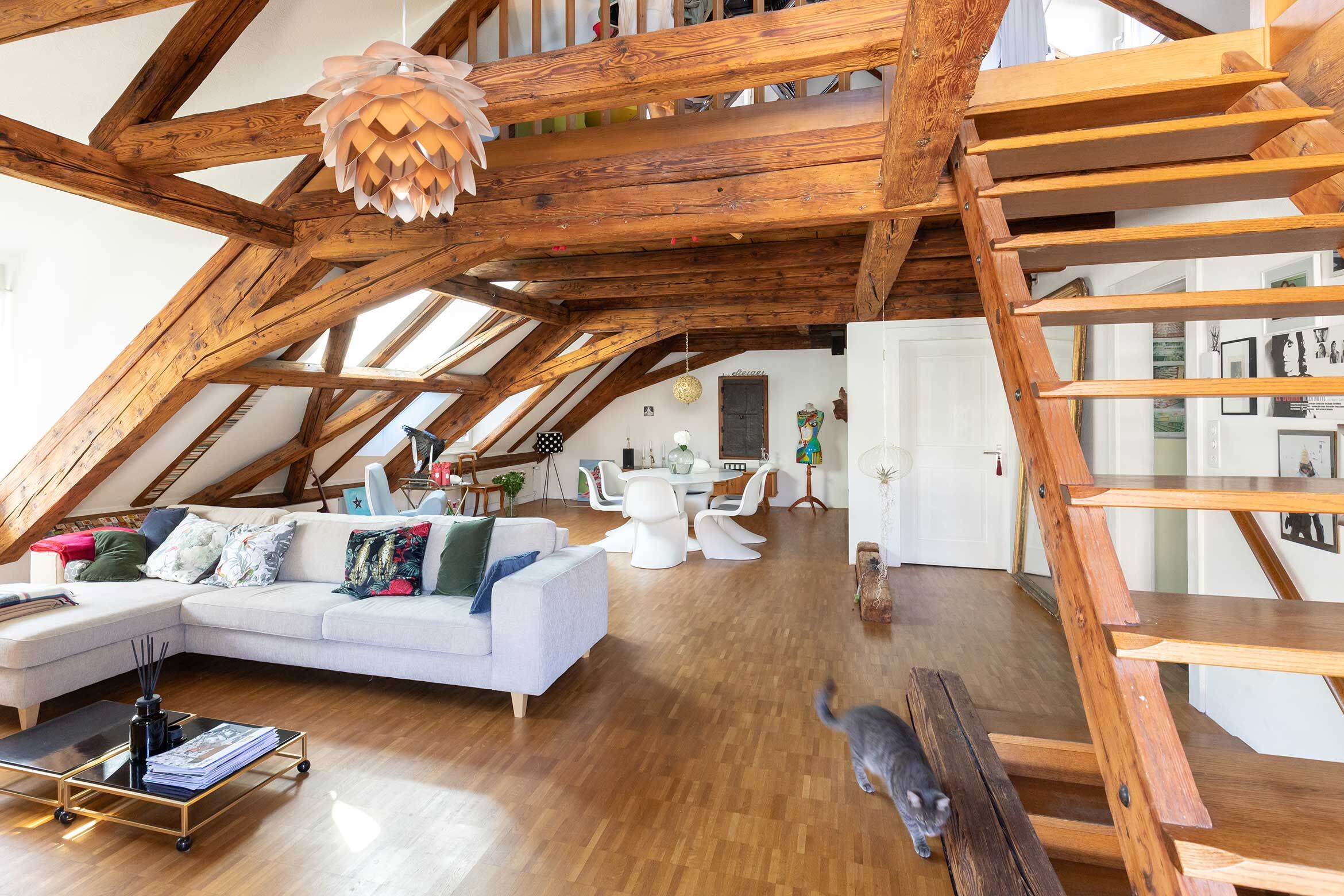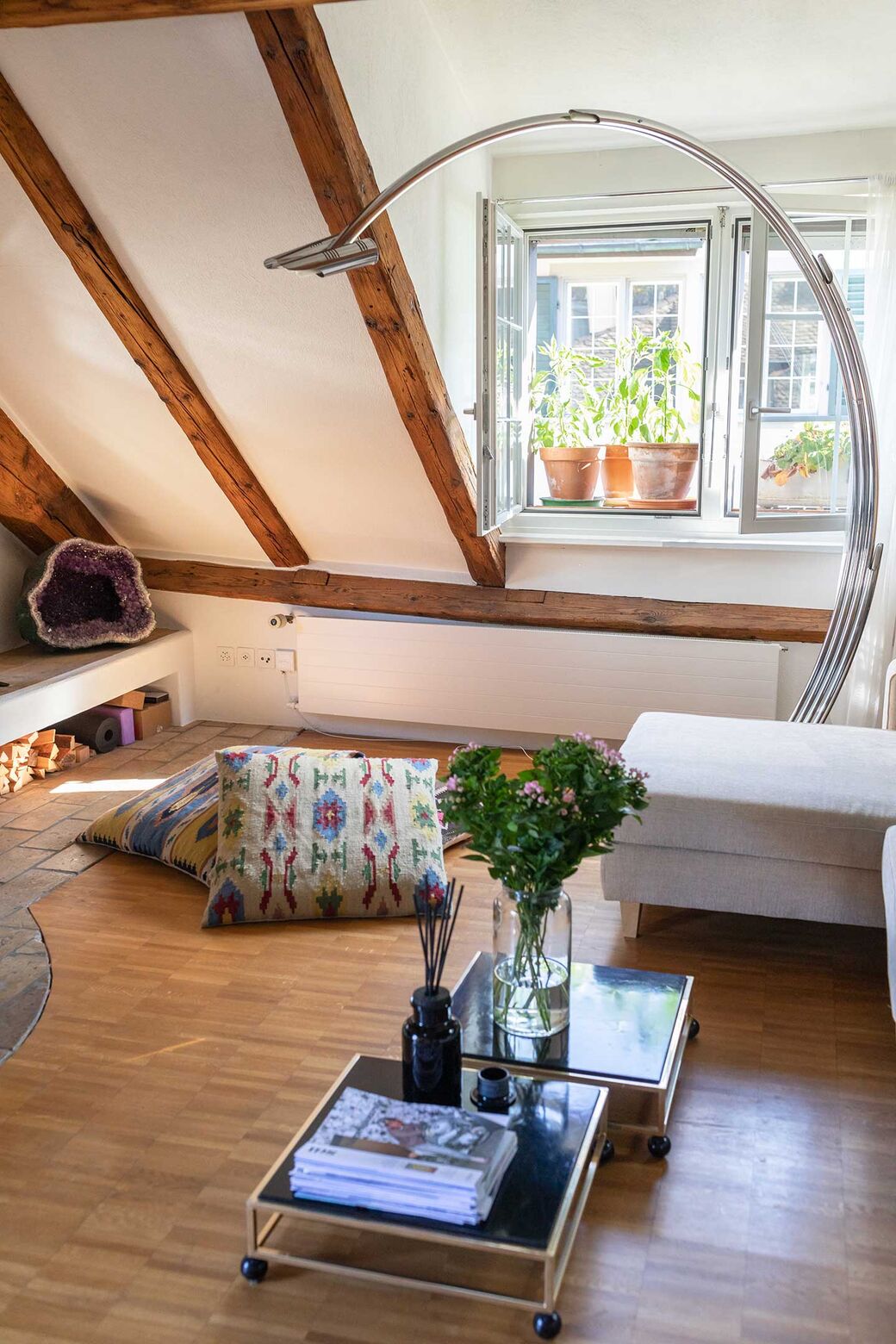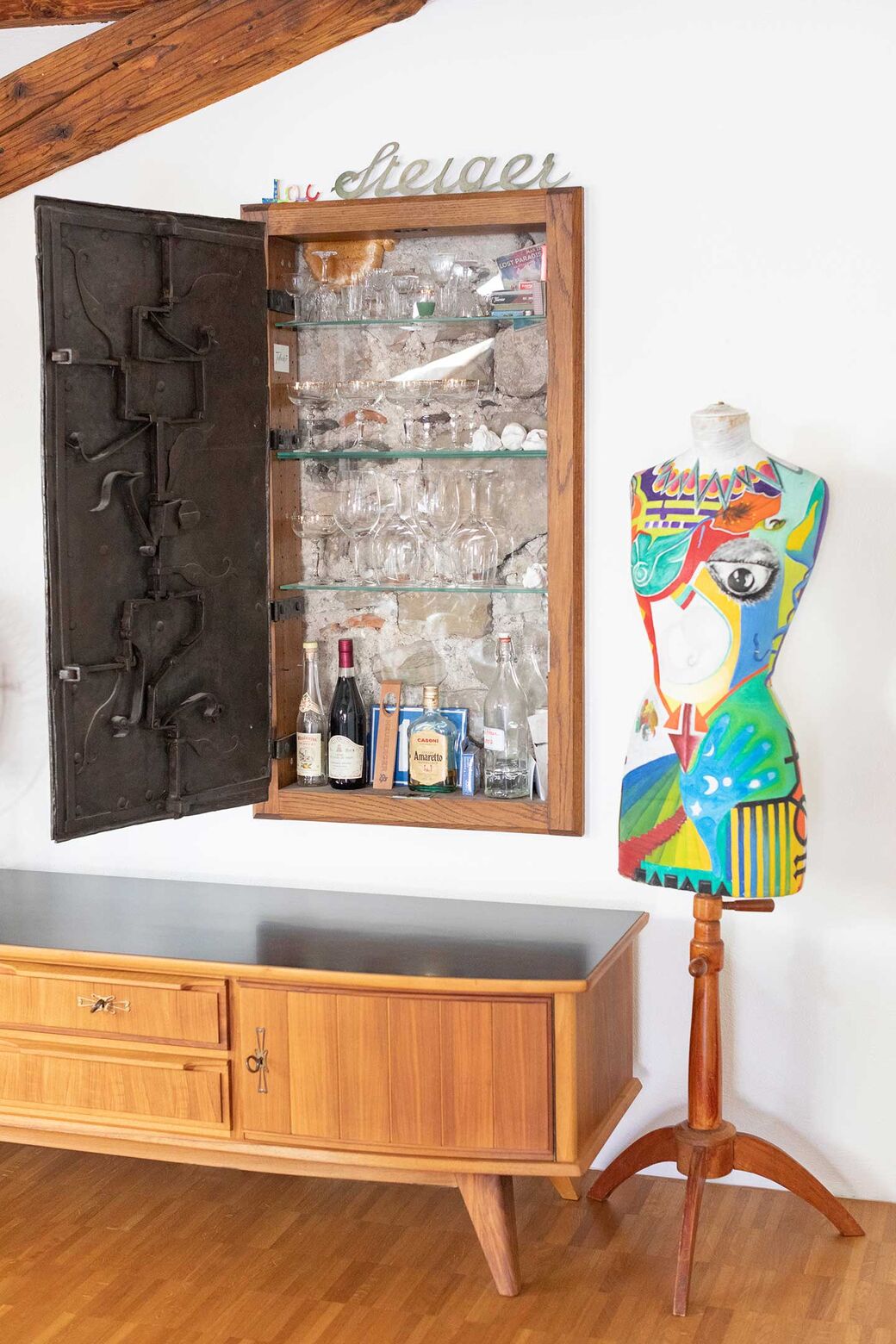 'We don't have a clearly defined style.'
'We don't have a clearly defined style,' says Thomas. Behind the Saarinen dining table is Thomas's favourite piece: a sideboard that he rescued from the scrap heap. 'I don't like throwing things away,' he says. He saved the furniture from being burned and gave it a facelift: 'Now it looks quite modern.'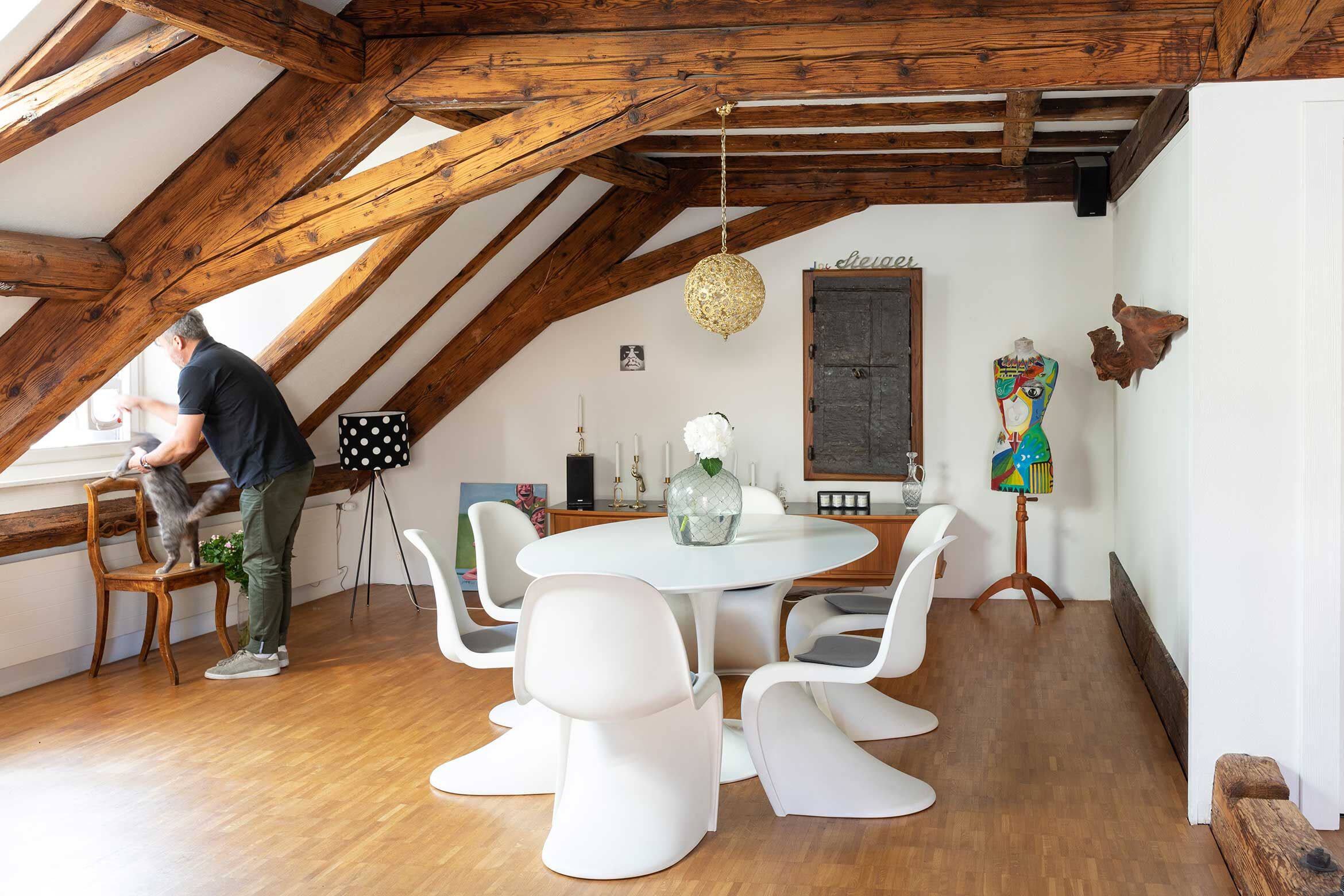 However, most visitors to his home are more interested in what is above the sideboard – the door of a medieval safe. But it doesn't conceal the family's treasure, behind it there is just a wall. 'I don't really know where the door came from,' says Thomas. With its sextuple lock it's probably unique: 'A lot of different locksmiths have been to look at it,' says Thomas. A local ornamental locksmith wanted to build a replica, 'But I don't know whether he ever did it.'
Another highlight of Thomas's home is the small balcony with a view of the university: 'Sometimes we miss having a garden,' he says. He and his wife have planted flowers and plants on the balcony and in front of the windows, including chilis, strawberries and tomatoes: 'Every year, we take turns to do the planting.' The inner courtyard is adorned with a few pots and an old Japanese cherry tree.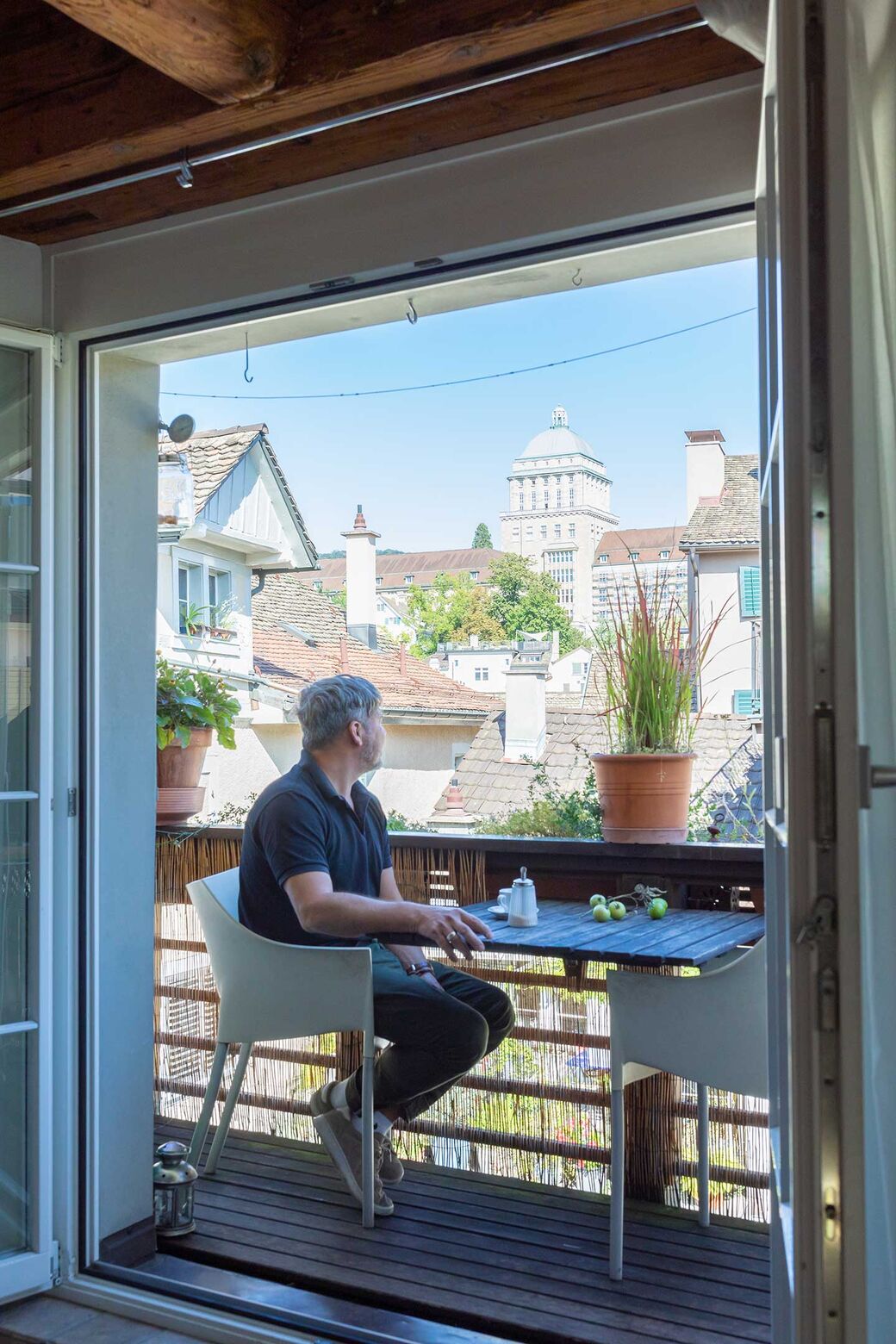 Thomas loves the fact that his workshop is right on the doorstep: 'I don't have to waste time commuting.' Thomas's grandfather set up the carpenter's workshop more than 80 years ago after buying Zum Grossen Steinbock, a building on Rindermarkt, and Zum Kleinen Steinbock, the house in the inner courtyard. They are both over 600 years old, 'but they're still in really good condition,' says Thomas. That's because they are solidly built and have been well maintained.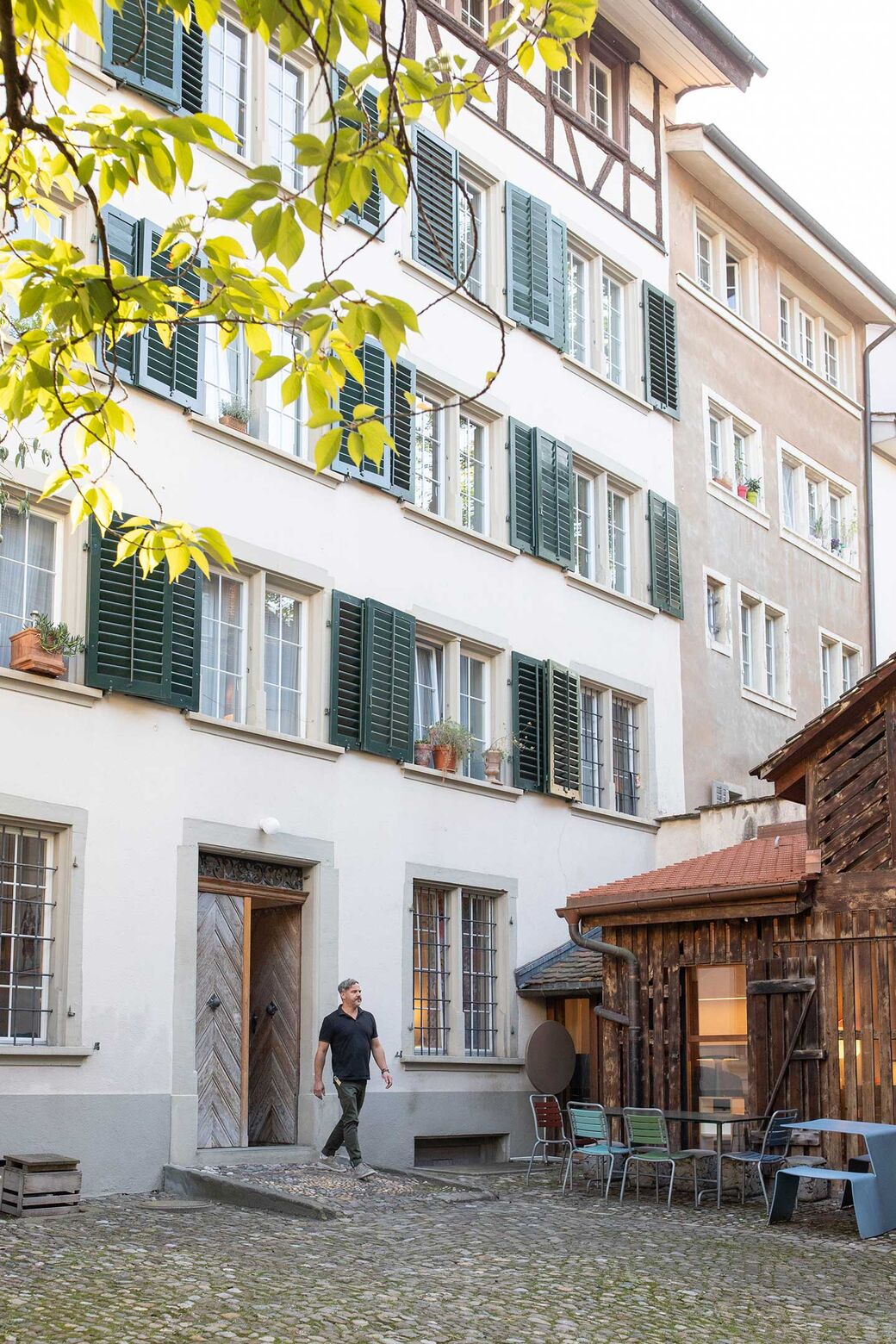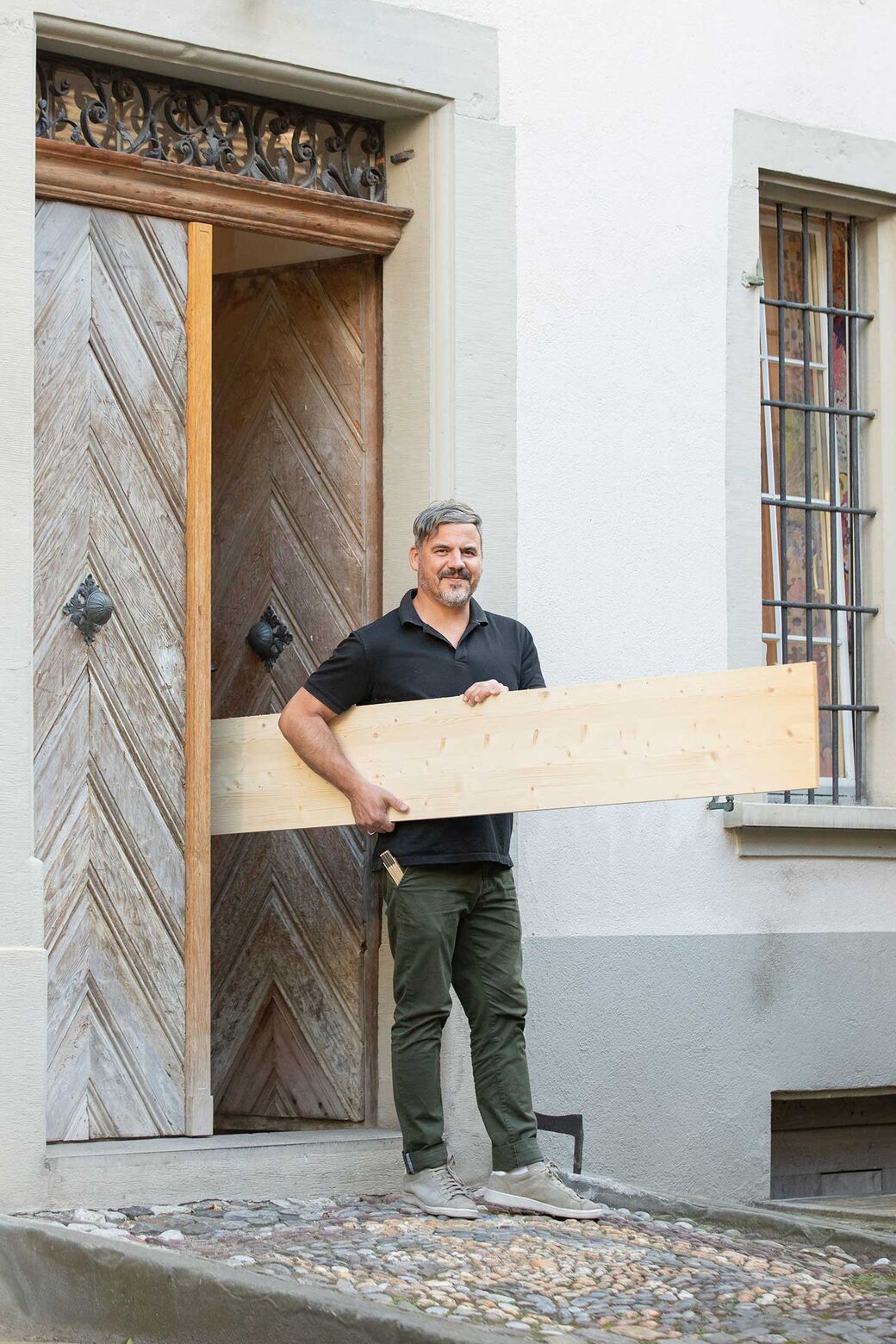 Even as a boy, Thomas spent a lot of time in the workshop. He has watched Niederdorf change over the years: 'In the past there was a lot more industry.' But when well-heeled people began moving into the old town, the area became gentrified. 'It became more difficult to have a carpenter's workshop here,' says Thomas. The machinery disturbed the neighbours and access was more difficult for customers.
'People are starting to value local craftsmanship again.'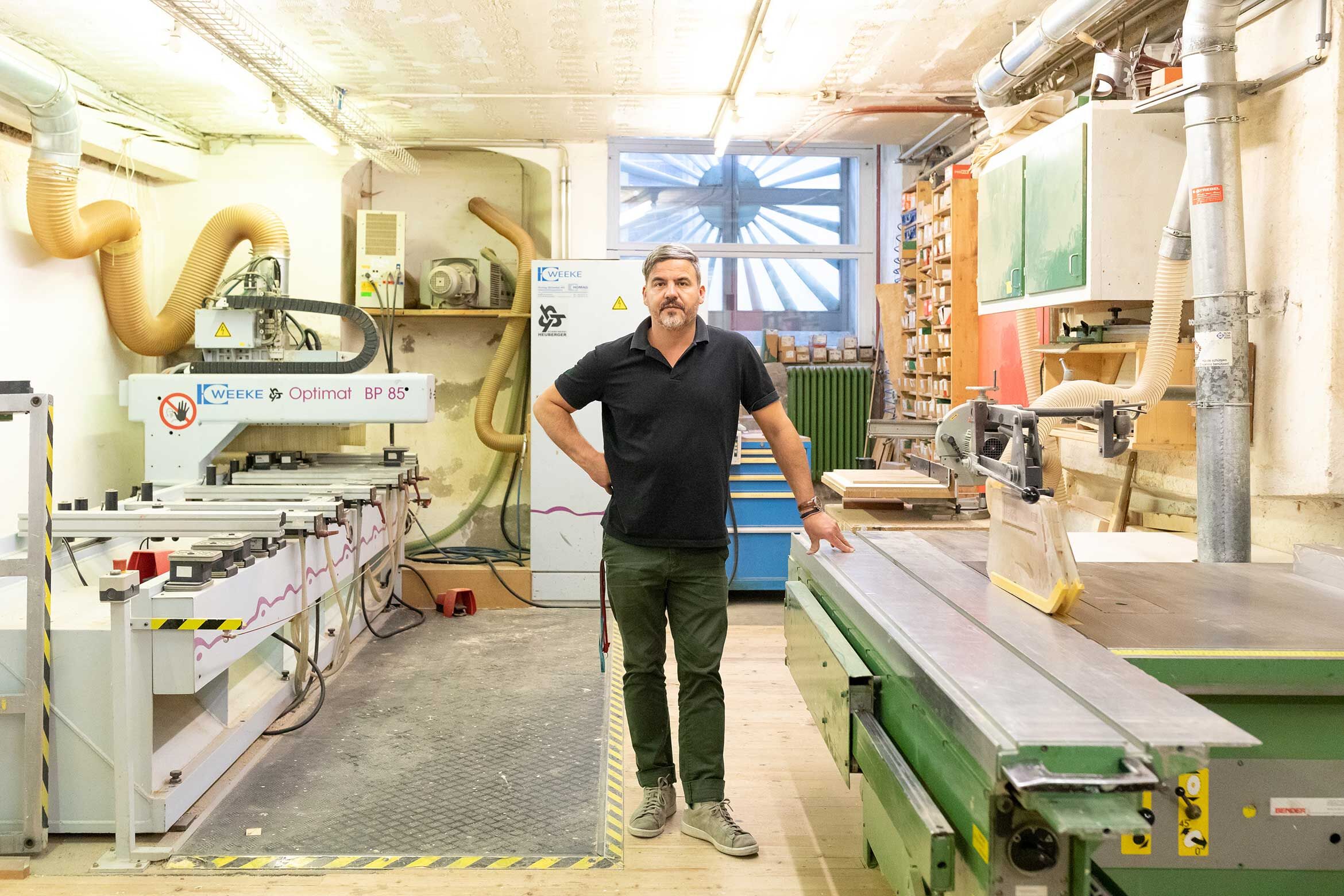 But Thomas tries to look on the bright side: 'Moving out has never been an option for me. It's all about tradition!' Today, he gets more and more work from local customers: 'People are starting to value local craftsmanship again.' And Thomas tries to be considerate: 'I don't run the circular saw at the weekends or before 7 in the morning.'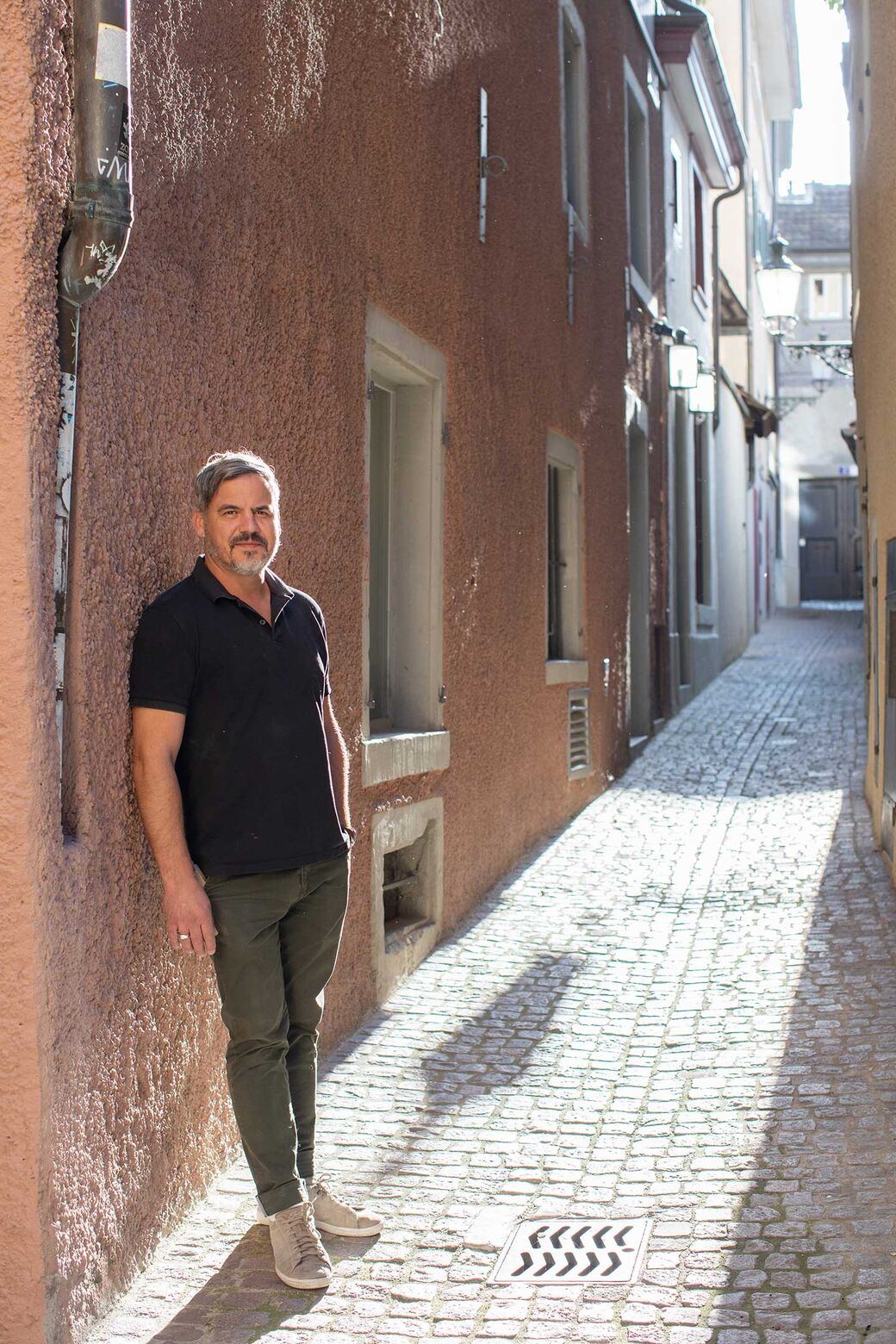 Thomas also feels a strong personal attachment to Niederdorf: 'My roots go deep here,' he says. For many years, he was heavily involved in the Limmatquai/Dörfli business association. Today, he can't imagine living anywhere else. 'I actually enjoy change,' he says, 'but this is where my wife and I feel most at home.'
View posts by interests, or use the proximity search and additional filters.
Try it out
.
Save posts as favourites – simply click on the heart symbol in the upper right corner of the post.