The restaurant where meat is an afterthought
Our food critic believes that meat is bad for the environment and no longer ethically sustainable. We need to come to terms with this. We need to acclimatise to a life without meat. Zurich's top chef Nenad Mlinarevic is showing us how to do this in his new restaurant Neue Taverne.
Anyone who's interested in food will know that cooking meat is hardly rocket science. It's very forgiving, can be stored for a long time and most people love it. This is particularly true in the restaurant trade. You can't really go wrong as long as you have a grill and deep fat fryer. The plethora of new entrecôte restaurants popping up across Zurich are proof of this and raise doubts as to whether this city is truly on the verge of becoming a metropolis for food lovers. What's more, meat is bad for the environment and no longer ethically sustainable. The current political and cultural climate demands that we start to reduce the amount of meat in our diets. The best way to do this is to spruce up other dishes.
Nenad Mlinarevic calls his concept 'vegetarian with benefits'.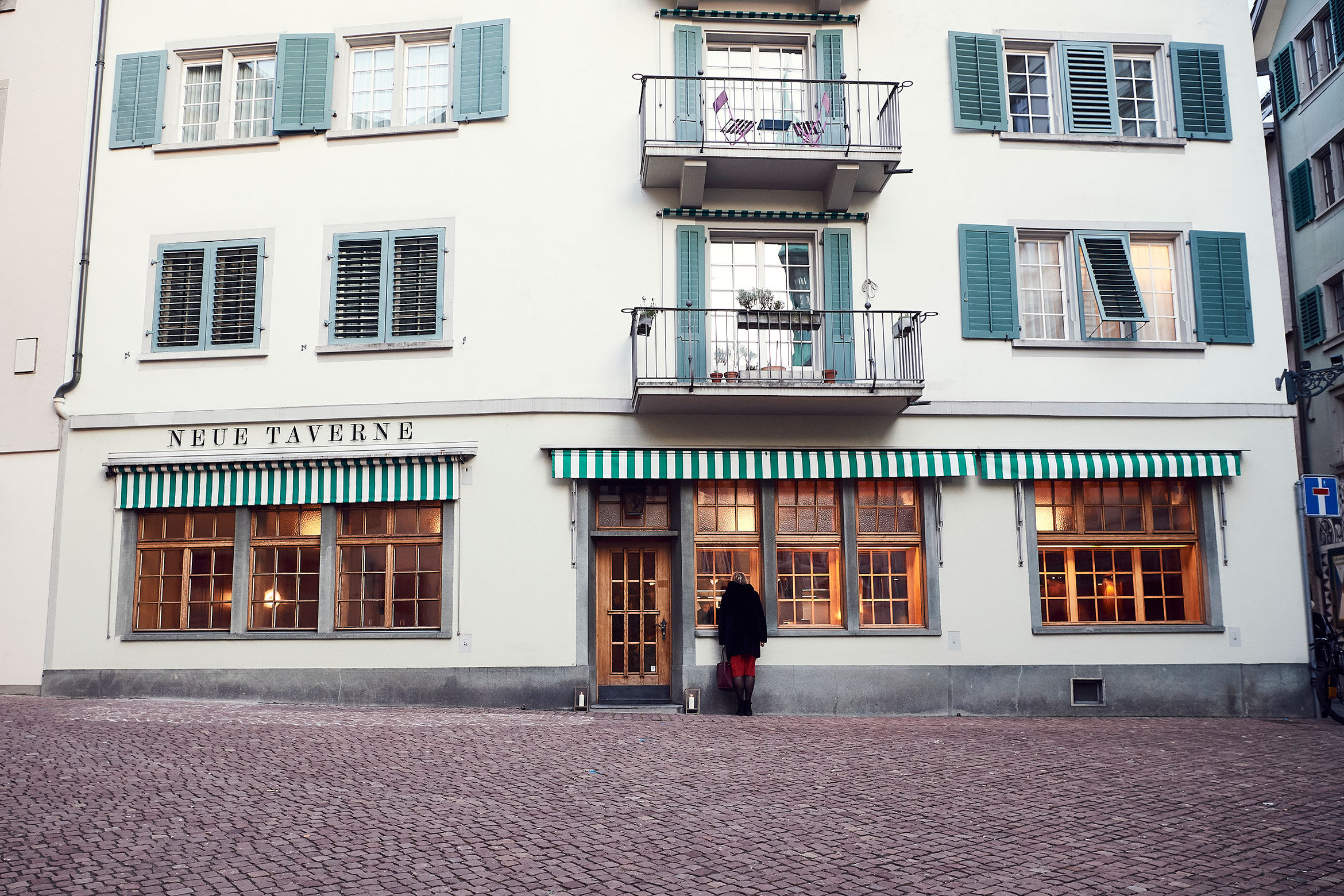 This is precisely what Nenad Mlinarevic is doing in his new restaurant Neue Taverne, the follow-up to Bauernschänke on the other side of the Limmat. He came up with the 'vegetarian with benefits' concept together with his partners Patrick Schindler and Valentin Diem. I tasted a range of dishes that were actually meant to be shared, meaning I left the restaurant, which was formerly the traditional Taverna Catalana, feeling a little overfull.
I kicked things off with some kebabs made using the pea-based meat substitute Planted, which was invented in Zurich and is supposed to taste like chicken. The kebabs are barbecued on the Japanese charcoal grill, meaning they take on a beautiful smoky flavour, and they are served with 'sexy' spicy mayo on the side. Planted is nice, but if you eat too much of it you start to miss the taste of real chicken. This dish had the perfect amount of this amazing product, for which the inventors were able to raise seven million Swiss francs in venture capital.
The relatively small tables lead to very un-Zurich conversations with strangers.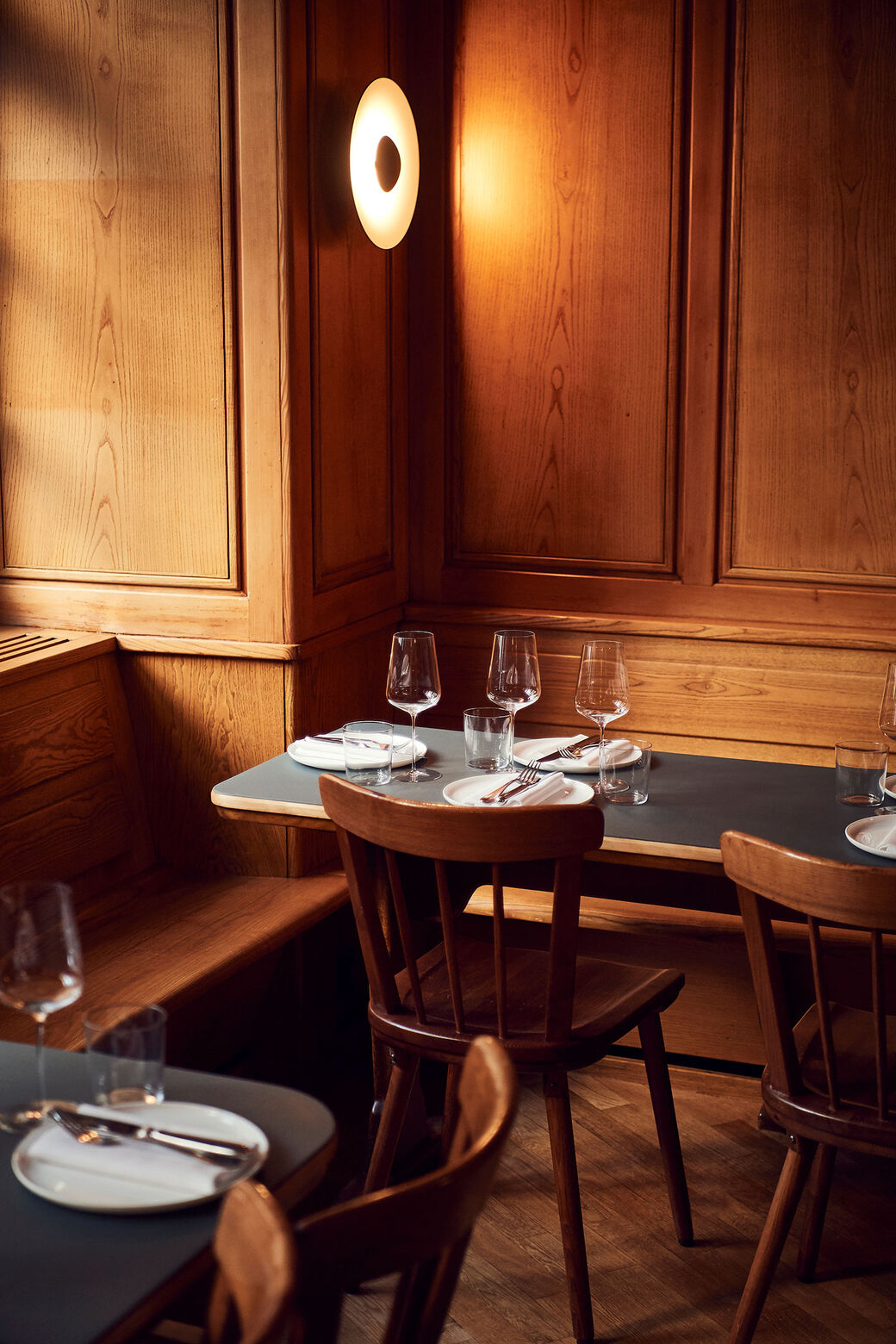 This was followed by a salad of radish and roasted sesame on fish dashi with shiso oil. Fresh, a lot of bite and sharpness, inspired by the flavours of the Far East, equally appetising and satisfying, maybe a little bit too sour? Then there was a wholemeal brioche served with deep black truffle and mushroom mousse and black truffle shredded over the top. Sinfully crispy and fatty and yet light – it transpired that the dish was a tribute to the Swedish superstar chef Björn Frantzén. And it does him justice.
For the main course, the pleasant waiting staff presented me with a risotto creation made using 20 different types of grain, nicely creamy and all'onda – just as it should be. Nutty, crunchy Jerusalem artichoke crisps were sprinkled over the top and it was served with an onsen tamago egg in the middle. Even though I was definitely full by now, I was persuaded to have a dessert: a bowl with a lightly salted, crumbled chocolate cake under a mandarin granita, seasoned with dill and fennel pollen. The crunchy ice-cold granita melted in the mouth together with the saltiness of the cake and released an abundance of flavour. It's a thrilling experience. I'd had a bowl like this before from Nenad Mlinarevic's former kitchen in Vitznau (Restaurant Focus), but he has perfected it and the presentation of the dish often changes.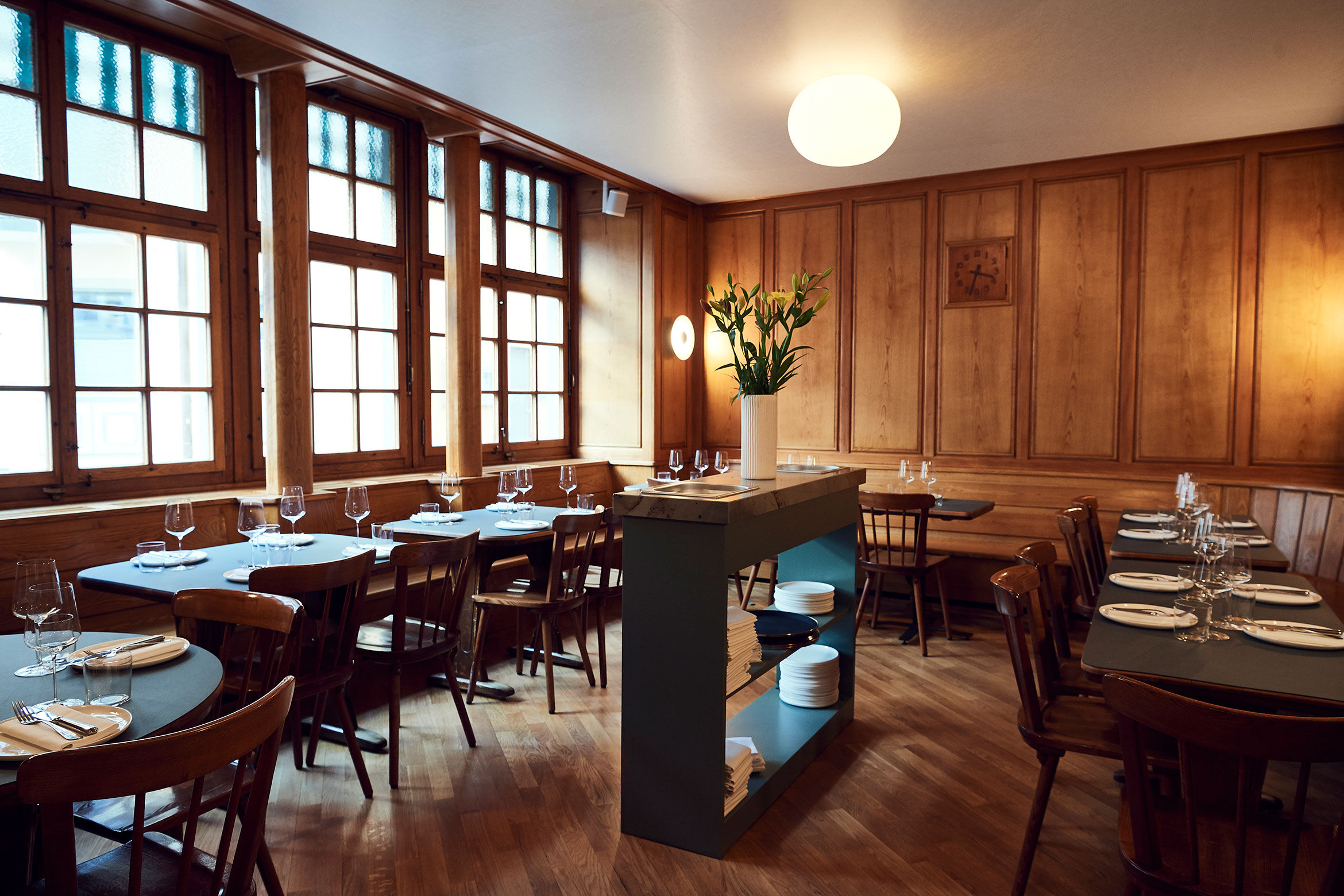 My first experience of a concept like the one being pursued by Neue Taverne was in 'Quatre Amb Cinq Mujades' in Barcelona. The establishment was later merged with the neighbouring restaurant Succulent by chef and entrepreneur Carles Abellán. It has since closed, but the approach was intriguing: meat and fish were only used for their flavours and never actually served as a mouthful on the plate. This creates a resource and climate-friendly, flavourful and pleasure-driven cuisine without the self-righteousness of veganism. Green leaves, crispy or creamy grains and tubers, which are generally chronically mistreated, play the starring role.
This puts a spotlight on a flavourful and pleasure-driven cuisine.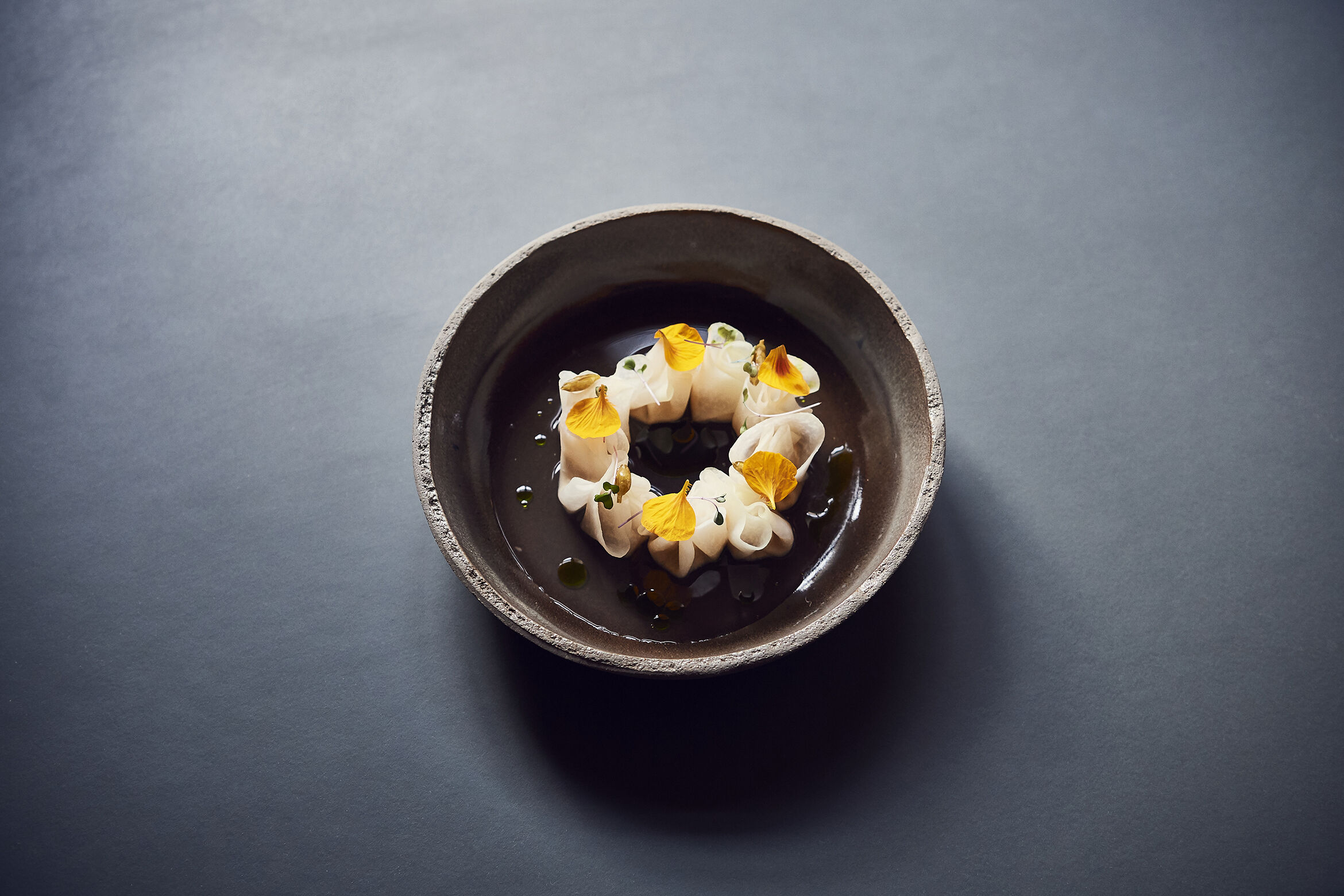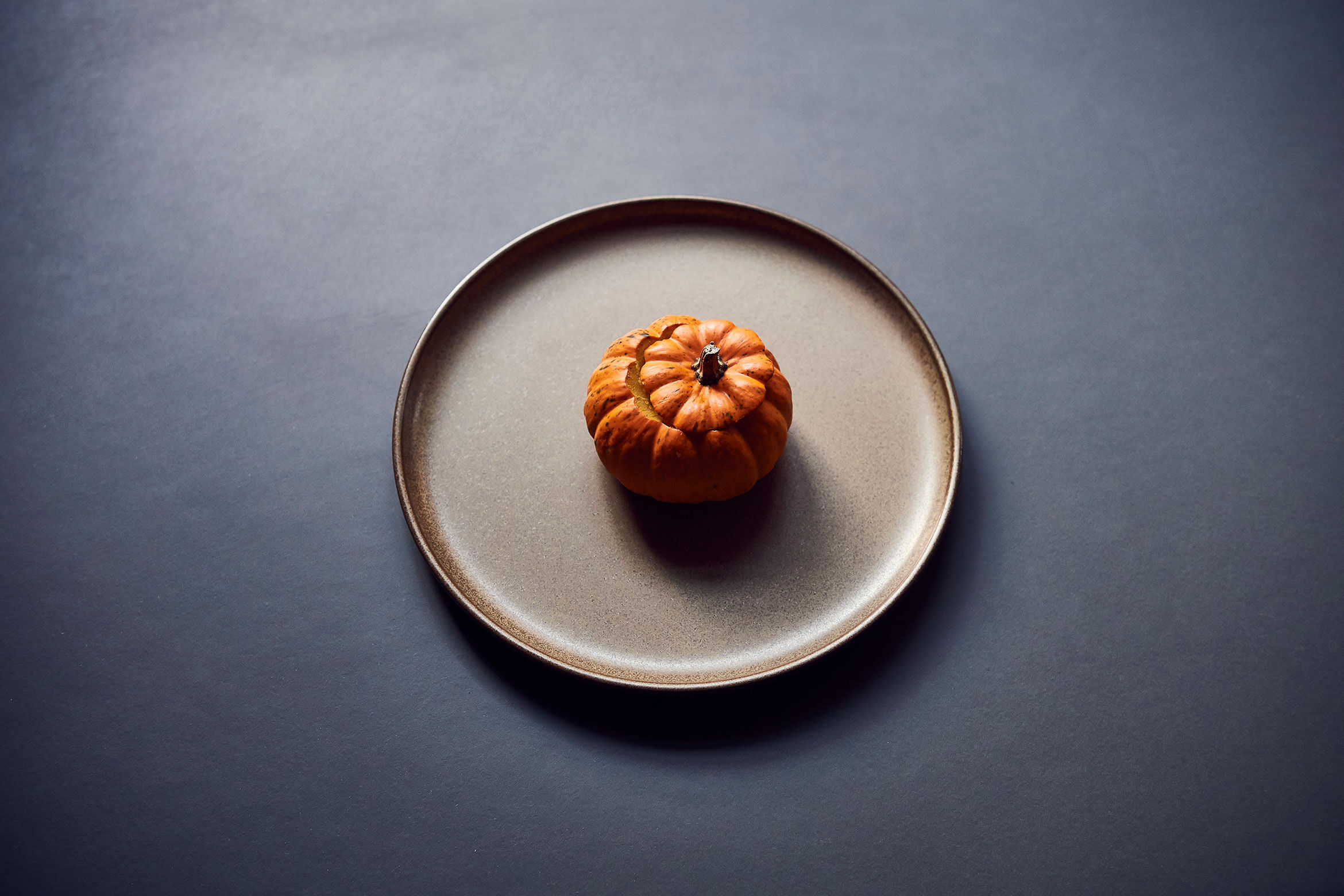 We do need to move away from putting animal sacrifice at the centre of every shared culinary experience as passed down by our cave-dwelling, idol-worshipping ancestors – but hot dogs at football matches are as delicious as they are difficult to replace. Of course, some animal sacrifice was still required to create my meal – the onsen tamago egg, for example – but at least it was in a somewhat sublimated form.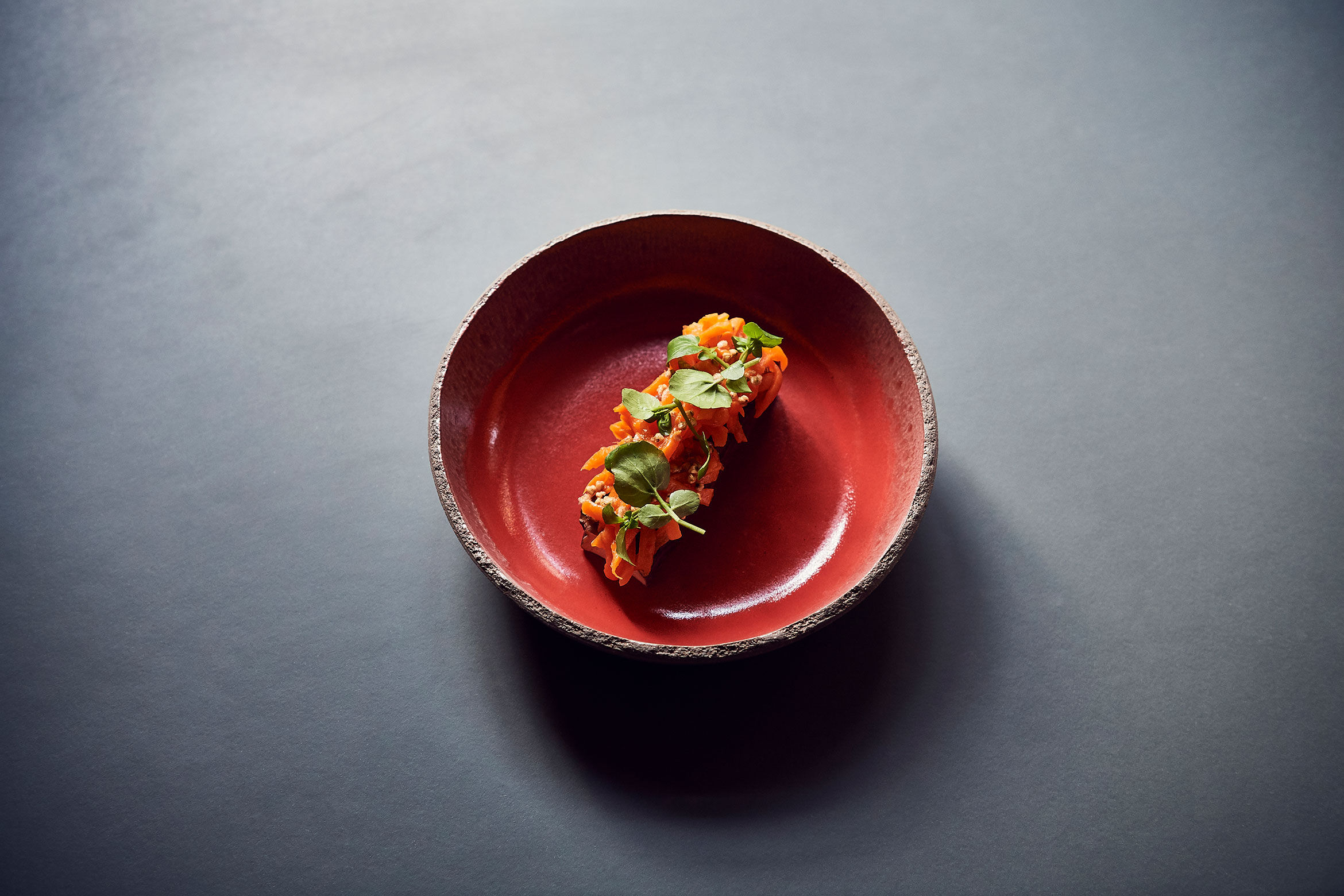 Anyone planning to eat alone or as a couple at Neue Taverne will find themselves sitting with other people; this conviviality and the relatively small tables mean that strangers often strike up conversations with one another in a very un-Zurich fashion. This is no good if you are after a romantic tête-à-tête, but everyone else should treat themselves to a visit to the Neue Taverne. The prices are reasonable considering the culinary expertise that goes into the dishes – my meal including wine cost 120 Swiss francs and I was more than full; a couple dining out wouldn't need to spend any more than 180 Swiss francs. My resolution for next year: learn to prepare seasonal vegetables that are as delicious as those created by Master Nenad, preferably from the man himself.
Address
Neue Taverne
Glockengasse 8
8001 Zurich
+41 44 221 12 62
Website
Opening hours
Monday to Friday 11:30 am – 2:30 pm, 6 pm – midnight
Saturday, 6 pm – midnight
View posts by interests, or use the proximity search and additional filters.
Try it out
.
Save posts as favourites – simply click on the heart symbol in the upper right corner of the post.