Wollishofen – a green home for all generations
The No 7 tram takes passengers to Wollishofen. A square was laid at the terminus only a few years ago. Wollishofen's residents are surrounded by a lot of nature. It is not only the elderly who are drawn to the area.
Years ago, it used to be said that Wollishofen was a place with a lot of elderly residents. Is there any truth in that today? It is certainly accurate to say that Wollishofen does have its fair share of retirement homes with a tree, a field or the local limestone somewhere in their name.
There are also pensioners who sit down by themselves at a table at the charmingly nostalgic Café Wollishofen near Wollishoferplatz, the last stop on the tram line, to exchange a few words across the room with the waitress if the opportunity arises. 'I bet those building works on Albisstrasse will take longer than planned again,' somebody says on this rather rainy afternoon.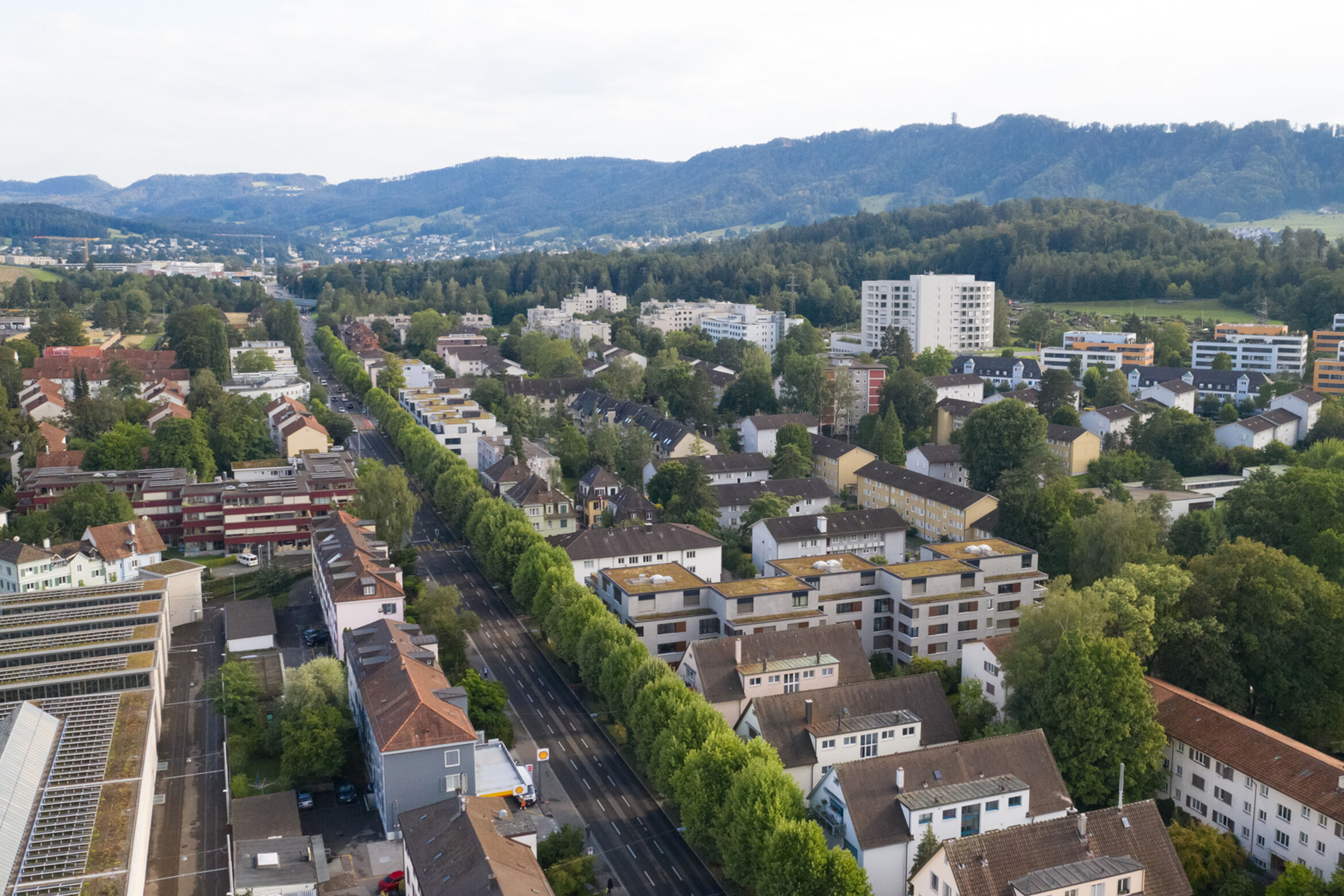 How do such cafés actually always manage to create that incomparably warm tearoom atmosphere? This is the question you ask yourself as a chance visitor, letting your mind wander. Is it the cushions on the seats that look as soft as they actually are? Is it the aroma of coffee and baked goods, or the dry acoustics created by the fitted carpets? All those elements, taken together, probably play their part.
There are also a lot of families in Wollishofen.
With its cosy atmosphere, the café is, to a certain extent, akin to the British pub – for that too, after all, is often a kind of public living room. However, the one on Wollishoferplatz, the Shamrock Irish Pub, with its terrace facing the square, is also a garden restaurant.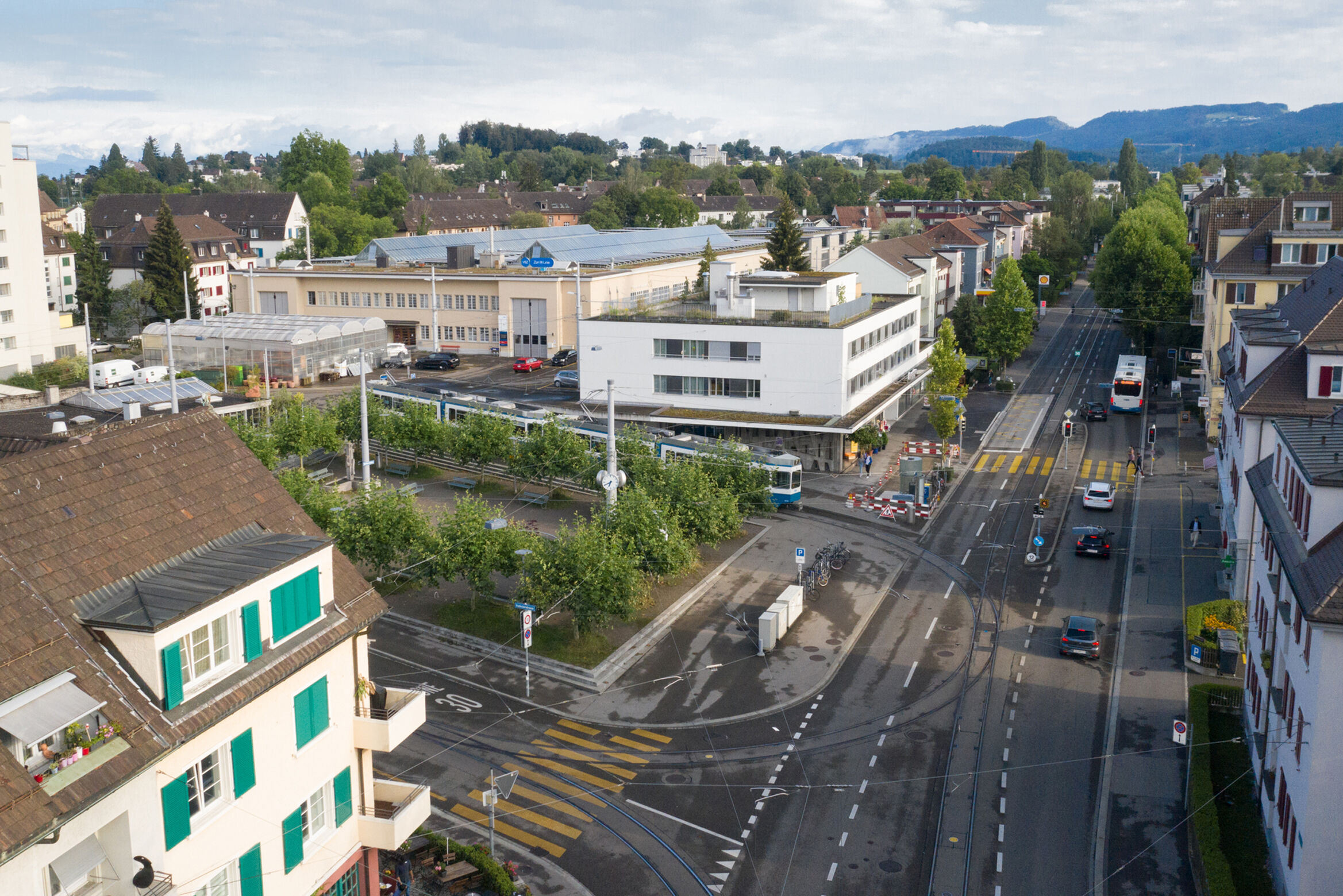 In any event, the café is a good place to indulge in such incidental observations. Somebody else is just coming in. The man is young and evidently not interested in either coffee or the home-made plum tart that the waitress has already recommended to one other customer. Instead, he hands over a little money for the sort of lottery ticket where you find out immediately whether you have won anything – or not, as the case may be.
It is not only pensioners who are on the go around Wollishoferplatz. There are also young men taking a stroll around the block with their pit bull terriers and talking about the breeding of fighting dogs.
The fact that Wollishofen's population structure is far from noteworthy, in terms of age groups, is also demonstrated by a glance at the city statistics for 2019: 20 per cent of residents are over 60. By comparison, Affoltern is just a little lower than that, at 18 per cent, which is exactly the same as the average for the whole city. In Fluntern, meanwhile, over-60s account for a full 24 per cent.
Away from the main street, life here is quiet.
Around the Wollishofen tram terminus – where, incidentally, there is also a huge tram depot – there is a lot of living space for all generations. The neighbourhood has communal housing, a kindergarten and a day nursery. After all, Wollishofen is also a place for families.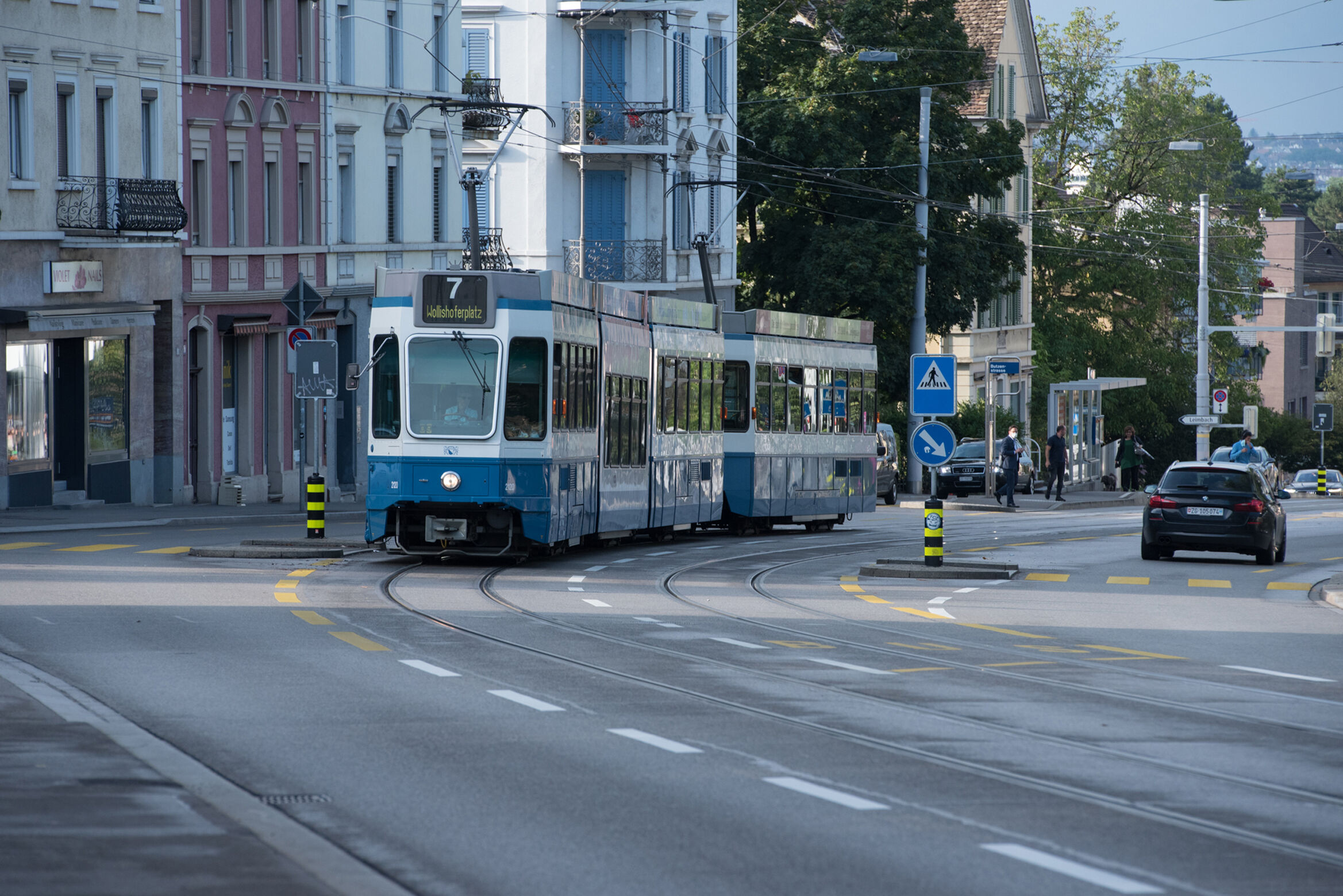 Even though Wollishofen has noisy motor traffic on Albisstrasse, the main axis leading away southwards from the square, life further out is often very quiet and green.
One place that fits this description is Entlisberg school, built in 1947 and probably one of the most dreamlike school buildings in the city. With its exposed sandstone brickwork, it is reminiscent of a very old Swiss Alpine Club hut, the red-and-white painted wood on the façade gives it a Swedish air, and the garden-like surroundings too give the place a slightly dreamy feel. It also has a circular playground pavilion , whereas hard or rubber-surfaced sports areas are the norm at other schools.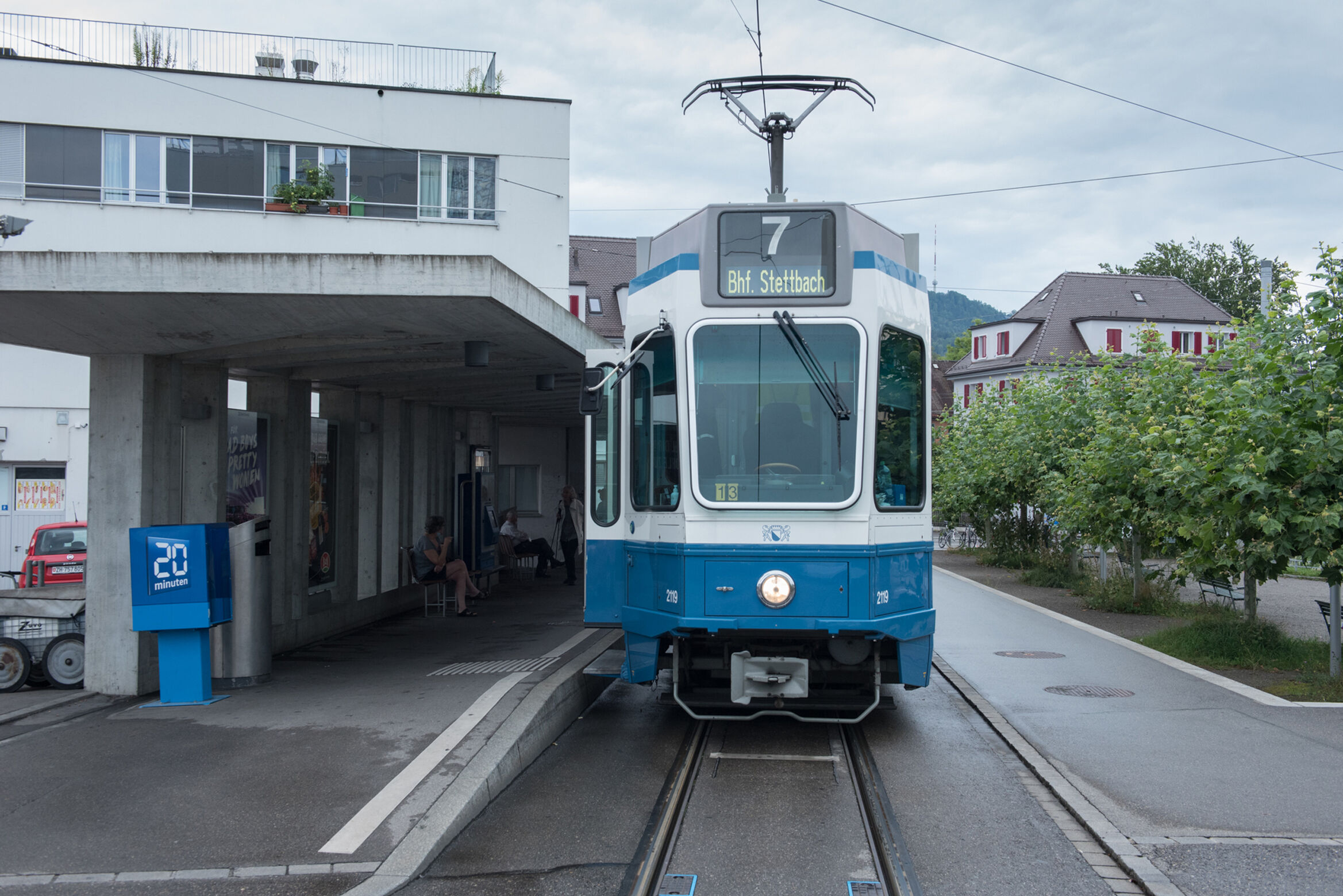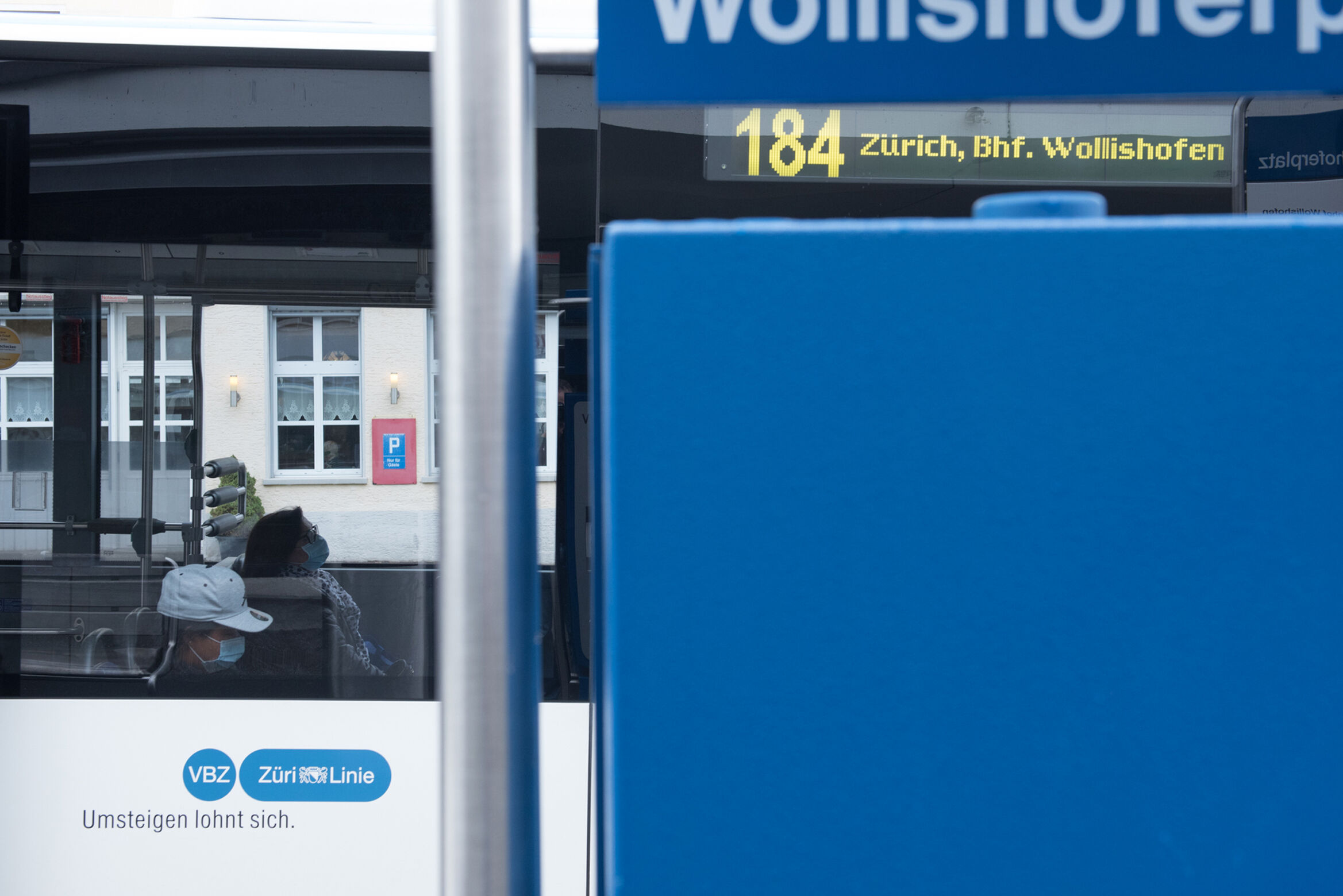 Wollishofen and Enge are known as traditional districts where members of the Jewish diaspora live, but the area around Wollishoferplatz is characterised by Turkish eating habits. The butcher's shop on Albisstrasse sells halal meat, and you can grab a kebab from the takeaway immediately next to the tram stop. And judging by their names, various hairdressing salons seem to be run by Middle Eastern owners. What's more, with its abundance of hairdressing establishments, Wollishofen looks like a miniature Mecca for the hairdressers' guild.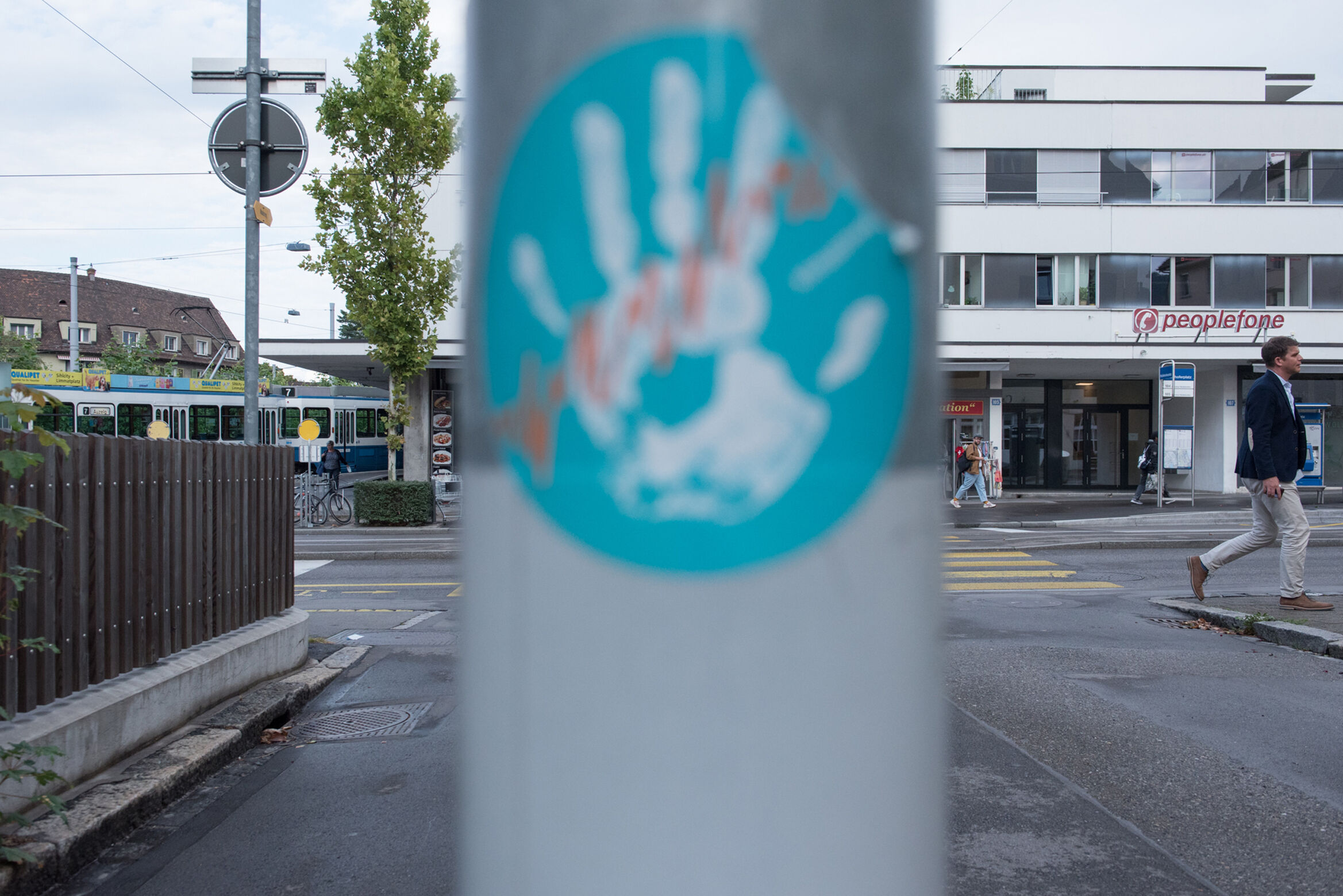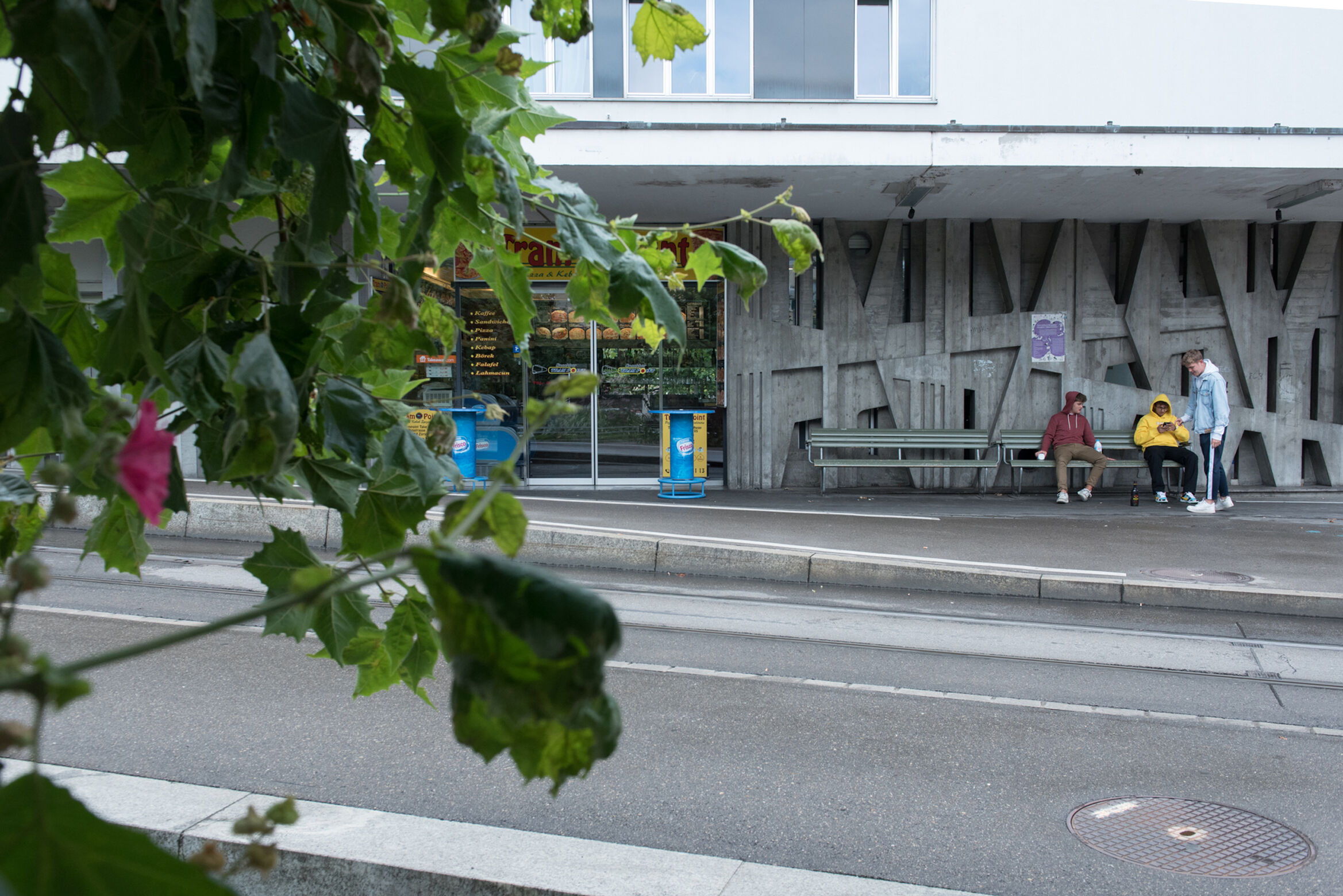 Local residents who feel that their homes are not green enough can stock up on plants for their living room at the florist's. At the shop in the middle of the oval section of track at Wollishoferplatz, it is possible to buy not just flowers but also a banana or olive tree.
Wollishoferplatz has not been around for long.
Most importantly, however, the tram track area is home to a square that encourages people to linger. This wasn't always the case. Until about 12 years ago, the inner part of the turning loop was a redundant space filled with a stop-gap solution – grass and a few bushes. As a result of a renovation project commissioned by the civil engineering office, this square – now clearly trapezium-shaped – became accessible to pedestrians from 2009. Since then, this place has had shady trees, a fountain, flowerbeds and, most importantly, benches where people can sit.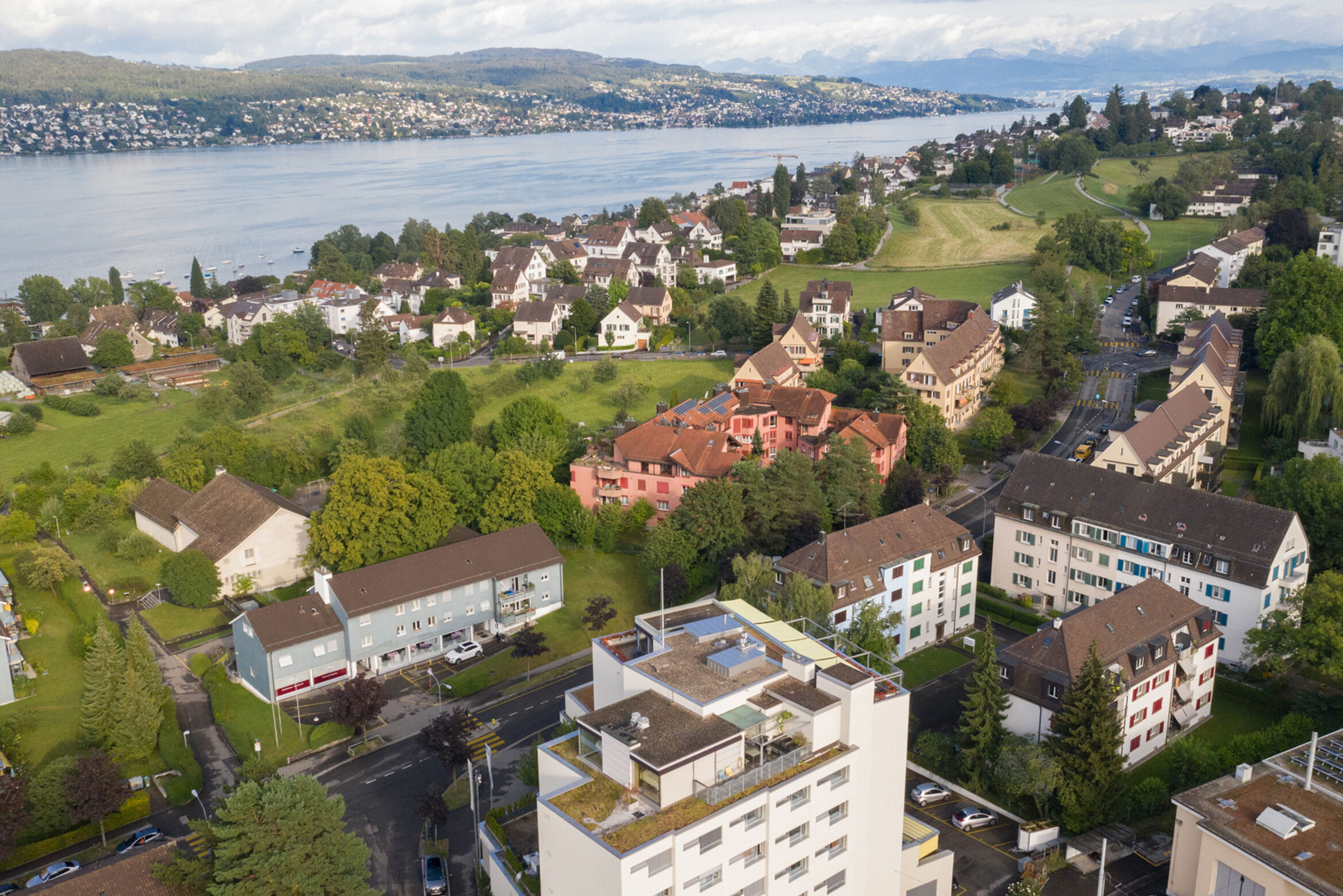 The only thing still missing was a name. In 2013, the Wollishofen district association lodged an application with the road-naming commission to give this square a name. Many local residents wanted one name for the square. The district association's proposal was 'Wollishoferplatz'. This name was approved by the city council, in accordance with the wishes of the City of Zurich, in January 2014.

The Zurich public transport operator VBZ has not yet been completely consistent in putting the square's name into use. Its trams run to both 'Wollishoferplatz' and the simpler 'Wollishofen'.
This article is not free to read.
hellozurich stands for a diverse and tolerant city. We tell stories about the people and places that shape Zurich. But all this costs money. As an independent magazine we rely on your help.

Become a member from just 8 francs a month and, as a supporter, receive the hellozurichPass. In conjunction with our partners, this gives you access to more than 200 exclusive deals and discounts.
All benefits Get your hellozurichPass Gift the hellozurichPass
Address
Wollishoferplatz
8038 Zurich
Info
Tram line 7 runs between Stettbach railway station and Wollishoferplatz, taking approximately 41 minutes to cover that distance. The timetable is here.
View posts by interests, or use the proximity search and additional filters.
Try it out
.
Save posts as favourites – simply click on the heart symbol in the upper right corner of the post.