Onkel Emma
Daniel Buchschacher has created an oasis on the outskirts of the city. But it isn't just the local residents who enjoy shopping and sipping coffee at Onkel Emma.
Onkel Emma is a safe environment where young people can gain valuable work experience as well as a shop where you can buy everything from trainers and hoodies to vintage items and any of the store's interior décor. But shop manager Daniel Buchschacher does find it difficult to part with some of these treasures.
Inside Onkel Emma, clothes and accessories hang in old medicine cabinets or are displayed on former workbenches and drawing boards. 'This is our small contribution towards protecting the environment,' explains the manager Daniel Buchschacher. That's why he and his team spent weeks traipsing around second-hand shops across Switzerland looking for furniture. They struck gold in Jura, Neuchâtel and the Töss Valley, but found nothing in Zurich – everything was too expensive.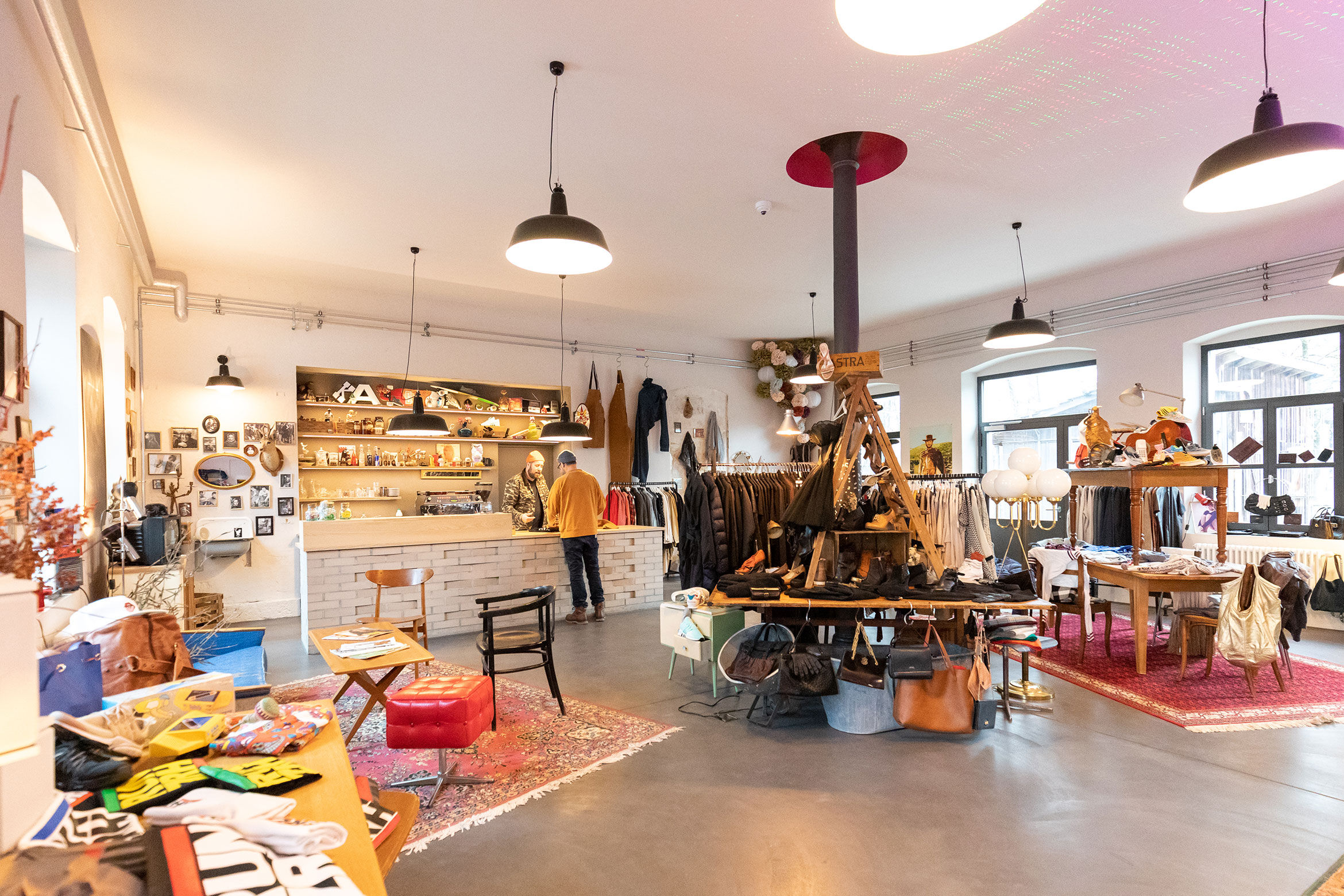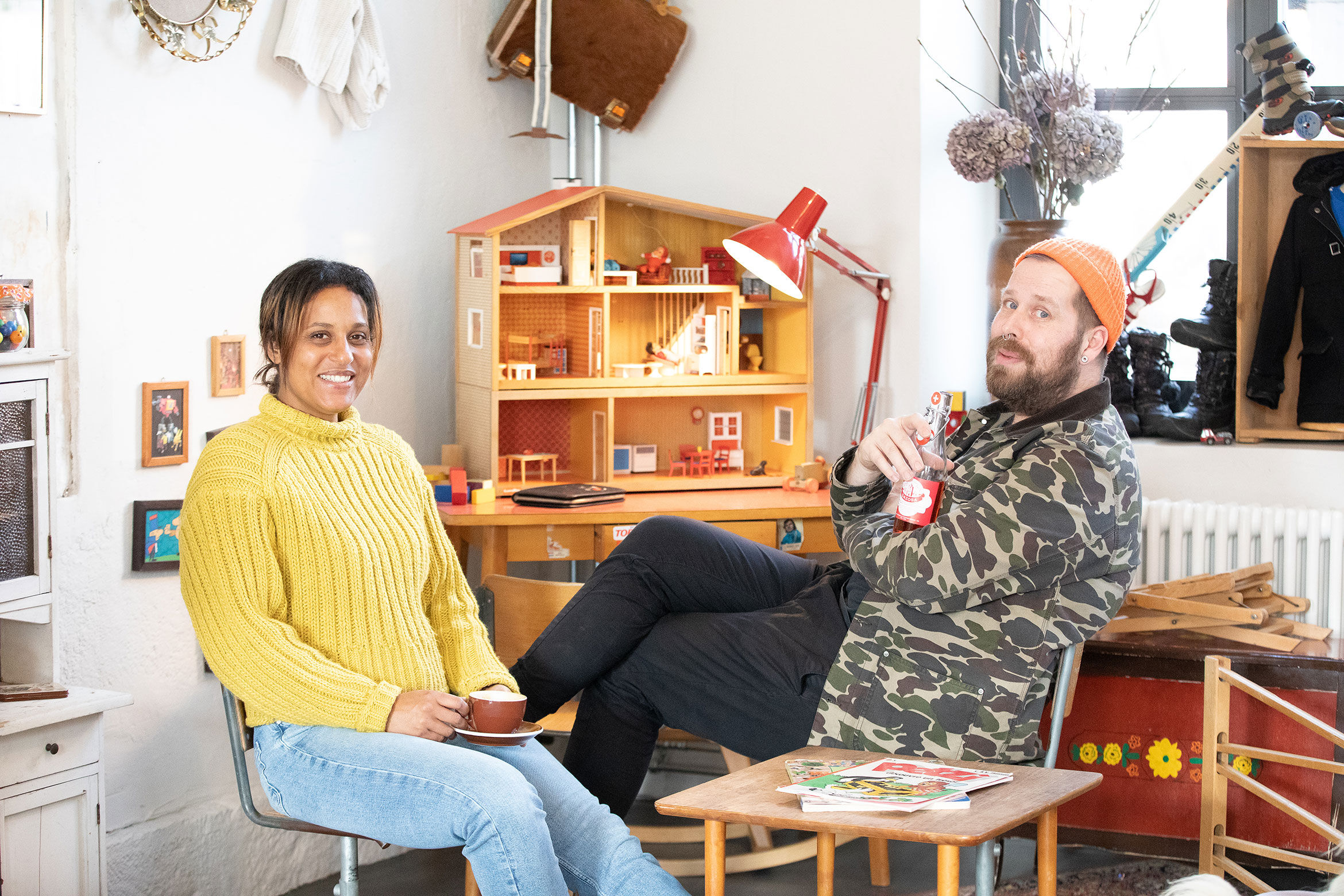 Aisha and Daniel know the stories behind the objects.
Daniel knew right away whether something was the right fit for his shop. The self-proclaimed aesthete chose most of the interior décor himself. Everything has emotion attached to it. He and his business partner Aisha Bains know the stories behind the objects. It hurts every time they have to sell something, he explains with a smile. But sadly, it's true.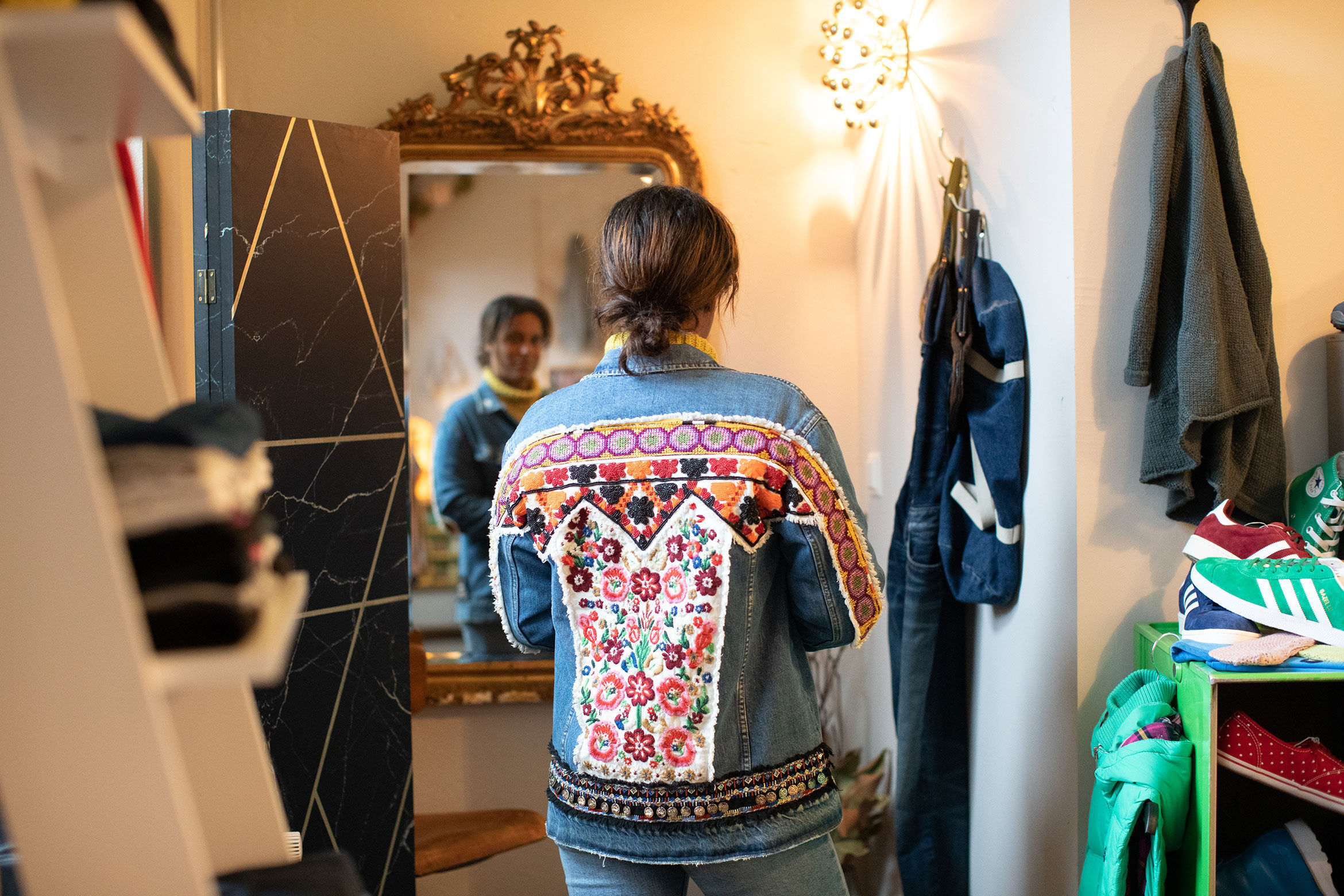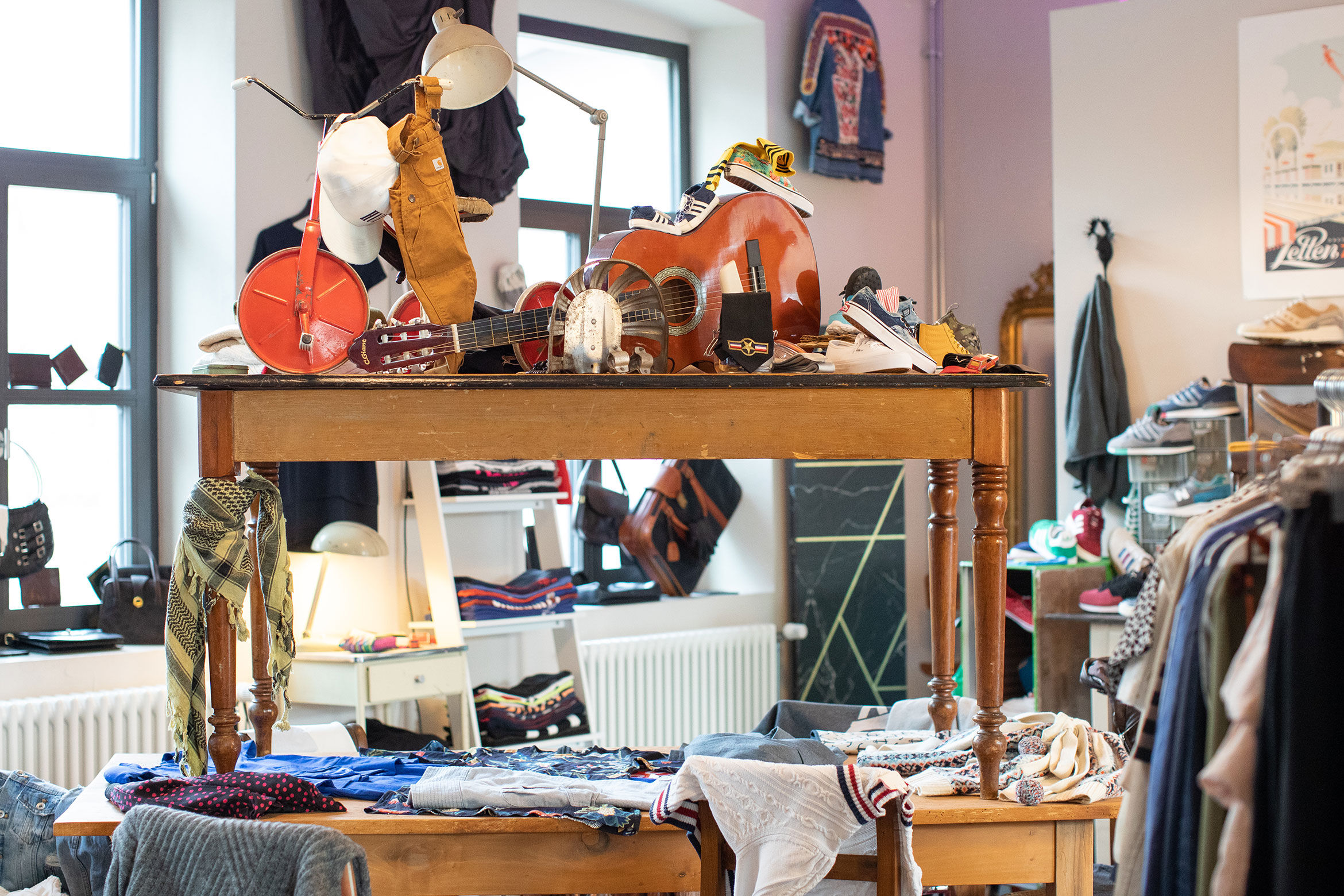 'We want to be a shop for the whole neighbourhood,' says Daniel.
Onkel Emma is part of the Vertigo project, an initiative from the ZKJ Foundation (Zurich Children's and Young People's Homes). This provides young people who may find it difficult to find employment with the opportunity to complete an apprenticeship in the businesses of those involved. Various organisations, such as the Youth Advocacy Service and Zurich's Social Services, refer young people to the foundation. The foundation provides specialist support throughout the training – including educators, career experts and vocational trainers.
Onkel Emma can be found at the final stop in Werdhölzli, right next to the indoor skatepark. Daniel came up with the concept for his shop a long time ago. Before this, he coached young people who wanted to work in sales. Four years passed before the shop opened in 2018.
The clothes and shoes on sale in Onkel Emma come from the stock of cooperative shops. Friends and customers also bring in items to sell and the profit is split 50:50. Daniel explains that 90 per cent of their products are second-hand. They are all well-known and popular labels – a very exclusive range. They also sell bags and other accessories. Virtually everything you see in store can be purchased – including the furniture, such as the little stool that is actually a sewing box.
Daniel explains that 90 per cent of their products are second-hand.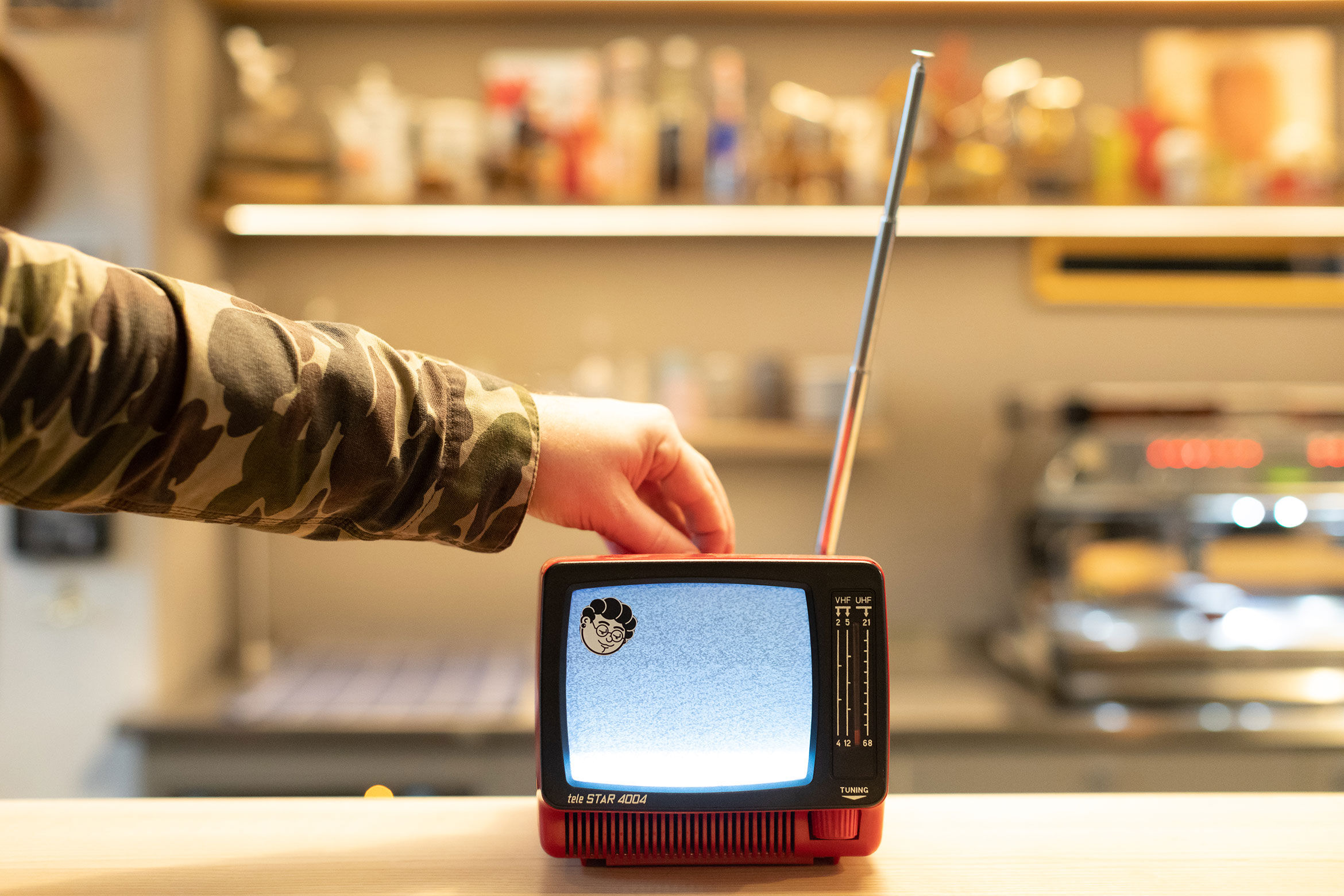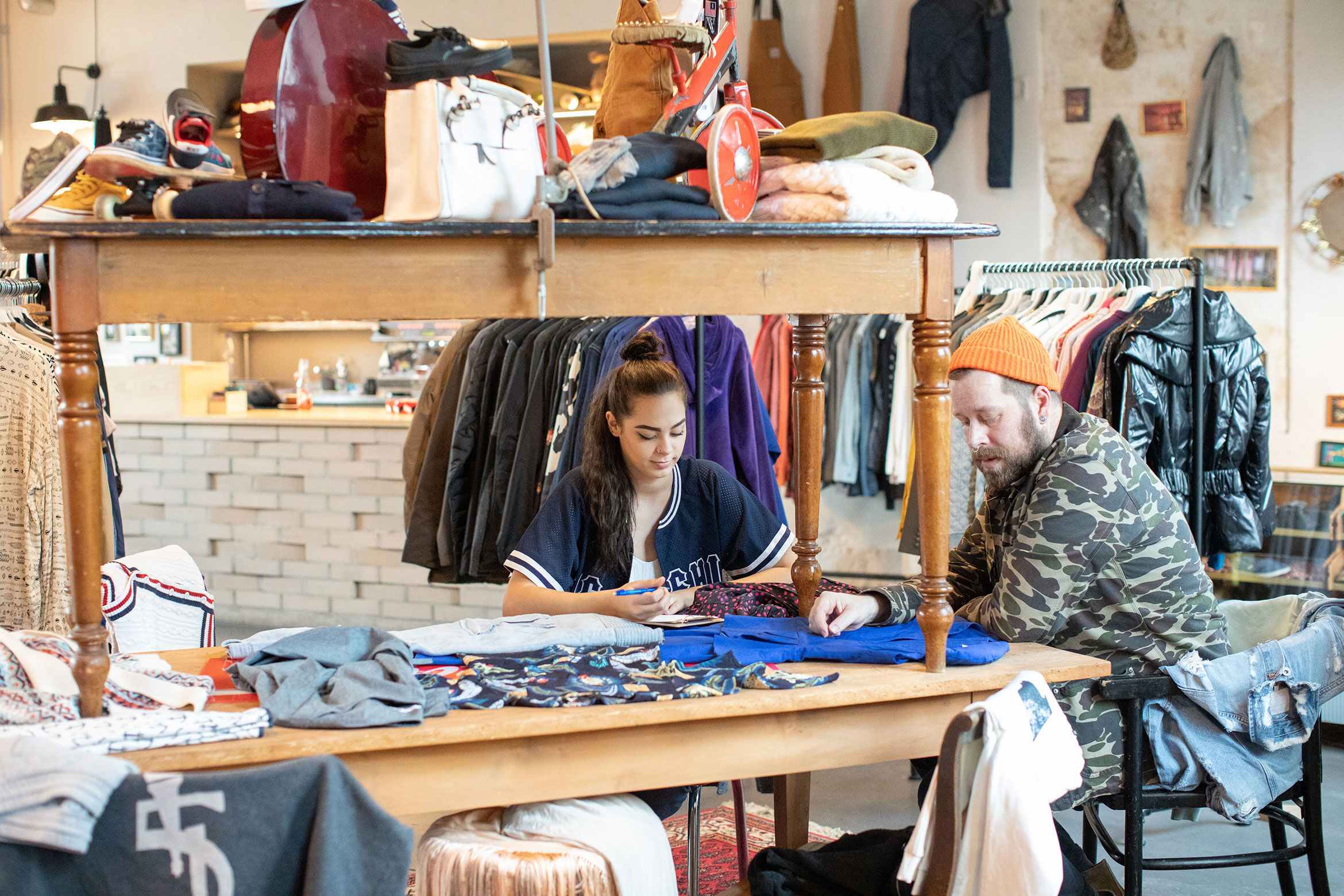 On the walls are pictures of film legends, television stars, music icons, artists and authors: a photo of Ernest Hemingway hangs next to a picture of Bud Spencer and Terence Hill, and one of Adriano Celentano sits alongside Woody Harrelson. They are all personal favourites of Daniel and Aisha. They'd rather not sell these pictures. They printed and framed them all themselves.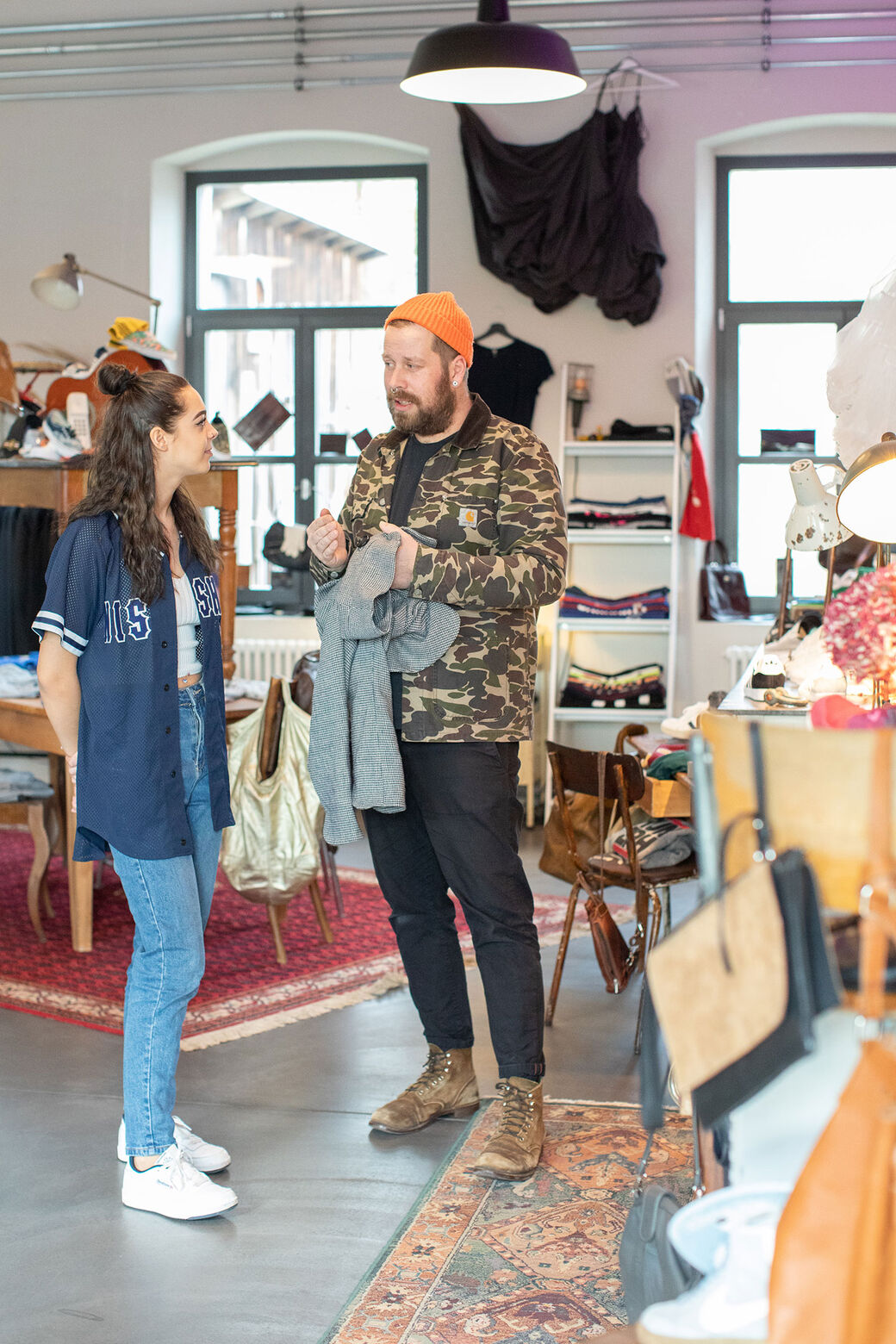 Film posters are another main feature in the room. A pair of antlers adorns one wall. Playmobil figures are hidden among the bags and shoes. There's a shelf full of old cameras from the GDR, radios and a stuffed marten. I also spotted a rubber E.T. and other toy figures, as well as large decorative and illuminated letters. There's an old slide projector next to a selection of Bauhaus lamps. And in one corner is a box containing the shop's record collection. You can even play Nintendo NES on a small TV.
Virtually everything you see in store can be purchased.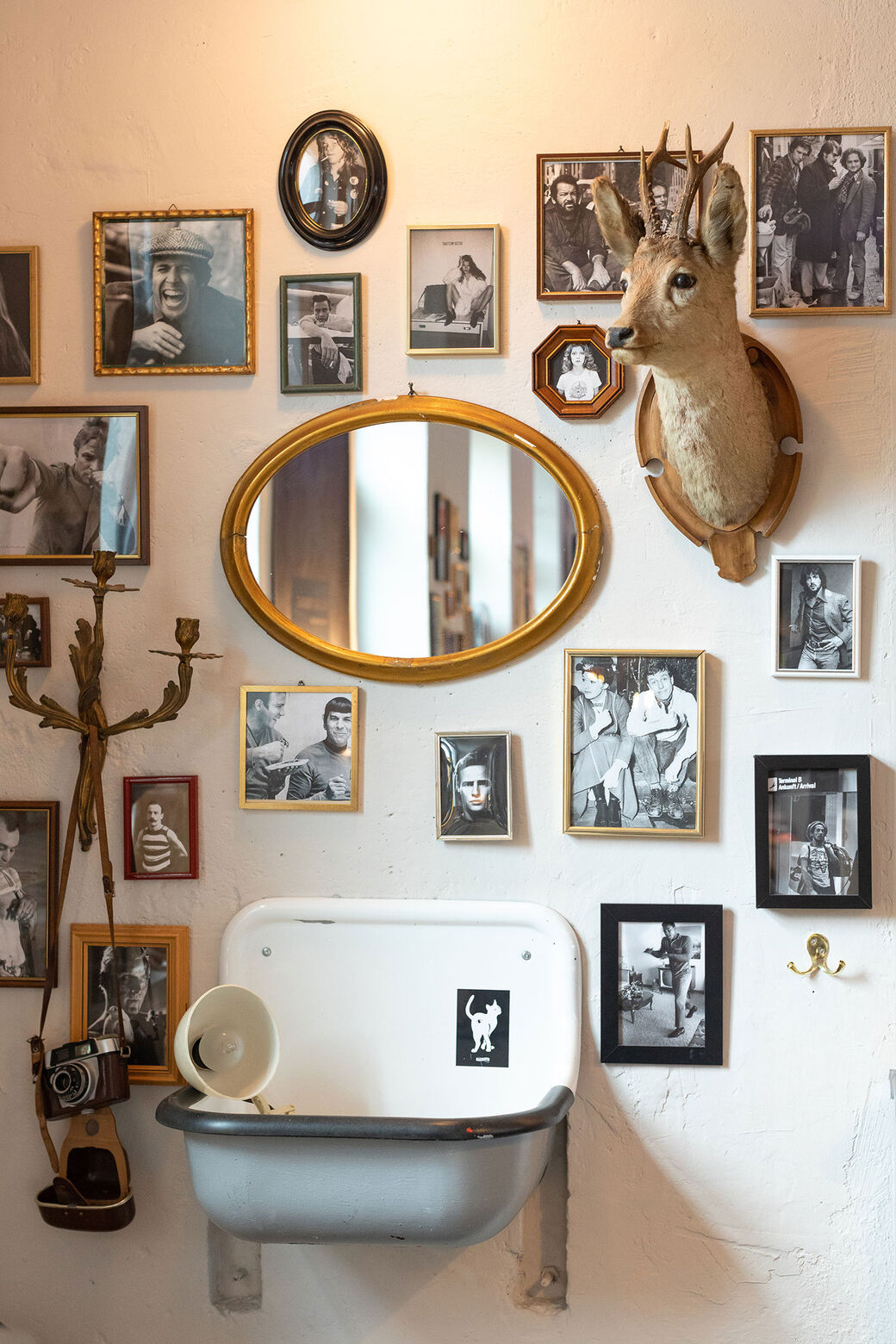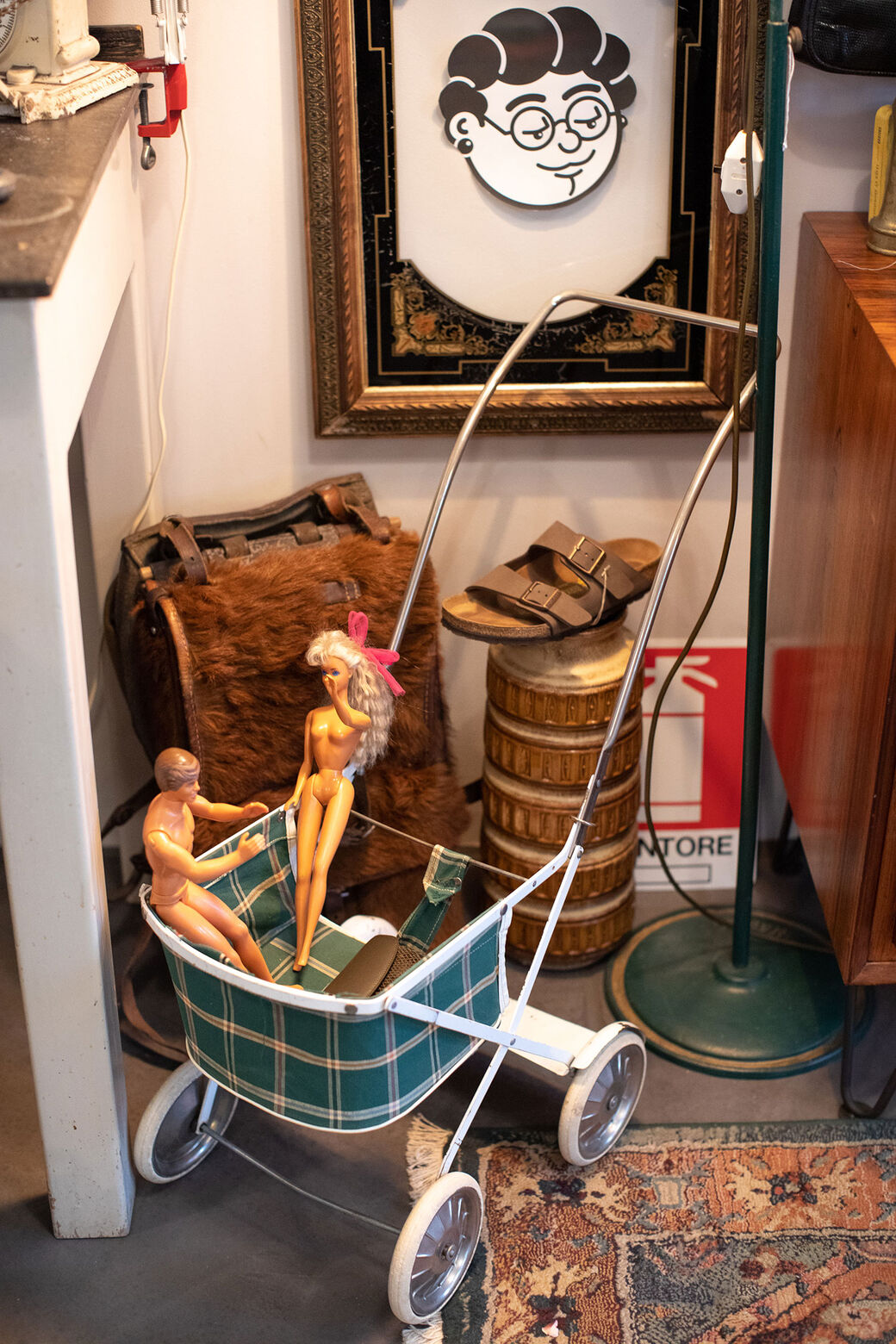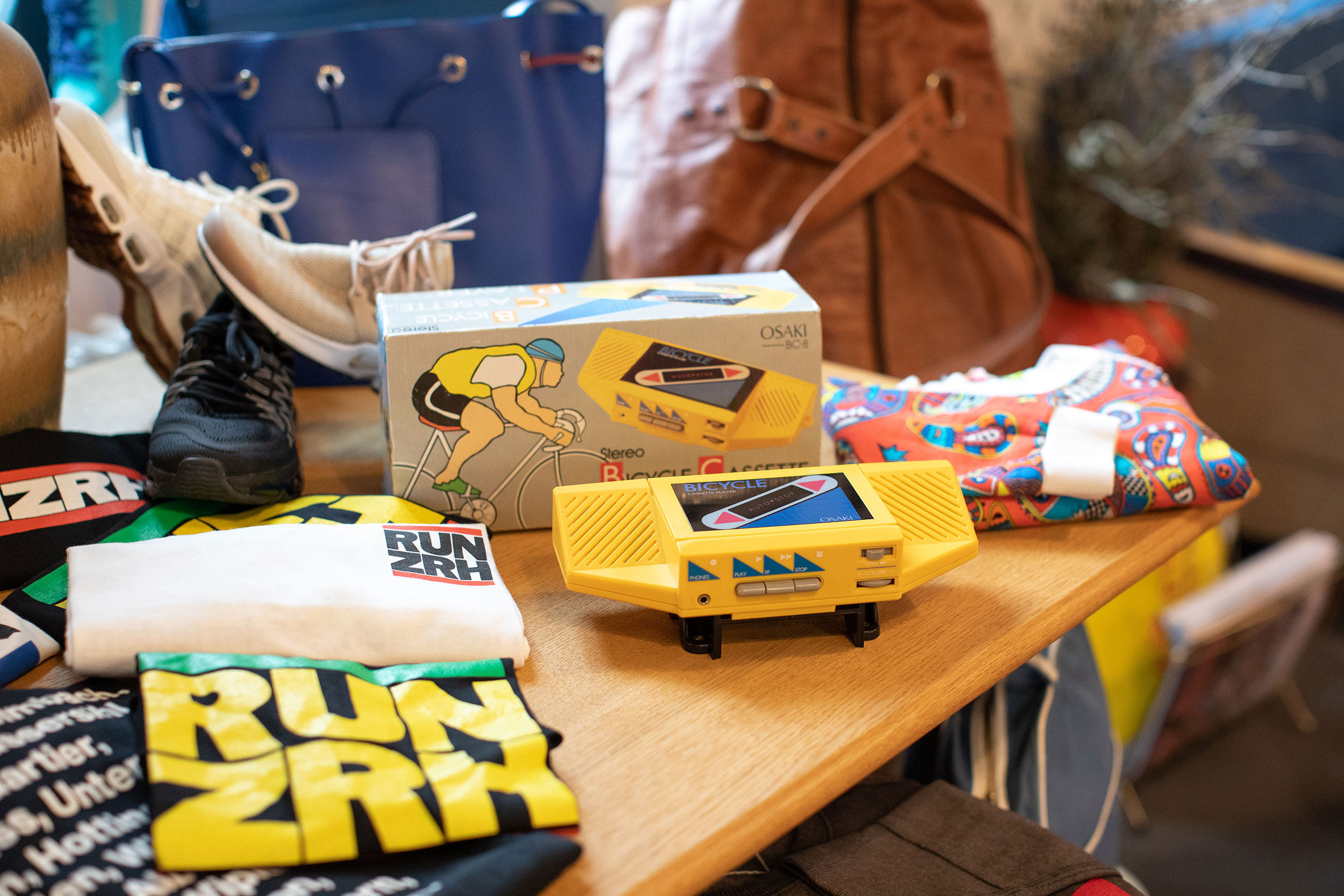 Persian carpets are scattered across the floor. Probably not real ones, Dani points out. Large industrial lamps hang from the ceiling. There are shelves behind the cash register, which doubles up as a bar. Or is it a sweet shop? Either way, you can buy coffee and sweet treats. The bar is the heart of the store, explains Daniel; everything else can change or be moved. It's important to him that people know that the shop is also a place where you can stay and hang out. It's a place where you can enjoy a coffee away from the hectic streets of the city centre – at the Danish lounge table, for example.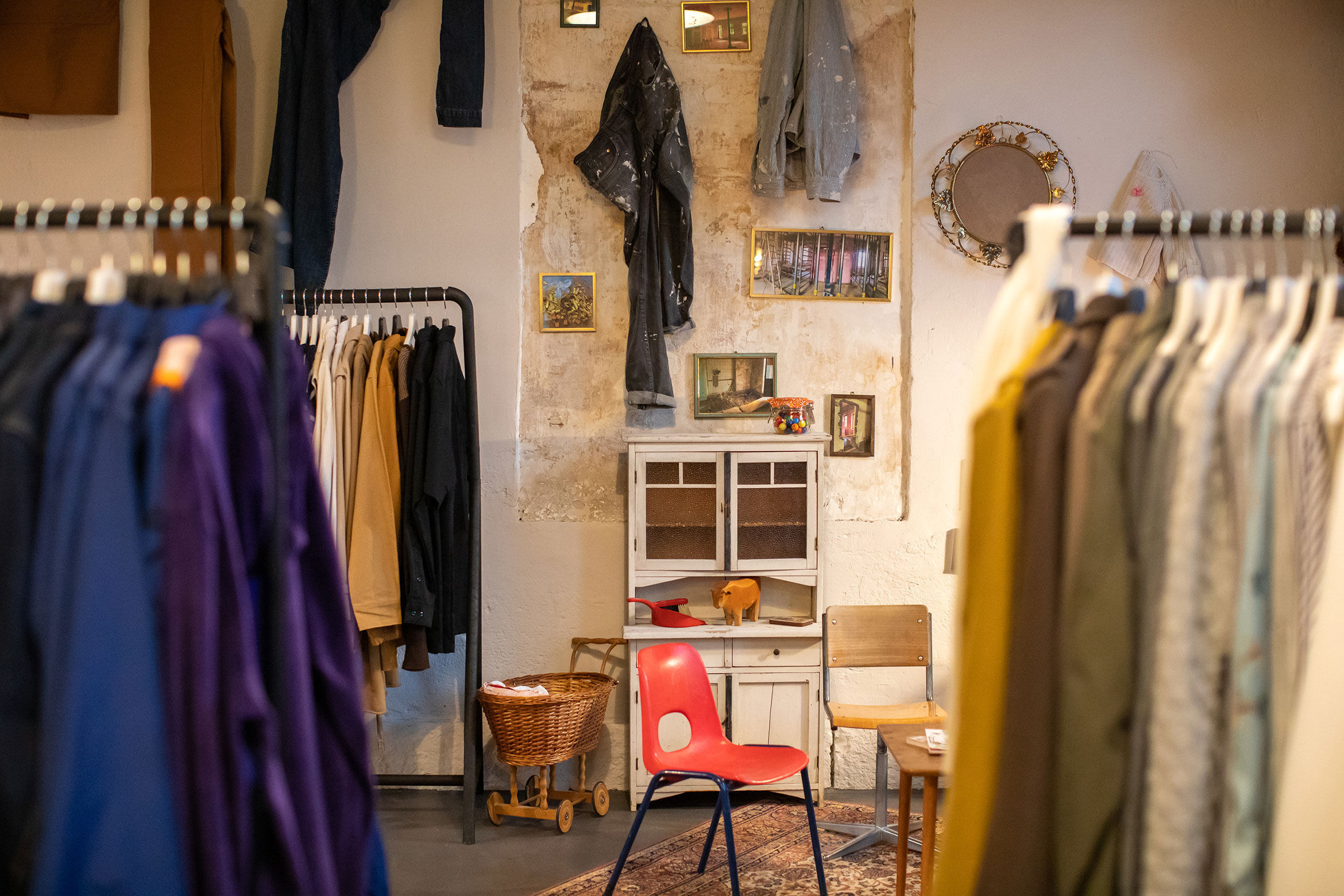 The children's corner of the store is something that was planned right from the start. Many families come to the shop because they know they can let their little ones play freely. There's a doll house, a mini wooden sideboard and a rocking horse. Everything here is also for sale. This is the winter corner. In the summer, children can play on the grass or in the playground in front of the shop. Behind the shop by the Hauser Canal, there's also a small fleet of cars, trucks and tractors.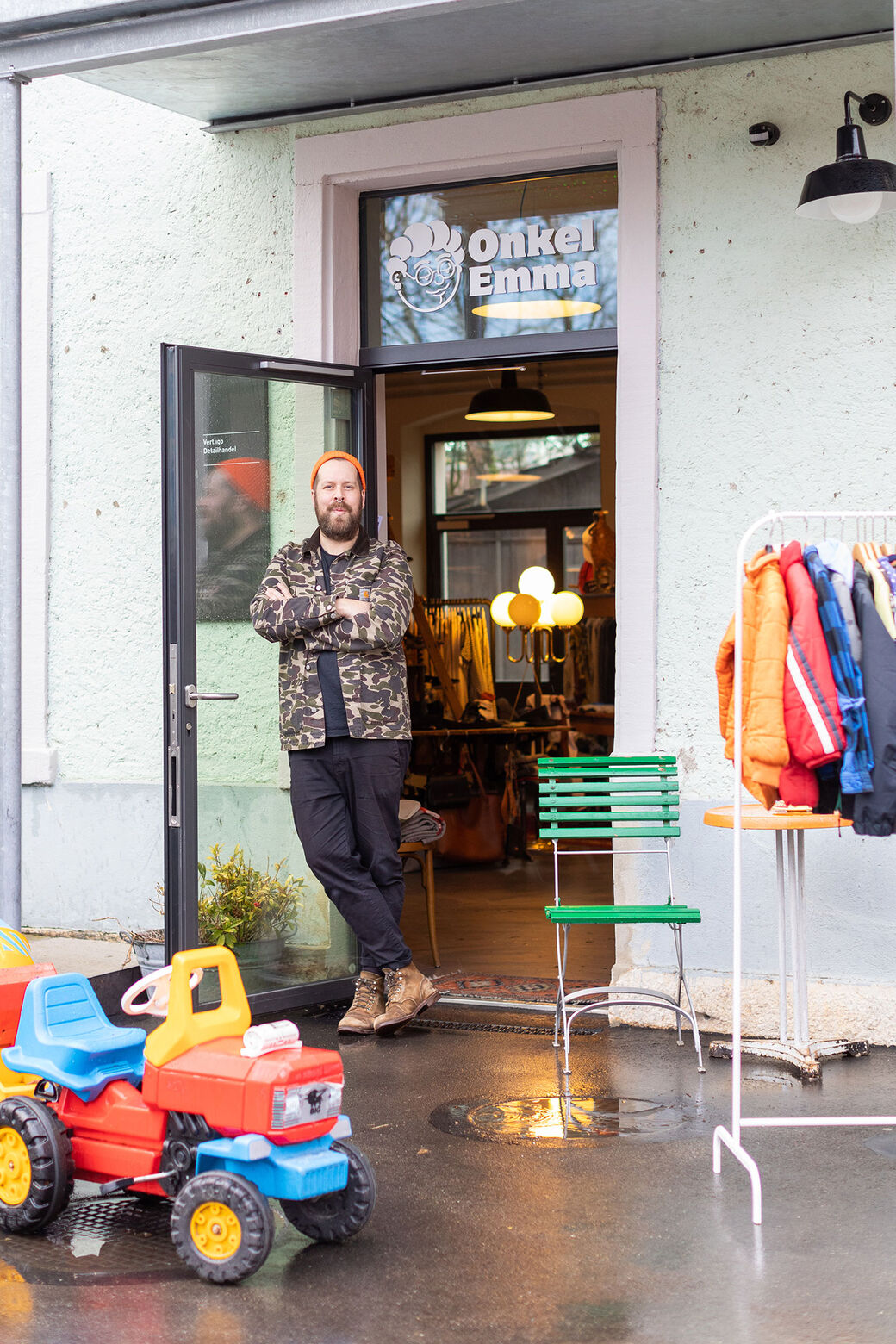 All of this makes Onkel Emma a place to meet, a place to interact. For the residents and neighbours – many of the adjoining buildings are rented as artists' studios – for visitors to the skatepark and for the young people of the Vertigo initiative who come here to learn and complete their apprenticeships. 'We want to be a shop for the whole neighbourhood,' says Daniel. Onkel Emma – a shop for everyone.
Address
Onkel Emma
Bändlistrasse 86
8064 Zurich
+41 79 591 57 28
Opening hours
Monday to Friday, 08:30 am – 5 pm
View posts by interests, or use the proximity search and additional filters.
Try it out
.
Save posts as favourites – simply click on the heart symbol in the upper right corner of the post.