Oepfelchammer
This traditional restaurant not only sets strict rules for its guests, but also for its proprietors, Chris Gretener, Thomas Trautweiler and Bendicht Stuber.
The Oepfelchammer is where Gottfried Keller once lost track of time. Today, the restaurant is run by three young restaurateurs: Chris Gretener, Thomas Trautweiler and Bendicht Stuber. It is a favourite haunt of tourists, locals – and school students.
In the Oepfelchammer's rustic wine bar, countless guests have carved their names into the dark wood of the walls, benches and tables. They have all conquered the city's oldest and most famous challenge: the Beam Challenge at the Oeli. If you want to immortalise yourself in the wood, first you have to climb over two ceiling beams, drink a tin cup of white wine upside down and shimmy back down the other side.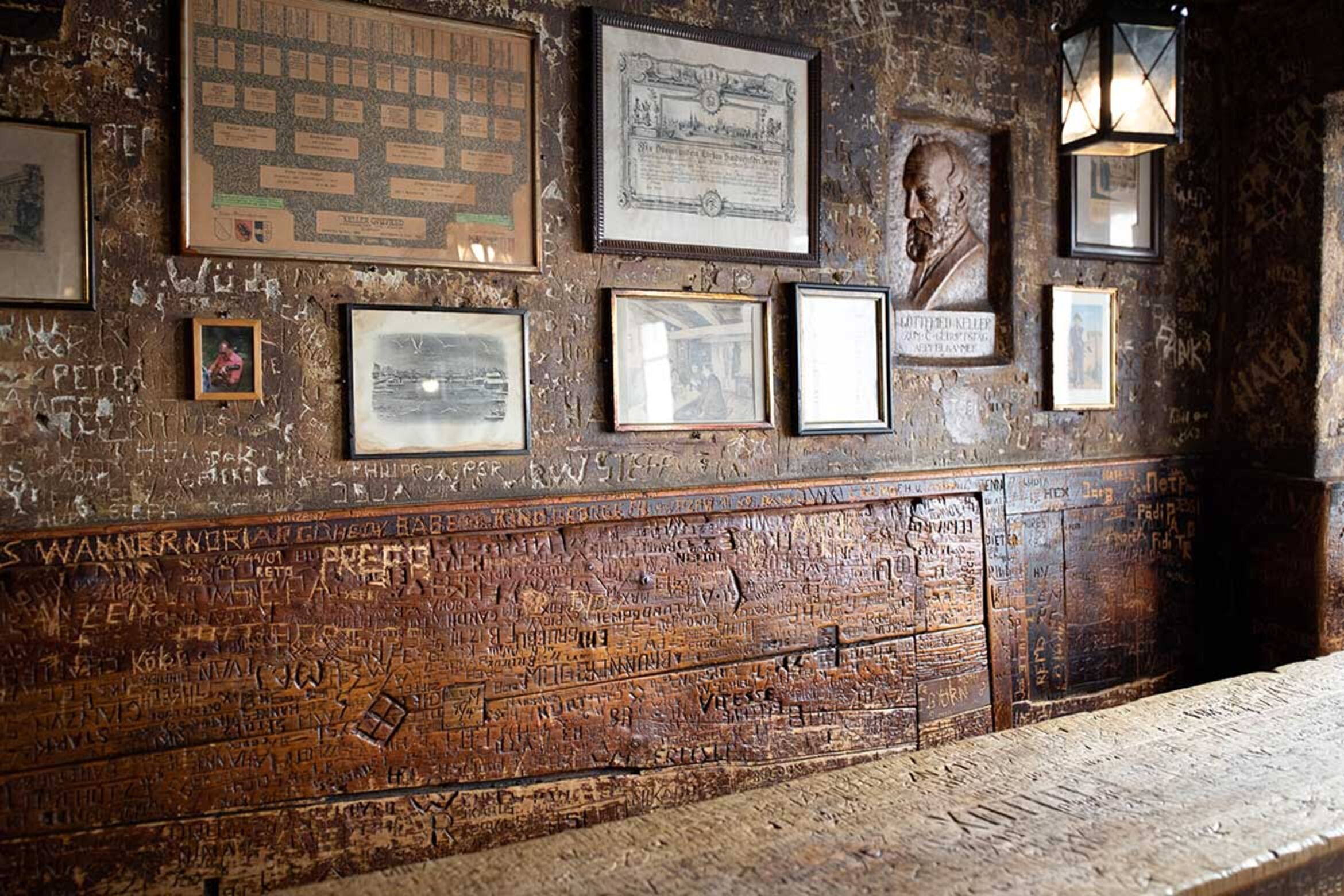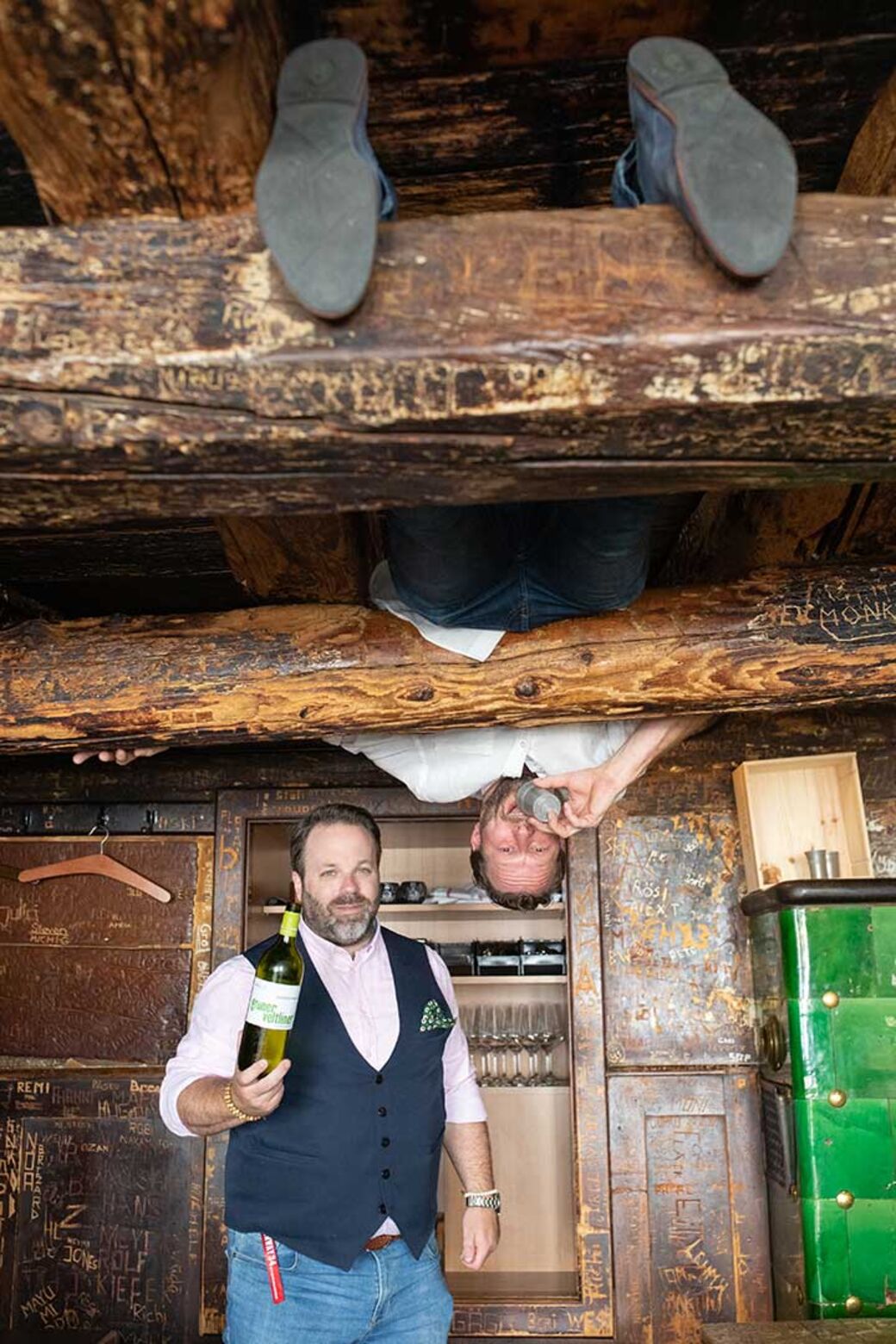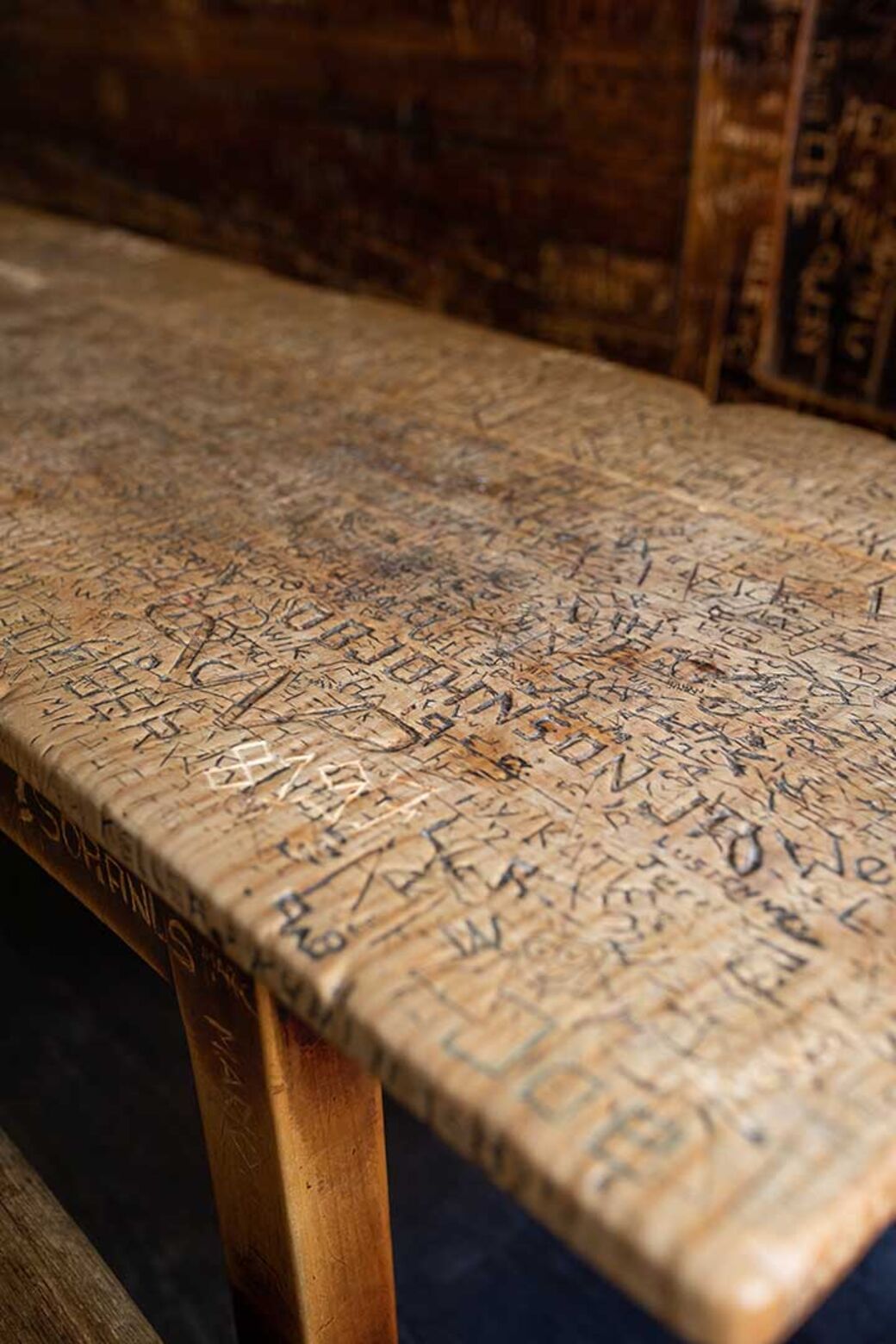 Fondly known as the Oeli, the Oepfelchammer has been a fixture in Niederdorf for more than 650 years. The name ('Apple Chamber') comes from the fact that this is where the nuns of the neighbouring St. Verena monastery used to store their apples to dry. It was turned into a tavern in 1801, and it still retains its original furnishings and traditional atmosphere.
Despite this, the trio are committed to upholding the pub's traditions.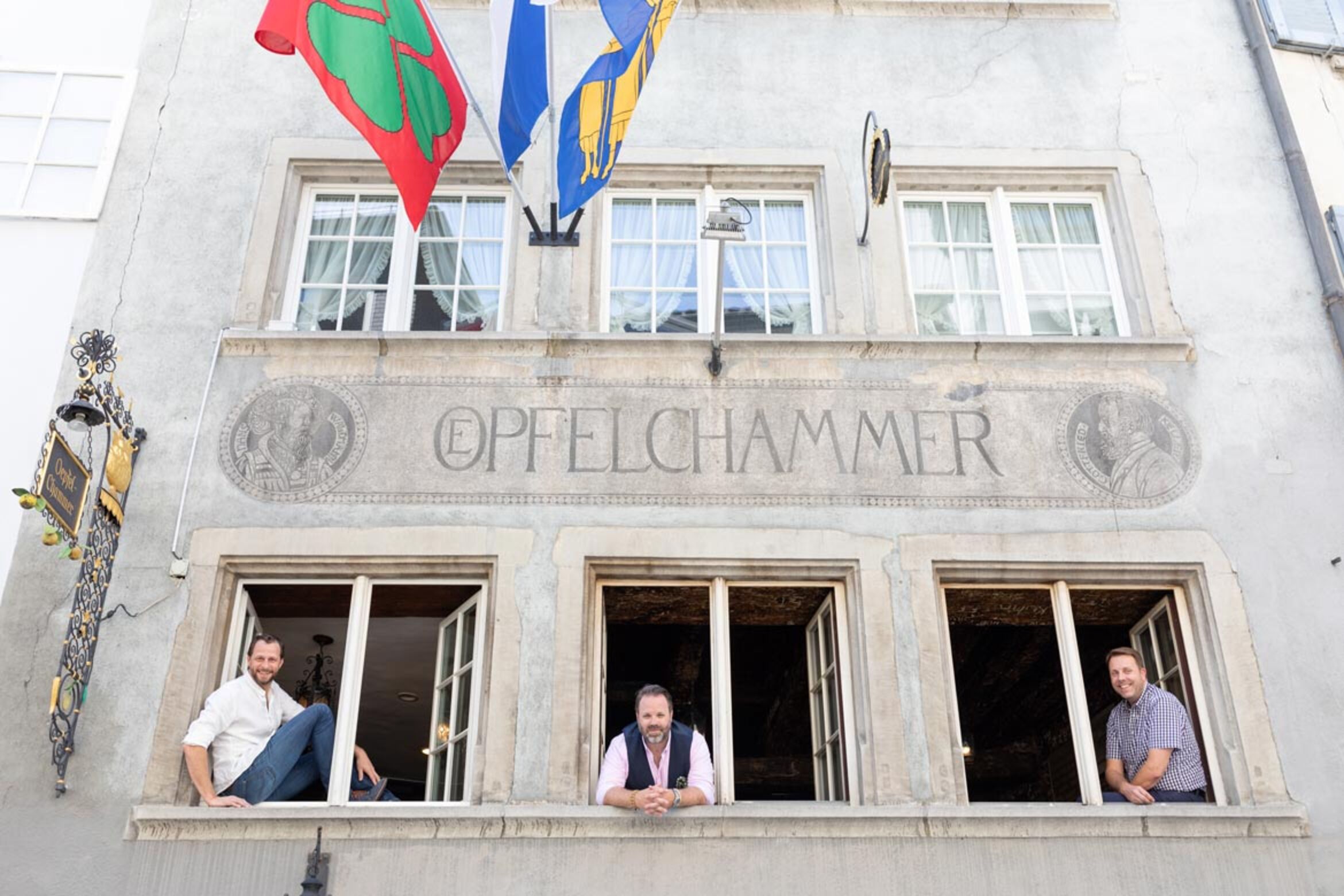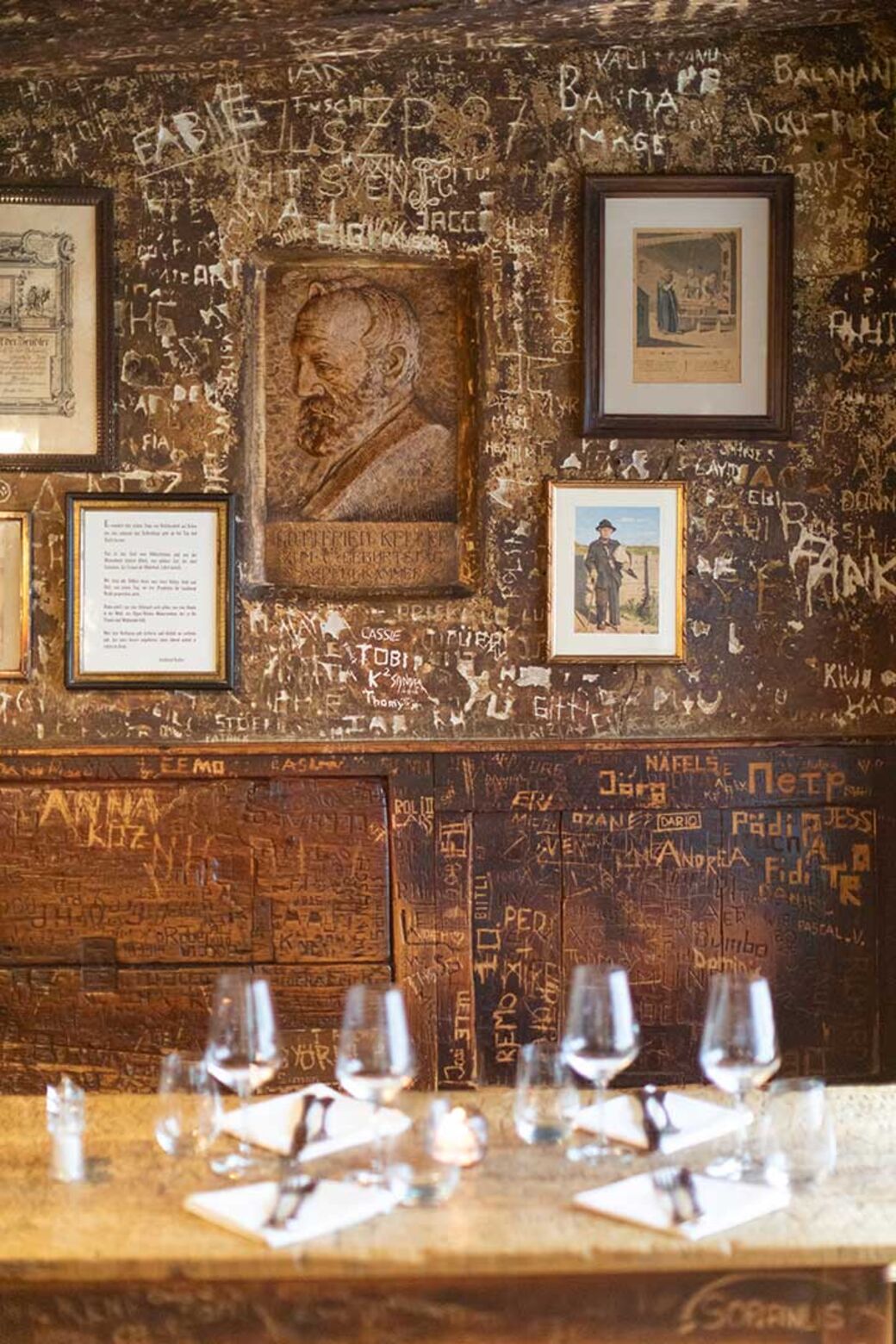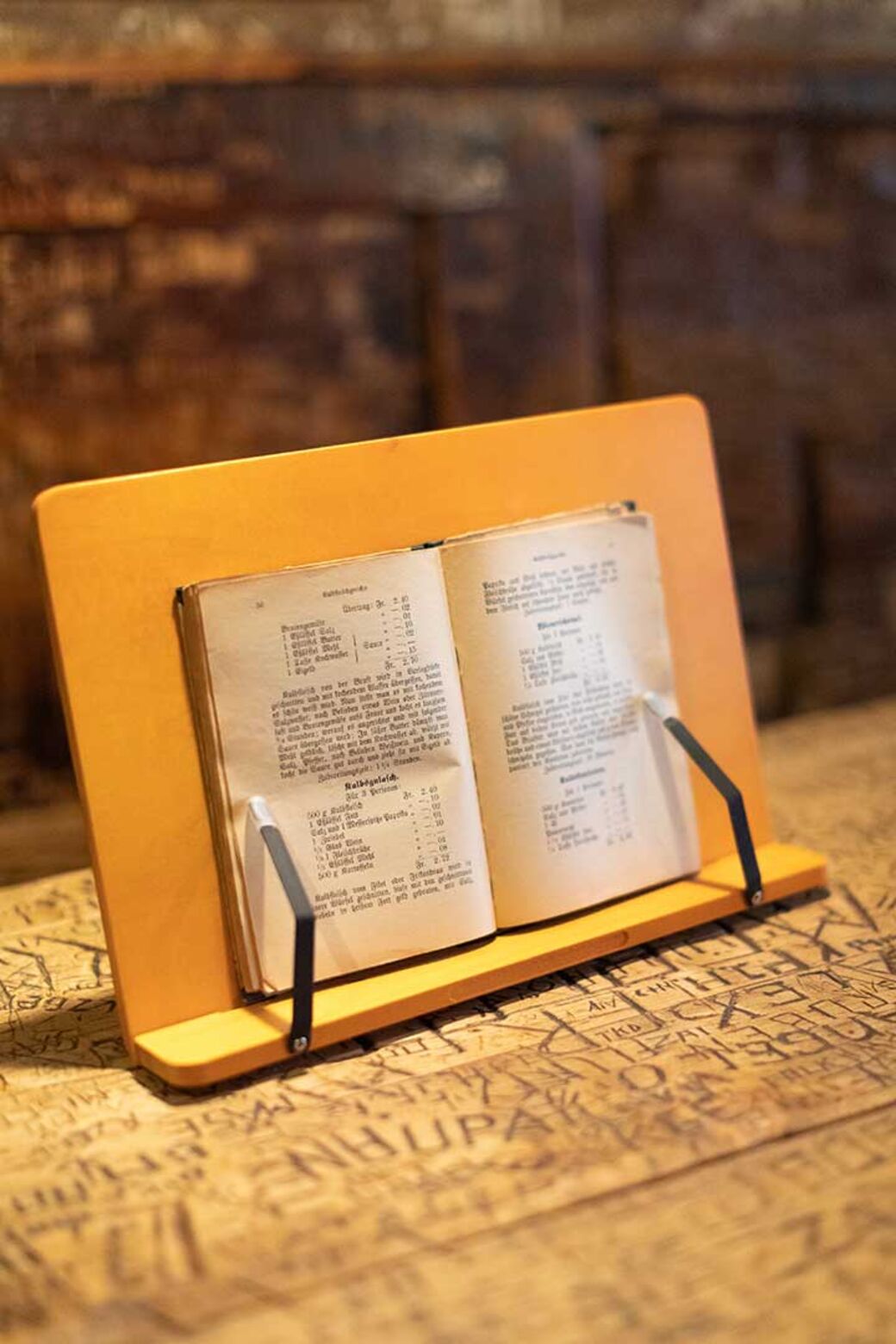 With its dark wood panelling and bull's-eye windowpanes, the dining room has changed little since Gottfried Keller's day. The famous Swiss writer lived close by and had a liking for the wine on offer at the Oeli. According to Thomas Trautweiler: 'Gottfried Keller liked the wine at the Oeli so much that he almost missed his first day at work as a city clerk.'
He has been running the Oepfelchammer with Chris Gretener and Bendicht Stuber since February 2019 – but he hasn't yet done the Beam Challenge. Despite this, the trio are committed to upholding the pub's traditions. Because the Oeli has a long list of rules: guests aren't allowed to ask if they can pass by, but instead have to climb over the table – or crawl underneath. Rather than applauding musicians they have to bang on the table – or express their appreciation by buying them half a litre of wine. Anyone who disobeys the rules is punished, perhaps by paying 5 francs or buying a carafe of wine for the regulars. 'There's no need for us to intervene when someone breaks the rules. The regulars sort it out,' says Chris.
The dining room has changed little since Gottfried Keller's day.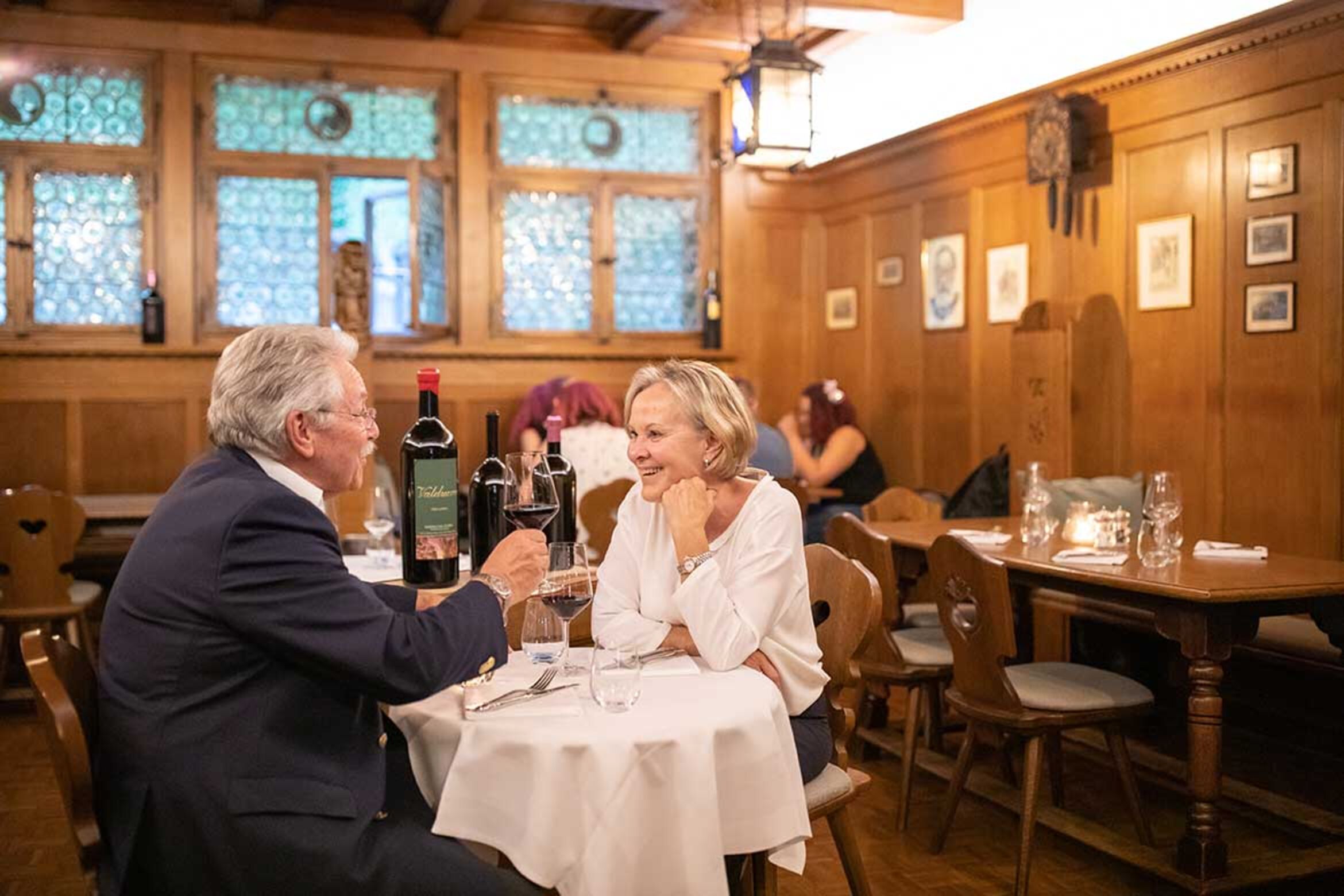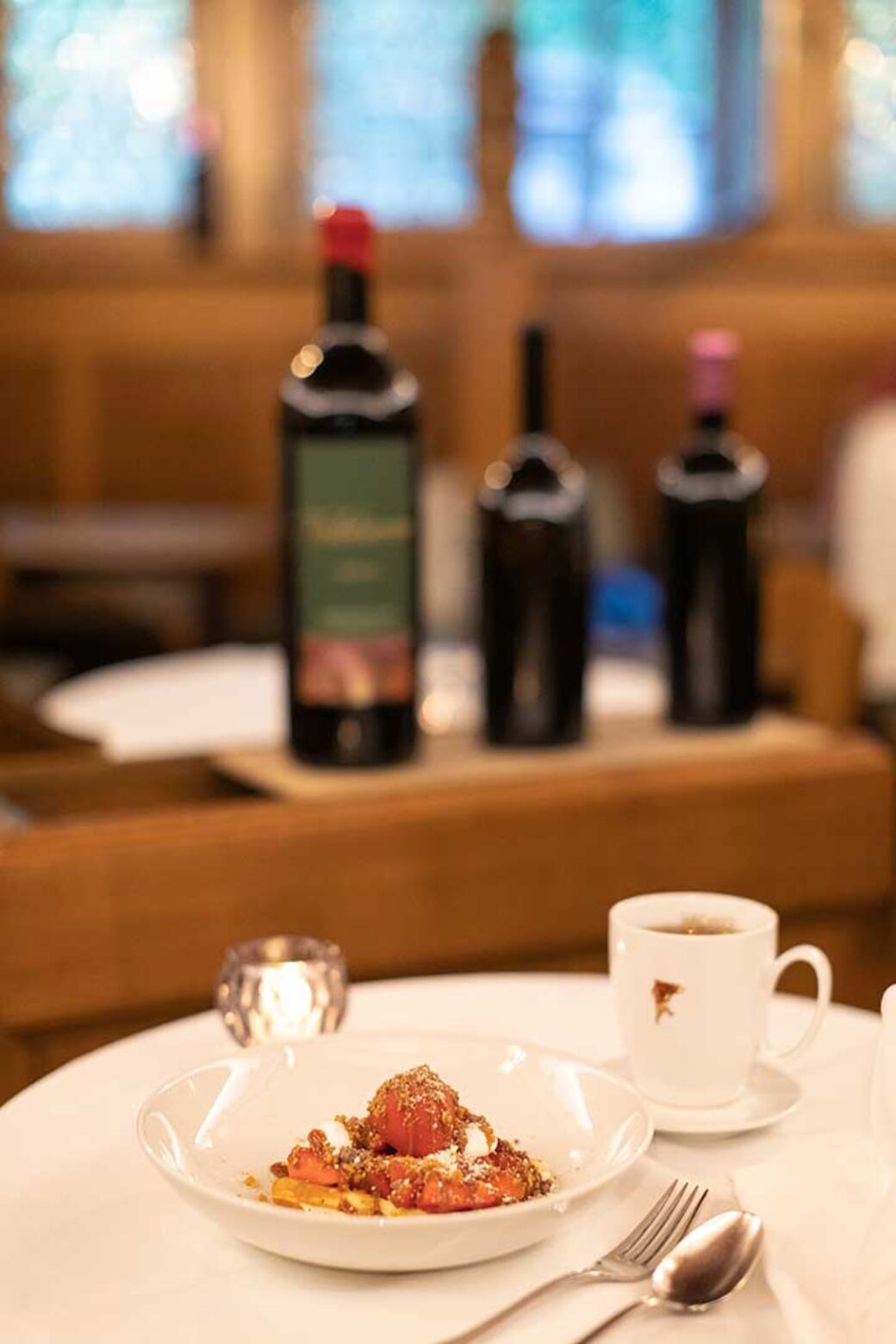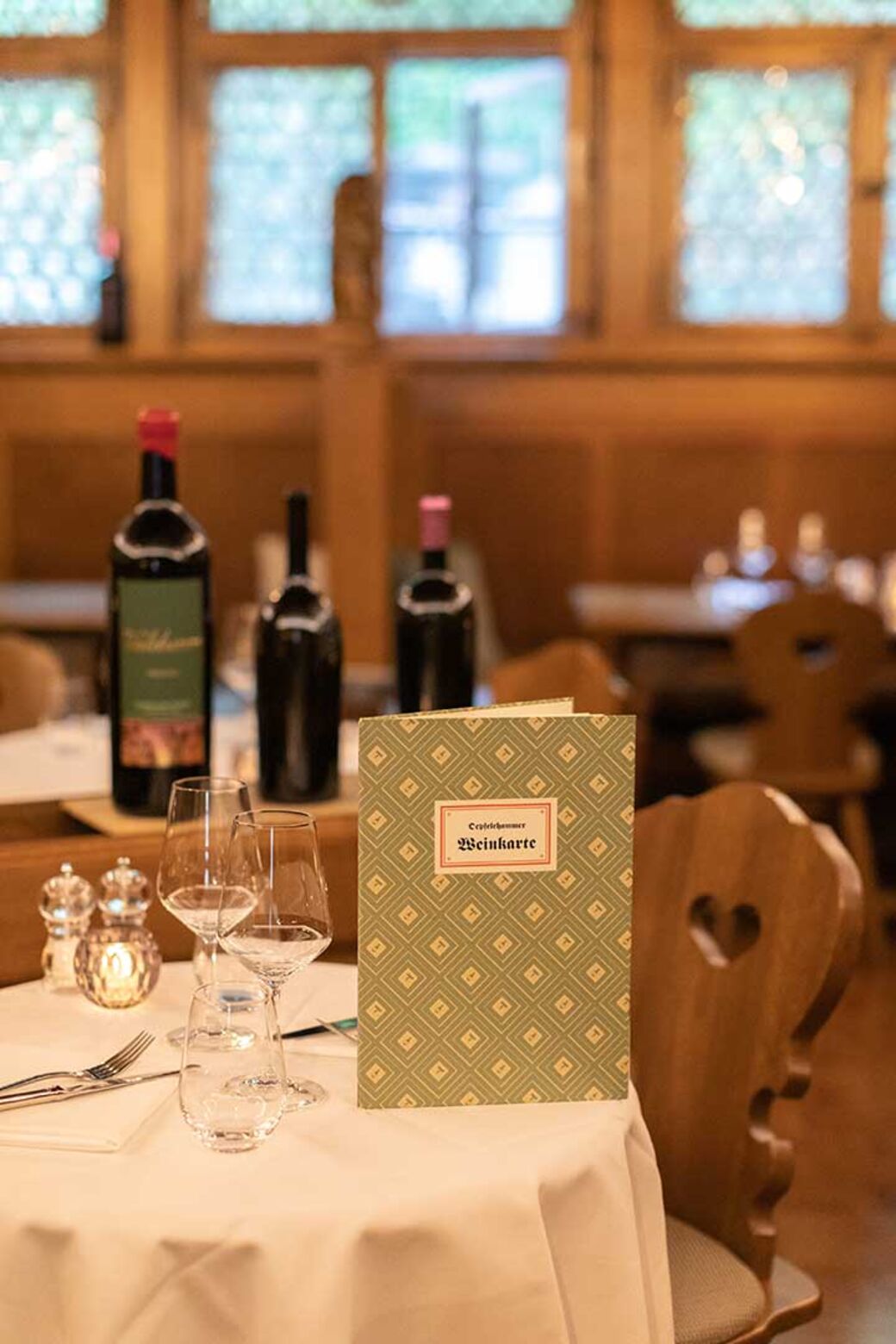 The trio have created a menu that perfectly matches the rustic atmosphere of the Oepfelchammer. They have sought out traditional dishes in old cookbooks: 'We're keen to revive old Zurich recipes,' says Thomas. Not an easy task, because nowadays few people can read the antiquated typeface. And other things have changed since 1800 – the proprietors nearly found themselves in hot water when they tried to order eels. 'The fishmonger told us eels are now a protected species,' says Thomas. So they added ox tongue to the menu instead. They have also updated their menus in other ways, with chef Tristan Kerber using more fresh ingredients and creating lighter dishes. The Oepfelchammer team also try to run their business in a sustainable way. They buy their bread from Äss-Bar and water from Lokales Wasser 37. 'We source local produce wherever possible,' says Chris.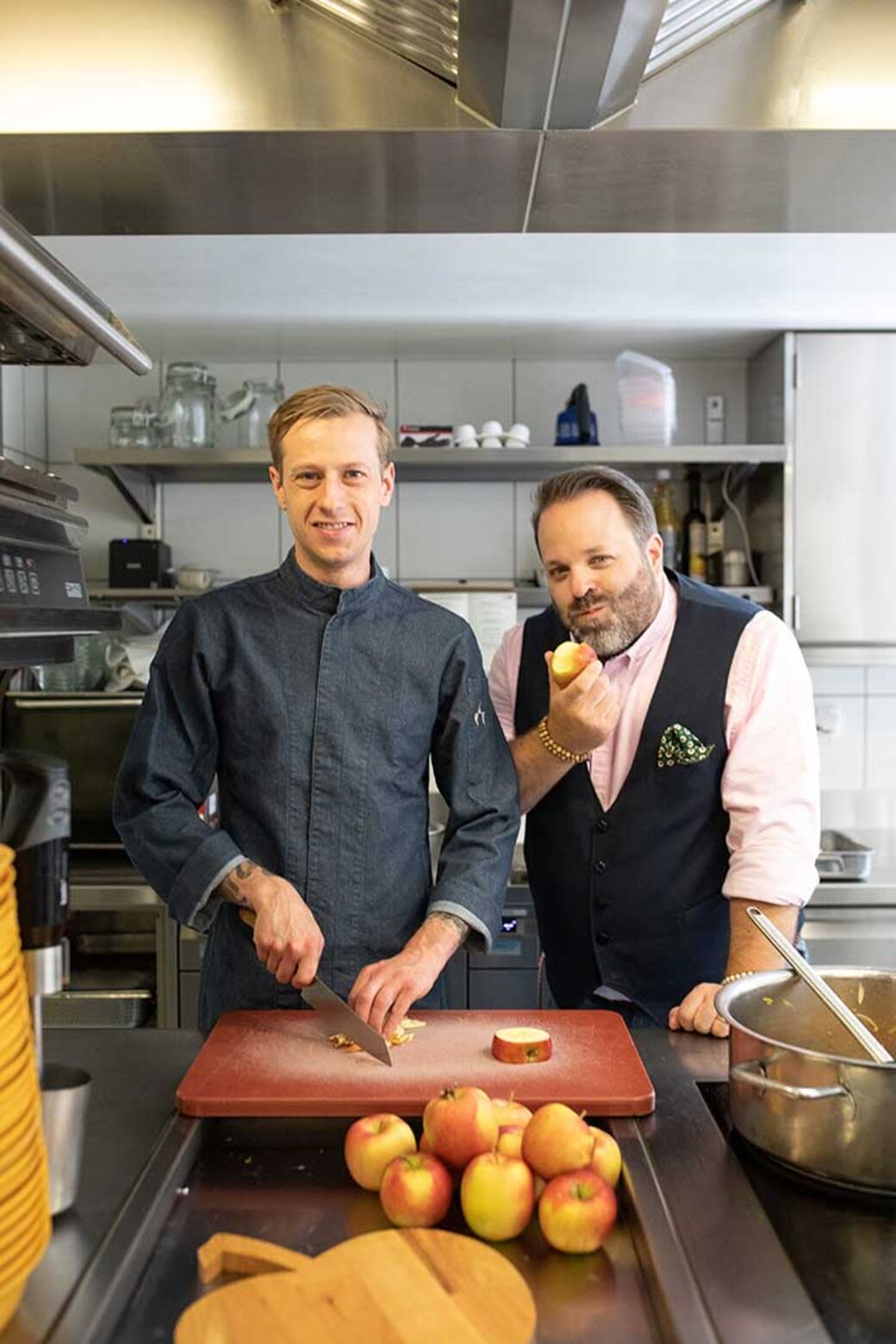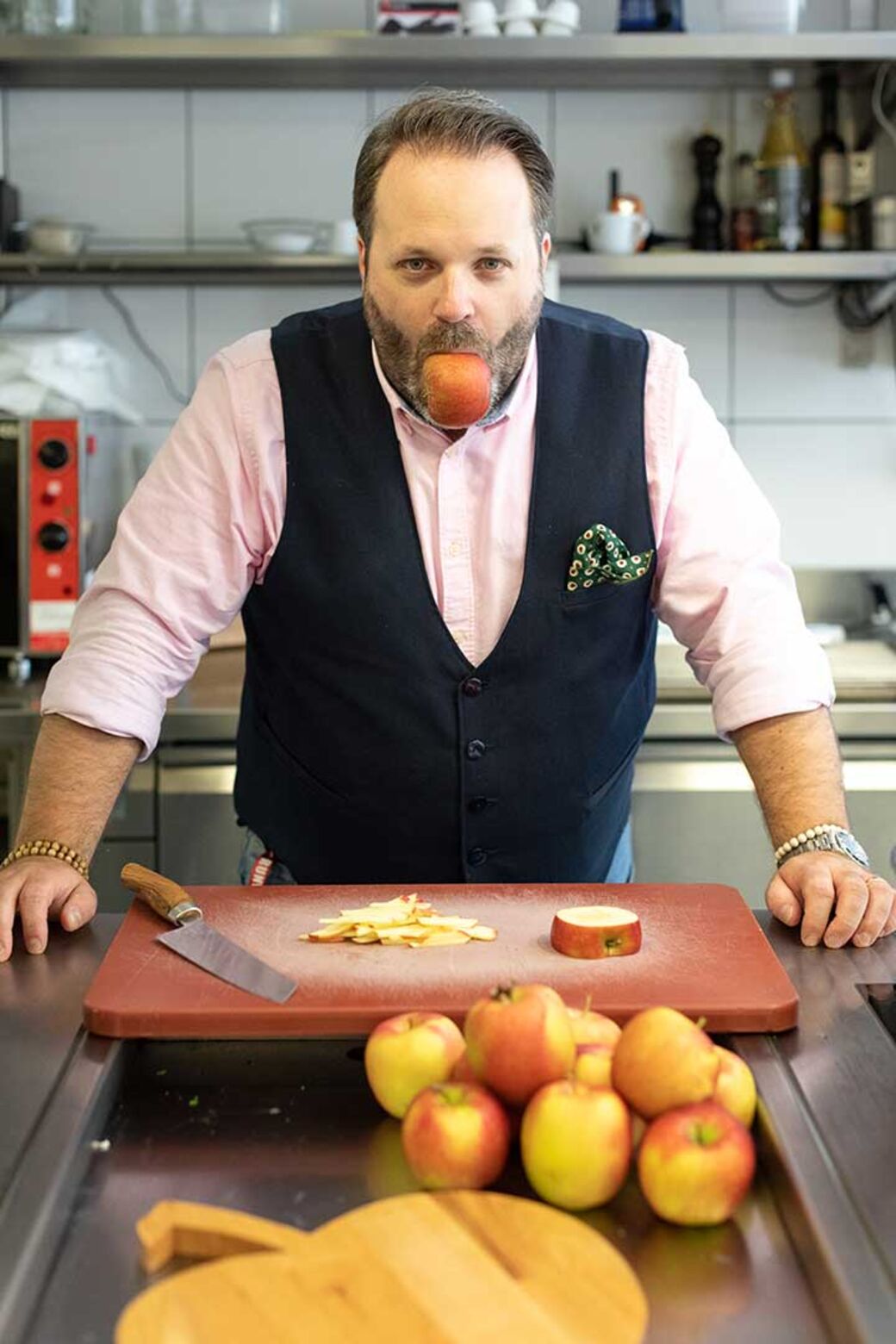 'It's still a tradition for student fraternities and guilds to come to the Oepfelchammer,' says Thomas. On these evenings, Zurich's oldest wine tavern is filled with the sound of raucous singing. Otherwise, it's a mixed crowd of young and old, locals and tourists. Teachers also organise school visits to show their students where Gottfried Keller used to sit and tell them about the Oepfelchammer's special traditions.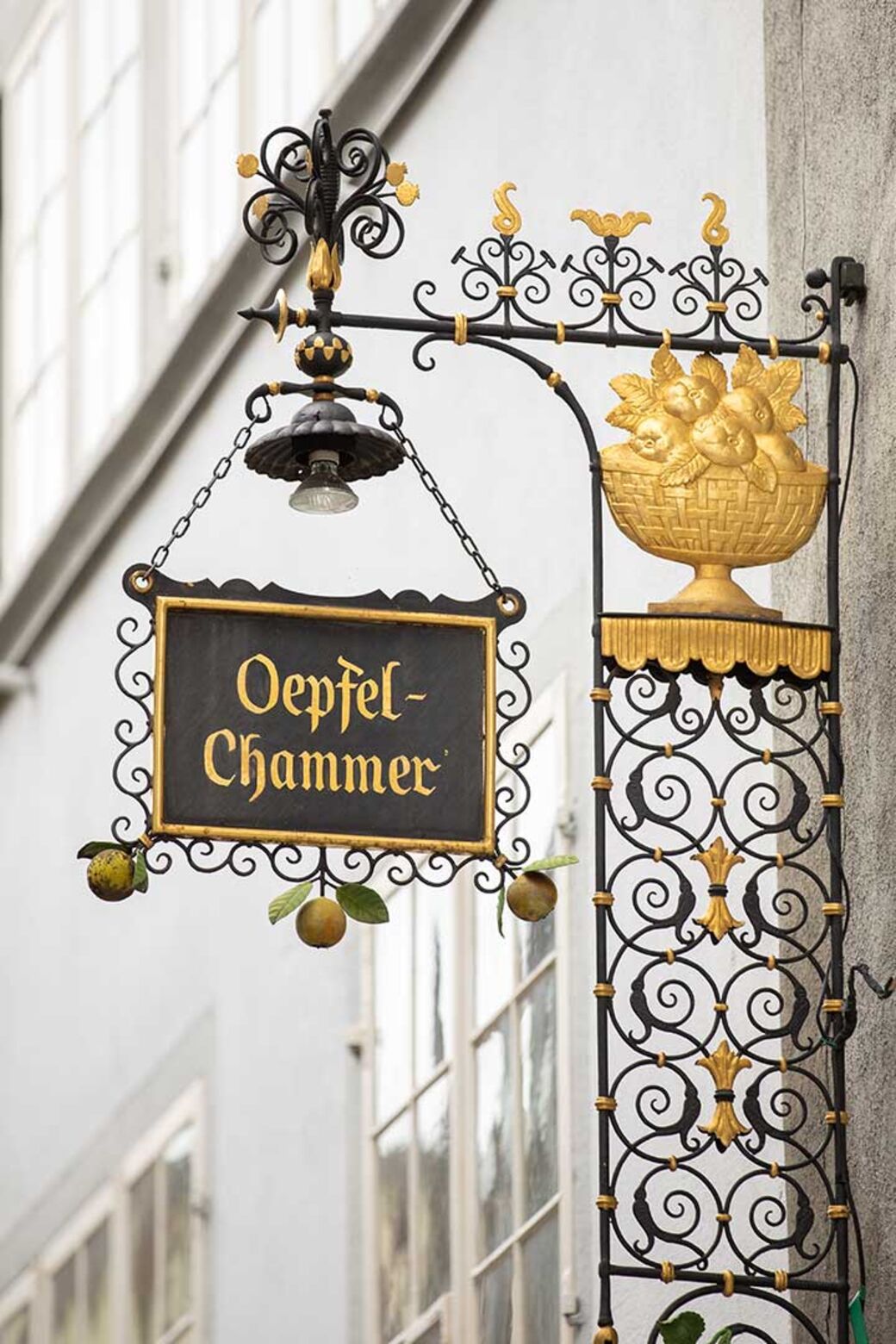 Of course, it's not easy to take over a business with such a long history, 'Because tradition also brings obligation,' says Thomas. He and his two colleagues have a background in the Zurich guilds and understand their traditions. They have a clear aim: 'We will ensure that the Oeli's history lives on.'
Address
Oepfelchammer
Rindermarkt 12
8001 Zurich
+41 44 251 23 36
Website
Opening hours
Tuesday to Friday, 11:30 am – 2 pm, 6 pm – midnight
Saturday, 6 pm – midnight
View posts by interests, or use the proximity search and additional filters.
Try it out
.
Save posts as favourites – simply click on the heart symbol in the upper right corner of the post.