Honig Kuchen
In their shop, Anet Strusinski and Anna Hochreuter sell the kind of homemade goodies and products that they would like to buy themselves.
Young and old flock to the shop run by Anet Strusinski and Anna Hochreuter to snap up snazzy socks, organic teas and honey from Zurich's very own bees. This is also the main ingredient of the honey cake that gives the shop its name.
The aroma of pastry, honey and beeswax wafts through the air at Honig Kuchen. Take a few steps into this little shop and you'll find all kinds of products made by Zurich's busy bees – honey of course, plus beeswax candles, lip balm and honey vinegar balsam. Here at HoKu you'll also find a changing selection of items from different suppliers, including teas from Sirocco, ginger schnapps from Sama Sama and socks from Bonne Maison. The glass counter displays a fine assortment of cakes and pastries. Sometimes it holds tempting chocolate fudge muffins, sometimes English scones or maple pecan blondies – and of course always the honey cake that gives the shop its name.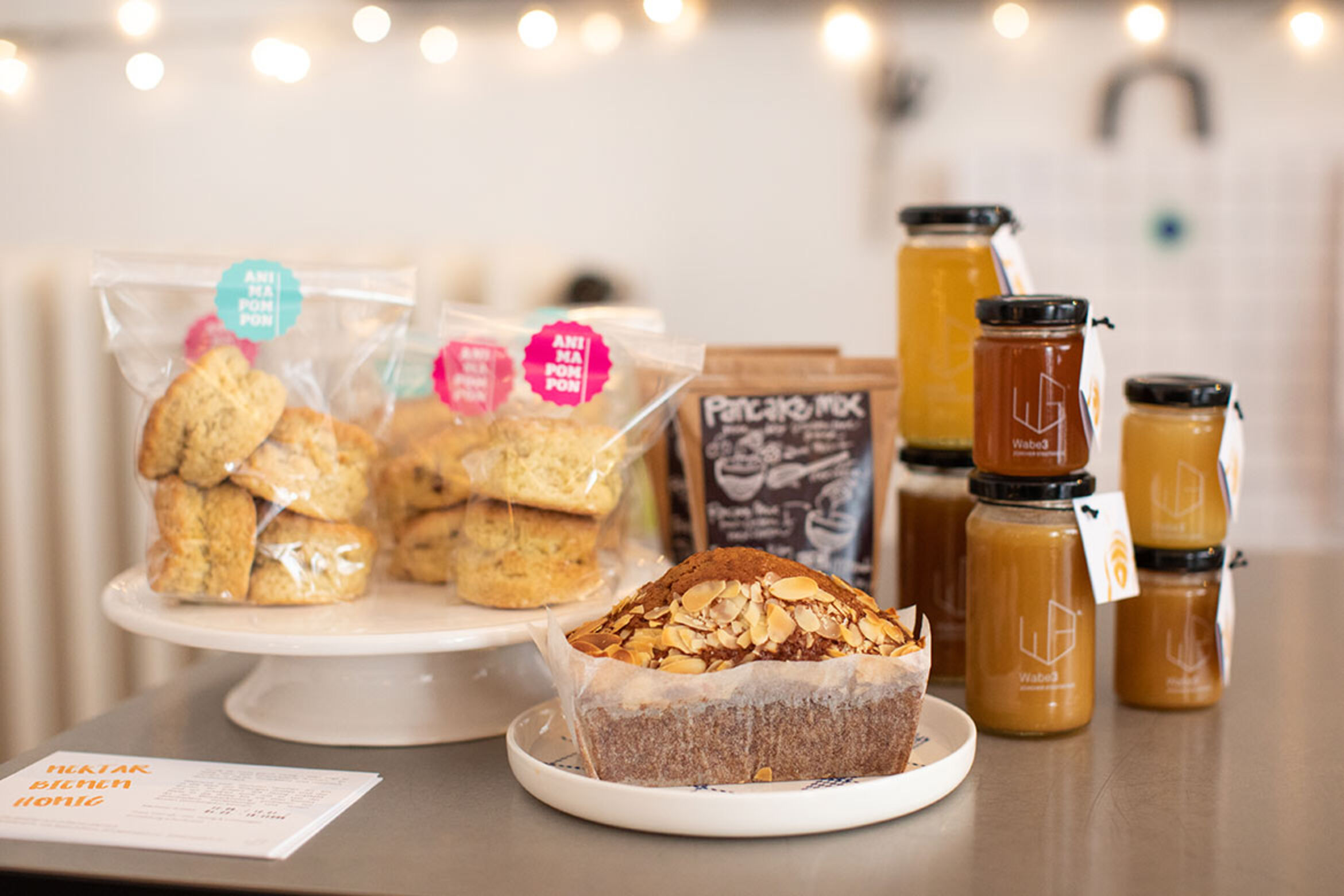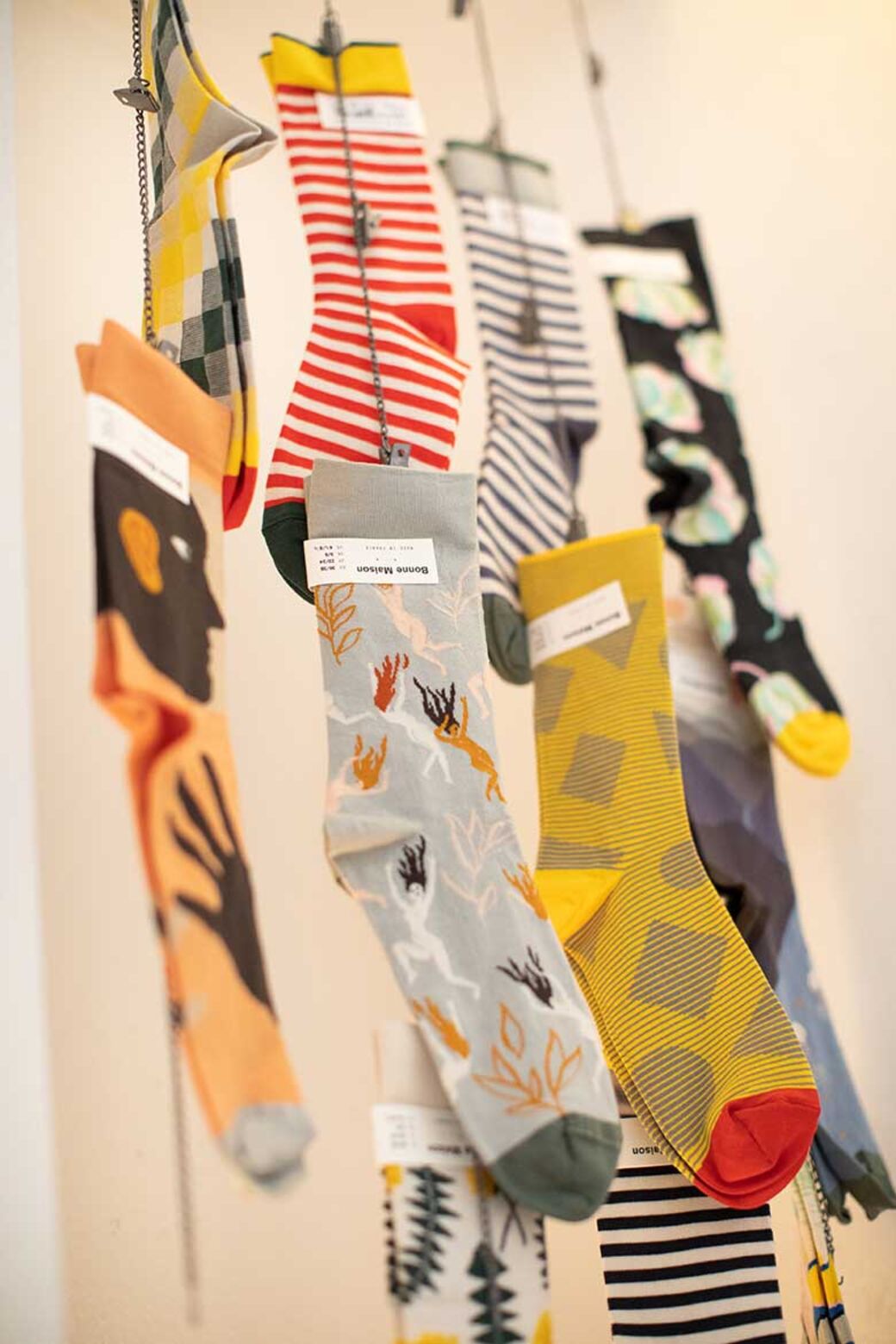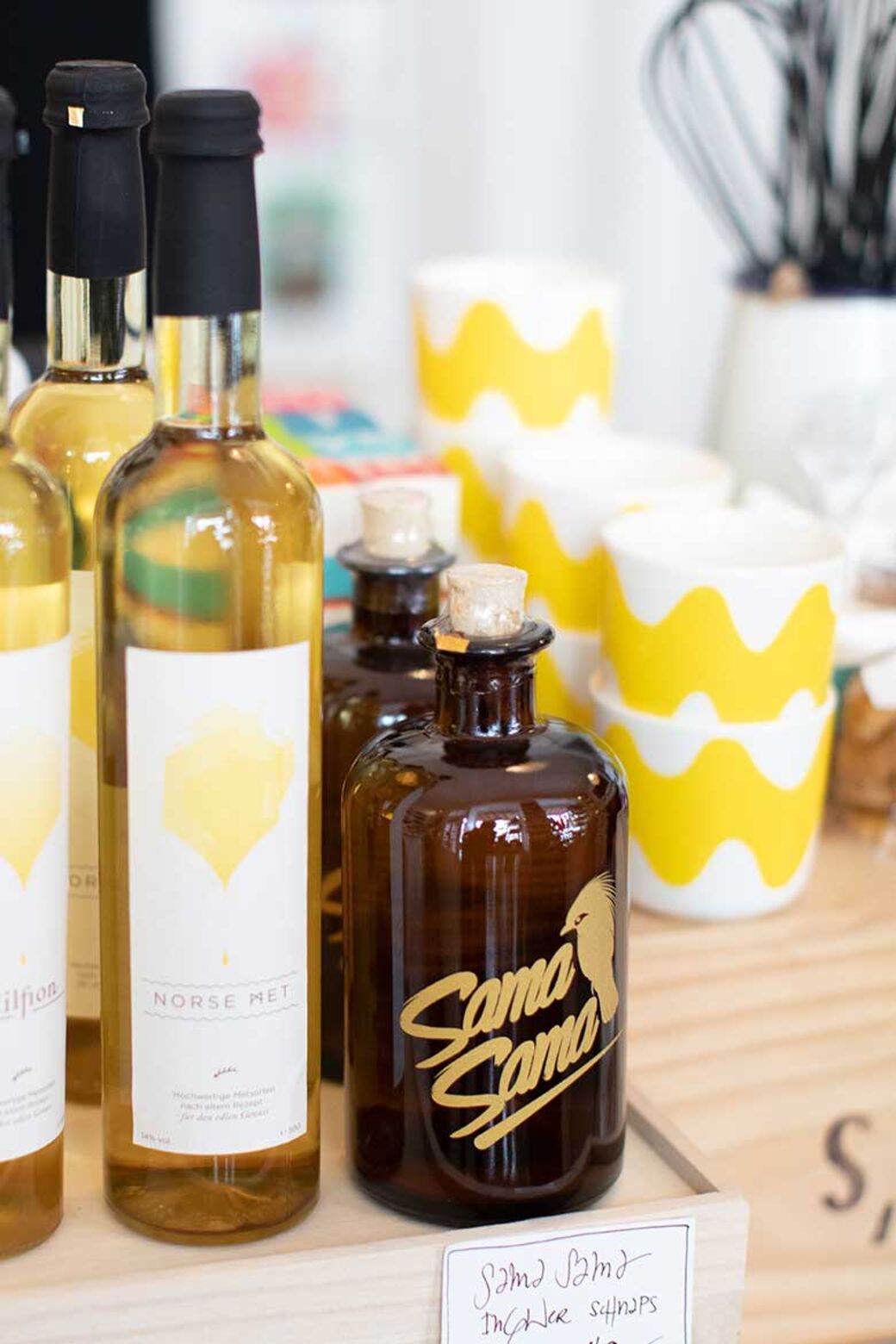 Anet Strusinski is responsible for the pastries, granola and pancake blends that are sold at HoKu. She makes them in her own bakery, called Anima Pompon. This was the name that the former fashion designer used to give to her collections. 'Anima' is Latin for soul: 'Anima stands for all the little details that make something special,' says Anet. The word Pompon means pompom in English: 'I've just always liked pompoms,' she says.
The main thing that she misses about working as a fashion designer is being creative with lots of different fabrics. But she doesn't sew much these days: 'That's why I like to let off steam with my dough!' If Anet were a baked good, she'd be a Russenzopf, a Russian plaited loaf. One that's left to rise for a long time, says Anet, who supplies the 'Cake' element of the shop's name... 'Soft and moist on the inside and crisp on the outside.' She tells us that fine baked goods need time, 'and a dollop of love.'
She tells us that fine baked goods need time, 'and a dollop of love.'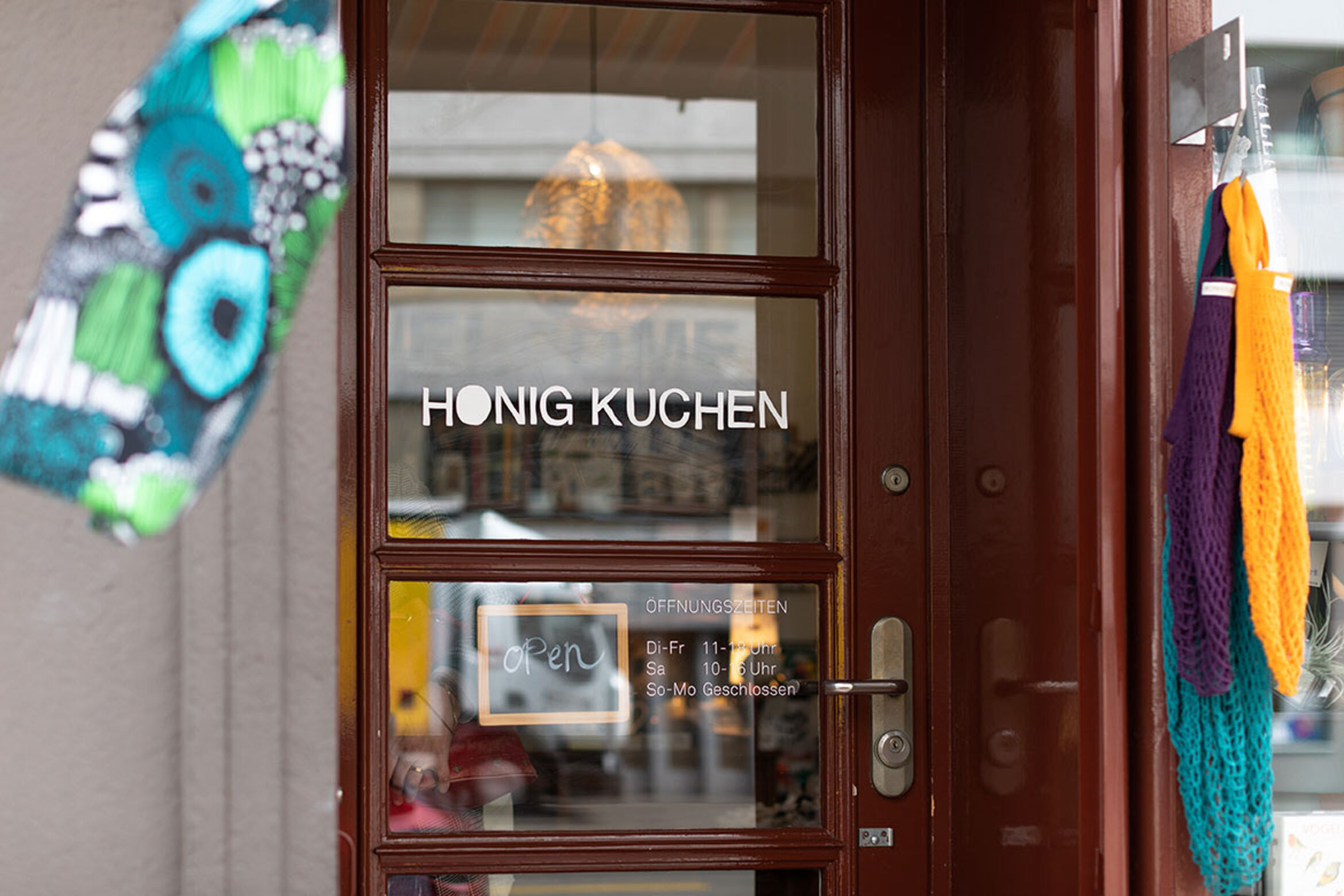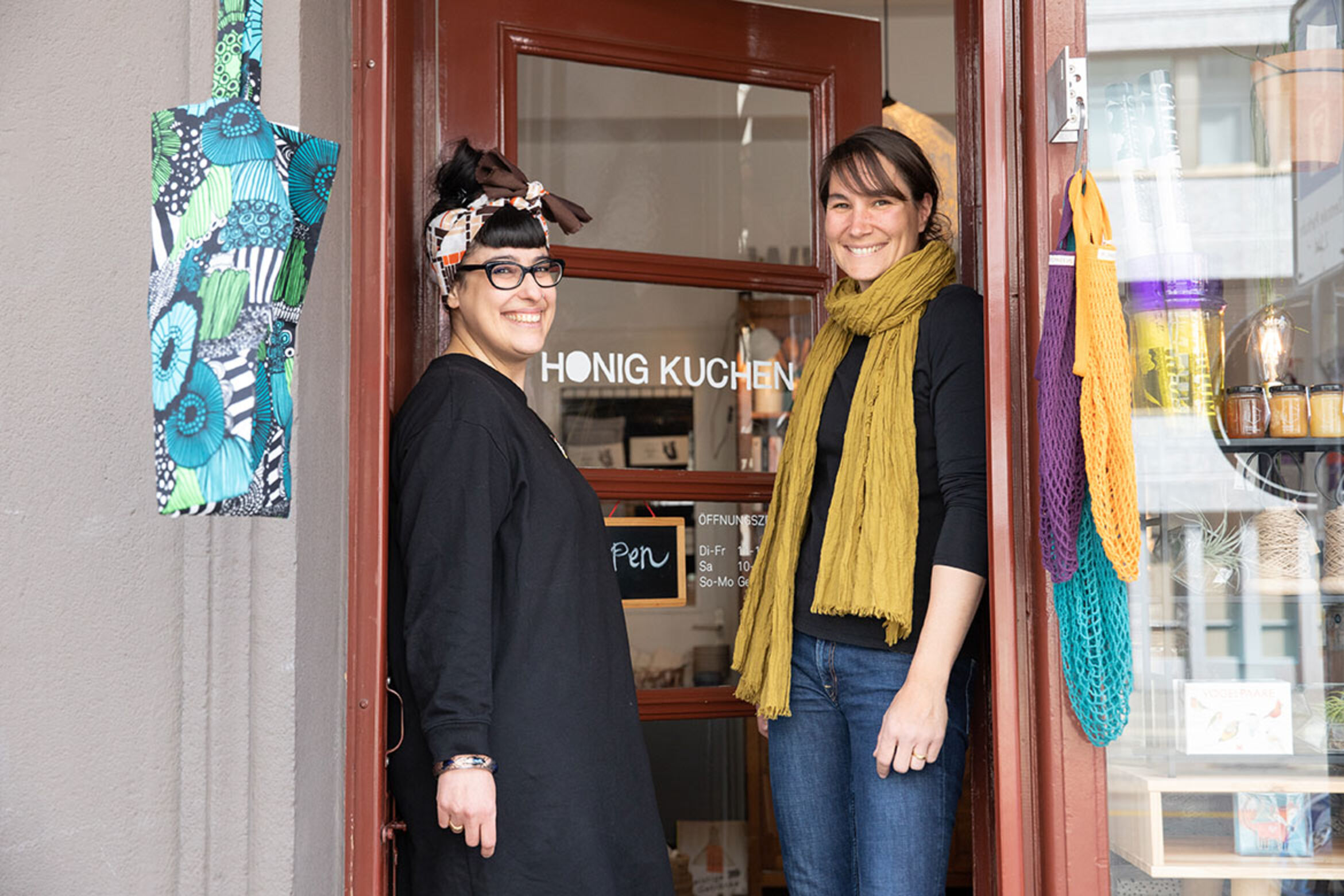 Anna Hochreuter represents the 'Honey' part of the name. As a baked good, Anna would probably be an orange polenta cake, says Anet: 'Fresh and tangy, but with the necessary depth.' Anna is an urban beekeeper. The beehives belonging to Wabe3 are located on Zurich's flat roofs. Wabe3 was set up by Anna and her husband Tom. It was lack of space that gave them the idea of putting the hives on buildings: 'Then we noticed there were lots of flat, green roofs.' says the beekeeper.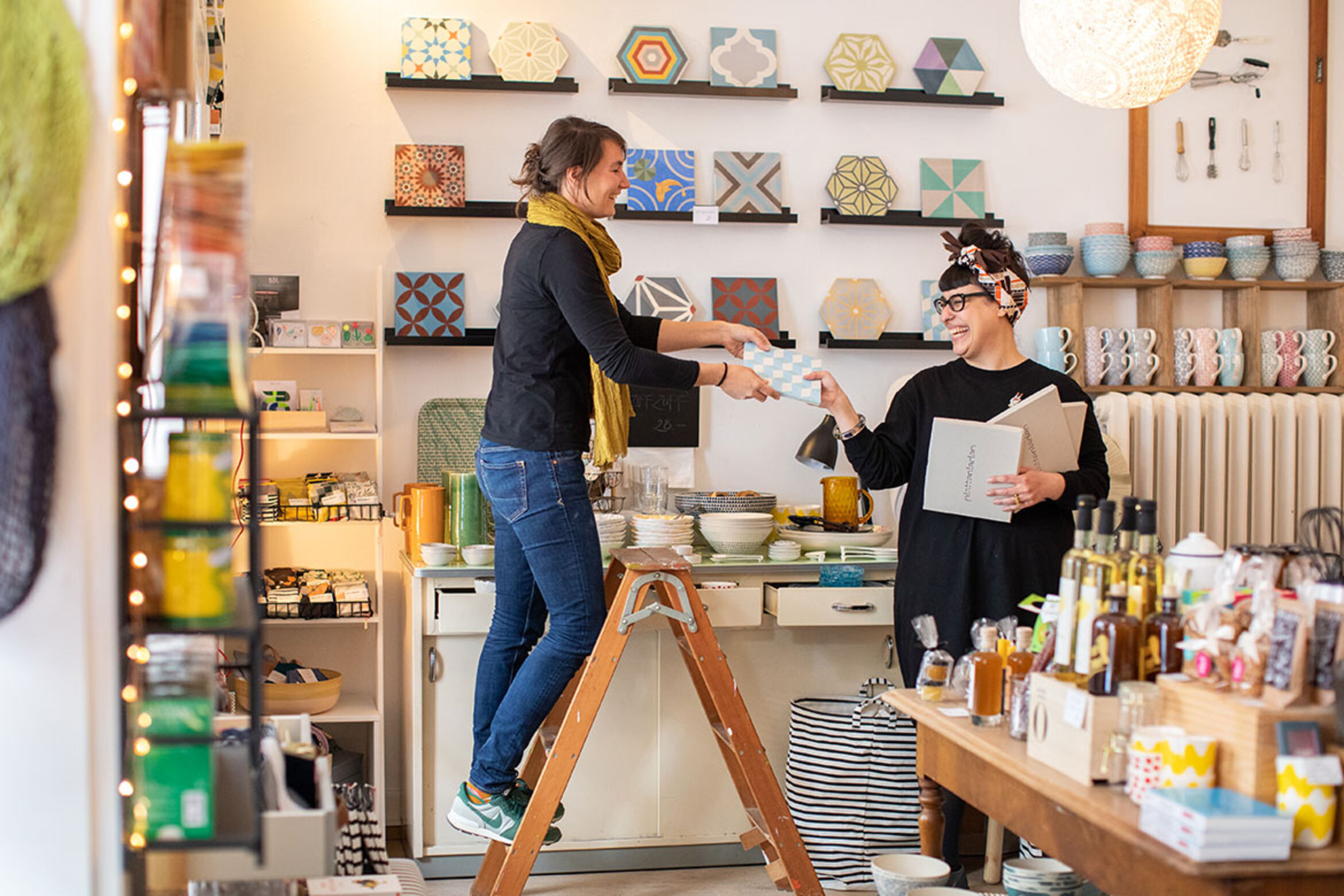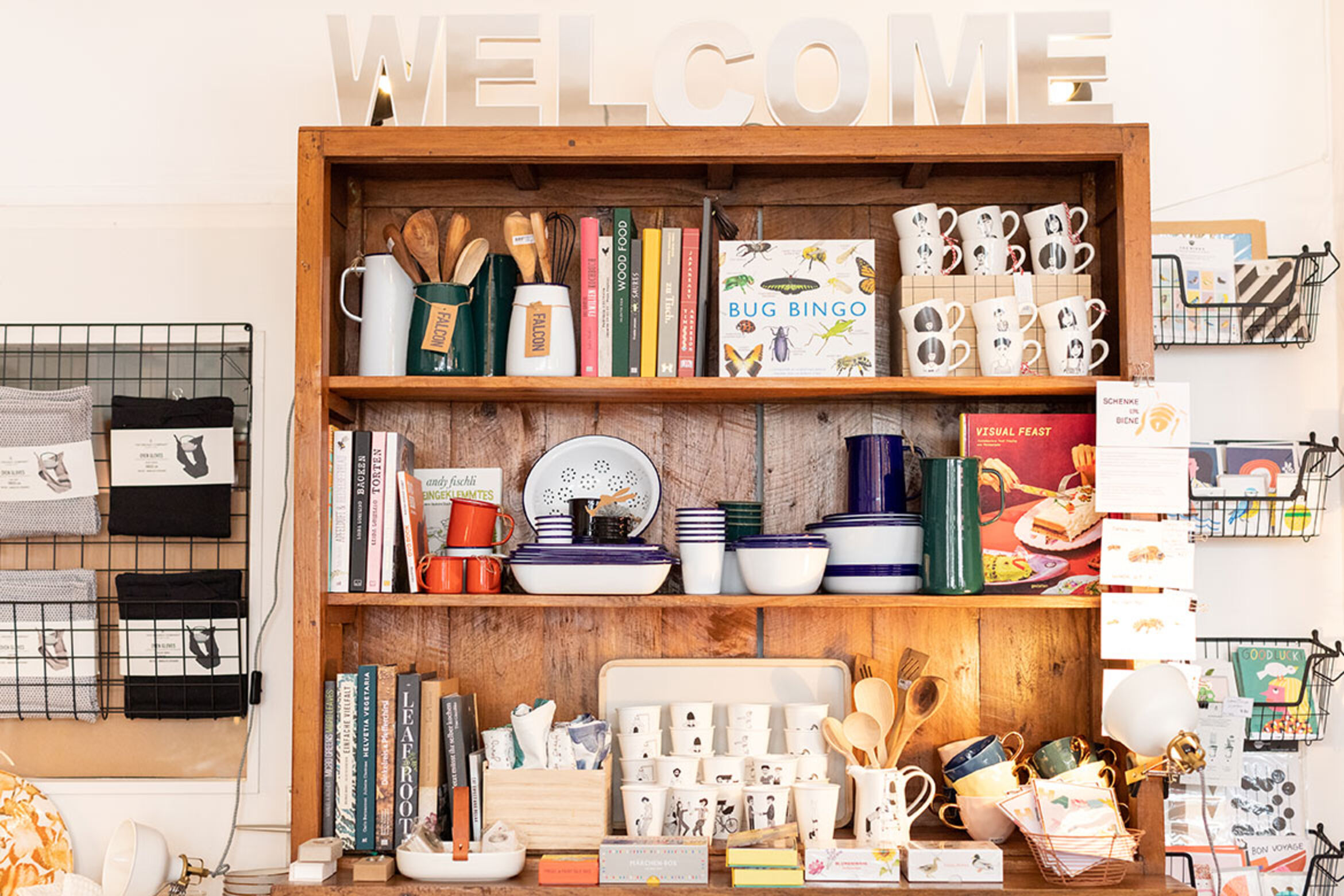 But at first it was difficult to convince the owners of the buildings that it was a good idea, and most of Wabe3's requests were turned down. Fortunately, Zurich's public transport authority (VBZ) heard about the project and was keen to promote biodiversity, so it agreed to allow beehives to be located on the roof of its depot in Wollishofen and its garage in Hardau. It was this commitment by VBZ that changed people's minds: 'Now we're the ones getting the requests,' says Anna. Wabe3 now has 120 bee colonies in 11 locations.
Wabe3 now has 120 bee colonies in 11 locations.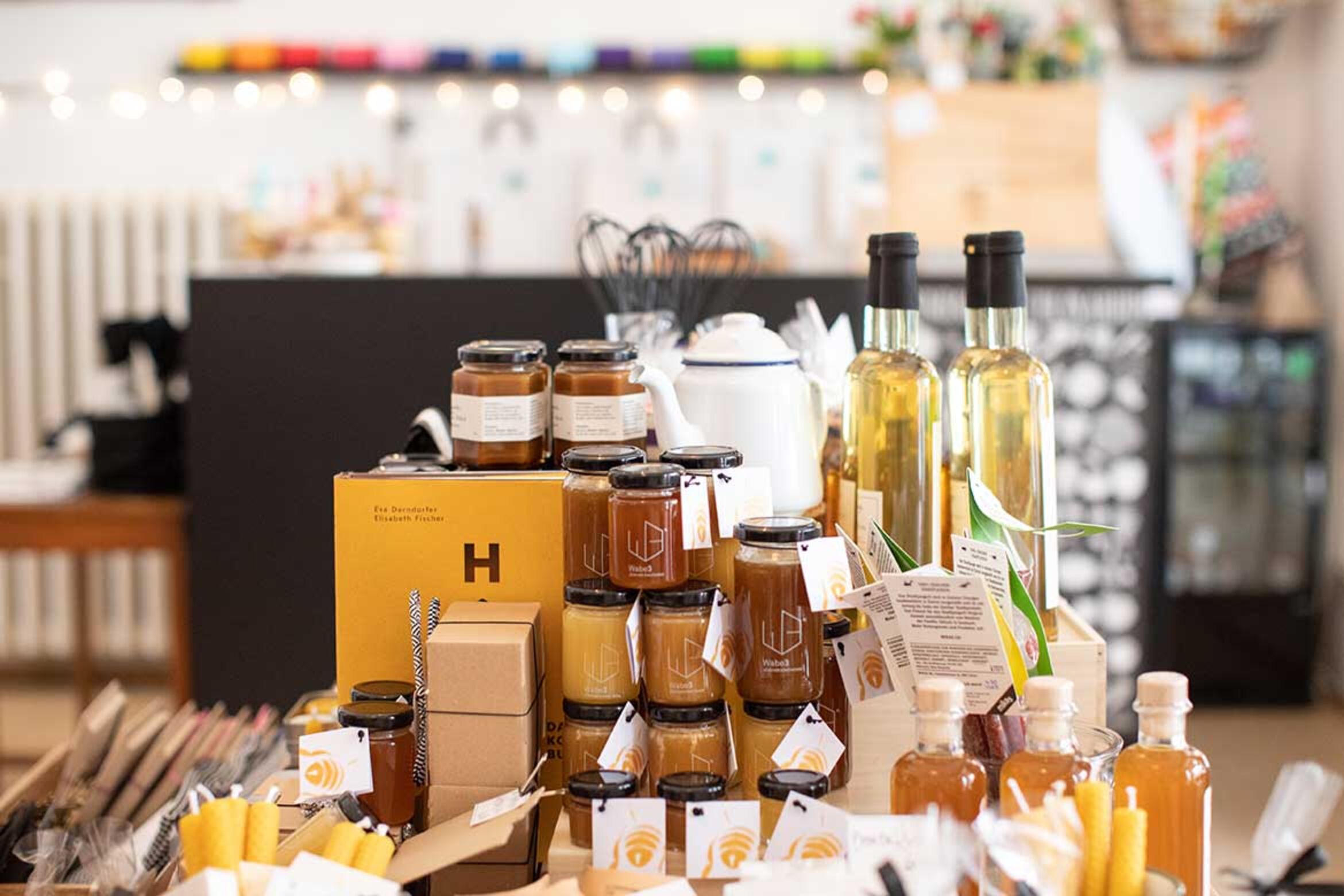 The 3 in its name has several meanings. First of all, it refers to one of the golden rules of beekeeping – the need to leave a distance of 3 metres around the entrance hole. But there are also personal reasons for the name: 'Tom is a third-generation beekeeper, Wabe3 is located in district 3, and since 2016 there have been three of us with our son Max,' says Anna.
What's more, her parents already had three beehives. This is how Anna was introduced to beekeeping, but she started out by studying photography and media design. She spent three years as a skipper on a yacht and ran a yacht charter company for five years. Then she met Tom. He told her about his family's beekeeping business – and Anna was thrilled. 'It was love at first sight,' she says with a laugh.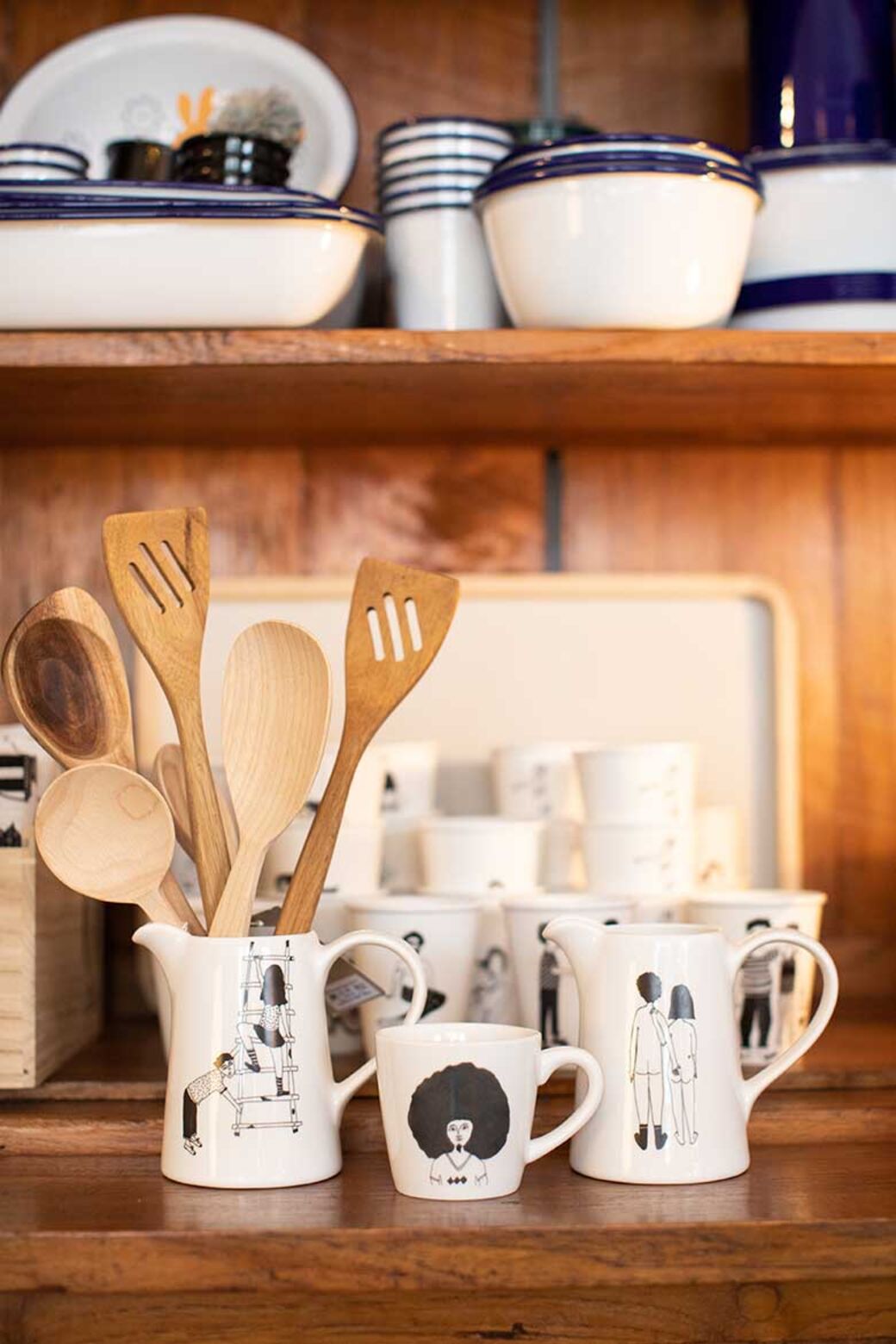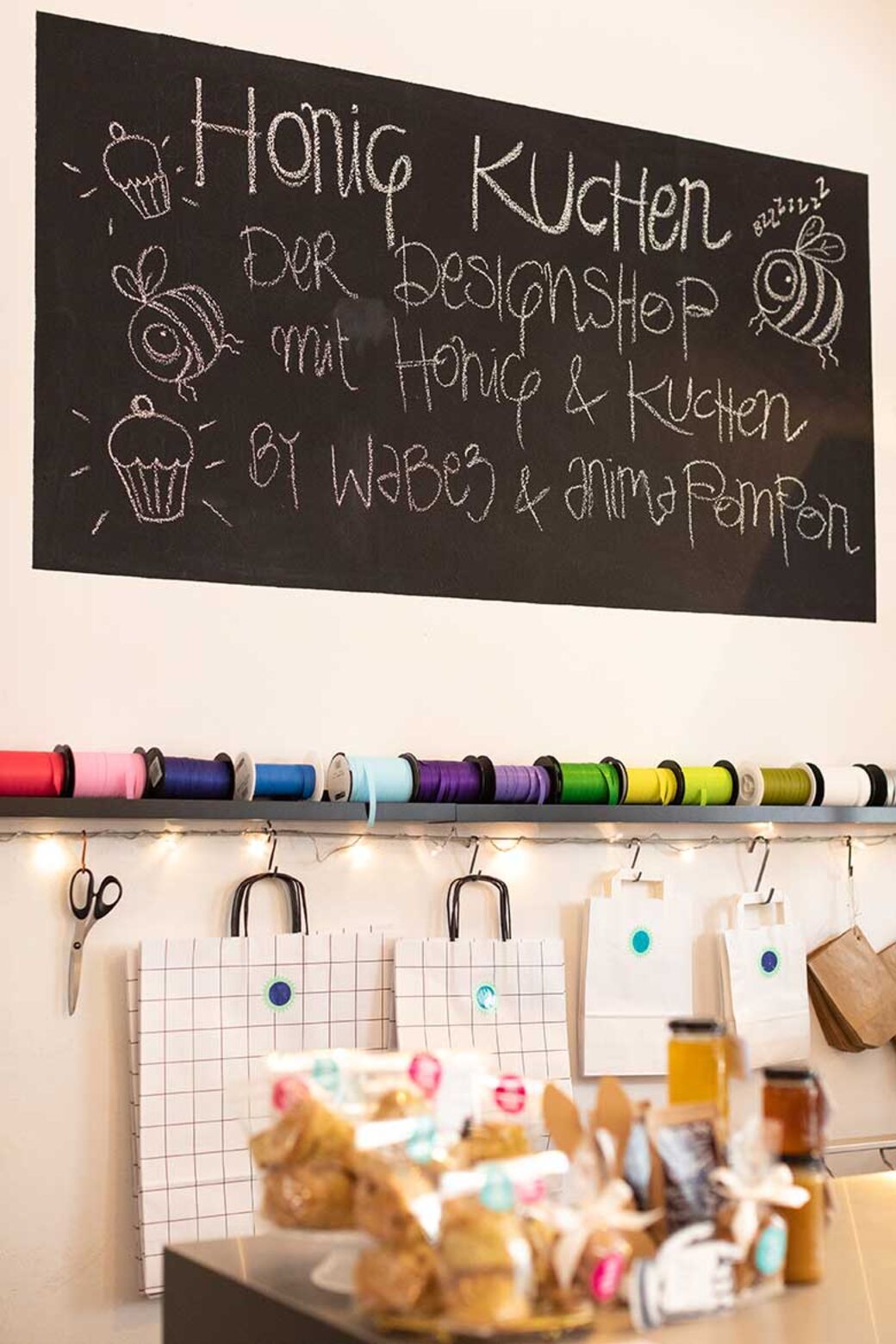 Anet discovered baking as a child: 'I helped my mother in the kitchen from an early age.' Her mother was a good cook but never baked, so Anet learned to bake from her grandmother: 'She had a kind of fascinating "witch's kitchen" packed full of utensils and glasses,' she remembers. 'She also used to talk to the dough – and I do the same today.' When baking, Anet often draws inspiration from her Armenian roots. But she is also influenced by the United States and England, the two countries where she grew up.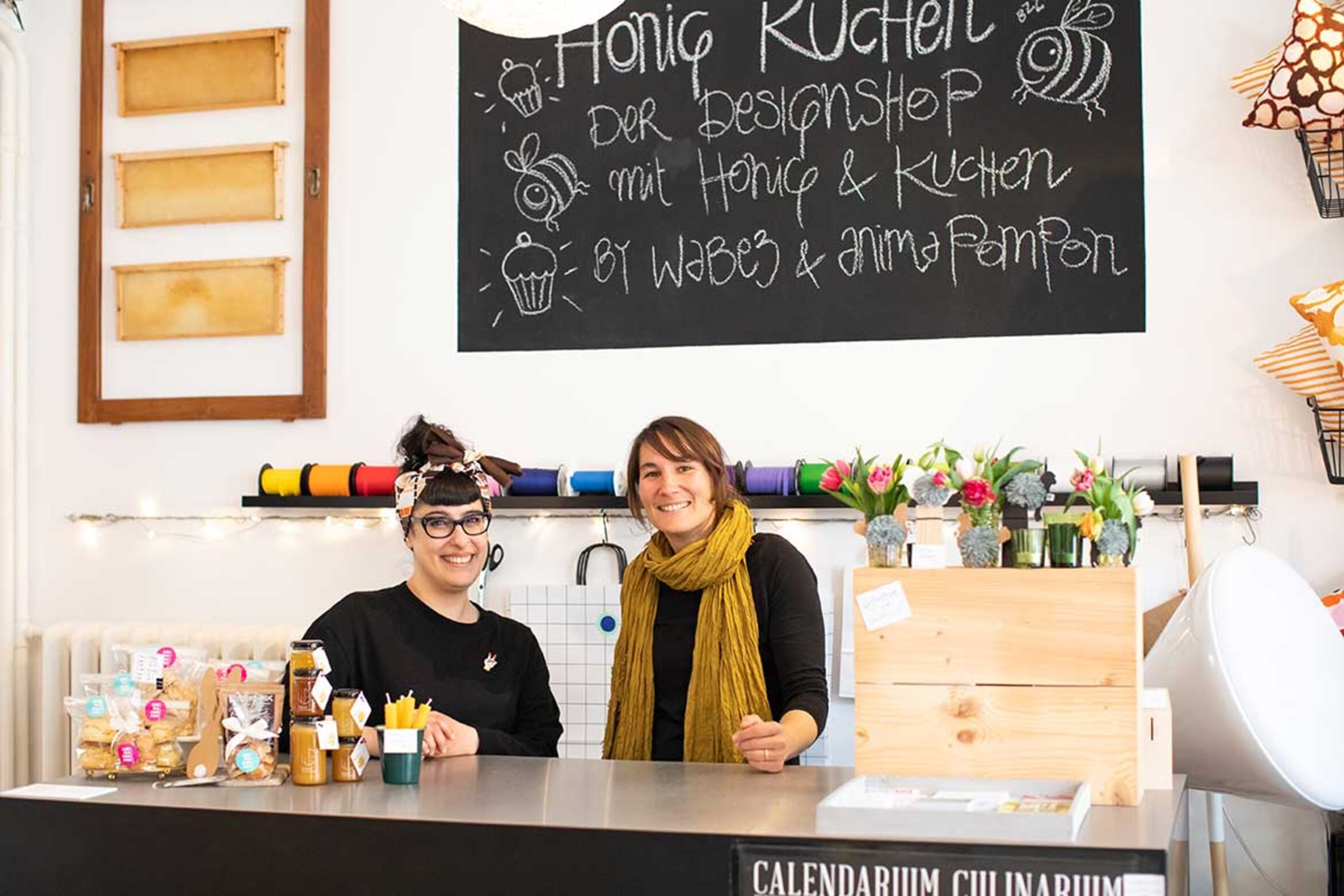 Anet has a good feel for the latest trends, as she demonstrated when she was a fashion designer. She is always discovering new products, which she adds to the assortment in the shop. The two women also pick up new things on their travels. 'And let's be honest – Anet and I also love a good rummage,' says Anna. The customers at Honig Kuchen range from teenagers looking for a quirky gift to seniors who come to pick up their honey. But even though business is booming, Anna and Anet have little interest in opening a second shop. 'We wouldn't have time for our products and the bees,' says Anna. She says the main thing is to have fun – and that's what the pair have with their shop: 'With HoKu, we're living our childhood dream.'
Address
Honig Kuchen
Birmensdorferstrasse 109
8003 Zürich
+41 43 811 50 19
Website
Opening times
Tuesday to Friday, 11 am – 6:30 pm
Saturday, 10 am – 4 pm
View posts by interests, or use the proximity search and additional filters.
Try it out
.
Save posts as favourites – simply click on the heart symbol in the upper right corner of the post.