Minouche von Marabou has been a burlesque dancer for almost ten years. The 30-year-old Zurich native also attracts attention off stage with her eye-catching retro outfits.
Minouche, how would you describe your style?
I call my style 'modern pin-up'. I take inspiration from the '40s and '50s. My outfits aren't historically accurate, though. I used to wear a lot of vintage clothing but that soon felt a bit restrictive.
Why?
As a creative person, simply copying the fashion of the time became far too boring for me! I can be quite bold when it comes to mixing colours and styles. But that also brings its own challenges.
'Just one detail out of place can ruin the whole look.'
What do you mean?
If I don't pay attention to every little detail, I quickly end up looking over the top. I have a very playful and extravagant style. I like showy fabrics, especially leopard print, I wear false eyelashes every day and paint my nails red. I also wear a turban every day. I almost feel naked without it.
Really?
Yes, I have a matching headdress for each of my outfits – it's become my trademark. I get asked about it a lot. That's why I designed a collection of headbands during lockdown that I sell on social media. They're easier to style than turbans.
What do you mean by 'each of your outfits'? Don't you just decide on the spur of the moment what to wear each morning?
I have about 30 different outfits that I wear again and again – including accessories. I attach a lot of importance to these. Just one detail out of place can ruin the whole look.
'I also wear a turban every day.'
Do you often get asked about your look?
More and more these days! I have a feeling it's because of the pandemic. The nightlife scene has been quiet for almost a year, and theatres and museums are still closed. People are increasingly looking for beauty in their everyday lives. And so I really turn heads.
What do people say to you?
Many people ask me if I'm going to a wedding or a party. And I often hear that I'm brave for dressing like I do. That often makes me smile.
Why do you find that funny?
Because it shows how most people operate. Many would like to be more daring in the way they dress but don't quite manage it.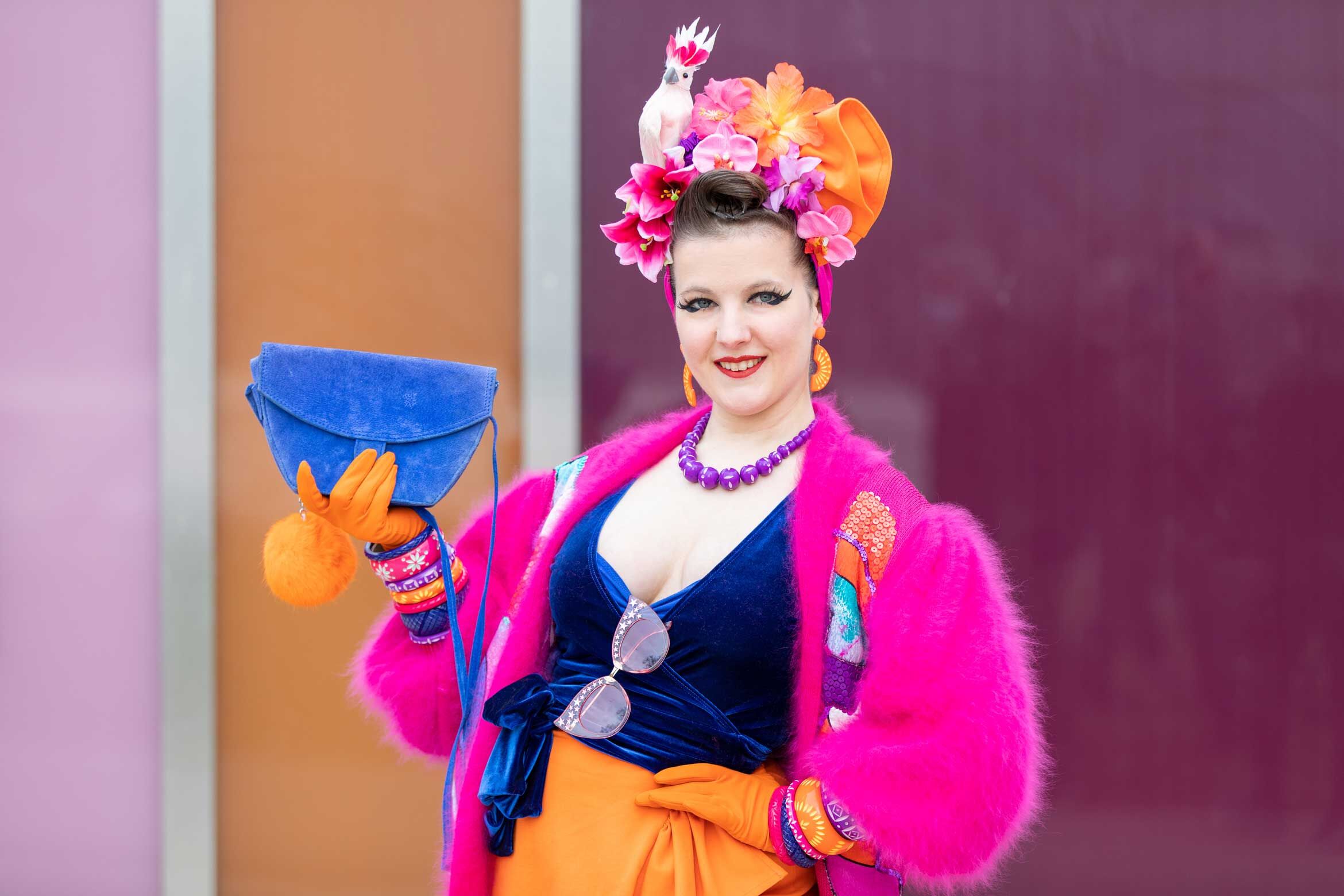 'I feel like I've found myself.'
Why not?
Other people's opinions are far too important to them. My style also reflects my attitude to life: I live my life for me, not for other people. You can't please everyone, so I just have to do what's right for me. I want to be authentic.
Have you always been this confident?
Like most people, I wanted to have my own identity as a teenager, one that was distinct from my parents, and in terms of fashion. I trained as a dressmaker because I wanted to make my own clothes, though back then, I didn't give much thought to what style really meant to me. My sense of style only began to evolve over the course of my apprenticeship.
Will you stay true to your current style?
Yes. For about two years now, I feel like I've found myself, and my own sense of style. It pretty much reflects my own ideal now.
View posts by interests, or use the proximity search and additional filters.
Try it out
.
Save posts as favourites – simply click on the heart symbol in the upper right corner of the post.