'Playing the alphorn is a high-performance sport'
Thomas Troll can often be heard playing the alphorn on the streets of Zurich – including Bürkliplatz. Unfortunately, these traditional sounds will soon be a thing of the past, because the street artist is off to New York and Canada.
Thomas Troll is playing his alphorn on Bürkliplatz. This traditional alpine music sounds quite exotic in the heart of the city. Thomas isn't wearing his Lederhosen, but the typical wooden cows made by Trauffer are stationed next to the hat where he collects his donations. An elderly lady has been listening to the street musician for a while, swaying gently to the beat and humming along to the melody. Once the piece is finished, she drops a few coins in the hat with a word of thanks. Thomas is getting ready to take a break when a little boy comes up to him. He resolutely hands Thomas the five-franc coin that his granddad has just given him.
'On the street I have to attract people's attention and win them over straight away. Otherwise I have no chance,' says Thomas. He has been a street artist for many years – sometimes as a musician, sometimes as a living statue. An actor by training, he discovered his passion for street art by chance when he was living in Berlin. Some statues had been vandalised in one of the city's parks, so Thomas and his girlfriend jumped onto the empty pedestals and pretended to be the stone figures. The next day, the press contacted him to ask about his next performance. 'It was all just a gag!' says Thomas. He shows me a Berlin travel guide from the 1990s. He is on the cover wearing a white statue costume and make-up.
About 15 years ago Thomas inherited an original wooden alphorn from his grandfather. He recalls: 'I had no idea what to do with this big lump of wood.' He took the instrument with him on a family holiday to Ticino. After many unsuccessful attempts at playing it, he gave up and stowed it away in the caravan. But then one morning he suddenly heard the sound of alphorn music. A man on the campsite was playing an alphorn and – knowing that Thomas also had one – invited him to play along: 'He was horrified when I told him I didn't know how to play it. He said: What? You own an alphorn, but you can't play it?' It turned out that the guy ran the Ticino Alphorn Club, and he was to be Thomas's first teacher. Thomas still practises regularly: 'Playing the alphorn is like high-performance sport for the lips,' he says.
About 15 years ago Thomas inherited an original wooden alphorn from his grandfather.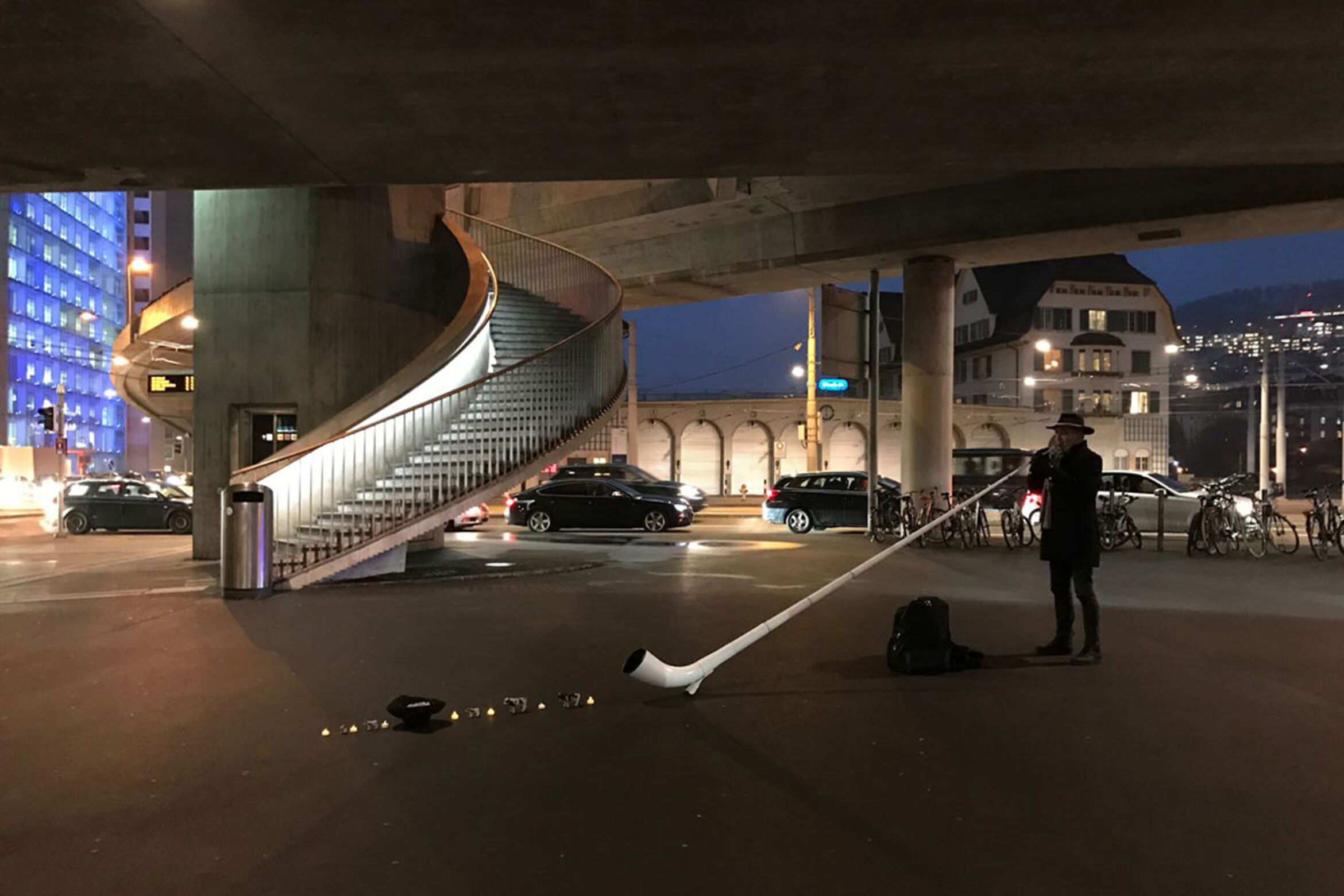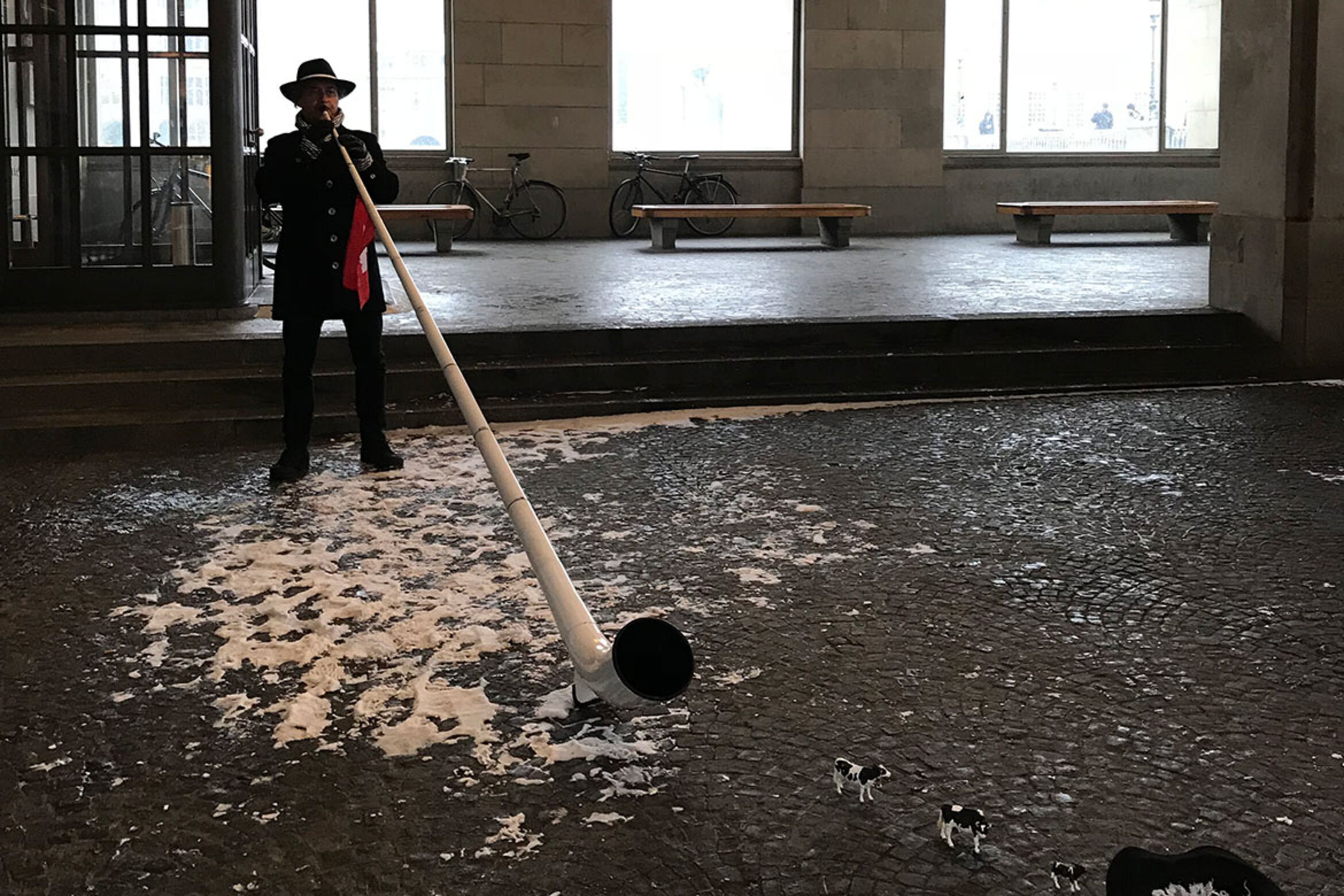 But he no longer owns his grandfather's alphorn. Nowadays he prefers a light carbon horn that is easy to take apart. Thomas has travelled all over Europe. In Zurich, he plays at the Christmas market in the main train station but says it's now more difficult to get a permit to play in other places. However, street musicians are still allowed to perform by the lake.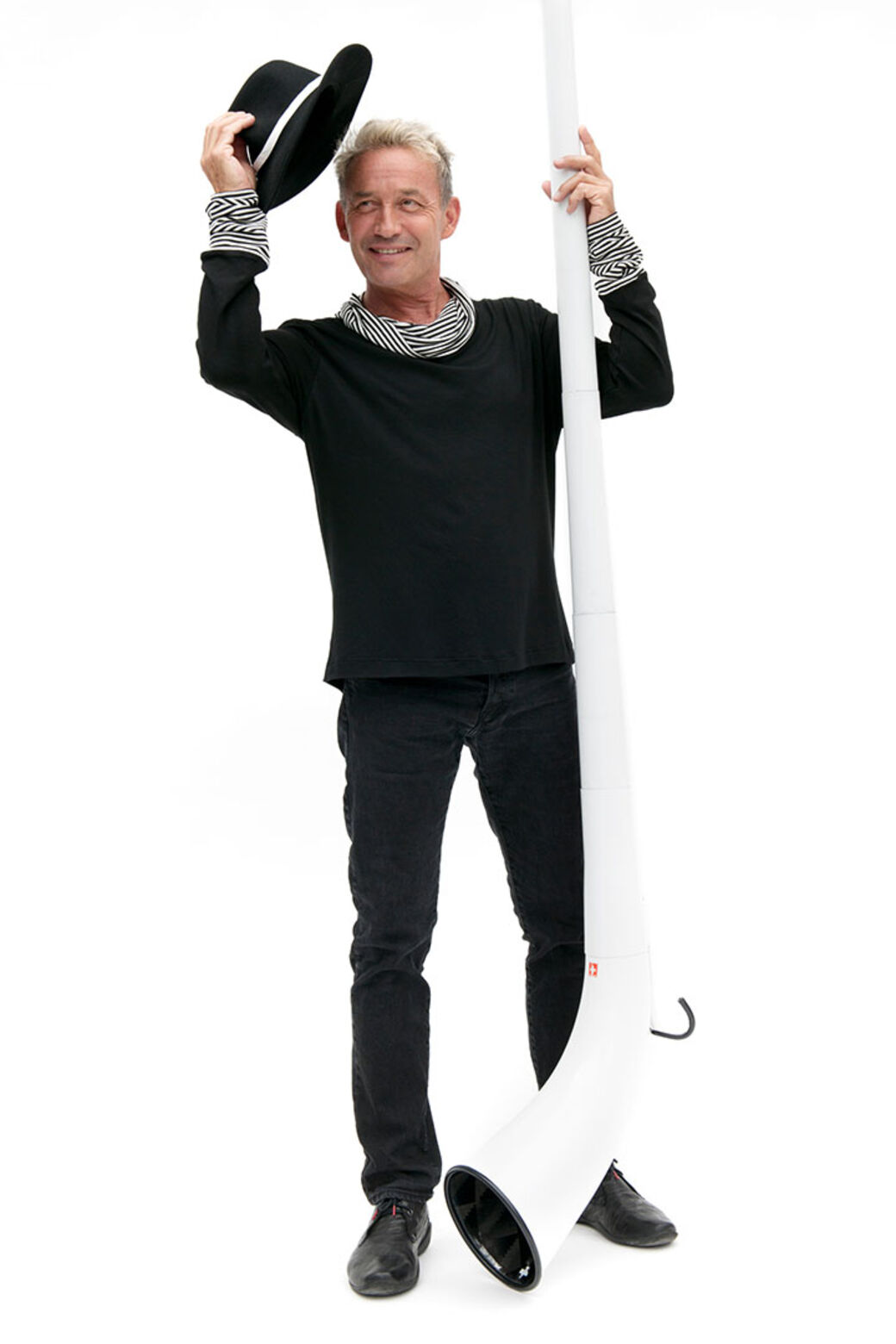 He and his wife are emigrating to Canada in the autumn. But he won't be giving up the alphorn. He has been finding out where his street art is likely to go down well, and he will also be packing his alphorn for a planned trip across the USA. Thomas wants to play the alphorn surrounded by New York's skyscrapers: 'That would sound incredible!'
View posts by interests, or use the proximity search and additional filters.
Try it out
.
Save posts as favourites – simply click on the heart symbol in the upper right corner of the post.