As a boy, Claus Feit dreamt of having a home that he could drive into. Now his wish has almost come true – he and his family live in a huge loft in the heart of the city.
One day during her lunch break Wiebke Feit happened to be walking down Lessingstrasse. She found herself thinking: 'I would really love to live in this old factory – next to the river but still right in the heart of the city.' At that time she had yet to meet her future husband, Claus Feit. 'But I also fell in love with this old factory and wanted to live there too,' he says. In 2014 their dream came true when they moved into an apartment in one of the 120-year-old factory buildings on Lessingstrasse. The Feits could hardly believe their luck.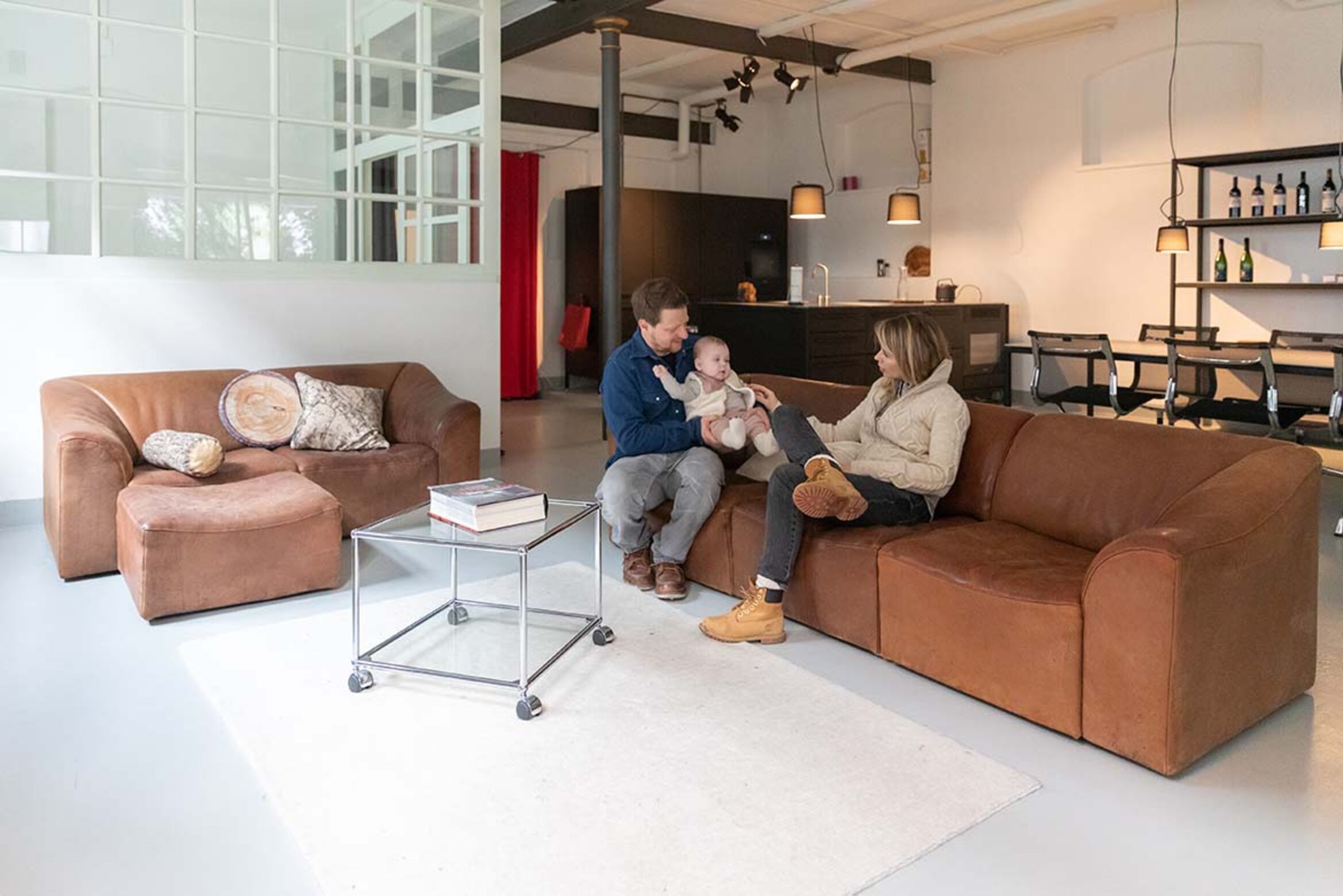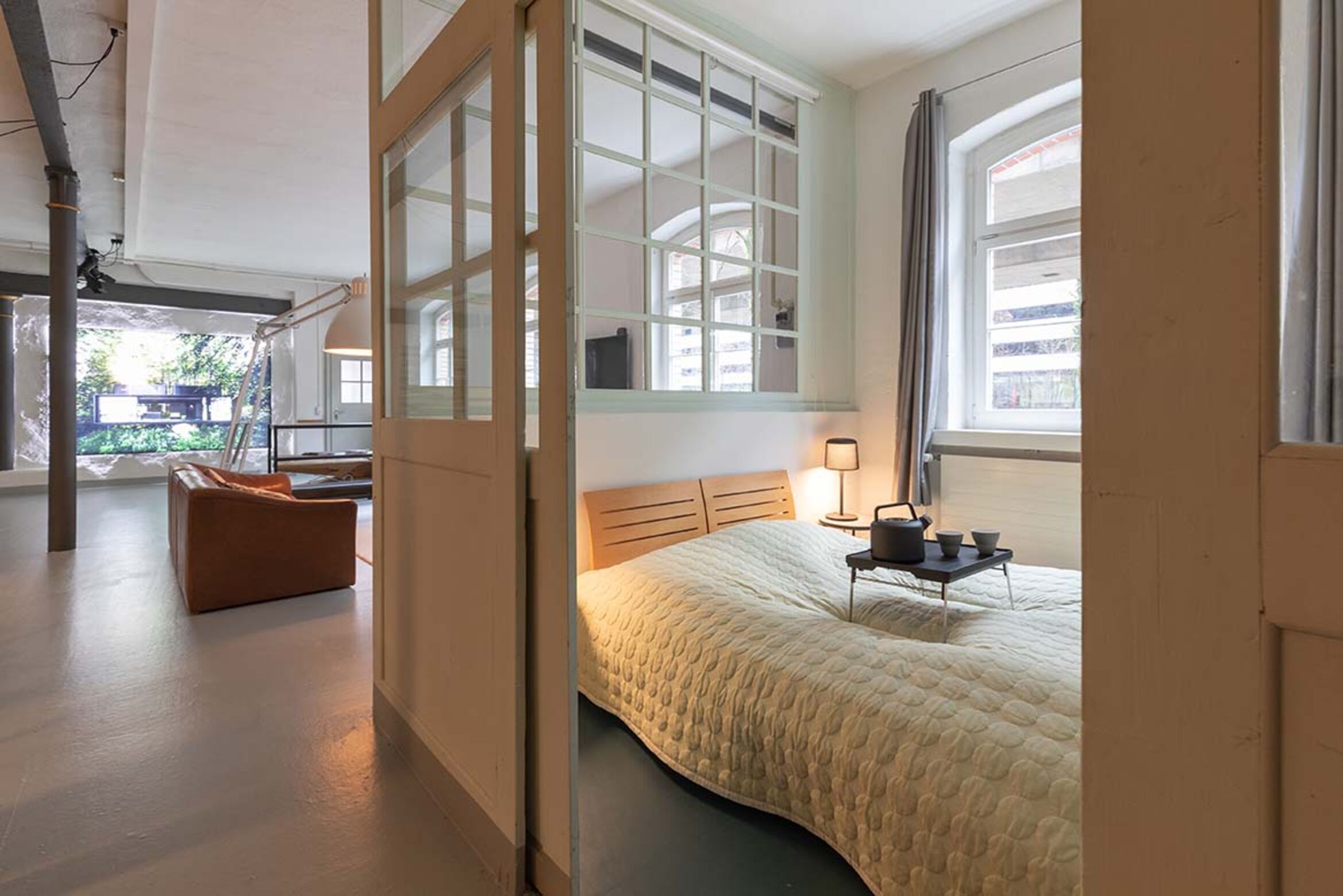 Wiebke and Claus spent several months living and working in the 100-square-metre ground-floor loft. 'It was crazy! We slept in the small room and worked with our team in the big room,' says Wiebke. The couple run a company that makes commercials. 'We had very little privacy at that time.' But soon the Feits were in a position to rent the office next door.
'Then our daughter came along that August,' says Claus. The two-room loft wasn't ideal for a growing family, but the Feits had another stroke of luck. For the first time in 20 years, an apartment became vacant on the first floor.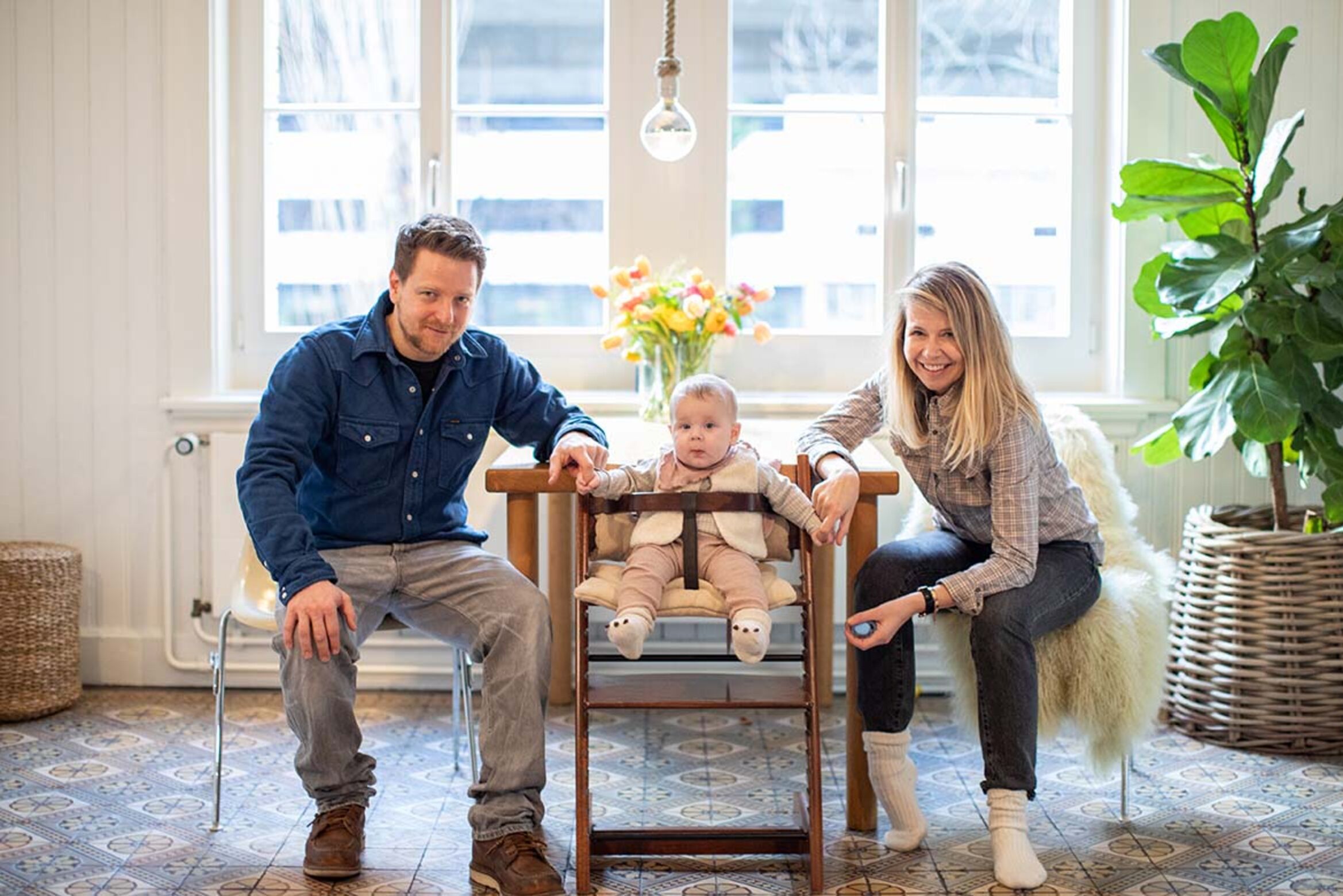 Claus and Wiebke moved in with their baby daughter and spent the first six months making some minor alterations. Wiebke was keen to ensure they kept the original character of the rooms: 'We kept the exposed pipes and structures.' 'We also kept the original layout,' adds Claus. This means the bathroom is tiny, with no room for a bathtub. 'But that's part of living here,' says Wiebke. 'It's not as comfortable as living in a new building, but that's all part of its charm.'
'It's not as comfortable as living in a new building, but that's all part of its charm.'
Wiebke Feit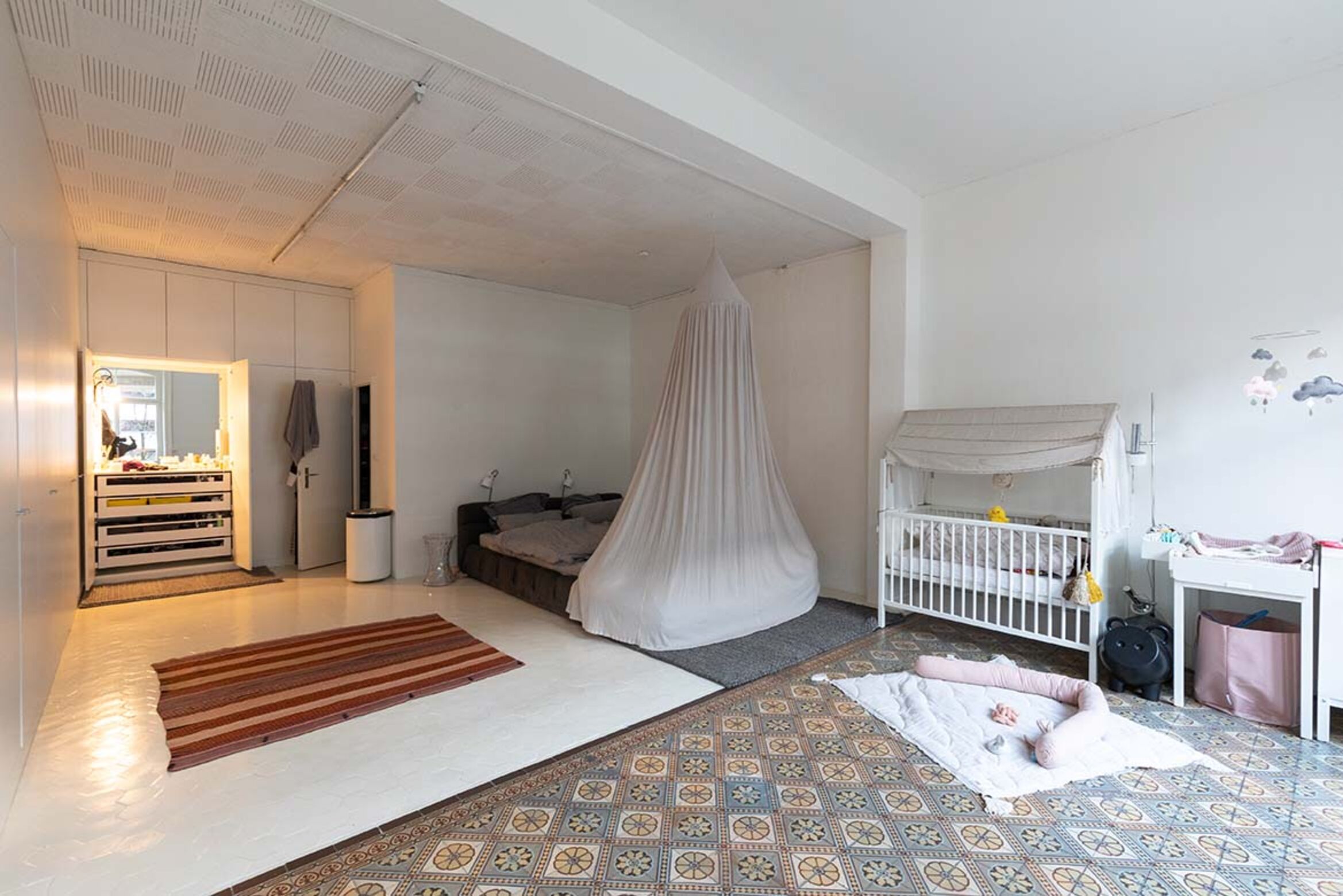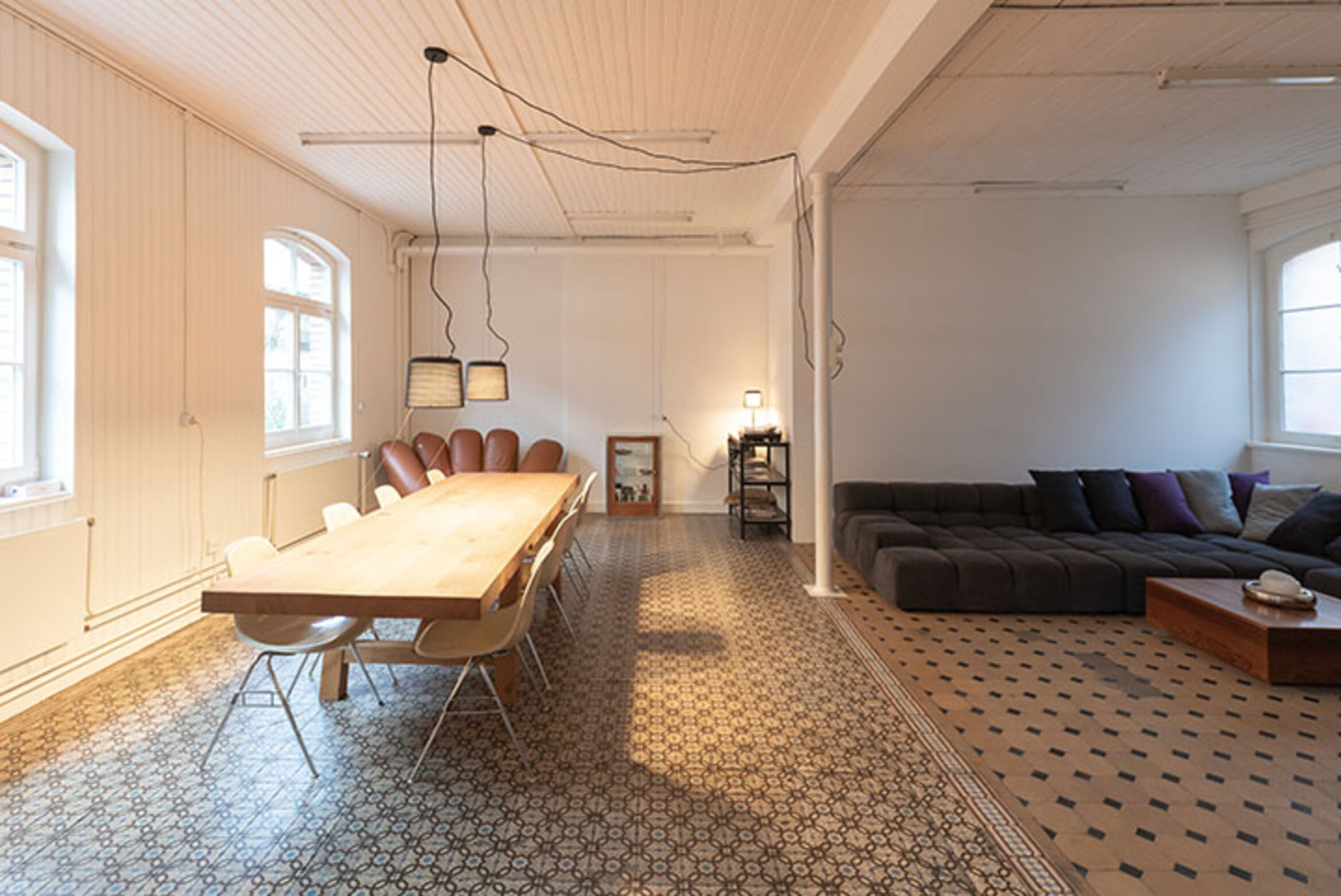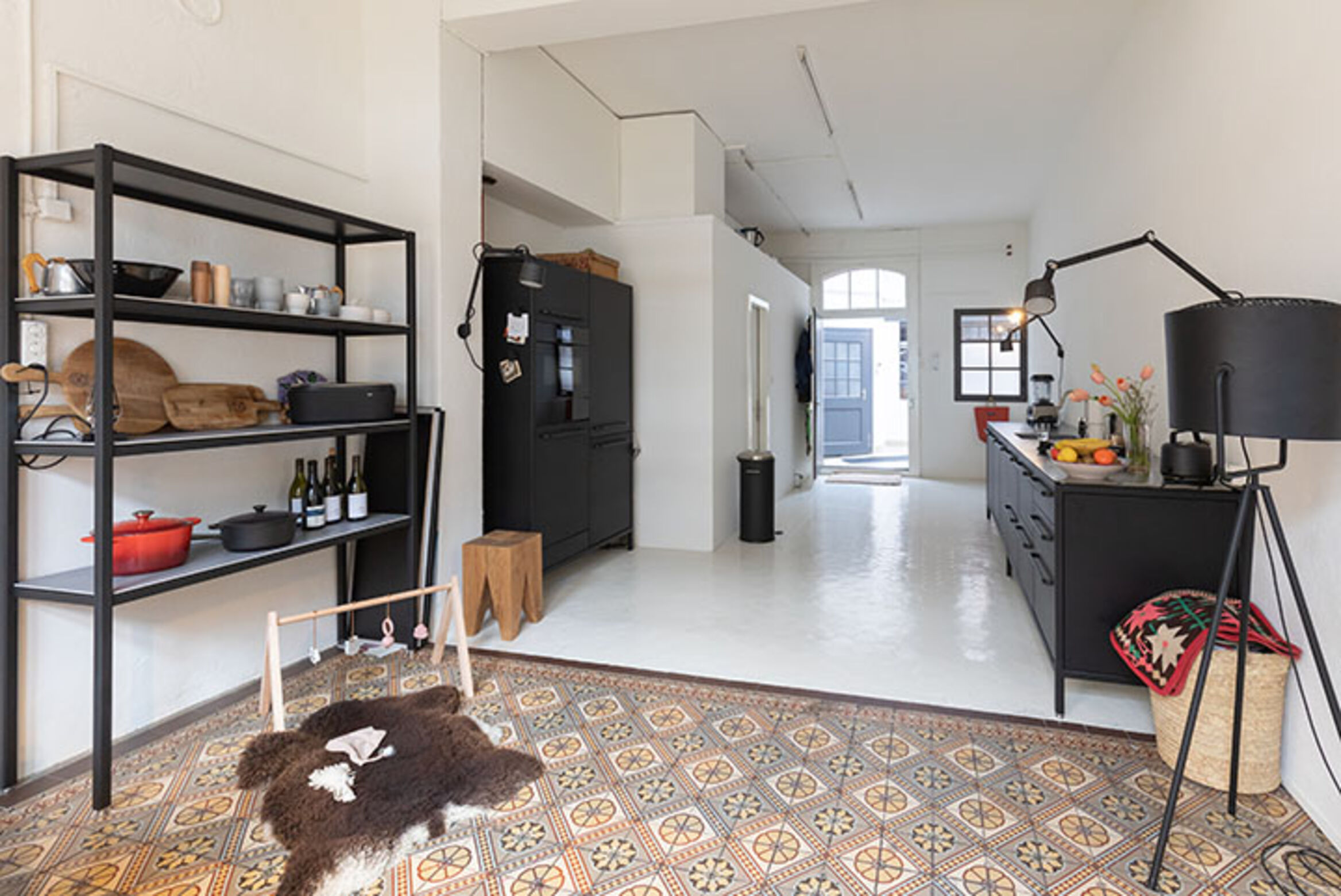 The couple are thrilled to have so much space. 'We love big, beautiful furniture.' Claus tells us about the oversized clothes peg on the ground floor and the huge desk lamp in the living room. 'It only works when you have lots of space.'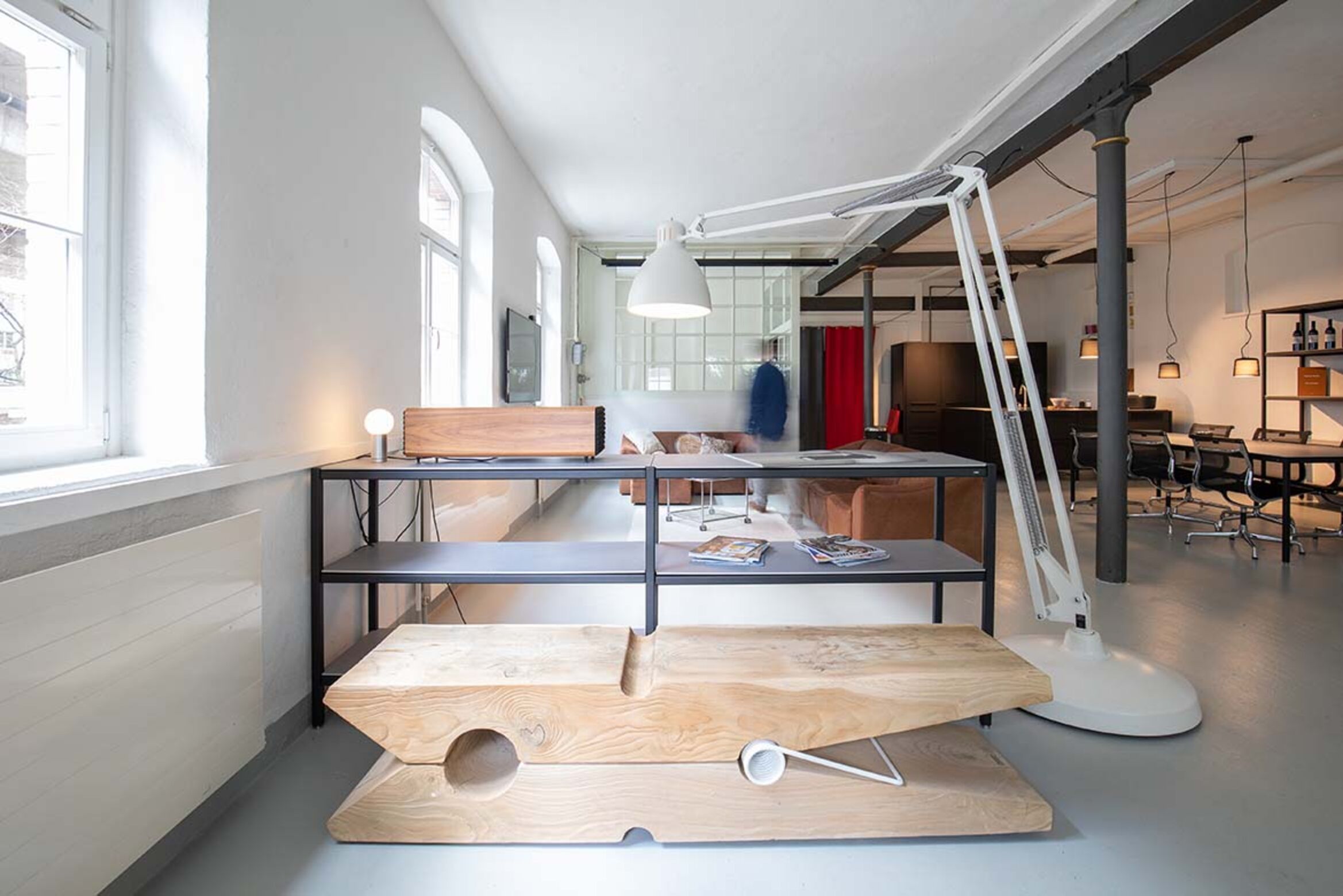 Claus and Wiebke are fans of both vintage and contemporary design.
He and Wiebke are fans of both vintage and contemporary design. They own quite a few Vipp products, including the black kitchen. Indeed, the Feits like this Danish brand so much that in January they became its distributors for Switzerland. 'It's a second string to our bow,' says Wiebke. The rooms on the ground floor are now a Vipp showroom, but they are also ideal for video shoots – and for a nice dinner with friends or a movie night.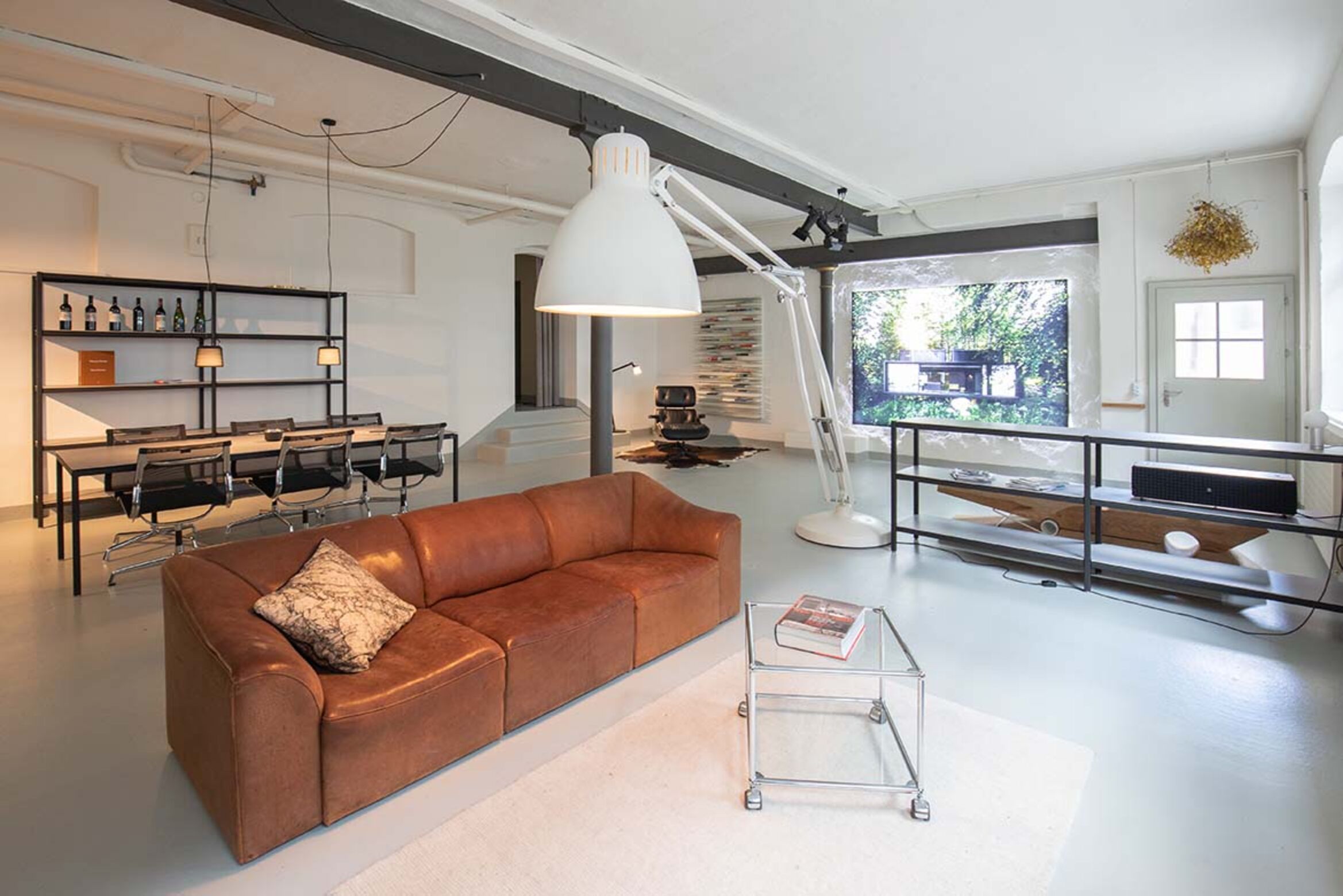 Isn't it a problem to combine living and working like this? Not at all, says Claus, 'We always wanted it to be like this.' He and Wiebke are often on the road in Switzerland and beyond: 'Spending so many weeks on film sets can be exhausting.' That's why he and his wife are glad they don't have to commute to work when they are in Zurich: 'Commuting would just be an unnecessary stress.' It also means they can spend more time with their 5-month-old daughter. 'We often have lunch together and it gives us more flexibility to look after her,' says Wiebke.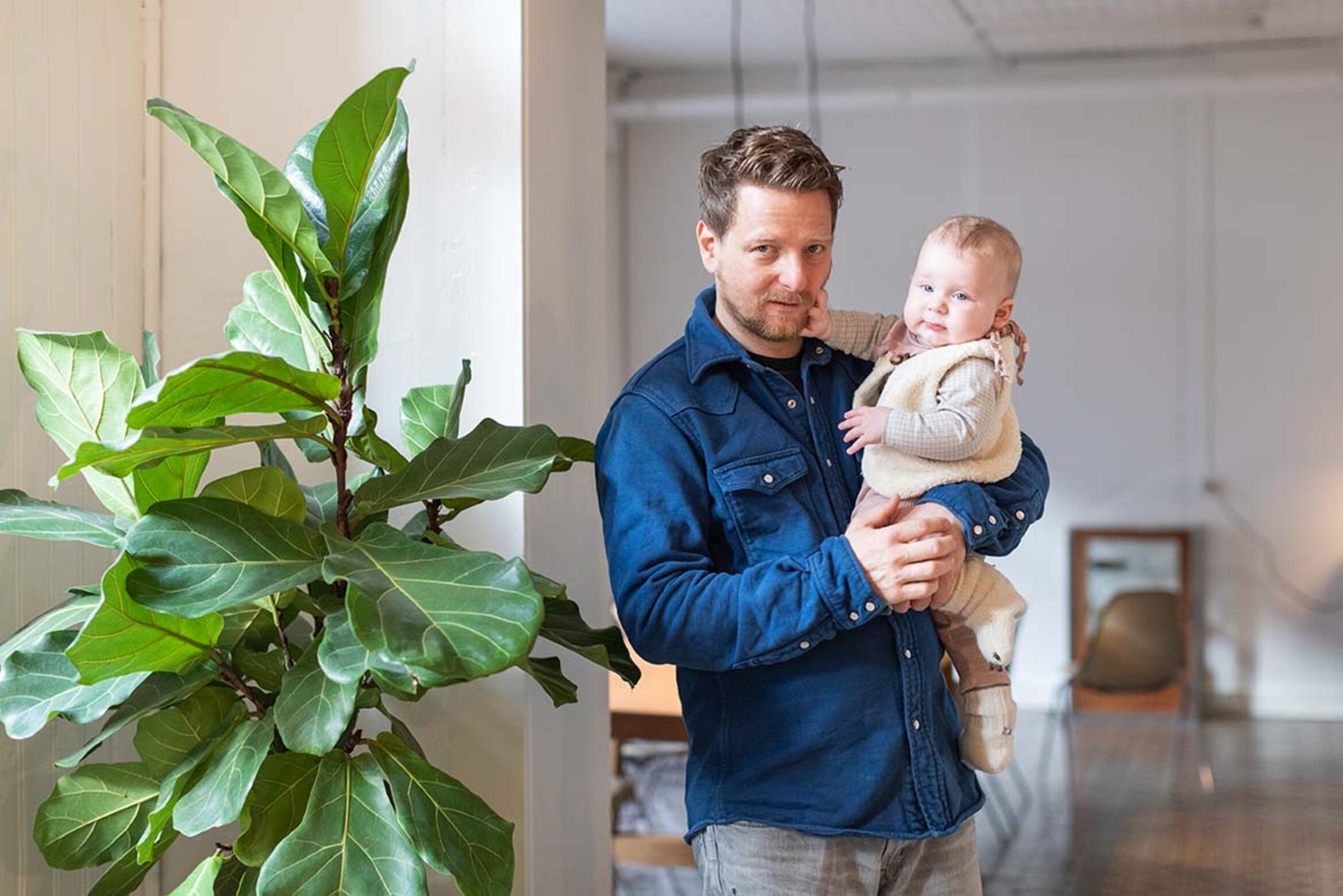 The couple have no doubt that their business will always be based in Zurich ¬– after all, the city is a hub for agencies and creatives. The Feits also have to be close to the airport: 'We pick people up there nearly every day,' says Claus. German-born Wiebke adds: 'But on the personal front, there's nowhere we would say: "We want to stay here forever". Maybe one day we'll go and live by a lake?' For Claus, the USA is also an option. He and Wiebke have spent a lot of time on both the East and West coast.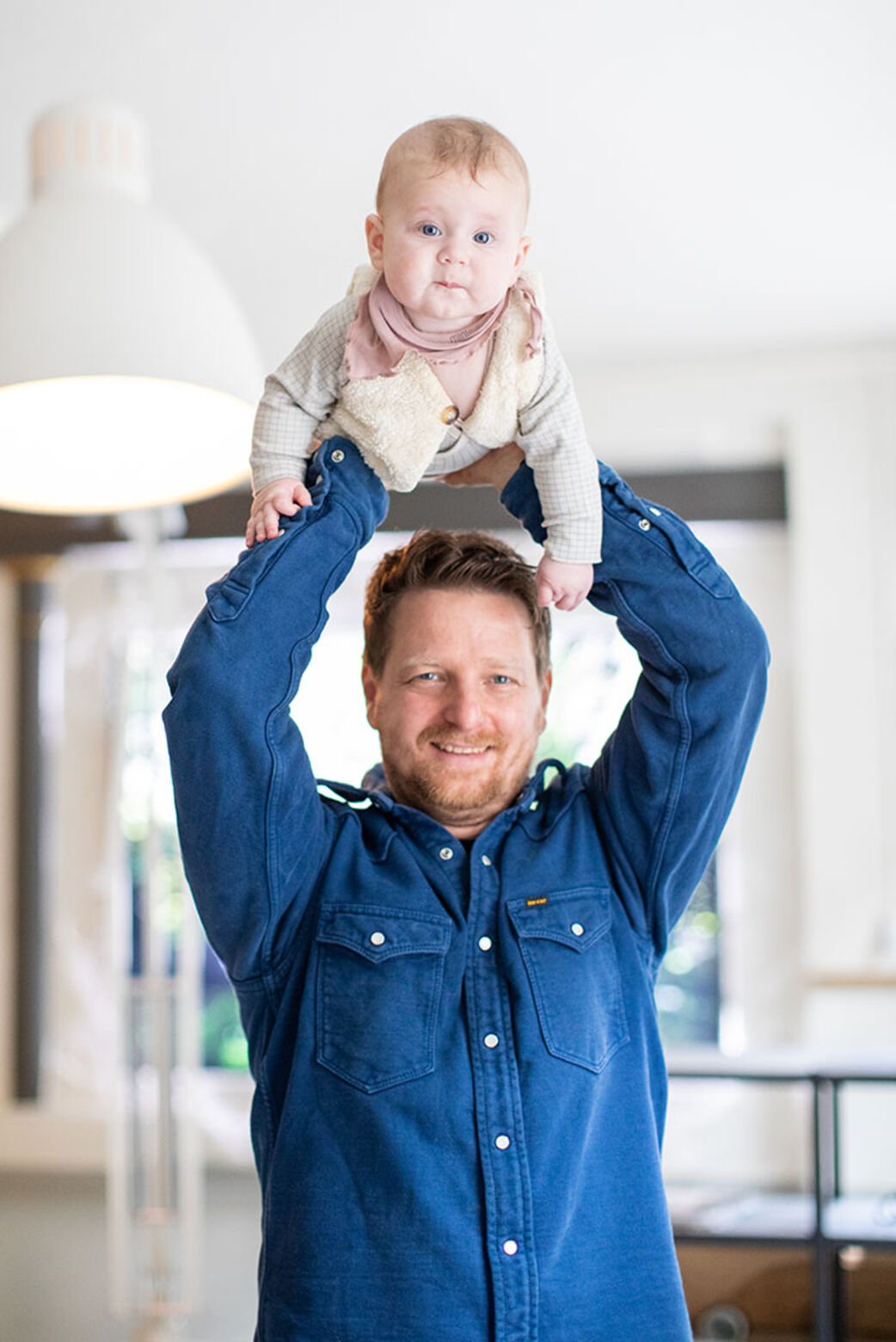 'We just need space,' says Claus. 'It doesn't matter where.' He tells us about the house he grew up in: 'It had lots of rooms, but they weren't particularly big.' As a boy, he dreamt of having a home that that he could drive into: 'I'm pretty close to that here – when I get out of the car I just have to carry the baby round the corner.'
View posts by interests, or use the proximity search and additional filters.
Try it out
.
Save posts as favourites – simply click on the heart symbol in the upper right corner of the post.