Every month, Anna Rosenwasser writes about life and love in Zurich. In September, the head of the Swiss lesbian organisation looks at how norms can be uncomfortable things – and what we can do about it.
There was a time when clothes shops used to kindly but firmly show me the door. For years, my body simply didn't fit the clothes on their racks. Every time, it was like a dagger to the heart. I felt like my body was a reject. Looking back, I can see that there was nothing wrong with my body. It was the clothes that were failing to do their job. Clothes should be made for bodies – not the other way around.
I felt like my body was a reject.
Feeling miserable but bloody-minded, I came up with a plan. One day I would buy a made-to-measure suit. No more stores to be thrown out of. No more struggling in and out of badly fitting clothes in the changing room. Just once, a suit that fitted me perfectly because it was made for my body. It was a kind of power fantasy. I think that's why I imagined a suit, of all things. Suits epitomise the standard view of power and elegance (a very masculine norm that is somewhat undermined when a woman makes it her own).
There are dozens of labels.
Nowadays I can fit into most clothes. But I still remember the misery of feeling all wrong. Especially when it comes to labels. There are dozens of labels for people who are not straight (or trans). Some have been around for years, such as 'gay', but there are also newer ones like 'Demigirl' and 'pansexual'. These labels are there for people who feel they don't quite fit the gender norm – yet many still complain that the labels aren't right for them. 'I'm a woman and I like women, but the word lesbian feels so negative. I'm not comfortable calling myself that,' or 'I'm not sure what gender I am. Aren't we all just people?' Yes, we're all people. But we're people who don't fit the norm. The norm is a one-size-fits-all suit, and if you can't fit into it, you're excluded.
Labels are there to help us find ourselves – naming something makes it more real. Sharing a label allows you to find other people who are like you. And it gives more focus to our demands: 'Equal rights for trans women!' has more impact than 'Equal rights for people!'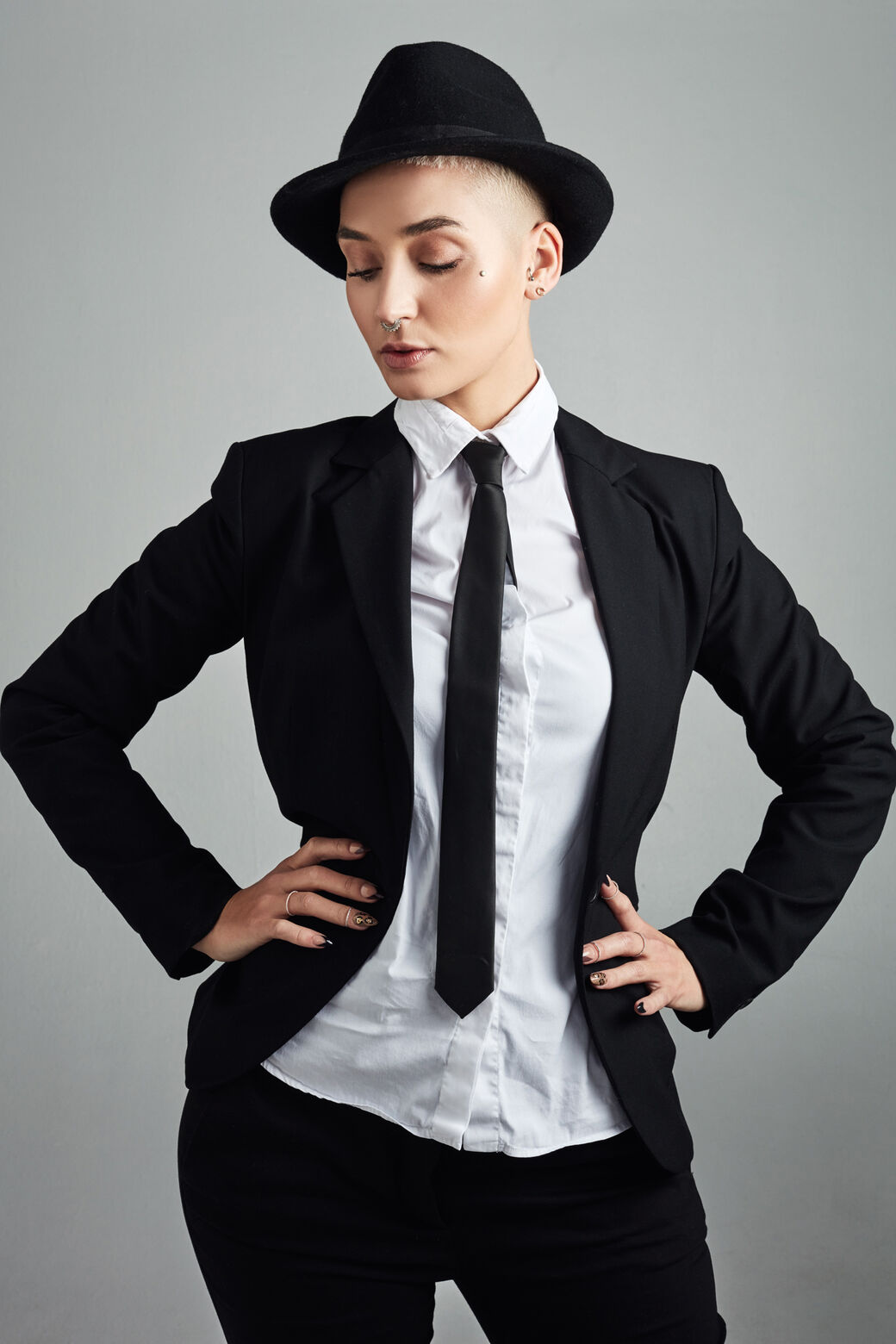 Now everything fits perfectly.
But you're not obliged to adopt a particular label. Because you weren't created for labels – the labels were created for you. Sometimes you need a little time, and you should feel free to take it. Have a rummage through the labels – old and new – try them on and change your mind at any time. The main thing is to look in the mirror and think: yes, that suits me.
Yes, that suits me – that's what I think as I put on my very first made-to-measure suit. I've saved up for years and spent a whole decade thinking about this decision. Now everything fits perfectly, and my body feels right, not wrong. Labels should feel like this too – comfortable, a good fit. And the advantage of labels over clothes? You can quite happily go through life without them. Unlike clothes.
This article is not free to read.
hellozurich stands for a diverse and tolerant city. We tell stories about the people and places that shape Zurich. But all this costs money. As an independent magazine we rely on your help.
Become a member from just 8 francs a month and, as a supporter, receive the hellozurichPass. In conjunction with our partners, this gives you access to more than 200 exclusive deals and discounts.
View posts by interests, or use the proximity search and additional filters.
Try it out
.
Save posts as favourites – simply click on the heart symbol in the upper right corner of the post.