Michelle's Cupcakes
Not far from Paradeplatz, Michelle Burke sells homemade cupcakes that are a hit with everyone from bankers to brides.
'At first people thought the cupcakes were just decorations,' explains Michelle Burke. The Zurich local started selling these sweet treats at markets in 2009. Back then they were a novelty in Switzerland. Unlike in the English-speaking world, where people had been enjoying these little cakes for almost two hundred years. Michelle first discovered cupcakes in London. 'It was love at first bite.' When she got back to Switzerland, Michelle baked them herself for the first time. 'I've loved these sweet delights ever since,' says Michelle, who happens to be the daughter of an Englishman.
Since then, cupcakes have become a common sight in Zurich. 'There's hardly anyone now who hasn't tried one,' says Michelle. As her miniature cakes became more popular, she reduced the hours that she worked as a customer service manager at the airport. She eventually gave up her job in passenger service entirely to open her first shop.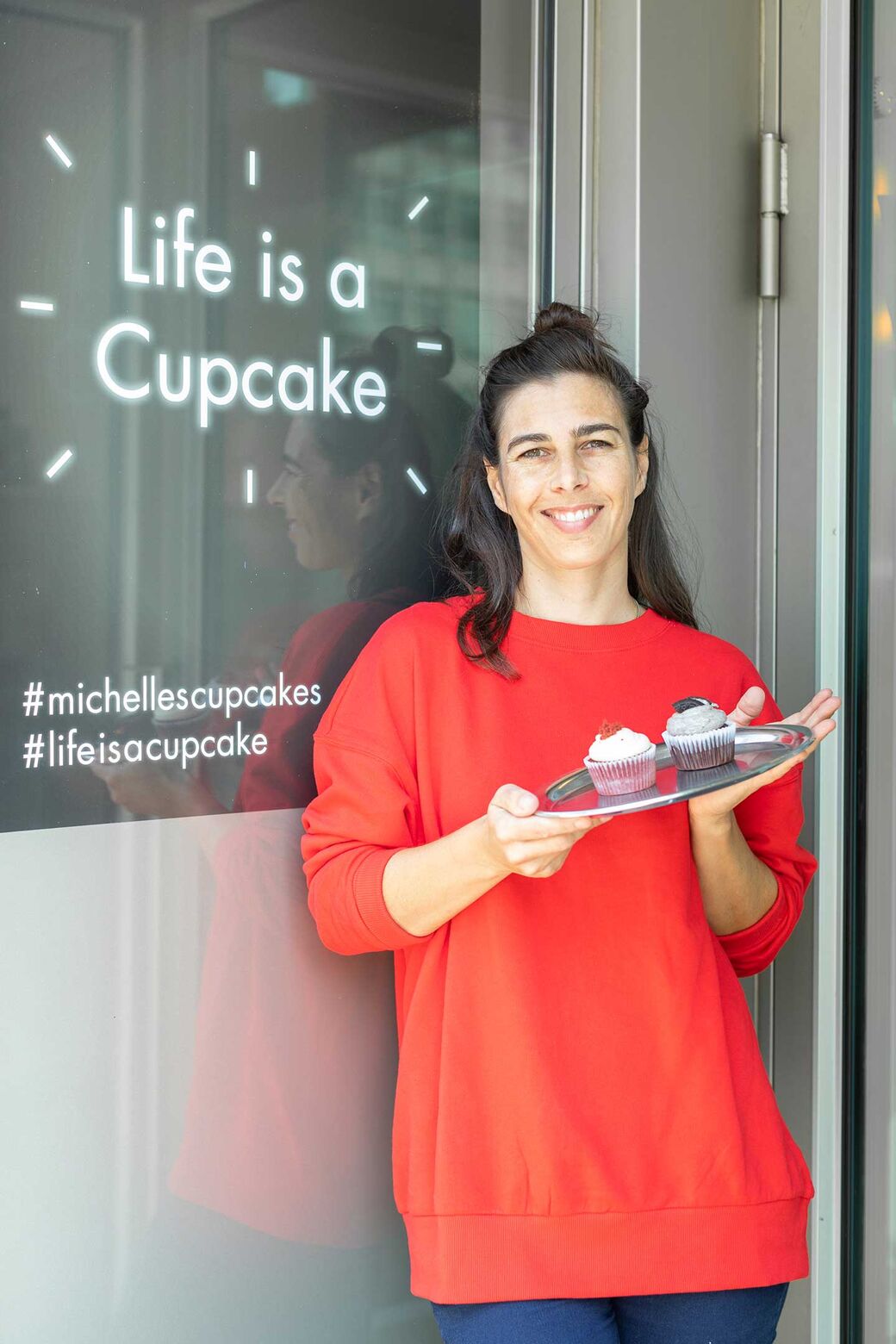 Today, Michelle sells most of her cupcakes at her second premises in District 1. A variety of sandwiches from Karen's Kitchen and other products from local producers are also available to buy from here. 'This area has been revitalised over the past few years,' explains the business founder. As well as businesspeople, lots of passers-by and tourists visit the shop.
'I want the cupcakes to look homemade.'
Michelle offers around seven different types of cupcake every day. 'Red Velvet and Oreo are the most popular,' says Michelle, who taught herself how to bake cupcakes from YouTube videos and cookbooks. She steers clear of extremely elaborate creations. 'People prefer the classic recipes,' says Michelle. Her small sponge cakes usually have simple decorations. 'Sugar pearls often make the topping too sweet.'
Michelle and her team bake using ingredients that you would find in almost any kitchen. 'I want the cupcakes to look homemade.' Michelle gets inspiration for new recipes online and on her travels. 'Of course, New York is the place to be,' says the baker. It was the Magnolia Bakery there that sparked the cupcake trend in the mid-noughties when Carrie Bradshaw ate one of their little cakes in the TV series Sex And The City.
Michelle offers around seven different types of cupcake every day.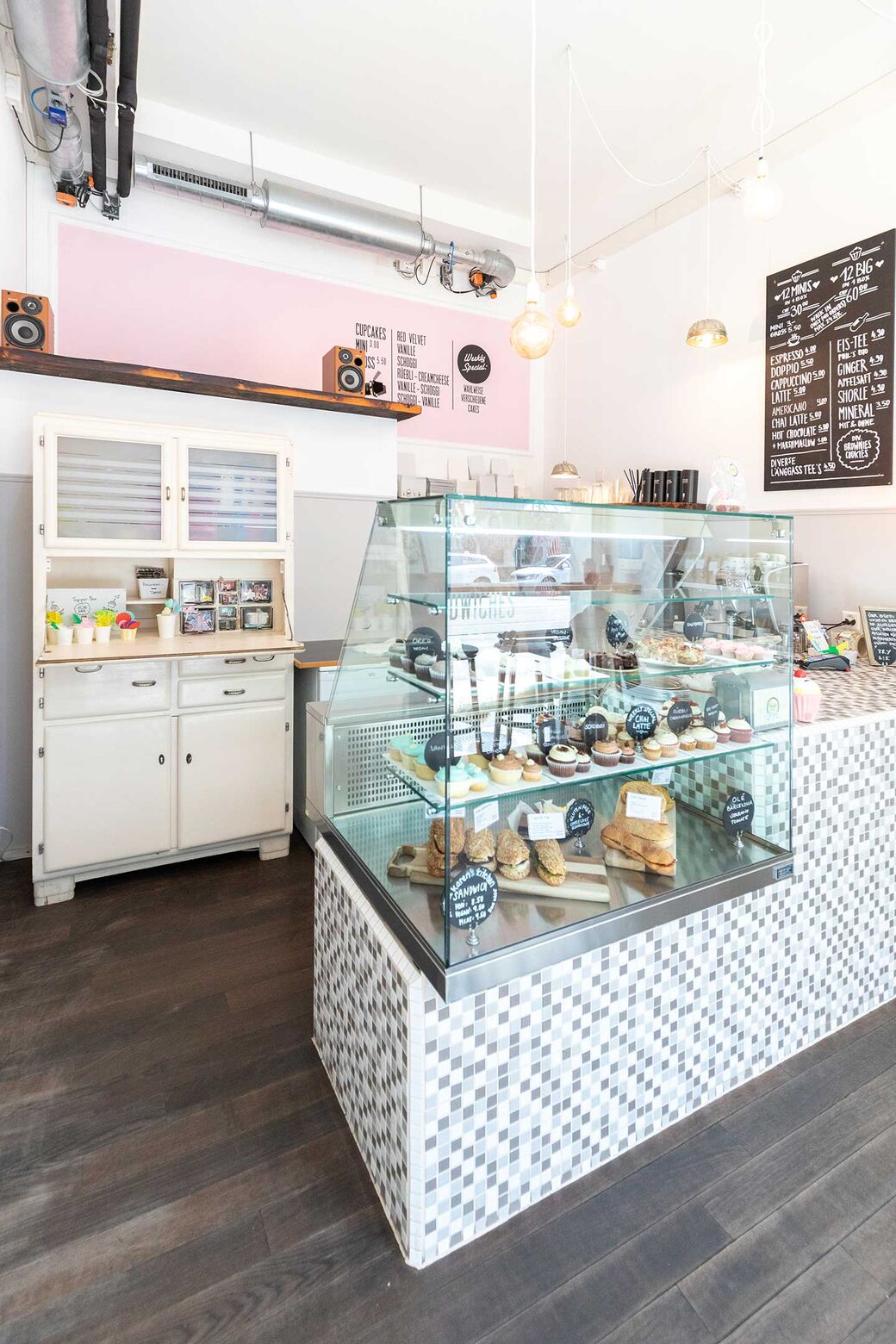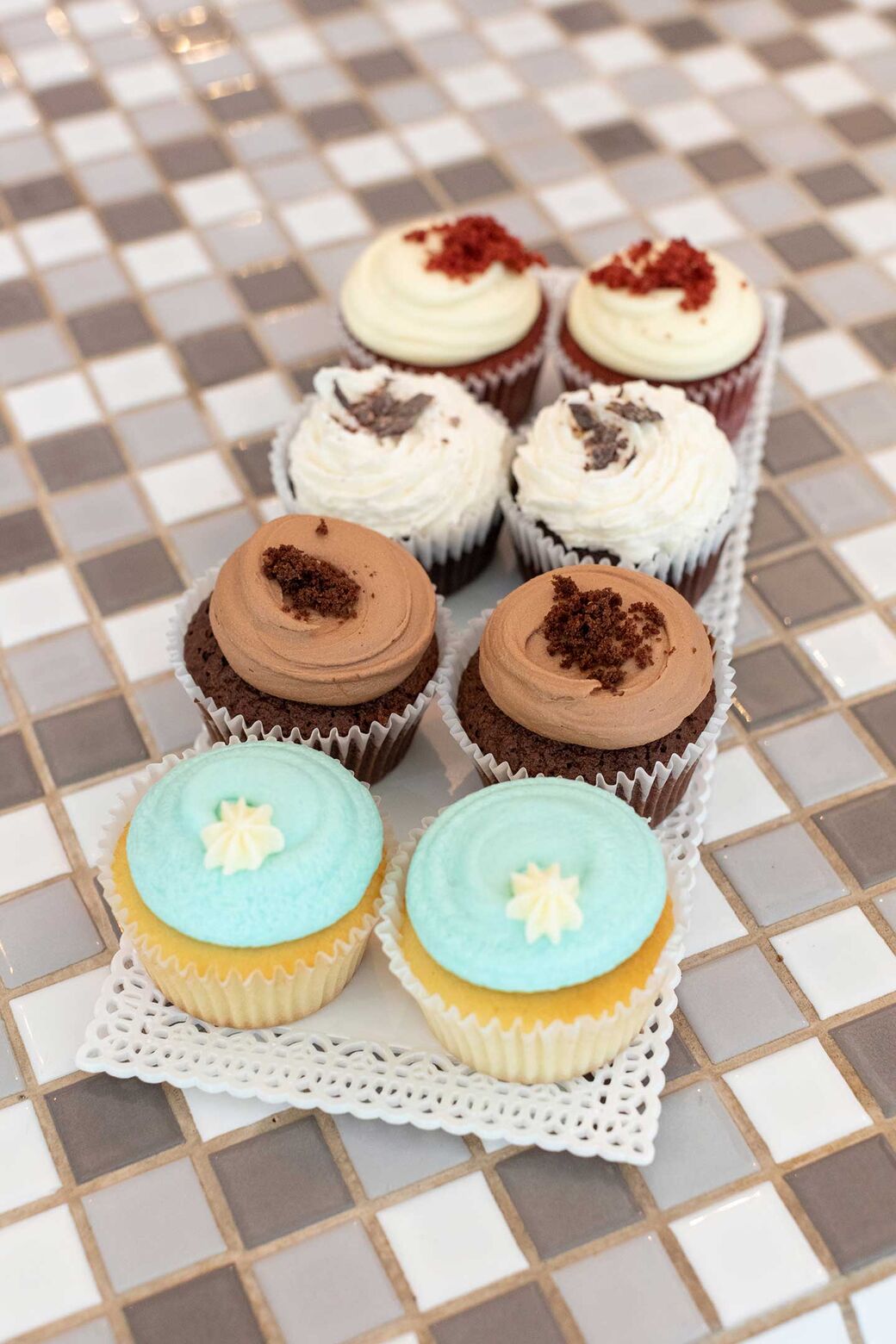 Michelle and her team can spend up to an entire day working on a new cupcake. 'I still love this part of the job.' Michelle has also made some of her recipes vegan-friendly. 'The demand for plant-based cupcakes is on the up.' Michelle got tips from experts in vegan cooking and she managed to replace standard cake ingredients like butter, eggs, milk and cream cheese. In the future, Michelle would like to offer even more baked goods – including savoury cupcakes. 'These would be perfect with an aperitif.'
The bakery for Michelle's Cupcakes is located on Luisenstrasse in District 5. Michelle and her team produce between 100 and 200 cupcakes a day to sell in the bakery and in the shop in the city centre. Sometimes they make up to a thousand cupcakes in a single day when they need to fill orders from corporate or individual customers. 'Cupcakes are great for every occasion,' says Michelle.
She delivers her cakes to conferences, public events, private parties and weddings. For the latter, it is a common request to have the cupcakes arranged to resemble a tower. 'A cupcake tower is a stunning alternative to a traditional wedding cake,' says Michelle and she adds, laughing: 'And you don't have to worry about cutting them!' With a cupcake tower, every guest gets their own little cake. And Michelle gets to spread the joy that cupcakes always instil in her. 'I still love cupcakes.' She eats one of the little cakes every day – her favourite is the carrot cupcake with cream cheese.
Adresse
Michelle's Cupcake
Talacker 34
8001 Zurich
+41 43 321 33 32
Website
Update: At the moment Michelle is mainly selling her cupcakes at Luisenstrasse 19.
Opening hours
Monday to Friday, 11 am to 6 pm
Saturday, 11 am – 5 pm
Information
Michelle's Cupcakes are also available in the bakery at Luisenstrasse 19 as well as in the Jelmoli Food Market Bakery.
View posts by interests, or use the proximity search and additional filters.
Try it out
.
Save posts as favourites – simply click on the heart symbol in the upper right corner of the post.