Easter eggs for Alina the hen
For vegans, the search starts well before Easter – where can I find Easter treats that don't use animal products? Our contributor popped into Hiltl Vegi-Metzg and found an Easter egg that also makes a real chicken happy.
The sales assistant carefully turns the egg around, saying: 'It's hand-painted! And it comes in three colours.' It's also vegan. He's not describing a Fabergé egg, but an Alina. That's the name of the Easter treat from Löw Delights, a new Zurich-based chocolate manufacturer set up by two sisters. Using top-quality, sustainable and mostly vegan ingredients, they are delighting chocoholics with their chocolate bars, pralines and, of course, this Easter egg. The somewhat flowery description on their website calls it 'elegant and playful' and tells us that it 'rejoices in the splendour of its harmonious colours'. But customers are advised to buy the chocolate egg in a real-life shop, because it's difficult to ship such a fragile item.
The sales assistant carefully turns the egg around, saying: 'It's hand-painted! And it comes in three colours.'
So that's how I end up buying Alina at Hiltl Vegimetzg. I carefully stow the egg in my backpack, moving aside anything that could damage it. When I get home, I rummage in my bag for my keys. I lift the egg out – unfortunately, by its delicate green bow. The egg shatters at my feet. Dammit, why am I so clumsy? I pick up some of the pieces of broken shell and pop them in my mouth. Wow, this dark chocolate is incredible! Then I try the salted hazelnut nougat pearls that were inside the egg. They taste as delicious as the pralines made by Zurich's top confectioners – something that I confess I miss from time to time. I'm never going to eat vegan chocolate from a wholesaler ever again!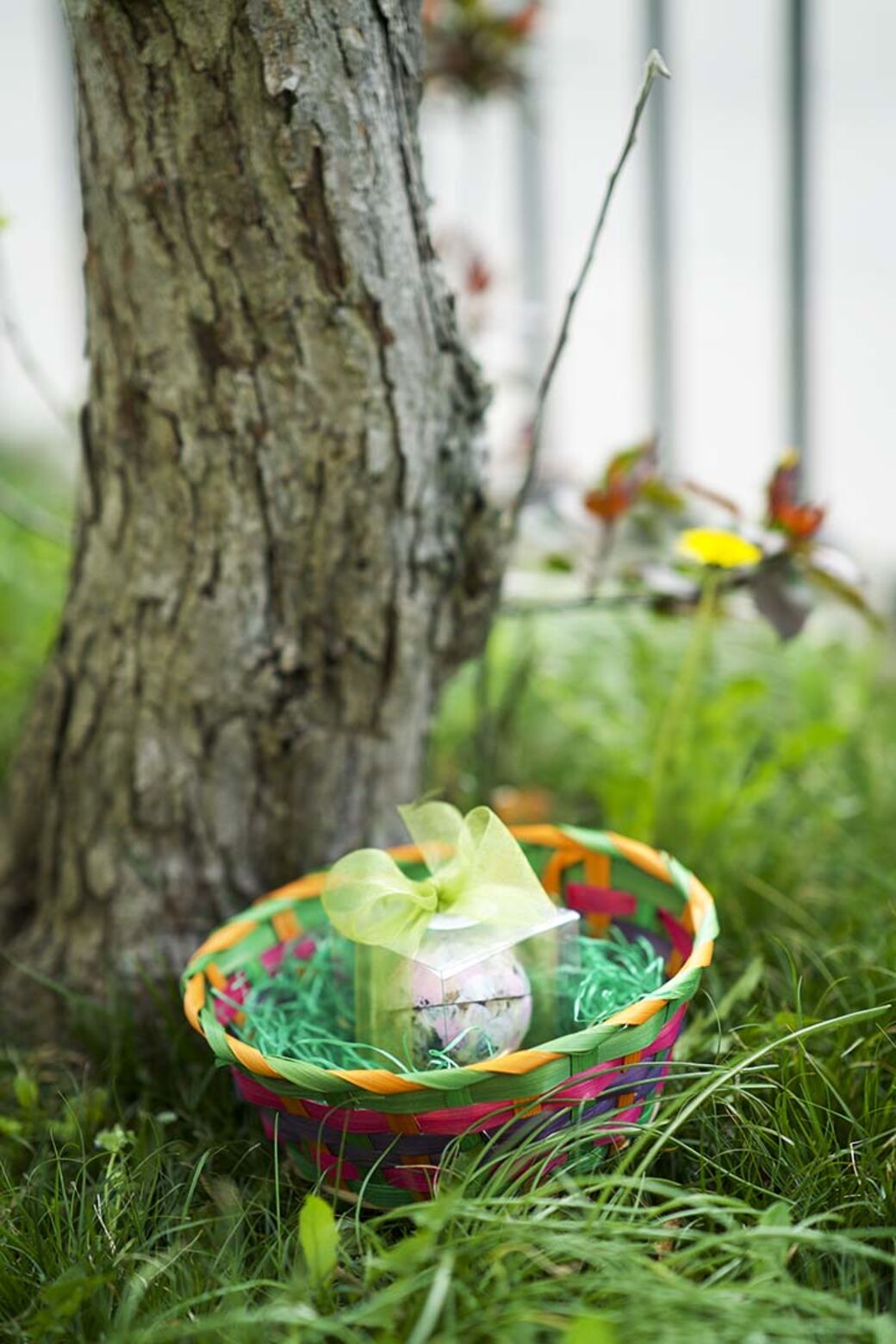 But my happiness is still a little tainted – why on earth did I have to drop the egg? I wish I could have admired its decoration a little more. Perhaps I'll have to buy myself another one. That would make Alina happy. She's the chicken that gave the egg its name. Since last year she has been living at Lebenshof Tiermensch, an animal rescue centre in Hüntwangen. Before that, she lived the life of a laying hen. When she was one year old, Alina began moulting – which meant she was destined to be culled like the other chickens. That's because hens lay fewer and lower-quality eggs during this phase. But Alina was lucky. She is now living at the animal rescue centre, where she has no pressure to perform. For every Löw Delight egg that is sold, one euro goes to ensuring she continues to enjoy fresh air and green grass.
Address
Hiltl Vegimetzg
St. Annagasse 18
8001 Zürich
Info
The Alina Easter egg is available from selected retailers, including Hiltl Vegimetzg at St. Annagasse 18, where it costs 23 francs. One franc of the selling price goes to Alina the hen.
View posts by interests, or use the proximity search and additional filters.
Try it out
.
Save posts as favourites – simply click on the heart symbol in the upper right corner of the post.