Indian surprise with cooking course
Our food writer Hans Georg 'HG' Hildebrand is a fan of Malabar in Oerlikon. He tells us about the restaurant's love of great ingredients and sophisticated flavour profiles. And now he can prepare his favourite Indian meal at home because the chef has given him the recipe.
The fact that travel is currently so restricted gives us an added appreciation of restaurants that serve up authentic cuisine from far-flung lands. India is a subcontinent with a vast array of regional cuisines. Unfortunately, I have never been there, but Zurich has been home to an array of Indian restaurants for many years. The fact that more and more people are travelling to and from India, along with the growing trend towards vegetarianism, makes it likely that the popularity of this cuisine will continue to grow.
I find myself moaning with pleasure.
I have a favourite Indian restaurant – the Malabar in Oerlikon, just around the corner from the Hallenstadion and Theater 11. As soon as you enter, your senses are assailed with the spicy aromas and rich colours of Indian cuisine. It is owned by Andrea Ries, who once worked in development aid for the EDA, and her husband, chef Madhu Padmanabhan. The Malabar claims to deliver contemporary Indian cuisine, and it certainly meets the standards of today's fine dining, whereby every single dish should demonstrate an appealing balance of texture, salt, acid, fat and nutritional value. As a result, I find myself moaning with pleasure as I dive into a vegetarian dish – it just tastes so amazing. Every time I eat Madhu's Aubergine Teyal, I am bowled over by the intense yet perfectly balanced flavours in his interpretation of this recipe.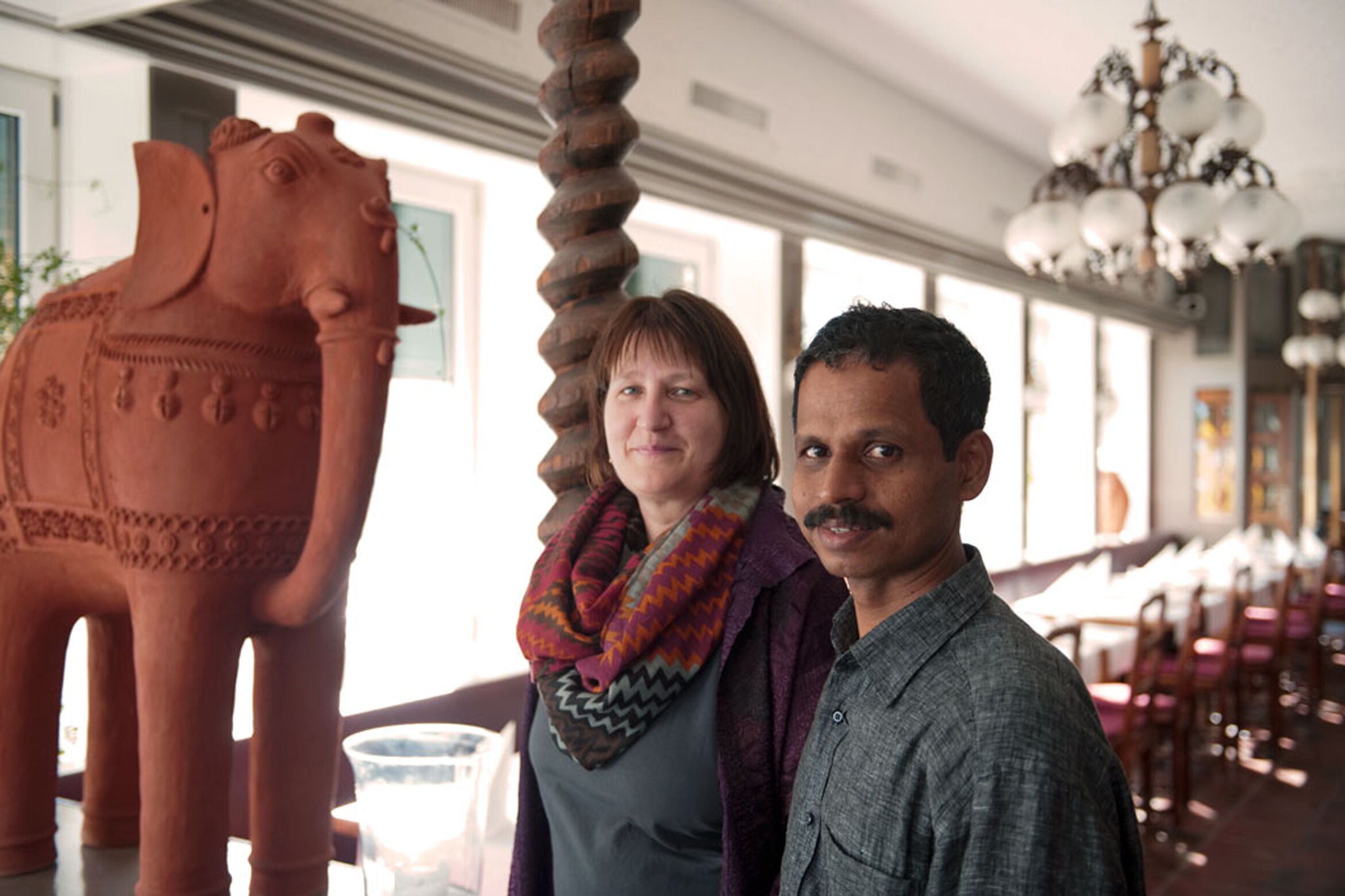 The same goes for his Palak Paneer – whenever I eat this Indian soft cheese with spinach, accompanied by freshly baked garlic naan, I find myself saying: 'Oh, wow, I could eat this every day, I don't need anything else!'
This dish takes a lot of practice.
Madhu has kindly given me the recipe for his Aubergine Teyal, so now we can all try to replicate this fabulous dish at home. It's just that it only tastes really good when you eat it with garlic naan, and to make these you need the right oven... I think this seemingly simple dish actually takes a lot of practice to make consistently well; at least that's what I discovered a few episodes back when I had my sobering curry experience with the street food dish Balti Gosht.
The key ingredient in Aubergine Teyal is tamarind. You can buy fresh tamarinds at Asia stores, and health food stores sell tamarind paste. The name comes from tamar meaning date, and inde, meaning India – so Indian date. However, this legume from a tree in the carob family actually has nothing to do with the sweet palm fruit. The pulp that surrounds the hard seeds in the pod has a sweet-sour flavour, is rich in pectin, and is used for cooking and marinating. Tamarind paste gives texture to a dish, creating a balance of acidity and the stiffness produced by pectin. In Europe, we tend to be more familiar with pectin from apples – this is what gives the fruit its appealing crispness when we bite into it. When cooked, pectin acts as a gelling agent in jams and jellies. Incidentally, tamarind seeds are also turned into binding agents, but they are generally used in the paper and jute industry. Another fun fact: the seeds of a close relative, the carob tree, are used as a stabiliser in a huge range of food products under the name carubin, often together with carrageenan, an extract of red seaweed.
I'm sticking with my favourite Indian.
A little anecdote for you: there are two Indian restaurants in Zurich called Tamarind Hill – one on Schaffhauserstrasse (also in Oerlikon) and the other in Albisrieden. They originally had the same owner, but when the Albisrieden restaurant was sold, the new owners refused to give up the name, leading to an ongoing dispute. The menu at the original Tamarind Hill looks fantastic, but as I said before, I'm determined to stick with my favourite Indian. And I would never give my money to a copycat. So here is Madhu's recipe for Aubergine Teyal. I hope you enjoy trying it out – and also head down to Malabar for a meal. Tuesday to Thursday is the best time to go because it can be difficult to get a table at weekends.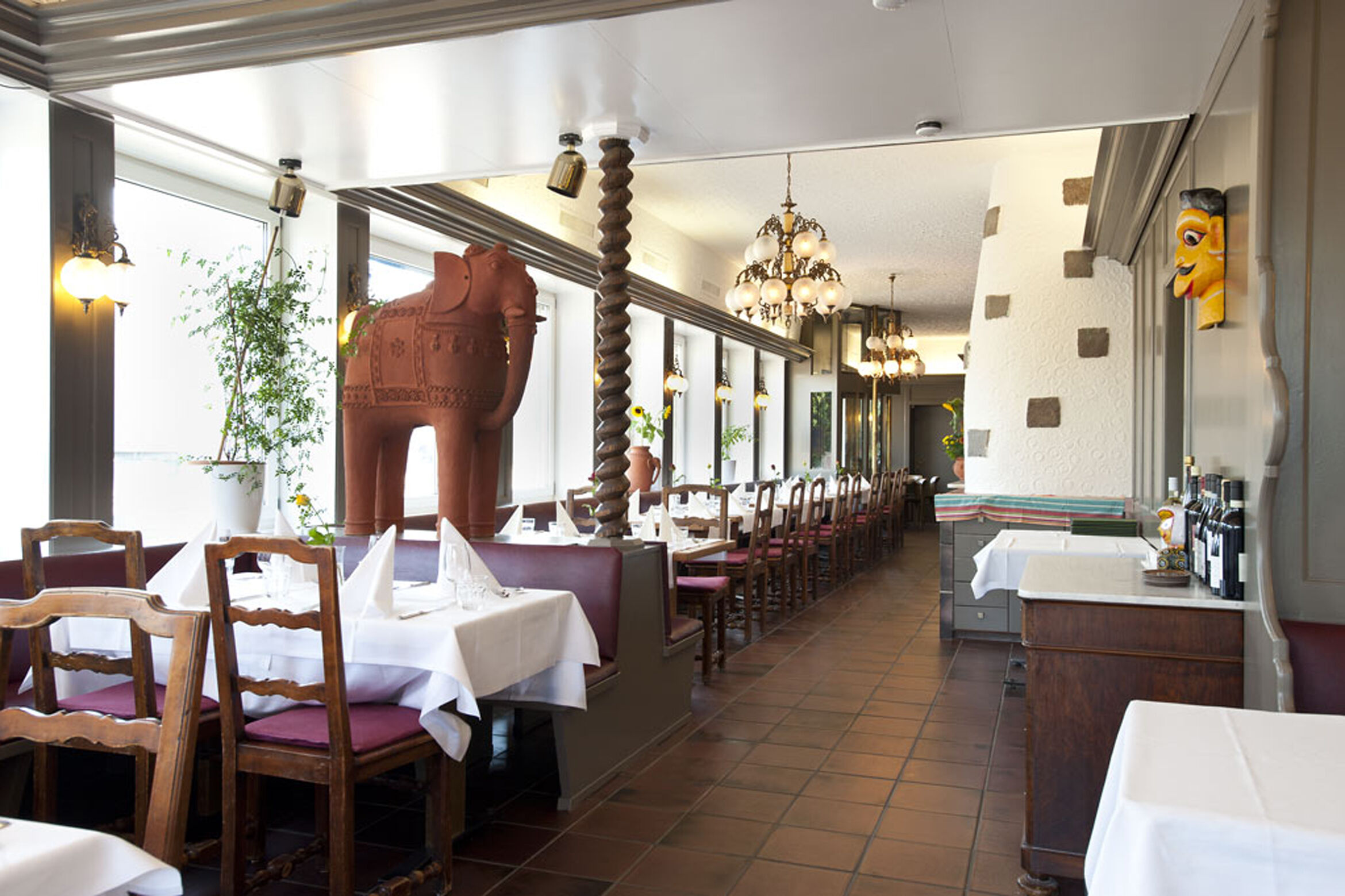 Madhu Padmanabhan's Aubergine Teyal. Serves 4.
Ingredients
500 g aubergines
1 green chilli, halved lengthwise, seeded
A few curry leaves (optional, can be found at Asia stores)
4 small onions or shallots, sliced
2 cups grated coconut (dried is OK, but fresh is even better)
6 peppercorns
5 small shallots, sliced
1 tablespoon turmeric powder
1 tablespoon coriander powder
3 red chillies, dried (not the hottest!)
30 g tamarind paste dissolved in 1 dl water
3 teaspoons coconut oil or ghee
1 teaspoon black mustard seeds
3 dried red chillies, crushed 1 shallot, diced

Method

First make the curry paste. To do this, fry the grated coconut, green chilli, peppercorns and curry leaves in a little coconut oil or ghee. Add the coriander and turmeric. Remove from the hob and leave to cool. Then work it into a fine paste with a pestle and mortar or in a mixer. Add a little water if necessary.
Cut the aubergines into 3-cm cubes. If possible, each piece should have a skin side, so it is best to use small aubergines. Sauté the cubes in coconut oil or ghee over a medium to high heat. Once they start to brown, add the tamarind water and paste and reduce the heat. Season with salt and cook over a low heat. If the aubergines are done but the sauce is still too thin, remove the aubergines from the pan and quickly reduce the sauce over a medium to high heat. If necessary, add a little tamarind paste – but be careful, it has a really intense flavour!
Finally, fry the mustard seeds in very hot coconut oil until they pop. Reduce the heat, add the shallots and allow to brown. Then add the chillies and stir briefly. Sprinkle this seasoning over the curry before serving. Serve with naan bread or basmati rice.


This article is not free to read.
hellozurich stands for a diverse and tolerant city. We tell stories about the people and places that shape Zurich. But all this costs money. As an independent magazine we rely on your help.

Become a member from just 8 francs a month and, as a supporter, receive the hellozurichPass. In conjunction with our partners, this gives you access to more than 200 exclusive deals and discounts.
Address
Malabar
Wallisellenstrasse 11
8050 Zurich
+41 44 311 31 17
Website
Info
You can also learn from Madhu in person at one of his cooking courses. The next course starts on 19th September. They are highly recommended!
View posts by interests, or use the proximity search and additional filters.
Try it out
.
Save posts as favourites – simply click on the heart symbol in the upper right corner of the post.