Noshing our way through the pandemic – with white truffles!
The strong scent of white truffles is stimulating, and the rituals associated with them are great fun. Stimulation and fun are certainly things we need at the moment – and we have to find them wherever we can, writes our food columnist Hans Georg 'HG' Hildebrandt.
Back in the Stone Ages when there was no internet, I used to peruse food magazines and try out the recipes. My quest for the ingredients I needed usually ended at Globus. I couldn't afford to eat Piedmont white truffles in a restaurant, so I decided to try cooking these luxury fungi at home. I bought myself a truffle shaver and one of these ridiculously expensive tubers – and got a shock. It didn't really taste of anything. So, let's get to the point: the key to eating truffles is heat, adequate salt, and lashings of the finest butter and cream. The best things about white truffles are their wonderful aroma, their seasonality (November and December) and the knowledge that you are paying an outrageous amount of money to enjoy a rather strange ritual.
The answer? Nosh your way through the pandemic!
For the purposes of this article, I decided to try out two restaurants: Rizzo's Stapferstube at Culmannstrasse 45 in district 6 and Il Tartufo in der Enge at Lavaterstrasse 87. At each of them, I ordered carpaccio with truffle and taglierini in truffle cream sauce. You have to be prepared to pay around 75 francs for a full portion of taglierini with about four grams of truffle. Of course, you can order more truffle, then you pay by the gram. The truffle is usually brought to your table and added to your dish. If you decide to eat truffles in a restaurant, it's best to order a starter followed by a small portion of a truffle dish; at worst you'll still be a little peckish when you leave the table. It's a real luxury! But evening will soon come around and it's time to eat again.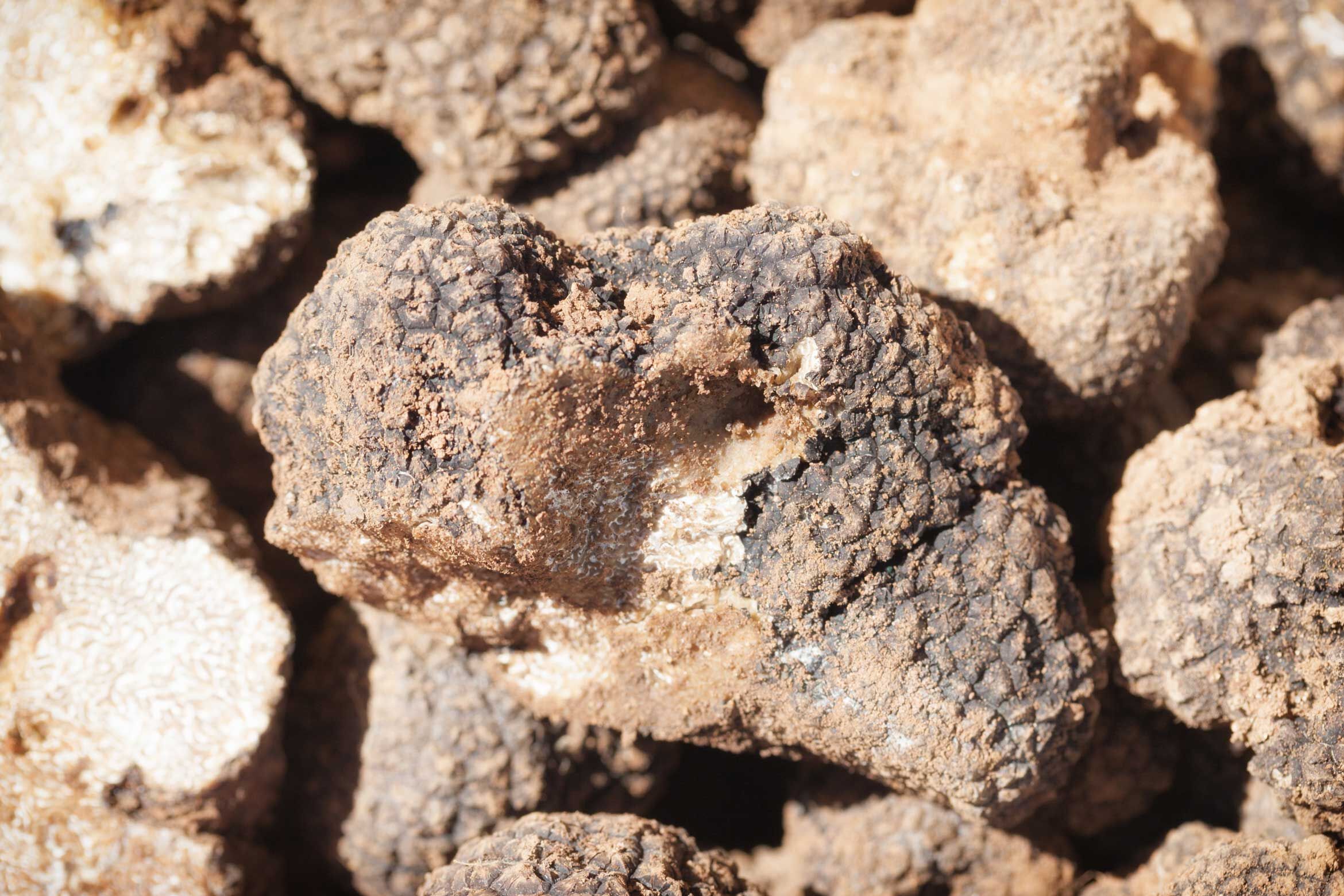 At Rizzo's classic, cosy place in district 6, where Jacky Donatz was once head chef, I didn't get to watch them shaving the truffles, but they were beautifully fine in both the meat and pasta dishes, and the portion looked pretty generous. At Il Tartufo the mâitre d'hôtel came to my table with a tiny set of scales, pulled on a white glove, weighed the truffles and grated them over my meat and pasta dishes with a superfine Microplane grater. Then he weighed the truffle again and each time said he had given me an extra gram... 'You've earned it.' Very true! I dined alone in both of the restaurants and paid a fortune for two small lunches. But I loved them. My verdict? I have good memories of both meals and can't say one restaurant is better than the other. But there are some technical differences – more on that in a moment.
We have to breathe in the scent of the truffle.
Both restaurants had lots of empty tables. It's very clear that these are tough times for the hospitality industry. That's why the focus of this article is on noshing our way through the crisis and eating out as often as we can. I can only echo Andrin Willi, a good friend and esteemed colleague who was once editor-in-chief of Marmite magazine: 'I have no interest in a life without restaurants.' If we want to be able to visit restaurants after the pandemic, we have to eat out more often than ever before – we all have to make sacrifices.
The fact that I ate lunch alone has nothing to do with me being asocial, or not only that. For me, eating truffles isn't something that shouldn't be combined with small talk. The scent of the truffle is fleeting, its texture is fragile. It requires focused enjoyment without distractions, though a little ritual is always good. Your dish arrives and you breathe in the aroma. As you eat, the flavour stays on your tongue and you savour it as you breathe in and out. The scent of truffles is appetising, slightly earthy, with a hint of garlic, chives and, er, fresh sweat? The flavour floods your mouth and lingers on your palate as you eat, making you yearn for the next bite. It is vital to pair the truffle with fats, as they bring out the full flavour of the truffle. I posted a poll in my Facebook foodie bubble – should truffles be shaved or grated? Nenad Mlinarevic (Neue Taverne, Bauernschänke) said both are fine as long as it tastes good. Guy Estoppey, who runs a cool cooking school called Cook'n'Flirt pointed out that finely grated truffle tends to lose its flavour more quickly. This means that despite its initial intense aroma, it tends to have less flavour than shaved truffle. So, it seems shaving is more popular than grating.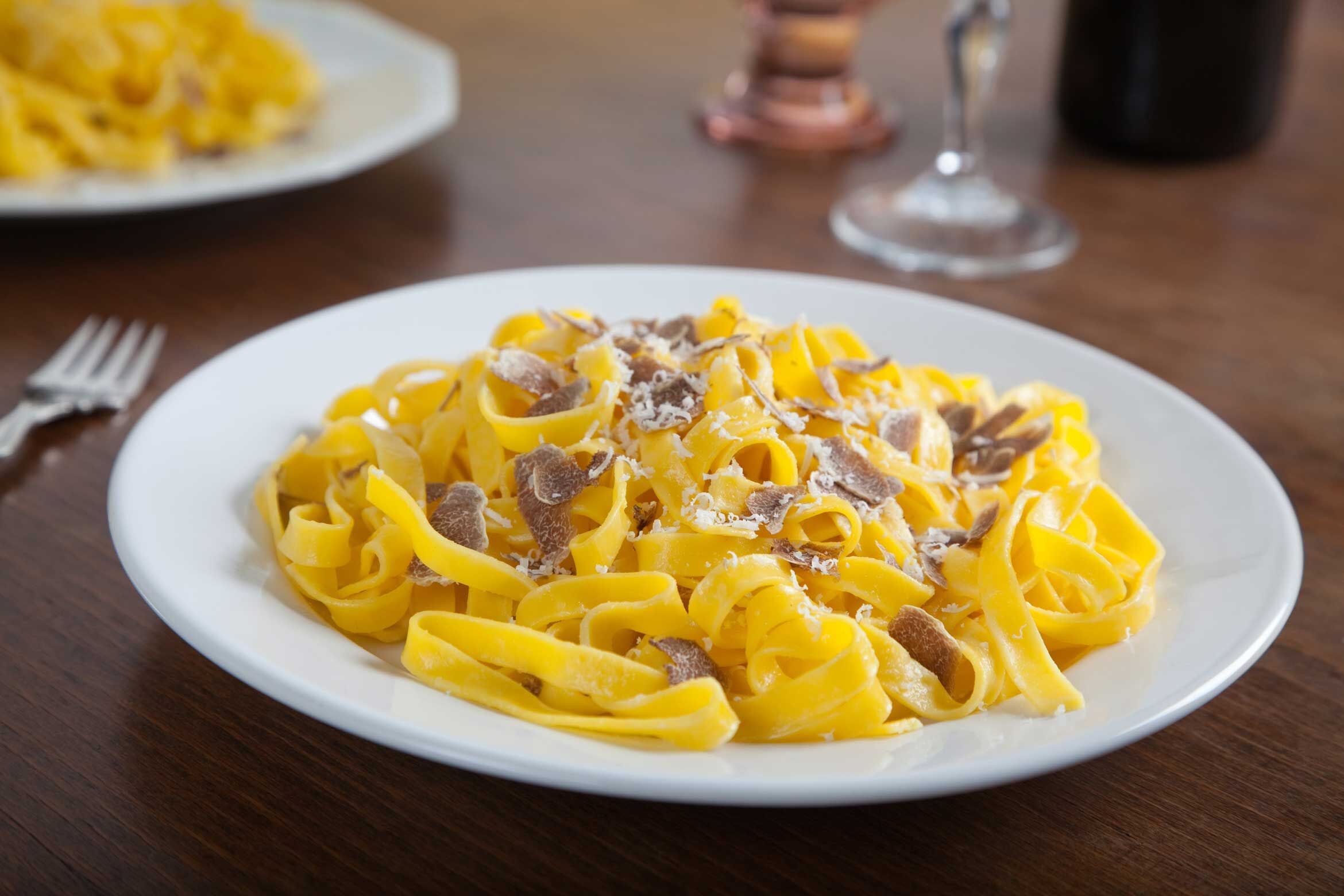 A cheap Nebbiolo makes a good accompaniment.
A reasonably priced red wine is perfect with truffles, and it should come from the same region. Of course, we don't want to ruin the flavour of the truffle by drinking a powerful Barolo, so it's better to choose its lighter brother, a Barbaresco, which also comes from the Nebbiolo grape. You could also choose a cheaper Nebbiolo from northern Italy – I think this grape goes perfectly with truffles. Nebbiolo is light yet powerful. It conveys a sense of sunshine and warmth with light aromas of straw, forest undergrowth and red fruits. Its robust tannin and acidity levels cleanse the palate for the next bite. As far as I'm concerned, drinking wines made from blends of different grapes is a no-no with truffles because this would destroy their flavour. But that's just my opinion.
So, what about enjoying truffles at home?
First, you need a dealer you can trust. And a truffle shaver. If you can make your own pasta, that's wonderful. Unfortunately, I lack the patience, space and dexterity. So, I just buy the freshest, eggiest taglierini I can find. I sacrifice some of the truffle to make the sauce. First, I fry a quarter of a finely chopped shallot in top-quality butter, then sieve the shallot out. Then I add 10ml of sherry or vin jaune and add one milled black Kampot peppercorn per person (from Gout du Terroir) to the butter. Then I add 100ml of cream and one gram of shaved, crumbled truffle per person and let it reduce slightly. Drain the pasta and serve the sauce on warmed plates – make sure everything is hot! Add plenty of salt and then shave the truffles. Be as generous as possible and try to make one dish really sing rather than adding a hint of flavour to every dish on the menu. The heat of the pasta drives the aroma of the truffles upwards – ideally into our nostrils. For me, cream is the perfect way of combining truffles and pasta, just as olive oil does the trick with raw meat or potato soup. Maldon salt flakes are vital because they make it easier to add a precise amount, and they add another layer of texture, at least at the beginning. The salt also helps to bring out the flavour of the truffle.
This article is not free to read.
hellozurich stands for a diverse and tolerant city. We tell stories about the people and places that shape Zurich. But all this costs money. As an independent magazine we rely on your help.

Become a member from just 8 francs a month and, as a supporter, receive the hellozurichPass. In conjunction with our partners, this gives you access to more than 200 exclusive deals and discounts.
All benefits Get your hellozurichPass Gift the hellozurichPass
View posts by interests, or use the proximity search and additional filters.
Try it out
.
Save posts as favourites – simply click on the heart symbol in the upper right corner of the post.