Le Torchon Bleu – fresher than any delivery service
A team of experts in regional and slow cooking have set up Le Torchon Bleu, whose name translates as 'the blue cloth' in reference to what the founders use to take their casserole dishes out of the oven. The dishes are prepared with meat from animals that have been bred and slaughtered responsibly.
Even after months of restaurants being closed, I quite literally haven't warmed up to the idea of food delivery services or take-aways. Food that has been transported over several kilometres just doesn't taste good: the moisture that builds up in the packaging changes the texture, and the delivery time affects the temperature and, of course, the flavour.
So I cook for myself – except if I'm alone in the evening. On one such evening in February, I bought a pack of raviolini al brasato by I Sapori d'Italia that's sold in rather fancy packaging at Coop (500 g, 7.95 francs). The idea was abhorrent – but there was a reason why it had to be done. The food also looked good in the packaging. But if it's true that you can experience the flavours of Italy with these products, then Italy tastes like half-dried glue and a mix of herbs that have been swept up from the warehouse floor on a Friday night. Horrified – and admittedly rather late – I took a look at the back of the packaging to see what a 'brasato' actually was. 'Beef and pork product' stared right back at me. I cried tears that were even more bitter than artichoke liqueur.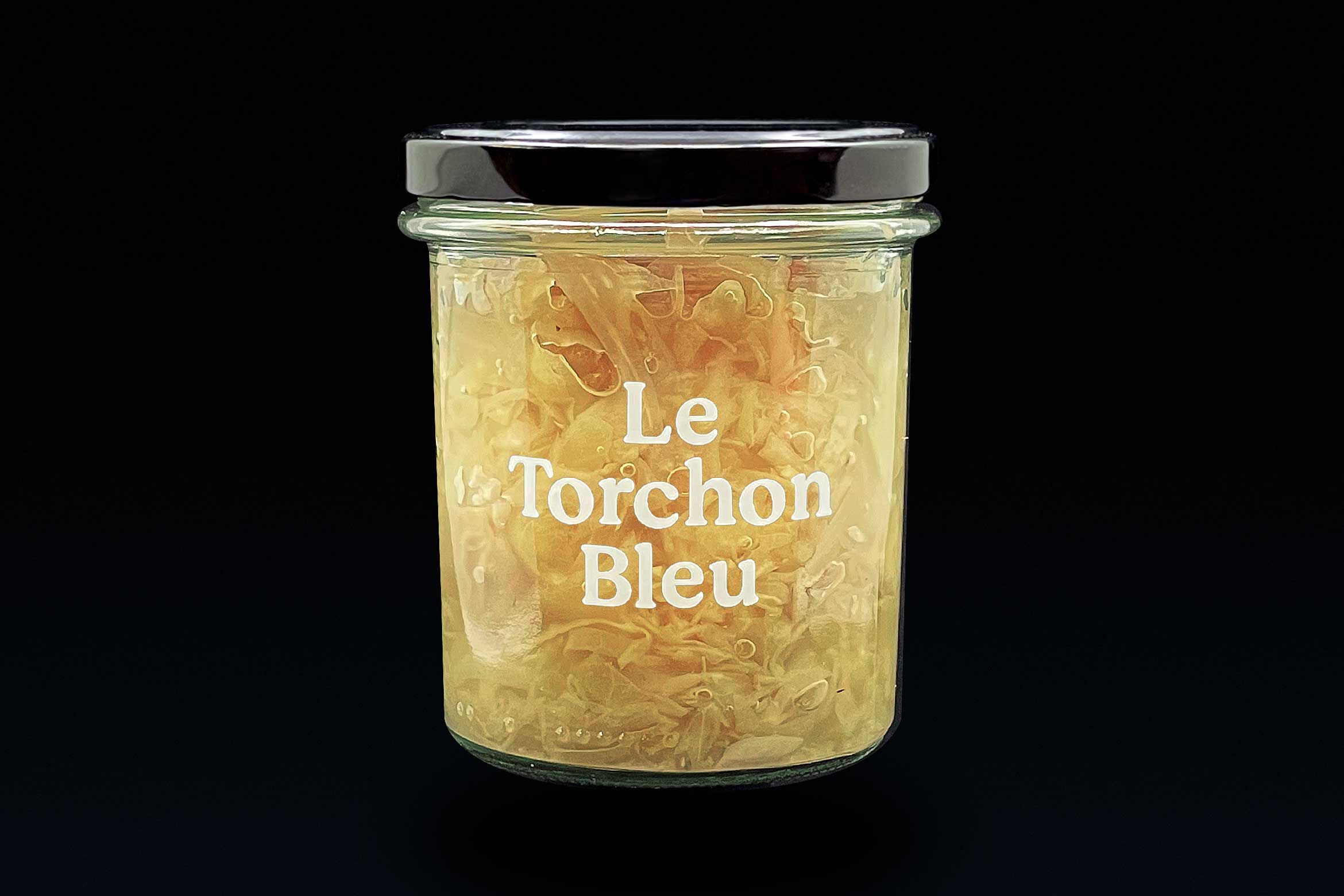 These are food delivery items you'll actually enjoy.
The following day, I received an email that made me soon forget this terrible experience: Marius Frehner from the Gamper, Markus Burkhard from the sadly closed Jakob in Rapperswil and his partner Flavia Hiestand, as well as Thomas Hauser (formerly of the Löweneck in Zurich) had founded Le Torchon Bleu and were putting their names to food delivery items you could actually eat. The main duo Frehner and Burkhard first got to know each other at the Clouds restaurant, but soon turned their back on this form of elevated cuisine. 'At the time, we felt we were looking for authentic cuisine, and that's what we focus on at Le Torchon Bleu, or "the blue cloth", which is what we use to take hot casserole dishes out of the oven,' comments Marius Frehner.
Stewing is sustainable, but it requires a lot of skill.
It can't be said often enough: when an animal is slaughtered, only a small amount of the resulting meat is suitable for pan frying (fillet and entrecôte, plus several other less-popular cuts). Most of the meat is either made into burger patties or has to be stewed for many hours until it's tender. Stewing is the best, least harmful and most sustainable cuisine, even if you still eat meat. But it's also the type of cuisine that demands the most skill.
The team of four at Le Torchon Bleu gets its meat from the Demeter farm owned by Kurt Brunner and Reto Hunziker in Hallwil. The animals are slaughtered two villages away without the need for any sickening transport halfway across Switzerland, and Rufer the butcher is just a short distance away in Schlossrued. But not every product is available in unlimited quantities. 'Our dream is to have a grocery, a shop where we can sell top-quality products as they become available.'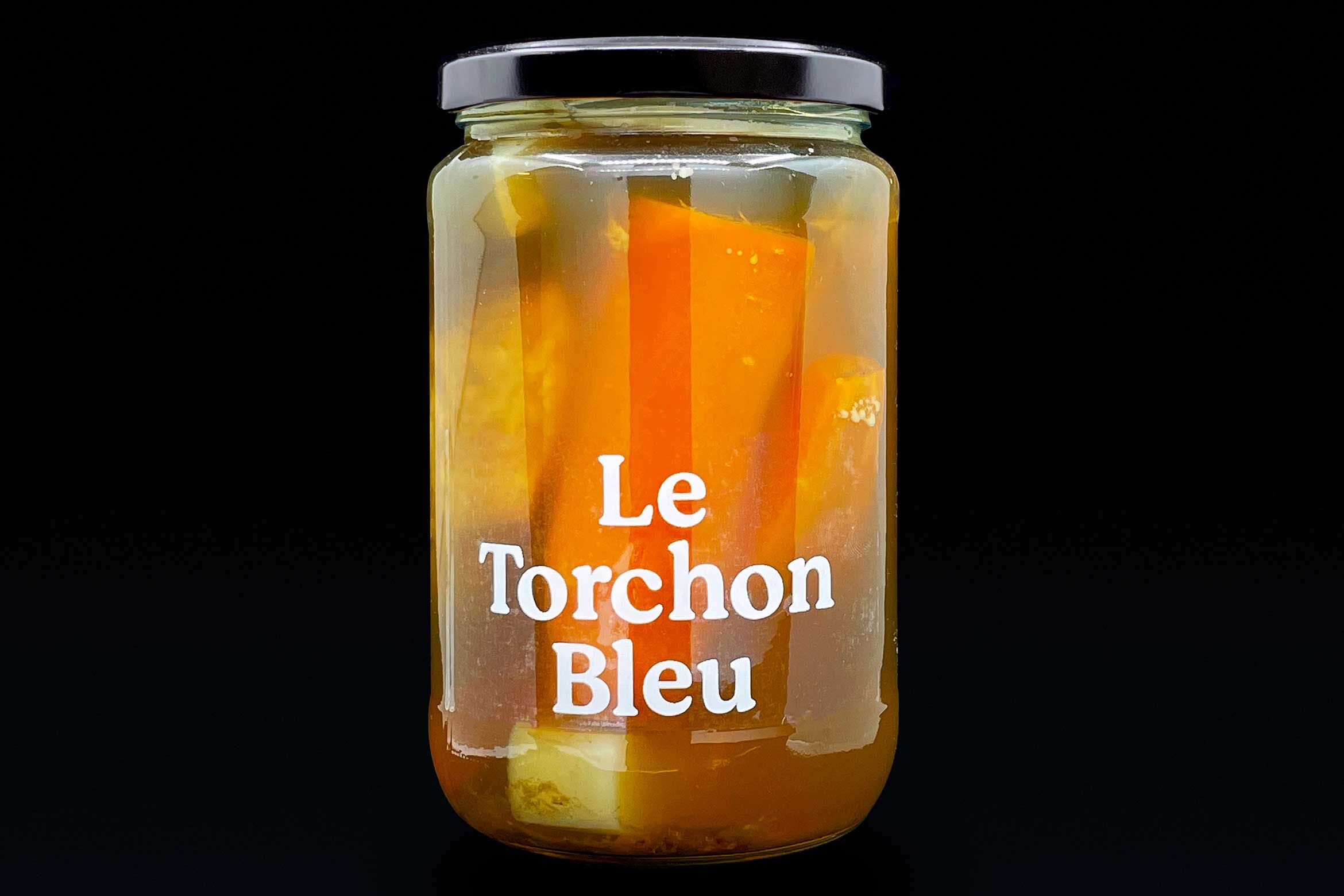 The inherent necessities of modern value chains were to be avoided at Le Torchon Bleu. But it's not that straightforward. When it comes to supplying meat that hasn't come from industrial slaughter, a complete cold chain is the biggest problem. Le Torchon Bleu collaborates with PicoBio in this area, a pioneering provider of organic products that's steeped in history, and who currently supplies numerous guesthouses, local shops and community kitchens. 'If you used to work with high-quality meat, like we did, you can never go back to what the wholesale market has to offer,' says Marius Frehner. Frehner and Burkhard, who I met at the Gamper, established that customers don't have much confidence in how to handle food products – 'many people rarely cook whole meals themselves at home any more.' It would be great if this could be changed somewhat through this initiative.
You finish cooking the food from Le Torchon Bleu yourself.
I tried the goulash (see below) and the chicken consommé and was very happy. And yes, of course the products from Le Torchon Bleu don't have a conventional delivery option, and that also doesn't mean that you can take them home with you hot. It's about half-making the dishes, as it were, so they can then be finished with minimum effort or – in the case of the consommé – used as a substitute for industrially processed, preservative-riddled products like stock cubes or pastes. The food items from Le Torchon Bleu also aren't cheap. But it's important to remember the ravioli mentioned at the beginning with its various ingredients of unknown origin – there are much fewer of them. If you're looking to cater for four people with products like this, you'll find you're paying as much for all four servings as you would for a large jar of stewed meat or goulash from the Le Torchon Bleu kitchen. But that in no way means it's going to taste good. Furthermore, if you buy from Le Torchon Bleu, you'll be directly supporting not only the Zurich gastronomy scene, but also the sustainable farmers and a culture of slaughter that allows the animal more dignity in death than an industrial slaughterhouse.
How I used my small jar of goulash (280 g, 21 francs) for four people:
Slice two large king oyster mushrooms and gently brown without fat in a non-stick pan, covering with white balsamic vinegar using a tablespoon.
Remove the pan from the heat and pour in the goulash, slowly warm over a low heat and add 100 ml of single cream.
Pour the mushrooms and creamy goulash into a bowl and give the pan a quick wipe. S
auté 500 g gnocchetti (from a bag, Annas Best) with a tablespoon of butter over a high heat until they're crispy on at least one side.
Add the creamy goulash and the mushrooms to the pan with the gnocchetti. Stir briefly.
Serve the gnocchetti with the goulash on a pasta plate. Sprinkle some flat-leaf parsley on the top.
For extra colour and freshness, you could add a handful of baby spinach leaves and some baby plum tomato halves. A tablespoon of grated parmesan will be the perfect finishing touch.

This exquisite and filling dinner will be on the table in less than 20 minutes Le Torchon Bleu is available from the Gamper restaurant and on Züri-Hawker.
View posts by interests, or use the proximity search and additional filters.
Try it out
.
Save posts as favourites – simply click on the heart symbol in the upper right corner of the post.