Give this fruit tart a medal!
Our contributor needs somewhere quiet to take a break from her job at Zurich Central Station. She finds it in a surprising spot and – even more amazingly – discovers the perfect fruit tart.
A bunch of schoolkids are looking for their teacher. A group of tourists troop along after their flag-carrying guide. A gaggle of elderly ladies wander about trying to find their train. This is Zurich Central Station, a place that is on the go 365 days a year. It's a constant hubbub of people, sounds and aromas. And when the main concourse is staging an exhibition or the Christmas market, you can find yourself being swept along by the throngs. Headaches are inevitable, particularly when you have to work in all this commotion. As I do. Should I pop outside to take my break? No, I can't bear all the crowds and jostling.
But I've found my escape. It's a little off the beaten track, but well worth seeking it out. Le Café is tucked away between the luggage lockers and ATMs on the first basement level where there are no railway platforms or shops, just the station chapel and a waiting room.
Le Café has a small glass counter filled with a changing selection of sandwiches and tarts. Today I'm treating myself to a slice of apricot tart. It's just how it should be – not sweet and soggy with the pastry all soaked through as is often the case when you buy it at the supermarket. Instead it's deliciously fruity with apricots that are still fresh and tangy. If they gave a prize for the best fruit tart, Le Café would be well in the running.
Le Café has a small glass counter filled with a changing selection of sandwiches and tarts.
So I settle down happily at one of the garden tables. The little café seems to have been ripped out of Zurich's beautiful old town and hidden away here in the station. But even here, there are still times when the peace and quiet is shattered. Sometimes tourists come rushing by on a desperate hunt for their train, or an argument breaks out among the homeless people who regularly seek shelter here.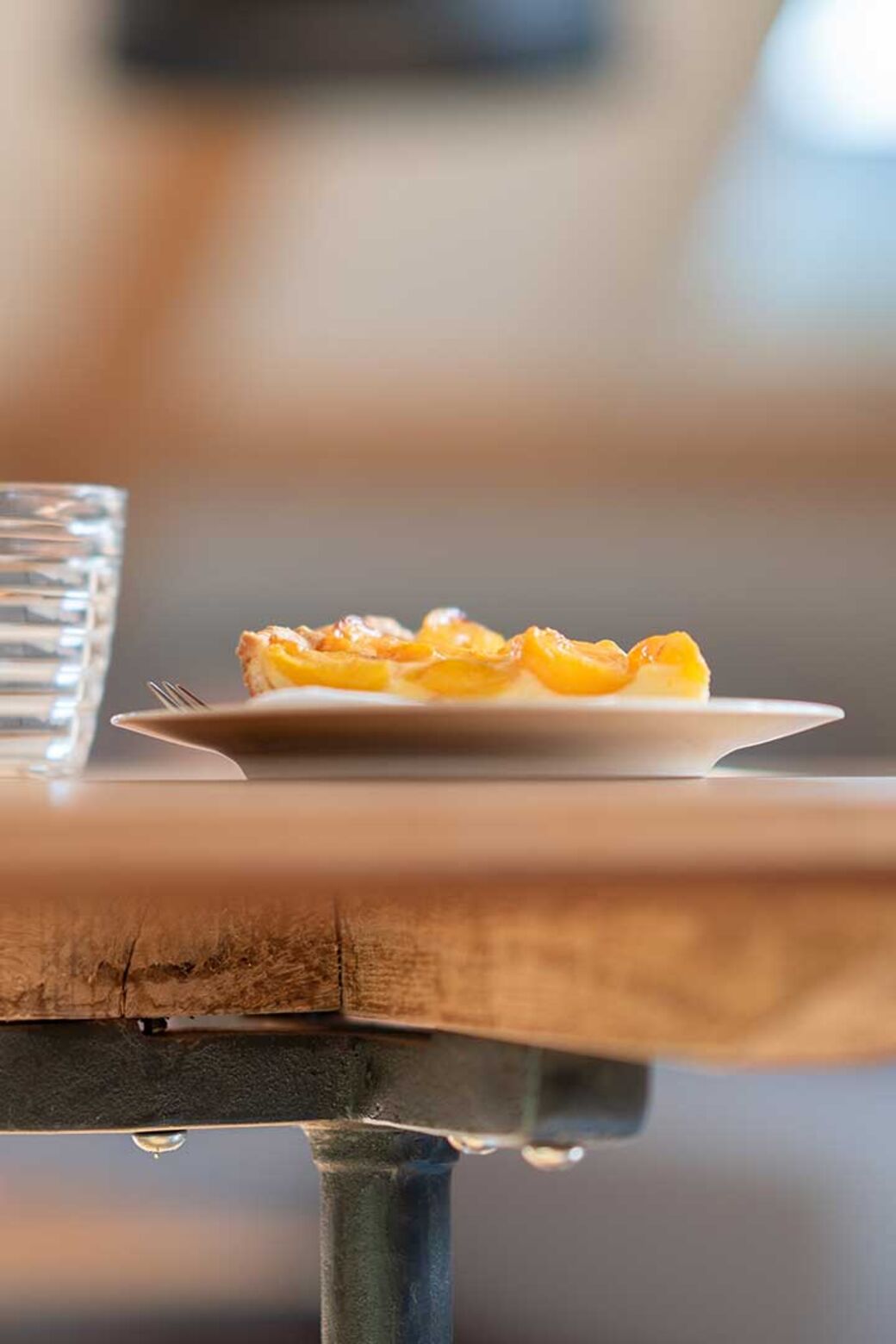 When this happens, all I can do is close my eyes, shut it out, and enjoy my fruit tart. And when I'm finished maybe I'll grab a coffee to go – it gives me the boost I need to fight my way back through the throng.
Address
Le Café in ShopVille
First basement level
Bahnhofplatz 15
8001 Zurich
+41 44217 15 15
Opening hours
Monday to Sunday, 7 am – 9 pm


Info
A slice of tart costs 4.50 francs.
View posts by interests, or use the proximity search and additional filters.
Try it out
.
Save posts as favourites – simply click on the heart symbol in the upper right corner of the post.