The invention of homosexuality
Every month, Anna Rosenwasser writes about life and love in Zurich. In October, the head of the Swiss lesbian organisation tells us how she stumbled across one of her favourite internet finds while walking around Zurich.
As a teenager I spent an insane amount of time online. I hung out on forums, read lousy fan fiction and stared at photos. I used to save my favourite pictures, so I had a folder for my favourite bands and one for my favourite outfits.
But one photo didn't fit into any of my folders. It just sat there on my computer. I couldn't explain why I liked it, but it just wouldn't let me go. It showed a building with a semi-circular neon sign spelling out the words 'Love invents us' in rainbow letters.
I was fascinated by this picture.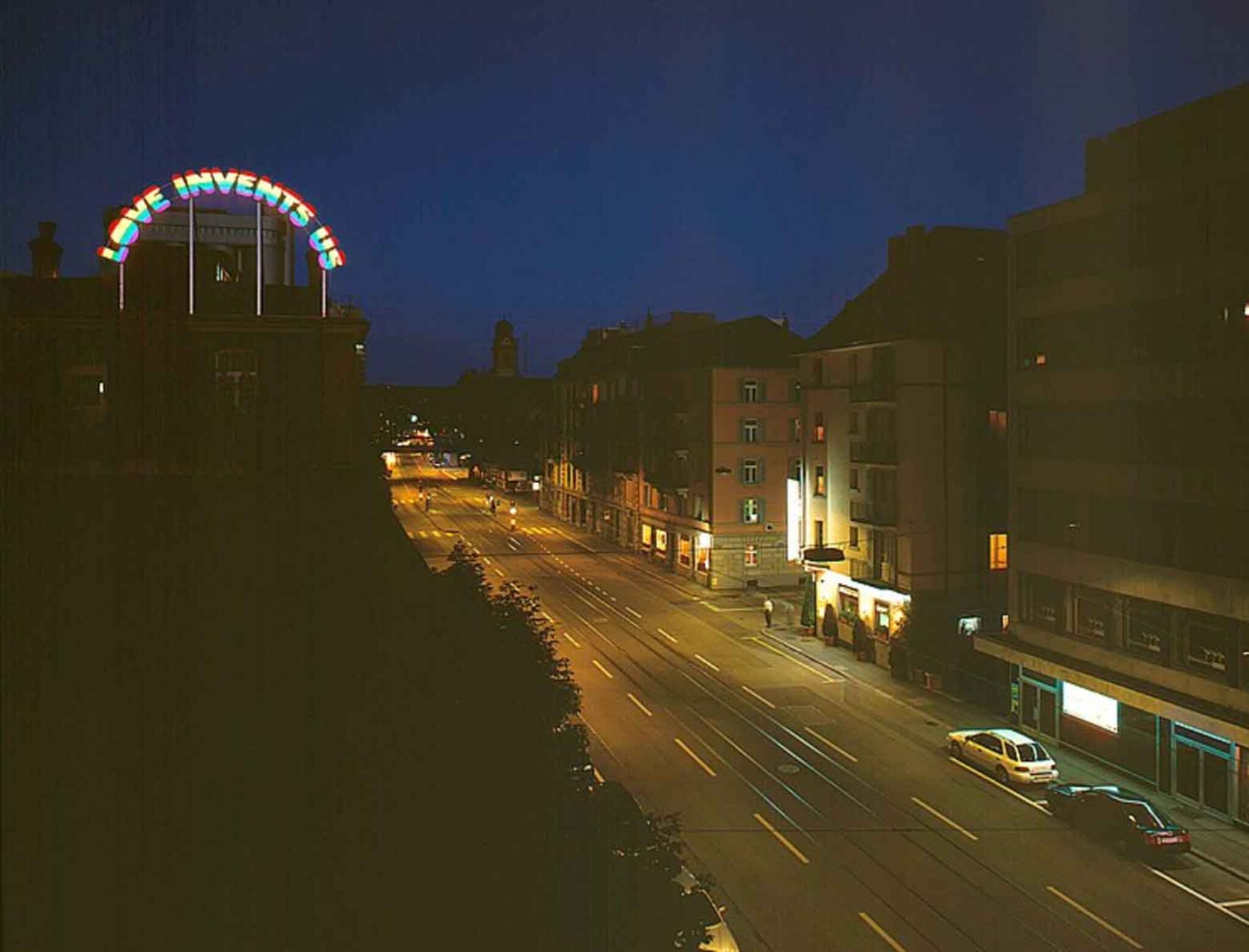 Of course, my teenage English was good enough to understand 'Love invents us'. But I still didn't understand anything about the picture. I didn't know where the neon sign was, and I hadn't the faintest idea that one day the rainbow colours connected to love would be very important to me. I simply kept this picture on my computer, probably all through the noughties, and it continued to fascinate me. Love invents us.
15 years later, love in rainbow colours is my job. I often have to deal with people who disagree with same-sex love. It's funny really – how do you disagree with something that simply exists? It's like disagreeing with courgettes, the setting sun or elbows. These are not inventions. They simply exist. Whether or not they exist isn't really up for discussion. It's the same with us gays. (Tag yourself. I'm the courgette.)
All too often we hear that same-sex love is unnatural, that homosexuality – and bisexuality even more so! – is a lifestyle we have chosen. The short answer to this question is very simple: different genders and sexualities are as old as humankind. They have just been viewed in different ways at different times. In some eras and in some parts of the world people never even thought about it and people simply existed side by side.
So sexual orientations are not invented. We can't invent love. But how we love, that's an issue for us. Love fills libraries and sheet music, diaries and therapy sessions. Actually, love invents us.
I have lived in Zurich for a few years, until recently in district 5. Sometimes in the evening, when I get tired of the struggle, I go out for a solitary walk. One dark and rainy night I was walking along Limmatstrasse. I looked up at the Migros Museum and saw something glowing on the roof – in rainbow colours. Between the treetops I could make out some words in a semi-circle. It was the sign that I had stored for years on my old computer (I later found out it was created by a Swiss artist in 1999).
Out of the blue, my favourite picture was lighting up my city, my neighbourhood: 'Love invents us'. Suddenly the sentence was real. And I think I now have an idea what it means.
View posts by interests, or use the proximity search and additional filters.
Try it out
.
Save posts as favourites – simply click on the heart symbol in the upper right corner of the post.