Once a month Anna Rosenwasser writes about life and love in Zurich. In June, the head of the Swiss lesbian organisation tells us about the storm that rolled in during the Pride Festival.
Zurich Pride has become so big that it has had to move. This year, the two-day festival including the demonstration/parade gained more elbow-room by moving to Sechseläutenplatz and Bürkliplatz. Right in the heart of Zurich, trans flags were draped over road signs, and Quaibrücke (Quay Bridge) was renamed Gay Bridge! The zebra crossings on Bellevue were painted in rainbow colours – which prompted some people to claim this was a danger to road users. Honey, if rainbows confuse you so much that you forget how to cross the road... maybe you need to come along to Pride.
Trans flags were draped over road signs.
And another fascinating fact: Bürkliplatz isn't actually called Bürkliplatz. The short strip in front of the lake is called Bürkliplatz, but the main square where various events and part of the Pride Festival takes place is called... Stadthausanlage. What a crap name. No wonder we all call it Bürkliplatz. What is a Bürkli anyway? A little burk?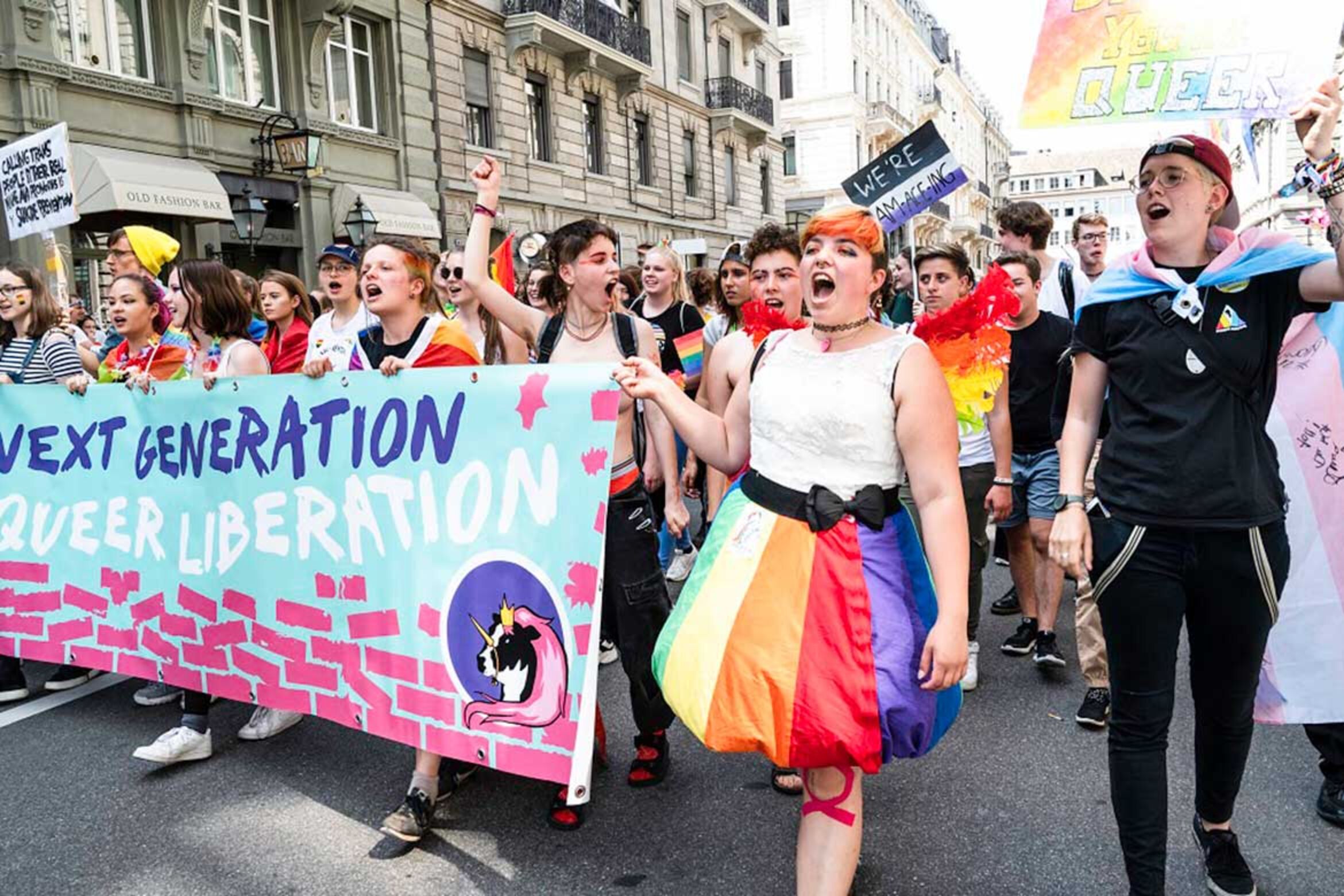 Anyhow, on Bürkliplatz, I compèred one of the Pride stages. It all went well, everyone was gay (as in happy), and women's strike activists, HIV educators, poetry slammers and drag queens all appeared on stage. I interviewed some of them: Isn't 'Inter' a football club? Do bisexual men exist? If I get AIDS now, how long can I expect to live? (You can find the answers at the end of this article.)
So I evacuated Bürkliplatz.
But more often than not I handed over the stage to the queers. Until early Saturday evening, when a security guard approached me during my three-minute break. Looking serious, he said a thunderstorm was heading towards Zurich. A really bad one. As the compère, it was up to me to tell the audience to leave the square. 'Hold on,' I said to the security guard, already imagining the sky turning black, 'When should I make this announcement?' 'Now.' I pointed to the speaker on stage. 'Now?' – 'Yes, now! You have to interrupt him.'
So I evacuated Bürkliplatz. I interrupted the climate activist – how appropriate, because of extreme weather conditions! – and told the audience they had to leave. I said it in High German, English and Swiss German, and they slowly got to their feet. Incredibly slowly.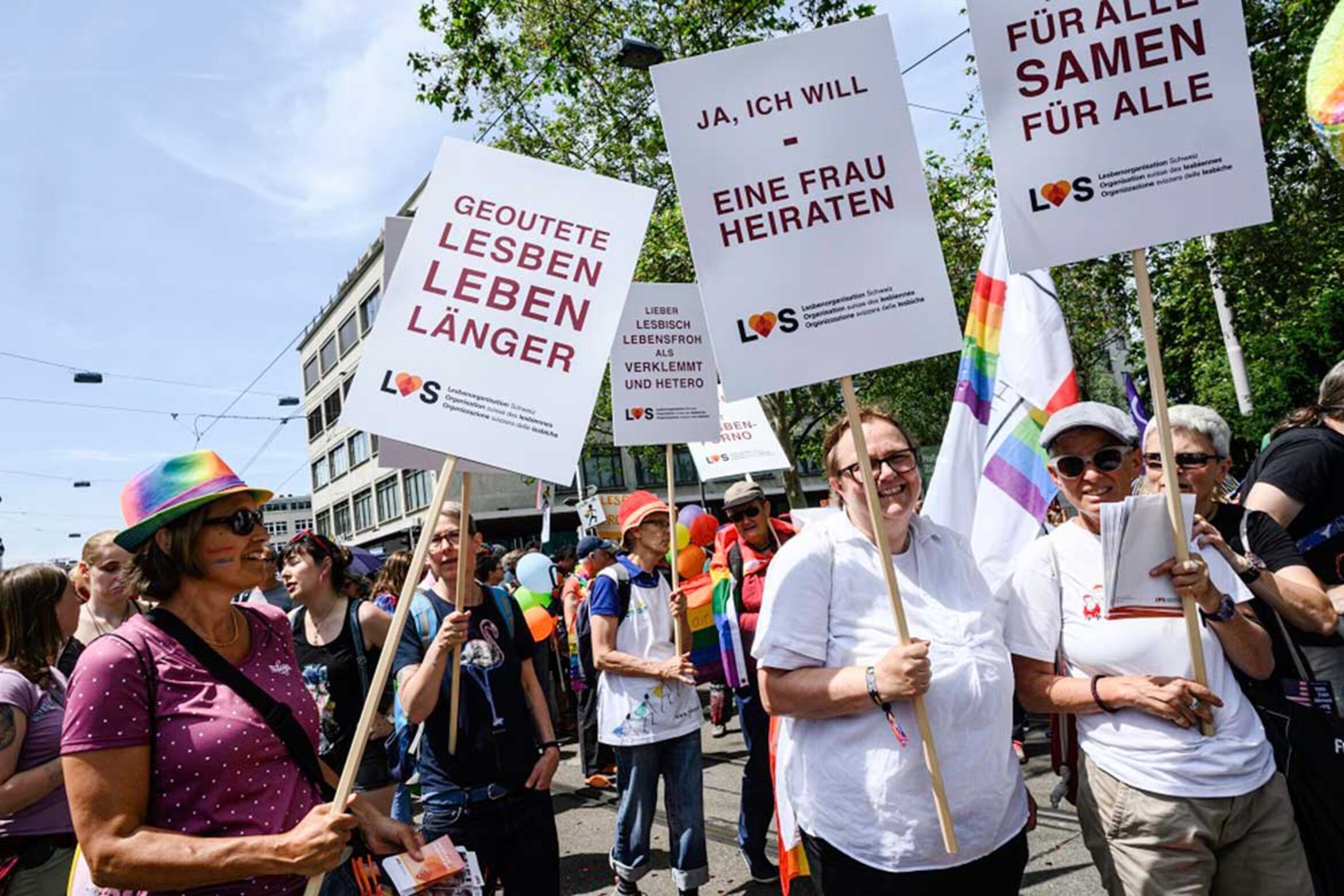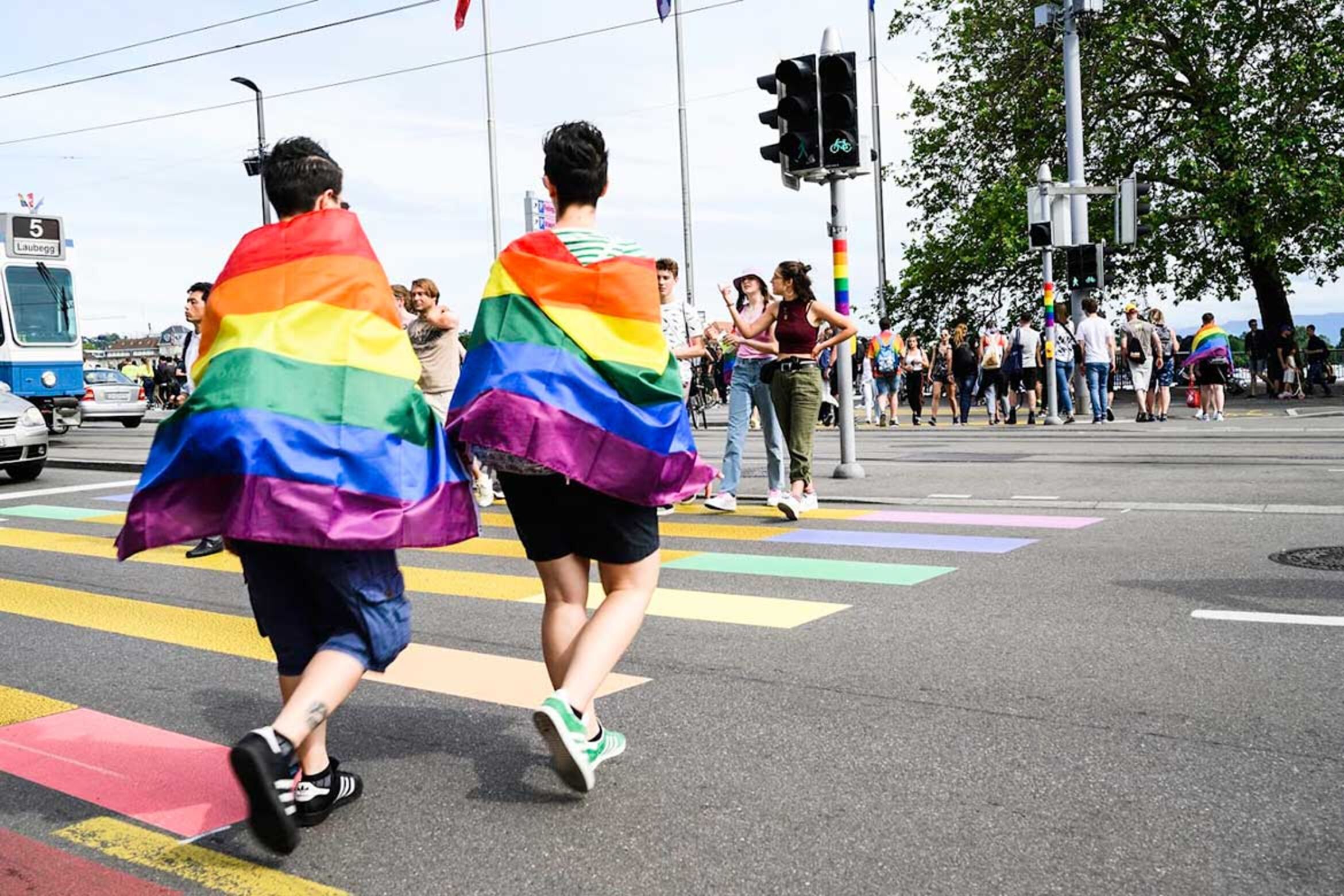 I stepped off the stage just as the heavens opened, and the security guard gave me a comradely fist bump. That evening, the city's nightlife must have been queerer than ever before. But my mood was more 'After' than 'Party'.
And if you're interested in the answers to the interview questions: 'Inter' isn't just a football club. It's the term used to describe people who can't be clearly assigned to one gender. There are lots of bisexual men, but the world just thinks they're gay. And people who are diagnosed as HIV-positive and regularly take the proper medication have the same life expectancy as those who are HIV-negative.
So we have loads of reasons to celebrate. See you again next year! Hopefully with rainbows instead of thunderstorms.
View posts by interests, or use the proximity search and additional filters.
Try it out
.
Save posts as favourites – simply click on the heart symbol in the upper right corner of the post.