Pop-up restaurants – positive or pointless?
Our food writer Hans Georg 'HG' Hildebrandt worked his way around Zurich's pop-up restaurants just before they had to close. Afterwards he asked two chefs what they really think about the pop-up trend.
The former bistro at the Riffraff cinema on Neugasse in district 5 is now a restaurant and bar that goes by the name of Wermut. It is run by restaurateur and culinary expert Kaspar Fenkart (Sport Bar, Central), who also sells ready-mixed drinks under the name The Cocktail for those who fancy a lockdown aperitif. Until the most recent closure, Wermut was managed by Markus Burkhard and his partner Flavia Hiestand. The couple are well-known from their time at the restaurant in the Hotel Jakob in Rapperswil, part of the Bachsermärt complex under Patrick Honauer. They became available after the hotel had to close in early autumn 2020.
When I visited the Jakob two years ago, I was impressed by Burkhard's cooking and particularly by the fact that it follows the zero-kilometre approach by favouring local produce where possible. However, this kind of approach is somewhat limited in countries with no access to the sea. I find the food is often a little bland. I'm not a big fan of Nordic frugality. I like my food to be sloppy, slurpy, melt-in-the-mouth, glistening with butter and whatever other synonyms I can find.
I'd also like to recommend the second pop-up.
Burkhard's temporary involvement at Wermut suited me down to the ground – it was all about animal fats. The focus was on cream, hip-hop, and sparkling wines. So there was grilled beet with a beef fat espuma and smoked shitake, accompanied by slightly acidic salads. And a potato mousseline garnished with Brussels sprout leaves on mustard seeds, sauerkraut and pork fat. The main course was a raviolo with beef neck, celery stalks and a beurre blanc of celery, with chicorino rosso to add a tangy, bitter texture. Great dishes, a set menu, 95 francs per person, lovely jubbly. The second pop-up that I visited the night before the latest lockdown was Downtherabbithole at the Zero Waste shop and café on Freilagerstrasse. With its focus on consistently avoiding food waste, I'd like to recommend this place too. The pop-up is run by the team from Artisan, a popular restaurant in Wipkingen. Along with excellent vegetable dishes involving unusual herbs and elaborate preparation, you can also see a Japanese quick composter in action. It uses enzymes and heat to transform the scraps from your meal into fragrant compost in just 24 hours – very exciting. But you'll find there aren't many leftovers when you eat at this pop-up. With dishes like fermented red cabbage croquettes, delicious little mushroom pies (pithivier) with pumpkin ketchup and lightly cooked multi-coloured leafy vegetables, you'll want to clean your plate. All the produce is sourced from local suppliers such as Slowgrow in Mönchaltorf or grown in Artisan's own kitchen garden. The four-course menu costs 89 francs and is worth every penny. The wine list includes local gems such as Grüner Veltliner from Holger Herbst in Trüllikon and Hallauer Chölle from Markus Ruch.
They used to be called illegal restaurants.
When it comes to pop-ups, I'm typical of people in Zurich. I moan endlessly then go there anyway. I constantly tell myself I won't subject myself to any more experiments by chefs of varying ability. But I've been doing it for a while – in the early nineties, pop-ups were so cool they weren't even called that. For example, the sadly missed Jürg Leimbacher, a legend of Zurich's night scene, cooked with his team in 'illegal restaurants'. This was the next step up from the illegal bars that were pretty much the only place to go before Zurich's nightlife was liberalised. The temporary restaurants run by Fredi von Escher, another big name in Zurich, were equally legendary. I celebrated my thirtieth at one of his places 24 years ago.
I like to order my favourite dish.
I couldn't quite put my finger on what was really annoying me about the pop-up phenomenon, so I called my old buddy Ralph Schelling. He was working at a temporary Cartier store on Rennweg, cooking for eight guests at a time in an exclusive pop-up (eight guests, but also now closed). Otherwise, he works as a private chef to the super-rich. Ralph's words crystallised my vague feelings about the phenomenon: 'I'm getting tired of having to constantly try new pop-ups. I'd much rather go to my favourite restaurants or discover new, family-run places where the chef really runs the kitchen, and the staff treat me as a valued regular.'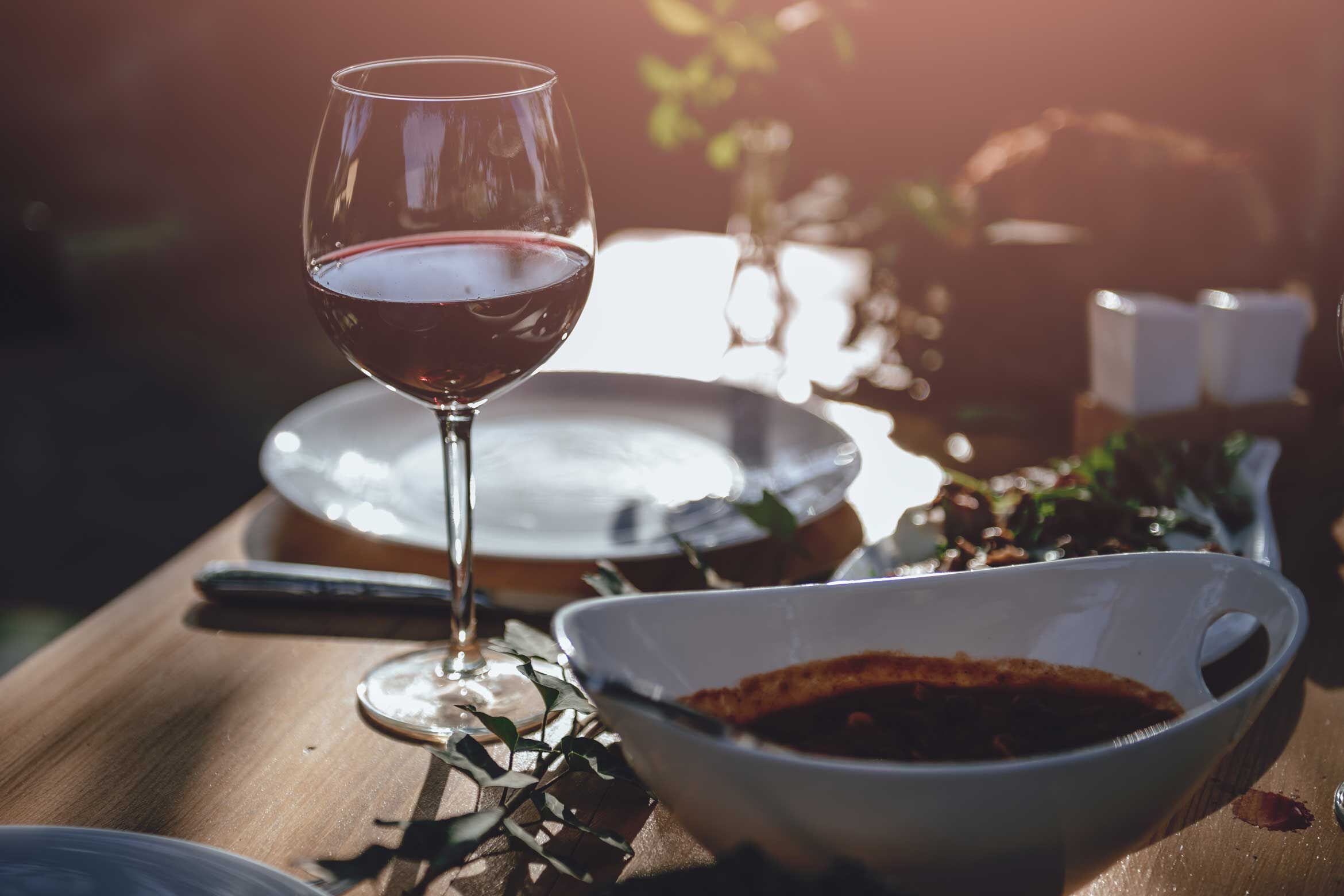 Yes, I'm also bothered by the 'experience' element of so many pop-ups. Of course, it's about a culinary experience, but the focus is clearly on making it a kind of status symbol. How many of us have rushed to book a table for four on the opening weekend so that we can mouth off about it later? Spoiler: not me, I also learn about the latest pop-ups via the media. Like Ralph Schelling, I like going out for my favourite dish and getting a warm welcome rather than being one of 10,000 carefully costed and generally anonymous diners.
To quote Ralph again, 'I judge a pop-up by whether the majority of the food is homemade and really fresh. I get a bad feeling if I sense something is ready-made. The food doesn't have to be particularly creative, it just has to taste good. If it does, I'll forgive the odd flaw in how it looks.' Schelling says he is impressed by pop-ups 'if they can serve every guest something apparently simple like spaghetti cacio e pepe cooked perfectly à point.'
I decided to call another chef who has also been making a splash with pop-ups over the years. Markus Arnold was recently awarded a 17th Gault & Millau point for his work at Steinhalle in Bern. But before moving to this superb restaurant he spent most of his time working on different pop-up concepts. Along with the Steinhalle, he also runs Hallelujah on Bern's Kleine Schanze. He describes it as 'Christmassy, cosy and nicely done'. He explains how, over the past few years, he and his partner Tom Weingart have put together skilled teams to handle everything a pop-up can throw at them. So an Arnold pop-up in Bern probably doesn't feel improvised these days but reliably delivers an exciting culinary experience. 'For me, the important thing about a pop-up is that it's surprising and high quality. And you shouldn't notice that someone is trying to make money from it.' As we continue our conversation, it emerges that he judges pop-ups according to the following criteria:
The dishes should be original
As much of the food as possible should be homemade, even if it is then regenerated (gastro-speak for 'heated up') on site
It should trigger more intense emotions than a visit to a normal restaurant.
The finest Zurich pop-up ever is, of course, the Leuehof on Bahnhofstrasse, run by local heroes Valentin Diem and Nenad Mlinarevic. Although the pair consistently raise the bar with their projects, the future of this pop-up is unclear in these uncertain times. At the moment they are still welcoming guests for long lunches and in the afternoons. And yes, I still haven't been there. When they open up again, I'll be the first to scramble for a reservation so that I can mouth off about it afterwards. Let's hope we can all go to restaurants again before long! Until then, thanks for reading and best wishes for the New Year.
View posts by interests, or use the proximity search and additional filters.
Try it out
.
Save posts as favourites – simply click on the heart symbol in the upper right corner of the post.