Vol-au-vents at Sprüngli – and at home
Everyone talks about Zurich's hot new restaurants, but there's one place that tends to be ignored because it is largely frequented by 'third-agers' and tourists: Café Sprüngli on Paradeplatz. Our food columnist indulges in a little culinary nostalgia.
Urban consultant Thomas Sevcik coined the term 'donut city' to describe today's cities. Today, the centres of Europe's historic cities are almost exclusively the preserve of office workers, large corporations and tourists. At best they still have a few shops, but this is likely to end at some point because the whole world now shops online.
I fell in love with the vol-au-vents.
Zurich is also a small donut city, but in the middle of the hole there's a place where you can satisfy your hunger in style. Head for the first floor of Sprüngli on Paradeplatz. On weekdays it offers business lunches at a very reasonable price – especially considering its location. I usually call in for a club sandwich (one of my guilty pleasures), but recently I decided to order a vol-au-vent and fell in love with this little foray into the culinary classics. In his Dictionary of Cuisine, Alexandre Dumas (author of The Three Musketeers) writes: 'Vol-au-vent: a hot puff pastry. It is filled with sweetbreads, poultry liver, chicken breast and mushrooms.' The combination of puff pastry and a creamy white wine sauce has a very special charm. Once it is served, you are in a race against time to polish off the vol-au-vent and sauce before the delicately crispy puff pastry goes mushy.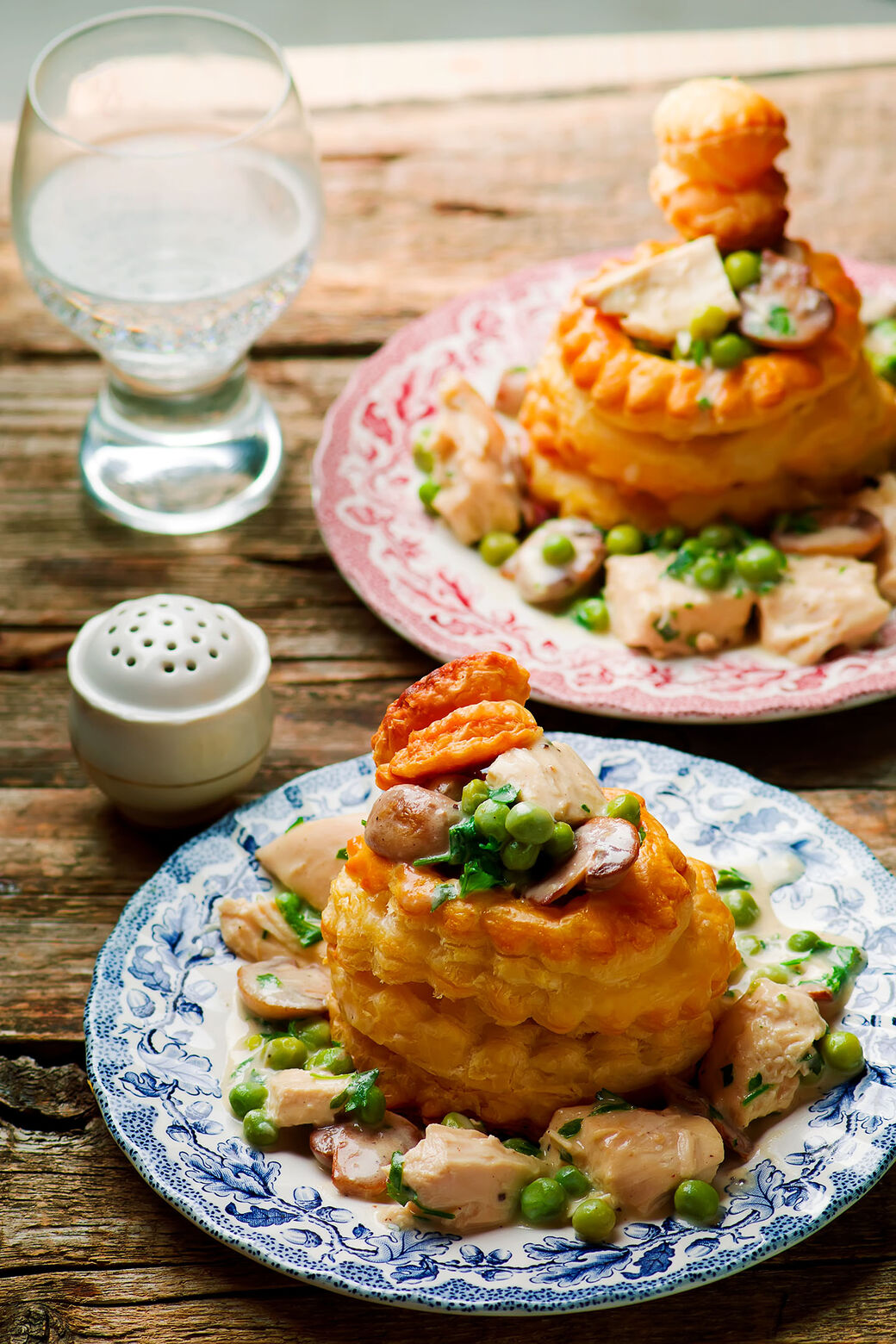 At Sprüngli, the sauce was as I expected, though it didn't look as luxurious as Dumas led me to believe. It contained cubes of braised veal, veal stock and a few vegetables. 'Brätchügeli' – small quenelles – would be more traditionally Swiss, and for a special occasion I would use lightly sautéed sweetbreads. There was no accompaniment, but I think a salad with an acidic dressing would be good for stimulating the digestion.
It`s a race against time.
While I was enjoying my vol-au-vents on Sunday, who should happen to sit next to me at the Sprüngli bar but Sami Khouri. He is well-known for setting up the Palestine Grill and coming up with all-round entertainment concepts such as the Galaaxy in Flims/Laax and Samigo at the Seerestaurant, previously known as Quai 61. And what did Sami order? Vol-au-vents. When I asked him why, he said this kind of food reminds him of the after-school centre he used to go to as a kid. No doubt the vol-au-vents were supplied by the institution that was formerly known as the city kitchen. Nowadays it's called Menu and More – but doesn't 'city kitchen' sound so much hipper?
I have created my own recipe in an attempt to blend Sprüngli's Seventies flavour with my own memories. Smaller branches of Migros and the Coop still sell vol-au-vent cases that you can pop in the oven. It's probably best to buy the most expensive ones. The classic sauce is based on a flour roux rather than adding cornflour or xanthan gum at the end. But I think this recipe is one for weekends only.
Shopping list for 4
2 vol-au-vent cases per person (best to get them from the Coop or Betty Bossi)
1 can of peas (or 500 g frozen peas)
1 can of small, white mushrooms (or fresh mushrooms)
3 dl cream
200 g cooked ham (buy good quality)
2 dl white wine
1 small onion
2 pinches of xanthan gum or 3 level teaspoons of cornflour
Butter
2 dl veal stock or 2 tablespoons demi-glace
Freshly crushed or ground white pepper
Flat-leaf parsley
Method
Preheat oven to 180 degrees Celsius.
Finely chop the onion.
Fry the onion in a little butter in a non-stick pan.
Chop or dice the cooked ham and warm through in the pan.
Deglaze with white wine and allow to reduce by half.
Add 3 dl cream and bring to the boil.
Add the ground white pepper and veal stock or demi-glace and return to the boil, stirring occasionally.
Pour the ham/onion/wine/cream mixture into a bowl and set aside. Wipe the pan clean with kitchen paper or rinse it out (of course the latter is more environmentally friendly).
Place the vol-au-vent cases on the oven rack to bake. Rinse the tinned mushrooms in a sieve under running water. Heat up the pan again, add the mushrooms and let the moisture evaporate slightly.
Add 300 g peas and let them warm through briefly (no need to defrost). Keep shaking the pan.
Add the ham/onion/cream mixture. Now you need to thicken the sauce. I normally use xanthan gum, a powerful thickening agent that you stir into a hot sauce to thicken it in about three minutes. I buy xanthan gum at ChefStore, a very cool place at Zentralstrasse 118 (chefstore.ch – it has recently moved!). Otherwise I use normal cornflour, which you mix with a little cold white wine before adding to the sauce. Again, stir the sauce for three to four minutes until it thickens. Using cornflour makes the sauce a little less glossy than when you use xanthan gum and gives it a slightly denser texture.
Once they are cooked, remove the pastry cases from the oven, arrange two on each plate and fill with the sauce. Garnish with finely chopped flat-leaf parsley and enjoy!
View posts by interests, or use the proximity search and additional filters.
Try it out
.
Save posts as favourites – simply click on the heart symbol in the upper right corner of the post.