Our food columnist Hans Georg 'HG' Hildebrandt believes that fondue should not be downgraded to fast food – and that it deserves more love and attention than pop-up market stalls give it. He reveals his top DIY tips – and explains why using fresh bread is a fatal error.
If you are too lazy to read the whole article, here's what you need to know: No ready mixes, only 100-percent raw-milk cheese, stir constantly, pear and potato for a change, tea and red wine instead of white wine.
Those who go in search of fondue from a decorated alpine wooden shack can only have one reason for doing so – they want to avoid conjuring up an odour of cheese that hangs around their home for three days. Or they have no idea how to make good fondue. So, here are my top tips for serving up fondue just as it should be. This delicious meal is even more satisfying when you enjoy it at home with friends.
Preparing a fresh fondue mixture is not complicated.
If possible, I like to buy fresh fondue mix from the Weber store in Zollikerberg or Binz. The mixture always consists of two raw-milk cheeses with different levels of maturity (Gruyère/Vacherin) originating from the Moléson mountain. There's also a secret recipe fresh cheese that you add into the mixture just before serving. Raw-milk cheese is the key to good fondue. It has more nuances of flavour and the lingering cloud of wine and grease will disappear more quickly from your home than if you use pasteurised cheese.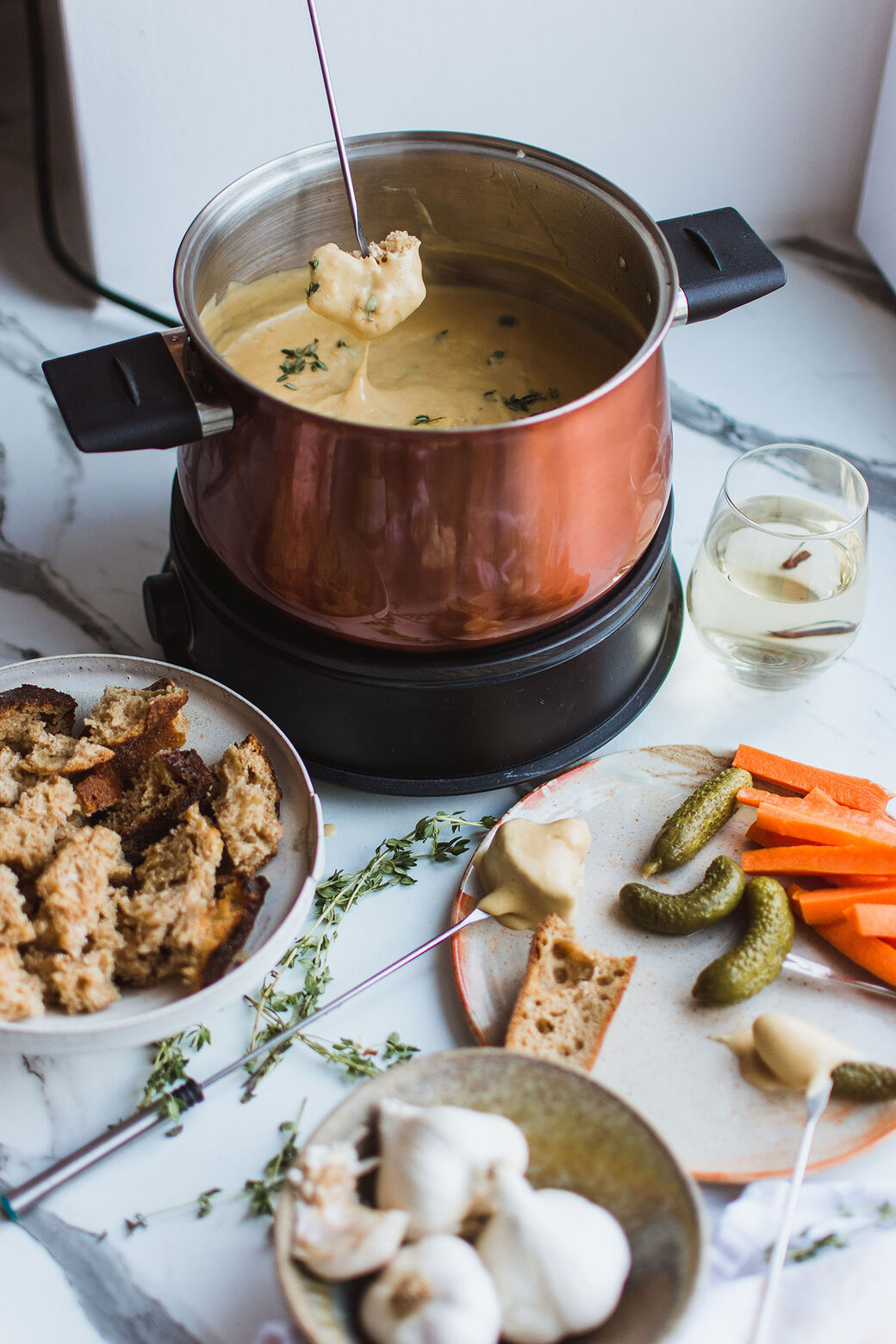 I drink warm herbal or black tea with fondue.
Raw milk needs to be treated more gently and the cows aren't fed silage. Anyone who has eaten organic cheese made using silage-free milk for a long time will be able to taste the stale notes of silage in products made using pasteurised milk. Silage is produced in tower or mobile silos or in so-called silage bales, which you often see lying around over grassland during the summer. The process involves wrapping fresh green plants so they are airtight while they are still moist. This gives them a particular flavour due to anaerobic fermentation, which, in my opinion, transfers to the milk. Because of the lactic acid bacteria in the silage, using this milk in the production of raw-milk cheese is not permitted.
Preparing a fresh fondue mixture is not much more complicated than melting a block of cheese together with starch and white wine. I peel two or three cloves of garlic, crush them with the flat surface of a knife and put them in a pan. I then add the finely grated cheese followed by the required amount of corn starch to bind the mixture. I just sprinkle this over the cheese shavings. Sometimes I dissolve the corn starch in a glug of Oliver Matter nutmeg gin. Using fondue wine is a sin. Why would I want to eat something that I would never dream of drinking? You need to make sure that the wine is acidic enough, so make sure you use wine from cooler regions. I pour the amount needed over the grated cheese. Then I squeeze a medium-sized lemon, add the juice and mix everything together. For seasoning, I use 2 white peppercorns for every 100 g of cheese.
Now it's time to switch the hob on to a medium heat and watch as the heat of the pan very slowly transfers to the wine. The first chunks of cheese start to melt in the heated wine. Increase the heat slightly and then it's just ten minutes of continuous stirring. When the cheese mixture that has been constantly aerated with a spoon starts to bubble, reduce the heat and stir a few more times. Then immediately place the pan on top of a strongly burning portable stove and grind over some fresh black pepper.
Pears provide a nice variety.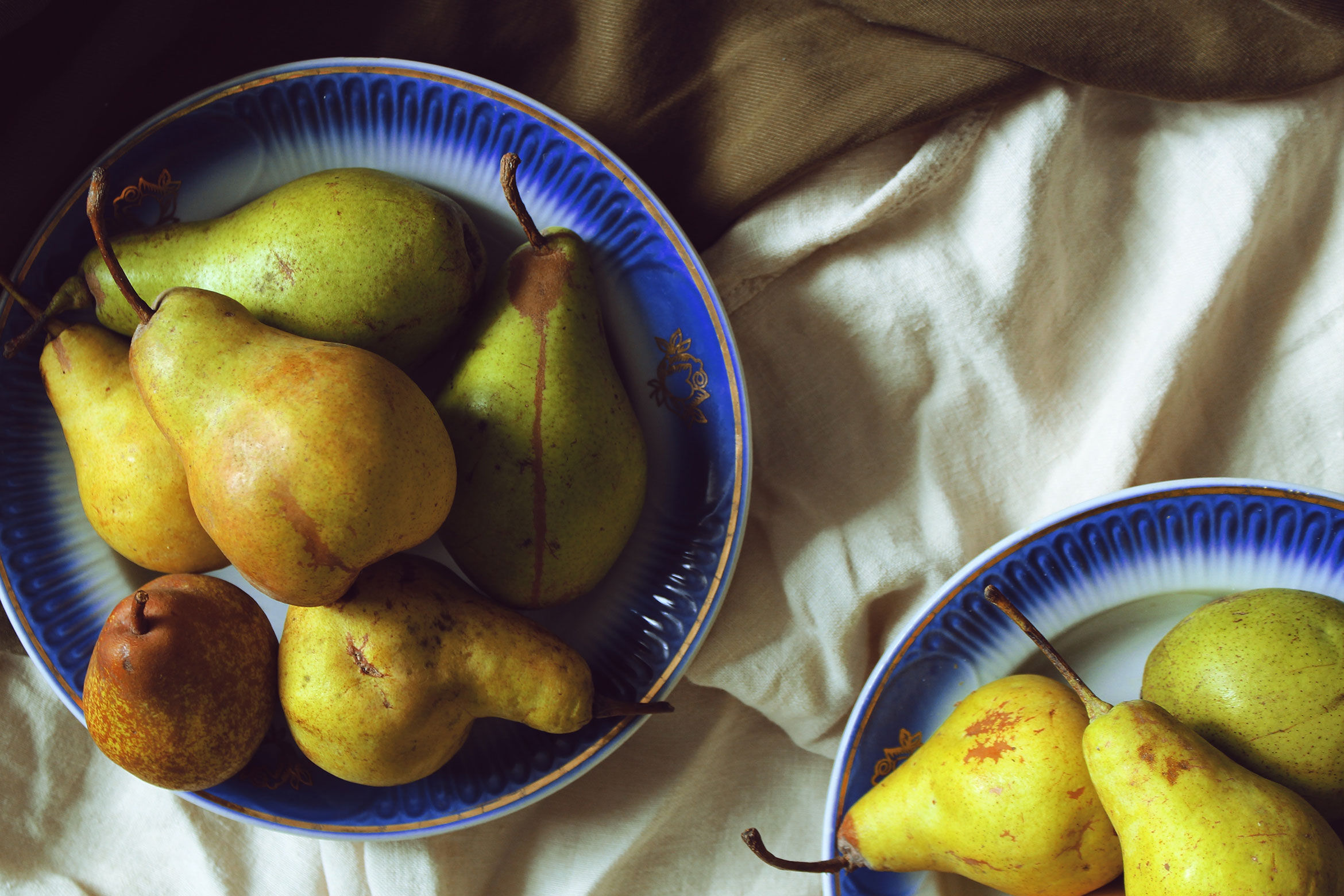 To go with the fondue, I serve cut-up conference pears drizzled with some lime juice to stop them from going brown and to add some more acidity. I also served Amandine potatoes cut in half, which need to be left to cool after cooking, otherwise the cheese won't stick. Pears and potatoes provide a nice variety and fill you up quickly – using fresh bread for fondue is a fatal error: you eat far too much and end up with a stomach ache. If I'm feeling playful with my flavours, I like to use peperoncino chili flakes and, of course, pickles. The Zurich brand Suur has recently been causing a stir in the world of pickles – the company not only salvages vegetables that would otherwise have been thrown out, but also comes up with ideas that are more innovative than the usual, humdrum pickled pearl onions.
I drink warm herbal or black tea with fondue because the tannins help with digestion. I like to dip pieces of bread into a good Williams pear liqueur before I sink them in the cheese. Gin is another welcome option: the basic gin ingredients, juniper and pepper, are the ideal accompaniments to almost any meal. If you are serving wine, try a Swiss Pinot Noir, which can counter the powerful flavour of the cheese better than most white wines.
Tips for eating out
Fondue pop-ups (charmingly referred to as fondue favelas by my colleague Alex Kühn) are, in my opinion, a cut-price abomination and I avoid them at all costs. When I go out for fondue, my favourite spots are chaesstube-rehalp.ch, fribourger-fondue-stuebli.ch or Chez Crettol in Küsnacht.
View posts by interests, or use the proximity search and additional filters.
Try it out
.
Save posts as favourites – simply click on the heart symbol in the upper right corner of the post.