Ting
Daniela Geisser's shop on Quellenstrasse sells beautiful items from Swiss and Scandinavian designers.
The word 'ting' is actually Danish for 'thing'. But in district 5, Ting is a shop that sells a multitude of things, from toys to clothes, accessories to household goods. Take a look at our profile of the shop from 2019 before it closes at the end of June.
On the Ting website, Daniela Geisser is described as 'the crazy one'. 'The Ting thing really is a bit crazy,' she says. She trained as a social pedagogue, but always dreamt of opening her own shop. 'Talking to customers, working the till... I always loved that!' she says with a laugh.
'Talking to customers, working the till... I always loved that!'
Daniela Geisser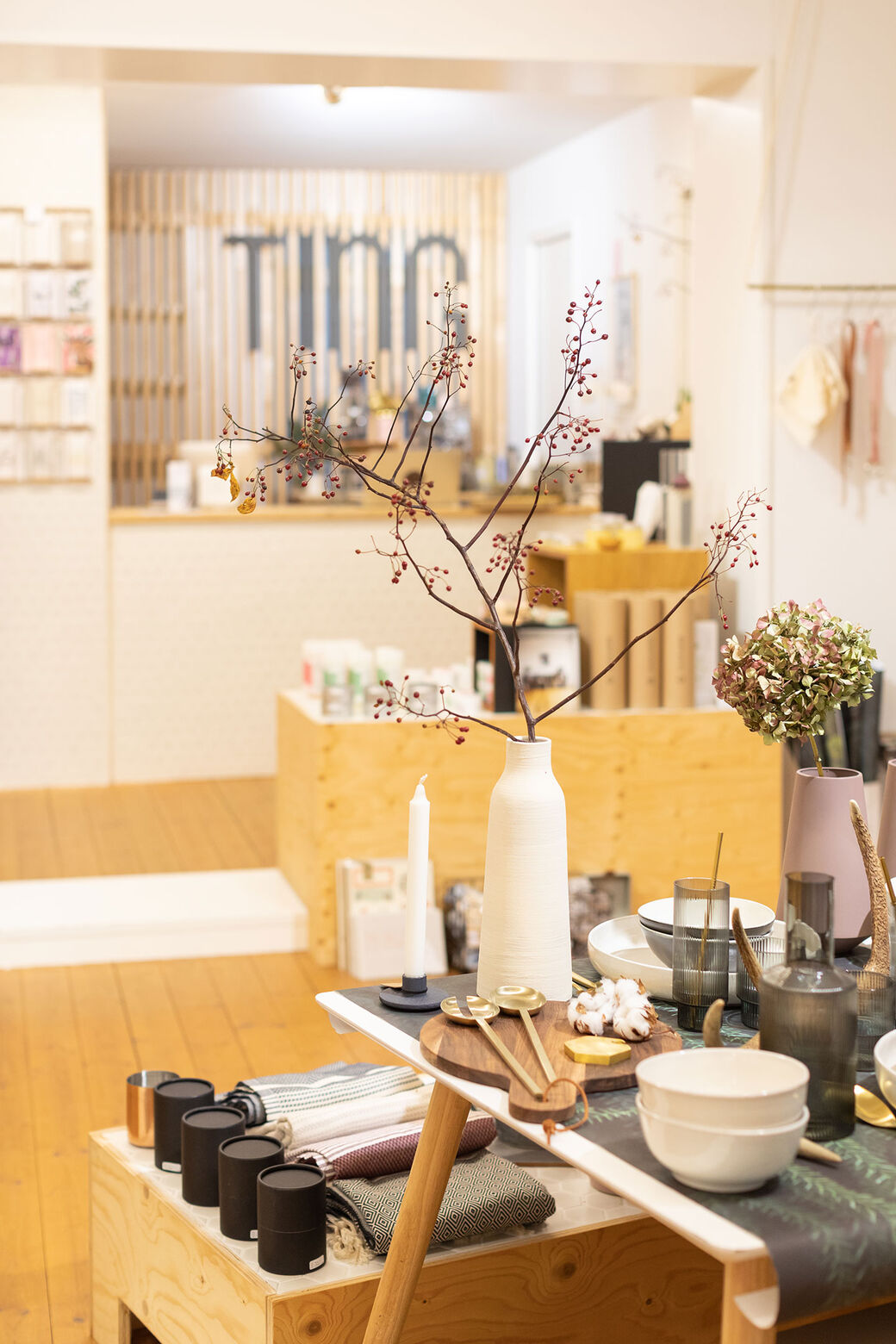 A few years ago, this native of Zurich finally quit her job helping people to enter the labour market and opened a 100-square-metre pop-up store in the centre of Witikon. For ten months, Daniela and her team sold a range of products including items made at their previous workplace – a workshop where people could learn the skills they needed to get a job. One of these products was a wooden picture frame, which is still available at Ting today.
More than half come from Swiss designers.
The pop-up store proved to be a great success. Witikon is quite a way from the city centre, so it has very few shops like Ting. It was particularly popular with local mums: 'Sometimes they just didn't want to leave Ting!' says Daniela. She was keen to stay in Witikon but the store's temporary lease wasn't renewed, so she had to look for new premises in 2017.
She finally found what she was looking for on Quellenstrasse in district 5. Although this location enjoys less passing trade than the old one, Ting has become well-established in the neighbourhood. But there's one thing most of the locals aren't aware of: Ting provides work experience and training to young people who are not yet ready to enter the labour market. Daniela generally keeps quiet about it: 'This commitment is important to me, but I don't want people to think it's just a PR stunt.'
Daniela loves talking to her customers.
That's why the locals mainly enthuse about the products on offer at Ting. More than half come from Swiss designers, while most of the rest are Scandinavian labels. 'We have a good mix of insider tips and established brands,' says Daniela. She is always on the lookout for new products but prefers not to attend international trade fairs. Instead, she scours Instagram for up-and-coming labels or works with graduates of Zurich's University of the Arts.
Ting sells quality products that have been fairly produced. 'Checking the manufacturing conditions is incredibly time-consuming but it's worth it,' says Daniela. She also likes the fact that her customers are much more clued-up about this than in the past. She loves talking to her customers: 'They're all so friendly.' That's why she's happy when they linger in the shop or sit in the coffee corner by the window. On Fridays she even brings in cupcakes and sandwiches from local bakeries.
Address
Ting
Quellenstrasse 6
8005 Zurich
+41 44 382 98 76
Website
Opening hours
Tuesday to Friday, 12 noon – 7 pm
Saturday, 11 am – 5 pm
View posts by interests, or use the proximity search and additional filters.
Try it out
.
Save posts as favourites – simply click on the heart symbol in the upper right corner of the post.