Palestine Grill
Fancy a quick bite after a night out? Lynn Loosli's snack shop on Langstrasse fortifies Zurich's late-night revellers with falafel and other tasty treats.
Located between Longstreet and Piranha Bar, the Palestine Grill serves hot food to visitors to Longstreet until late in the evening. On the menu are original recipes from Palestine, which are freshly prepared in the grill every day. Managing director Lynn Loosli keeps her cool when it's heating up on Zurich's raucous Langstrasse.
The Palestine Grill sits among the clubs and bars on Langstrasse. In winter it's often too cold, but the queue remains long. 'The work can be rather demanding,' says Lynn Loosli, who since summer 2019 has been the manager of a team of 19 people. But the job is also a lot of fun: 'People from all over the world visit Langstrasse and the Palestine Grill.'
Lynn's professional background has nothing to do with gastronomy, and she only started working at the Palestine Grill by chance. Following her training to become a psychiatric nurse, Lynn lived and worked for many years with the circus. 'I was a tightrope walker and an acrobat so I also spent some time living in Hamburg,' she explains.
In order to establish herself in the world of theatre, she then moved to Zurich, and helped out in the kitchen at the Palestine Grill to supplement her income. Within a very short time Lynn had worked her way up through the ranks and was soon greeting guests. 'Then Sami suddenly asked if I wanted to take over the management, and I said yes.'
The recipes have been passed down from a Palestinian grandmother.
Sami Khouri is the owner of the eatery, having opened it with his friends in 2013, and he now also owns Samigo and Les Halles. As the son of a Palestinian immigrant, he knows just how to prepare dishes from the Middle East. 'We are very picky about what we have on our menu and hardly ever change anything,' explains Lynn, which means the same dishes are on the menu today as when the place first opened.
'We prepare everything according to the original recipes from Sami's mother and grandmother,' Lynn continues. Falafel, sabich (fried aubergine with houmous, egg and mango in pita bread) and shish taouk (marinated chicken with houmous and pickled vegetables in pita bread) are just some of the bestsellers at the Palestine Grill. Day after day, they attract visitors to Langstrasse who are looking to enjoy a weekday lunch, or are after a tasty snack on their way home after a night out.
The partying goes on until the early hours of the morning.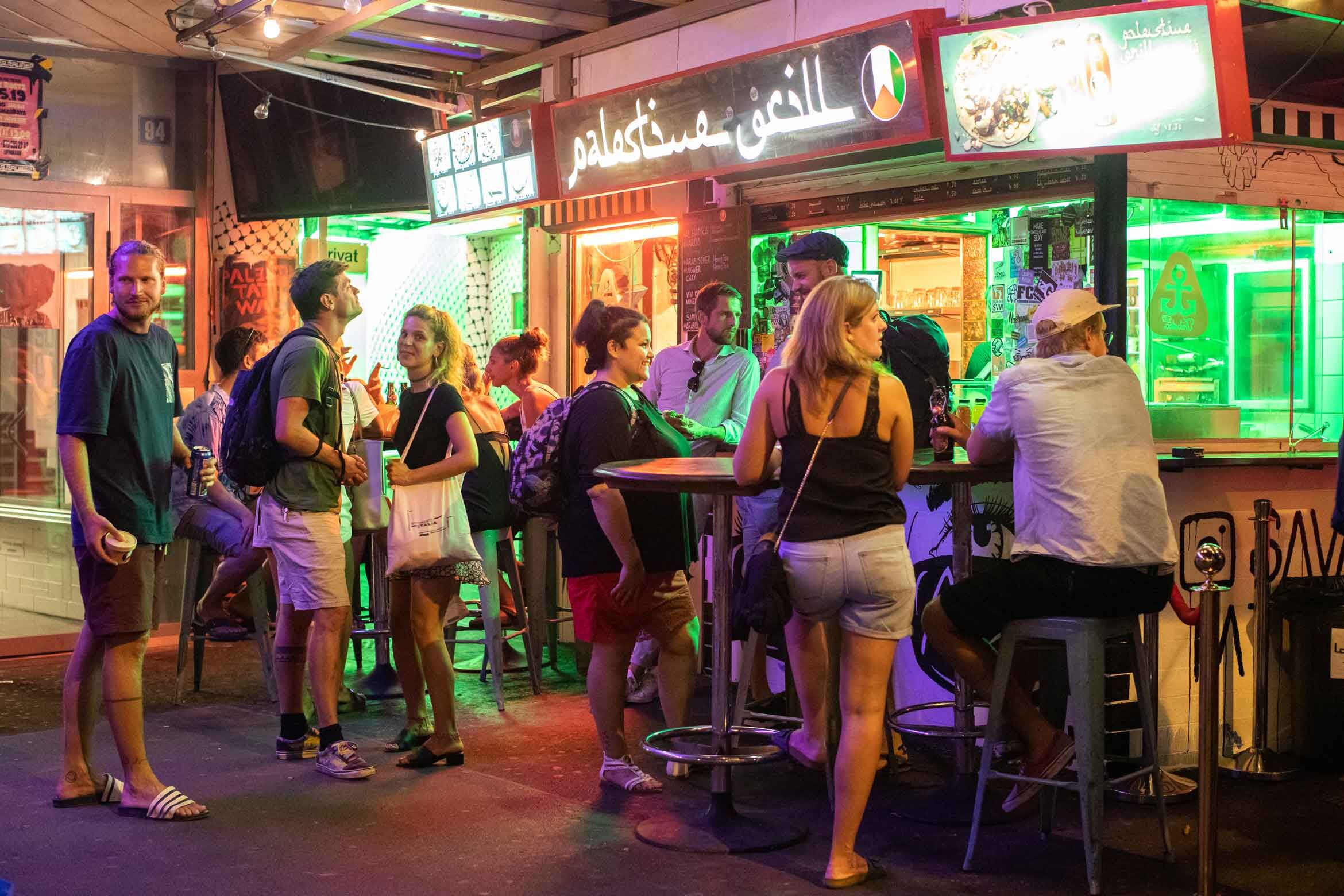 'It's great that it's so vibrant here,' says Lynn. But Langstrasse can also be rather fraught. 'There are often fights between drunk people or addicts.' Then the police or the security staff from the surrounding bars and nightclubs are called out.
'When I arrive at seven in the morning, it sometimes looks a bit like a battleground and people are still out partying,' she explains. But it's something you have to learn to deal with when working at the Palestine Grill. With a great deal of patience, a friendly smile and some crispy fried falafel, everything has run smoothly so far, jokes the 33-year-old.
'We're not a backstreet kebab shop.'
Lynn Loosli
The shop's location on the notoriously rowdy Langstrasse is no excuse for Lynn and her team not to focus on providing high-quality food. 'Many people think that you can just serve inebriated clubbers anything, but we see it differently.'
Lynn clarifies: 'We're not a backstreet kebab shop.' That's why the Palestine Grill only uses organic eggs, vegetables and herbs, and the meat comes from a farm in the region. 'We prepare everything fresh every day and also try to avoid using plastic wherever possible.'
So as not to lose touch with customers and employees, Lynn can still often be found at the grill. 'I still schedule in a couple of shifts so I can make sure everything's working as it should.' It also makes it a lot easier to grab some chips, she jokes.
She finds it particularly entertaining when more mature guests visit the Palestine Grill. 'Before we opened, there was a more traditional snack shop here for many years, so when people come in and ask me for regional sausage dishes, I usually have to let them down with a smile.'
This article is not free to read.
hellozurich stands for a diverse and tolerant city. We tell stories about the people and places that shape Zurich. But all this costs money. As an independent magazine we rely on your help.

Become a member from just 8 francs a month and, as a supporter, receive the hellozurichPass. In conjunction with our partners, this gives you access to more than 200 exclusive deals and discounts.
Address
Palestine Grill
Langstrasse 92
8004 Zurich
Website
+41 44 291 00 24
Opening hours
Monday to Wednesday, 11:30 am – 9 pm
Thursday to Friday , 11:30 am – 10 pm
Saturday, 5 – 10 pm
View posts by interests, or use the proximity search and additional filters.
Try it out
.
Save posts as favourites – simply click on the heart symbol in the upper right corner of the post.