When the days get shorter, people treat themselves to edible extravagances again. And those who want to take this to the extreme reach for the oyster. But where, and which one? A short walk through Zurich under the sign of the sexiest shell.
Everyone has an opinion about oysters. Many find little to like about the idea of slurping a live animal from its own shell - and that's good, because it leaves more for the rest of us. Sorrynotsorry!
Many years ago I visited an oyster farm in Normandy, invited by the founder of Brasserie Lipp, Anton Jäger. In addition to the market and the processing rooms, we also visited the oyster beds, where the mussels grow in bags made of strong plastic netting over a period of three years. The "naissins" or seedlings needed for this are delivered to the oyster farmers by specialists when they are young; these naissins settle on sunken bricks or mussel shells as larvae expelled by the parent oysters and would actually grow up there, but are collected, detached and sent to the production regions where they grow until they are ready to eat. In culinary life, there is probably little like the feeling of eating an oyster freshly picked from the sea under the Norman sky and drinking a sip of Pineau de Charentes to go with it.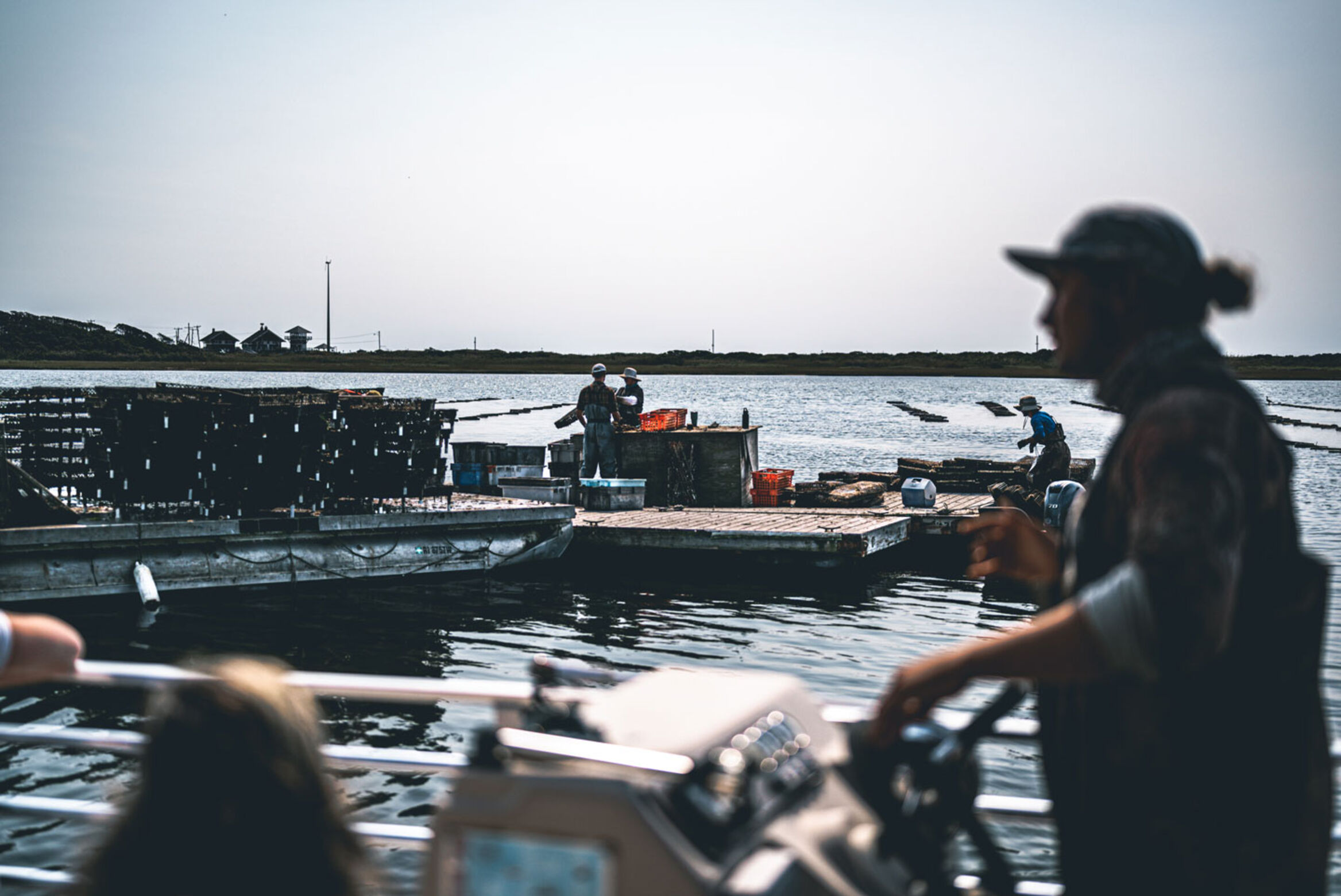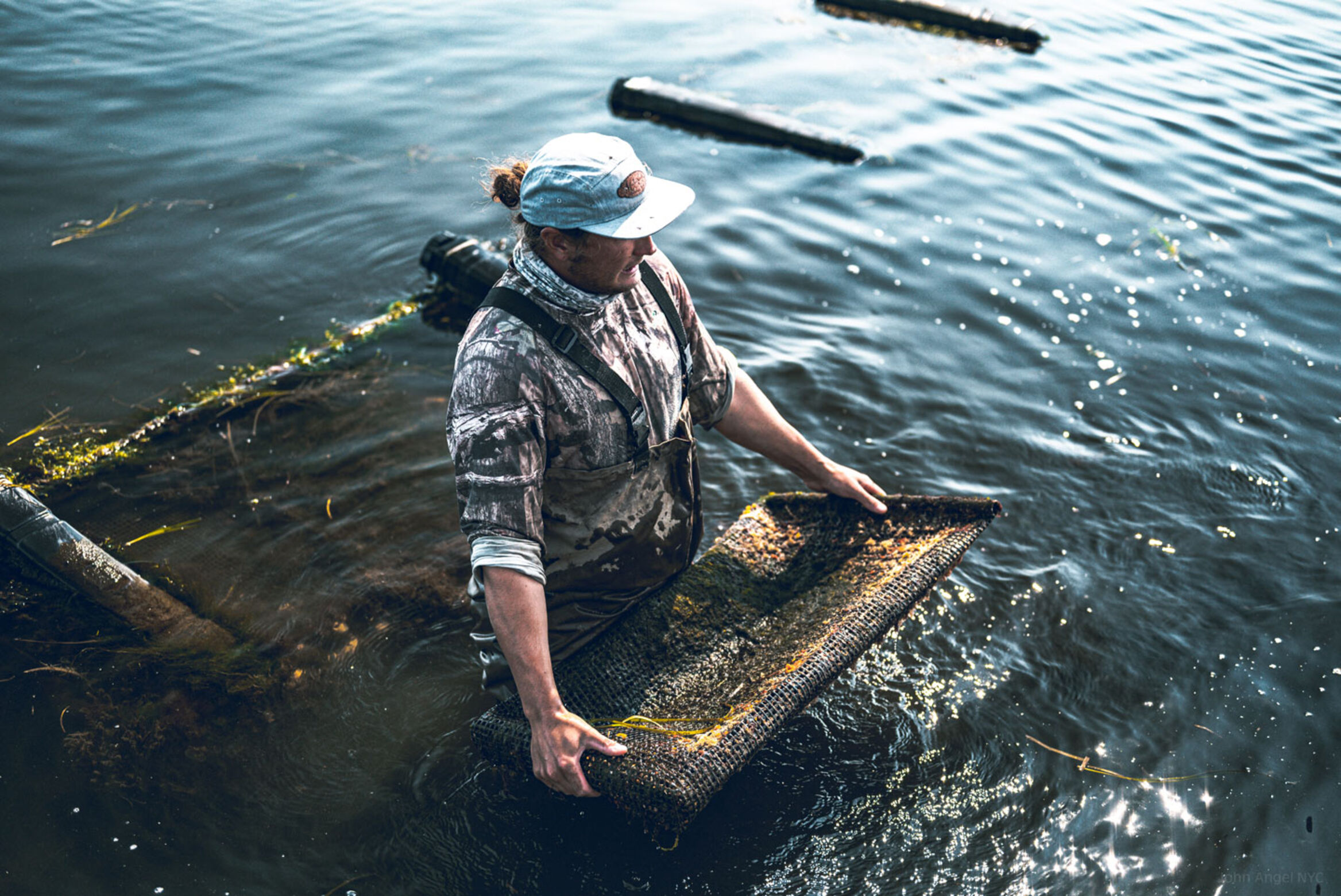 Regular opening hours ...
Our slurping oysters (in Asia they are not eaten raw, and many more are produced there than in Europe) ideally thrive in areas that are exposed to tides - when the banks with the net bags are dry during low tide, the mussel closes bomb-proof and only opens again at high tide to filter the plant plankton from the water on which it feeds. The oyster meat consists mainly of the very strong sphincter muscle of the mussel needed for this purpose. The oyster, on the other hand, gets its flavour from its diet, as is the case with all animals. No two oysters are alike - although they are cultivated on a large scale, each one comes out differently.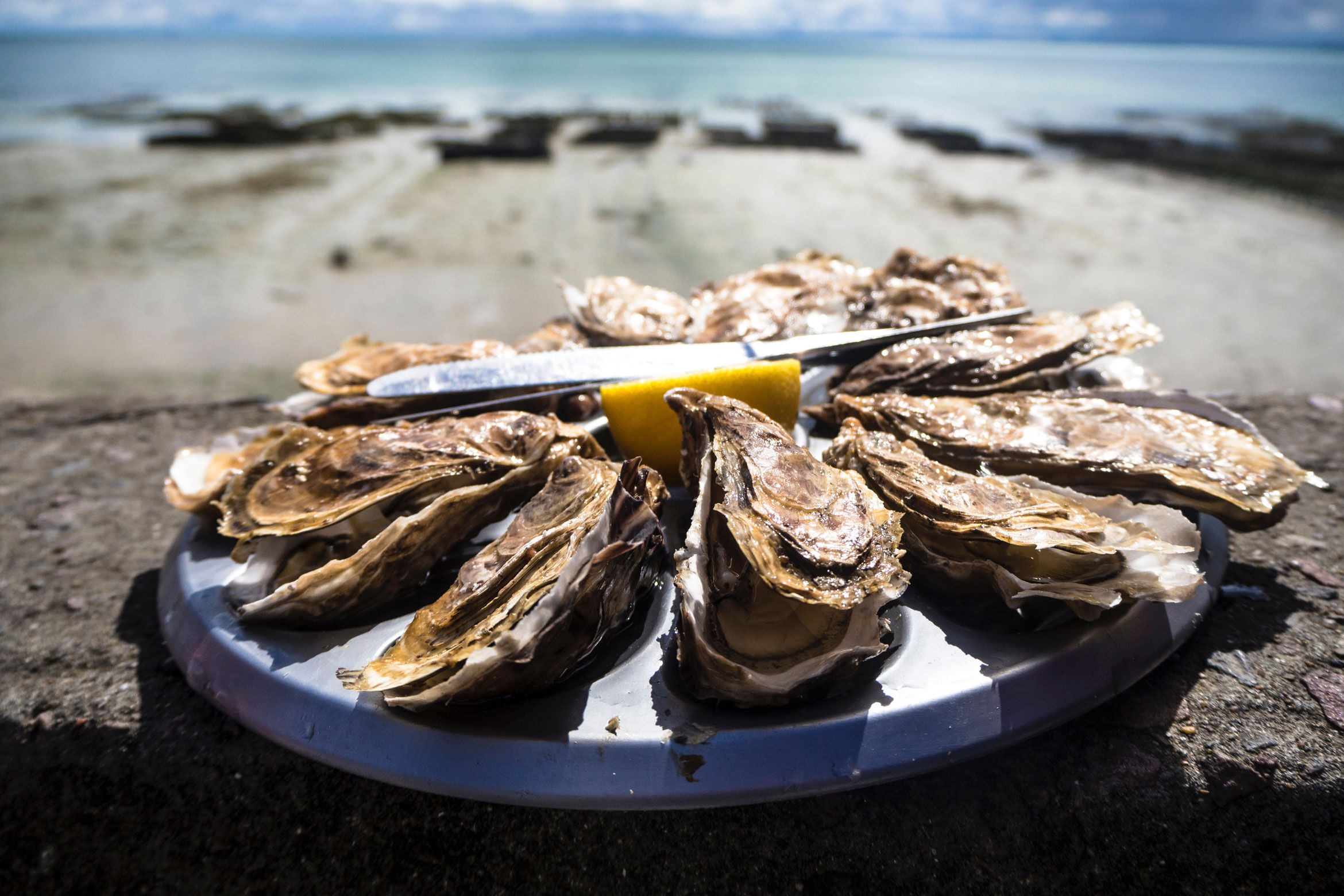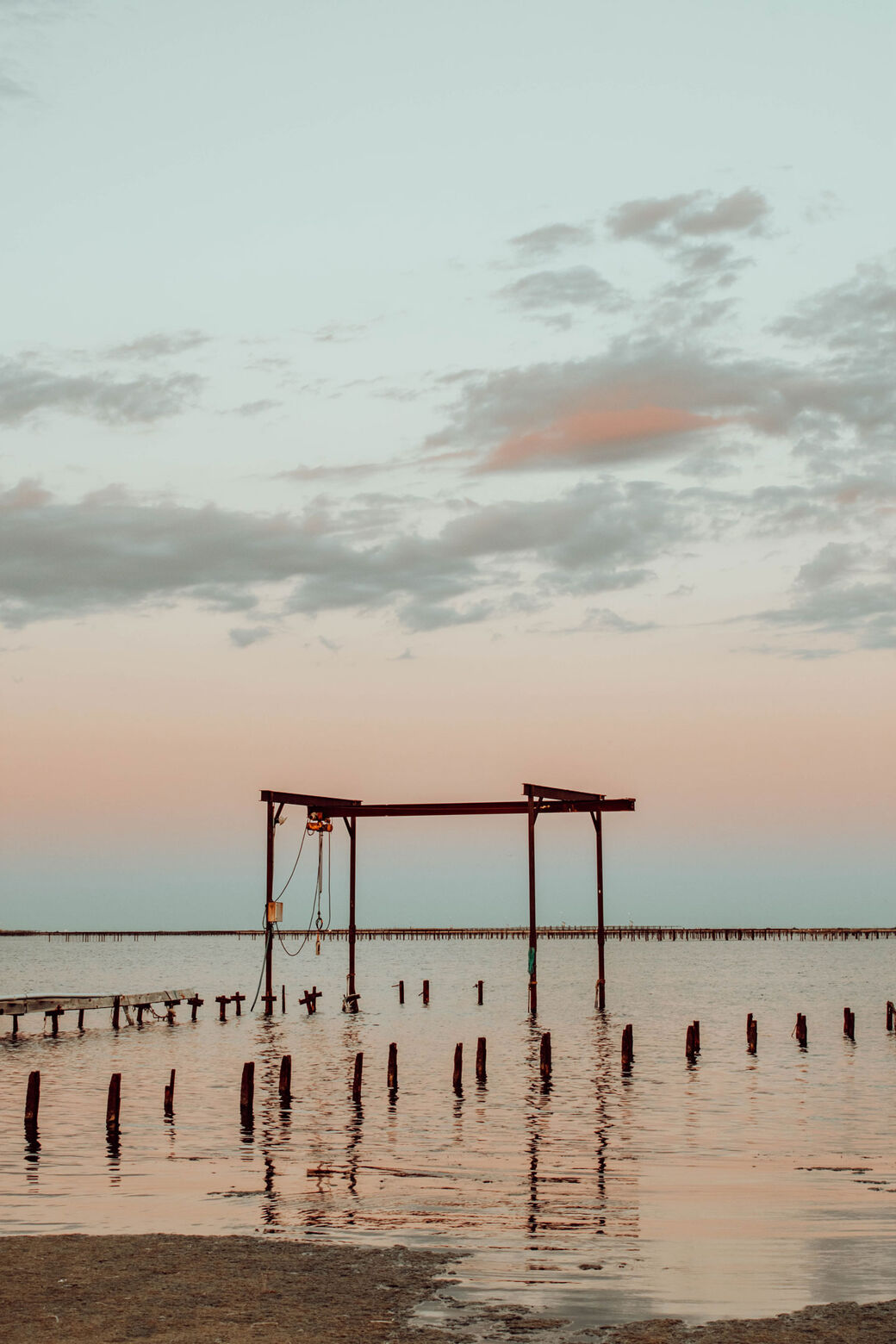 For this story, which is by no means conclusive, I tasted a variety of oysters. To do so, I went to Gamper Bar, among other places, and talked to manager Balz Coray about the actually chocolatey, creamy character of a good oyster. In Südhang's cool oyster bar in the market hall in the Viadukt, I experienced a great variety of types and provenances as well as the usual high wine quality. With a visit to Ellermann's Hummer & Austernbar, I treated myself to a little trip back to the eighties; this restaurant near the station has an oyster happy hour at aperitif time. The establishment, which belongs to the Hotel Gotthard and was taken over less than a year ago by the likeable Lutz Ellermann, is, well, a pearl for all those who are looking for a gastronomic setting that is quite unusual for Zurich and who are not afraid of the unfortunately rather high costs - the place reminds me of the first times when I scoured Zurich's gastronomy in search of good food.
Today's phenomena like Vale Fritz's pop-ups or Nenad Mlinarevic's Neue Taverne, the fantastic double star Rosi/Gül or Stephan Heilemann's exuberant cuisine in Aries were not even on the horizon back then. Foodscout Richi Kägi, a trusted friend of mine, recommends Brasserie Lipp for oysters, which now belongs to Candrian Catering (known for the main station operations). Kägi also recommends the Bianchi restaurant on Limmatquai, part of the Bindella group, which we have already mentioned here. Looking at the menu, I found the oysters from the pretty outside stall a bit pricey, but this of course has to do with the calibres sold, which are among the larger ones available here.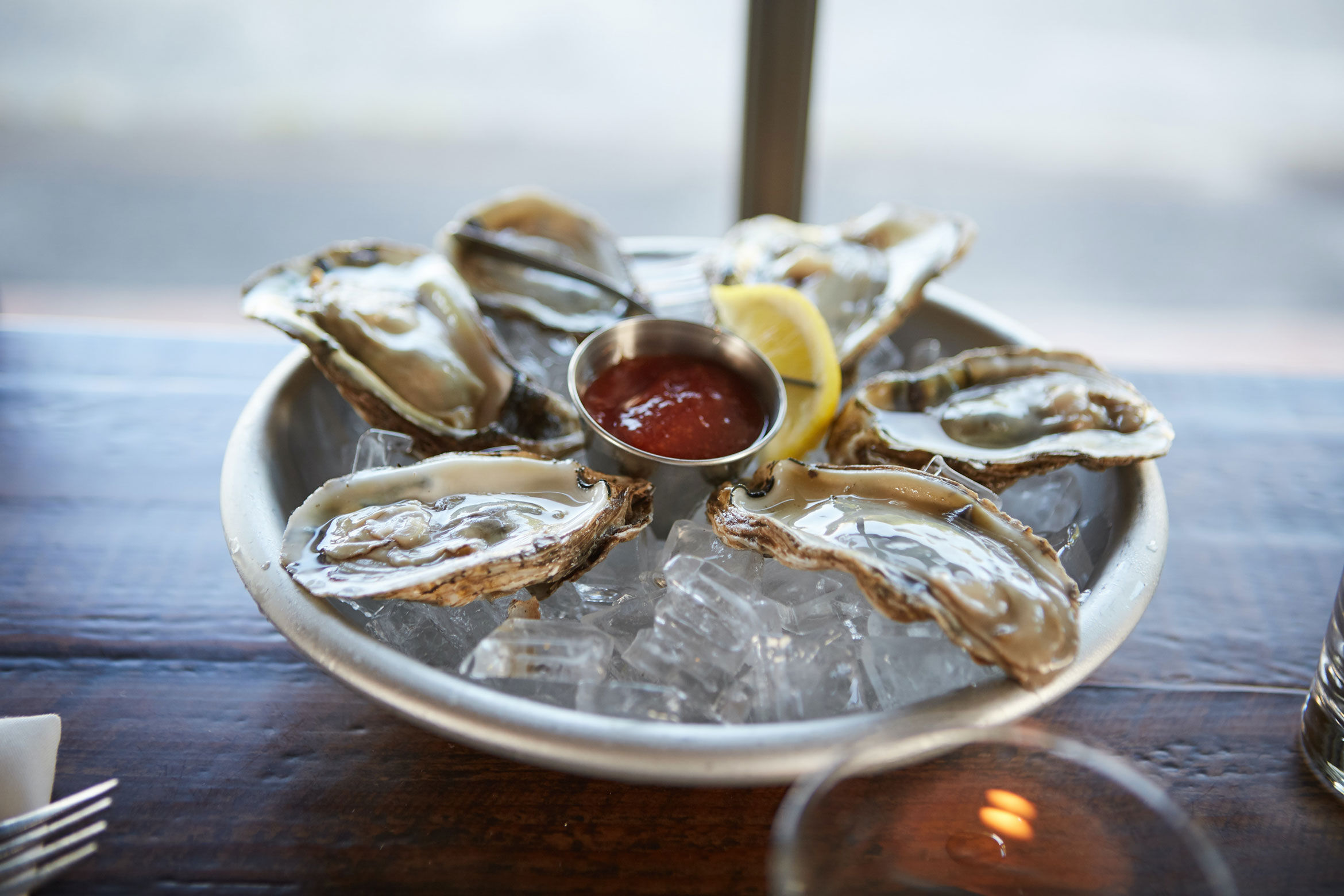 Some oysters available in Zurich and their characters
Obviously, every oyster variety and provenance has its plus points. The following is a brief overview:
Spéciale de Claire: Buttery and fine, for biting and chewing, concentrated, pure taste of the sea.

Fine de Normandie: Almost chocolaty softness, sexy melting and appetising, but a little volatile in the finish

Irish Mór: Meaty, tangy, radiantly intense, deep marine flavour.

Tsarskaya: Rather very salty, practical morsel format, nutty-creamy hints.

Utah Beach, Normandy: Intense fresh taste like a dashi without smoke, quite salty.

Ostra Regal: From Ireland. Almost fruity and clear taste of tang and breeze, chüstig, as they would say in Bern. However, rather rustic instead of regal for my palate.

Gillardeau: reigning queen of oysters. A good gillardeau is like marrying fleur-de-sel chocolate with an extremely naughty French kiss.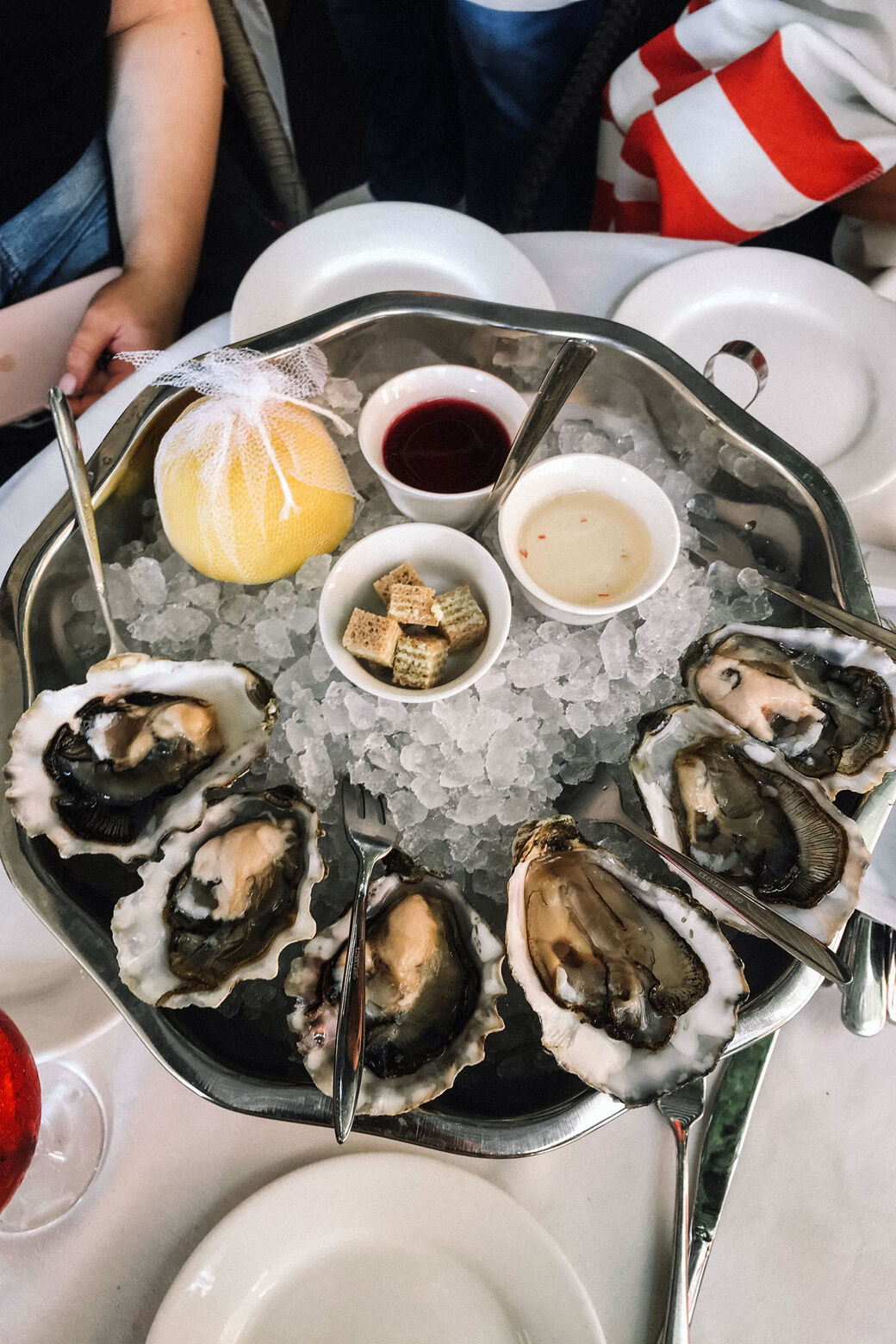 Cracking at home - or in paradise
Of course, you can also buy oysters to enjoy at home. There's a very special institution for this in Zurich, namely Sylvan Müller's oyster taxi. You can find it on Facebook (yes, it still exists) and order boxes of 12 and 24 oysters to eat at home. Sylvan supplies oysters from Bouzigues and his products are extremely good value (48 pieces for 100 francs). His imports, which he brings to Zurich about four to five times a year, are therefore oysters from the tideless Mediterranean, for which a special breeding method has been developed. As Sylvan writes, the region around the Thau Lagoon accounts for about 15 percent of France's oyster production.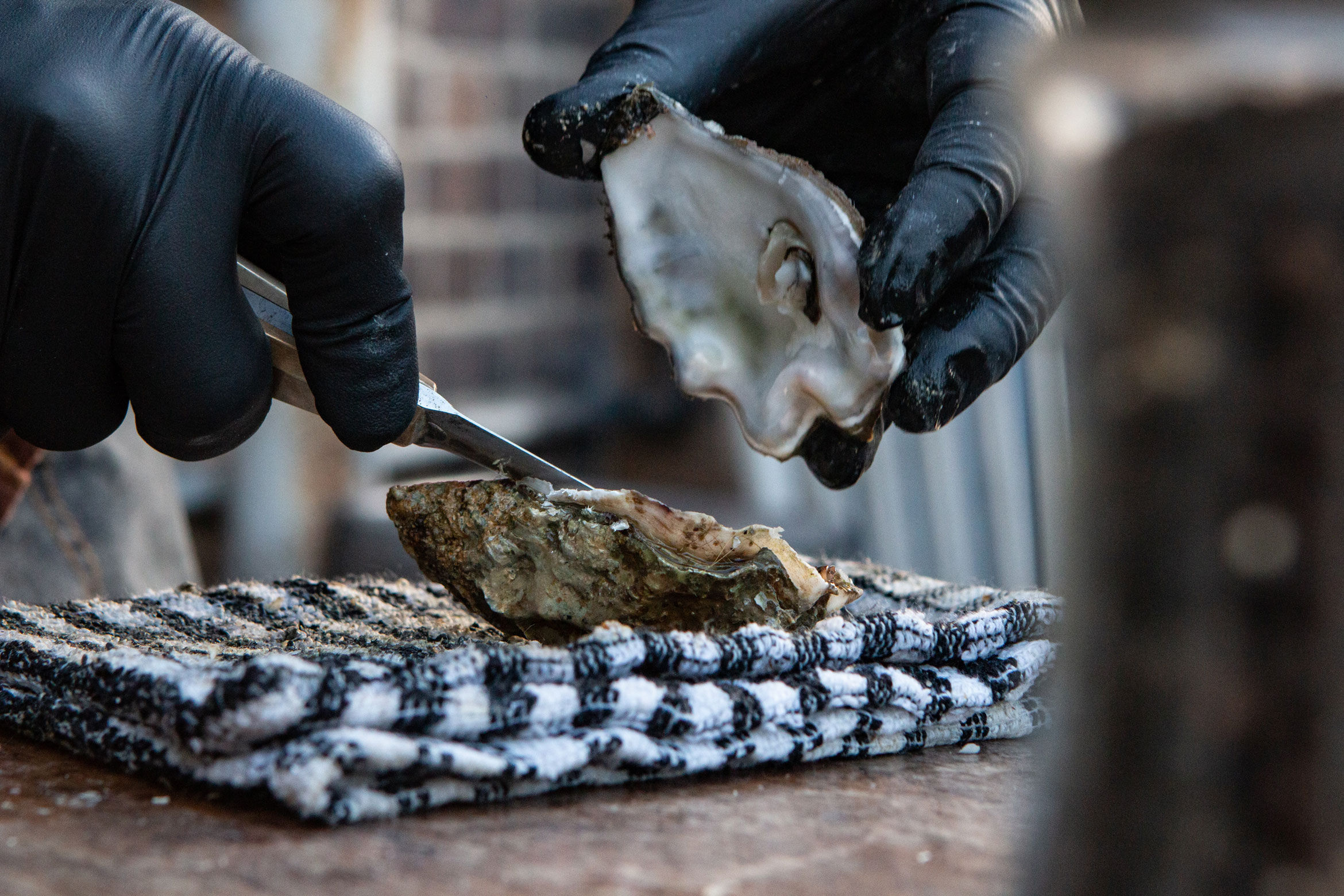 Generally speaking, if you take the trouble to open your own oysters, you will be rewarded with considerable savings, even if you shop at Globus. For an oyster aperitif at home, I like to recommend the fabulous Frischeparadies near Letzigrund; even a luxurious gillardeau, which costs 9 francs in the restaurant, can be had here for less than half the price. And there is a bonus: In the small bistro of the Frischeparadies, you can enjoy freshly opened oysters and champagne, as well as a bit of a market feeling, among insiders.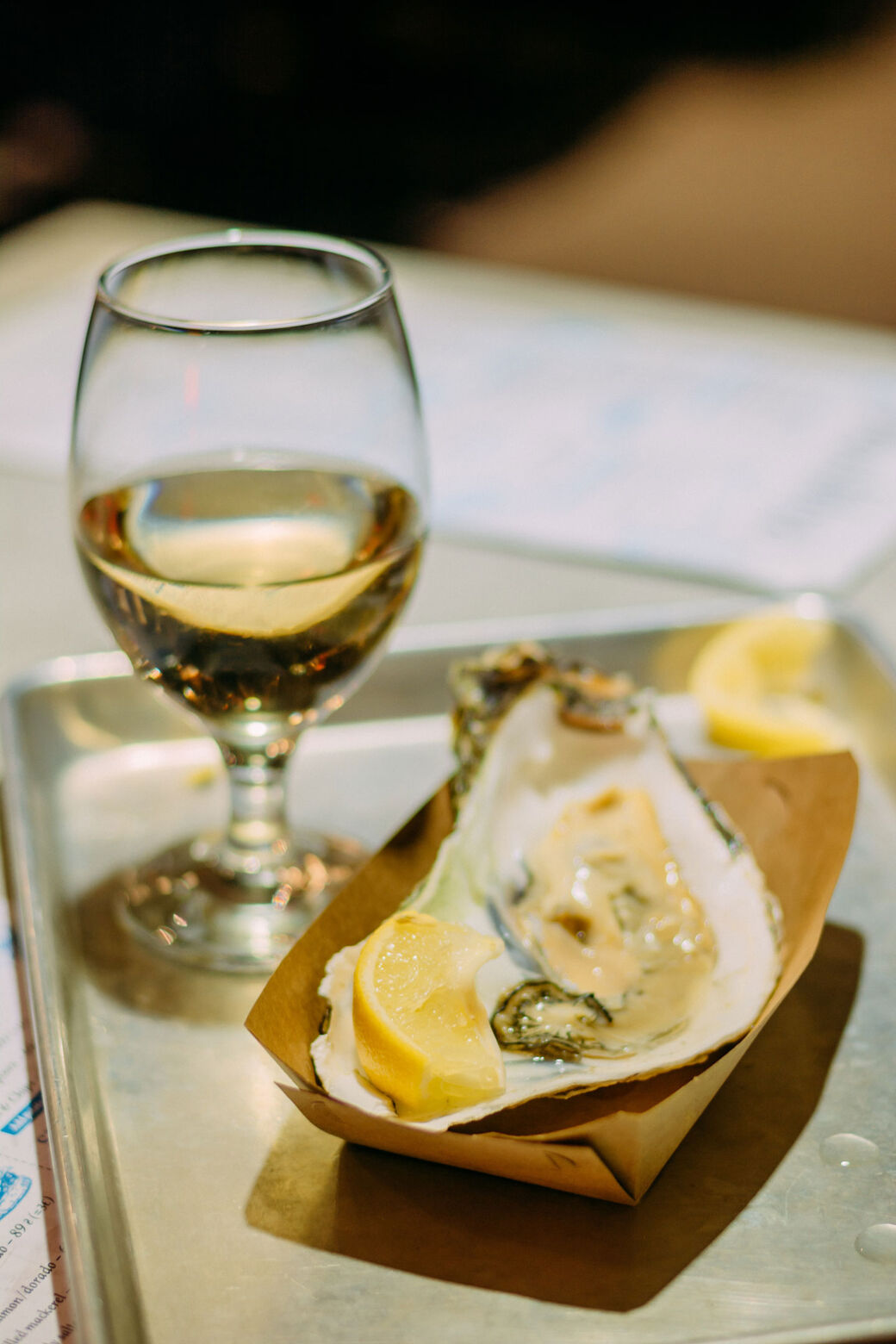 A word about the wine pairing: in the Gamper Bar, you can get vintner champagne at outrageously advantageous prices. However, I recommend the house champagne only conditionally with the oysters; it seems too fruity to me. I would like to quote my wine guru Rainer Schönfeld, from whom I have learned more in just a few months than at countless so-called master classes. He writes: "Both very sweet wines with botrytis (noble rot), classically Sauternes, and very dry, mineral wines with little or no fruit go well with raw oysters; Champagne without expedition liqueur (Zéro Dosage or Brut Nature) would therefore be particularly suitable. However, you can also drink a stout (top-fermented dark beer in the style of Guinness) with it. And now have fun sipping!
I am very interested in your tips, hit me: hg@hellozurich.ch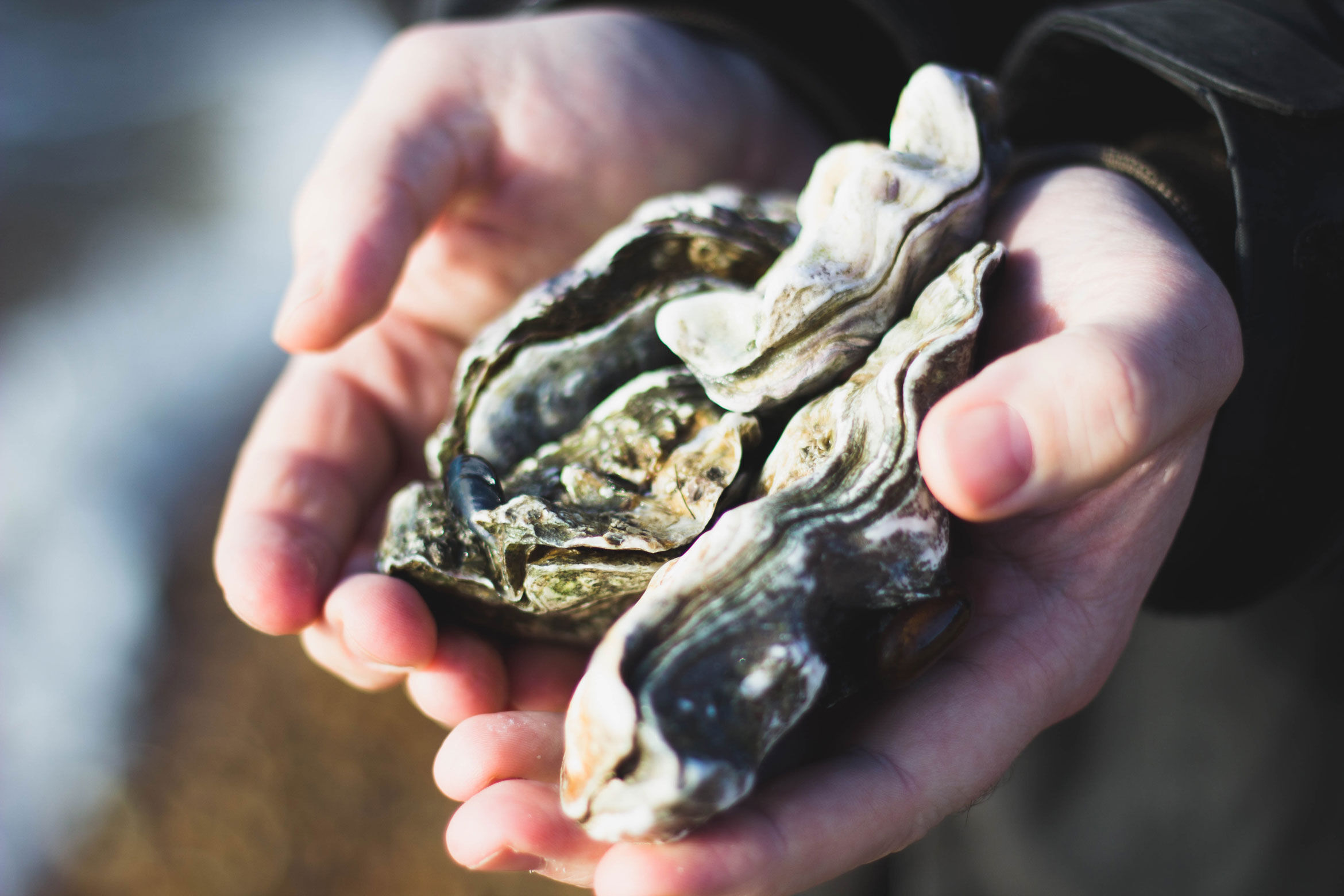 Restaurant tip: Lè Cuisine
With "Bund 39" at Bäckerstrasse 39, Shanghai cuisine became famous in Zurich some time ago. The couple James Chen and Yasmine Liu now have a new location at Neugasse 41 in the former Sasu of David Kaldeck, who runs the Saftlade in Niederdorf and organises events in the Helferei of the Grossmünster. Under the name Lè Cuisine, James and Yasmine continue to offer specialities from their home region Shanghai; however, the food is no longer prepared in a wok, but steamed for the most part. We enjoyed great dumplings, melting spare ribs with okra, steamed loup de mer and a light but crazy delicious noodle soup with extra-long birthday noodles as test eaters on the occasion of my birthday dinner with the family. It's all still charmingly improvised - a few permits still need to be obtained and the drinks menu needs a finishing touch - but the hospitality is exceedingly warm and the couple's culinary expertise makes you forget everything else anyway. There are only a few seats.
View posts by interests, or use the proximity search and additional filters.
Try it out
.
Save posts as favourites – simply click on the heart symbol in the upper right corner of the post.