Sasu Juice Bar
The almost entirely vegan Sasu Juice Bar just around the corner from Langstrasse is run by Alexandra Hängärtner.
It's a yes to organic products – and another resounding yes to local produce. Alexandra Hängärtner's Sasu Juice Bar serves everything from juice to delicious lunches. The most important thing at Sasu? Lots of green, all fresh, no secret ingredients.
Saturday to Sunday? Juice? What exactly does 'Sasu' mean? 'Sasu means whatever you want it to mean,' answers the owner David Kaldeck with a smile. But it can't mean Saturday through Sunday because Sasu is open every day of the week. And even though its juices are the secret superheroes of the bar, there are also freshly prepared dishes, smoothies and other drinks on the menu. Despite this, the juice bar near Limmatplatz is called 'Sasu Juice Bar', and you wouldn't be wrong for thinking that the 'Sa' in 'Sasu' stands for 'Saft' – German for 'juice'.
The range at Sasu is mostly plant-based and vegan.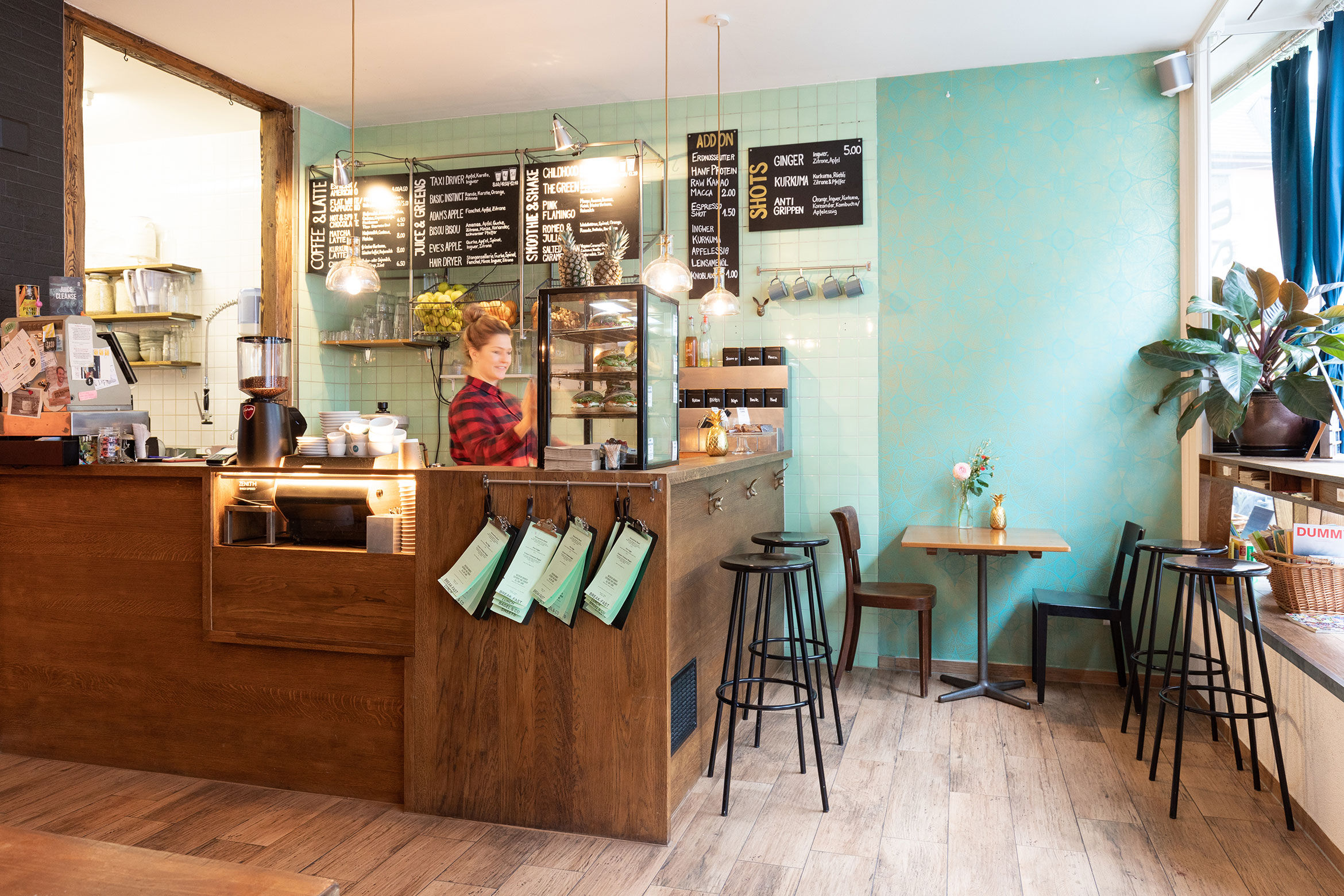 'Juices with beetroot are perfect for winter, and with ginger... and carrots... freshly squeezed green juices in general. They are unbelievable – they'll really blow you away,' gushes Alexandra Hängärtner, manager of the bar. Anyone who talks to Alexandra or David quickly understands that their ingredients are very close to their hearts. 'It's important for us to know exactly where the food has come from,' he explains, 'and that we continue to build on this awareness: the bagels are from Oerlikon, the cream cheese is from the Napf region...' – the range at Sasu is mostly plant-based and vegan, with a few exceptions.
'It's important for us to know exactly where the food has come from.'
David Kaldeck
Sasu has been based on Neugasse since 2018. 'It's the modern version of the juice bar in Zurich's old town,' explains David, who owns both establishments. 'Sasu is a bit more rough and ready – and everything is homemade. There's no large corporation behind it.' The challenge of forging their own path is resting on the shoulders of the five-person team at Sasu.
Unlike in other countries, the concept of the trashy juice bar isn't quite as widespread in Switzerland yet. Is Zurich falling behind on what is cool? David strongly denies this. 'Zurich has some amazing brands – from Roots to Beetnuts.' He worked as a chef all over the world for many years before settling down in the established juice bar in the old town and now the more recently opened Sasu in district 5. 'Now I have evenings and weekends free,' he says with a genuine smile.
And yet, being situated in a street right next to Langstrasse is a complex starting point. 'We are located between a residential area, a nightlife district and some business premises. So, you have everything on your doorstep – and that can be an advantage as well as a disadvantage,' David reflects. But the location is also very central and international. When tourists come into the bar, the team automatically switches to English.
Being situated in a street right next to Langstrasse is a complex starting point.
But the most important switch takes place when it comes to the products: Sasu acquires vegetables that are discarded due to visual imperfections and that other establishments would throw away. 'And if we have to choose between organic apples from Chile and regular apples from nearby, we'd rather opt for something local. We recently bought some sweet potatoes from the canton of Grisons,' says David. 'There's no standard approach for us.' And at Sasu, this doesn't just apply to the vegetables.
Address
Sasu Juice Bar
Neugasse 41
8005 Zurich
+41 79 878 54 72
Website
Opening hours
Monday to Friday, 8:30 am – 5:30 pm
Saturday, 9 am – 5:30 pm
Sunday, 10 am – 4 pm
currently closed
View posts by interests, or use the proximity search and additional filters.
Try it out
.
Save posts as favourites – simply click on the heart symbol in the upper right corner of the post.