Einzelstück
Susanne Schmid is the owner of Einzelstück, a store that sells unique old and new items from all over the world.
Nestled between Stadelhofen train station and Zurich Opera House, Einzelstück is a store whose name means 'unique piece'. It certainly fits – there are no mass-produced goods on sale here. Einzelstück's antiques and new products are all one-of-a-kind items. 'No two items are the same', confirms founder Susanne. 'Everything here is made by hand.'
Susanne and her partner Simon Wirth opened their store, Einzelstück, in 2011. With his 40th birthday approaching, Simon was keen to pursue a career change. Susanne, meanwhile, had already been working as a buyer for many years. 'We wanted to offer customers something that excited us,' explains Susanne. 'And that something turned out to be beautiful old pieces of furniture.' The couple had become jaded by seeing the same few furnishings when visiting the homes of friends and acquaintances. 'Most people buy pieces in large furniture stores or turn to the usual design classics. For us, those pieces often lacked originality.'
'We want as many people as possible to be able to furnish their homes as they like.'
The apartment where Susanne and Simon live is outfitted with furniture from various decades that they have collected from all over the world. The pieces in their store are sourced from different continents, too. 'Sometimes the furniture is in quite poor condition,' explains Susanne. Before being shipped, the pieces are restored in their country of origin. 'It would be much more expensive to do it in Switzerland.' For Susanne, it is important that the wardrobes and chests of drawers remain affordable. 'We want as many people as possible to be able to furnish their homes as they like.' However, Susanne points out, stuffing a house with vintage furniture is not the aim either. 'The idea is to combine old pieces with new ones – a modern chair with a beautiful antique table, for example. This lends the interior a more personal touch.'
Susanne is quick to distance herself from the 'shabby chic' design trend.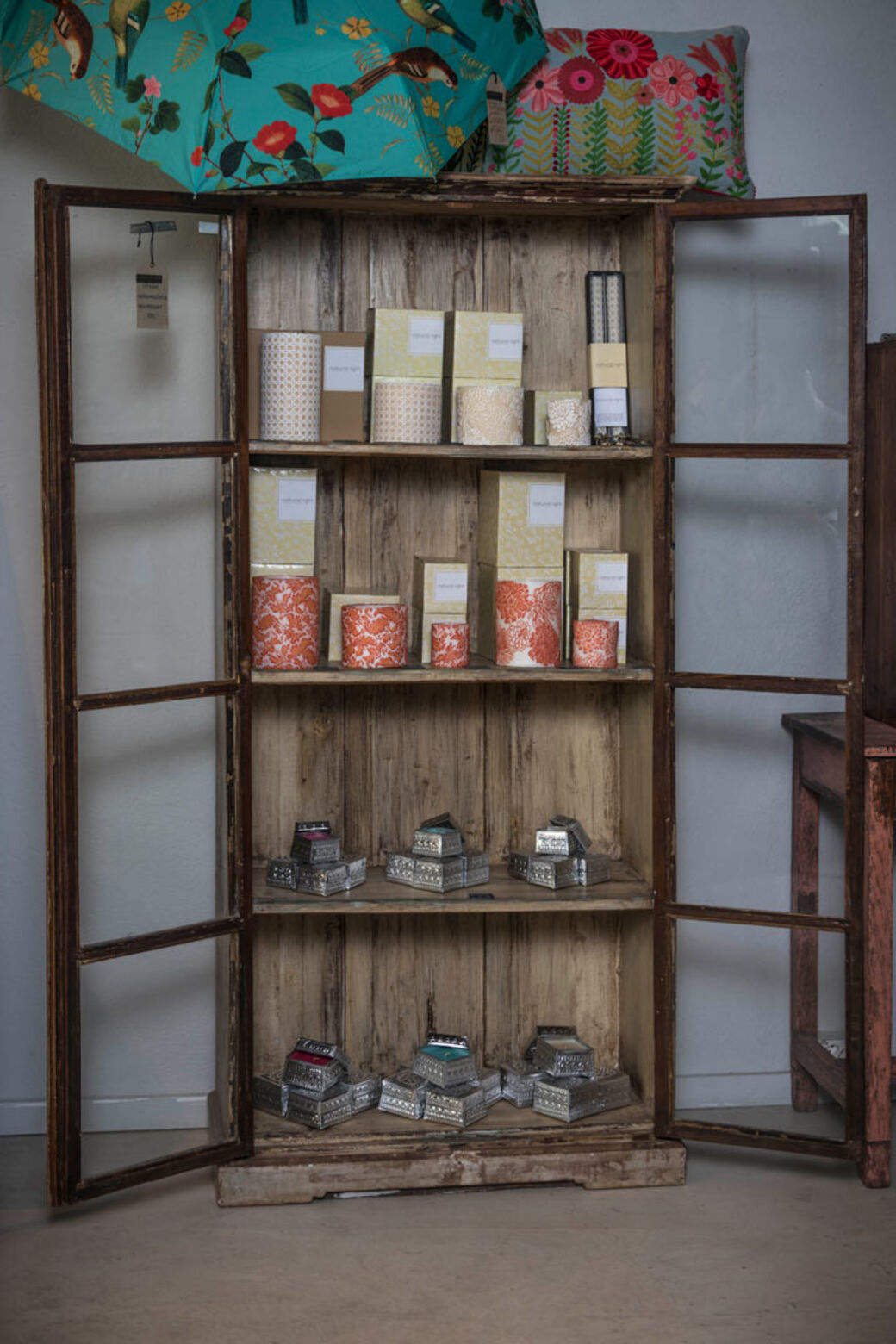 In the past few years, 'shabby chic' design – where new furniture is made to look vintage using sandpaper and paint – has increased in popularity. Susanne is quick to distance herself from this trend, stating that the wardrobes, chests of drawers and tables in her store are all at least fifty years old and have been carefully restored. Susanne and her partner want the pieces to retain their original patina. 'That's why we refrain from repainting any of our stock. The most we do is install a new shelf or replace handles and glass elements.'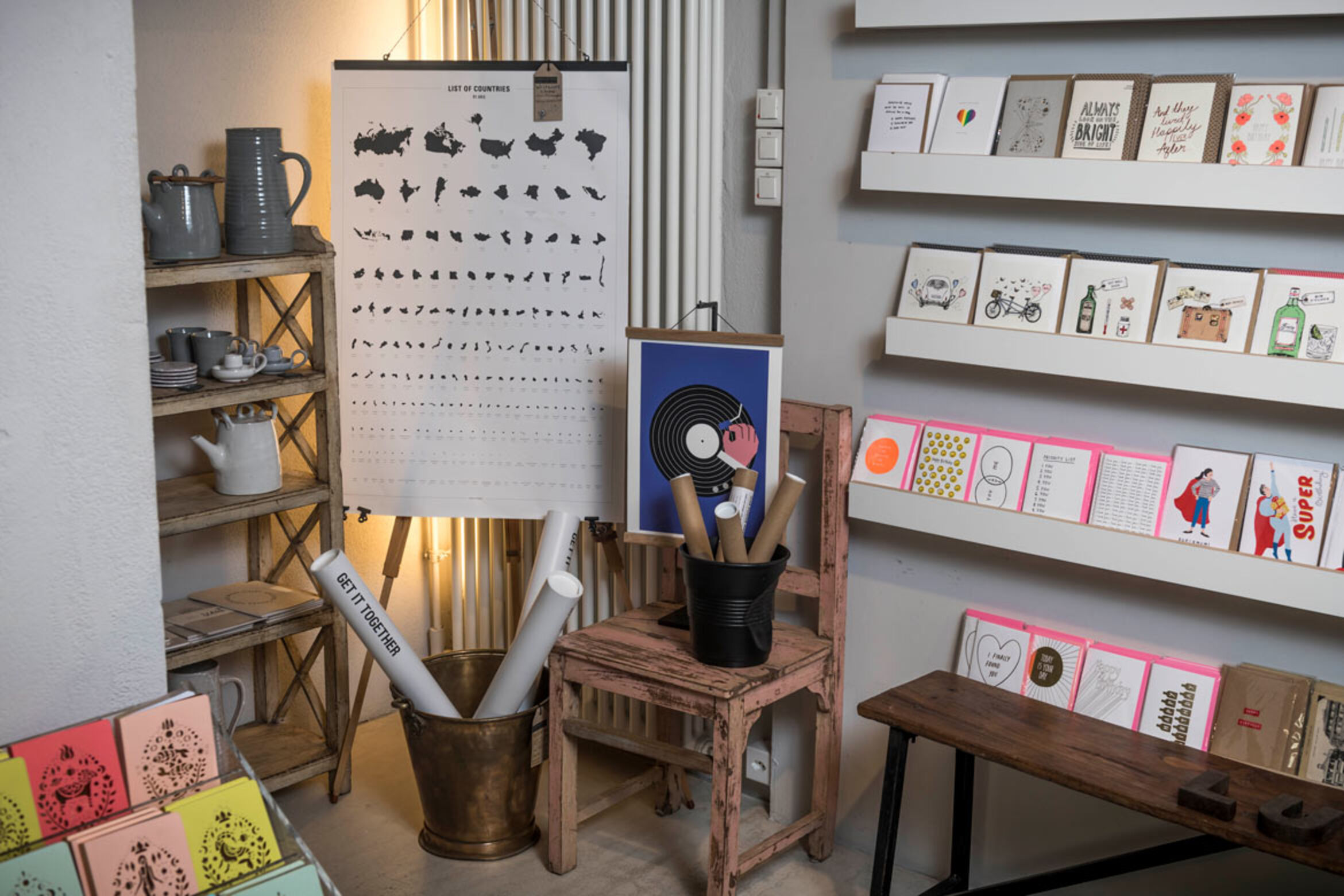 The range of unique pieces also includes various accessories. 'People tend not to go out and buy furniture regularly,' explains Susanne. 'But we still want customers to keep coming back to our store.' Like the other items in store, the candlesticks, pitchers and scarves are not mass-produced. Einzelstück works exclusively with small labels, which means Susanne knows where the products come from and how they are made. She regularly visits the factories that make the items, which are spread out across more than thirty different countries. This autumn, Susanne will be paying a visit to a few producers in Nepal and India.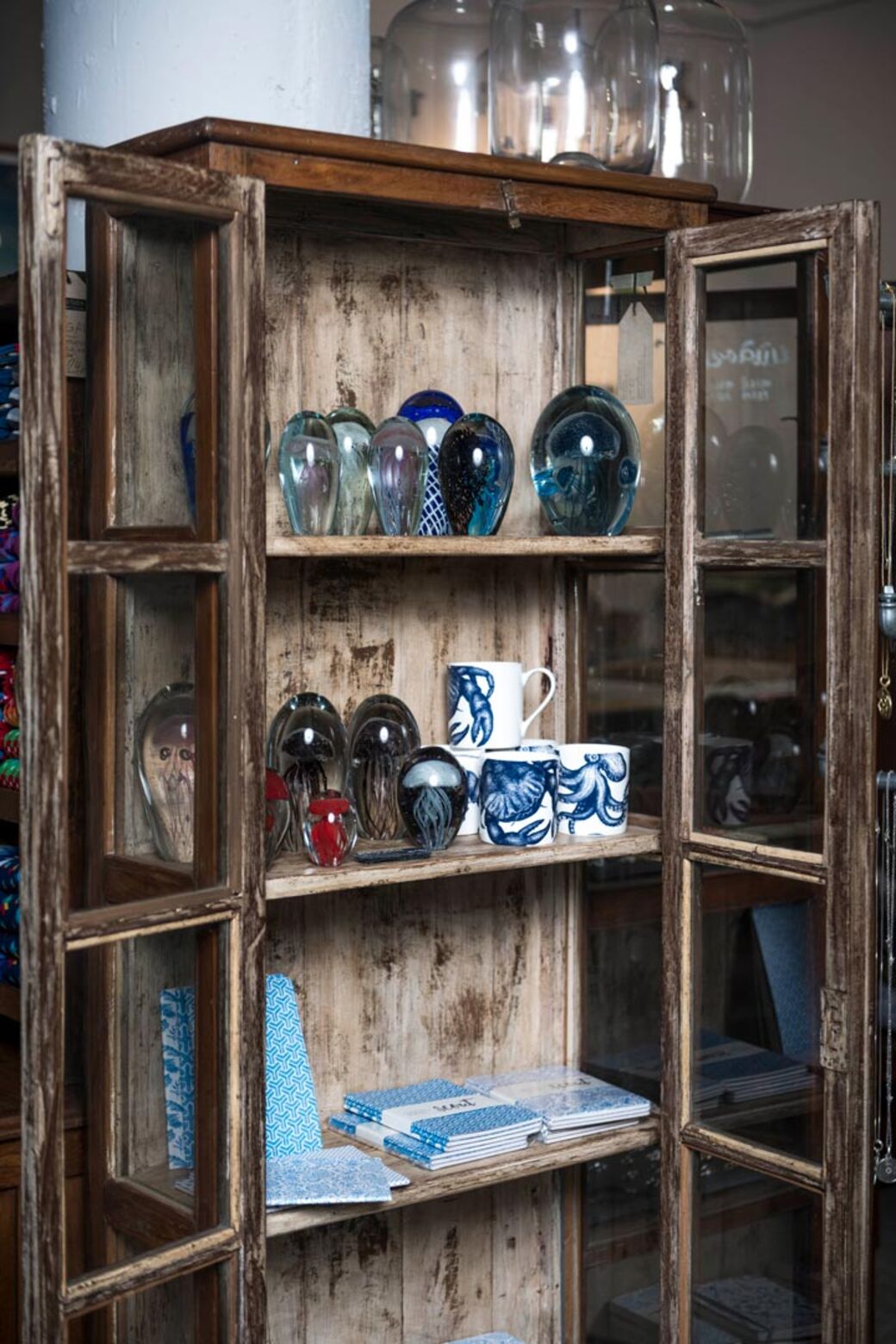 This is also where products for her new label Scout are made. 'Scout unites fair trade with modern design and supports traditional handicrafts,' she says. Indian craftspeople embroider colourful flowers on cotton cushions, while Nepalese artisans produce ceramic vases. The Scout range also includes jewellery, notebooks and natural soaps. What's more, the label has proven to be a success outside Einzelstück. 'I now work with around sixty stores,' says Susanne. She recently launched an online shop, though she prefers not to buy products online herself. 'I like to see and feel the quality for myself. That's just not possible on a computer screen.'
Susanne and Simon have four members of staff on their books, including a designer and a goldsmith.
Einzelstück has a sizeable core customer base, which has evolved somewhat since the store moved from Aussersihl to Bellevue in 2015. 'We count older people and expats among our clientèle now,' says Susanne, who spends one or two days a week in the store. 'I enjoy being in direct contact with customers and hearing their feedback.' Susanne and Simon have four members of staff on their books, including a designer and a goldsmith. 'They are all special, individual people who work well in our store,' says Susanne. With a laugh, she adds: 'After all, unique pieces need unique people – and we have them.'
Address
Einzelstück

Falkenstrasse 26
8008 Zurich
+41 44 262 12 12
Website
Opening times
Monday to Friday, 11 am–7 pm
Saturday, 11 am–5 pm
and by appointment
View posts by interests, or use the proximity search and additional filters.
Try it out
.
Save posts as favourites – simply click on the heart symbol in the upper right corner of the post.